Notion has been around since 2015, and it's certainly made waves. But while many swear by its simplicity, innovation hasn't stopped, and there are many Notion alternatives you can try.
Your quest to find the best alternative to Notion should start with a few basic questions:
💬 What do you truly need from a productivity tool?
💬 Is minimalism or feature-richness more your style?
💬 How often do you collaborate with others?
If you don't have all the answers, don't worry. There are many apps similar to Notion, so it's only natural you may feel confused. To help you out, we've curated a list of the best alternatives to Notion so that you can find the productivity tool that best aligns with your workflow and needs.
But first, let's answer a few more questions, shall we?
Founded in 2013 by Ivan Zhao, Notion is an all-in-one project management and collaboration platform that combines note-taking and database functionalities in a single platform. The app has gained popularity among individuals and teams for streamlining workflow processes.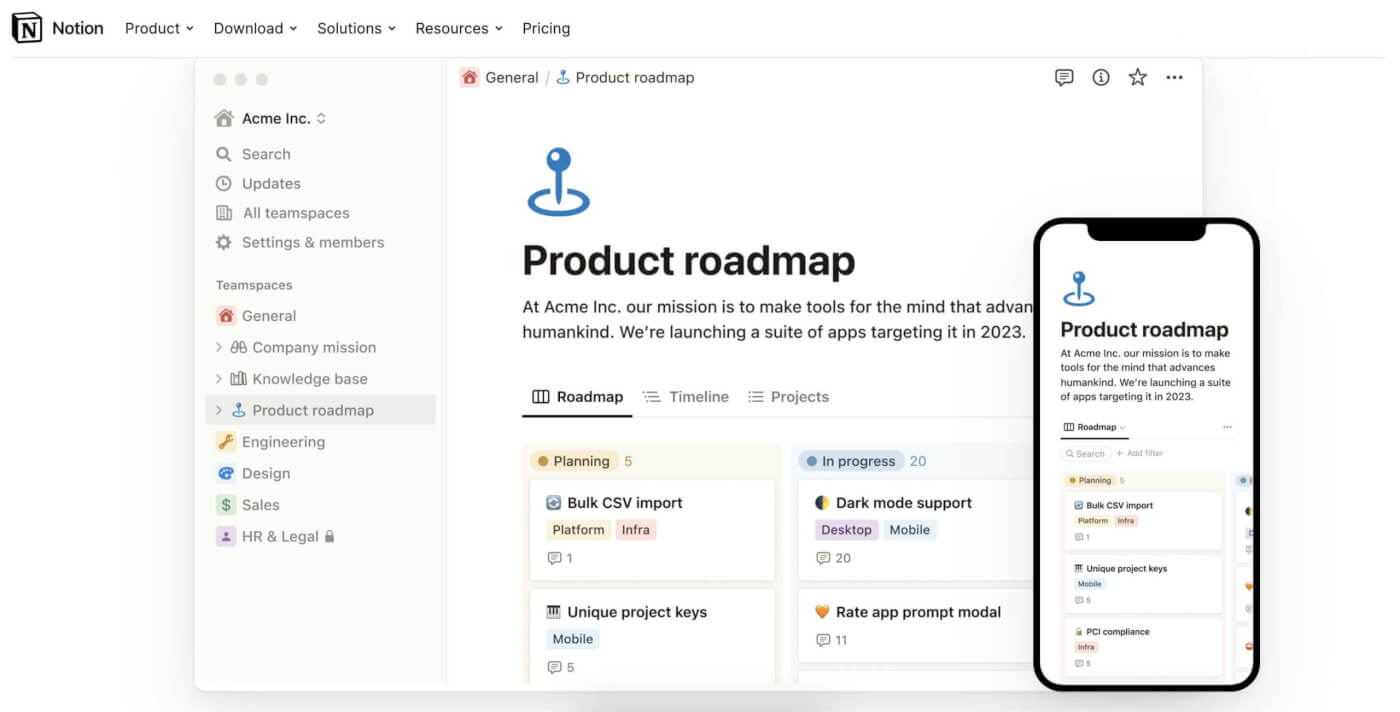 In 2018, Notion took a step forward with Notion 2.0, building upon its commitment to providing a one-in-all solution for its users. This version earned the "Product of the Month" award on Product Hunt, a platform for launching new tech products through community engagement.
Under the seemingly minimalist exterior, the app combines a wide array of features to maximize productivity. The barebones UI offers a ton of flexibility and customization options too, which me be a blessing or a curse, depending on what you're looking for in this type of software.
What Are Some Key Features of Notion?
When it comes to functionality, Notion embraces the "all-in-one" philosophy and combines multiple tools, from simple to-do lists to note-taking and project management management features. This mix is bound by a seemingly simplistic user interface.
Of course, notes are not just text, and Notion delivers on this front too. You can attach files, embed videos, and even integrate external web content right within your notes. There are also a handful of formatting options that includes classic like bold, italics, and color-coding.
Notion AI
A
Recently, Notion introduced an AI feature to make the app more appealing to content creators. This AI, embedded at the editor level, functions similarly to other AI tools available on the market (it uses OpenAI's GPT-3 tech) and generates responses based on natural-language prompts.
While Notion AI lacks a conversational AI chat component similar to ChatGPT, it's a useful tool for automating (at least partially) common text-oriented tasks like:
Creating written content
Planning and outlining
Generating ideas
Summarizing long-form content
Answering questions
What Is Notion Good For?
Notion aspires to be an all-in-one productivity tool, and this means it covers a handful of personal and business use cases. It's also flexible enough to work for individuals and teams.
The dualistic nature of Notion is probably the best visible in the ability to organize projects in many several ways. You can keep your team workflow organized inside databases, or approach it from a more personal angle, like a simple digital notepad for thoughts and ideas.
Since the app caters to teams and individuals, it does come with a comprehensive template catalog. You can choose from simple to-do lists and goal trackers to product wiki templates, team dashboards, or meeting agendas. That also includes templates created by users.
What Are Some Limitations of Notion?
While Notion is a solid all-rounder, it does have a few blemishes.
Jumping into Notion can initially feel a bit overwhelming. The app's ambitious goal of being an all-in-one tool means there's a lot to explore, and for someone new, it might feel like there's a bit of a learning curve. But as with many things, with time, the layout becomes more familiar.
On the collaboration front, Notion does offer some neat features. But, there's a catch. Some of the more in-depth collaboration perks, like sharing pages and managing page permissions, are tucked away under the team plan. The free plan? It caps you at 5 guests.
While Notion does try to target business users, it lacks a handful of features like video-calling and proper chat that are must-haves for real-time collaboration. To make up for that, we get a commenting feature, which should be enough for teams working mostly asynchronously.
How Much Does Notion Cost?
Notion comes in four different pricing tiers:
Notion Free Plan
Notion Personal Pro Plan ($4 / month per user)
Notion Team Plan ($8 / month per user)
Notion Enterprise Plan (custom pricing)
Now that you know what Notion is and what it has to offer across business and personal use cases, it's time to take a look at some of the best alternatives to Notion in 2023.
🥊 The Best Notion Alternatives in 2023
Taskade is an online productivity and team collaboration tool that was founded by John Xie, Dionis Loire, and Stan Chang in 2017. The Y Combinator-backed startup aims to help remote teams and individuals get work done faster and smarter with one elegant tool.
With Taskade, you can organize tasks, take detailed notes, automate repetitive workflows, collaborate via built-in video chat with your team, all inside a unified workspace.
What makes Taskade different from Notion and other tools are it's dynamic workflows (a.k.a. project views). Every project in Taskade is a living document you can shape depending on your use case or preferences. A simple to-do list can become a mind map or a Kanban board — there are six unique project views you can choose from — without losing context.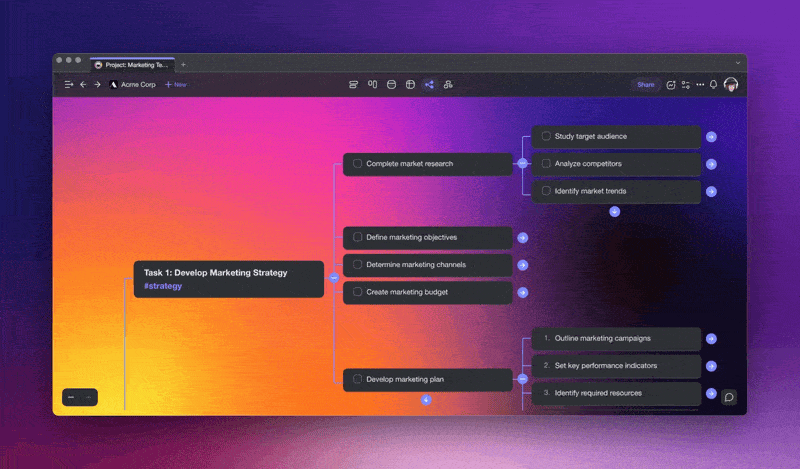 Don't want to set everything up from scratch? Taskade features an extensive collection of templates, fully customizable and compatible with all project views. Whether you're planning a product launch or drafting a meeting agenda, they will ensure that you start off on the right foot.
A
Taskade offers all the features you might expect from a top-tier productivity tool, but it doesn't stop there. An integrated AI component features an AI chat, an AI writing assistant, and a project generator, a perfect blend making your work faster and smarter.
So, is Taskade the best free Notion alternative? Get started instantly and see for yourself!
Key Features of Taskade
AI Chat, Writing Assistant, and Workflow Generator. Taskade AI unlocks a new dimension of productivity with a range of AI features powered by OpenAI's latest GPT-4 large language model (LLM). Improve your writing, ask AI questions, and generate complete project workflows from scratch in seconds using natural-language prompts.
Project Views. Visualize your projects in several different ways. Cycle between the List, Board, Calendar, Action, Mind Map, and Org Chart views without losing context.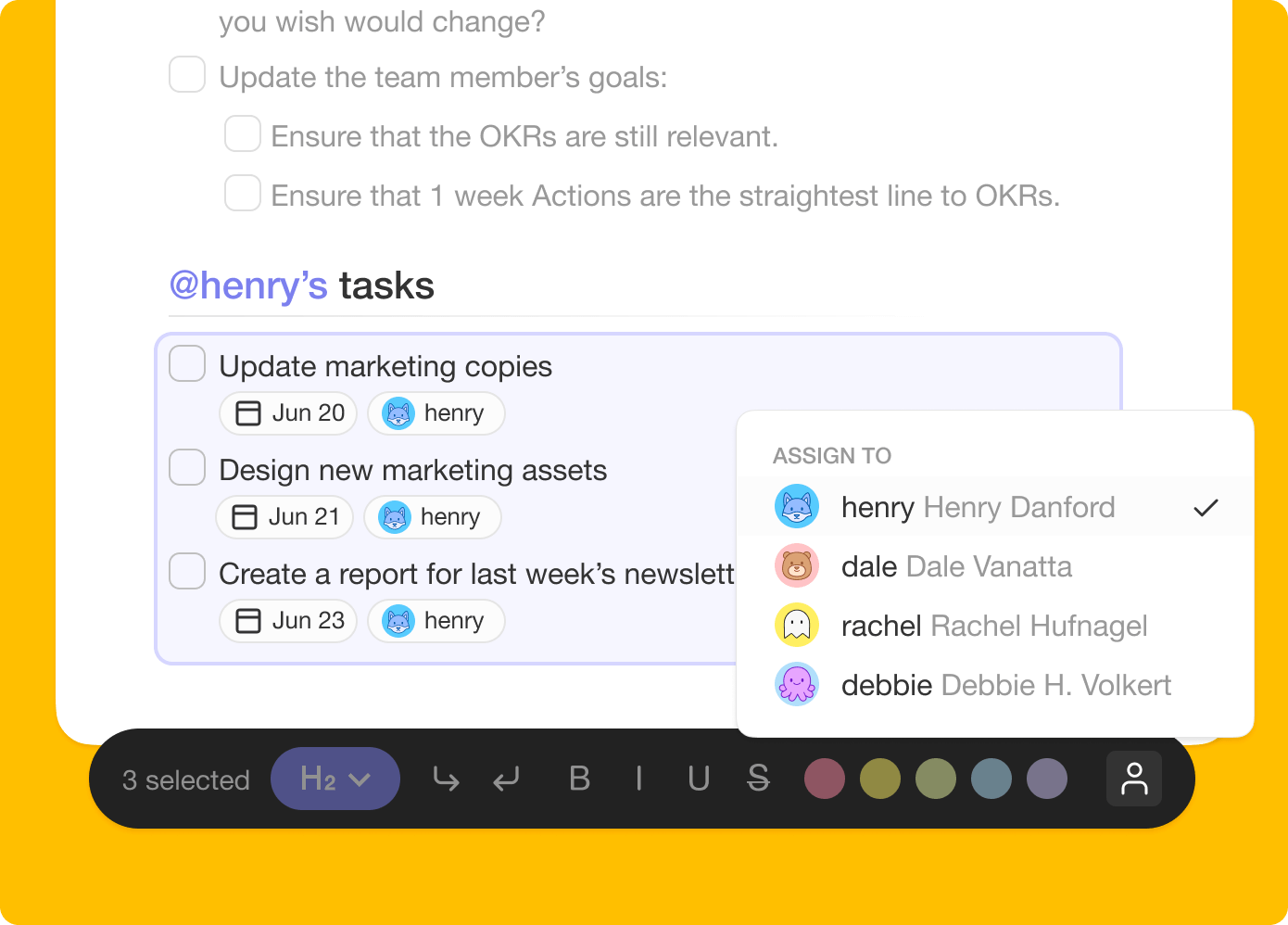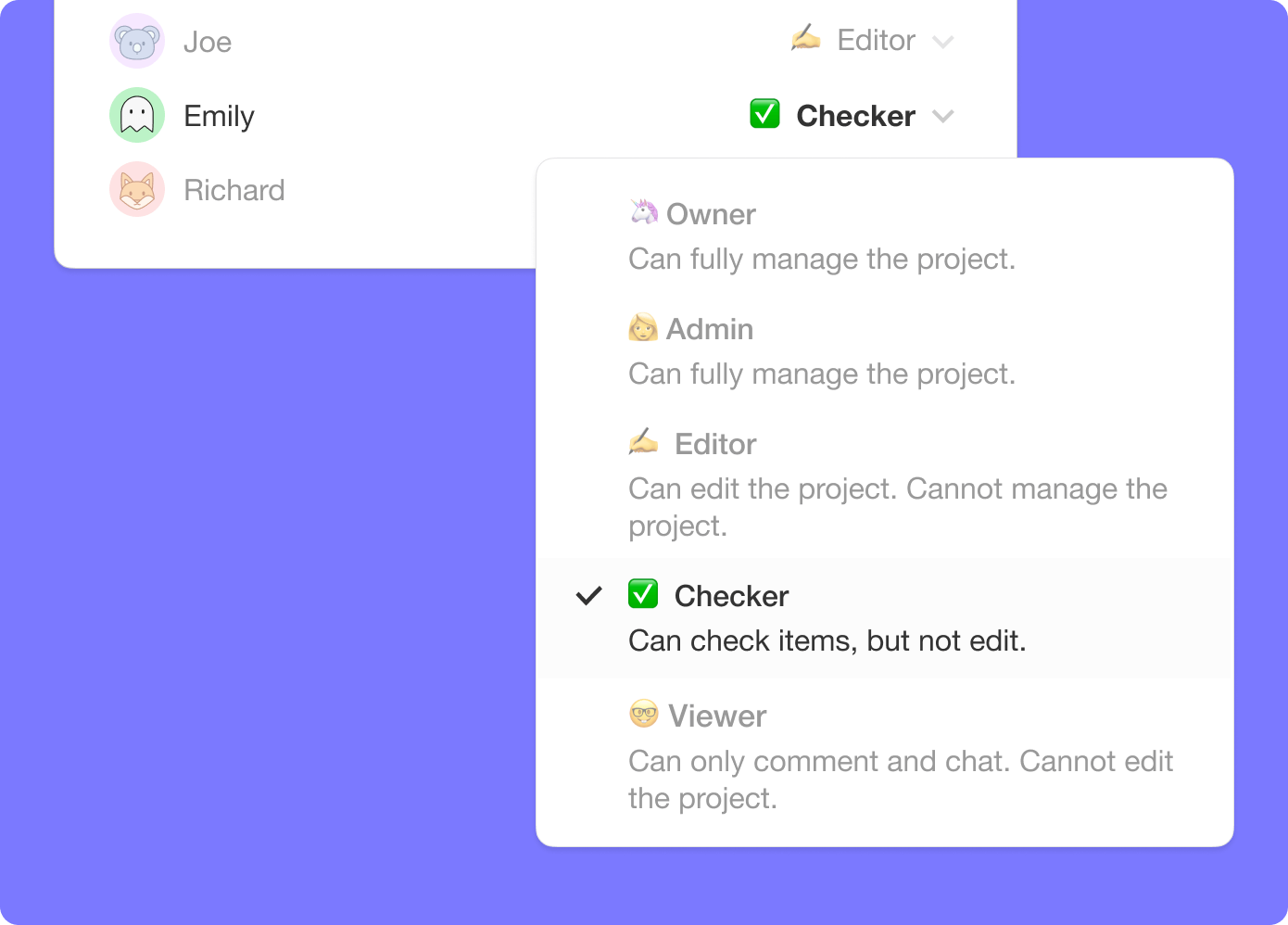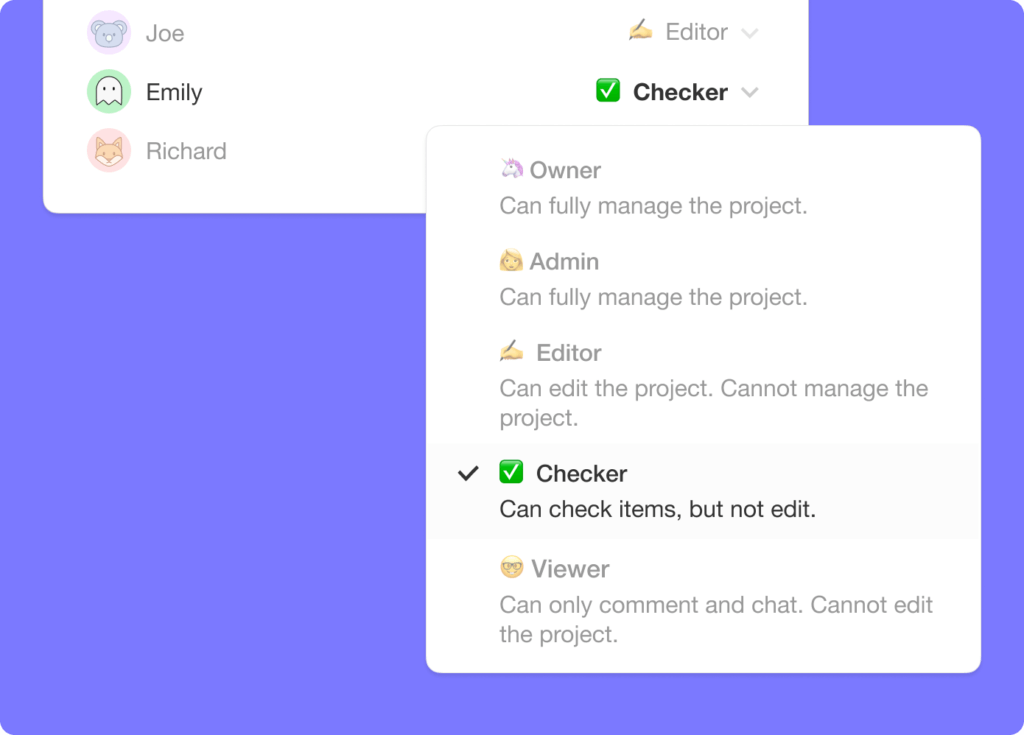 Sort Tasks. Sort sub-tasks/children elements by several parameters, including a completed/uncompleted status or due date.
Search. Search within projects or globally across workspaces and subspaces. Instantly browse and jump between projects anywhere in Taskade.
Keyboard Shortcuts. Navigate projects, create content blocks, reorder elements, and complete tasks using a set of handy keyboard shortcuts.
Check out our exhaustive list of Taskade's features to find out more.
Taskade Pros
Full AI integration powered by OpenAI's GPT-4
Simple and intuitive user interface
Support for Mac, Windows, Linux, iOS, Android, and in a web browser
Real-time collaboration within the same project
integrated video call and chat feature in each project
Multiple board views including a Mind Map view
Customizable templates and AI generators
Frequent updates based on community feedback and suggestions
Tabbed workflow for working with multiple projects
Taskade Cons
No Gantt Chart view (yet)
Taskade Free Plan
Taskade Unlimited Plan – Starts at $5 per month
Visit the pricing page for a full comparison
Evernote is a digital note-taking application that was founded by Russian engineer Stepan Pachikov. Pachikov was fascinated by the way that humans store information, which made him create Evernote to help people organize their thoughts and store more information.
Pachikov started working on an Evernote prototype in 2002. He worked on it for 6 years before feeling confident enough to beta launch the product to a limited audience. After its launch, Evernote grew exponentially and had more than 10 million users by the end of 2011.
Coincidentally, Evernote also became profitable in 2011, with a reported sales figure of around $16 million for that year.
Evernote pioneered digital note-taking and remains one of the most popular note-taking apps today. If you're interested in a more in-depth discussion on Evernote's history from day 1 to what it is today, check out our article on it!
Features of Evernote 🌟
In essence, Evernote is best described as a digital notebook with added features. Evernote's concept is simple, you create notes which are then stored inside notebooks. You can add tags to your notes in order to keep them organized.
Evernote's simple user interface means that your workspace can get pretty clunky especially if you're a heavy note-taker. This is where Evernote's built-in search function comes into play; allowing you to search for notes using keywords and phrases.
Evernote is known for its Web Clipper feature. You can download an extension that allows you to clip parts or even entire web pages and paste them into Evernote. You can highlight key points on clipped web pages to emphasize certain points. These highlights will remain stored in the app until you delete them.
You can use Evernote's templates to get you started on tasks that require more structure such as creating a story dashboard or even a monthly calendar to get yourself organized. This can be a helpful feature to help you kickstart your projects.
An interesting thing that Pachikov did with Evernote is that he implemented a feature to recognize handwritten notes. This was a page he took from a tool he created called 'Calligrapher' in his earlier days which recognized handwritten input on devices. In Evernote, handwritten notes can be captured via an in-app camera.
If you're big on keeping organized, you can utilize widgets to reduce clutter on your Evernote homepage. However, this will require you to upgrade your free account.
Even though Evernote lacks advanced features that are present in its alternatives, it is a handy tool to have if you're focused on written content such as taking meeting notes.
How Much Does Evernote Cost?
Evernote offers its software in 4 different plans.
Evernote Free Plan
Evernote Personal Plan – $7.99 per user per month
Evernote Professional Plan – $9.99 per user per month
Evernote Team Plan – $14.99 per user per month
Microsoft OneNote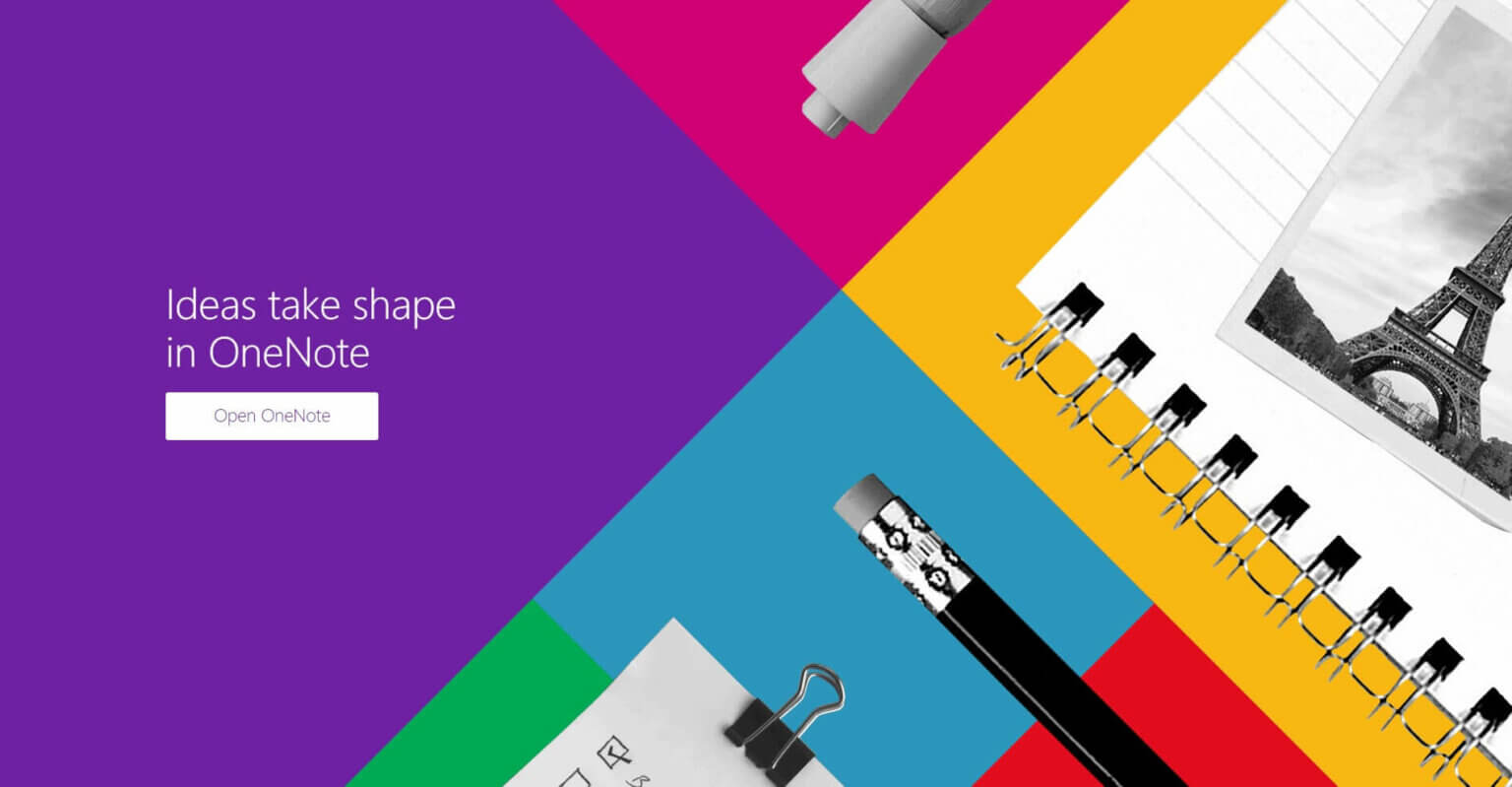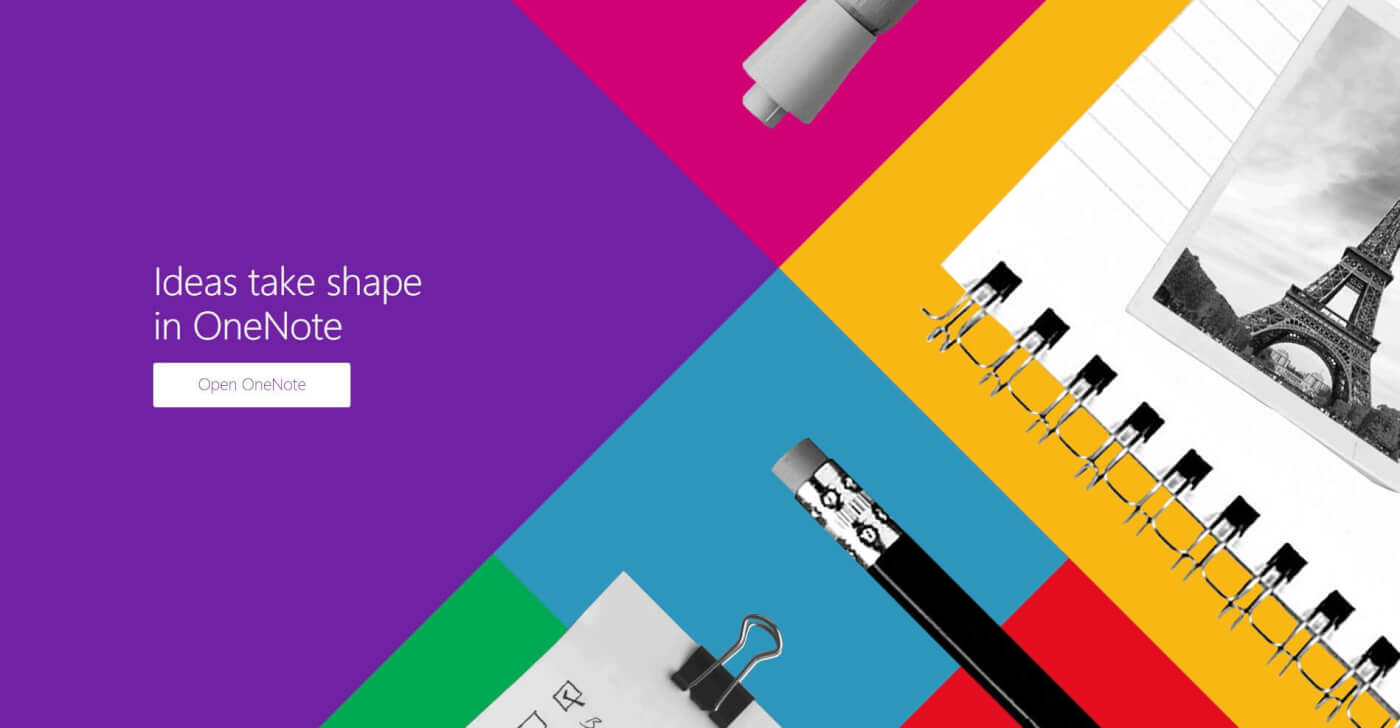 Microsoft One Note is a flexible digital note-taking app that has gained popularity due to its ability to capture, arrange, and synchronize your notes across various devices. Acting as a virtual notebook, OneNote enables you to collect data, produce notes with multimedia elements, and collaborate with others seamlessly.
With its intuitive interface and powerful features, OneNote is a trustworthy companion for both your personal and professional note-taking requirements.
What Are Some Features of Microsoft OneNote? 🌟
Microsoft OneNote is a versatile digital notebook packed with features to enhance your note-taking experience. Here are some of its key features:
Organizational Hierarchy: Create notebooks, sections, and pages to structure and organize your notes efficiently.
Multimedia Integration: Enhance your notes with images, audio recordings, videos, and attachments for a dynamic and engaging experience.
Collaboration and Sharing: Collaborate in real-time with colleagues or classmates by sharing and co-editing notebooks seamlessly.
Cross-Platform Syncing: Access and edit your notes across devices, ensuring your information is always up to date and available on the go.
Powerful Search and Organization: Quickly find specific notes using powerful search capabilities, tags, keywords, and customizable organization options.
Microsoft OneNote empowers you to capture, organize, and collaborate on your notes with other users.
How much does Microsoft OneNote cost?
OneNote is free to use. However, you can subscribe to Microsoft365 for more features.
Obsidian is a note-taking and knowledge management application that provides a platform for organizing and linking your thoughts, ideas, and information. It allows you to create and edit notes using a plain-text markdown format, making it easy to write and structure your content.
Obsidian's most popular feature is its bi-directional link ability which lets uses interconnect their notes with each other. This can then be visualized via a graph view so that you can identify relationships and patterns between your notes.
Features of Obsidian
Obsidian offers several powerful features that enhance your note-taking and knowledge organization:
Markdown-Based Editing: Format your notes effortlessly using Markdown.
Bi-Directional Links: Connect your notes to uncover relationships and navigate between ideas.
Graph View: Visualize connections between notes to gain insights and spot patterns.
Customizable Workspace: Personalize your note-taking environment with themes, layouts, and plugins.
Powerful Search and Backlinking: Easily find information with robust search and trace the paths of your thoughts with backlinks.
Obsidian is a dynamic tool designed to help you organize your ideas effectively and make meaningful connections within your knowledge base.
How much does Obsidian cost?
Obsidian offers a freemium pricing model, meaning there are both free and paid versions available. The free version provides essential note-taking and organization features. To support Obsidian's development, users can subscribe to Obsidian Catalyst for $25 onwards, or the Commercial plan for $50 per year.
RemNote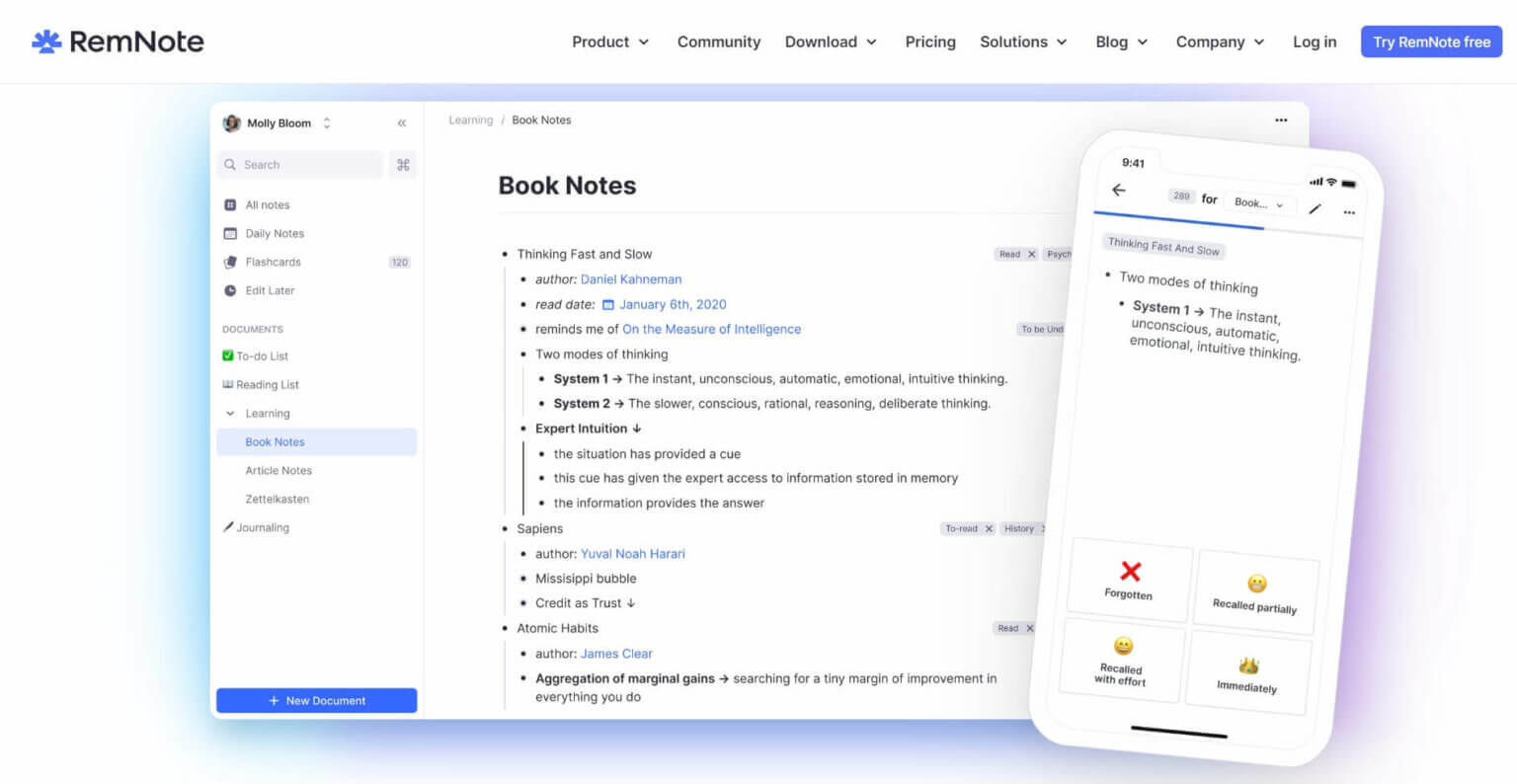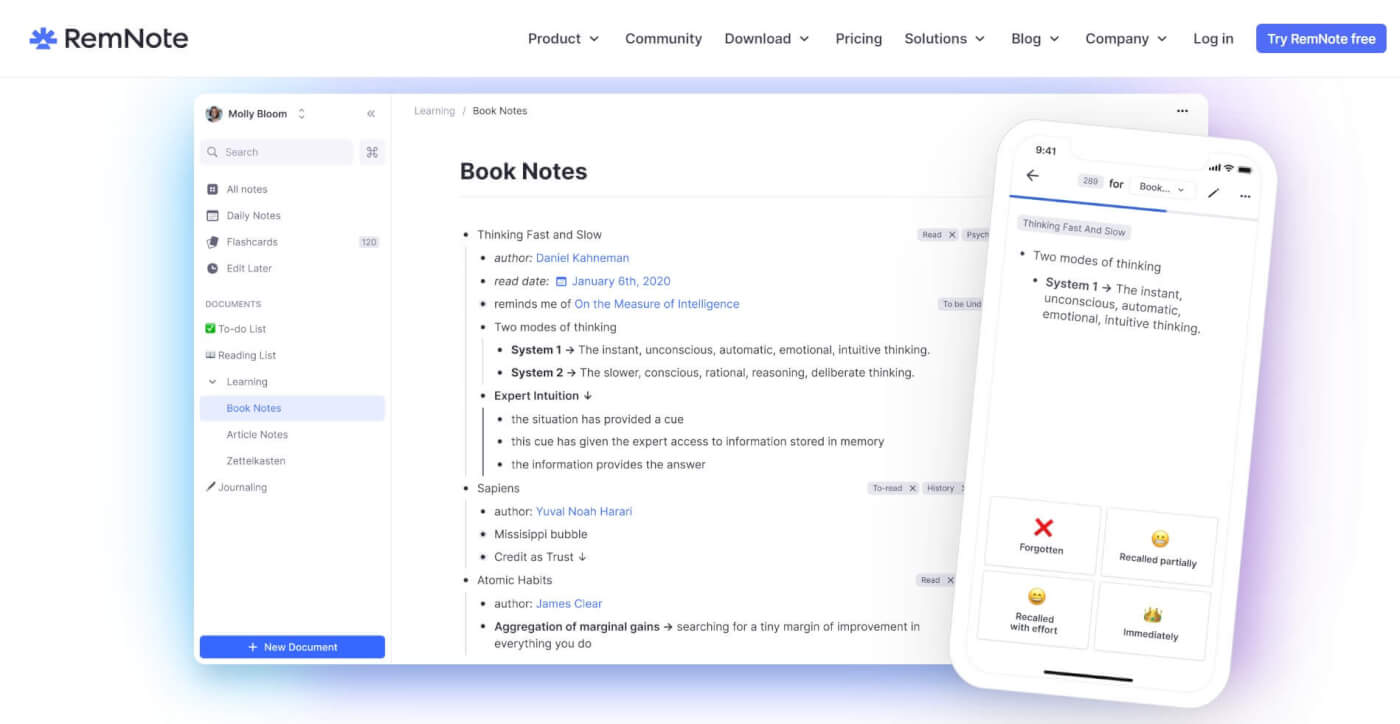 RemNote is a note-taking and knowledge management tool that helps users capture and arrange information. By integrating the effectiveness of spaced repetition and active recall techniques, the tool helps elevate learning and improves information retention.
With RemNote, you have the ability to establish a digital workspace that facilitates the storage, review, and interconnection of your notes, enabling you to have an overview of your notes.
What Are Some Features of RemNote? 🌟
RemNote helps facilitate your study sessions by incorporating intelligent flashcards and reminders. These features promote effective learning by helping you review information at optimal intervals. Moreover, RemNote facilitates hierarchical organization, enabling you to navigate complex topics and uncover connections between concepts.
You can also collaborate with others within the same Knowledgebase, giving you the option to share notes with each other on RemNote.
How much does RemNote cost?
RemNote has 3 different pricing tiers:
Free Plan
Pro Plan – $8 per month
Life Long Learner Plan – $300 one-time fee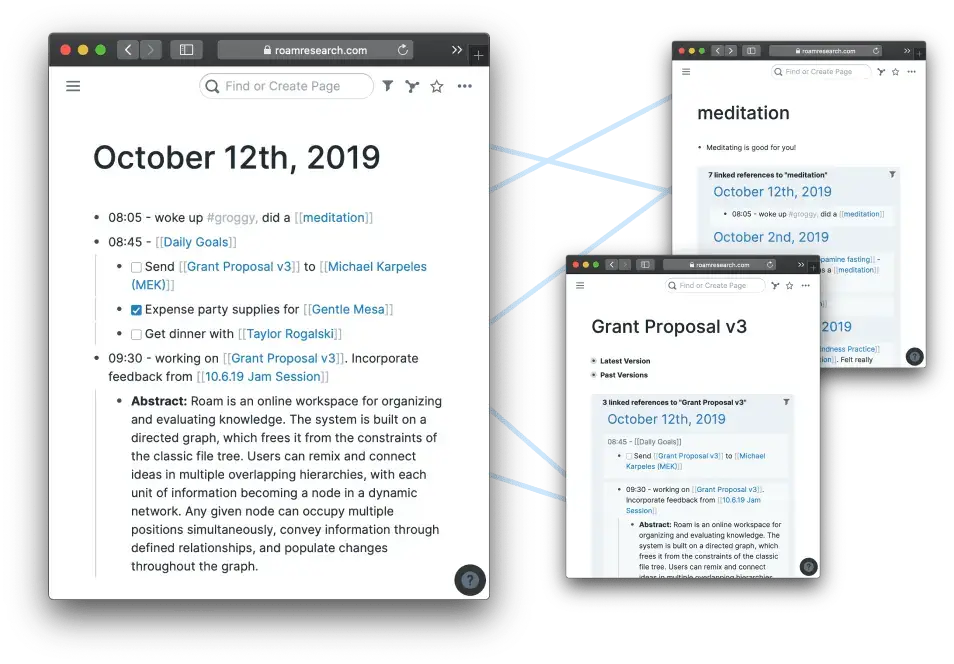 Roam Research is a highly popular and innovative note-taking and knowledge management tool that revolutionizes the way information is organized and connected. It caters to users who prefer the Zettelkasten method, emphasizing the interlinking of notes to form a comprehensive web of knowledge.
Unlike traditional note-taking apps, Roam Research adopts a visual and intuitive approach, presenting connected notes in a mind-map-like view. While it excels as a personal knowledge management tool, it has limited collaborative features and a rather steep learning curve.
What Are Some Features of Roam Research?
Roam Research offers a host of features that revolutionize the way you capture and organize information. Here are some highlights:
Bi-Directional Linking: Seamlessly connect ideas by creating links between notes, enabling effortless exploration of related concepts.
Daily Notes and Time-Stamped Entries: Capture your thoughts chronologically with dedicated daily pages and track the evolution of your ideas over time.
Block-Level Organization: Break down your notes into smaller blocks for better organization and easy rearrangement.
Tagging and Filtering: Assign tags to notes for convenient search and retrieval, and use filters to quickly locate specific information.
How much does Roam Research cost?
Roam Research has 2 different pricing tiers:
Pro Plan – $15 per month or $165 per year
Believer Plan – $500 for 5 years
Craft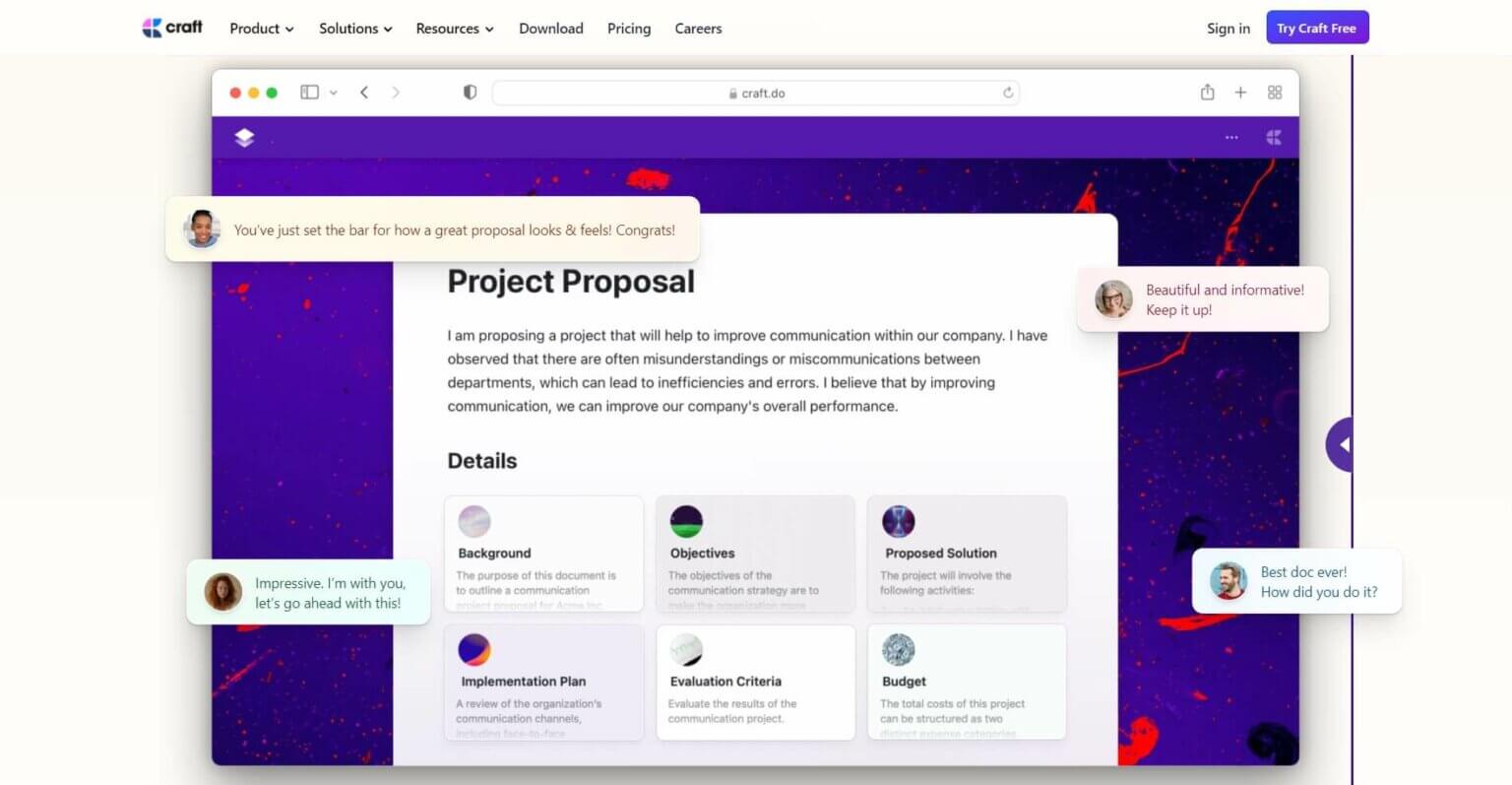 Craft is a note-taking and collaboration tool that is characterized by its sophisticated design and robust capabilities. Tailored for both individuals and teams, Craft offers a seamless platform to capture thoughts, arrange information, and effortlessly collaborate.
Craft distinguishes itself by being both a visually appealing and practical tool to use while maintaining a stylish and user-friendly interface.
What Are Some Features of Craft? 🌟
Intuitive Interface: Craft offers a minimalist and visually appealing interface that keeps you focused on your content without distractions.
Flexible Organization: Structure your notes using a hierarchical system of documents, pages, and blocks, allowing for easy categorization and rearrangement.
Real-Time Collaboration: Collaborate with team members in real-time, enabling simultaneous editing and seamless teamwork.
Rich Media Integration: Embed images, videos, files, and more to make your notes engaging and visually appealing.
Smart Blocks and Templates: Utilize Smart Blocks to create dynamic and reusable content, and save templates for common note structures to save time and ensure consistency.
How much does Craft cost?
Craft has 3 different pricing tiers:
Starter Plan – Free
Pro Plan – $5 per month
Business Plan – $10 per month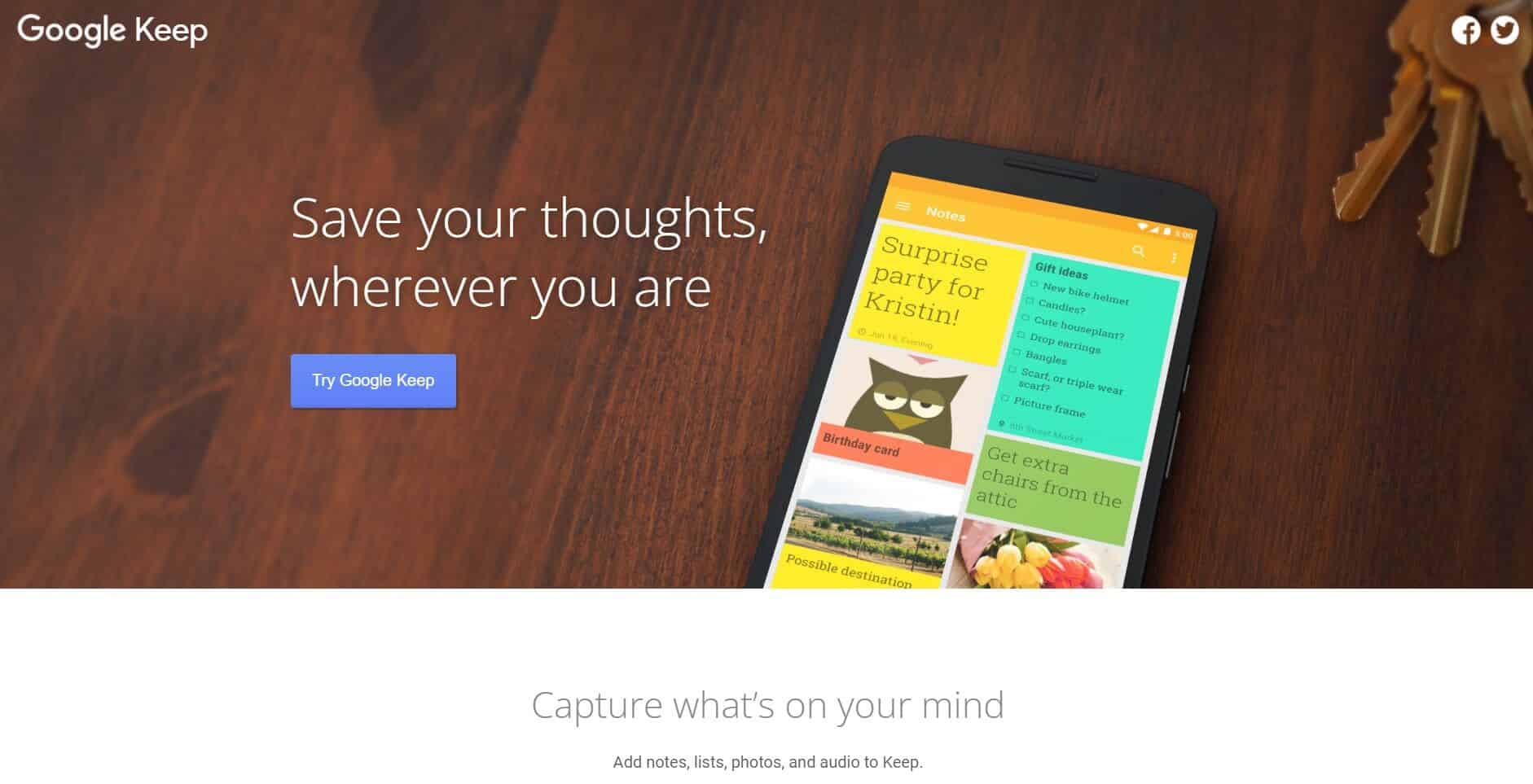 Gmail, Google Docs, Google Drive, Google Keep; Google seems to be killing it when it comes to productivity.
Google Keep is a digital note-taking software that was launched as part of Google Suite in 2013. When it was first released, Google Keep was given good reviews due to its lean design and simplicity. This meant that it was a simple note-taking tool that was also quick.
It was only later in 2016 that Google Keep started to get mixed reviews. Part of these reviews came from users that found it hard to take long-form notes with the inability to format notes and change workspace views on Google Keep.
Generally, good reviews for Google Keep come from it being a note-taking app that is simple and accessible. Instead of lugging around documents to help you keep track of your to-do lists, Google Keep offers a lightweight solution.
Users can choose between a list view or grid view on their board. Notes can also be color-coded or customized with an in-built background. Important notes can be pinned to the top and Google Keep's lean design makes it an intuitive note-taking app to use.
You can also collaborate on Google Keep to take simple notes together or share to-do lists with other users.
Google Keep can be used as a team collaboration software that allows you to work with other users on simple notes. The ability to share to-do lists means that you can use Google Keep as a task manager as well. The only prerequisite to this is that other users must also sign in to their Google account to use Google Keep.
In 2021, Google discontinued Google Keep's Chrome app. However, the popular note-taking tool can still be accessed via web browsers and other apps.
Features of Google Keep
Besides customizing backgrounds, Google Keep does have a few useful features to help you take simple notes online. However, the software is only equipped with minimal features to keep things simple.
You can transcribe voice recordings into your notes on Google Keep. To do this, record your voice using the app and your voice will automatically be transcribed in real-time. This is a useful feature to have if you get a sudden hit of inspiration while being unable to type out your notes.
If you enjoy drawing, you can add doodles to your notes. Simply draw and save your doodles on your notes within Google Keep. If you prefer to express your thoughts via drawings, then this feature will come in handy for you.
Google Keep does not have formatting options and this makes it hard for you to document long-form and detailed notes. If you're using it to take simple meeting notes it should suffice.
However, you can transfer lengthier notes on Google Keep into Google Docs easily. Although it takes an extra step to transfer notes from Google Keep to Google Docs, you should be able to continue your long-form note-taking process.
Note organization is done via labels and can also utilize Google Keep's search function to locate specific notes. However, if you're a heavy note-taker, your Google Keep home page will get messier as you take more notes. Unlike Taskade which is more robust, Google Keep does not have the organizational features that Taskade offers.
Being a simple note-taking tool, Google Keep offers a basic collaboration feature. Simply click on your note and add a collaborator to start taking notes together in real-time. However, this will only work for simple notes. This is because Google Keep lacks advanced features such as a built-in chat feature, making it harder for you and your team to align on ideas.
How Much Does Google Keep Cost?
Google Keep is completely free to use.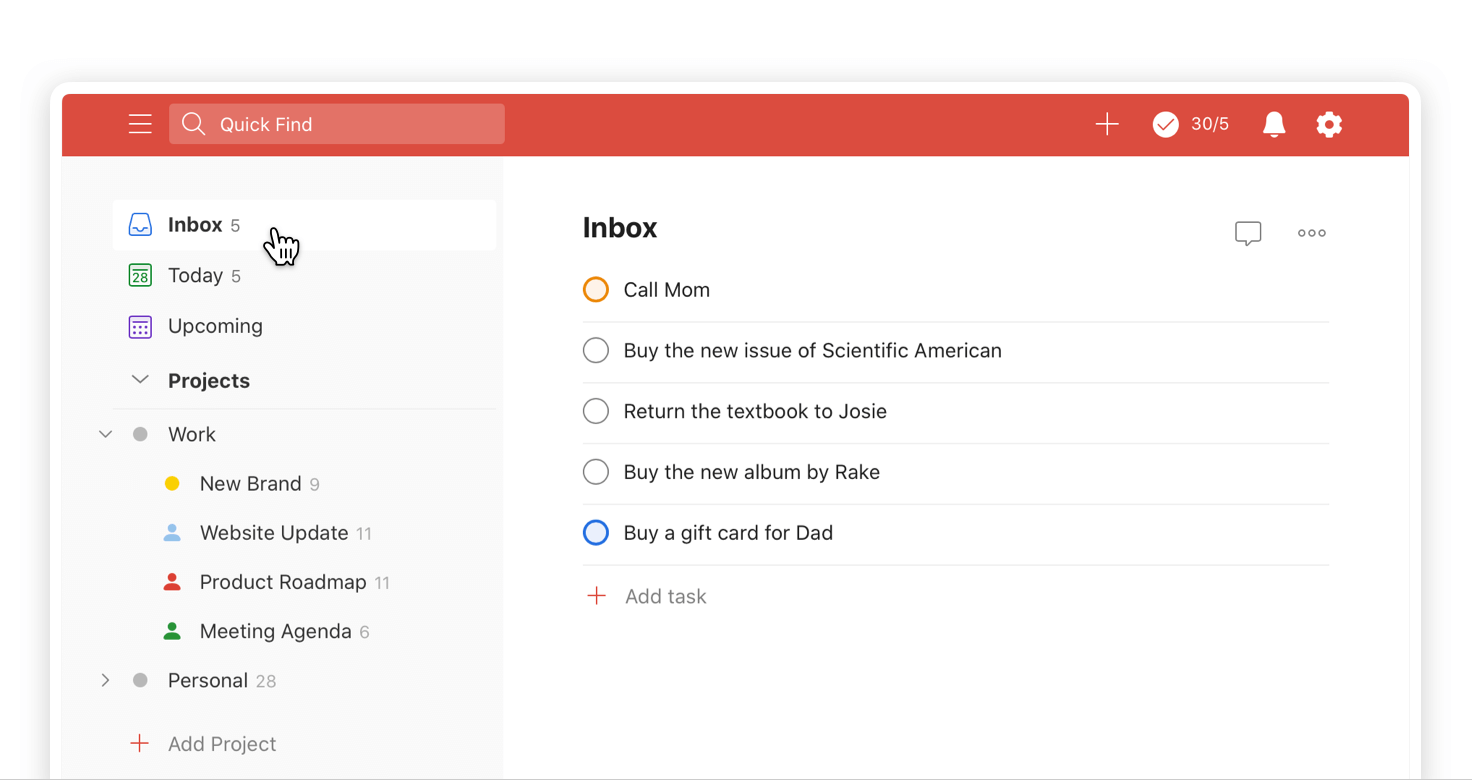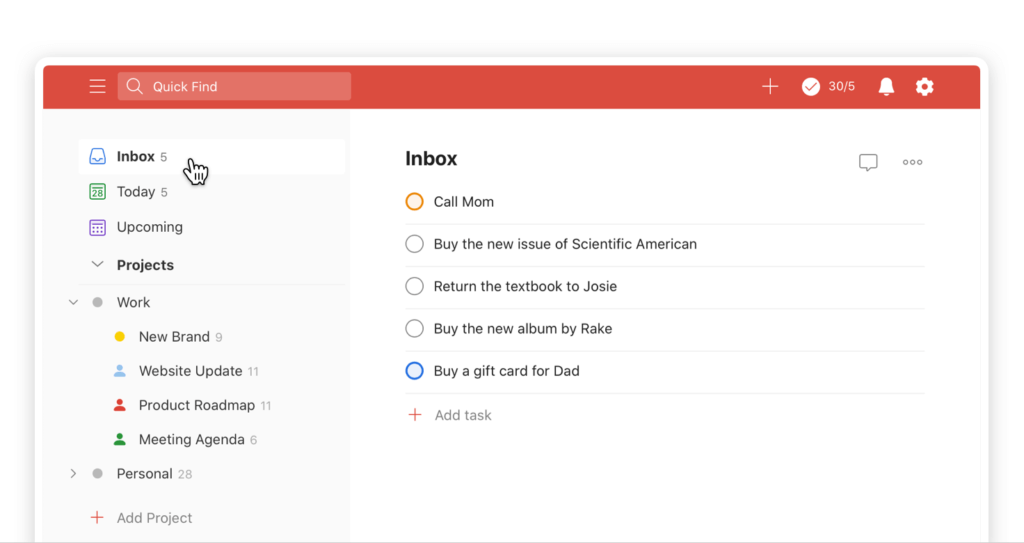 Todoist is a task management software that was developed by its parent company, Doist. Amir Salihefendic is the founder of Doist, and he developed Todoist in 2007. The main aim of developing Todoist was to help people stay on top of their tasks by organizing them via a simple task management system.
Todoist is completely bootstrapped. Salihefendic has declined any sort of funding and acquisition in order to stay in control of the company. He mentioned in a blog post that he didn't want to have an exit strategy, and instead wanted to create a powerful product that can help people(1).
Since its launch in 2007, Todoist has seen steady growth. The software has around 2 million users in 2014, and over 5 million users as of today.
The software is lightweight with simple features to make it intuitive and fast. In Todoist, you can create tasks that are then housed under projects, or in an inbox. You can create sub-projects within projects and break up big tasks into smaller sub-tasks to help organize your work.
Features of Todoist
Todoist is a simple task management software that allows you to stay on top of your day by organizing your work with the help of a to-do list. Todoist is lightweight and only has key features that are geared to help you make better to-do lists.
You use Todoist by creating tasks, which are then organized in projects or your Todoist inbox. You can create multiple projects to break down your tasks into different facets such as for work and for home. If you want to take your organizational skills up a notch, you can create sections within your projects to organize your tasks in groups.
When adding tasks, you can set due dates and assign them to folders without having to manually click them by using commands. Tasks can be color-coded based on priority and recurring tasks can also be automated to help you save time.
Todoist helps you visualize your tasks by offering a Kanban board view that you can toggle to. However, this is the only alternative view that Todoist offers. Taskade on the other hand offers 5 different views for you to visualize your to-do lists and projects.
There are plenty of external apps that Todoist can integrate with. One of the uses of this is to integrate with a third-party email app so that you can reply to your emails via Todoist and check it off your to-do list at the same time.
As a simple to-do list with a clean user interface, Todoist keeps it simple and doesn't overwhelm you with a lot of features. It is also available on every major platform so that you can use it as a mobile task manager.
How Much Does Todoist Cost?
Todoist offers its software in three different tiers, with additional discounts for nonprofit organizations.
Todoist Free Plan
Todoist Pro Plan – $3 per user per month
Todoist Business Plan – $5 per user per month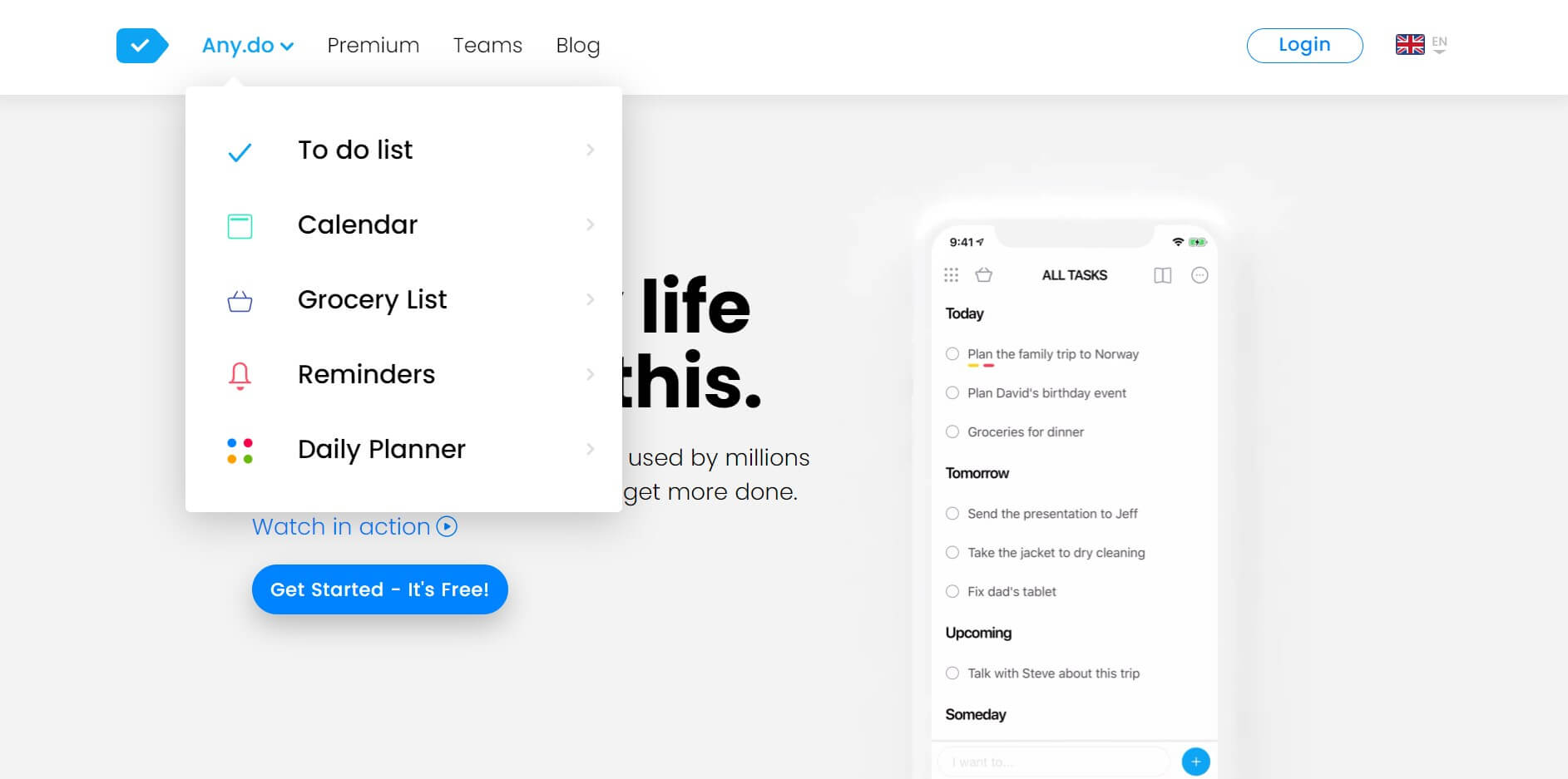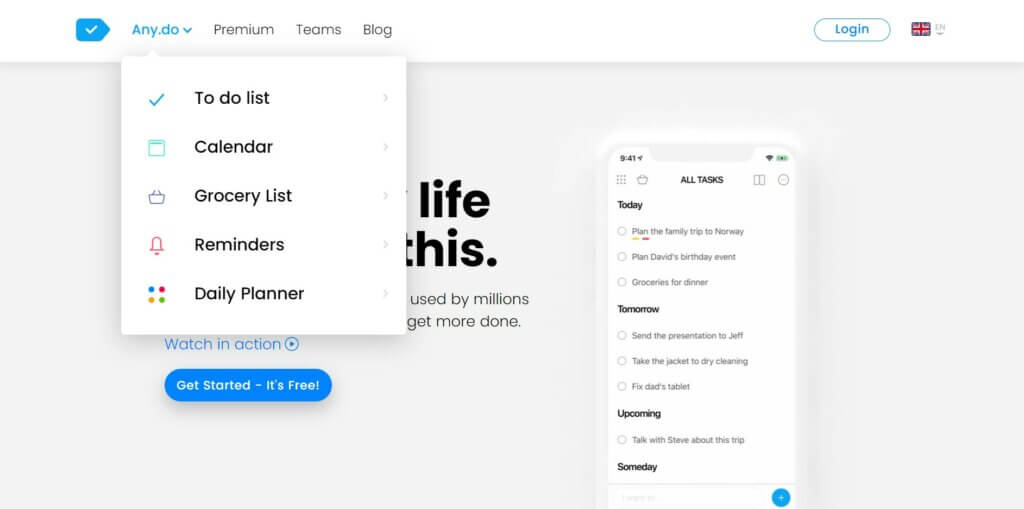 Any.do is a task management software that was founded in 2011 by Omer Perchik, Yoni Lindenfeld, and Itay Kahana. The first iteration of Any.do was an Android app known as Taskos.
After receiving $1 million in funding from angel investors in 2011, Any.do experienced a surge in growth, with over 500,000 users downloading the app within the first month of launch. Two years later, they had over 7 million users and by the end of 2020, Any.do crossed over 30 million users. This makes Any.do one of the most popular to-do list apps today.
On Any.do, users can manage their tasks by creating to-do lists and breaking down larger tasks into smaller subtasks. Unlike Remember The Milk which requires users to upgrade to access the subtasks feature, Any.do offers this feature for free.
The desktop home view is broken down into three sections which are a menu on the left, a task block in the middle, and a calendar block on the right.
Being available across most devices, Any.do gives you the ability to add and check tasks on the go. Additionally, you can integrate Any.do with your device calendar. This would then show all of your daily tasks on your device calendar, ensuring that you're always on top of your day.
There is synergy between Any.do's to-do list functionality and its calendar view, which allows users to easily toggle between the two views and keep track of things. With a simple build, Any.do is easy to use and is used by a large number of users due to its ease of use.
As a simple to-do list app, Any.do would suffice if you're looking for software to help organize simple tasks. You can also collaborate with other users on your to-do lists on Any.do. However, although Any.do is good as a simple task management tool, it lacks features that are required when working on more complex tasks.
Features of Any.do 🌟
Any.do is light on features, and that is by design. Being light on features makes it a simple to-do list software to use with minimal onboarding required. This means that if you're looking for a more robust tool to help organize your knowledge, Any.do might not be the best option to consider.
On Any.do, you can create to-do lists and further organize your tasks into subtasks. Doing this helps you to break down complex tasks into smaller actionable subtasks to prevent you from feeling overwhelmed.
Your tasks and calendar are closely knitted together on Any.do. Once you've created a task and integrated your preferred digital calendar app, you will be able to see all of your daily and weekly tasks on your calendar.
If you upgraded your plan to a premium version, you will get access to advanced recurring tasks, which allows you to set a task to repeat at customizable intervals. Taskade would be a better free alternative to Any.do because Taskade allows you to set recurring tasks even on a free plan.
Any.do is available on most devices and this gives you the ability to be in complete control of your schedule. You can choose to be notified of certain key tasks throughout your day. Any.do's seamless integration of its task lists with calendars makes it a unique tool to have in your arsenal.
Once you have created a few tasks, you can change your task list view to show you the tasks you have for the day, a weekly view, and even a monthly view. This lets you estimate the workload that you'll have in store for you.
You can also collaborate with other users on a shared task list. Once a list has been shared, you can then assign tasks and add comments to communicate via the app. This would be ideal if you're working together on something simple such as a shopping list or planning simple events.
How Much Does Any.do Cost?
Any.do has two pricing plans available.
Any.do Free Plan
Any.do Premium Plan – $5.99 per user per month
Remember The Milk is an online to-do list application. It was created to help people manage their time better by organizing their tasks and to-do lists.
Remember The Milk was founded in 2004 by Emily Boyd and Omar Kilani. The pair were inspired by Gmail and created Remember The Milk to help other people organize their tasks.
After being developed for a year, Remember The Milk was launched in 2005. The task management tool quickly grew in popularity and today, they have over 6 million users.
With Remember The Milk, users can set to-do lists via a web browser, or via mobile with Android or iOS. Part of its charm comes from it being a simple task management tool without being overloaded with features.
Being a simple tool to use, Remember The Milk works best for people who are looking for a simple to-do list app to organize their tasks. Remember The Milk is also frequently compared to Todoist as both tools have somewhat similar features.
Features of Remember the Milk 🌟
Remember The Milk is light-on features and is easy to use. The dashboard feels similar to a Gmail dashboard, giving it a sense of familiarity for regular Gmail users. Clicking on 'Add a task' gets you started on adding your first task, which you can then organize by adding tags or putting it in a list.
You can also set the start and end dates for your task. For recurring tasks, there is an option for you to repeat tasks to help you save time. Remember The Milk also has a priority feature, which lets you organize your tasks in order of priority so that you can get the most important tasks out of the way first.
Although Remember The Milk does not offer multiple board views, you can change your task view to show you the tasks that you have for the current day, the day after, or tasks remaining for the current week.
Generally, Remember The Milk is only a to-do list application. It is a good way for you to get started with creating to-do lists and using an app to help organize the simpler aspects of your life. You can also share your to-do lists with 2 other users. This works best for simple collaboration on tasks such as a shared grocery list.
However, Taskade is a better free alternative to Remember The Milk because Taskade offers unlimited projects and tasks for free. With Taskade, you can create unlimited to-do lists and collaborate with as many people as you want on the app, making it a better alternative to Remember The Milk.
How Much Does Remember the Milk Cost?
Remember The Milk offers its product in two simple plans which are the Free Plan, and the Pro Plan.
Remember The Milk Free Plan
Remember The Milk Pro Plan – $39.99 per user per year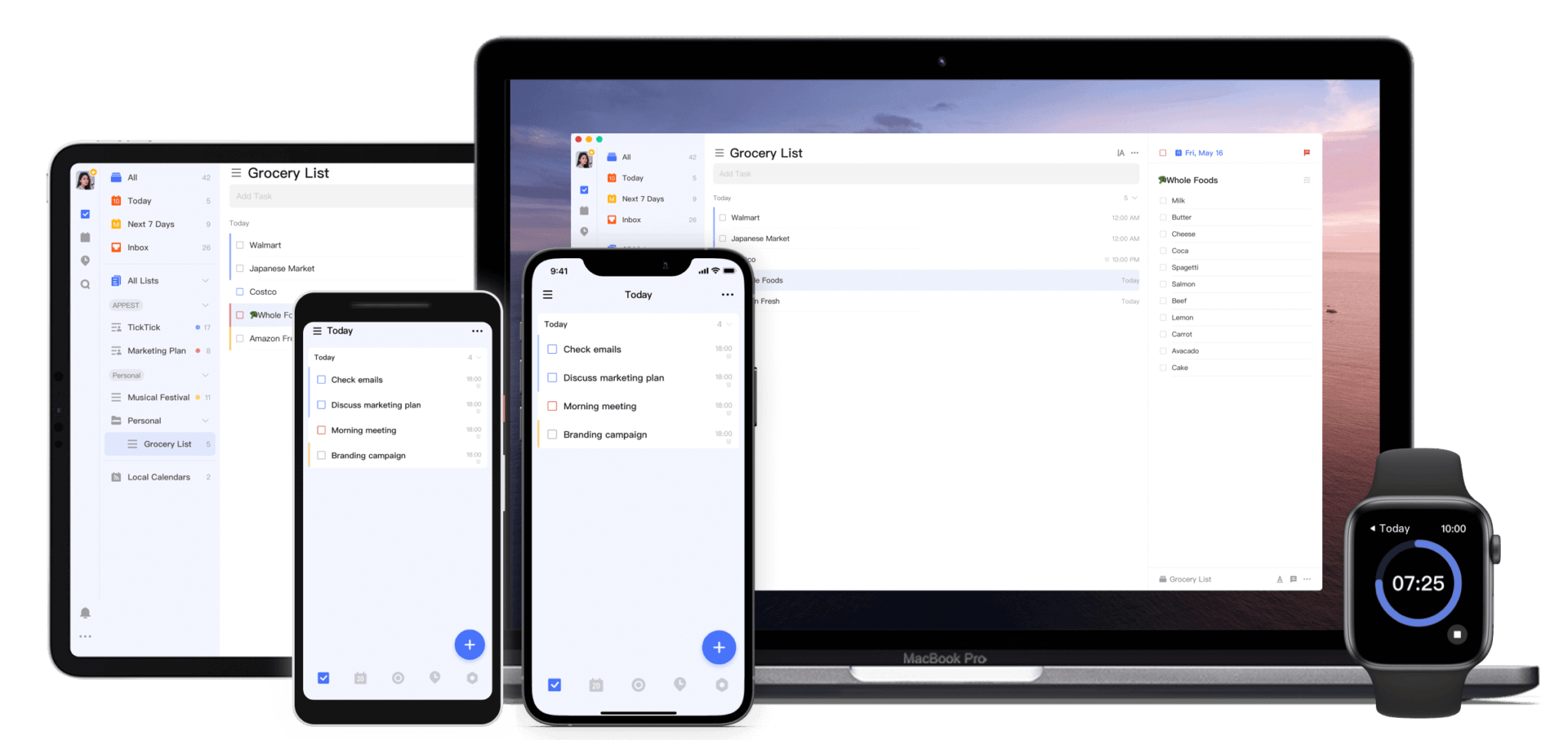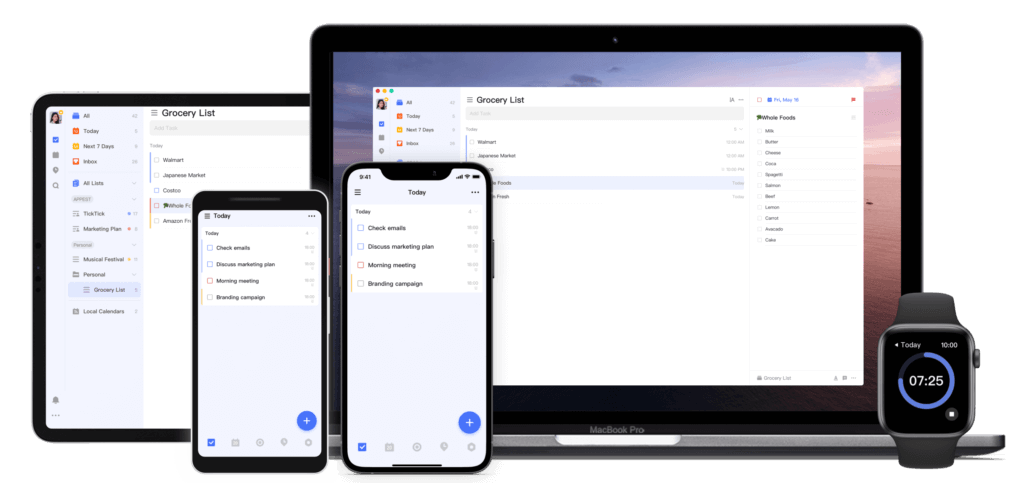 TickTick is a task management tool that was founded by Appest Inc in 2013. Appest Inc originally created an app on Android called GTasks. TickTick was then created based on GTasks with added features to help with productivity such as cross-platform synchronization. TickTick was co-founded by Zhimin Chen, and the company's main goal is to help people get more work done.
In 2013, TickTick was launched on web browsers, Android, and iOS. The app then made its way to Windows and Mac three years later.
TickTick is frequently compared to Todoist because both tools serve a similar purpose for task management and as a to-do list. However, TickTick is different from Todoist due to its calendar view that has gotten good reviews from users.
Features of TickTick 🌟
TickTick has a light build which makes it user-friendly. It is not loaded on features which means that beginners can get started on using the tool quickly.
On TickTick, you can create to-do lists and set reminders to make sure that you get your work done. You can organize tasks by storing them within folders and organize them further by using tags. Recurring tasks can also be set to repeat so that you won't have to keep on recreating them.
The gamification of tasks on TickTick gives you an added incentive to get your tasks done on time. Completing tasks on time gives you a higher achievement score. If a task is delayed, the reverse will occur.
Desktop and web versions of TickTick allow you to toggle between the default list view to a kanban view. In the kanban view, you can drag and drop tasks between columns in a similar way to the calendar view. The kanban view in TickTick has simple features such as due dates, prioritizing tasks, and viewing task activity.
TickTicks best feature is probably its calendar view. In this view, you are able to drag tasks around the calendar and use time blocking to organize your tasks. Unassigned tasks can also be dragged into the calendar to automatically give it a due date. However, the calendar view is only available for premium accounts, which means that you will have to pay to get access.
A minor but neat feature that TickTick has is that you have the ability to visualize how much of a task has been completed via a task progress bar. One of the reasons that make Taskade the best free alternative to TickTick is that you can check off and hide completed tasks in addition to having a progress bar for your whole project.
If you're a fan of the Pomodoro Timer, TickTick has a built-in Pomodoro Timer in its settings, which means that you can easily get started on this useful productivity method.
You can also collaborate on TickTick by inviting other users to your tasks or by creating a shared task list. However, this feature is very limited as the free version only allows you to collaborate with one other user.
How Much Does TickTick Cost?
TickTick has a straightforward pricing strategy as it only has two plans available, the Free Plan, and the Premium Plan.
TickTick Free Plan
TickTick Premium Plan – $27.99 per user per month
Trello
Trello is a web-based Kanban board project management application that was founded in 2014 by Joel Spolsky and Michael Pryor. It was originally codenamed "Trellis" and was subsequently renamed Trello.
Spolski and Pryor created a prototype of Trello in 2011 and they soon became pioneers of the online Kanban board movement.
After years of steady growth and a 2017 acquisition by Atlassian, Trello is still one of the most popular options for project management software today.
Features of Trello 🌟
Trello is a project management software that enables users to manage tasks, organize, and share them across teams. Users create Trello cards representing different tasks and then use the drag-and-drop interface to place these on a Trello board.
Trello cards contain content to help you complete tasks in relation to your project. Even though this approach is good for managing projects, it's almost impossible for you to document long-form meeting notes using Trello.
Although Trello offers multiple project views, these are locked behind a paywall and you would have to purchase a premium subscription to get access to multiple views. With a free or standard plan, you are limited to the default Kanban view.
How Much Does Trello Cost?
Trello has three pricing tiers available.
Trello Free Plan
Trello Standard Plan – $5 per user per month
Trello Premium Plan – $ 10 per user per month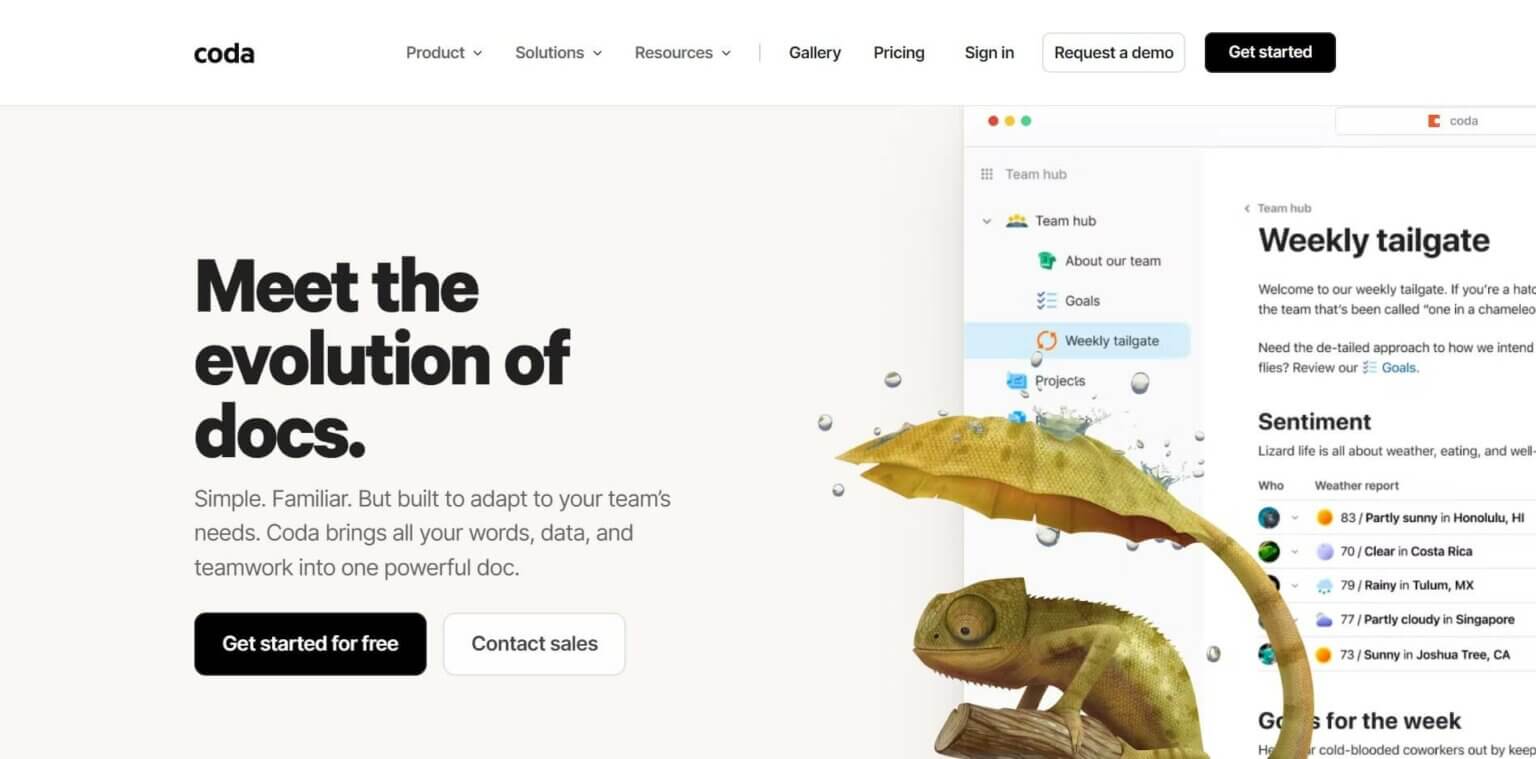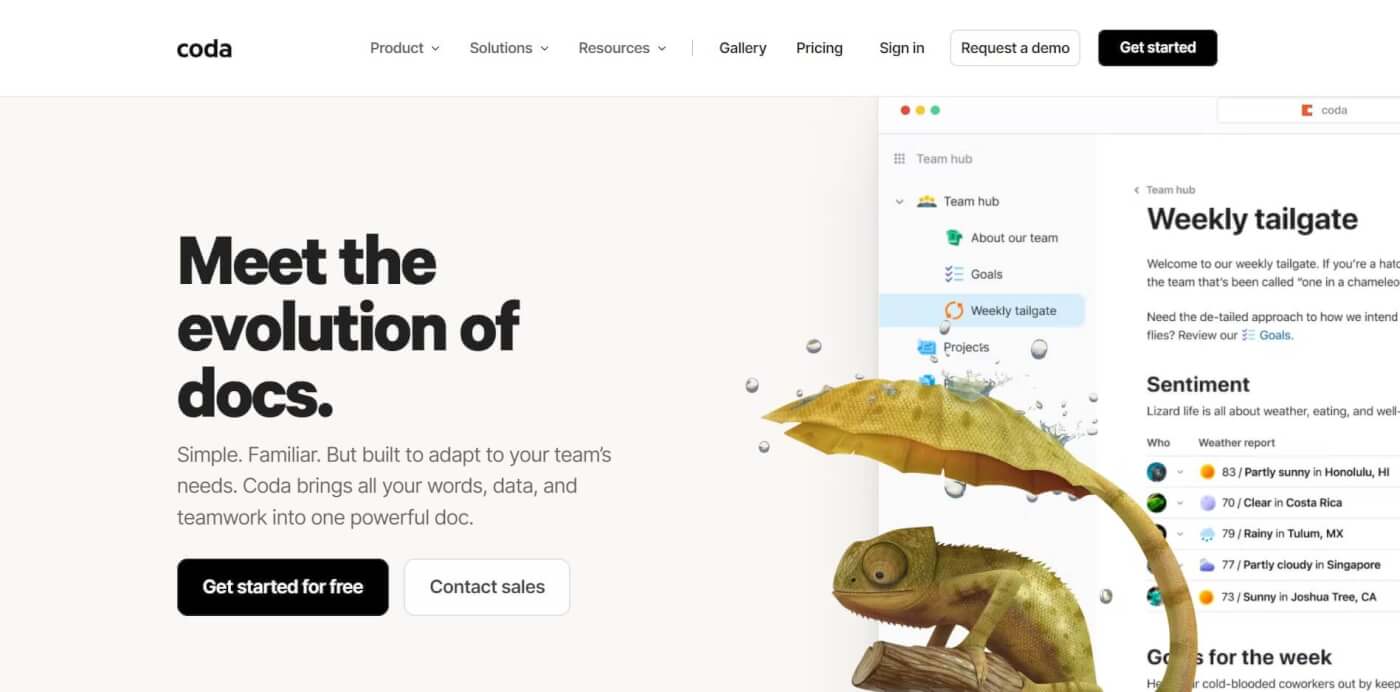 Shishir Mehrotra and Alex DeNeui founded Coda.io in 2014 as a platform that revolutionizes team collaboration and productivity. Combining the flexibility of documents with the functionality of applications, Coda.io offers a unified workspace where users can effortlessly create dynamic and customizable tools.
After a closed beta phase, Mehrotra and DeNeui introduced Coda.io to the public in 2019, unveiling a groundbreaking solution that transforms project management. Users can start with a blank canvas and customize their documents using blocks, tailoring them to their specific needs—a concept reminiscent of Notion's capabilities.
What Are Some Features of Coda? 🌟
Flexible Document Creation: Coda.io empowers you to create documents that go beyond traditional text. Embed tables, interactive buttons, and even customizable forms to build powerful and interactive content.
Collaboration Made Easy: Collaborate in real-time with your team, enabling seamless communication and efficient workflows. Assign tasks, leave comments, and track progress, all within the context of your document.
Customizable Templates: Jumpstart your projects with customizable templates for common use cases such as project management, product roadmaps, or meeting agendas. Coda.io provides a library of templates that can be tailored to suit your specific needs.
Automation and Integrations: Simplify repetitive tasks and streamline workflows with built-in automation features. Integrate with popular tools such as Google Drive, Slack, and GitHub to bring all your essential data and notifications into one centralized place.
Interactive Views: Present your data in various interactive views, including tables, cards, calendars, and Kanban boards. Customize these views to visualize and analyze your information in the most meaningful way.
How Much Does Coda Cost?
Coda has 4 different pricing tiers:
Free Plan
Pro Plan – $10 per month
Team Plan – $30 per month
Enterprise Plan – Custom
Nuclino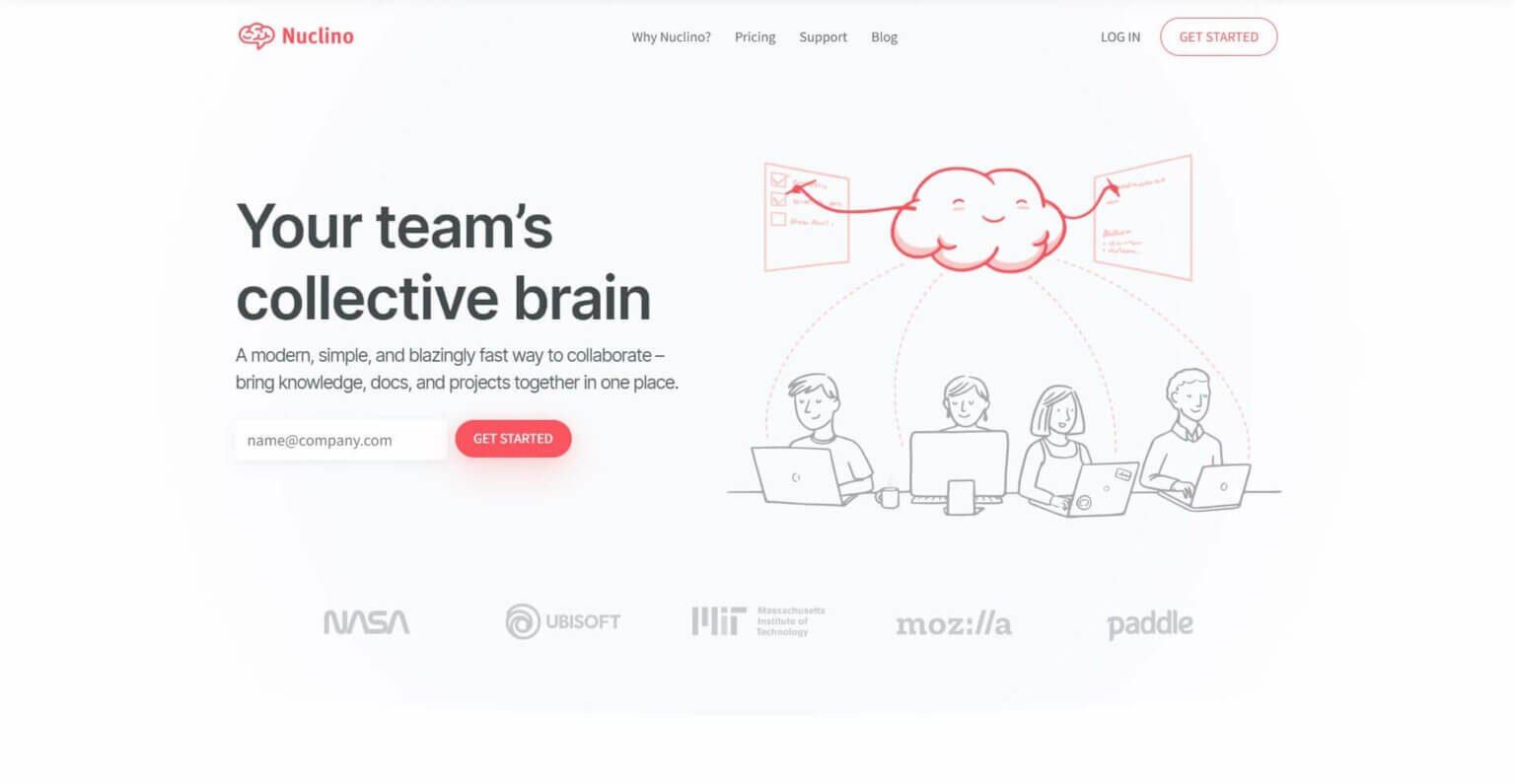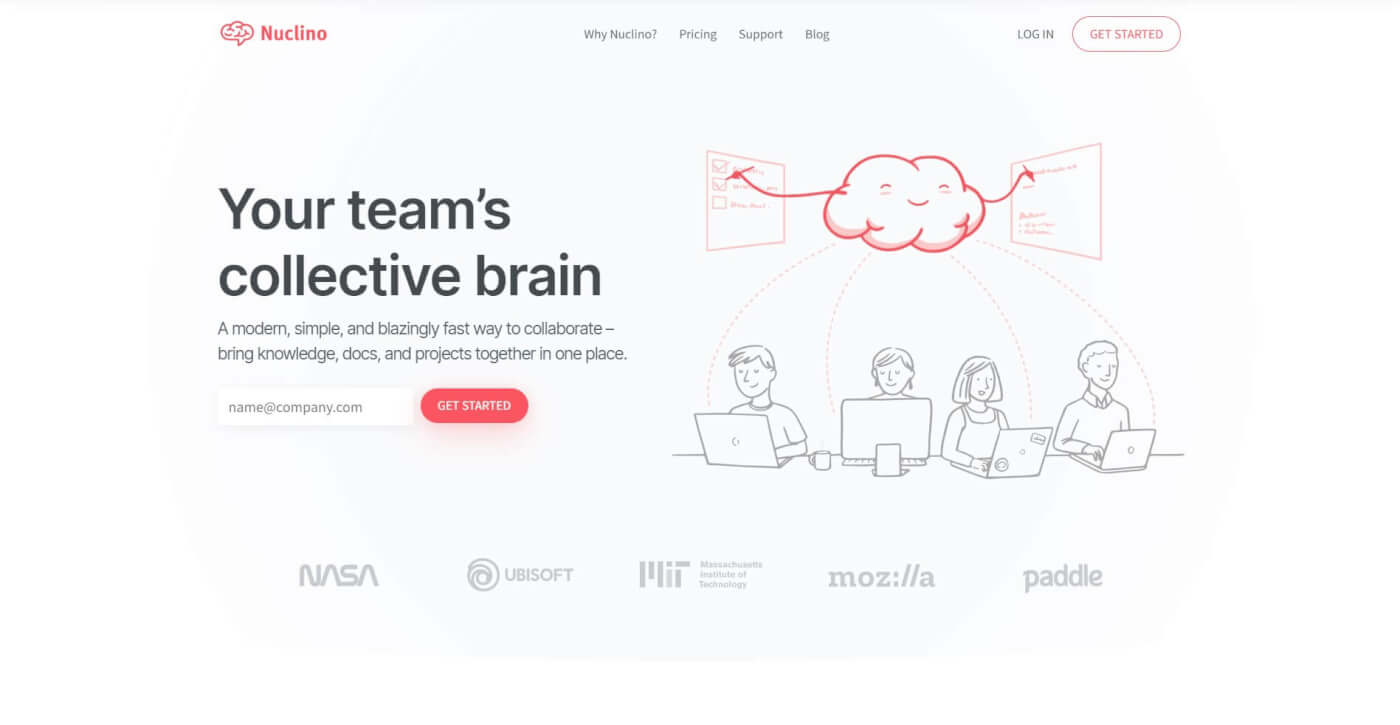 Nuclino is a powerful knowledge management and collaboration platform that helps teams centralize information, streamline workflows, and enhance productivity. It offers a seamless way to create, organize, and share knowledge within a single unified workspace. With Nuclino, teams can collaborate in real-time, access information effortlessly, and stay aligned on projects and tasks.
What Are Some Features of Nuclino 🌟
Collaborative Knowledge Base: Create a centralized repository of knowledge with Nuclino's collaborative knowledge base. Capture and organize information in real-time, ensuring everyone has access to the latest updates and insights.
Real-Time Collaboration: Collaborate with your team members in real-time, enabling seamless communication and efficient workflows. Work together on documents, leave comments, and track changes to stay aligned on projects and tasks.
Flexible Document Creation: Nuclino offers a flexible and intuitive editor that allows you to create and structure content easily. Embed images, files, and even code snippets to enhance your documents and make them more engaging.
Powerful Search and Navigation: Find information quickly with Nuclino's powerful search and navigation features. Instantly locate documents, pages, and even specific content within your knowledge base, saving you valuable time and effort.
Integrations and API: Integrate Nuclino with your favorite tools using its extensive list of integrations or leverage its API to connect with your existing systems. Seamlessly bring in data from other applications to enrich your knowledge base.
How Much Does Nuclino Cost?
Coda has 3 different pricing tiers:
Free Plan
Standard Plan – $5 per month
Premium Plan – $10 per month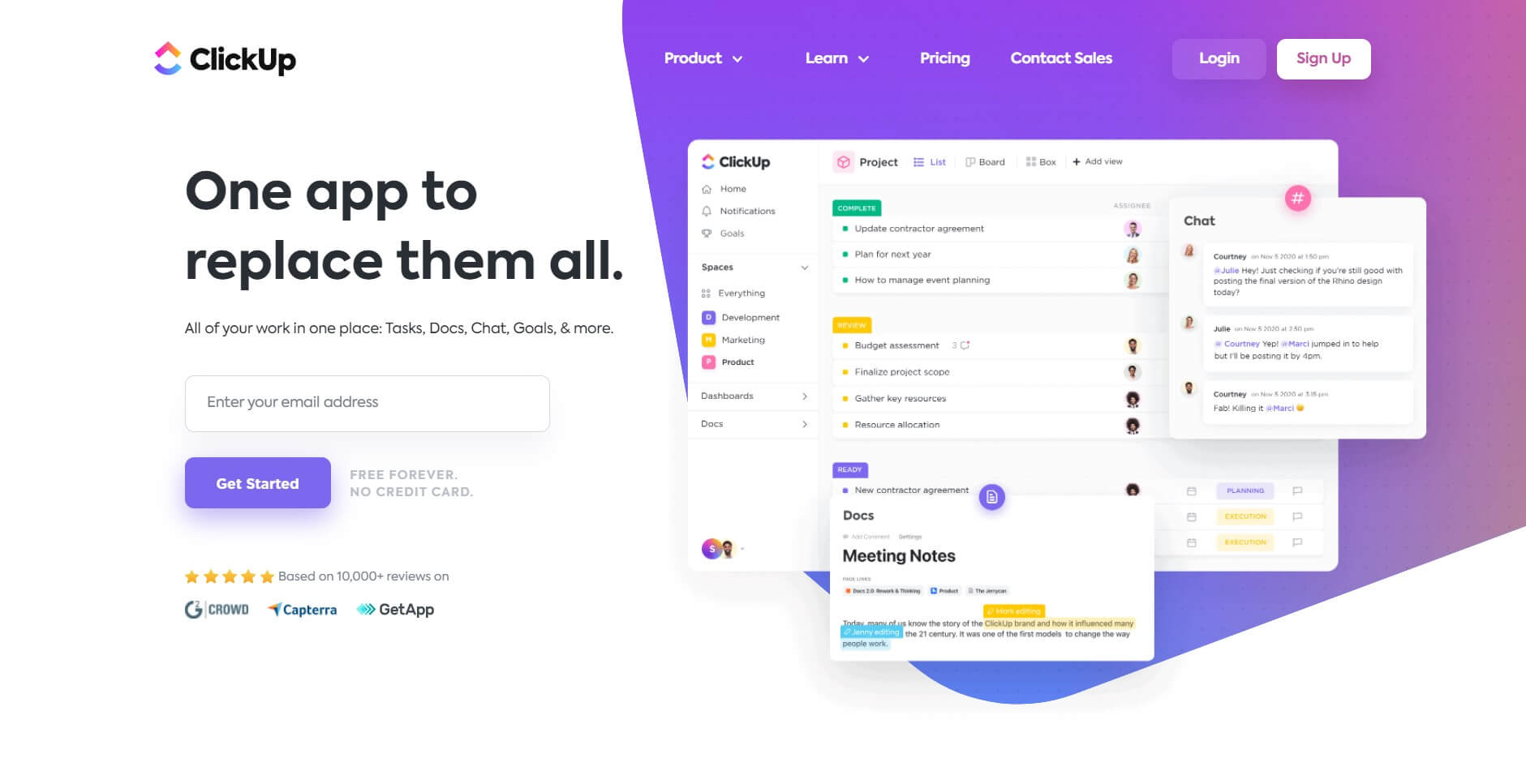 ClickUp is a project management software that was founded by Alex Yurkowski and Zeb Evans in 2017. It is usually used by individuals and teams to organize projects and tasks.
ClickUp quickly gained popularity when it was released to the market and today, it is a company that is valued at around $4 billion. Recently in 2021, ClickUp raised $400 million in a Series C funding round. It is also reported that ClickUp has around 4 million users using its platform. What makes this company so popular amongst other similar tools in the market?
Part of ClickUp's popularity comes from it wanting to be the only productivity tool that users will ever need. Although there are limitations to ClickUp which will be covered in the coming sections below, ClickUp does offer a customizable approach to project management.
This means that individuals and teams of all sizes are able to use ClickUp to increase their productivity. You can use ClickUp to create and monitor personal and group projects, making it a versatile tool to have in your arsenal.
On ClickUp, your Workspace represents your business and is further divided into Spaces that break down your business into its functions such as 'Finance' or 'Marketing'. Within these spaces, Folders containing Tasks and Lists are housed within them.
After creating projects, you can assign tasks to your team members with specific due dates to ensure that your project flows as smoothly as possible. Check out some of ClickUp's features below.
Features of ClickUp 🌟
ClickUp is loaded with features to help you better manage your projects. Similar to Taskade, ClickUp offers multiple views for you to choose from including a List view, Board view, Calendar view, Gantt view, and more.
The List and Board views can get pretty clunky if you have multiple tasks going on at the same time. If you're keeping track of multiple tasks and projects at the same time, the Calendar view might be a better option for you. The main idea is to let you choose the view that best fits your requirements.
After creating a task on ClickUp, you will be able to add notes, drag and drop files related to the task, and break down the task further into actionable subtasks. Tasks can be assigned to multiple people, and you can also assign people to be 'Watchers' on certain tasks. This means that they will receive notifications when there are updates for those tasks.
Once you get started on a task, you can set the status of the task to keep everyone on your team aligned on the progress of each task and subtask. For example, you can set the status of a task to 'Doing' whilst having a few subtasks 'Closed' to state that you're midway through said task.
Communication is essential to the success of team projects. ClickUp offers a comments section on each task to allow you to leave comments and chat with your teammates. You will get an email notification when you're assigned a task or when there's a comment on your project, ensuring that you stay updated every step of the way.
Comments can also be turned into an actionable task and assigned to your team members. This allows you to quickly assign suggested changes or additional tasks for your project. Assigned tasks can then be resolved, which gives you a notification so that you can keep track of your team's progress.
ClickUp also integrates with thousands of other apps so that you can work on your project using your favorite tools. Although it might be a hassle to choose from the many integrations that are available, this can be a useful feature for you if you already know exactly what tools you need for your projects.
How Much Does ClickUp Cost?
ClickUp offers its software in a few different packages.
ClickUp Free Forever Plan
ClickUp Unlimited Plan – $5 per user per month
ClickUp Business Plan – $12 per user per month
ClickUp Business Plus Plan – $19 per user per month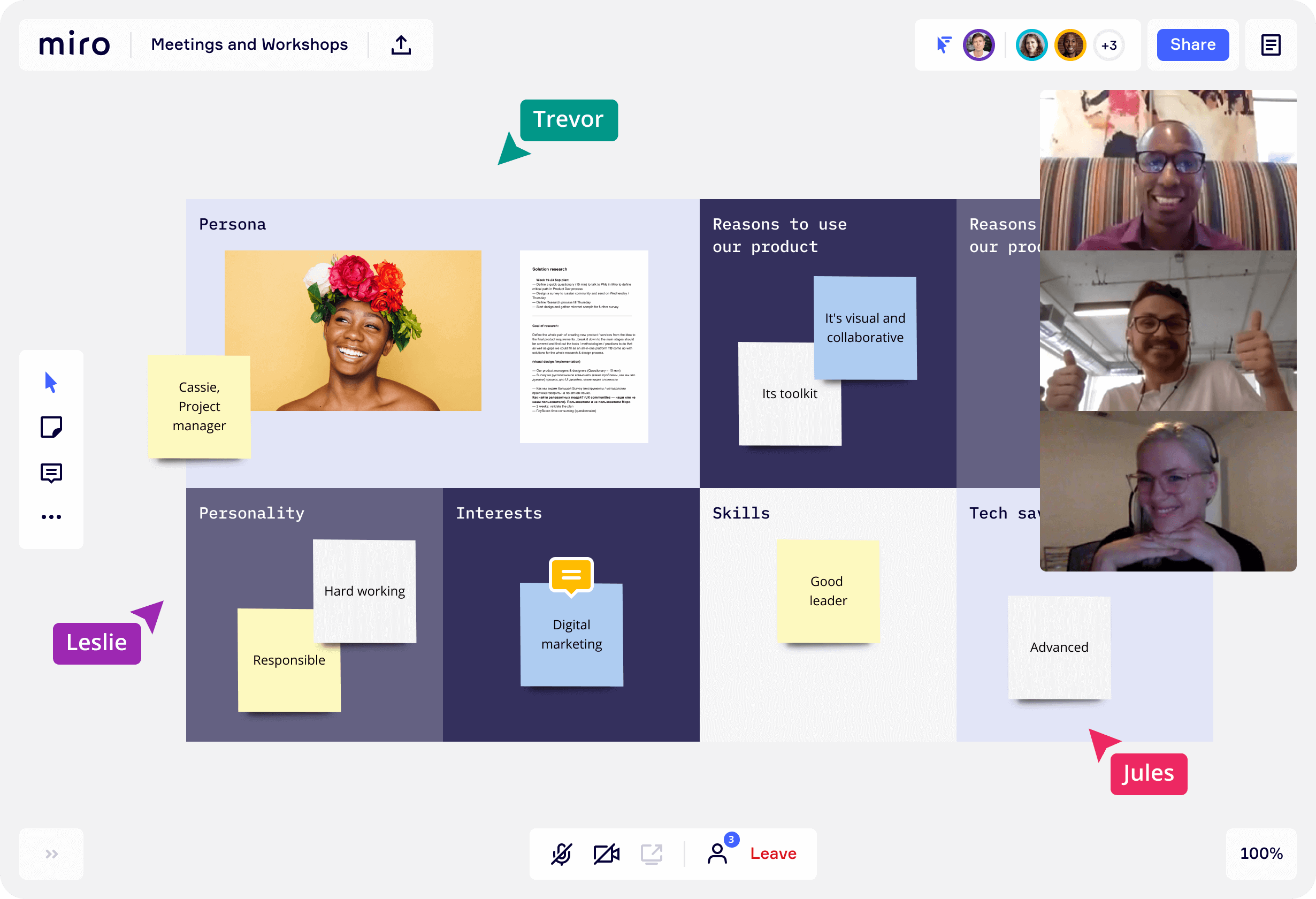 Miro is a visual collaboration platform that was founded in 2011 by Andrey Khusid. Khusid originally created a digital whiteboard called RealtimeBoard in 2011 to communicate his ideas with his remote clients. This eventually evolved into Miro, which has over 20 million users worldwide today.
In 2022, Miro raised $400 million in a Series C funding round. This brings its valuation up to $17.5 billion.
The idea behind Miro was to digitize traditional processes such as writing on a piece of paper or having face-to-face interactions by replacing them with modern tools such as docs and chat. Miro works similarly to Whimsical, as both tools utilize a visual approach to brainstorming and collaboration.
On Miro, users can choose to start work on a customizable empty board or get started with ready-made templates. Boards can be used for a variety of things ranging from project management, brainstorming, wireframe creation, and more.
Features of Miro 🌟
Miro has a few features to help you and your team collaborate online.
On Miro, you work on boards that can be customized to fit your needs. Each board is built in the form of a fully customizable infinite canvas. This allows you to collaborate and branch out your mind maps and ideas without limit.
Similar to other visual collaboration tools, Miro also features a drag-and-drop design which makes it easy for you to edit your visualizations. Boards also have tools such as shapes, arrows, and drawing to make it seem as if you're collaborating on a piece of paper.
On Miro, you can collaborate with your team members via chat and video calls to reduce the need to toggle between applications when working. Downloading the Voting Plugin allows your team members to vote on ideas that they resonate with, allowing for better flow on your projects.
Each Miro project starts as a blank slate, which can be quite a daunting task to start. However, this can be made simpler by using Miro's templates to help you get started with your tasks.
Besides brainstorming and planning workflows, you can also manage projects with your team on Miro via a built-in Kanban-style project board.
Additionally, Miro also integrates with other applications such as Notion, Slack, and Box, which gives you the ability to use your favorite applications alongside the app.
How Much Does Miro Cost?
Miro offers its software at four different price points which include the Free Plan, Team Plan, Business Plan, and Enterprise Plan.
Miro Free Plan
Miro Team Plan – $8 per user per month
Miro Business Plan – $ 16 per user per month
Miro Enterprise Plan – Contact sales
Miro Business Plan
The Business Plan gives you the added ability to invite guests to your private boards. You can also organize smart meetings with a specific set of tools and create better diagrams with advanced packs.
Miro's Business Plan starts at $16 per month for each user.
If you're looking to use Miro for your business, you can also consider the Enterprise Plan which offers premium support, data governance, and added security features.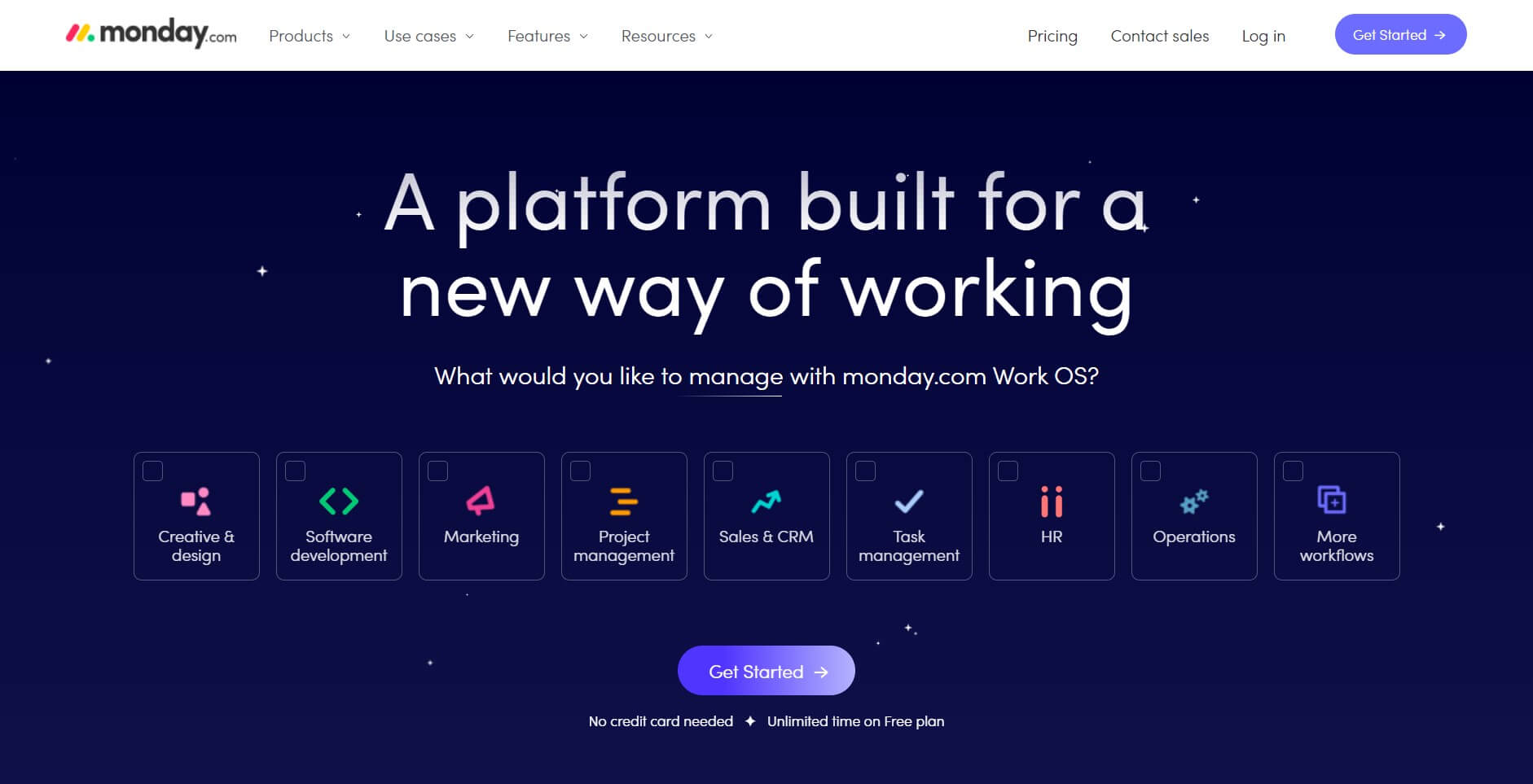 Originally known as Dapulse, monday.com is a Work OS that was founded in 2012. It is a cloud-based software that allows teams to collaborate and get work done. Roy Mann, Eran Kampf, and Eran Zinman raised $1.5 million to develop the product which was launched to the public two years later in 2014.
In 2017, after receiving negative press about its name, Dapulse rebranded itself into monday.com. To date, after raising over $385 million in total funding, the company was publicly listed in June 2021 with a valuation of $1.9 billion. This made monday.com achieve unicorn status.
Monday.com is a tool that helps you and your team organize and manage work. Boards on the software are created in the form of a spreadsheet. The difference is that each block on your board is fully customizable to fit your needs.
Sound familiar? That's because it closely resembles Airtable.
Monday.com was created to help you collaborate with others and get things done together. Aside from the multitude of ads that monday.com has on the internet, teams and individuals can use this project management software for just about anything. But this isn't without its drawbacks which we will discuss in more detail below.
Today, monday.com has over 152,000 users and more than 1,100 employees.
Features of Monday.com 🌟
Think of monday.com as a fully customizable spreadsheet to help you create the ideal workflow for your team. Columns can be populated with data such as task status, the priority order for tasks, assignee, and more. The idea behind this design is to enable you to create the tool that you need to get work done.
Some of the boards that monday.com offers include the Main board which is visible to all of your team members, Shareable boards for you to share with people outside of your team, and Private boards which are only visible to people that you share it with.
Once you've created a board, you can choose between different views to help you visualize your tasks and projects. Being a project management application, you can break down large tasks into actionable sub-tasks that can be checked when they've been completed.
Monday lacks a few key features such as built-in communication and tackles this problem by integrating with other apps such as Slack. By utilizing Monday's integration feature, you can potentially centralize all of your work into one software. But that's only if you manage to find the right integrations to fit your needs.
You can also automate your workflow on monday.com by creating custom trigger-based automations. If creating automation is something that you're not too keen on doing, you can also try out pre-built automations from their range of templates.
How Much Does Monday.com Cost?
Monday.com is more expensive compared to other project management tools in the market. They have a few plans available including a Free, Basic, Standard, Pro, and Enterprise plan.
Monday.com Free Plan
Monday.com Basic Plan – $8 per user per month
Monday.com Standard Plan – $10 per user per month
Monday.com Pro Plan – $16 per user per month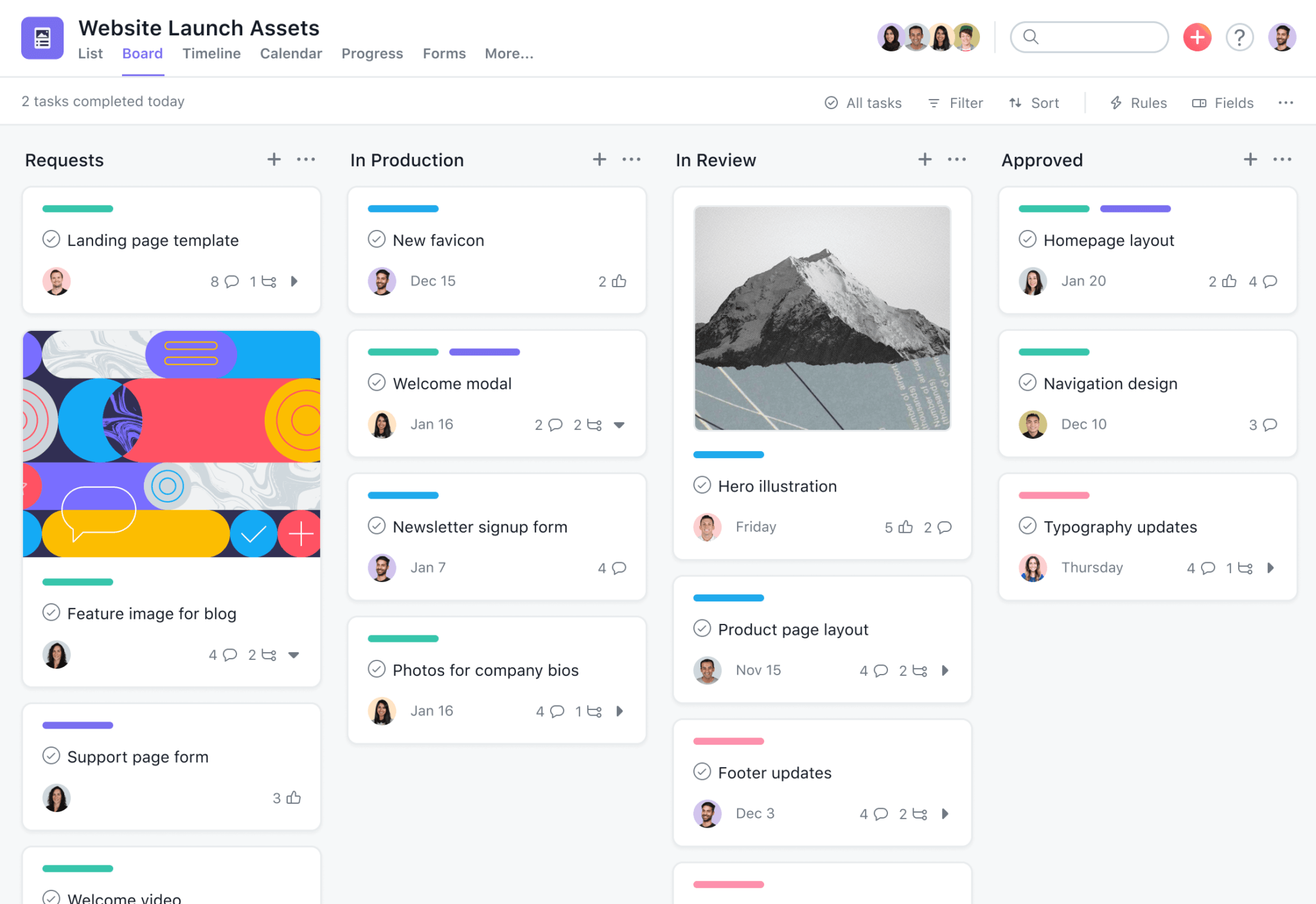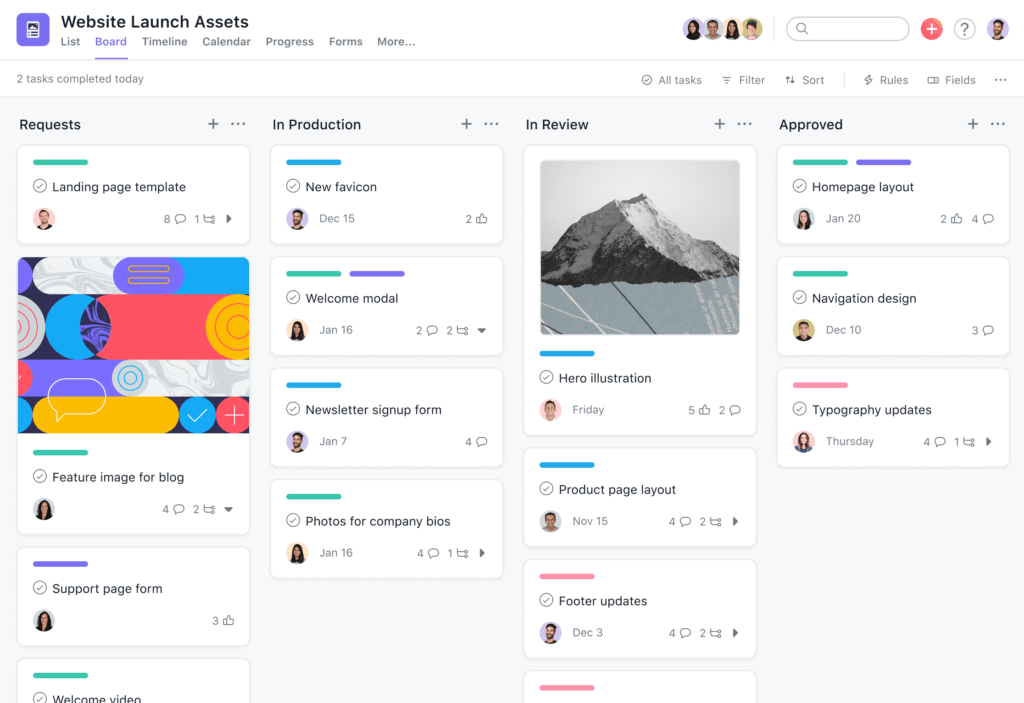 Asana is a collaboration and project management software aimed at helping teams get more work done.
It was first created at Facebook as a tool to help people collaborate on projects more efficiently. Codenamed 'Tasks', the tool was created by Dustin Moskovitz, who was a co-founder at Facebook, and Justin Rosenstein, an ex-engineer at Facebook.
'Tasks' was created because Moskovitz and Rosenstein both realized that it took more time to plan and coordinate work than actually getting work done. The duo left Facebook to co-found Asana in 2008 when they found out that this was a common problem that affected everyone else and not just Facebook employees.
Mark Zuckerberg was an early investor in Asana, and the company had steadily increased its popularity over time. In 2018, Asana raised $125 million in a Series D and Series E funding round to help the company expand globally.
The goal at Asana is to reduce reliance on traditional emails and sync-ups. Instead, the company wants to provide a common space where users can manage projects and find all the information they need to get work done.
Essentially, Asana wants to reduce the need for emails and meetings so that people can spend more time getting actual work done.
Features of Asana 🌟
Being a project management software, Asana is equipped with a multitude of features to help you get more work done.
On Asana, you can create projects and break them down into detailed tasks to help your team visualize the roadmap.
Each project workspace comes with a list view to detail the steps needed for the project, conversations to support team communications, a calendar to view the team's tasks, a project progress view for status updates, and also files to share documents within the team.
Within each task, you can assign it to individual members and set deadlines. Add more information into the task description to hopefully prevent the need to have more meetings to align the deliverables.
If the task is dependent on another task being done first, you can set task dependencies on Asana so that your project flows seamlessly. Additionally, Asana has an approval feature for tasks so that you can approve, request changes, or reject tasks.
Communication in Asana is done mostly within its conversations feature. You can send messages to team conversations to update the whole team working on the same project. Team members can choose to follow conversation threads to stay updated, and also create tasks to move things forward from the chat.
Asana collaborated with Vimeo to launch a video messaging feature. With this feature, you can record video messages and embed them in your workspace to send messages to your team members. Video messages in Asana are also automatically transcribed to help you be more productive.
Asana also integrates with many apps including cloud storage solutions such as Dropbox and Google Drive. This enables you to share information from your preferred storage app.
How Much Does Asana Cost?
Asana comes in 4 different pricing tiers which include Asana Basic, Premium, Business, and Enterprise.
Asana Basic Plan
Asana Premium Plan – $10.99 per user per month
Asana Business Plan – $24.99 per user per month
Asana Enterprise plan – Contact sales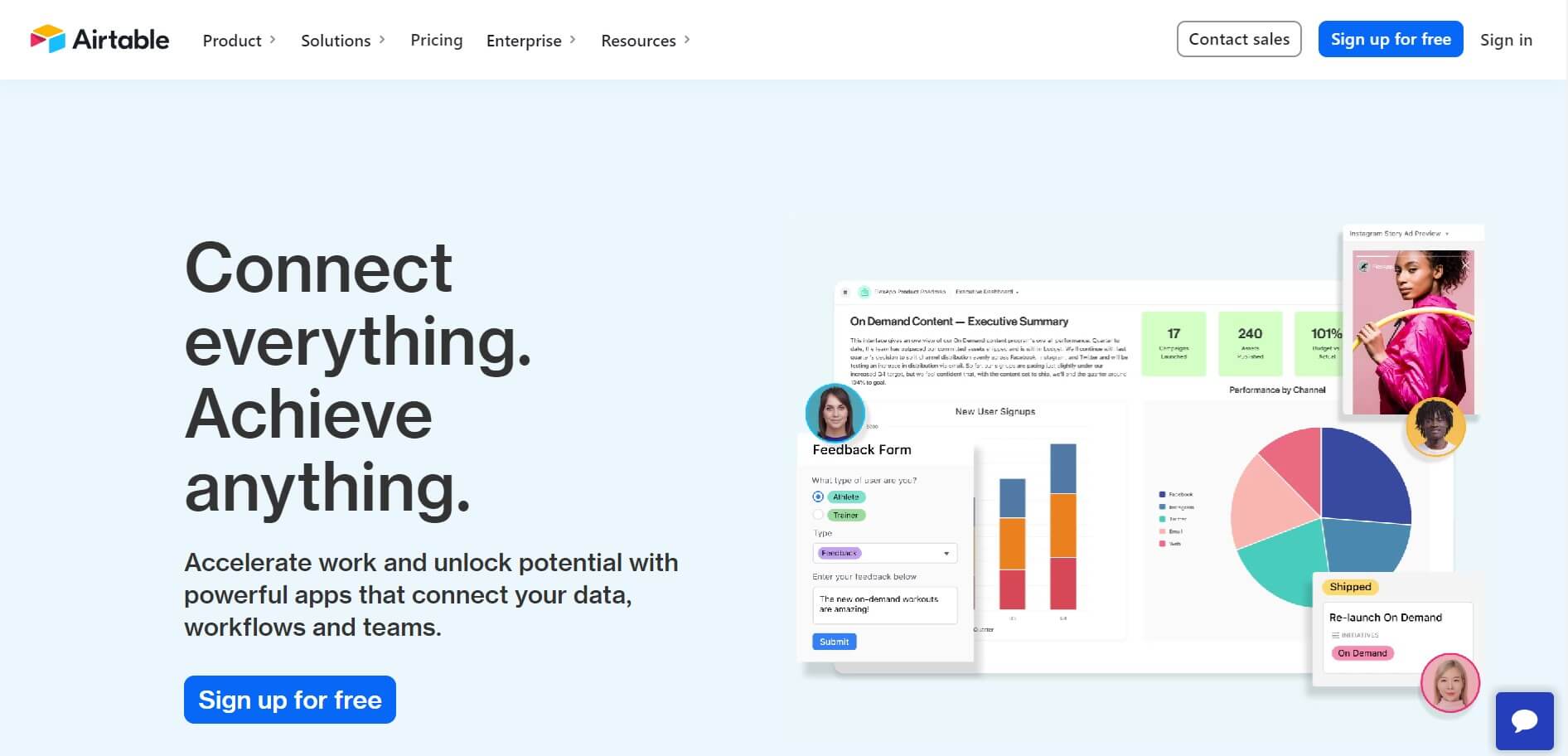 Airtable is a hybrid tool that merges spreadsheet functionality with database storage capabilities. Howie Liu, Andrew Ofstad, and Emmet Nicholas founded the company in 2012 as a solution for businesses to better organize their information digitally.
If you don't organize your information well, it can lead to a lower productivity level in your company. With its cloud database solution, Airtable gives you the ability to build anything from simple to very complex databases to organize all of your information.
Building databases usually require help from engineers, but with Airtable, you can create these databases without having to worry about coding at all. Information stored on Airtable can be filtered and manipulated, helping you to better visualize large amounts of information.
Think of Airtable as a cross between excel and a database that's loaded with more features.
Features of Airtable
Airtable has a few features to help you store and organize your data.
An Airtable Workspace contains Bases, which contain all your project information. Each Workspace will ideally have a few unique Bases which contain organizational information relating to that area.
Bases contain Tables, which take some inspiration from spreadsheets. Information in Airtable is stored within Tables, and you can have multiple Tables within your Base.
For example, you could have a content workspace, which contains an editorial base. Your editorial base would then contain a few tables such as an article ideas table, a blog schedule table, and other tables relating to editorial.
After storing your data, you can switch between a few views including the classic Spreadsheet view, Kanban, Gallery, Calendar, and Gantt view.
Airtable isn't exactly beginner-friendly, but if used correctly it can be a powerful tool to store and organize your information. To make things easier for beginners, Airtable has templates available to help kickstart your project since every project begins as a clean slate.
In contrast, Taskade is a better free alternative to Airtable because Taskade is intuitive and has a wide range of templates to help you organize just about anything.
Airtable also works with Zapier and Workato so that you can integrate with other apps within your Airtable and also automate certain tasks.
Additionally, you can also create interactive apps in Airtable for your team to use. Apps that you create will be stored by Airtable which means that it's quite a hassle-free experience.
Airtable can be a powerful database tool to have, but that's just about what it is. It isn't a full project management suite that allows for real-time collaboration such as Taskade.
How Much Does Airtable Cost?
Airtable has 3 main pricing plans which include the Free Plan, Plus Plan, and Pro Plan.
Airtable Free Plan
Airtable Plus Plan – $10 per user per month
Airtable Pro Plan – $20 per user per month
Formerly known as 37signals, Basecamp is one of the pioneers of online project management. Jason Fried, Carlos Segura, and Ernest Kim founded the American company in 1999.
Production of the Basecamp software officially commenced in 2003 and it was created using Ruby on Rails, a framework that Basecamp had created for internal use. Ruby on Rails ended up being a byproduct of Basecamp and was made into open-source software in 2004.
37signals was renamed Basecamp in 2014. This marked a shift in the overall company strategy which was to now shift all resources into perfecting the project management software, Basecamp.
As a project management software, Basecamp was created as a tool to help businesses organize projects and collaborate online. Basecamp quickly gained popularity upon release as it was one of the first to offer a new way of collaboration and organization.
With Basecamp, individuals and companies can manage and track projects while communicating, all via one software. Basecamp is usually offered as an all-in-one software to help companies get work done. However, Basecamp also prices its product at a premium price when compared to its competitors.
Read our article if you're interested to learn more about the full history of Basecamp.
Features of Basecamp 🌟
Basecamp is an all-in-one project management software that aims to help companies get work done more efficiently. You can use Basecamp to organize your projects and make sure that everyone on your team is on the same page.
In Basecamp, you can organize your teams by creating projects. Each project is equipped with tools to help you get work done.
This includes a message board, a to-do list, a daily schedule, docs & files to share common downloadable files, and campfire for basic chat within the project or team. You have the freedom to rename these tools and also integrate them with other apps to personalize your workspace.
You can have multiple projects within Basecamp, each with a different set of people working together. Additionally, you can also organize people from different teams based on their organizational function as well such as Marketing, IT, HR, and more.
Each team workspace will also have the same set of tools to help you communicate and collaborate with each other.
On a company level, you can align everyone in the company HQ workspace. In this workspace, you can utilize Basecamp's automatic check-in feature to get a gist of how the team is functioning throughout the day.
How Much Does Basecamp Cost?
Basecamp has a very simple pricing structure. There's a free version of the software, and also a paid version which comes at a standard monthly fee.
Also, Basecamp is free for all teachers and students. Nonprofit organizations enjoy a 10% discount from Basecamp's paid subscription.
Basecamp Free Plan
Basecamp Business Plan – $99 per user per month
🐑 Why Taskade Is the Best Free Notion Alternative
You and your team can use Taskade on your favorite platform to get work done from anywhere. Use Taskade individually or collaborate with your team for weekly agendas, team meetings, note-taking, project management, product roadmaps, and more.
Make use of customizable board views to visualize your projects into digestible smaller tasks. You can also get more work done the smarter way by making full use of multiple board views.
Collaborate with your team in real-time with free and unlimited chat and video conferencing available on every project. Automatic syncing ensures that your data is always up to date across devices.
Taskade is the simplest way to create task lists, checklists, and workflows. Manage projects and get more work done the simple way with Taskade. Taskade is the best free Notion alternative. Try Taskade for free today.