There was a time when Stepan Pachikov's Evernote—originally EverNote—was synonymous with digital note-taking. In today's article, we take a look at the history of Evernote, the evolution of its product, and where the company stands today.

💡 Before you start… If you love note-taking like we do, be sure to check other note-taking articles on the blog when you're done reading.
📗 Key Milestones in the History of Evernote
Early Days of Digital Note-Taking (2006 – 2008)
The history of Evernote started with Russian ex-pat and IT entrepreneur Stepan Pachikov. Enamored with the idea of amplifying human memory, Pachikov explored the concept of a "backup brain" that would allow him to store and organize information.
"[…] So at [Apple] Newton I really liked the concept of "endless tape" and for many years I was looking for some suitable database to conveniently record all sorts of memos, jokes, notes, tasks, whatever. This quest has become one of the prerequisites for the birth of the Evernote concept."

Stepan Pachikov in an interview with Sudo Null(1)
It took Pachikov six long years to take the proof of concept he worked on in 2002 and turn it into a functioning app. Following a merger with Phil Libin's Ribbon, the company went on to release an invitation-only beta version of Evernote on February 21, 2008.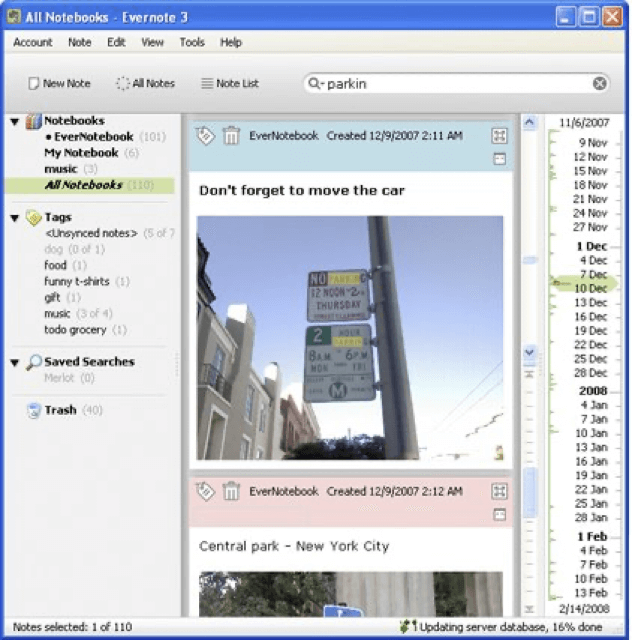 Evernote 3 Beta. Image source: TechCrunch(2)
The new note-taking and organization app quickly gained traction. By the end of 2008, Evernote had over 500,000 users, 14 million aggregated notes, and 7 clients, including a solid mobile version of the service which was a major driver of the early success.(3)
The Digital Note-Taking Tidal Wave (2009 – 2011)
The next three years proved one of the most flourishing periods in the history of Evernote. By May 21, 2009, Evernote desktop clients had been downloaded 1.7 million times and the company broke the magical barrier of one million users.(4)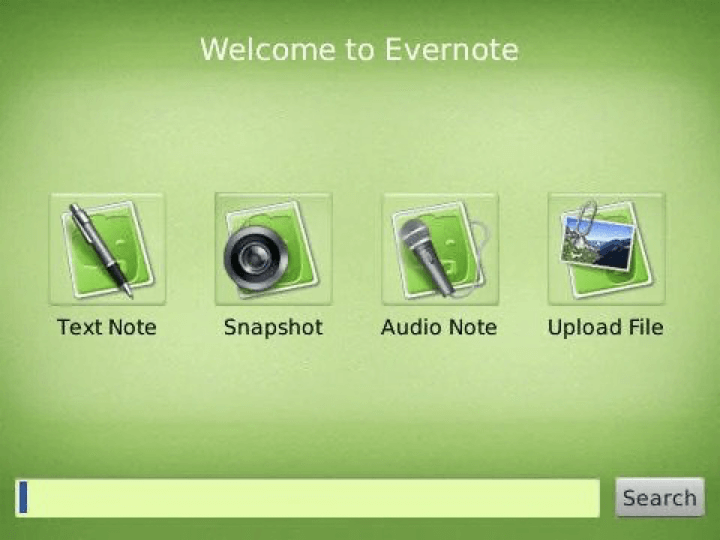 Evernote for BlackBerry. Image source: ZDNet(5)
In 2010, Evernote was available on Windows, Mac, iPhone, and BlackBerry. With 3 million registered accounts and 59,000 paying customers, the company opened a new HQ in Japan and launched Trunk, a marketplace with Evernote-enabled tools.(6)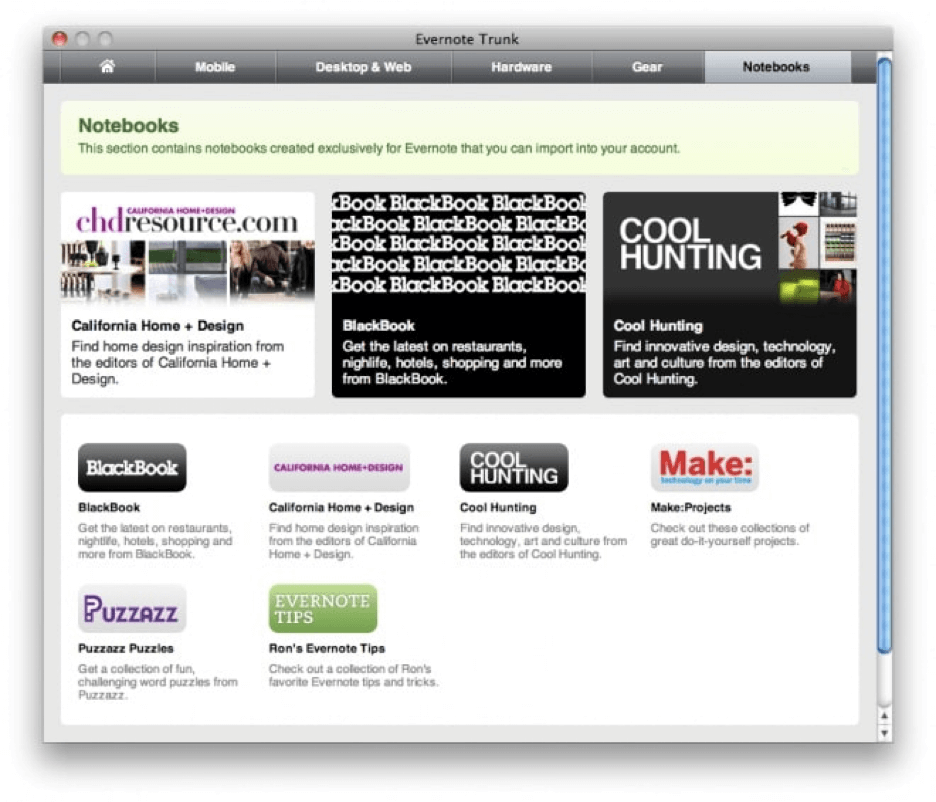 Evernote Trunk. Image credit: WIRED(7)
A year later, Evernote stepped up its expansion game by closing a $50 million funding round led by Sequoia Capital and acquiring a popular image-sharing app Skitch. Evernote Trunk—a reference to the iconic elephant—had grown to over 200 apps.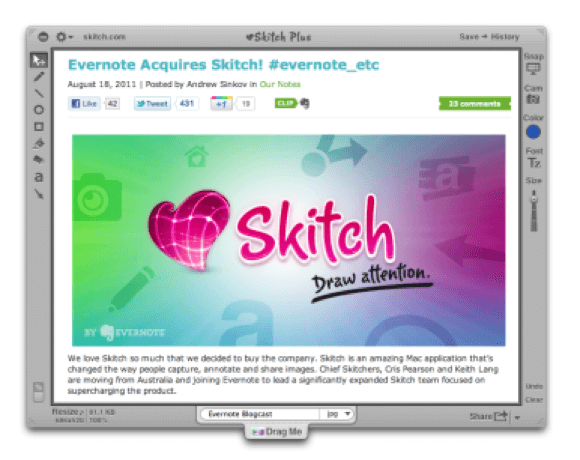 Evernote Skitch. Image credit: Macworld(8)
The end of 2011 marked an important moment in the history of Evernote when the company became profitable, with annual sales at around $16 million. Evernote also released several sidekick tools including a recipe-tracking app Food and was named 2011 Company of the Year by Inc.(9)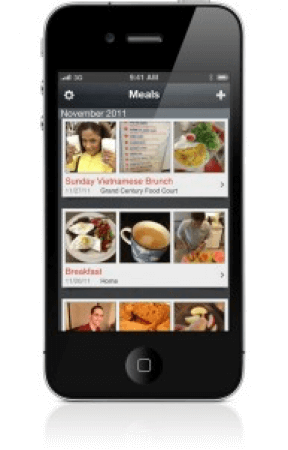 Evernote Food. Image credit: siliconANGLE(10)
Evernote Is Going Places (2012 – 2013)
The streak of Evernote victories culminated with a $70M Series D funding which lead to the total valuation of $1 billion. With over one million paying customers, the company was on the right track to dominate the productivity space.(11)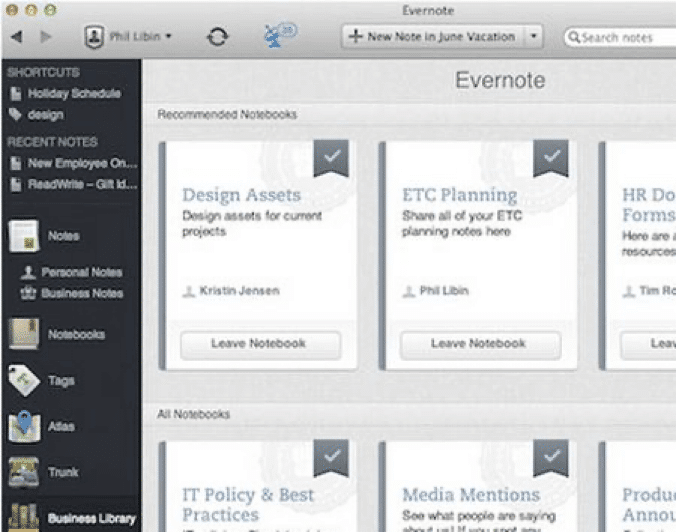 Evernote Business was released in 2012. Image source: engadget(12)
In September 2012, Skitch got its first major update after being released free of charge in the App Store. Much to the dismay of its users, the app was stripped off of many of its best features which caused quite a stir in the productivity community.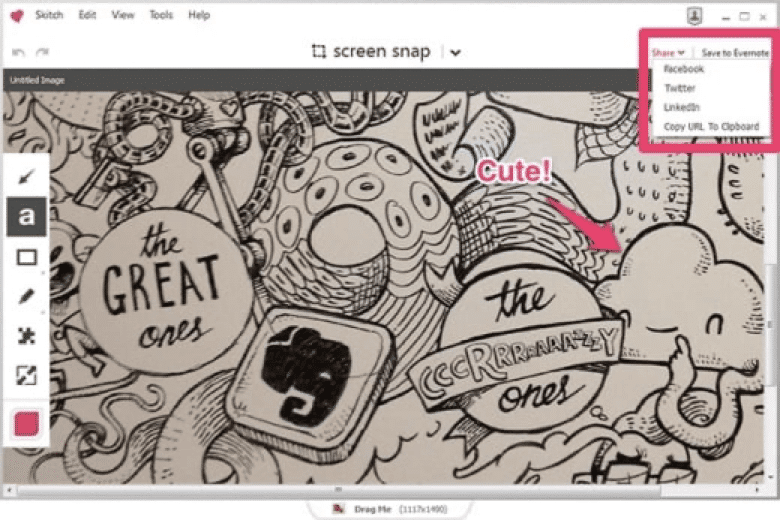 Skitch 2.0. Image source: TNW(13)
By October 2012, Evernote had scaled to 230 employees and 38 million users worldwide. The company had also acquired a popular handwriting app Penultimate and entered into a partnership with Moleskine to create a line of smart notebooks.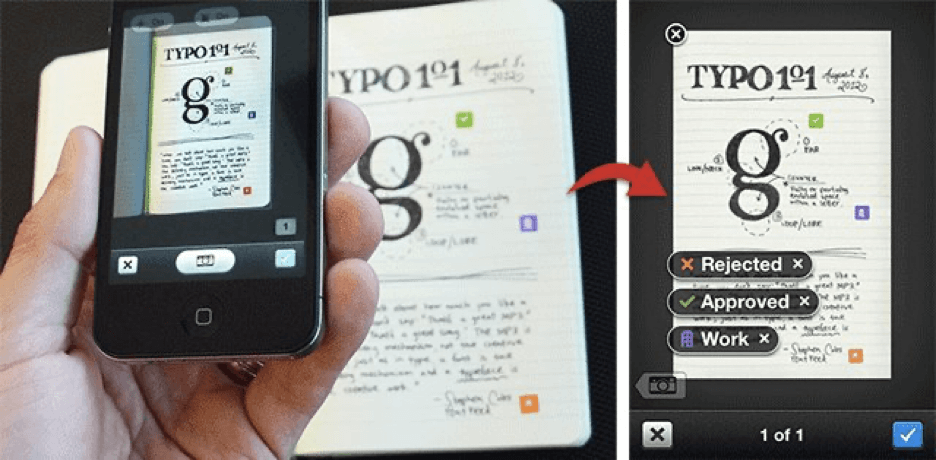 Evernote x Moleskine collaboration. Image source: MacRumors(14)
In March 2013, Evernote faced its first major hiccup when hackers gained access to the data of 50 million users. CNN Business reported that Microsoft, Apple, Twitter, and Facebook had faced similar problems and all fell victim to hackers earlier that year.(15)
The Green Elephant on a Slippery Slope (2014 – 2015)
On October 2, 2014, the company announced Evernote Context, an AI-based feature that would push content suggestions from third-party sources. Evernote also stepped up its collaboration game by adding a communication component with Work Chat.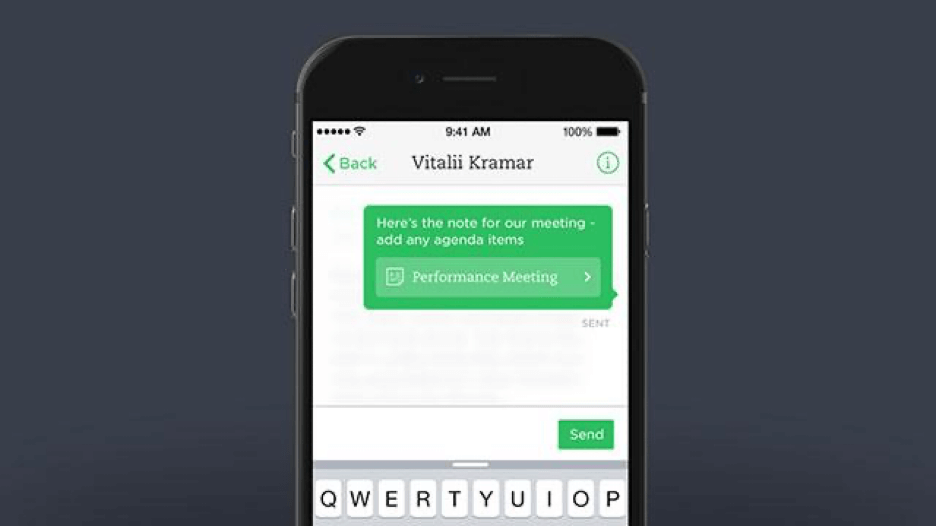 Evernote Work Chat. Image source: Slash Gear(16)
A slew of new features and updates resulted in slowdowns and bugs surfacing with each new release. The users' discontent culminated with a now-famous blog post "Evernote the Bug Ridden Elephant" by former TechCrunch writer Jason Kincaid.
"[…] Instead of building a product that is secure, reliable, and fast, it [Evernote] has spread itself too thin, trying to build out its install base across as many platforms as possible in an attempt to fend off its inevitable competition."

Jason Kincaid, "Evernote The Bug Ridden Elephant"(17)
Soon after the story went viral, Phil Libin addressed the concerns in a blog post stating the company would fix the shortcomings and readjust its strategy. The goal, Libin said, was to focus on "constant improvement of the core promise of Evernote" in 2014.(18)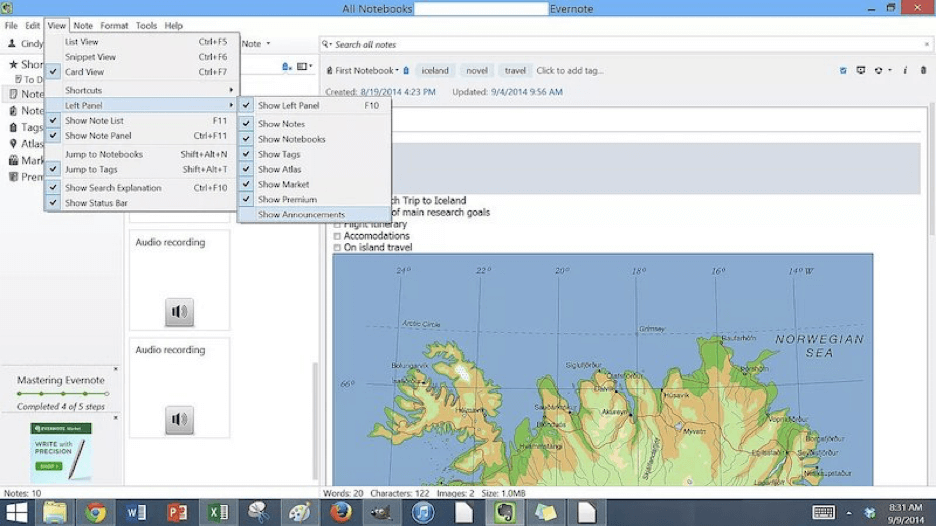 Evernote Windows interface (2014). Image source: Lifewire(19)
Problems, however, persisted and Evernote kept pushing new updates with more bugs plaguing each new release. In 2015, the company underwent a major overhaul, replaced its CEO—Libin moved on and established a virtual-camera software company called mmhmm—killed Evernote Food, and laid off 18% of its staff.(20)
Putting Out Fires and Starting Afresh (2016 – 2018)
In 2016, the company announced one of the most controversial decisions in the history of Evernote. In order to improve its machine learning algorithms, the green elephant changed its privacy policy granting select employees access to users' notes and sparking a wave of criticism.
"The new privacy policy was originally slated to go into effect on January 23rd, 2017. Instead, the company says it will be rewriting the policy "in the coming months," and promises to consult with users over the process."

"Evernote Backtracks on Controversial Privacy Policy," The Verge(21)
By the end of 2017, Evernote had 220 million users and roughly 60,000 to 80,000 new daily signups. The company also redesigned its mobile app and phased off BlackBerry and Windows apps at a moment's notice.


The evolution of Evernote's iOS apps. Image credit: Kara Hodecker(22)
On October 29, 2018, Evernote announced that Ian Small, former CEO of TokBox, would replace Chris O'Neill as its CEO. Earlier that year, the company lost its CPO Erik Wrobel, CTO Anirban Kundo, and CFO Vincent Toolan, as reported by TechCrunch.(23)
Throughout 2019 and 2020, Evernote continued experimenting with its service in an attempt to refocus on its core note-taking experience. Following v10 and the introduction of Home in 2021, we're likely to see more major changes coming in 2022.
📗 The History of Evernote Is the History of Digital Note-Taking
There's no doubt Evernote pioneered the digital note-taking and personal productivity space in the early 2000s. With powerful search features, handwriting recognition, and a solid mobile offering, the company was on the right track to own the niche.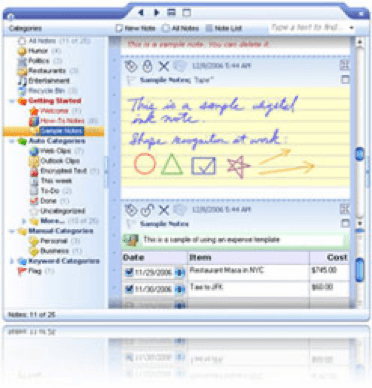 Evernote in early 2008. Image source: BLOGVaria(26)
Pachikov's dream was to create a tool for aggregating all kinds of data, and Evernote accomplished much more than that. It helped users deal with digital clutter, organize work and personal life, and retrieve bits of information quickly and efficiently.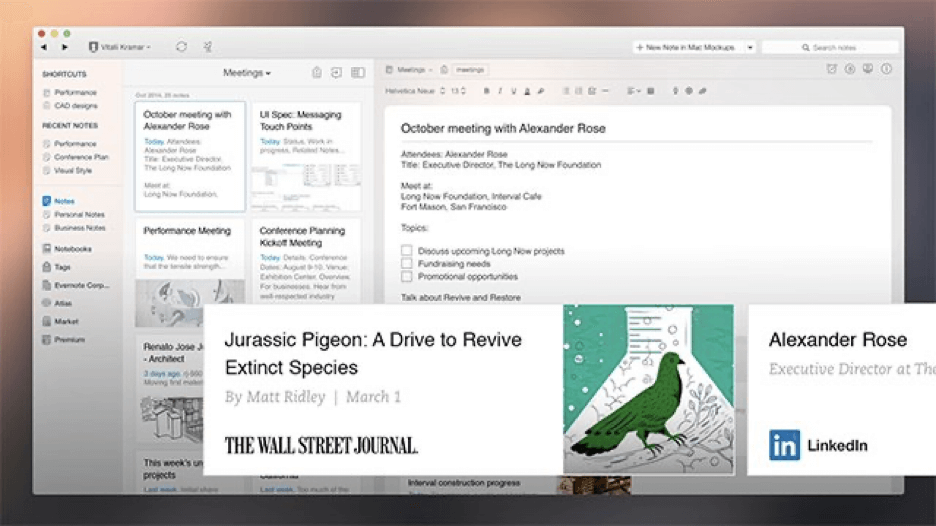 Evernote Context offered smart suggestions. Image source: TechCrunch(27)
At the time, the seamlessness of the writing experience in Evernote was one of its kind. You could start writing a document on your Mac, add ideas on the go, and pick up exactly where you stopped on your laptop in a cozy café.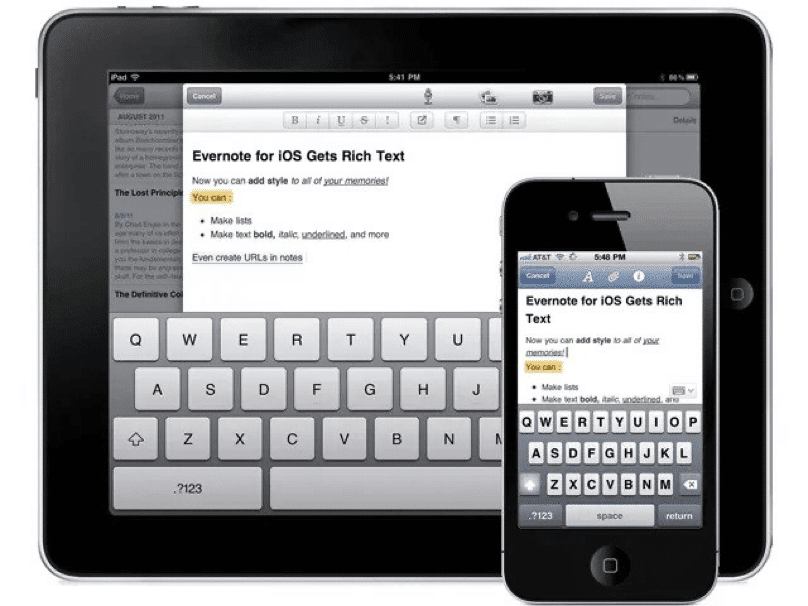 Evernote for iPad and iPhone in 2011. Image source: Cult of Mac(28)
The promise of building a digital, searchable backup brain paired with quintessential note-taking experience captured the imagination of millions. And the fact that you could actually access all your notes on the go was the epitome of convenience.
So, what went wrong?
📗 "Mistakes Have Been Made"
Evernote started as a competent note-taking tool. But despite the users' affection, the company decided to diversify. Instead of improving what it did best, Evernote explored other business avenues and shifted focus away from its core experience.
"By trying to build a product for everyone, Evernote paradoxically made it more difficult to provide the kind of experience that many of their users want. As one of the first moves in the market, Evernote was in a position to dominate their competitors, but their early focus on niche apps failed and gave the rest of the market a clear understanding of what not to do […]"

Hiten Shah, "The Rise, Fall, and Future of Evernote"(24)
Paradoxically, the natural urge to expand proved fatal as the company started on that quest with wrong priorities. Sidekick tools like Peek and Hello sapped Evernote's creative resources while the lack of focus left its main product in a state of limbo.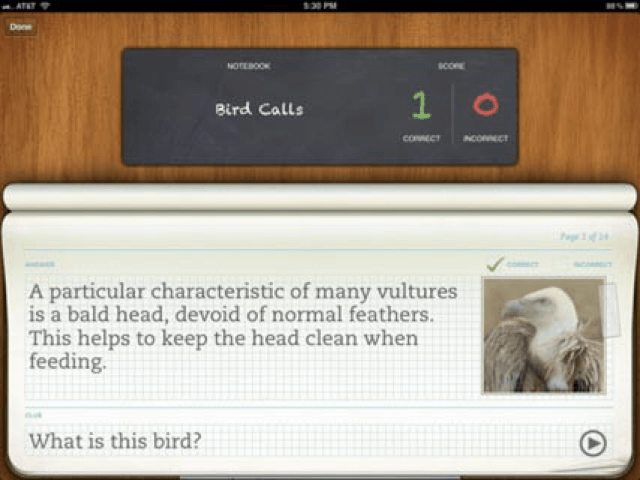 Evernote Peek Smart Cover app for iPad. Image source: edshelf(25)
At the end of the day, internal quandaries resulted in haphazard design decisions and PR hiccups. Combined with bugged releases and bloated features, Evernote lost much of its momentum and slipped into a permanent crisis management mode.
With the magic gone, maybe it's time to find a suitable replacement?
🐑 The Best Evernote Alternative
If you're looking for a simple and free Evernote alternative, check Taskade. Taskade is a note-taking and personal knowledge management tool with outlining and project management capabilities. Work, chat, and get work done the easy way.
✏️ Sync your notes across all your devices.
✏️ Collaborate with others in real-time.
✏️ Takes notes on the go with iOS and Android apps.
✏️ Get more done with keyboard-oriented user interface.
✏️ Access over 500+ templates for every occasion.
✏️ Visualize your notes as mind maps, boards, and charts.
✏️ Customize visuals to make Taskade truly yours!
✏️ And much more!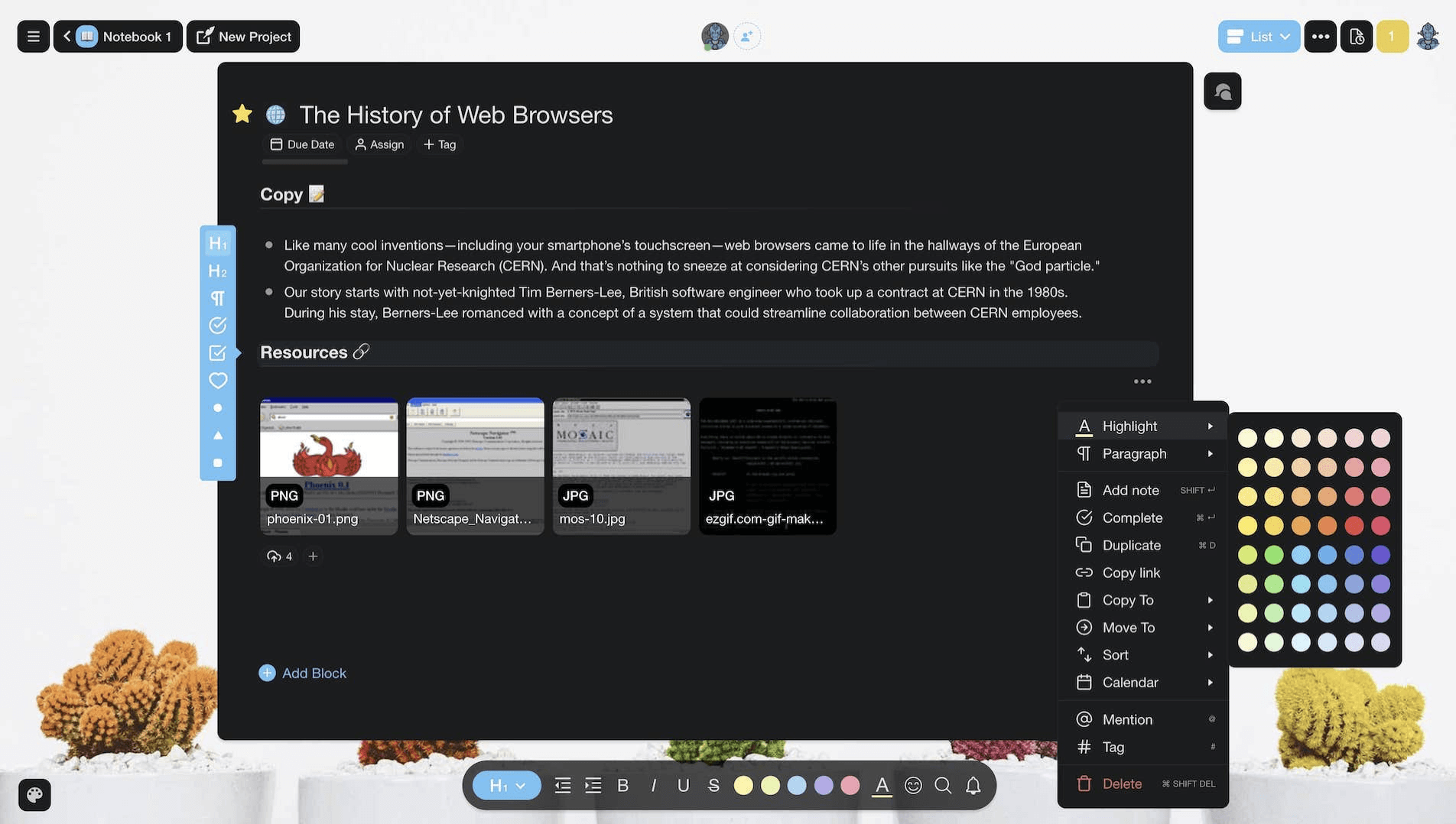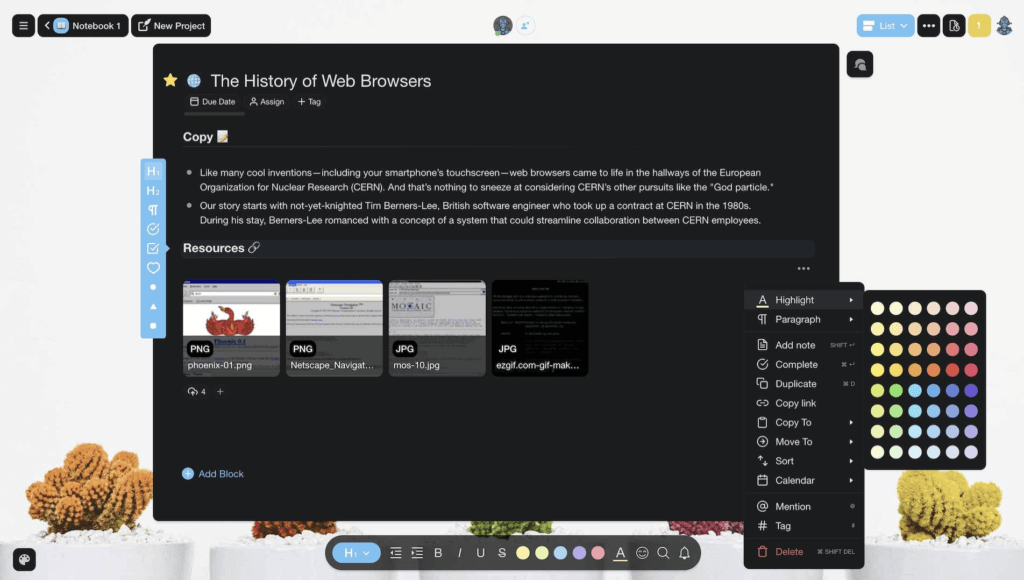 If you want to give Taskade a go, jump over here and sign up for a free account today. You can also create a test project by visiting our Live Demo page!
---
🔗 Resources
https://sudonull.com/post/193962-Interview-with-Stepan-Pachikov-Evernote
https://techcrunch.com/2008/02/21/extend-your-brain-with-evernote-private-beta-invites/
https://techcrunch.com/2008/11/21/evernote-passes-500000-registered-users-most-of-them-on-the-iphone/
https://techcrunch.com/2009/05/21/evernote-stats-one-million-registered-users-360000-active-13500-paid/
https://www.zdnet.com/pictures/image-gallery-evernote-for-rim-blackberry-devices/16/
https://techcrunch.com/2010/05/04/evernote-3-million-users/
https://www.wired.com/2010/07/evernote-trunk/
https://www.macworld.com/article/213912/evernote_acquires_skitch_drops_price.html
https://www.inc.com/magazine/201112/evernote-2011-company-of-the-year.html
https://siliconangle.com/2011/12/07/evernote-specialized-apps/
https://www.businessinsider.com/evernote-raised-70-million-at-1-billion-valuation-2012-5?IR=T
https://www.engadget.com/2012-12-04-evernote-releases-evernote-business.html
https://thenextweb.com/news/evernote-releases-skitch-2-0-for-windows-with-easier-sharing-and-simplified-interface
https://www.macrumors.com/2012/08/24/evernote-and-moleskine-partner-on-smart-notebooks/
https://edition.cnn.com/2013/03/04/tech/web/evernote-hacked/index.html
https://www.slashgear.com/evernote-updates-apps-with-work-chat-messaging-01353517/
https://jasonkincaid.net/evernote-the-bug-ridden-elephant/
https://web.archive.org/web/20140108031724/https://blog.evernote.com/blog/2014/01/04/on-software-quality/
https://www.lifewire.com/customize-the-evernote-user-interface-2511737
https://www.businessinsider.com/evernote-is-in-deep-trouble-2015-10?IR=T
https://www.theverge.com/2016/12/16/13979778/evernote-privacy-policy-opt-out
https://medium.com/evernote-design/redesigning-evernote-for-ios-2c72d8dce419
https://techcrunch.com/2018/09/04/evernote-lost-its-cto-cfo-cpo-and-hr-head-in-the-last-month-as-it-eyes-another-fundraise/
https://www.profitwell.com/recur/all/evernote-tradeoffs
https://edshelf.com/tool/evernote-peek/
https://blog.evaria.com/2008/introducing-evernote/
https://techcrunch.com/2014/10/02/evernote-unveils-evernote-context-an-ai-play-that-surfaces-content-from-ouside-sources-as-you-write/
https://www.cultofmac.com/109826/evernote-for-ios-gets-a-great-update-new-ipad-interface-shared-notebooks-and-rich-text-support/