The Best Free
Any.do Alternative
Create tasks, collaborate, and organize projects with Taskade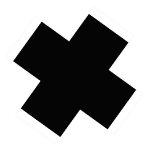 Taskade Is the Best Free Alternative To Any.do


The Visual Playground
Develop customizable templates
Own Your Workspace
Customizability is restricted to task lists
Fully customizable workspace and progress tracking
Consistency Is Simplicity
Adaptable data visualization
AI Writer
Ability to use AI commands in all projects
Let's Talk
Comment syncing, no live video call support
Comment syncing, chat support, live video call support
The Right Tool For The Right Job
A checklist with some communication features
Remote first design tailored for virtual collaboration
Get Back On Track
Task completion history tracking
Complete history tracking
The Big Picture
Allows tracking of individual tasks
Bird's eye view of workspaces, able to monitor progress on a project level
Keeping It Clean
Tasks are oversimplistic, color is pay walled
Tasks can be folded and colour-coded
Getting Up To Speed
Simple UI, no onboarding required
Intuitive UI, quick onboarding process
Quick On Your Feet
Lightweight, Short load times
What Is Any.do?
Any.do is a task management software that was founded in 2011 by Omer Perchik, Yoni Lindenfeld, and Itay Kahana. The first iteration of Any.do was an Android app known as Taskos.
After receiving $1 million in funding from angel investors in 2011, Any.do experienced a surge in growth, with over 500,000 users downloading the app within the first month of launch. Two years later, they had over 7 million users and by the end of 2020, Any.do crossed over 30 million users. This makes Any.do one of the most popular to-do list apps today.
On Any.do, users can manage their tasks by creating to-do lists and breaking down larger tasks into smaller subtasks. Unlike Remember The Milk which requires users to upgrade to access the subtasks feature, Any.do offers this feature for free.
The desktop home view is broken down into three sections which is a menu on the left, a task block in the middle, and a calendar block on the right.
Being available across most devices, Any.do gives you the ability to add and check tasks on the go. Additionally, you can integrate Any.do with your device calendar which includes Google Calendar. This would then show all of your daily tasks on your device calendar, ensuring that you're always on top of your day.
There is synergy between Any.do's to-do list functionality and its calendar view, which allows users to easily toggle between the two views and keep track of things. With a simple build, Any.do is easy to use and is used by a large number of users due to its ease of use.
As a simple to-do list app, Any.do would suffice if you're looking for software to help organize simple tasks. You can also collaborate with other users on your to-do lists on Any.do. However, although Any.do is good as a simple task management tool, it lacks features that are required when working on more complex tasks.
Features of Any.do
Any.do is light on features, and that is by design. Being light on features makes it a simple to-do list software to use with minimal onboarding required. Essentially, it is a task management app with a simple interface, geared toward helping you get more work done.
One of the key features of Any.do is the ability to create to-do lists and further organize tasks into subtasks. This helps users break down complex tasks into smaller, actionable items, reducing the sense of overwhelm that can come with a lengthy to-do list.
Another important feature of Any.do is its integration with calendars. By connecting with a preferred digital calendar app, users can view all of their daily and weekly tasks in one place. This integration allows users to see the full picture of their schedule, making it easier to prioritize tasks and manage time effectively.
In addition to calendar integration, Any.do also offers email integration. This feature allows users to create tasks directly from their email inbox, eliminating the need to copy and paste information from emails into the app. This helps streamline the task creation process and saves time.
The premium version of Any.do offers advanced recurring tasks, allowing users to set tasks to repeat at customizable intervals. This is a useful tool for tasks that need to be completed on a regular basis, such as monthly bill payments or weekly grocery shopping.
Any.do is available on most devices, including desktop and mobile, giving users the ability to access their task lists and schedules from anywhere. The app also offers notifications for important tasks, helping users stay on top of their workload.
Another great feature of Any.do is its ability to switch between daily, weekly, and monthly views of task lists. This allows users to get a sense of their upcoming workload, making it easier to prioritize tasks and plan their time effectively.
Finally, Any.do also offers the ability to collaborate with other users by sharing task lists. This is a useful tool for working with others on projects or planning events. Users can assign tasks and add comments to communicate and keep everyone on the same page.
What Is Any.do Good For?
Any.do is great for you if you're a beginner looking for a simple task management tool to organize small tasks and projects. However, Any.do would not be able to handle the demands required by more complex projects and tasks due to its lack of features. 
Taskade is the best free alternative to Any.do when it comes to project management of all complexities. You can create unlimited tasks and projects and collaborate in real-time with as many people as you want even on Taskade's free plan.
Regardless if you're an individual or a large company, Taskade has the right tools to help you organize your tasks and get work done the smarter way. Despite having the functionality of a full-fledged project management app, Taskade still manages to keep a clean interface.
What Are Some Limitations of Any.do?
Any.do is great if you're looking for a simple task management software to organize your to-do lists. However, there are some limitations that comes with it as well.
Firstly, Any.do's free version is very limited in terms of features. If you wanted to use the app efficiently, you will have to pay for a premium plan. The free version doesn't allow an integration with Zapier which is required for you to make full use of Any.do's task management features.
Additionally, the free version limits collaboration as you're only allowed to share read-only versions of your task lists, and have only 1 shared task with another user.
In contrast, Taskade allows you to collaborate with as many users as you require, even on the free plan. This makes Taskade a better alternative to Any.do when it comes to collaboration. Besides that, Any.do is also quite pricey if you're looking to upgrade to a paid plan. Taskade offers more features even on the free plan. 
Unlike Taskade which offers many templates for free, Any.do does not have any templates available even on the free plan. This means that with Taskade, you can get a headstart simply by choosing a template that suits your needs.
Finally, Any.do does not have a built-in chat and video call function within the app. This means that you will need to toggle between different applications if you're looking to communicate on a project in real-time. In this case, Taskade would be a better alternative for you as Taskade offers free unlimited chat and video conferencing which is built-in to every project. Less toggling, more working!
How Much Does Any.do cost?
Any.do offers its software in two different plans.
Any.do Free Plan
Although Any.do's Free Plan comes with unlimited tasks, it is restrictive and might put you off if you're looking for a tool to collaborate on for your projects.
The Free Plan allows you to only share one task as a creator, with lists only being able to be shared with a read-only view. Recurring tasks are only available with the free plan and integrations are also locked behind a paywall.
Any.do Paid Premium Plan
If you're looking to properly make use of Any.do, you will have to pay for a Premium Plan. The premium plan gives you access to customizable recurring tasks and customizable themes.
You also get the ability to turn WhatsApp messages into tasks in Any.do, plus an added feature of using location-based reminders that will trigger when you're in a given location.
Any.do's Premium Plan is rather pricey at $5.99 per month (billed monthly) for a simple task management application. In contrast, Taskade offers more features and can be used as a full productivity suite at a competitive price.
What Is Taskade?
Taskade is a flexible productivity and project management tool that was founded by John Xie, Dionis Loire, and Stan Chang in 2017. The Y Combinator-backed startup aims to help remote teams and individuals get work done faster and smarter.
Taskade is where remote teams get work done. With Taskade, you can organize entire projects and break them down into tasks, change between multiple project views, automate repetitive workflows, collaborate via built-in video chat with your team, and more, via an all-in-one unified workspace. 
Get a headstart on your projects and find a suitable structure for your notes via Taskade's versatile collection of templates. Simply choose from a wide variety of templates and add them to your projects to get started instantly!
Taskade is a supercharged productivity app that both individuals and teams can use to collaborate on projects in real-time.
Taskade is the best free Any.do alternative because Taskade was designed with a remote-first approach, allowing teams to collaborate and get work done together virtually. You can create unlimited tasks and projects even on the free plan, giving you the ability to plan heavier projects as soon as you get started.
With Taskade, you can create tasks and visualize them via multiple project views. You can also add collaborators to your Taskade project to collaborate with people within or even outside of your organization.
Get started instantly for free today.
Key Features of Taskade
Project Views. Visualize your projects in several different ways. Cycle between the List, Mind Map, Org Chart, and Board views to work the way you want. 

List View. This is the default view on Taskade. Create new lists here.
Board View. This view lets you work horizontally like a Kanban board. Visualize your workflow and tasks in this full-width view.
Mind Map View. This view lets you work in a horizontal tree-structured manner and map out what you have in mind.
Action View. Work in table view and stay organized with your task due dates, and more.
Org Chart View. Break down larger tasks into smaller ones to help you get things done.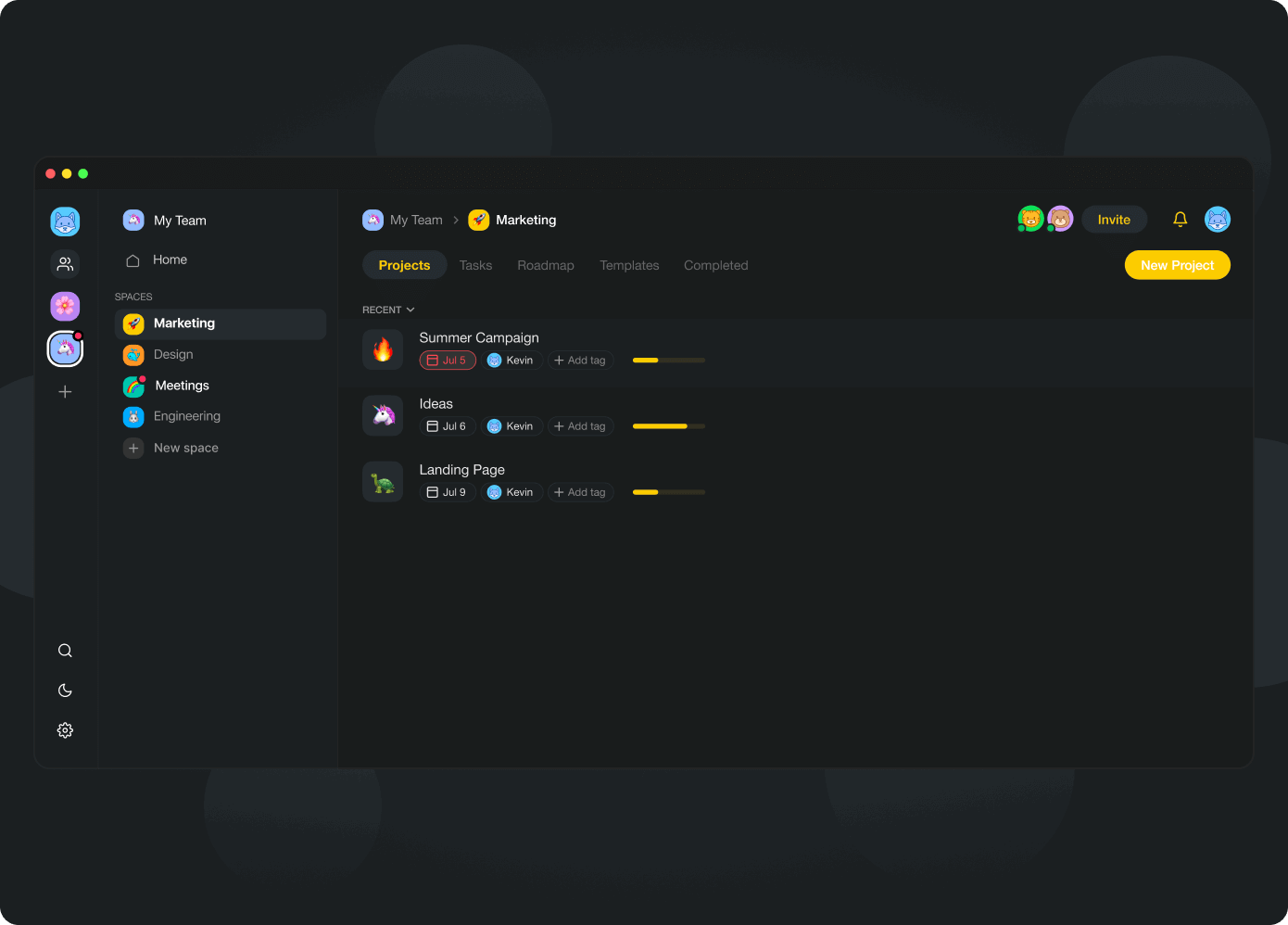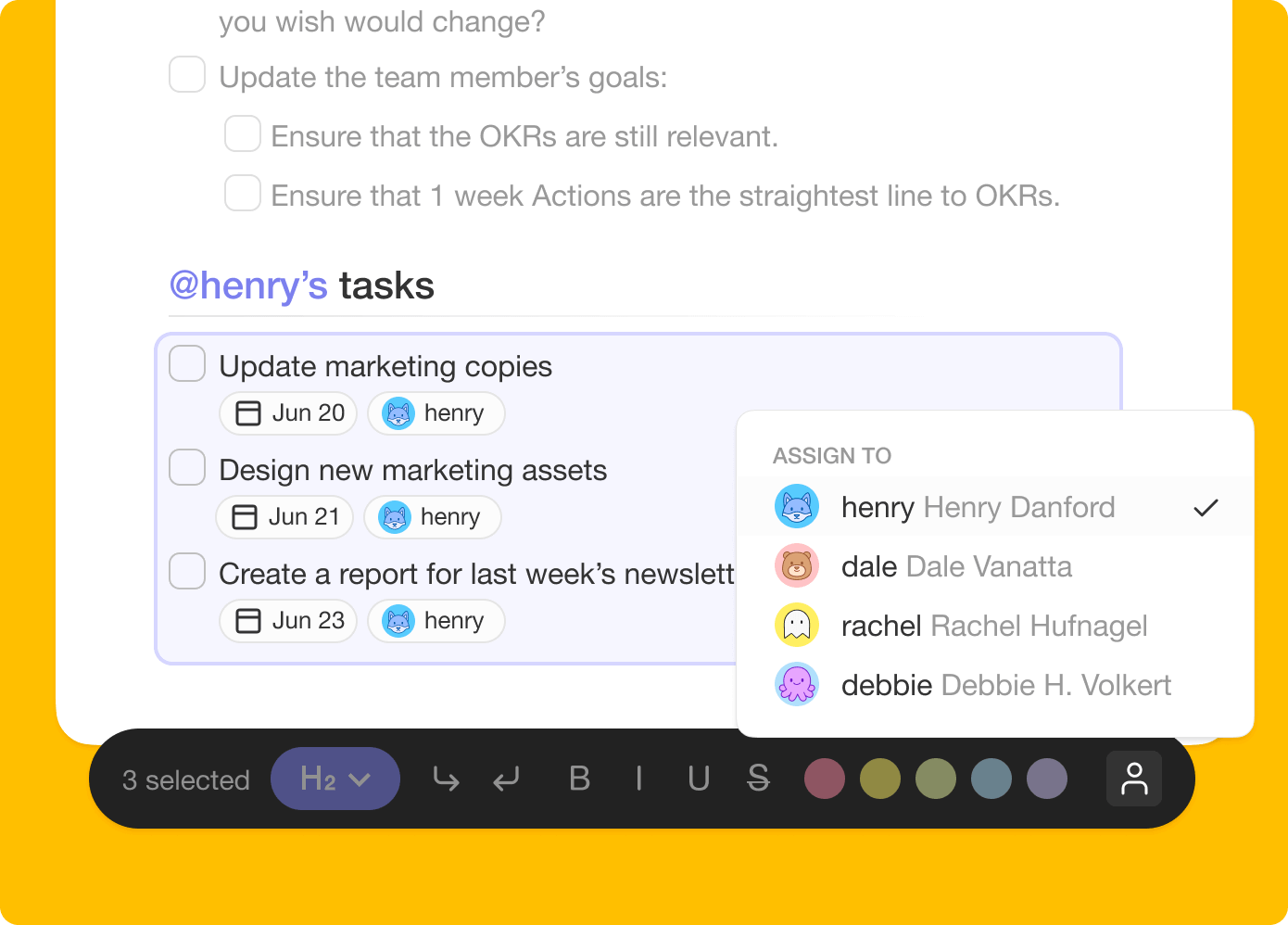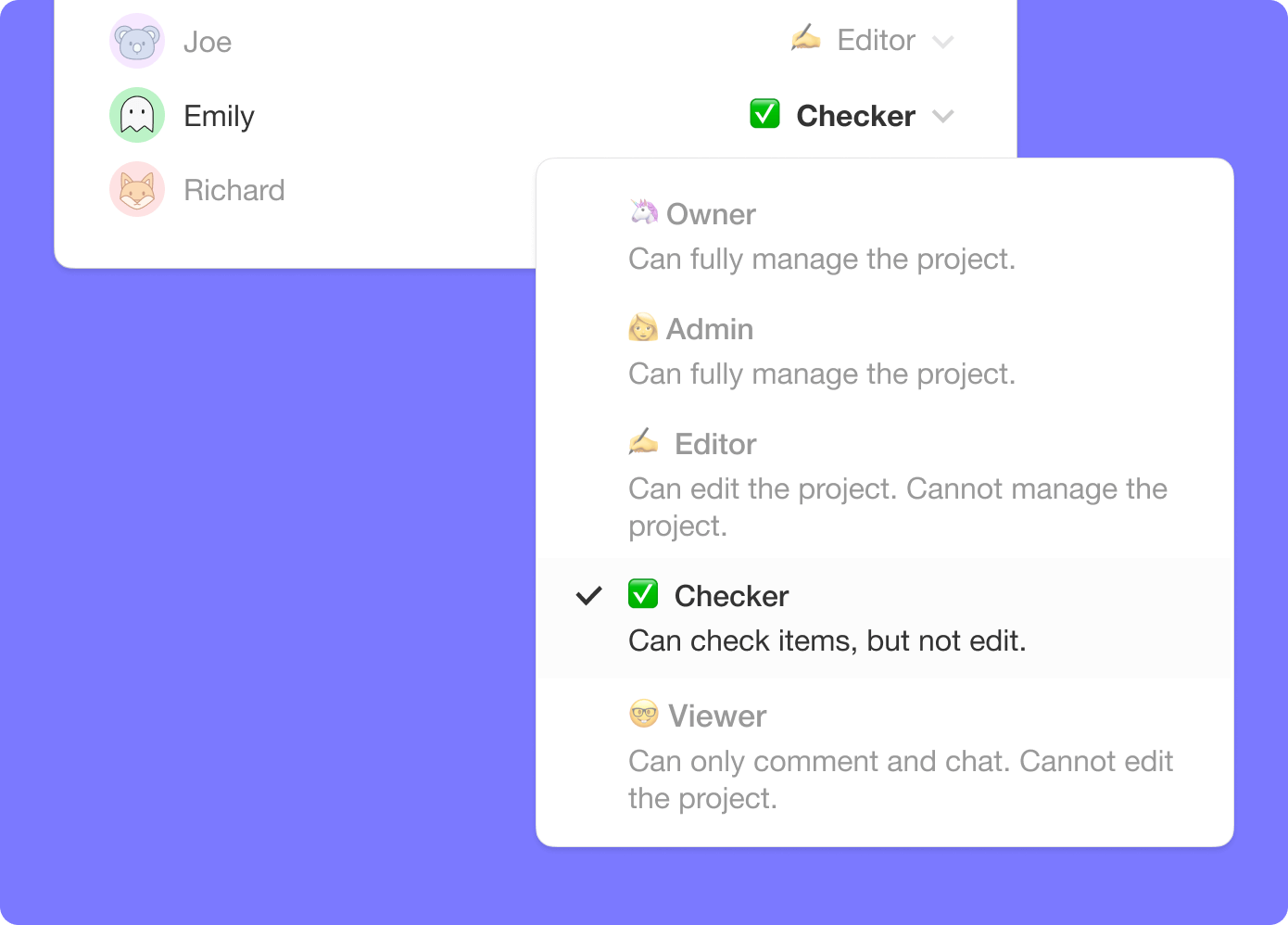 Sort Tasks. Sort sub-tasks/children elements by completed/uncompleted stats or the due date. Task sorting can be accessed from a convenient pop-up menu.
Search. Search within projects or globally across workspaces and subspaces. Instantly browse and jump between projects anywhere in the Taskade.
Keyboard Shortcuts. Navigate projects, create content blocks, reorder elements, and complete tasks using a set of handy keyboard shortcuts.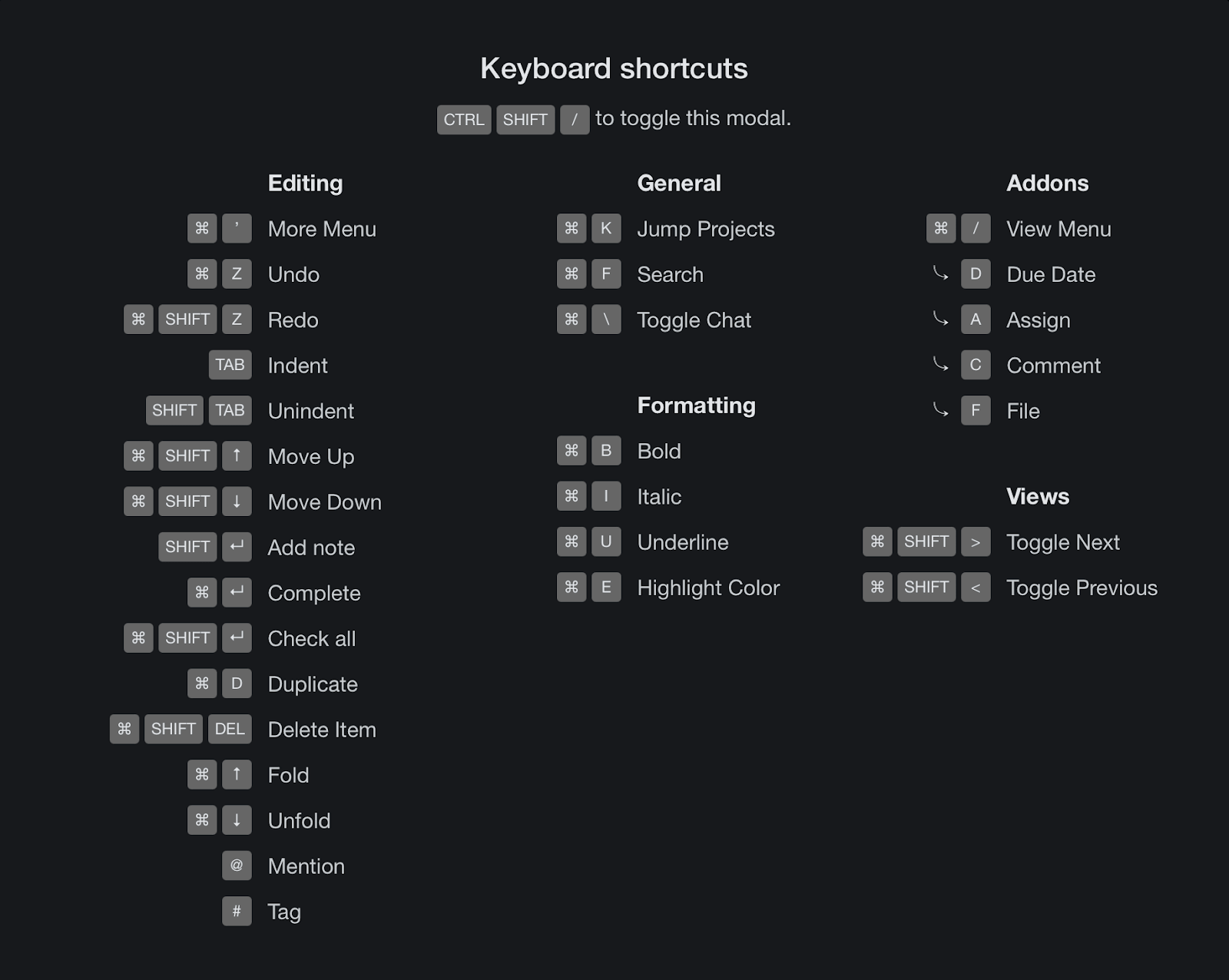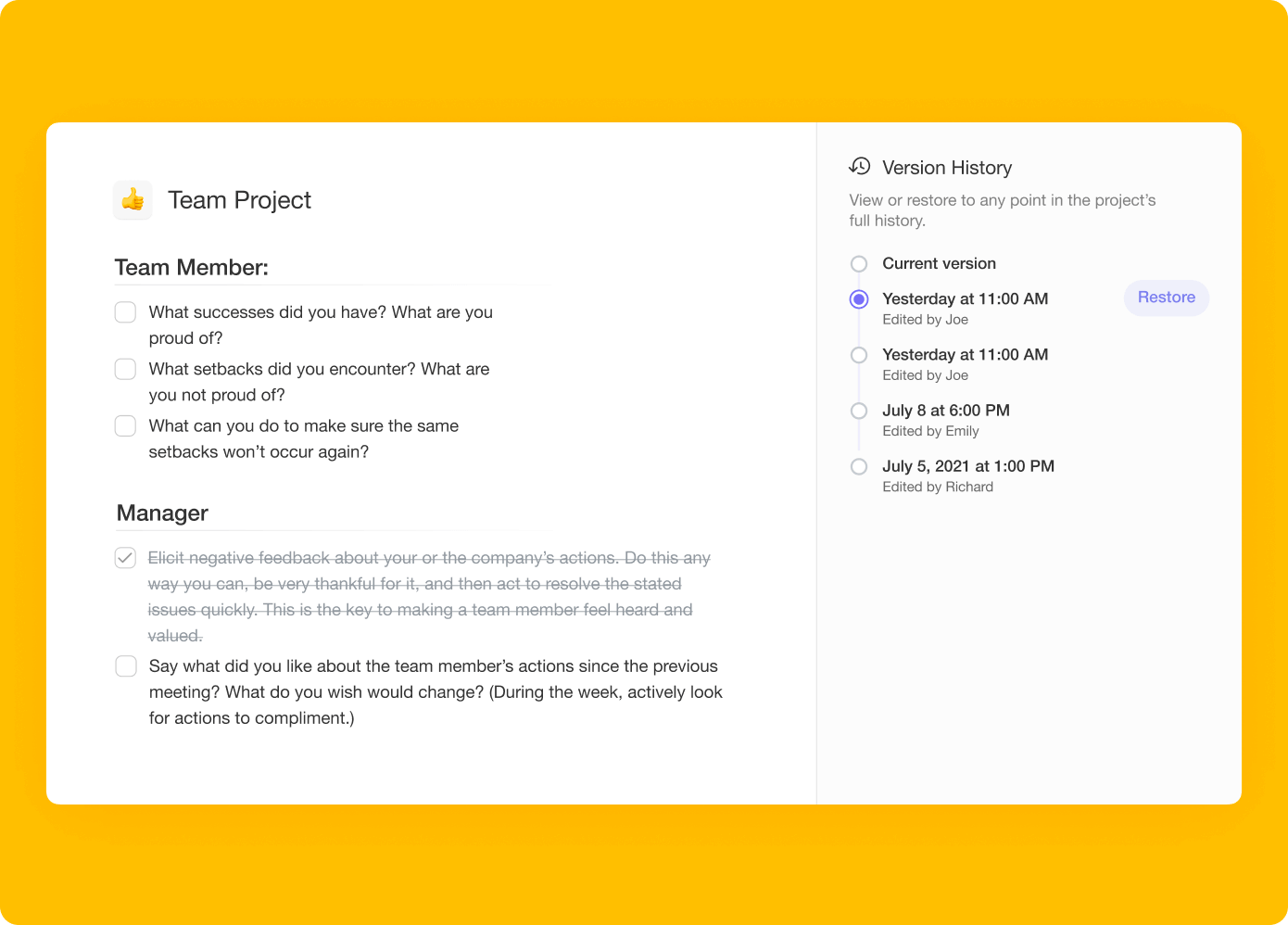 Export and Print. You can export your projects as plain text or markdown files. Attach them to emails, presentations, or for print.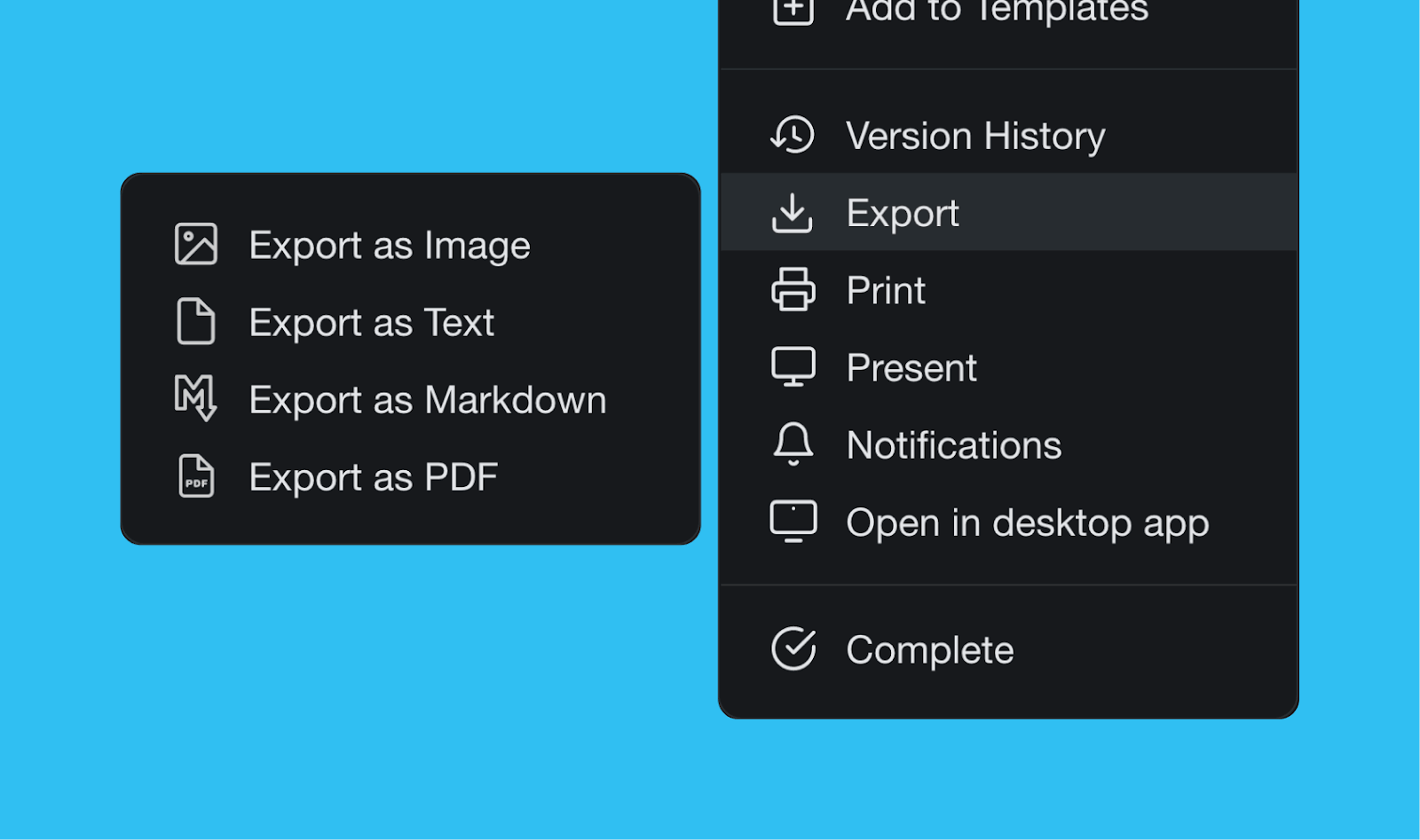 Cloud File Upload. Share files directly from Google Drive, Dropbox, Instagram, and Box in your projects with our integrations.
Breakdown Larger Tasks. Organize your thoughts with Taskade's unlimited hierarchy to break down large projects into tasks.
Quick Search. Use CMD / CTRL + K to jump between any projects within Taskade web and apps.
For an exhaustive list of Taskade's features, click here.
Taskade Pros
Free-forever plan is loaded with features
Unlimited tasks and projects even on the free plan
Real-time collaboration within the same project 
Free built-in video call and chat function in each project
Customizable templates to give you a headstart
Work and chat in the same window, in the same app
Frequent updates based on user/your feedback and suggestions
Tabbed workflow for working with multiple Projects
Taskade Cons
Taskade Pricing
Taskade Free 
Single workspace with 5 active projects and 250 tasks per month
5 team members included with unlimited project sharing
5,000 AI words per month
Access to 500+ free templates
Taskade Pro – From $19/month
2 workspaces with unlimited projects for every team and client
20 team members included for a flat monthly price
50,000 AI words per month
Taskade Business – From $49/month
10 workspaces with unlimited projects for every team and client
50 team members included for a flat monthly price
250,000 AI words per month
Zapier integration
Taskade Ultimate – From $99/month
Unlimited workspaces for your teams, clients, and organization
100 team members included for a flat monthly price
Unlimited AI words per month
Secure and simplify access with Single Sign On (SSO) through OKTA, Google, Azure, and more
Is Taskade Right for You?
While Any.do is a popular task management app, Taskade offers several advantages that make it a better choice for many users. Taskade has a more comprehensive set of features, including real-time collaboration, advanced formatting options, and the ability to set recurring tasks on even the free plan.
Taskade also has a more modern and intuitive user interface, making it easier to use and more visually appealing. Additionally, Taskade offers a wider range of integrations with other tools and services, providing users with more flexibility and customization options.
Overall, Taskade's combination of features and user-friendly design makes it a superior option for anyone looking for a task management app.

Taskade is the best free Any.do alternative. Try Taskade for free today.
Join the 82,967 teams who collaborate on
Taskade.
Unleash AI-powered productivity with Taskade. Chat, organize, get things done, all in one place. No more scattered to-do lists, cluttered inboxes, or disorganized work. Get organized, productive, and connected.