Build a
Second Brain

for Your Team.
A magical list to break down complexities and map out your collective mind. Unlock your collaborative brain and connect tasks, notes, and teams, in one unified workspace.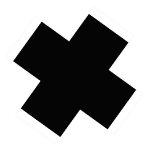 Plan, Organize, and Execute

Your Projects.
Brainstorm Ideas
Taskade is the fastest way to get work done!
Join thousands of teams already on Taskade!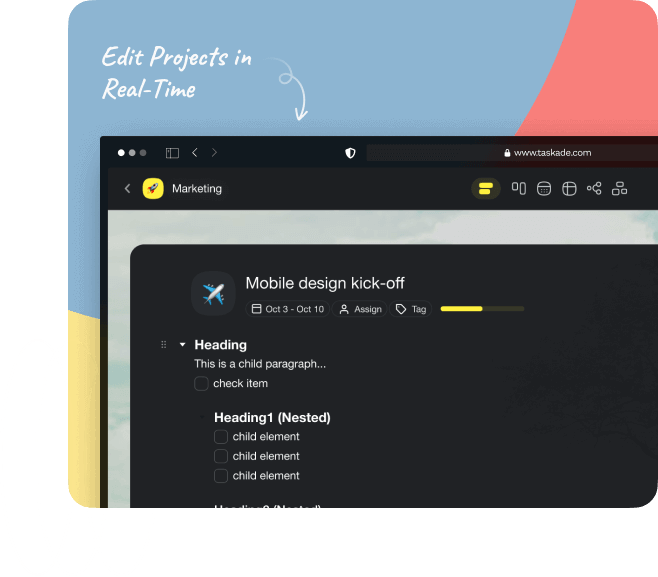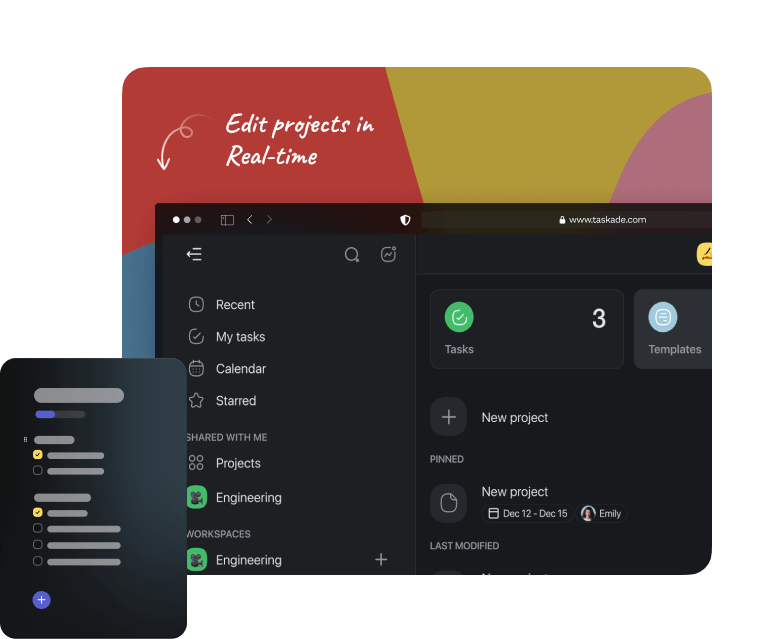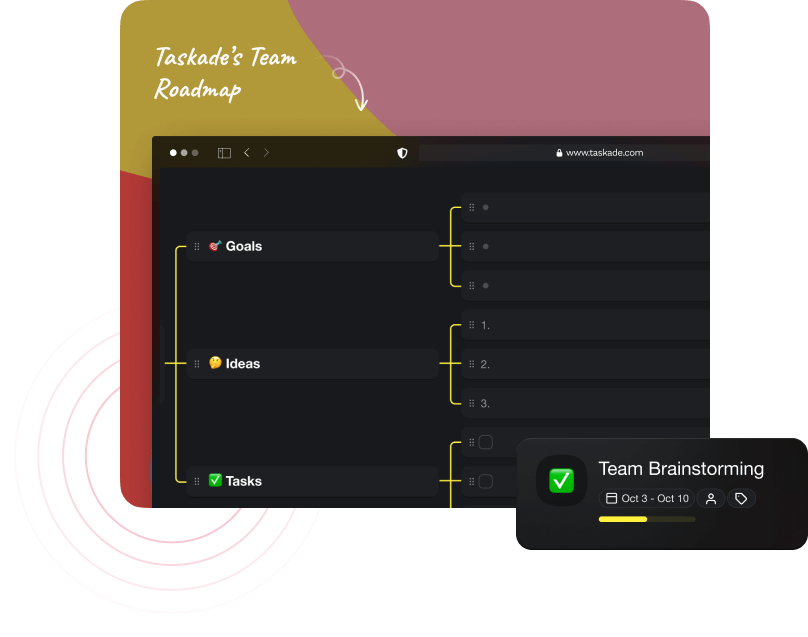 Amazing product! We're a remote team (aren't we all right now), and being on the same page regarding our roadmap and current objectives is extremely important. Taskade has done an amazing job of being an easy-to-use and powerful tool to help keep teams on the right path.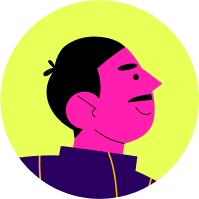 After years of switching out notes and to-do apps, I think I've finally settled on Taskade. Very flexible system where you can format notes and lists however you like. Like a digital bullet journal.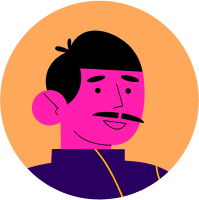 I have explored all the collaboration tools out there, and Taskade is the best. I am using this for my team, existing clients, and future clients as well.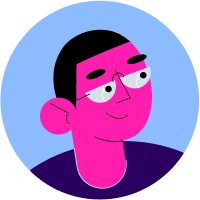 Get Work Done.
Faster + Smarter.
Workflows
Change your project workflows dynamically with views.
Collaboration
Edit projects in real-time with your team, fully cross-platform.
Workspaces
Create workspaces to manage different teams.
Timer
Track time spent on tasks with countdown timers.
Due Dates
Set start and end dates with time, repeats, and notifications.
Comments
Discuss and give feedback, share files, and get notified anywhere.
Chat & Messaging
Communicate and manage tasks with zero context switching.
Video Chat
Host meetings and write notes and agendas, all on one page.
Embed
Attach embedded content and links. Preview content instantly.
Version History
Access your project history with rollbacks.
Calendar Integration
Sync your tasks with Apple, Outlook, and Google Calendar.
Slash Command
Access key features without taking your hands off the keyboard.
Team Permissions
Manage access to projects and workspace, and assign user roles.
Smart Document
Customize your project with tasks, outlines, paragraphs, and more.
Nested Lists
Fold blocks at any level to focus on tasks that matter.
Global Search
Find task, dates, comments, and projects across all workspaces.
Tags
Organize your projects with tags and tasks using #hashtags.
Roadmap
Track the progress of your projects with a timeline-based roadmap.
Filters
Filter projects by clicking on tags, and tasks using #hashtags.
Frequently Asked Questions
Can't find the answer you're looking for? Please visit our Help Center.
Can I use Taskade to create mind maps?
Map out your brain with our powerful Mind Map view. Easily map out tasks, visualize work, and switch between multiple project views to find your ideal workflow. You can even embed a real-time mind map onto your blog, company portal, and websites. Collaborate in real-time, write notes, and organize branches with ease. Experience the ultimate mind-mapping journey with Taskade - the cross-platform tool that's available on Web, Mobile, Windows, and Mac. Get started today.
How can I better organize my life and work with Taskade?
Taskade is the ultimate to-do list app for managing tasks, writing notes, and collaborating with others. Keep track of all your tasks, set due dates and deadlines, schedule events in the calendar, and make sure that nothing slips through the cracks.
Each to-do list is a living document you can fully customize. Keep it to yourself or share it with others; the choice is yours! You can organize, assign tasks, and visualize across multiple views (Kanban Board, Mind Map, and more). You can work alone or collaborate together, and even chat and video call all on the same page.
Supercharge your productivity with the ultimate platform for getting things done.
Can I make my calendar shared and collaborative?
Absolutely! Taskade integrates with popular calendar services, including Apple Mail, Google Calendar (with 2-way synchronization), and Outlook. You can easily share project calendars with your to-do lists and tasks with your teammates or invite others into your workspace.
Collaborate, add new tasks, set reminders, and see all moving parts in one place. Share your project calendars and workspaces along with all to-do lists and tasks with your teammates. Collaborate, add new tasks, set reminders, and create notes and checklists for your colleagues and others. Get your to-do list and project calendar shared anytime and anywhere.
Taskade is free to use with unlimited project sharing and workspace collaboration.
Are my to-do lists and task lists cross-platform in Taskade?
Yes, Taskade is fully cross-platform with native apps available on mobile and desktop. You can also use our fully featured web app and web clipper / new tab browser extensions.Download our apps
Taskade syncs all your data, tasks and notes in real-time without limits . You can start typing on your PC or Mac and continue adding a task or note on mobile or a web browser. With Taskade, you can access your projects wherever you are.
Supercharge your productivity with real-time syncing between our web, mobile, and desktop applications. Download our apps.
Can I share a direct read-only link to my online calendar planner and weekly to-do list?
Yes, you can quickly share your to-do list and project calendar anywhere you want, including email, chat apps, social media, and websites, by visiting share and copy-pasting the direct link to it. Your to-do list will become available online in a read-only mode if you share the project view link. You can also share projects with edit permissions so others can contribute in real-time with full access, including guests.
Can I use Taskade for task management on a project?
Yes, Taskade is the fastest and smartest way to manage your tasks. It's simple, beautiful, and fun to use. There is a universal My Tasks and Calendar to help you keep track of your tasks across all projects and workspaces. Add due dates, set reminders, schedule recurring events, and automate your workflows easily.
Taskade will help you keep track of tasks and projects across multiple teams and workspaces with a shared calendar, master agenda, customizable notifications, and more. Taskade is the ultimate platform for getting work done!
Does Taskade have Templates?
Empower your productivity with Taskade's extensive library of over 500+ customizable templates. From AI writing to-do lists to project management frameworks, our templates cover a wide range of categories to suit any need. Best of all, they're all free to use and can be tailored to your specific projects and tasks with ease. Unlock your full potential with our free templates today!
Are Taskade's to-do lists printable?
Yes, you can print and export Taskade to-do lists and projects. It doesn't matter if you want to keep them in your pocket or hang them on the wall (we're not judging). Taskade to-do lists, mind maps, and kanban boards will look beautiful everywhere!
Can I use Taskade as just a to-do list app?
Yes! A significant benefit of Taskade is that you can use it both as a simple personal to-do list and a collaborative project management platform with your team. Easily share and invite guest viewers, guest editors, and team members to each to-do list and project for free.
Taskade can be as simple or as complex as you need. You can use it as a streamlined personal to-do list, a fully-featured collaborative project management platform, or both.
Is there subtask and checklist functionality in Taskade?
Yes, you can create subtasks with unlimited levels of hierarchies. Simply enter and tab to indent on the web or desktop app. Taskade lets you create multiple levels of sub-tasks for each task. Organize your checklists like an outliner with indentations and the ability to fold and unfold sub-tasks as needed.
Can I implement specific productivity methods like Pomodoro, Getting Things Done (GTD), Kanban, or Build a Second Brain in Taskade?
Get Work Done.
Remotely.
Taskade is where remote teams chat, organize, and get things done.