The Best Free
MeisterTask Alternative
Visualize Your Task Through Multiple Views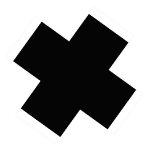 Taskade is the best flexible substitute for MeisterTask.


The Visual Playground
Develop customizable templates
Own Your Workspace
Customizability is restricted tasks in a Kanban board
Fully customizable workspace and progress tracking
Consistency Is Simplicity
Only one standard view offered
Adaptable data visualization
Let's Talk
Comment syncing, no live video call support
Comment syncing, chat support, live video call support
The Right Tool For The Right Job
A Kanban board centered collaborative tool
Remote first design tailored for virtual collaboration
Get Back On Track
Completion history tracking
The Big Picture
Overall view of projects through reports
Bird's eye view of workspaces, able to monitor progress on a project level
Keeping It Clean
Tasks are organized by Kanban boards
Tasks are organized by multiple views
Getting Up To Speed
Overwhelming reliance on Boards, reports are hard to master
Intuitive UI, quick onboarding process
Quick On Your Feet
Performance is clunky, syncing issues
Lightweight, Short load times
What Is MeisterTask?
MeisterTask is an online project management software that was founded by Michael Hollauf and Till Volmer. Hollauf and Volmer created MeisterLabs, which is a German software company. Together, they founded two other productivity tools which are MindMeister, MeisterTask, and MeisterNote.
MeisterNote is a collaborative outliner tool that helps teams create notes and content online together. Check out our article and choose from the 10 best outliner tools to help you get more work done! MindMeister is MeisterLabs' foray into online collaborative mind mapping. Created in 2007, the product has over 7 million users today. There are many use cases for mind maps. Find out how to create the best mind maps to improve your productivity today. 
MeisterTask follows the Kanban methodology for project management. It was created in 2015 with a development budget of around $1.7 million, most of which was provided from MindMeister. One of the reasons for creating MeisterTask stems from MindMeister users asking for more to-do list features in the app. MeisterTask grew by over a million users within its first year of release, and today has over 3 million users.
Features of MeisterTask
If the user interface of MeisterTask feels familiar to you - that's probably because it took inspiration from Trello's Kanban board project management style. However, MeisterTask takes it up a notch by adding its own spin on Kanban.
First of all, MeisterTask's design feels cleaner when compared to Trello. Its design has a modern feel to it with a cleaner user interface that is gentler on the eyes. 
Your workspace starts off with a default kanban board view made of customizable and colorful columns. At the top of each column, you can clearly see how many tasks you have and you can even set limits on each column. This is to help prevent you from overloading certain workflows with too many tasks.
But what if you've got a lot of tasks at hand? No problem. MeisterTask gives you the ability to collapse task lists and drag your task cards across columns to rearrange them and keep your project board clean. Formatting and setting due dates on tasks are also made simpler with the multi-select feature. 
When it comes to assigning tasks, MeisterTask works similarly to ClickUp but with a twist. Only one person can be assigned to any particular task. This keeps your project board clean as only one avatar will appear on each task card. You can also assign watchers to tasks to keep them updated on the progress. 
Time tracking is also built into each task so that you can keep track of time spent per task. You could also use this to use the Pomodoro timer technique and stay productive throughout your workday. Speaking of which, MeisterTask also has a unique feature that allows you to see both your board view and timeline view at the same time so that you can move projects and tasks according to your project schedule.
Meistertask has integrations with other applications such as Zapier, Slack, Microsoft Teams, and more so that you can use it alongside your other daily applications. Although the software does not support built-in communication functions, you can integrate it with other applications to help improve communication when using the tool.
Finally, Meistertask also has a statistics section where you can find reports on your personal and team performance. Use this if you want to dive deeper and use statistics to optimize your productivity.
What Is MeisterTask Good For?
If you're familiar with MeisterLabs' suite of products, then MeisterTask would be a good task and project management tool for you to use. This is because the sense of familiarity with the product may help you get onboarded quicker.
Here are other instances where MeisterTask can be useful for you:
Personal task management
Simple project management
Business task management
Collaborative projects
School projects
What Are Some Limitations of MeisterTask?
Although MeisterTask's spin on the Kanban board gives it a breath of fresh air, it lacks built-in communication features to help you communicate and collaborate within the same app to get more work done. The software also depends heavily on the Kanban board view for you to manage your tasks and projects. Not having additional views such as a list or mind-map view makes it harder for you to visualize your ideas in a different way.
MeisterTask Pricing
MeisterTask has 4 different pricing categories.
MeisterTask Basic (Free)
Perfect for single users
Maximum of 3 projects
Limited integrations
MeisterTask Pro ($8.25 per month)
Unlimited projects
Unlimited integrations
Automations
Multiple checklists
MeisterTask Business ($20.75 per month)
Roles and permissions
Enhanced security
Team project sharing
Priority support
MeisterTask Enterprise (Custom)
Personalized onboarding experience
Enhanced security
SAML Single Sign-On
Account manager
What Is Taskade?
Taskade is a flexible productivity and project management tool that was founded by John Xie, Dionis Loire, and Stan Chang in 2017. The Y Combinator-backed startup aims to help remote teams and individuals get work done faster and smarter.
Taskade is where remote teams get work done. With Taskade, you can organize entire projects and break them down into tasks, change between multiple project views, automate repetitive workflows, collaborate via built-in video chat with your team, and more, via an all-in-one unified workspace. 
Get a headstart on your projects and find a suitable structure for your notes via Taskade's versatile collection of templates. Simply choose from a wide variety of templates and add them to your projects to get started instantly!
Taskade is a supercharged productivity app that both individuals and teams can use to collaborate on projects in real-time.
Taskade is the best free MeisterTask alternative because Taskade was designed with a remote-first approach, allowing teams to collaborate and get work done together virtually. You can create unlimited tasks and projects even on the free plan, giving you the ability to plan heavier projects as soon as you get started.
With Taskade, you can create tasks and visualize them via multiple project views. You can also add collaborators to your Taskade project to collaborate with people within or even outside of your organization.
Get started instantly for free today.
Key Features of Taskade
Project Views. Visualize your projects in several different ways. Cycle between the List, Mind Map, Org Chart, and Board views to work the way you want. 

List View. This is the default view on Taskade. Create new lists here.
Board View. This view lets you work horizontally like a Kanban board. Visualize your workflow and tasks in this full-width view.
Mind Map View. This view lets you work in a horizontal tree-structured manner and map out what you have in mind.
Action View. Work in table view and stay organized with your task due dates, and more.
Org Chart View. Break down larger tasks into smaller ones to help you get things done.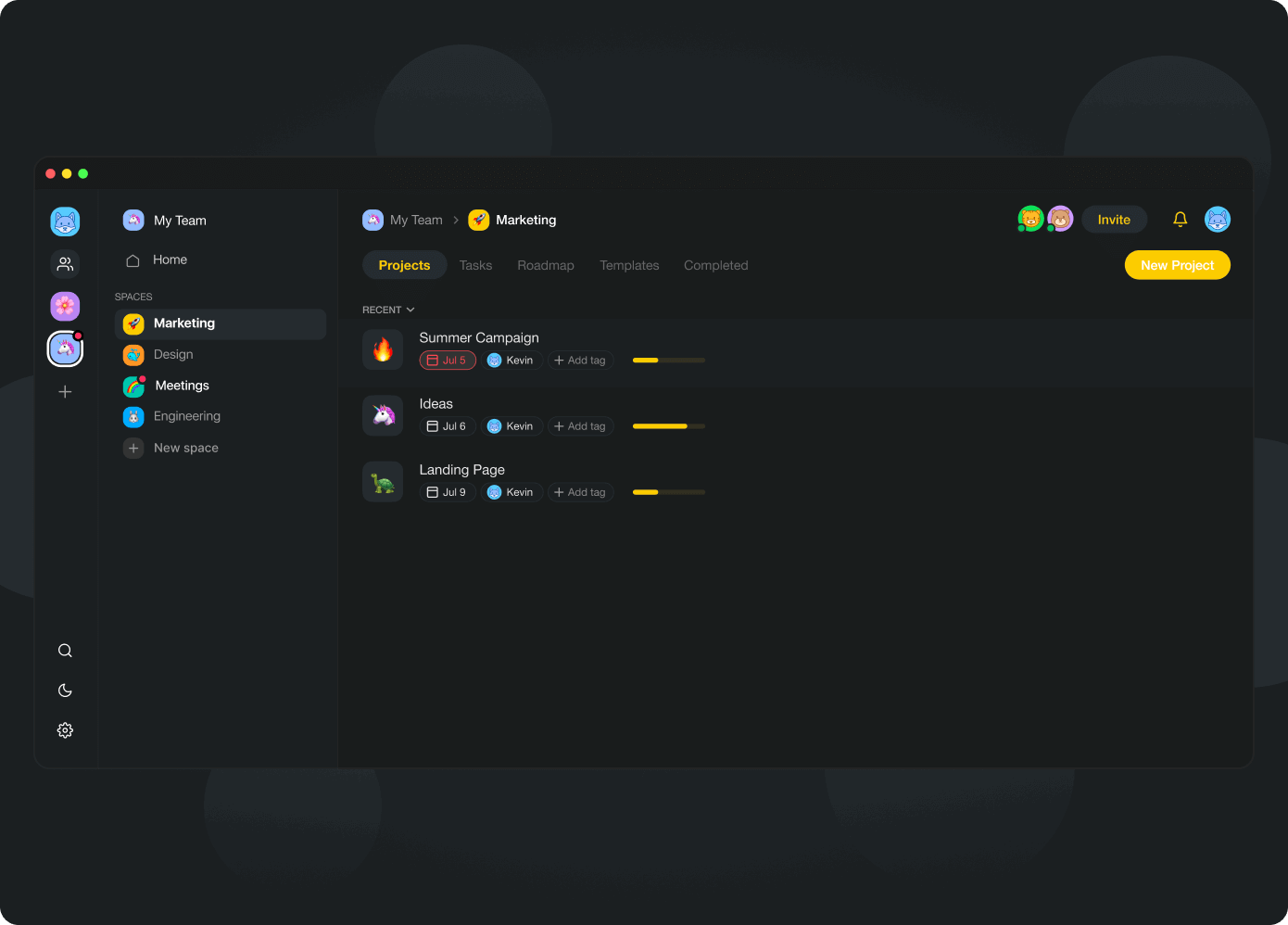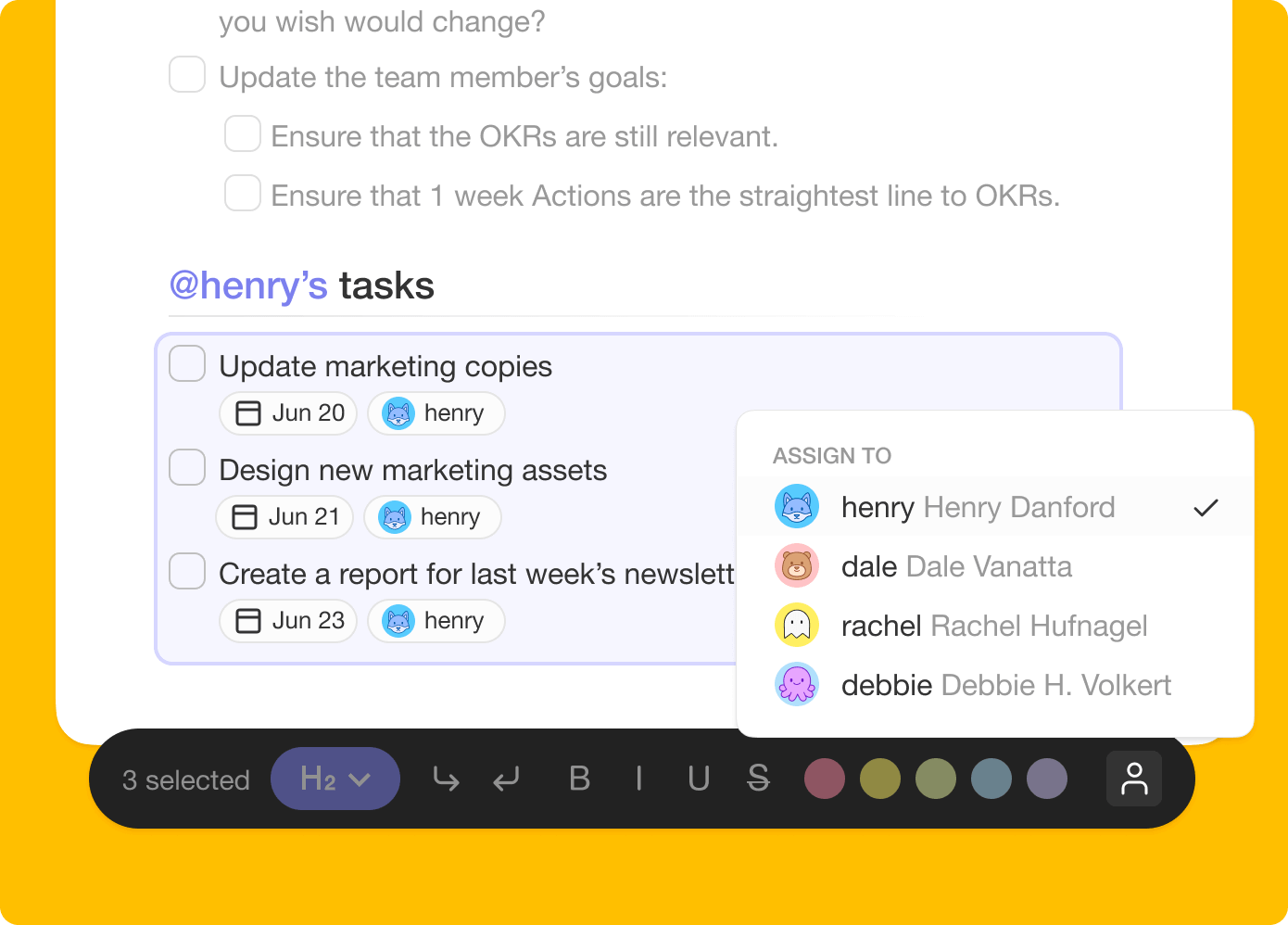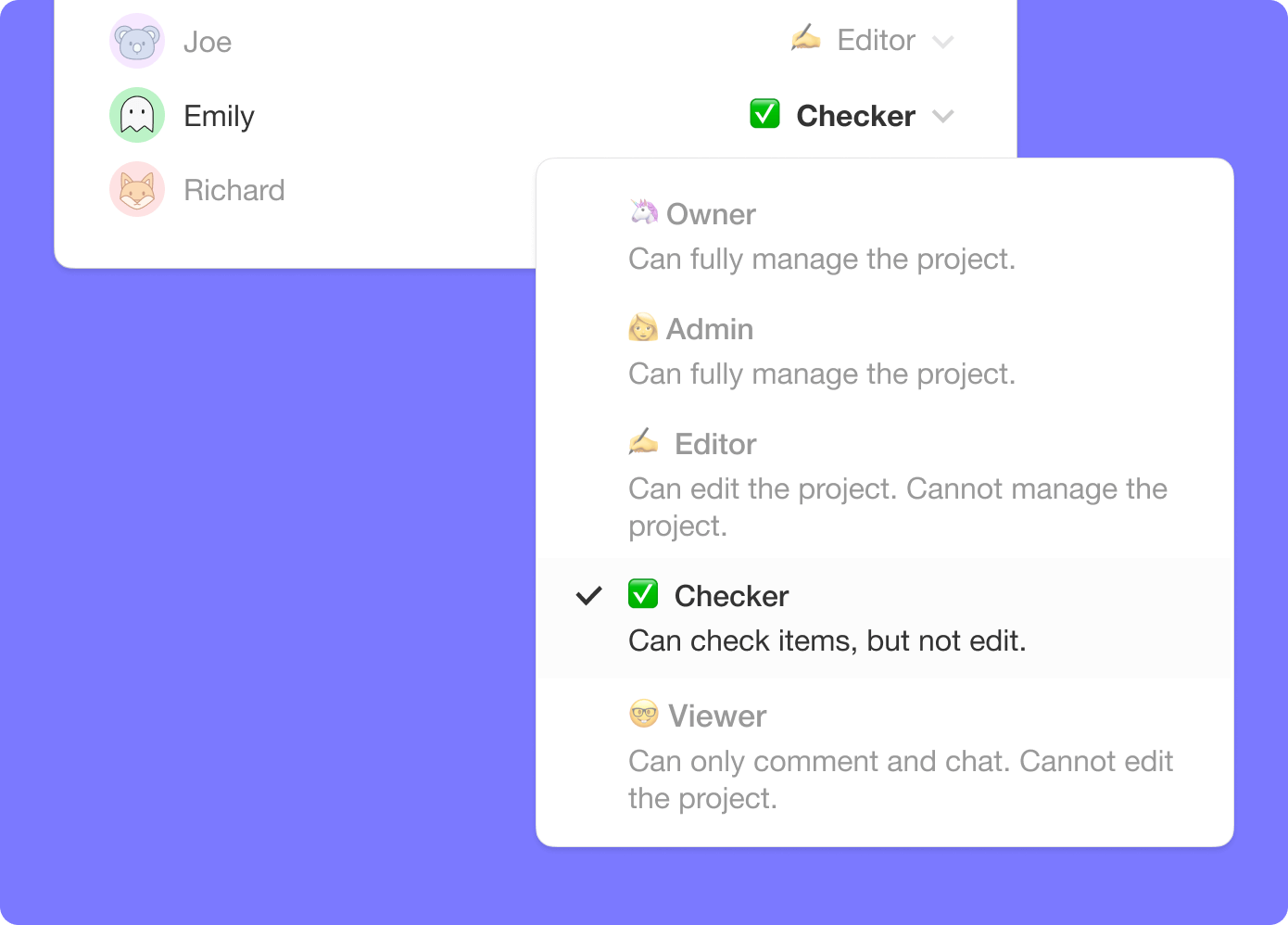 Sort Tasks. Sort sub-tasks/children elements by completed/uncompleted stats or the due date. Task sorting can be accessed from a convenient pop-up menu.
Search. Search within projects or globally across workspaces and subspaces. Instantly browse and jump between projects anywhere in the Taskade.
Keyboard Shortcuts. Navigate projects, create content blocks, reorder elements, and complete tasks using a set of handy keyboard shortcuts.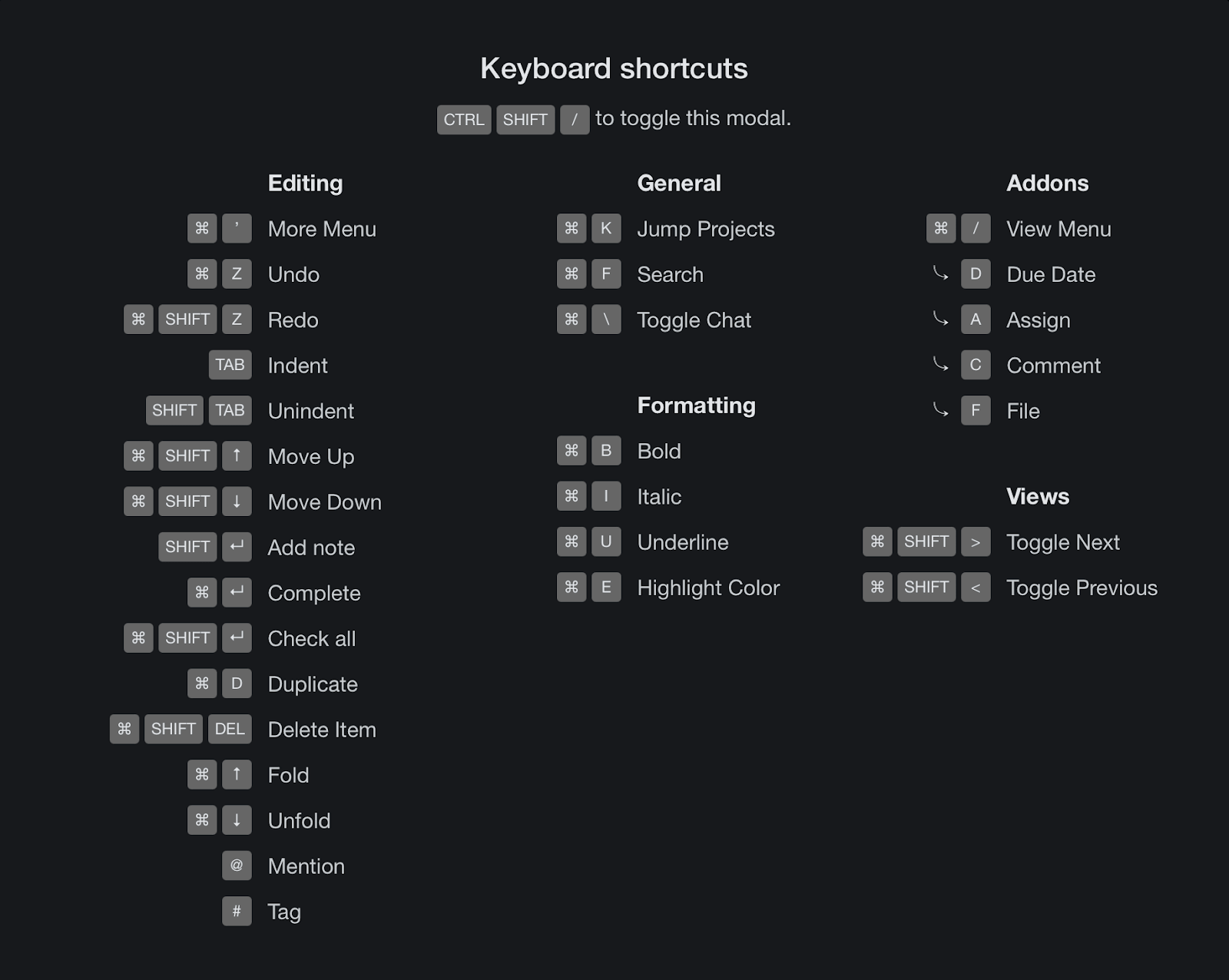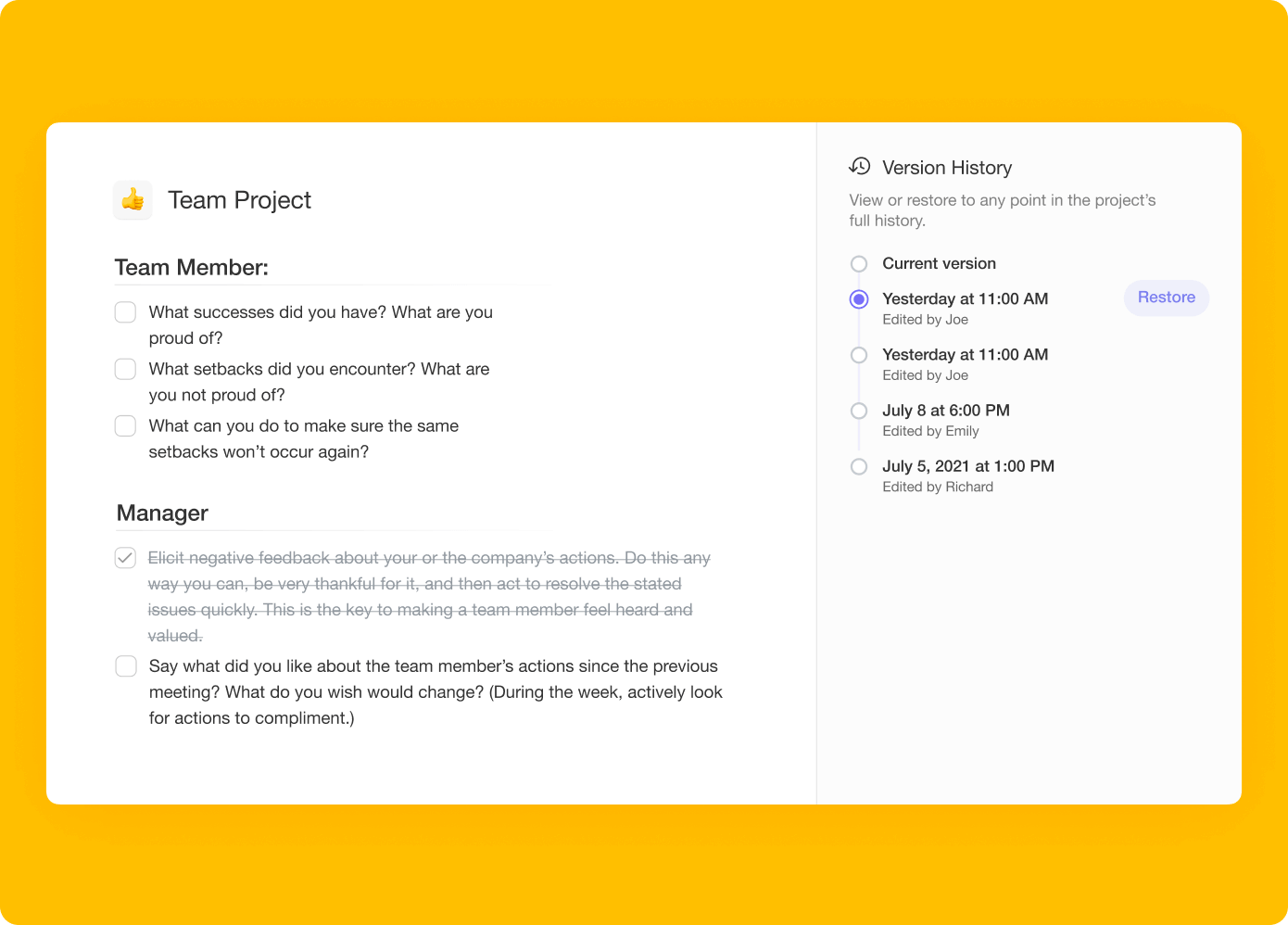 Export and Print. You can export your projects as plain text or markdown files. Attach them to emails, presentations, or for print.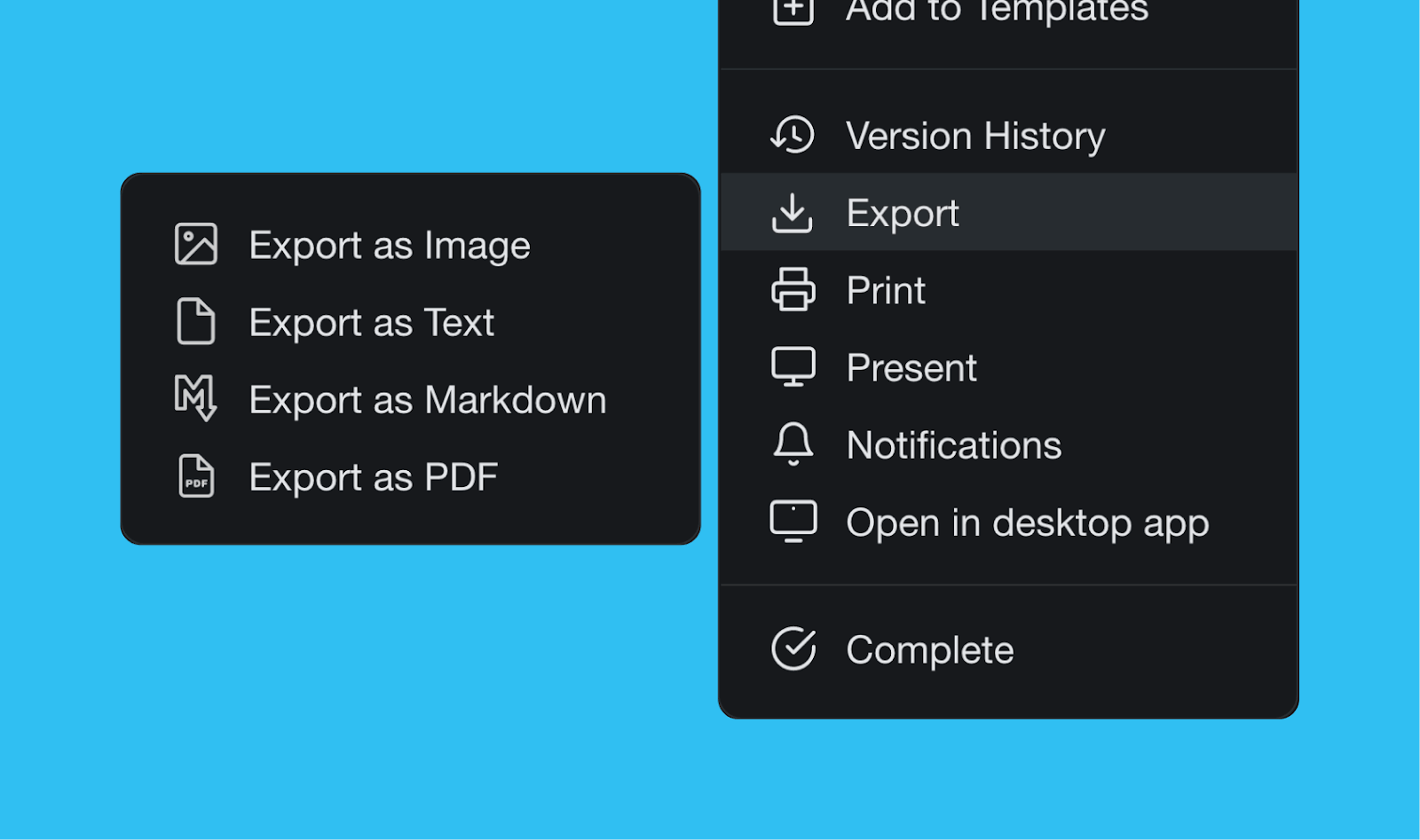 Cloud File Upload. Share files directly from Google Drive, Dropbox, Instagram, and Box in your projects with our integrations.
Breakdown Larger Tasks. Organize your thoughts with Taskade's unlimited hierarchy to break down large projects into tasks.
Quick Search. Use CMD / CTRL + K to jump between any projects within Taskade web and apps.
For an exhaustive list of Taskade's features, click here.
Taskade Pros
Free-forever plan is loaded with features
Unlimited tasks and projects even on the free plan
Real-time collaboration within the same project 
Free built-in video call and chat function in each project
Customizable templates to give you a headstart
Work and chat in the same window, in the same app
Frequent updates based on user/your feedback and suggestions
Tabbed workflow for working with multiple Projects
Taskade Cons
Taskade Pricing
Taskade Free Plan
Unlimited Tasks & Projects
Unlimited Members & Guests
Unlimited Folders & Teams
Templates, Calendar, Repeat Tasks
Real-time Collaboration
Built-in Free Chat and Video Call
Taskade Unlimited Plan - Starts from $5/month
Everything in Free, plus:
Version History
Advanced Permission
Cloud Upload Integration
2-Way Calendar Integration
Taskade is a better alternative to MeisterTask because it offers a more robust solution for your productivity needs at a competitive price. Unlike MeisterTask, Taskade offers unlimited tasks and projects even with our free plan to help you organize anything that you want.
Click here for more information.
Is Taskade Right for You?
Taskade can be used by individuals and teams working from anywhere. Use Taskade individually or collaborate with your team on shared to-do lists, weekly agendas, team meetings, note-taking, project management, product roadmaps, and more. 
Make use of customizable board views to visualize your projects into digestible smaller tasks. Multiple board views are available even on Taskade's free plan at a single click of a button, allowing you to get more work done the smarter way. 
Collaborate with your team in real-time with free and unlimited chat and video conferencing that's available on every project. Automatic syncing ensures that your data is always up to date across devices.
Our customizable templates are available even with our free plan. Find the perfect template to help you get started with your project, and customize it to fit your needs!
Taskade is the simplest way to create task lists, checklists, and workflows. Manage projects and get more work done the simple way with Taskade.
Taskade is the best free MeisterTask alternative. Try Taskade for free today.
Join the 82,967 teams who collaborate on
Taskade.
Unleash AI-powered productivity with Taskade. Chat, organize, get things done, all in one place. No more scattered to-do lists, cluttered inboxes, or disorganized work. Get organized, productive, and connected.