Everybody loves to-do lists and checklists. They have the power to bring order, tranquility, and a sweet feeling of accomplishment to work and personal life. But why keep all the benefits to yourself when you can boost team productivity with an effective to-do list app?
In today's article, we take a look at the best collaborative to-do software you can get in 2023. We also uncover the benefits of checklists and see how they can help your team excel.
✅ Before you start… Checklists are project and knowledge management power tools. Here are a handful of guides that'll help you learn how to use those tools effectively.
⚡ The Benefits of Shared To-Do List Tools
"The list is the origin of culture. It's part of the history of art and literature. What does culture want? To make infinity comprehensible […]"

Umberto Eco
Simple lists go a long way. Whether it's a project roadmap, daily/weekly task lists, or a crumpled shopping list, you can't help but appreciate the peace of mind they offer.
Collaborative to-do software takes listicles to a whole new level.
When you manage a team—especially one that's spread across multiple time zones—you have to keep many moving parts in check. Project specs, assigned tasks, due dates, and key milestones all call for a holistic approach to project management.
The best collaborative task management software can give you a bird's eye view of everything that happens across all stages of a project lifecycle, on any device. But there's more.
Some of the awesome benefits of collaborative to-do software include:
⚡️ The ability to keep everybody on the same page
⚡️ Excellent user experience real-time synchronization
⚡️ Easy task management and progress tracking
⚡️ Email reminders (so nobody misses a thing)
⚡️ Support for attachments and file sharing
⚡️ Automation with recurring tasks and real-time sync
⚡️ Less time spent on memorizing stuff (shallow work)
⚡️ More time spent on high-impact tasks (deep work)
⚡️ Chat and video conferencing on any device
⚡️ Organization with color-coded tags and cross-linking
⚡️ Increased transparency and task ownership
⚡️ And more…
"So, where are all those tools when I need them?"
🏆 The Best Collaborative To-Do Software in 2023
From the most important assignments to bite-sized errands, every project breaks down into a series of smaller elements — tasks, subtasks, deadlines, dependencies. Assembling those bits and pieces hierarchically can be tricky, but these online to-do list apps will help you do just that.
Taskade is a holistic project management platform and the only collaborative task management software that offers true, real-time (as opposed to push/pull) synchronization! That means every edit and update is instantly reflected in the task lists you're sharing with your team.
Taskade is also one of the few project management platforms out there that offer 100% free, integrated video conferencing, calls, and chat. And the best part? Your to-do tasks, subtasks, dependencies, notes, and team conversations exist in the same window, at the same time.
But Taskade has a few other tricks up its sleeve. 👇
Taskade Select Features 🌟
Free Team Communication. Enter and track tasks while communicating with your team in real-time. Chat, video conference, and leave project comments.
User Roles & Permissions. Decide who you share your to-do lists and notes with and define user roles/editing privileges (Owner, Admin, Editor, Checker, Viewer).
Taskade AI Smart Assistant. Taskade AI uses OpenAI's GPT-4 technology to help you generate lists of tasks, break big, complex projects into more manageable bits, and offer context-aware suggestions right inside the project editor and chat box.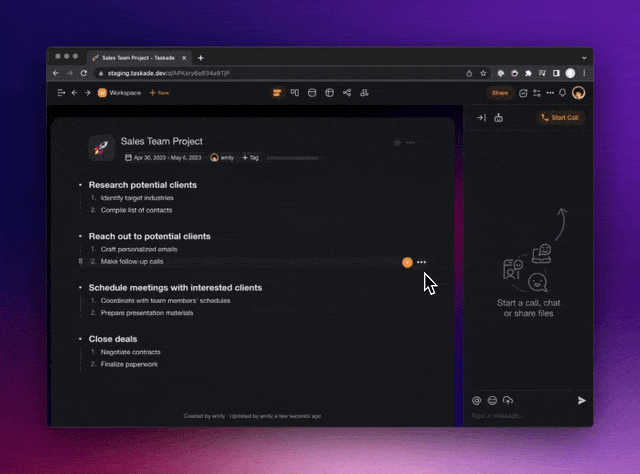 Folding To-Do Lists. Folding your to-do lists will hide sub-tasks and let you narrow your focus. Do it manually or use the ⌨️ Ctrl/⌘+↑ keyboard shortcut.
Mobile and Desktop Apps. Sync your to-dos between Mac, Linux, and Windows or tackle tasks on the go with Android and iOS mobile apps.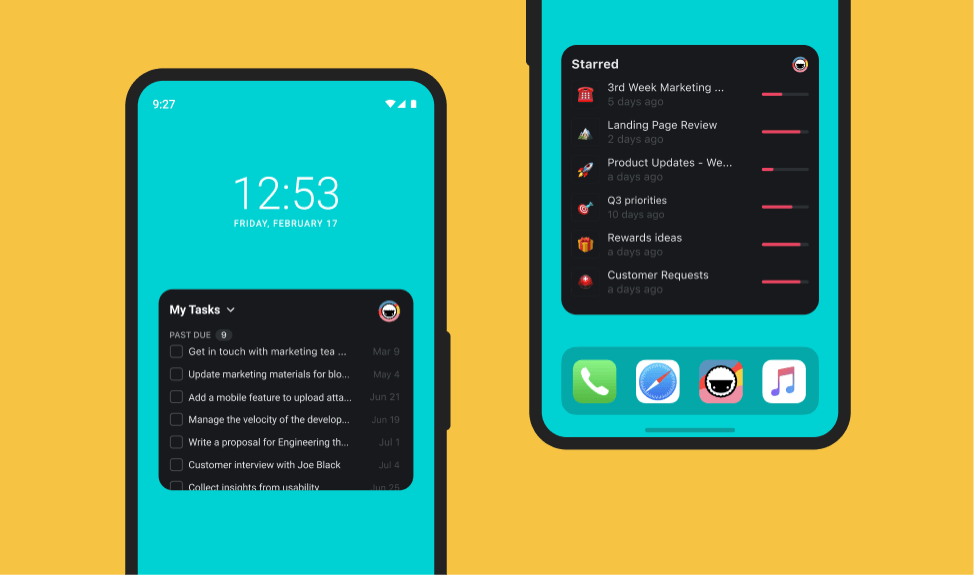 Keyboard Experience. Format lists, reorder elements, and complete tasks without taking your hands off the keyboard!
Export To-Do Lists. Export your shared to-do lists to plain text, PDF, or markdown files. Create convenient attachments for emails, presentations, or for print.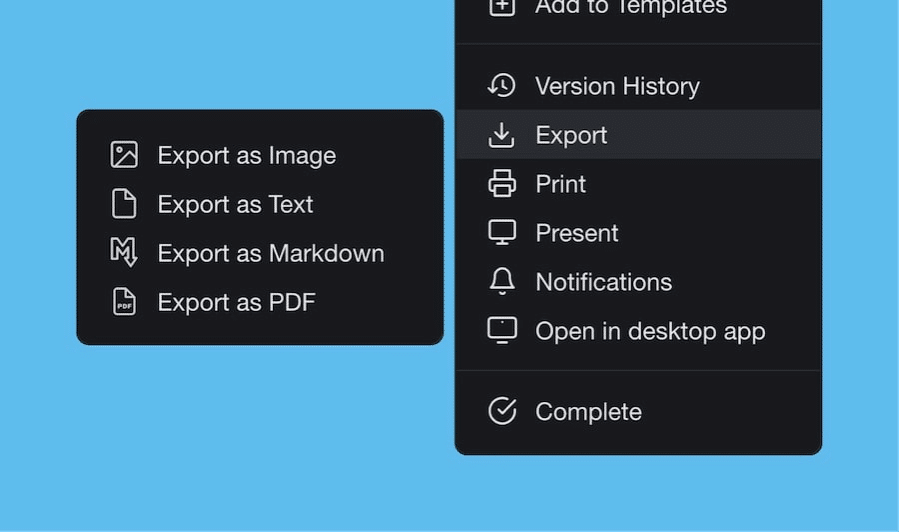 500+ Checklist Templates. Taskade comes packed with over 500 free checklist and to-do templates. Customize, share, or create new ones from scratch.
Customizable Sub-Tasks. Customize your sub-tasks individually. Select checkbox styles, change colors, and add emojis for a unique visual flavor.
Multi-Select Formatting. Format or bulk assign multiple tasks at once. Select several content blocks to copy/paste, reorder, and customize the visuals.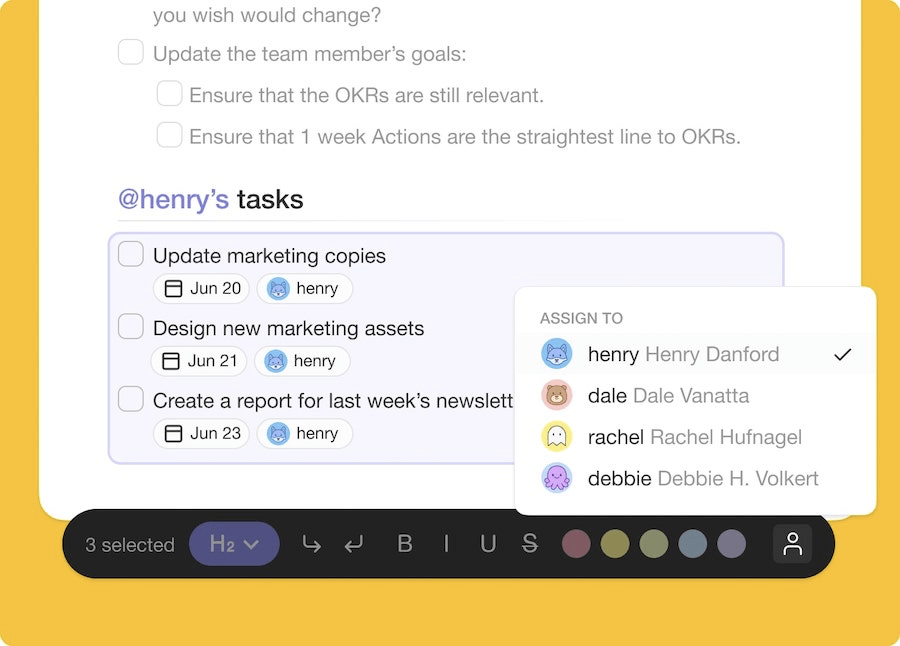 Multiplayer Indicator. See when somebody's editing a shared list in real-time. Every active editor is marked with a profile avatar miniature.
Drag-and-Drop Reorder. Drag tasks and sub-tasks to reorder your list. Multi-select several items to quickly reassemble entire list sections.
Sort Tasks. Sort tasks and sub-tasks by due dates or completed/uncompleted status. Define task sorting rules in a convenient pop-up menu.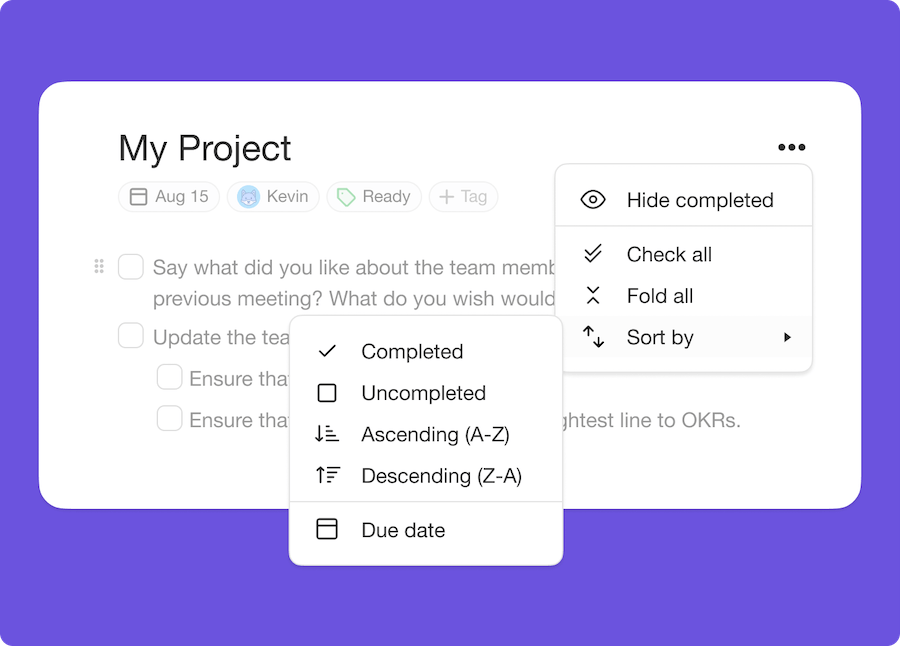 Keyboard Shortcuts. Navigate your online to-do list with over 30 handy keyboard shortcuts. Add new tasks, reorder elements, and format your to-dos with ease.
Custom Notifications. Set push notification settings for workspaces and individual projects to stay up to date with the most important projects.
List Comments/Notes. Discuss the contents of your projects with other team members. Invite collaborators to edit projects together and gather valuable feedback.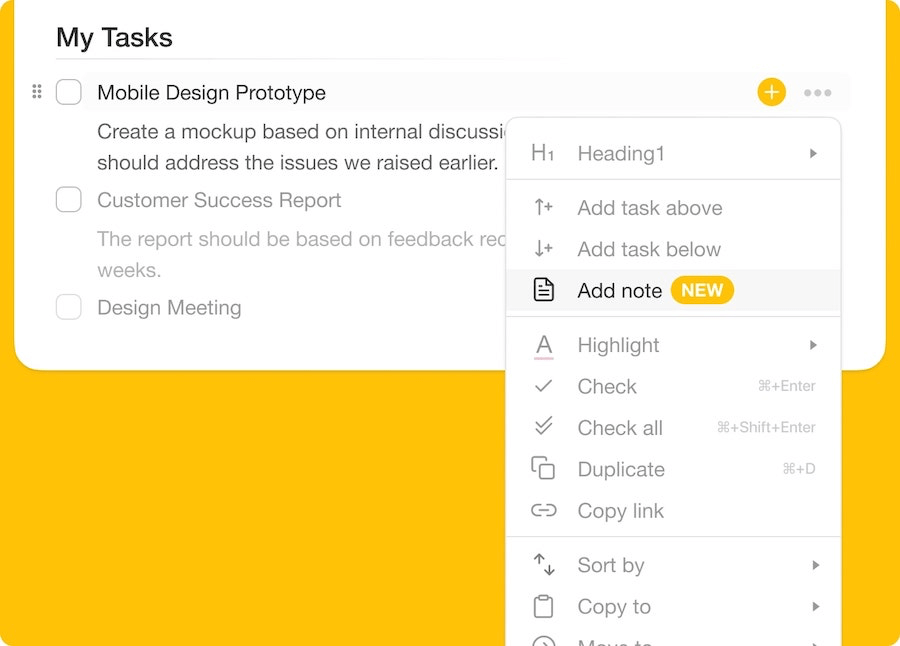 List Cross-Linking. Create connections between lists and tasks with @mention. Combine multiple lists into high-level checklists and never miss a thing
Copy Tasks/Sub-Tasks. Select and copy tasks/sub-tasks to other to-do lists in a shared workspace, subspace, or project. You'll be notified on completion.
Recurring Tasks. Mark important team events as recurring tasks so you're always prepared. Set custom due dates, start/end time, and intervals.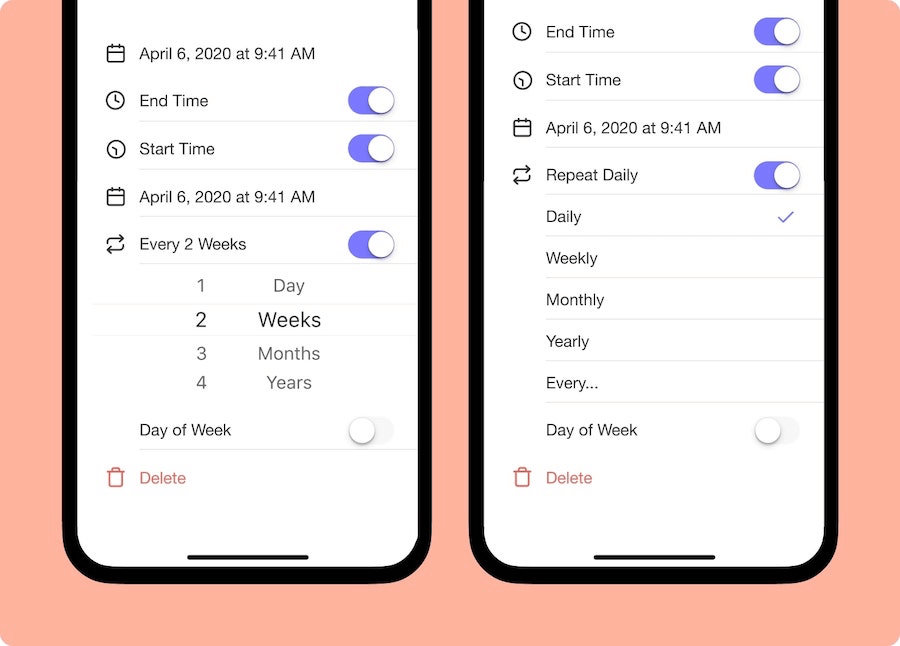 Taskade Search. Search for keywords inside to-do lists or run global searches across workspaces. Click on search results to quickly navigate to a project.
Project Activity. When a team member checks off a task or sub-task, you'll see a chat notification with the editor's nickname and change details.
Project History. See all changes made by you and your team members. Select Project History entries to jump to edited items within your online to-do list.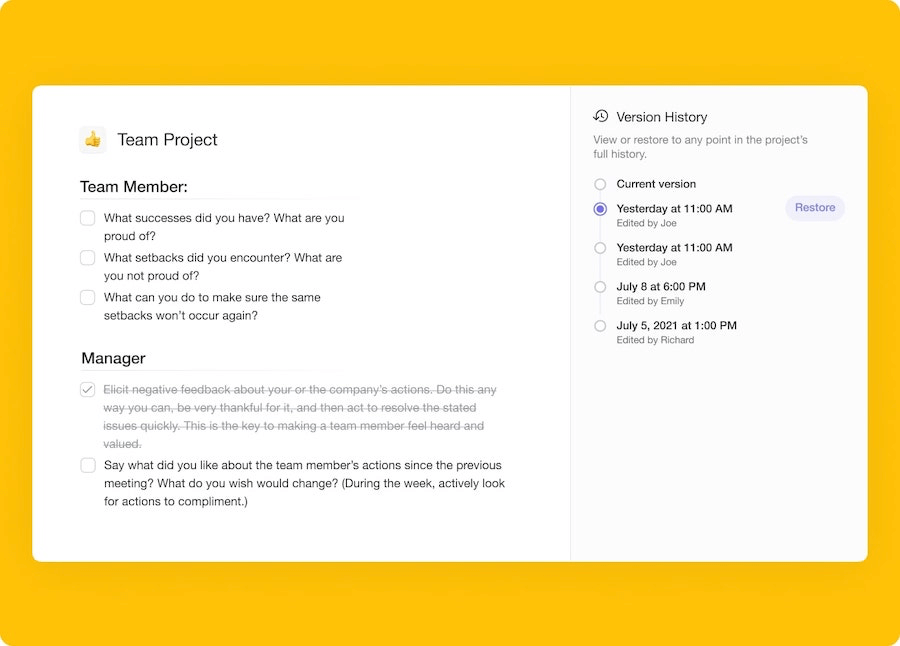 Assign Tasks. Use @mention functionality to assign tasks. Team members will receive email notifications whenever you mention them in a project.
Workspaces and Subspaces. Organize your lists into workspaces and subspaces. Sort projects and filter lists with color-coded tags.
#Tags. Organize and filter collaborative to-do lists with hashtags. Add a #tag anywhere inside a project to create a clickable reference.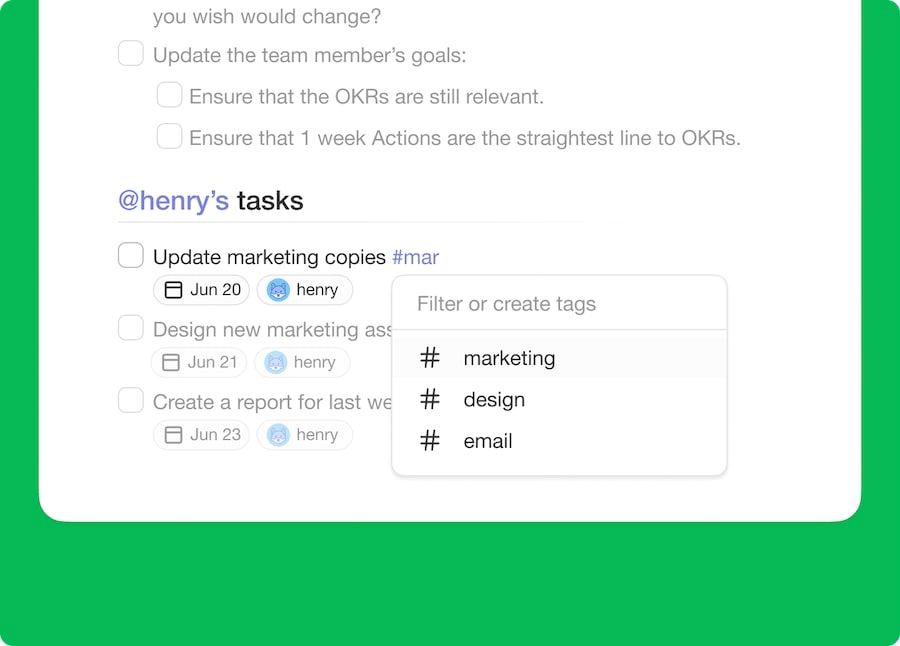 Undo/Redo. Undo to-do list actions whenever you make a mistake. Undo/redo works even when you're editing a list with other team members in real-time.
File Uploads. Add visuals and other assets to your lists. Drag-and-drop videos, images, and documents to upload them directly to a project.
Flexible Views. Transform your online to-do list into a mind map, kanban board, org chart, or a customizable table of action items. View one project in many different ways!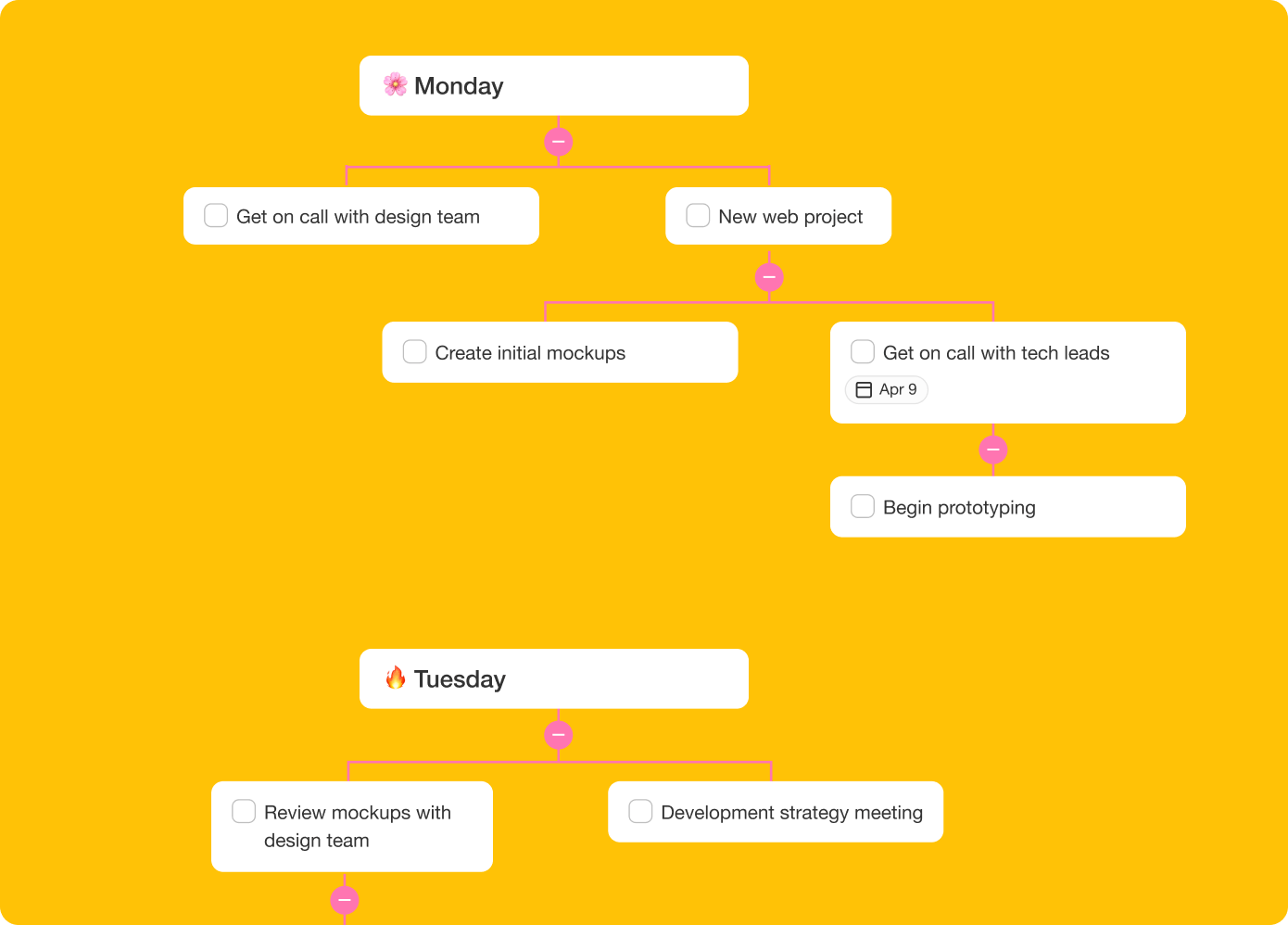 Shared Calendar. Taskade allows you to display all tasks and projects in a shared calendar. Sync with Apple, Outlook, and Google calendar.
Simple Pricing Scheme. Taskade offers a complete collaboration suite from the moment you sign up. You don't need extra add-ons or any other app to get work done.
Taskade Pricing 💸
🟢 Free (forever!)

Taskade AI smart assistant
Unlimited tasks/sub-tasks
Unlimited projects
Unlimited collaborators
Unlimited file storage (up to 25MB per file)
Chat, calls, and video conferencing
Desktop and mobile synchronization
Activity feed and notifications
7-day project history and version history
Cross-linking and project sharing
500+ free checklist and to-do templates
List-sorting options
Org charts, boards, mind maps, and action view
Export to image, markdown, PDF, and plain text
🔵 Unlimited ($5/month per user billed annually)

Everything in the Free plan +
Unlimited storage space (up to 250MB per file)
Recurring tasks and bulk assign
Workspace branding and customization
Unlimited project history and version history
Priority support and custom onboarding
Email, Google Calendar, Dropbox, and One Drive integrations
Advanced reporting and revision history
Advanced workspace/project permissions
SAML, 2FA, and Single Sign-On (SSO)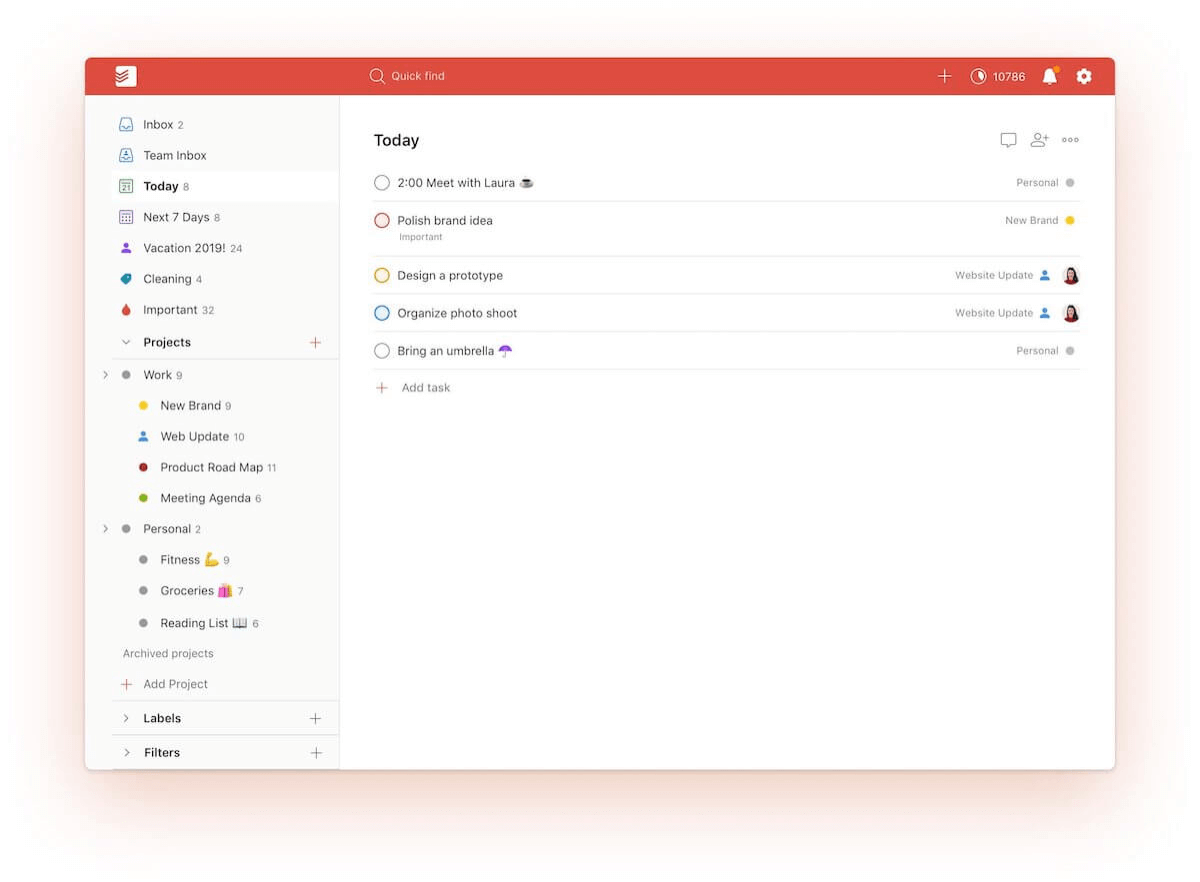 Todoist is a popular shared to-do list app that lets you share lists, assign tasks, and integrate with Twist for a convenient team chat. Thanks to a solid set of task and project management features, Todoist remains one of the best collaborative to-do list apps in the wild.
Here's a list of the best Todoist alternatives if you're looking for even more software to help you be more productive!
Todoist Select Features 🌟
Reminders and recurring due dates
Sections and sub-tasks
Task priority settings
Delegating tasks
Task notifications
Board view, labels, filters, and themes
Email and calendar integrations
Activity history and progress tracking
Todoist Pricing 💸
🟢 Free

Up to 5 projects and collaborators
5MB for file uploads
Activity history (1 week)
3 filters
🔵 Pro ($3/4 per user billed annually/monthly)

Up to 300 projects and 25 collaborators
100MB for file uploads
150 filters and unlimited activity history
Reminders, themes, and automatic backup
🟣 Business ($5/6 per user billed annually/monthly)

Everything in the Pro plan +
Up to 500 projects and 50 collaborators
Team inbox, admin tools, and roles
Team billing and priority support
See how Todoist compares to Taskade.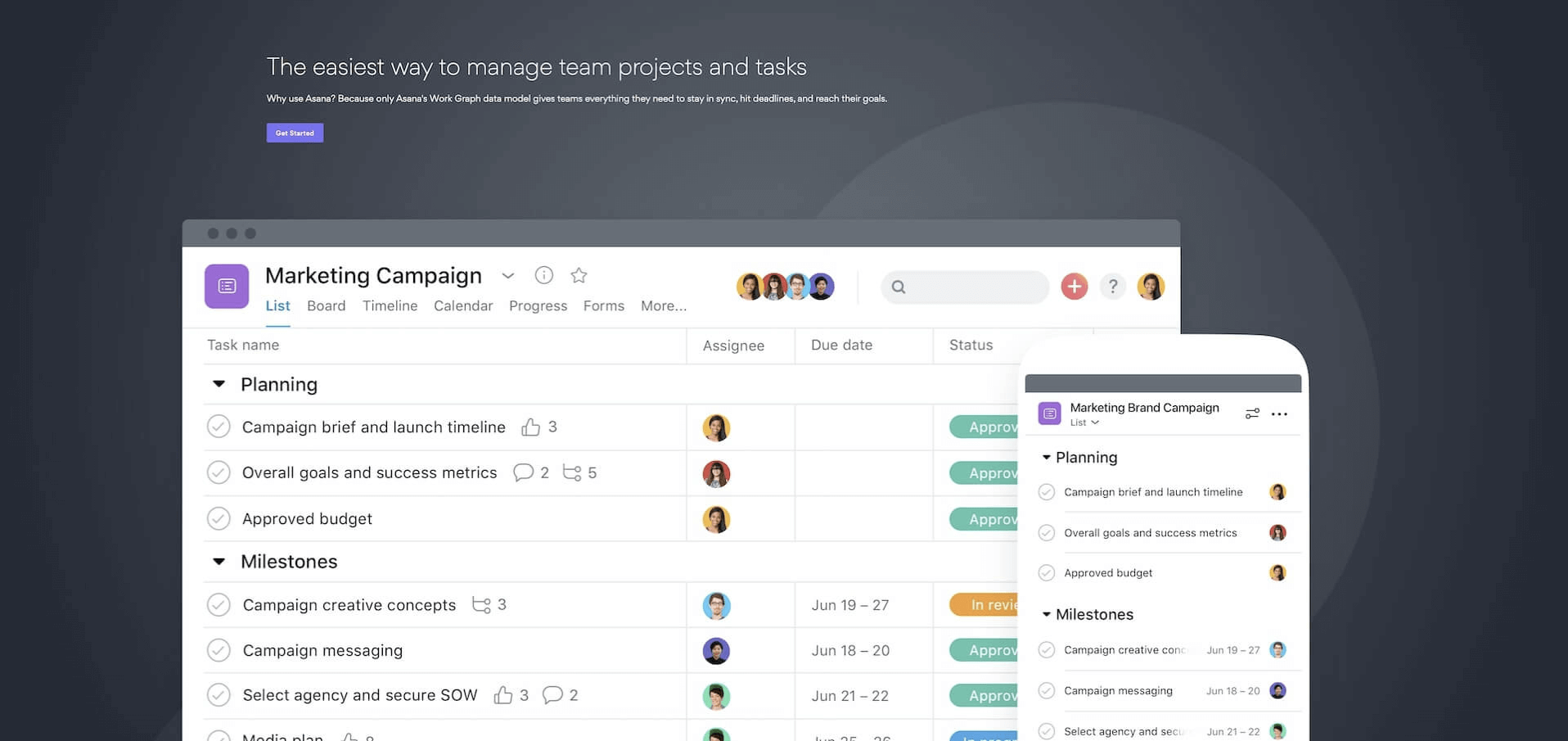 Asana is another notable shared to-do list app that has been around since 2008. A brainchild of Facebook co-founder Dustin Moskovitz and Justin Rosenstein, Asana lets you create aesthetic lists topped with the usual set of features you'd expect in a solid to-do app.
This project management software lets you manage projects and task lists so that you can get the important things done.
Asana Select Features 🌟
Task grouping/sorting
Custom fields and attachments
Reminders and recurring tasks
Forms and reusable templates
List, Board, Calendar, and Gantt views
Project Timeline and progress tracking
Automation and integrations
Shared and private projects
Asana Pricing 💸
🟢 Basic

Unlimited tasks, projects, and storage (up to 100MB per file)
Activity log, up to 15 collaborators, 100+ integrations
List, Board, and Calendar views + Project Overview
🔵 Premium ($13.49/10.99 per user billed annually/monthly)

Everything in the Basic plan +
Timeline, unlimited dashboards, and reporting
Advanced search, custom fields, unlimited guests
Forms, rules, milestones, private projects
Admin console
🟣 Business ($24.99 per user monthly)

Everything in the Premium plan +
Goals, custom rules, and customization
Advanced integrations
And more…
🟡 Enterprise (custom)

Everything in the Business plan +
SAML, SCIM, and priority support
Data export and custom branding
See how Asana compares to Taskade.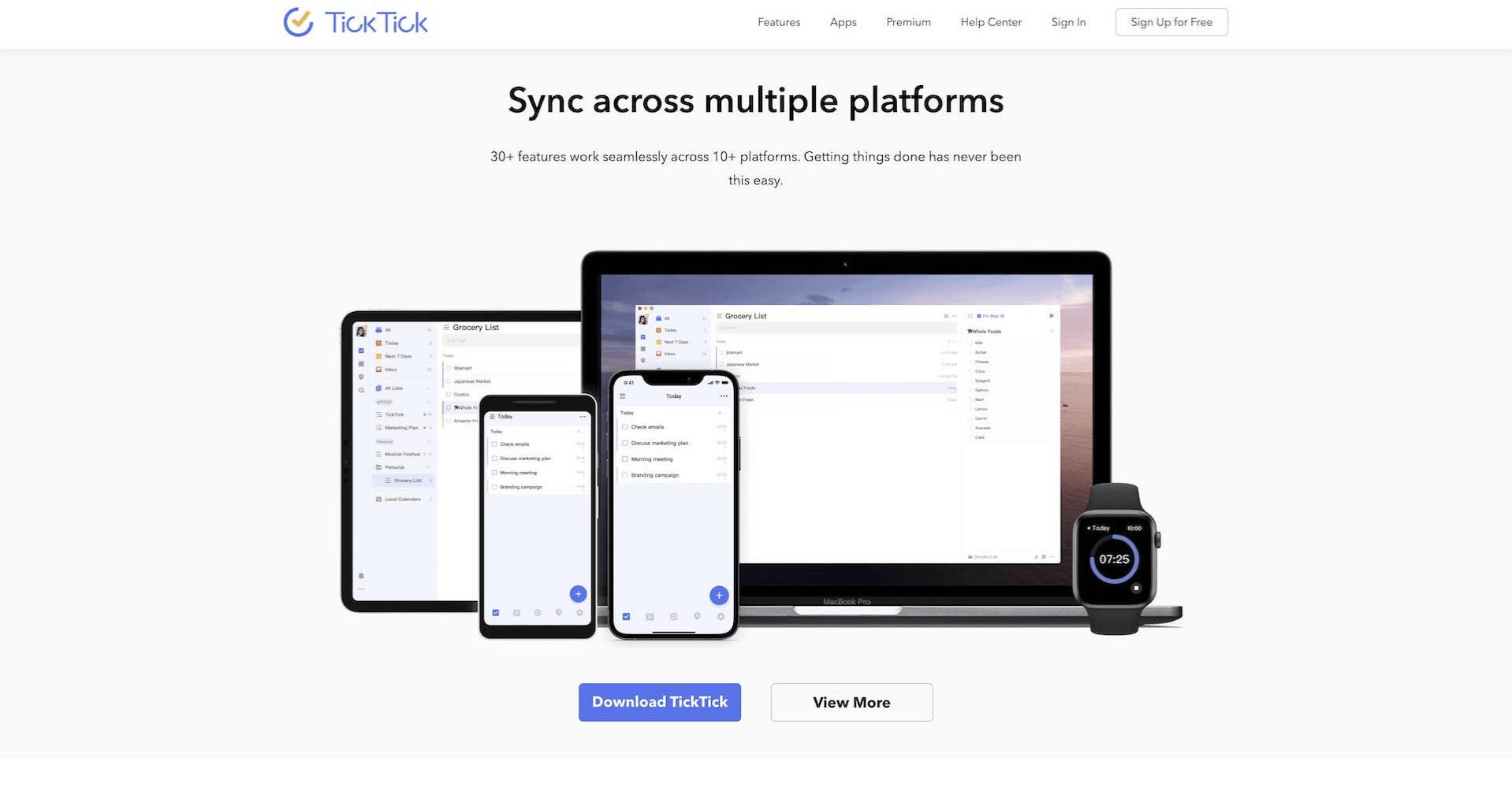 TickTick is a to-do list program with cross-platform availability and a handful of collaboration features. A successor to 2010 GTasks, the to-do list app lets you share lists, assign tasks, and check progress inside a simple and distraction-free environment.
This simple to-do list app has basic features to help you organize your daily tasks and get things done. A good match for those looking for a frictionless to-do experience.
TickTick Select Features 🌟
Shared lists and task assigning
Task duration and recurring events
Task and location reminders
Smart date/time parsing
Task prioritization settings
Calendar view and integrations
Pomodoro timer and white noise
TickTick Pricing 💸
🟢 Free

Limited to 9 lists
99 tasks/19 sub-tasks per list
2 reminders per task
1 attachment/day
2 list members
List/task activities
Advanced search
🔵 Premium ($27.99/2.79 billed annually/monthly)

Up to 299 lists
999 tasks/199 sub-tasks per list
5 reminders per task
99 attachment/day
30 members per list
Calendar, Timeline, and Grid views
Task duration, custom smart lists
Premium themes and integrations


See how TickTick compares to Taskade (click). 👈
#5 OmniPlan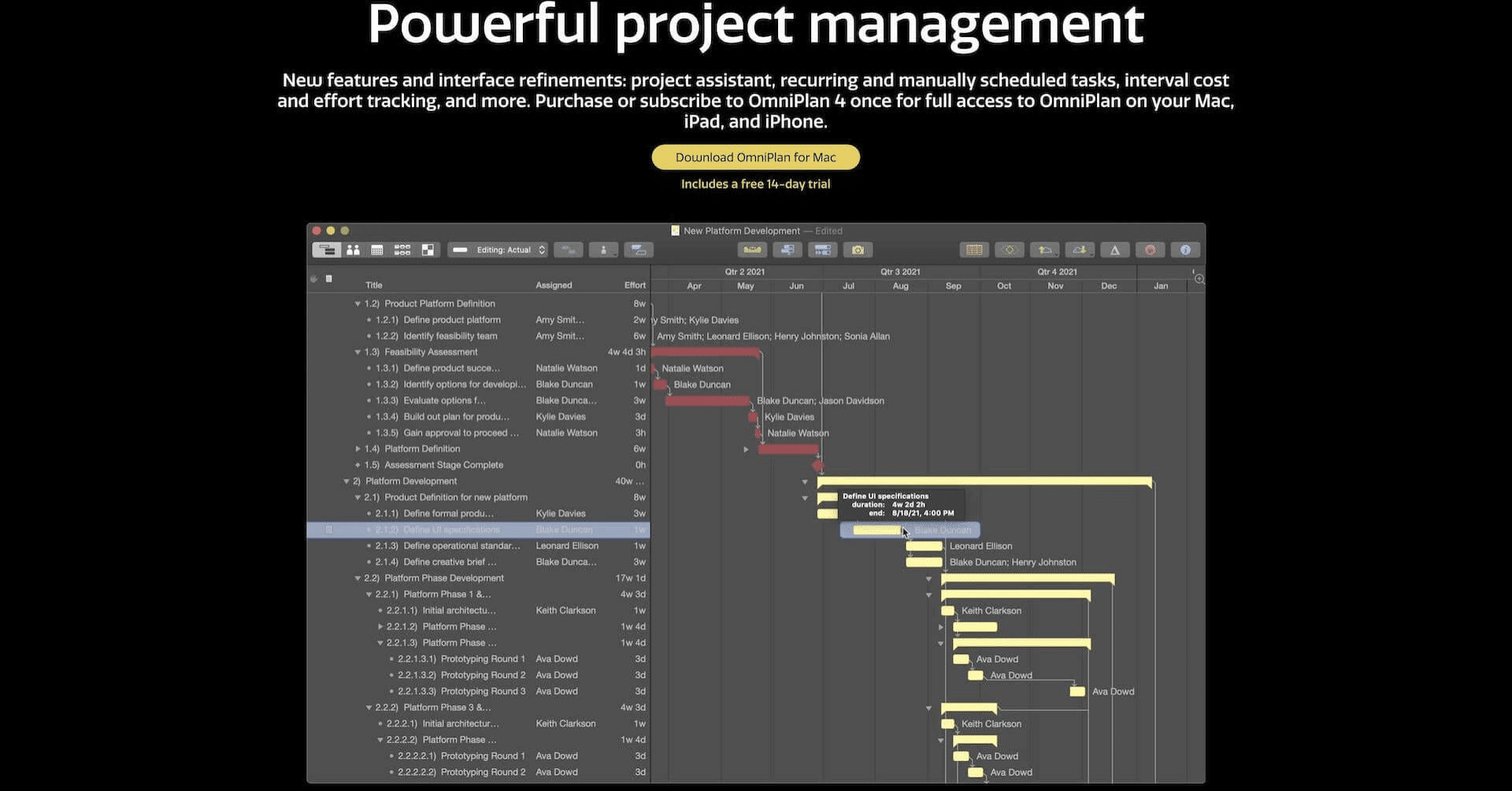 OmniPlan is dedicated project management software and a shared to-do list app from the creators of OmniOutliner and OmniFocus. The app is a good match for high-level, complex projects and managing multiple projects at the same time.
This project management software has the right tools to help you manage complex projects. But this also means that it might be overkill if you're looking for a simple to-do list app to track daily tasks.
OmniPlan Select Features 🌟
Proprietary WebDAV sync
Change tracking and reporting
Multi-project dashboard
Customizable work calendar
Recurring tasks and due dates
Import/export and project assistant
Project Outline, Resource View, and Gantt charts
OmniPlan Pricing 💸
🟢 OmniPlan Subscription ($19.99 monthly or $199.00 yearly)

Collaboration features
Gantt/Timeline/Outline views
Progress/project tracking
Resource management
And more…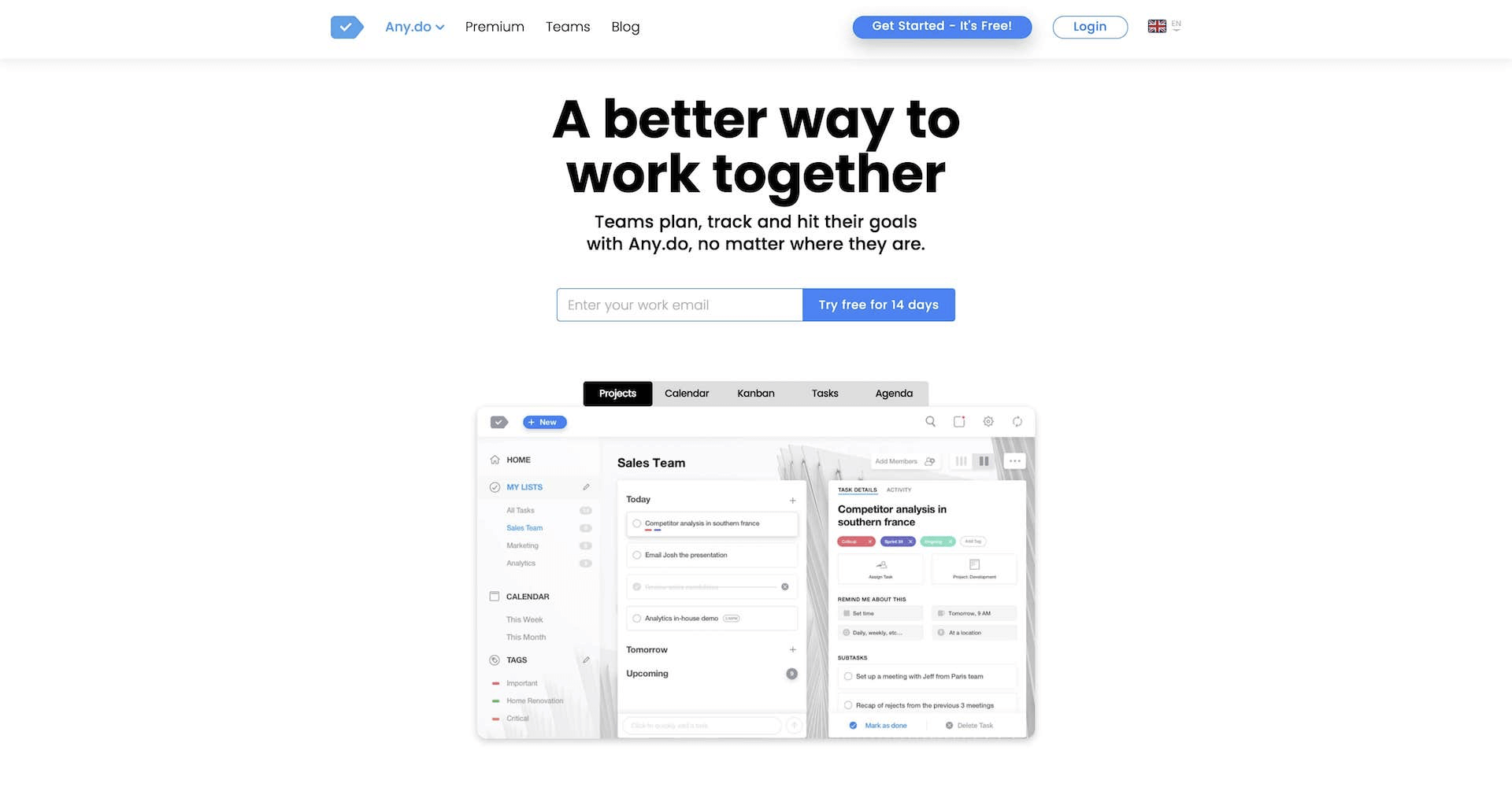 Any.do Teams is an offshoot of the popular Any.do to-do list app with a number of collaborative features sprinkled on top. The Teams subscription unlocks advanced list and file-sharing options, integrations, tagging, as well as priority support.

Any.do Teams Select Features 🌟
Recurring reminders
Any.do Moment view
Calendar, Kanban, and Agenda
Chat and notifications
List and file sharing
Color-coded tags
Integrations with Zapier and WhatsApp
Reminders and event notifications
Any.do Teams Pricing 💸
🟢 Teams Plan ($4.99 per user per month)

Access to Any.do Premium features
Advanced list sharing
Activity Tab and integrations
User roles for shared items
See how Any.do compares to Taskade (click). 👈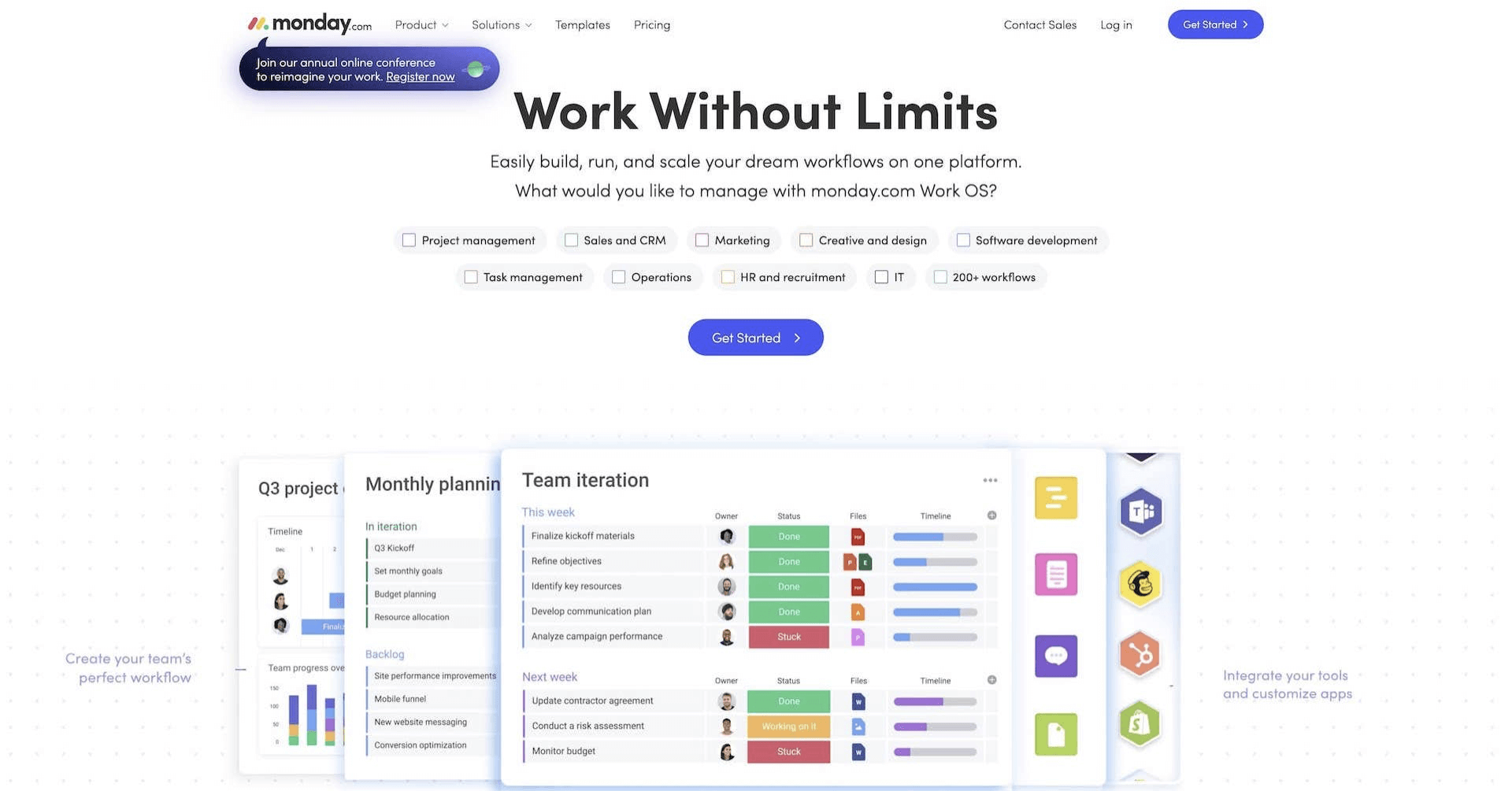 Monday.com is a complete package for advanced project management. Apart from its core task list functionality, Monday offers advanced automation and integrations as well as communication, planning, and collaboration tools for all types of projects. Monday can be used both as a project management software and a to-do list app to help you with your ongoing tasks.
Monday.com Select Features 🌟
Flexible workflows
200+ templates
30+ customizable column types
Drag-and-drop navigation
Data visualization tools
Desktop and mobile apps
Automation features
40+ integrations
Monday.com Pricing 💸
🟢 Free/Individual

Up to 2 team members
Unlimited boards
200+ templates
Over 20 column styles
🔵 Basic ($8 per user/month billed annually)

Everything in the Individual plan +
Unlimited viewers
5 GB for file storage
Priority support
Dashboard based on 1 board
🟣 Standard ($10 per user/month billed annually)

Everything in the Basic plan +
Timeline, Calendar, and Gantt views
250 automations/actions per month
250 integrations/actions per month
Dashboard based on 5 boards
🟡 Pro ($16 per user/month billed annually)

Everything in the Standard plan +
Private boards, Chart view, and time tracking
Formula/dependency columns
25,000 automations/integrations per month
Dashboard based on 10 boards
🟤 Enterprise (custom)

Enterprise automations/integrations
Security and governance
Reporting, analytics, and permissions
Custom onboarding and premium support
Dashboard based on 50 boards
See how Monday.com compares to Taskade (click). 👈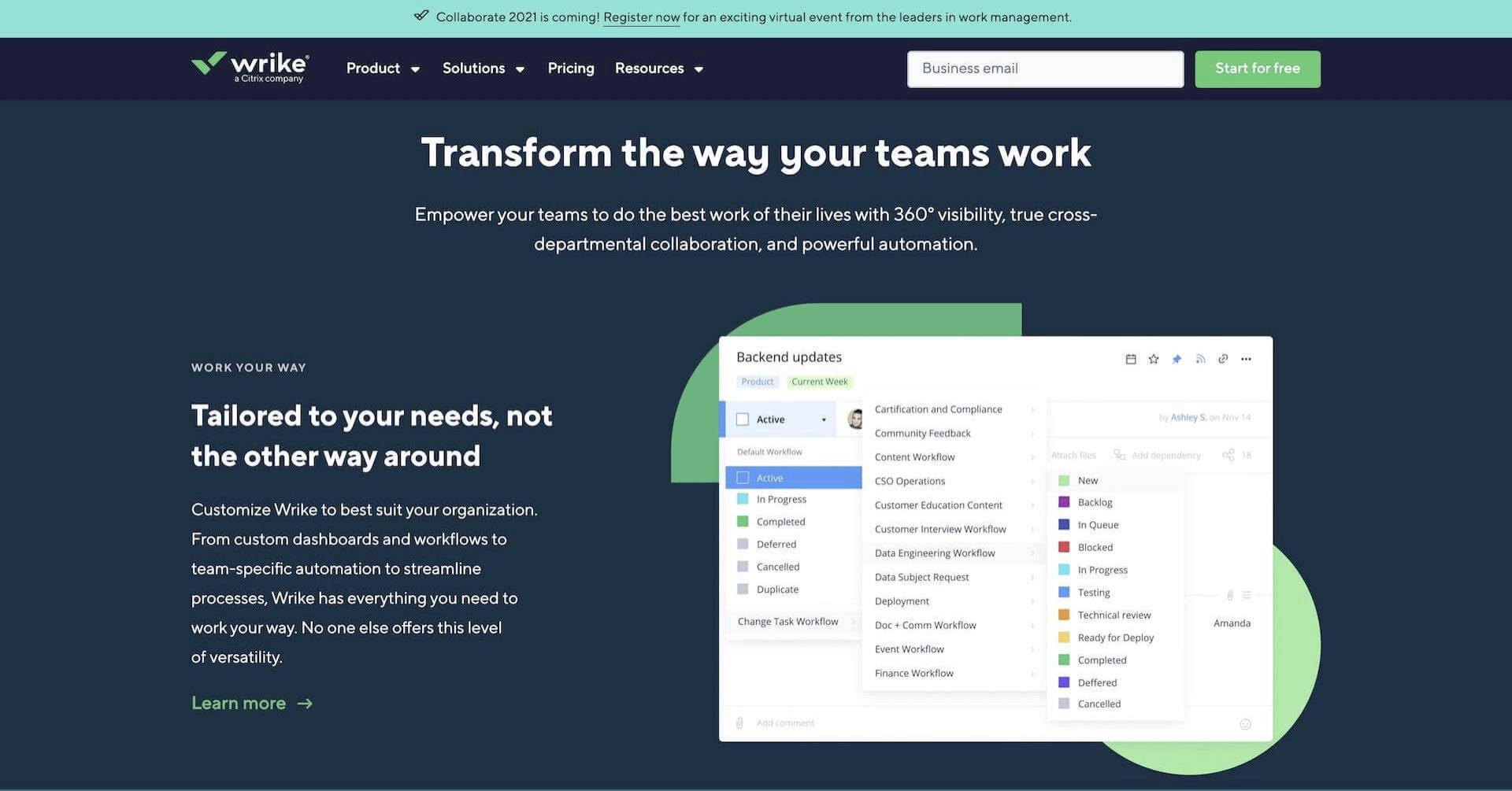 Wrike is an enterprise-grade project management tool and collaborative software. The platform can handle anything from simple lists to automated workflows and AI-backed data insights. Wrike is a solid choice for large organizations.
Wrike Select Features 🌟
Due dates and prioritization
Assigning and tracking tasks
Drag-and-drop navigation
Time and progress tracking
Customizable workflows
Templates, forms, and automations
Gantt charts and Kanban boards
Analytics and integrations
Wrike Pricing 💸
🟢 Free

Unlimited team members
Task/sub-task organization
Board and spreadsheet views
Cloud storage integrations
Limited active tasks
2GB of storage space per account
🔵 Professional ($9.80/month per user)

Everything in the Free plan +
5-200 team members
Dashboard sharing
Gantt charts
1-2GB of storage per user
Additional integrations
🟣 Business ($24.80/month per user)

Everything in the Professional plan +
Custom fields and workflows
Workspace branding
200 automations/actions per month
Project approvals and real-time reporting
Request forms and calendars
Time tracking and spreadsheets
🟡 Enterprise (custom)

Single Sign-On (SSO) + 2FA
Password policies
Custom roles and permissions
1000 automations/actions per month
10GB storage per user
See how Wrike compares to Taskade (click). 👈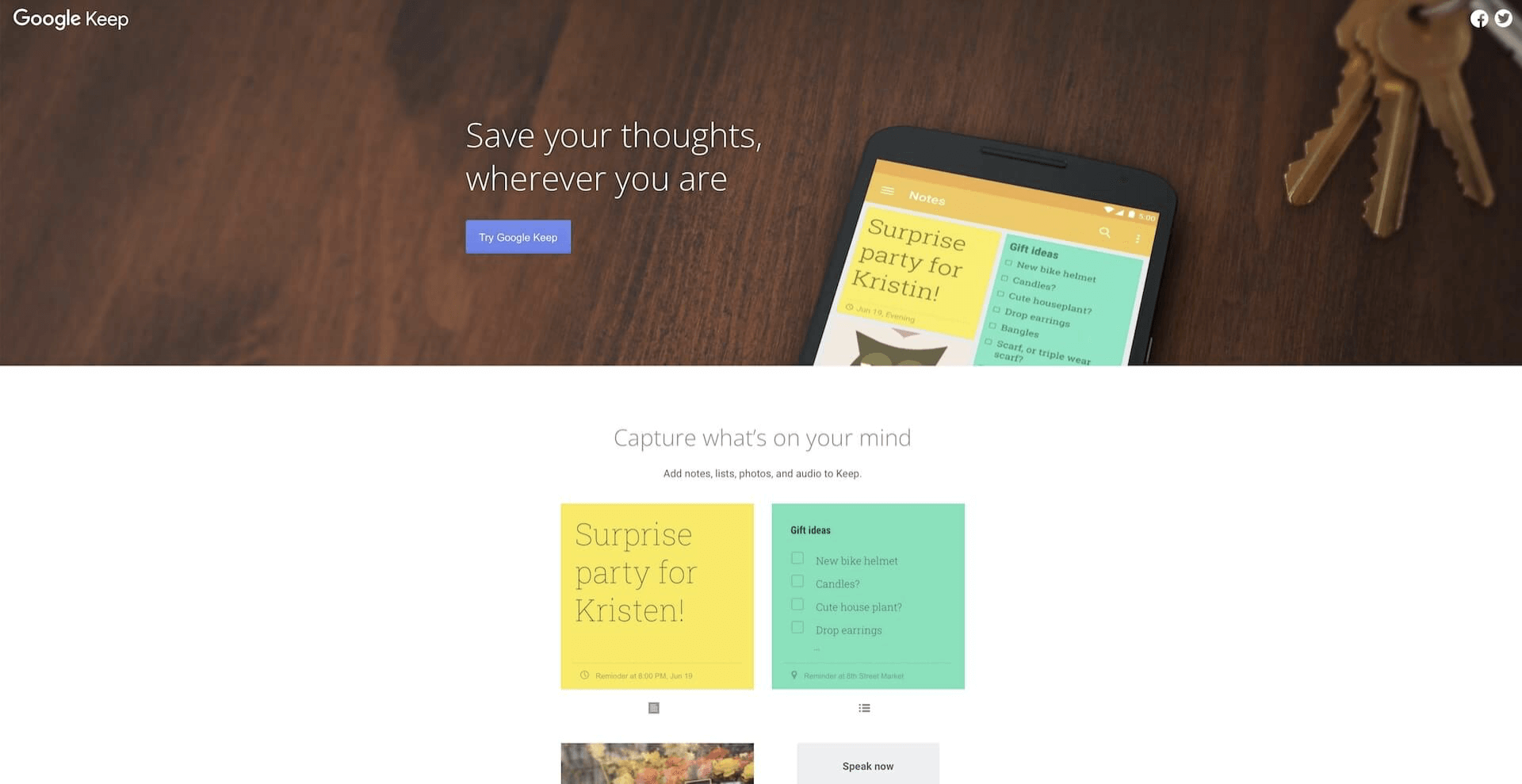 Keep is part of Google's Workspace suite (previously G Suite). The app complements the productivity/collaboration platform with basic note-taking and to-do list capabilities. It's a keeper (pun not intended) if you're hooked into Google's ecosystem.
Google Keep is a simple to-do list app that is akin to using digital sticky notes. It has basic features and the right tools to help you keep track of ongoing tasks. What's more, you can also sync it to your Google Calendar to really be on top of things.
Google Keep Select Features 🌟
Customizable, color-coded lists
Labels and search functionality
Integration with Google Workspace
Sharing and task/note reminders
Google Keep Pricing 💸
🟢 Free

Basic note-taking capabilities
Collaborative to-do editing
Integration with Google services
See how Google Keep compares to Taskade (click). 👈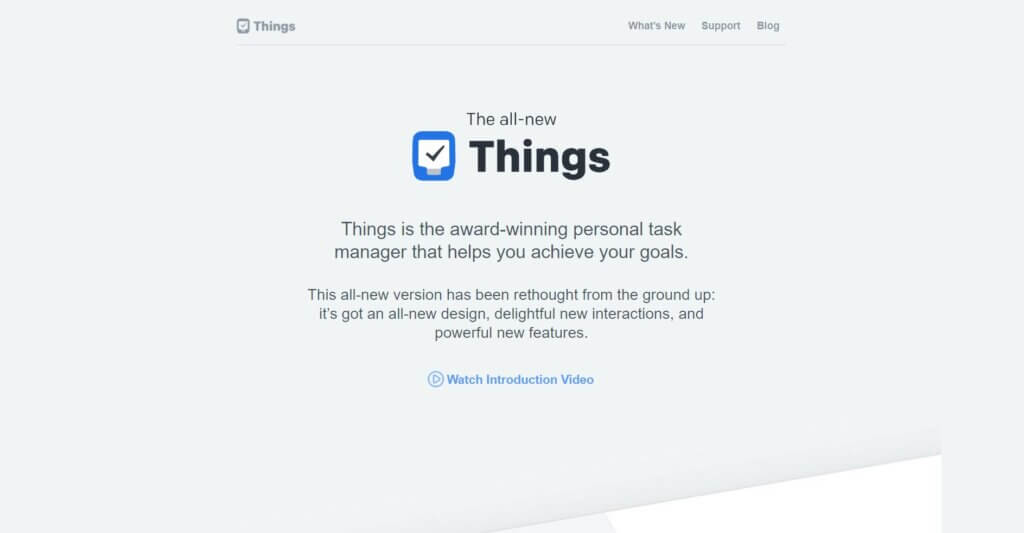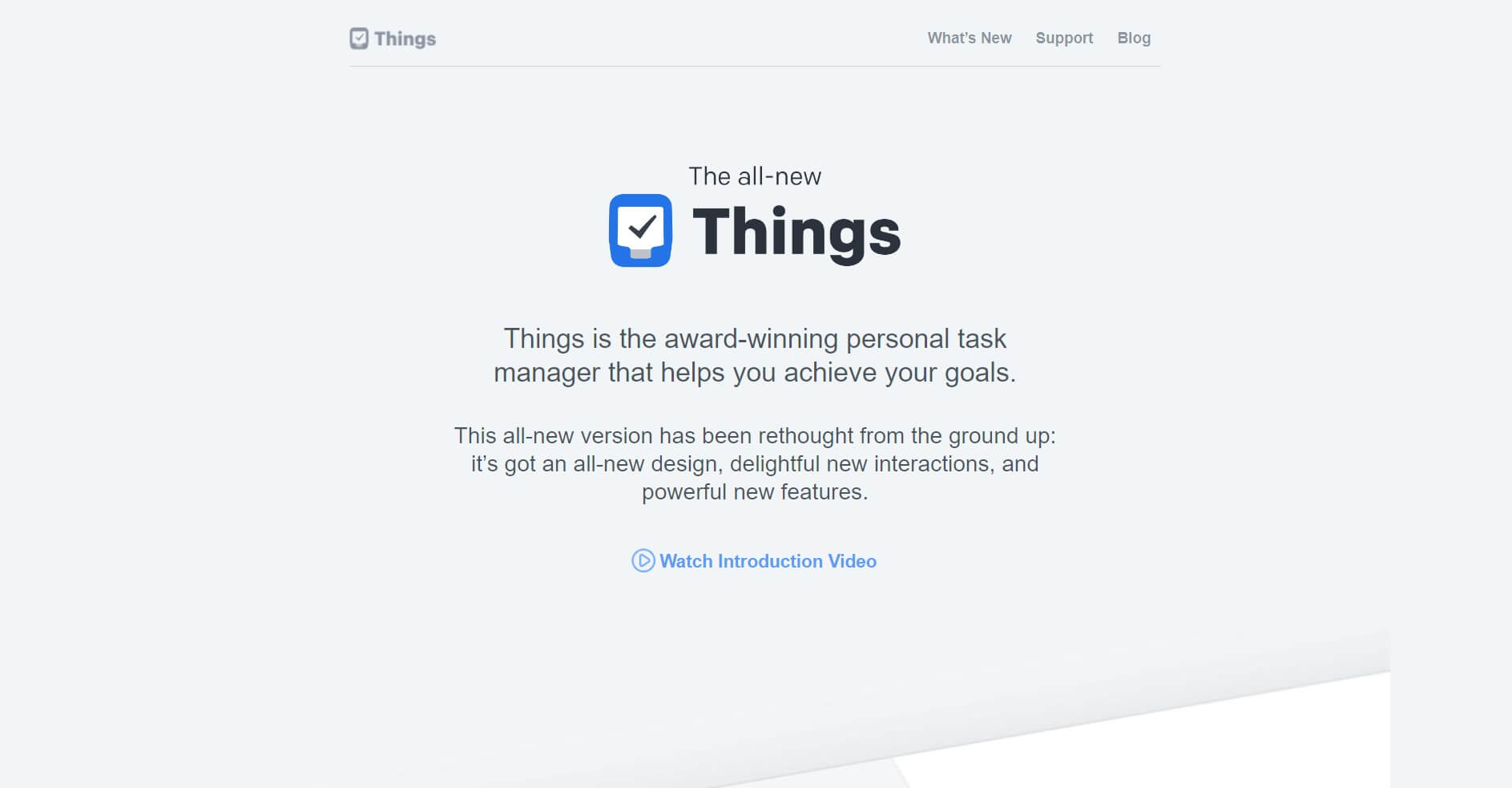 Things 3 is one of the best productivity and to-do list apps in Apple's ecosystem. While the app doesn't offer true collaboration features, you can share your Things account with one person and work on all your lists together. Available for iPhone, iPad, and Mac.
Things 3 Select Features 🌟
Calendar view with events and tasks
Drag-and-drop interface
Headings for breaking down large projects
Search, tags, and widgets
Reminders and recurring tasks
Email to Things to create tasks
Synchronization within Apple's ecosystem
Things 3 Pricing 💸
🟢 Mac ($49.99 one-time purchase)
🔵 iPad ($19.99 one-time purchase)
🟣 iPhone ($9.99 one-time purchase)
See how Things 3 compares to Taskade (click). 👈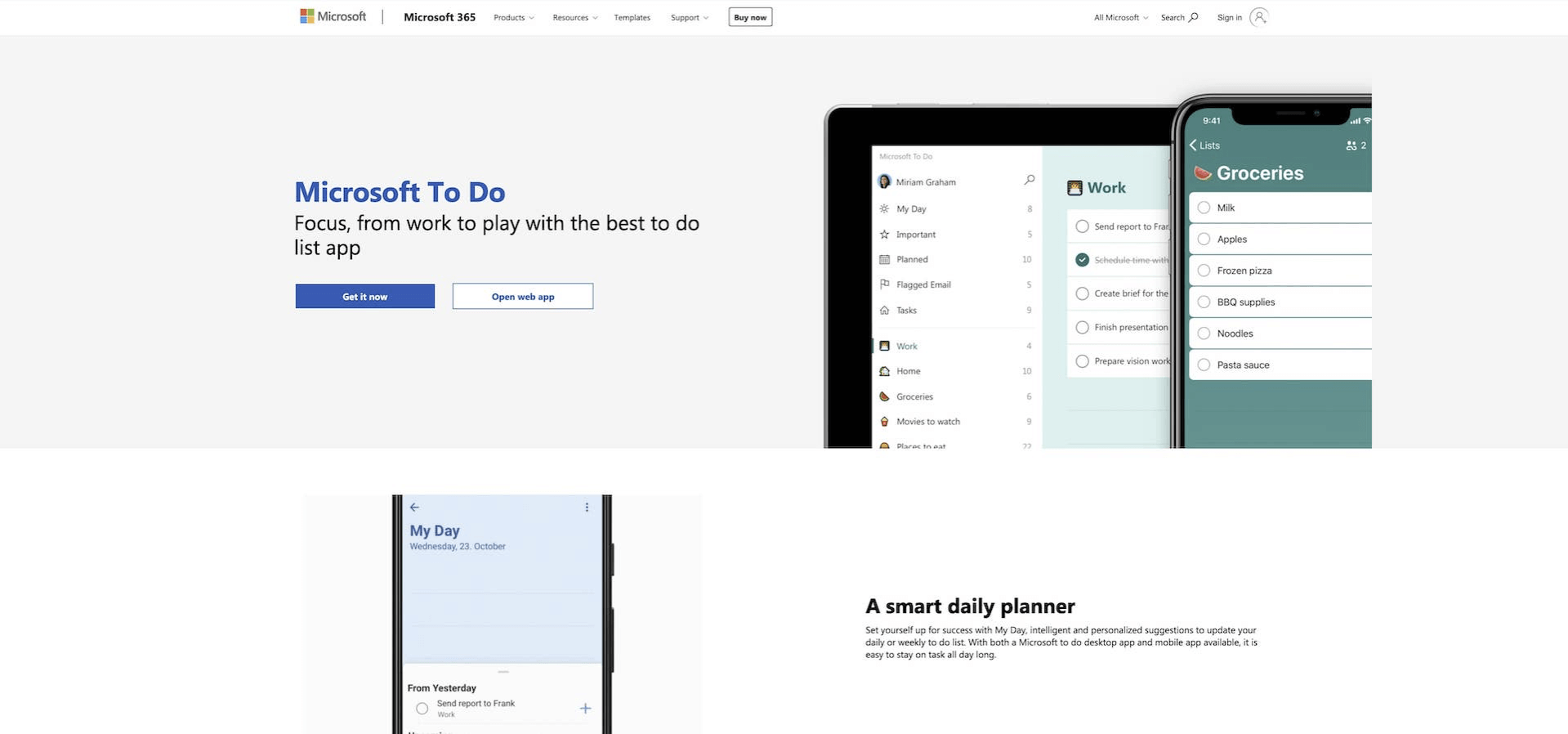 A spiritual successor to the legendary Wunderlist, Microsoft To-Do is a simple app with all the essential task management features. To-Do allows you to share lists with other users or integrate with Outlook and collaborate within the Microsoft 365 platform.
Wunderlist/Microsoft To-Do Select Features 🌟
Customizable, color-coded lists
Smart suggestions in My Day view
Breaking tasks into individual steps
Reminders and recurring tasks
Sync acrossiOS, Android, Mac, and Windows
Wunderlist/Microsoft To-Do Pricing 💸
Habitica is a habit-building app that turns the garden-variety habit checklist into a fun game-like experience. The rules are simple. You create an avatar and add tasks or habits to your to-do list. As you complete each task, you earn points that help you level up and unlock new features.
Habitica Select Features 🌟
Gamified task list features
Filtering tasks with tags
Habit tracking and reminders
Avatar customization
Mobile apps for Android and iOS
Social interactions and collaboration
Habitica Pricing 💸
🟢 Free with in-app purchases
See how Habitica compares to Taskade (click). 👈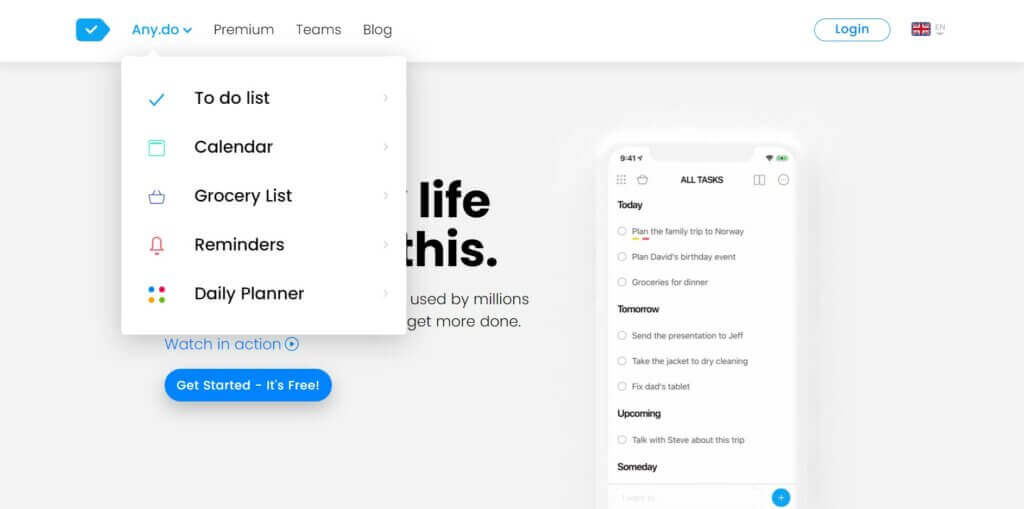 Any.do is a popular to-do list app that helps users manage your tasks, lists, and reminders. Any.do lets you create tasks and reminders with due dates and times, organize them into lists, and set reminders for important events. You can also use the app to collaborate on shared lists.
Any.do Select Features 🌟
Task creation with due dates and times
List organization for tasks and reminders
Shared tasks and lists for collaboration with others
Cross-device access (desktop, iOS, and Android)
"Moment" interface for reviewing and planning tasks
Integration with Google Calendar, Evernote, and Dropbox
Location-based reminders
Ability to add notes and attachments
Any.do Pricing 💸
🟢 Free

Basic task management features

🔵 Premium Plan ($5.99 per user per month)

Recurring tasks
Color tags
Integrations
And more…
See how Any.do compares to Taskade (click). 👈
Remember The Milk is one of the oldest task management apps on our list. The app offers a range of advanced features, including smart lists that automatically update based on specific criteria, location-based reminders, and the ability to share tasks with others. Remember The Milk can also send reminders via email and SMS.
Remember the Milk Select Features 🌟
Task and subtask list features
List organization for tasks and subtasks
Tags and notes for tasks
Recurring tasks and postponed tasks
Email, SMS, and push notification reminders
Location-based reminders
Remember the Milk Pricing 💸
🟢 Free

Basic task management features

🔵 Pro Plan ($39.99 per user per year)

To-do list sharing and color tags

Advanced sorting features
Add files and attachments
Widgets and reminders
And more…
See how Remember the Milk compares to Taskade (click). 👈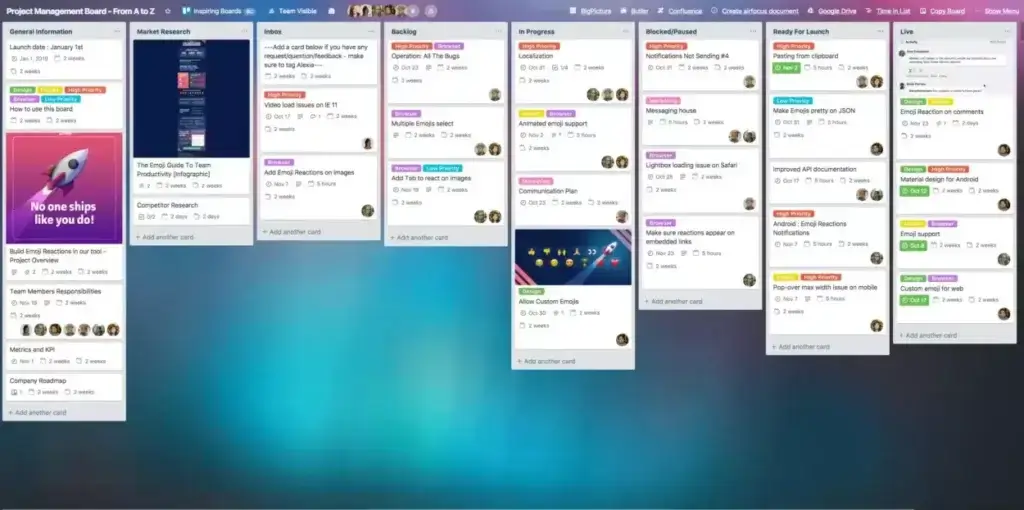 Trello is a web-based tool that assists individuals and groups in managing tasks, projects, and workflows in a visual and organized manner. What makes Trello stand out from other project management tools is its visual-first approach based on the Kanban workflow. Trello is frequently employed for agile project management, task management, and team collaboration.
Trello Select Features 🌟
Lists, boards, and coards
Collaboration features
Integrations with Google Drive, Slack, and GitHub
Desktop and mobile apps for iOS and Android
Additional features added via Power-up interface
Trello Pricing 💸
🟢 Free

Unlimited cards (up to 10 boards)
Unlimited storage (up to 10 MB per file)
50 automations per month

🔵 Standard ($5/month billed annually)

Everything in the Free plan +
Unlimited boards and custom fields
1,000 automations per month

🟣 Premium ($10/month billed annually)

Everything in the Standard plan +
Unlimited automations
Dashboard and Timeline views
Table, Calendar, and Map views

🟡 Enterprise ($17.50 per user/month billed annually)

Everything in the Premium Plan +
Organization-wide permissions
Extended permissions
And more…
See how Trello compares to Taskade (click). 👈
🚀 The Bottom Line
Adding to-do list software to your project management toolbox will give your team a powerful productivity boost and help them prioritize work. It'll also make it much easier to build more complex systems, like David Allen's Getting Things Done method, on top of it in the future.
If you haven't made your choice yet, let us make the decision a tad easier. Sign up for a free Taskade account and start reaping the benefits from day one. 👇
⚡️ Beautiful and functional to-do lists
⚡️ A complete remote stack in one package
⚡️ Simple and transparent pricing plan
⚡️ Chat and collaboration on the same page
⚡️ True real-time synchronization
⚡️ Customizable workflows and visuals
⚡️ Powerful outlining and mind mapping features
⚡️ Frictionless desktop, mobile, and web experience
⚡️ Frequent updates and enterprise-grade security
Want to take Taskade for a test drive before signing up? Check the Live Demo page to tinker with a demo project or visit Taskade's YouTube Channel for introductory videos.