Tony Buzan called mind maps the "ultimate organizational tool for the brain", and he might've been on to something. Multiple studies have shown that mind mapping can enhance memory, improve problem-solving, and boost creativity. It also happens to be one of the most versatile tools you can use in your personal and professional life. Not sure where to start? We compiled a list of the best mind map templates you can use in your projects for free.
But before we get into that, let's learn a few things. 🧠
🌟 What Are the Benefits of Using a Mind Map Template?
When Buzan advocated the use of mind maps in the 80s, he based his arguments on the right brain/left brain theory proposed by neuropsychologist Roger Sperry. While Sperry's theory has since been debunked(1), there is still a ton of scientific evidence that supports mind mapping.
A 2002 study among 50 second- and third-year medical students found that using the mind mapping technique to boost learning efficiency improved recall of factual information.(2)
Other studies revealed more benefits including an improvement in critical thinking(3) and information retrieval(4), which makes mind mapping a versatile and powerful tool.
The only problem? Traditional (pen & paper) mind mapping has pesky limitations. It's time-consuming, gives you limited creative real estate, and makes it nearly impossible to rearrange the branches of a mind map once it's already on the page.
A (digital) mind map template removes those limitations and throws in a few cherries on top:
⏰ It saves time: Mind map templates speed up the creative process so you don't have to start from scratch every time the muse comes knocking. All you need to do is pick a template that matches your topic, customize it, and you're ready to go!
💪 It's flexible: There's only so much you can change once the ink is on the page. With a digital mind map template, you can edit every node in seconds. In Taskade, you can even rearrange entire branches in a convenient drag-and-drop workflow.
👨‍💻 It's collaborative: Digital mind mapping opens the door to unlimited creative collaboration. You can co-create spanning diagrams, add comments, and even chat & video conference with your team, with every edit syncing in real-time, wherever you are.
🧠 7 Free Mind Map Templates
💡 Note: Our mind map templates are suitable for individuals and teams. You can easily tailor each template to be more compatible with your workflow.
Are you tired of staring at a blank page and waiting for inspiration to strike?
Say goodbye to writer's block (or any other block)—this template is the Swiss Army knife of brainstorming designed to help you generate, organize, and refine your ideas. Whether you're a creative, business owner, educator, or fall somewhere in-between, this template is for you.
The template is divided into several sections including tips and instructions as well as a set of questions (who, when, why, how, where) that will help you flesh out your ideas.
The 1929 Nobel Prize laureate in Literature Thomas Mann famously said: "Order and simplification are the first steps toward the mastery of a subject." If you want to keep your creative process effective AND organized, then this template is for you.
Minimalist mind mapping blends uninhibited idea generation and structured thinking so you don't get overwhelmed or lose track of best ideas. Perfectly balanced, as all things should be.
The template features four areas of focus, depending on the central topic or theme of your mind map. You can also customize the document by adding or removing elements.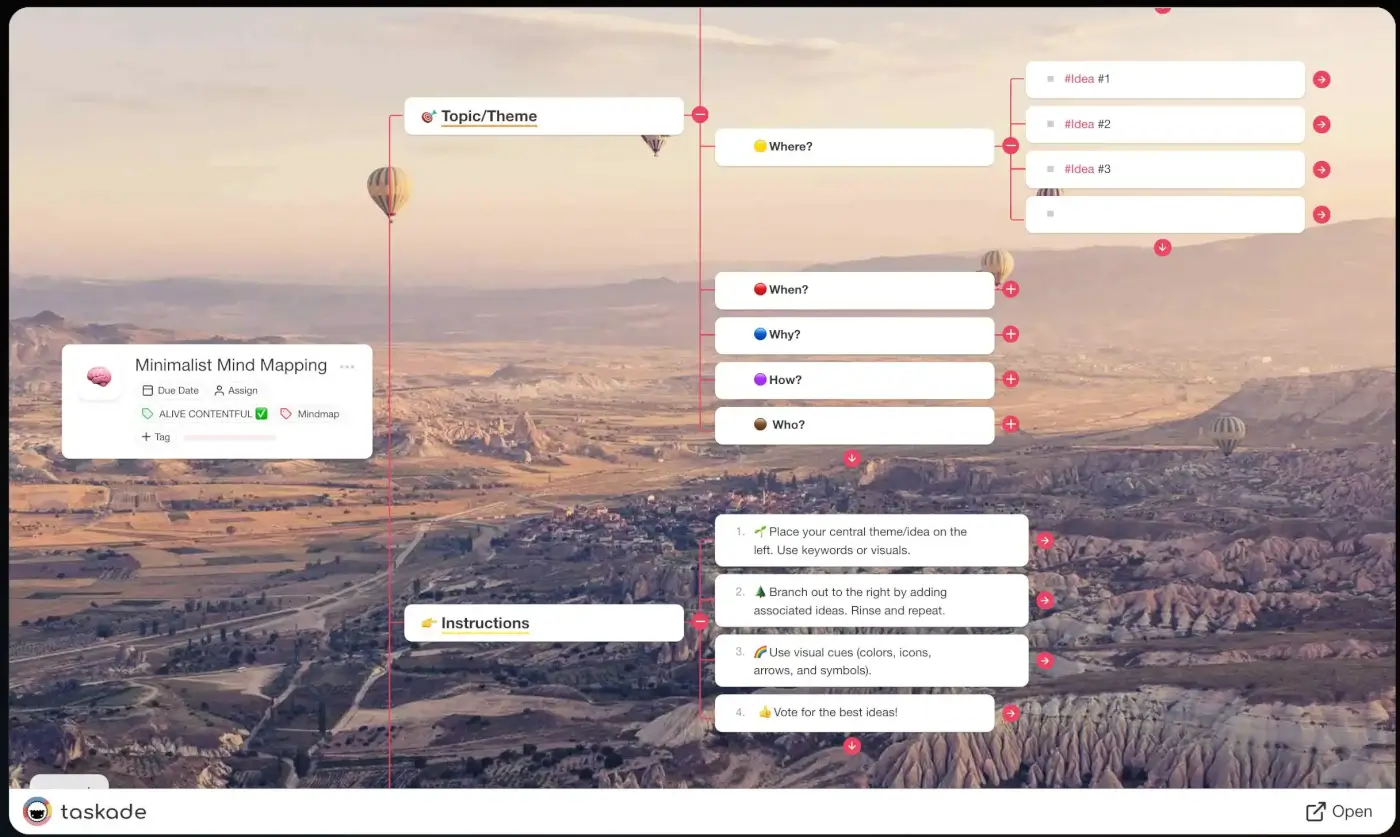 This daily standup meeting template provides a structured way to hold quick, daily meetings with your team. The template will help you keep track of progress and stay on top of team goals while maintaining a high level of collaboration (without boring your team to death),
Using the mind map workflow for daily stand-up has two key benefits. First, it's much easier to process and update in the limited time window than walls of text. It also provides a color-coded, visual hierarchy of completed items, blockers, and plans for the next day/week.
This template is commonly used in Agile project management, but you can also apply it to any other central topic, including sales, marketing, and customer service teams, just to name a few.
"When is the best time to launch?"
"What is the pricing strategy?"
"How will we measure success?"
"Which distribution channels should we choose?"
Launching a product is like running a marathon, only instead of running, you're attending hundreds of meetings and answering a never-ending stream of questions from your team, investors, and customers. It's a test of endurance, patience, and… sanity.
This template includes everything you need to present your product release strategy in an easily digestible format and present it when meeting stakeholders before the big day.
This template is a popular choice among product development and marketing teams. You can also use it if you're a solopreneur preparing to launch your first commercial product.
Solving problems in a business setting is like fighting a hydra—every time you "chop off" one problem, two more grow in its place. The bad news is there's nothing we can do about that (sorry not sorry). The good news is this issue tree map can help you get on the right track.
An issue tree map, a.k.a. a problem tree or logic tree, is a structured approach to breaking down a central concept or a problem into smaller, more manageable components.
This template uses Taskade's mind map workflow to help you find solutions to all kinds of problems. All you need to do is add your issues to the project and start branching out to the right to break the problem into smaller bits.
Simple, right?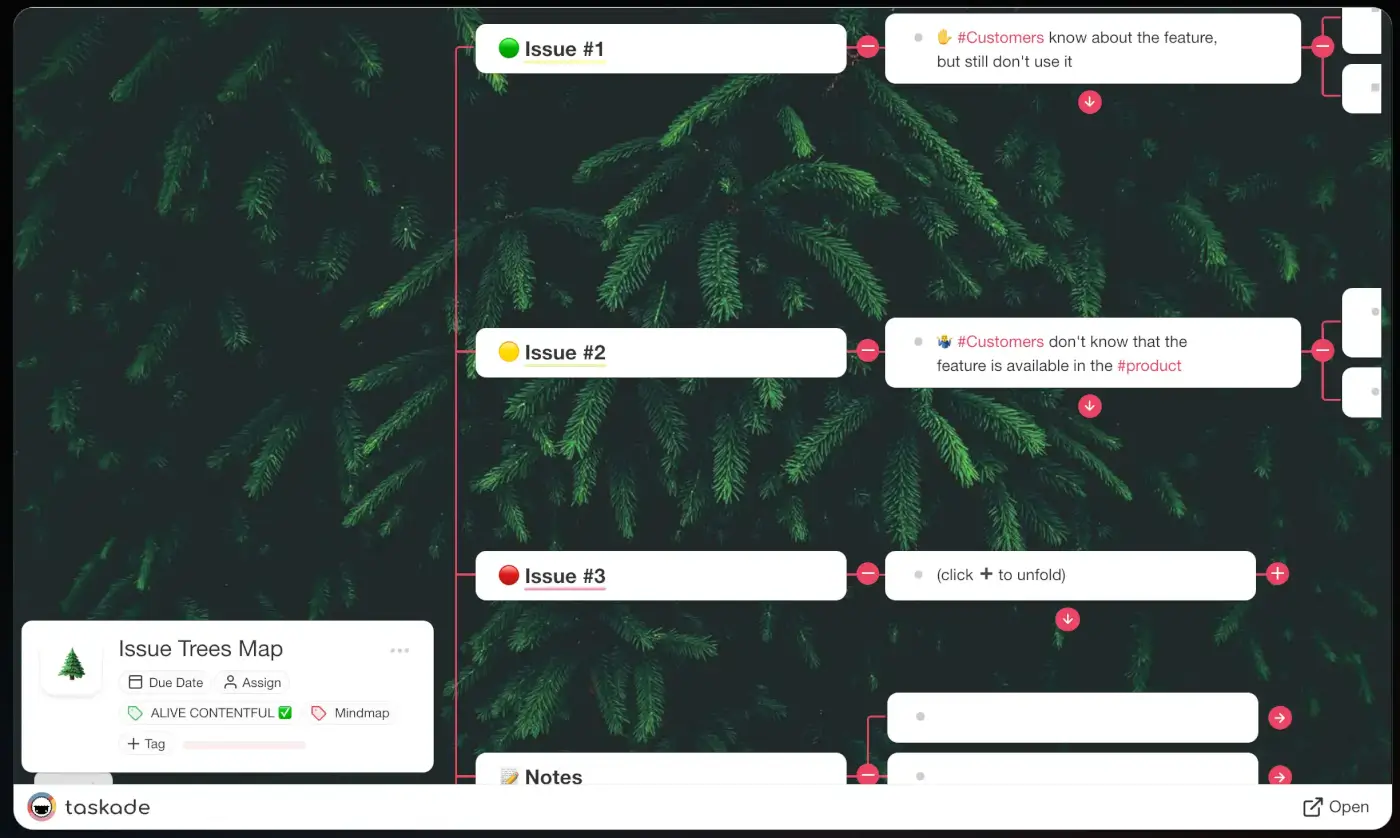 If you want to make an omelet, you have to be willing to break a few eggs. But, if you'd rather eat a toast, this risk management assessment template will help you keep your eggs intact.
This template will help you and your team identify, analyze, and manage risk, both in business and your personal life. For instance, if you're an overly cautious project manager, you can easily identify and manage risks like budget overruns and resource constraints.
The template packs many customizable sections, so you can make it a better fit for your project. And the best part? Taskade lets you bring stakeholders on board and collaborate in real-time.
Did you know that out of seven product ideas, only one will turn into a commercial success?
Well, we had to look that one up. Here's another—according to Professor Clayton Christensen from Harvard School of Business, almost 95% of products launched each year fail.
Poor market research, lack of innovation, half-hearted execution, design decisions that defy common sense… If you want to avoid those hiccups and develop a product that your customers will love, this product development decision tree template is just the tool for the job.
Use this template to make sure your product doesn't end up in the Hall of Fame of commercial failures, right next to Nintendo's Virtual Boy and Cheetos-flavored lip balm.
Mind mapping is engaging, effective, and fun. But it can also be darn frustrating, especially when you've been at it for several hours and the gates of creativity are still sealed shut.
If you're on the hunt for ideas but find yourself staring at a blank page like a deer caught in headlights, we have a solution—meet Taskade AI.
Taskade AI is our new, productivity assistant that makes other AI writing tools look like stone tablets and chisels. It can help you with planning, organizing, and executing all kinds of projects. It can also generate spanning mind maps based on natural-language prompts.
Here's how it works. 👇
Type the topic of your topic anywhere inside a Taskade project.
Specify basic parameters like the number of branches and/or nodes.
Type /expand, press ⌨️ Enter, and let Taskade AI do the rest.
And if you still need some help, this AI mind map generator template to help you out. The template includes a set of prompts that will guide you in the process of creating mind maps using the power of AI. Add your topic, customize the prompts, and you're good to go.
Oh, and don't forget to invite your team and brainstorm together!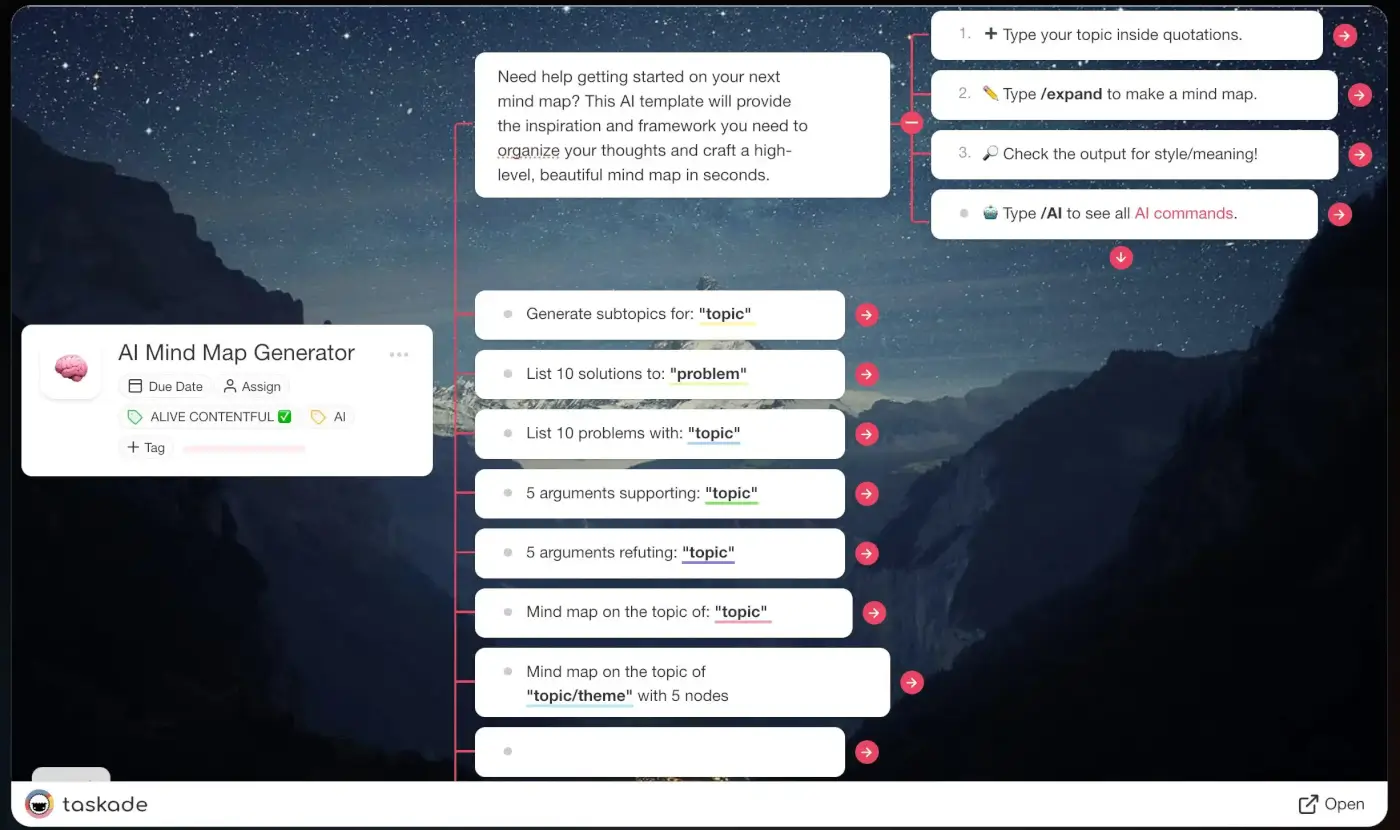 👋 Parting Words
The technique of creating a visual hierarchy to aid intellectual work has been around for hundreds of years. And thanks to digital tools, it's going through a renaissance of sorts.
So, whether you're a business owner, team manager, or self-employed creative, you should make mind mapping a staple strategy in your productivity toolbox.
We hope that our lineup of free mind map templates will help you open the door to creativity and nurture hundreds of ideas that will turn into great products and services.
So, what are you waiting for? Create a Taskade account and get started today with:
🧠 An infinite, digital space to develop your ideas.
👉 Intuitive drag-and-drop workflow.
↕️ The ability to fold and unfold mind map nodes.
🗂️ Advanced project management features.
🎨 Color-coded nodes and support for attachments.
⌨️ Powerful keyboard shortcuts for quick mind mapping.
👁️ Dynamic workflows including lists, boards, and more.
👩‍💻 Real-time collaboration and communication.
⚙️ Full project customization.
And more!
💡 Before you go… Want to learn more about mind mapping? Check our ultimate guide to mind mapping for extra tips. Till next time!
🔗 Resources
https://healthcare.utah.edu/publicaffairs/news/2013/08/08-14-2013_brain_personality_traits.php
https://pubmed.ncbi.nlm.nih.gov/12028392/
https://www.ncbi.nlm.nih.gov/pmc/articles/PMC8188091/
https://www.ncbi.nlm.nih.gov/pmc/articles/PMC5348998/