What is Obsidian?
Obsidian is a note-taking software that works as a second brain application for knowledge management. Created by Erica Xu and Shida Li during the quarantine period of Covid-19 in 2020, the outliner tool has gained traction with over 50,000 members in their Discord community, all while still remaining as a two-man team.
What's interesting about Obsidian is that both Xu and Li were originally maintaining Dynalist, their first outliner project, before they started to develop Obsidian.
The inspiration behind Obsidian is for it to be the ultimate personal knowledge base tool to help people better organize their information. Using Markdown language, you can create notes in Obsidian and use links to show relationships between your information.
The Graph View lets you visualize relationships between your notes, helping you to connect related clusters of information together for a better note-taking experience.
Obsidian is often compared to RoamResearch and Whimsical app, and rightly so as it offers advanced features at a competitive price point. Files in Obsidian are locally stored on your computer by default. This makes it a useful and safe tool to use if data privacy is something that you care strongly about.
Benefits of Obsidian
Obsidian does a good job of helping you to link ideas and concepts together. This lets you create a personal knowledge base for yourself, essentially helping you create a second brain.
Even though it may seem like an intimidating application, Obsidian is a handy tool to have especially if you're into building a semantic network of information.
Disadvantages of Obsidian
Obsidian lacks advanced features when compared to other alternatives in the market. For example, Obsidian is mainly a single-user application (for now). It's an offline application that does not support communication and collaboration.
This essentially makes it impossible to use if you're looking to take notes as a team. At the end of the day, Obsidian is an effective personal knowledge management system with an offline mode, and not a project management tool.
Furthermore, the more links you have between your notes, the messier your workspace will get. It will require some effort to keep your workspace tidy especially if you're a heavy note-taker.
Now, let's dive into some of the best Obsidian Alternatives in the market.
The 8 Best Obsidian Alternatives
Taskade
Imagine an application that allows you to take detailed notes with infinite hierarchies, organize and manage projects and tasks, and even collaborate via built-in video chat with your team, and more, via an all-in-one unified workspace. Well, look no further because Taskade is the perfect solution for you.
Taskade is a Y Combinator-backed supercharged online productivity app that both individuals and teams can use to collaborate on projects in real-time. With Taskade, remote teams and individuals can get work done faster and smarter.
Automate repetitive workflows, Get a headstart on your projects and find a suitable structure for your notes via Taskade's versatile collection of templates. Simply choose from a wide variety of templates and add them to your projects to get started instantly!
Looking for the best obsidian alternative? Taskade is the best bet for modern knowledge workers. Get started instantly for free today.
Key Features of Taskade
Project Views. Visualize your projects in several different ways. Cycle between the List, Mind Map, Org Chart, and Board views to work the way you want.


List View. This is the default view on Taskade. Create new lists here.
Board View. This view lets you work horizontally like a Kanban board. Visualize your workflow and tasks in this full-width view.
Mind Map View. This view lets you work in a horizontal tree-structured manner and map out what you have in mind.
Action View. Work in table view and stay organized with your task due dates, and more.
Org Chart View. Break down larger tasks into smaller ones to help you get things done.
Cloud File Upload. Share files directly from Google Drive, Dropbox, Instagram, and Box in your projects with our integrations.
Breakdown Larger Tasks. Organize your thoughts with Taskade's unlimited hierarchy to break down large projects into tasks.
Quick Search. Use CMD / CTRL + K to jump between any projects within Taskade web and apps.
For an exhaustive list of Taskade's features, click here.
What Are Some Pros Of Taskade?
Free-forever plan is loaded with features
Real-time collaboration within the same project
Free built-in video call and chat function in each project
Customizable templates to give you a headstart
Work and chat in the same window, in the same app
Frequent updates based on user/your feedback and suggestions
Tabbed workflow for working with multiple Projects
What Are Some Cons Of Taskade?
How Much Does Taskade Cost?
Taskade Free Plan
Unlimited Tasks & Projects
Unlimited Members & Guests
Unlimited Folders & Teams
Templates, Calendar, Repeat Tasks
Real-time Collaboration
Built-in Free Chat and Video Call
Taskade Unlimited Plan – Starts from $5/month
Everything in Free, plus:
Version History
Advanced Permission
Cloud Upload Integration
2-Way Calendar Integration
Click here for more information.
Roam Research
What is Roam Research?
Roam Research is a note-taking software that was founded by Conor White-Sullivan in 2017. His aim for Roam was to create software to let users link their notes together, ultimately creating a web of interconnected notes and information.
In other words, Roam is like the Zettelkasten method of knowledge management, but on steroids.
The knowledge management tool excels when it comes to linking information nodes within the software together. To take this a step further, you can also visualize connected pieces of information in a mind map-like view, which is similar to what Obsidian does.
Although Roam excels as a personal knowledge management tool, it offers only basic collaborative features and also has a steep learning curve.
Which Is Better, Obsidian or Roam Research?
When it comes to Obsidian vs Roam Research, people often ask the question of which is the better note-taking application. Both applications are equally as powerful, but the main deciding factor is that Roam Research offers slightly more collaboration features while Obsidian is mainly for personal use.
If you're looking for a tool with some collaboration features, then Roam is your pick. Otherwise, Obsidian would take the cake.
What Are Some Features of Roam Research?
Roam Research is a note-taking app that can also be used as a knowledge base for personal and professional use.
Roam focuses on a bottom-up thinking process. This approach involves creating bits of information and linking them together to eventually form a bigger picture. Every note that you take on Roam is fluid with no central idea, unlike a traditional mind map. This lets you freely create and link notes as you go by.
Similarly to Workflowy, Obsidian, and Dynalist, you take notes in a bullet list format in Roam Research. These bullet lists can be organized and collapsed to keep things neat. This is a useful feature especially if you find yourself drafting long-form notes most of the time.
However, what makes this tool powerful is the ability to create bi-directional links between your notes using bracket functions, which link them together both ways. If the page that you're linking to does not exist, Roam will create the page for you. This creates an in-depth personal wiki page with a web of interlinked information for you to access.
Collaboration on Roam can be done either by sharing pages, adding individuals to your database, or making your database publicly accessible.
What Are Some Limitations of Roam Research?
Although Roam is a good tool to use for organizing knowledge, there are several limitations that come with it.
First of all, Roam is underpowered when it comes to communication. Besides sharing and collaborating on your notes, there's not much you can do when it comes to communication. This makes Taskade a better free alternative to Roam Research because Taskade offers unlimited chat and video conferences for free.
Secondly, Roam Research has a very steep learning curve and there are not a lot of resources out there to help you get onboarded quickly. If you're a beginner note-taker, Roam Research is going to take a lot of effort to learn and master.
Besides this, some other limitations of Roam including its lack of a mobile application and also the fact that it is expensive to use when compared to other productivity tools.
How Much Does Roam Research Cost?
Roam Research offers its software at two simple price points.
Pro ($15/month billed annually)
3 private or public roam graphs
Unlimited editors/viewers
API access
Believer ($500/5 years as a one-time payment)
Priority access to new features
Priority support
Evernote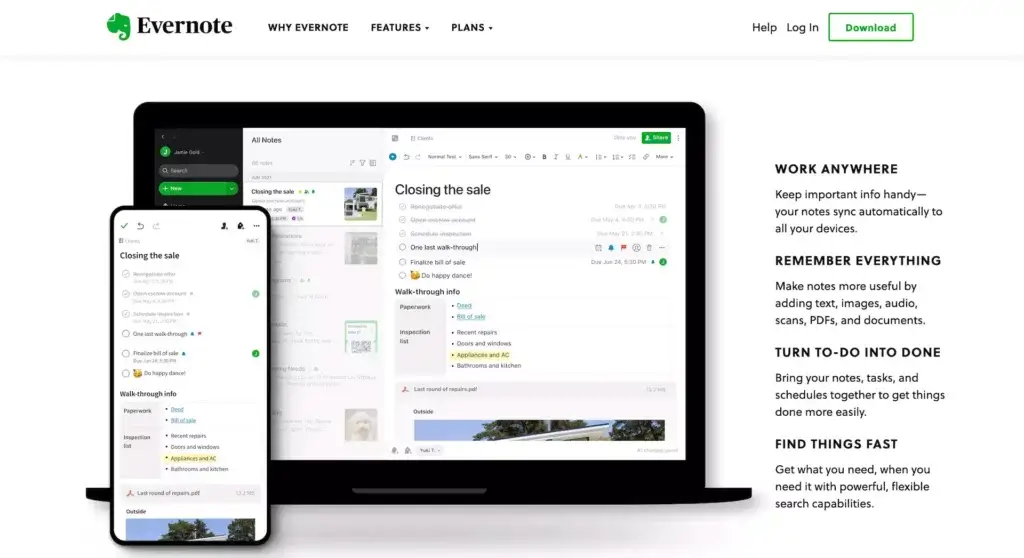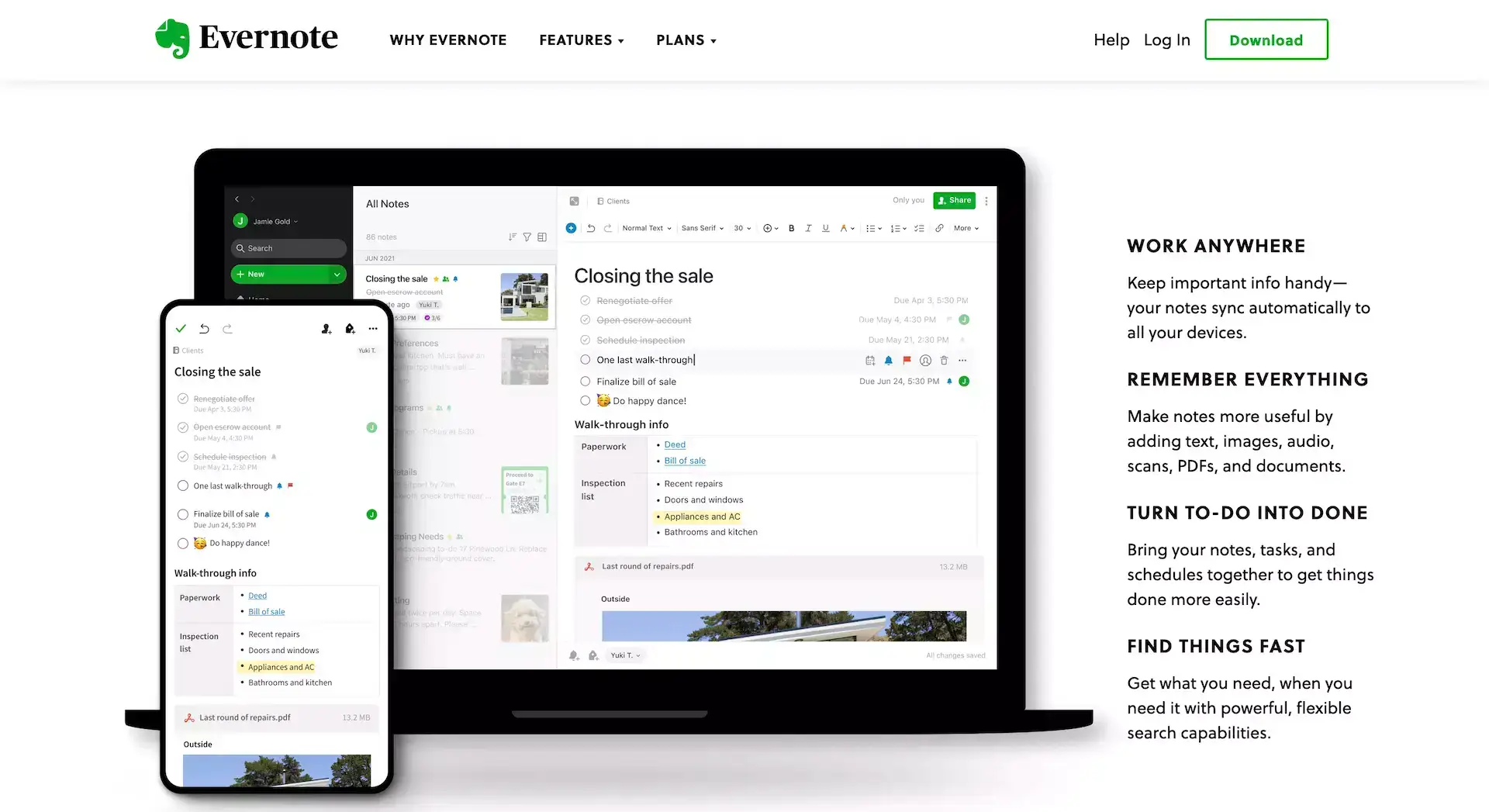 What Is Evernote
Evernote is a digital note-taking application that Russian engineer Stepan Pachikov created. Pachikov created Evernote to help people organize their thoughts and store information. This stemmed from his fascination of the way that humans stored information.
Pachikov worked on a prototype for 6 years before feeling confident enough to beta launch the product to a limited audience. After its launch, Evernote grew exponentially and had more than 10 million users by the end of 2011.
Evernote pioneered digital note-taking and remains one of the most popular note-taking apps today. If you're interested in a more in-depth discussion on Evernote's history from day 1 to what it is today, check out our review of Evernote's history!
What Features Does Evernote Have?
Evernote's concept is simple, you create notes which are then stored inside notebooks. You can add tags to your notes in order to keep them organized.
However, this can get pretty clunky especially if you're a heavy note-taker. This is where Evernote's built-in search function comes into play; allowing you to search for notes using keywords and phrases.
Evernote is also known for its Web Clipper feature. You can download an extension that allows you to clip parts or even entire web pages and paste them into Evernote. Clipped web pages remain stored in the app until you delete them.
You can use Evernote's templates to get you started on tasks that require more structure such as creating a story dashboard or even a monthly calendar to get yourself organized. This can be a helpful feature to help you kickstart your projects.
An interesting thing that Pachikov did with Evernote is that he implemented a feature to recognize handwritten notes. This was a page he took from a tool he created called 'Calligrapher' in his earlier days which recognized handwritten input on devices. In Evernote, handwritten notes can be captured via an in-app camera.
What Are Some Limitations Of Evernote?
Although Evernote excels when it comes to taking personal notes, it falls short when it comes to collaboration. Even if you paid for a Team Plan, which unlocks all of Evernote's features, it would still be hard for you to collaborate with your team.
The main issue with this is that Evernote does not support real-time collaboration. Even with a Team Plan subscription, you will be unable to edit notes alongside your team members. Only one person can be working on a note at any given time. If two users edit the note at the same time, another copy of the note will be created. This creates a logistical nightmare.
Evernote also falls short in other areas as well.
For example, although Evernote positions itself as a productivity app, it is more of a note-taking tool that has productivity features. However, to get access to these features, you will have to pay and upgrade your plan.
Evernote Pricing
Evernote has 4 pricing tiers which include the Free Plan, Personal Plan, Professional Plan, and Team Plan. In 2016, Evernote increased the prices for all of its plans and also removed some features from its free version.
Free
Cross-device sync (2 devices)
60 MB of storage for notes/month
Task management
Search and tagging
Uploading attachments
Personal ($7.99/month)
Unlimited synchronization
10 GB of storage for notes/month
Google Calendar integration
Due dates and reminders
Offline access
PDF and image search with OCR
Customizable templates
PDF annotation
Professional ($9.99/month)
20 GB of storage for notes/month
Personalized Home screen
Assigning and tracking tasks
Location-based search
Export notes to PDF
Integration with 3rd part services
Teams ($14.99/month per user)
Integration with business apps
Admin dashboard
Custom onboarding
20 GB of storage +2 GB per user
Workflowy
What Is Workflowy?
Workflowy is an outliner software that Jesse Patel and Mike Turitzin created in 2010. Patel created the productivity tool after being frustrated at not having the right tools to manage projects efficiently at his previous job.
As an outliner, Workflowy is straightforward to use. Users take notes on a blank page which uses a parent-child relationship to organize nodes. Parent nodes represent your main ideas, and sub-nodes help you expand on those topics.
This follows a hierarchical system of note-taking, which is common within outliner apps. The main idea behind Workflowy is for users to organize information effectively for quick recall, much like having a second brain.
What Are Some Features of Workflowy?
Being an outliner, Workflowy has plenty of features to help you take and organize notes. You can create unlimited bullet points on Workflowy's paid plan which lets you write long-form content without restrictions. As you develop your ideas further, you can expand and collapse nodes to keep things neat.
Additionally, you can work even quicker by utilizing Workflowy's keyboard shortcuts to help you spend less time clicking, and more time typing.
You can drag and drop files and images onto your list to help you add more substance to your notes. Organizing your notes on Workflowy is also made simple with its built-in search function and by using tags to segment and look for your notes.
Besides taking regular notes, you can also create Kanban boards on Workflowy. However, the kanban experience on Workflowy is not intuitive, and you would probably be better off using an application that was made to do this, such as Trello.
What Are Some Limitations of Workflowy?
Although you can use Workflowy for free, you probably will need to pay to use it properly as their free plan limits the amount of work you can do on their software.
One of the main limitations of Workflowy is that the tool lacks solid collaboration features.
How Much Does Workflowy Cost?
Workflowy offers its software at two simple price points.
Basic (Free)
Access to all features
Monthly bullet limit
100MB file limit
Pro ($4.99/month)
Access to all features
Unlimited bullets
No file limit
Full sharing options
Dynalist
What Is Dynalist?
Shida Li and Erica Xu created the outliner tool, Dynalist. Dynalist was created after the two founders found that Workflowy was lacking in certain features to help them get work done. Inspired by the idea of creating a more powerful tool, the pair created Omniflow in 2015, which was later renamed Dynalist.
Being an outliner software, Dynalist is a collaborative note-taking tool that can also help you take notes hierarchically. Much like Workflowy, the main idea behind Dynalist is for you to be able to organize information in a way that helps you with recall, much like a second brain.
In recent times, Li and Xu recently released Obsidian as their flagship product. Following this, they also made an announcement via a Dynalist blog post that they won't be updating Dynalist as frequently from now on.
What Are Some Features of Dynalist?
Dynalist has features to help you with note-taking and also with project and task management. On Dynalist, you can list down your ideas hierarchically and keep breaking them down to gain a firm understanding and understand things better.
What's more, Dynalist is also available on all devices, meaning that you can take notes and manage your to-do lists from anywhere.
To help you manage your notes, Dynalist lets you group similar concepts together using tags to help you filter through your notes. Besides that, Dynalist has pretty standard features that you would expect to see in an outliner app. Some of these features include:
Markdown formatting
Tags
Colored labels
Headings (H1, H2, H3)
Internal linking
In terms of task and project management, Dynalist has standard features to help you manage your to-do lists. Task management is done by creating a checklist on Dynalist. After populating your checklist with tasks, you can set due dates and also set a task to repeat if it's a recurring one.
However, Dynalist lacks the ability to assign tasks to your teammates, which means that the only way to assign tasks is to communicate the task to them via another application.
Dynalist also supports integration with Google Calendar so that you can sync your to-do list and view them on your Google Calendar.
What Are Some Limitations of Dynalist?
One of the main limitations of Dynalist is that it lacks solid collaboration features. Even though it is a good outliner for personal use, Dynalist lacks a built-in chat function and also doesn't have an assign task feature.
Furthermore, the developers of Dynalist have shifted their focus to developing Obsidian, which means that Dynalist will not see many major new features in the future.
How Much Does Dynalist Cost?
Dynalist offers its product in two simple plans.
Free
Unlimited items and documents
Internal linking
Markdown formatting
Tags
5 bookmarks
Sharing and collaboration
Pro ($7.99/user per month)
Google Calendar integration
Tag pane
Recurring tasks
Unlimited bookmarks
Custom CSS
Dropbox & Google Drive backup
Priority support
Miro
What Is Miro?
Miro is a visual collaboration platform that was founded in 2011 by Andrey Khusid. Khusid originally created a digital whiteboard called RealtimeBoard in 2011 to communicate his ideas with his remote clients. This eventually evolved into Miro, which has over 20 million users worldwide today.
The idea behind Miro was to digitize traditional processes such as writing on a piece of paper or having face-to-face interactions by replacing them with modern tools such as docs and chat.
Miro works similarly to Whimsical, as both tools utilize a visual approach to brainstorming and collaboration. Miro's wide range of features makes it feel like an online collaborative whiteboard to help you come up with creative ideas.
On Miro, users can choose to start work on a customizable empty board or get started with ready-made templates. Boards can be used for a variety of things ranging from project management, brainstorming, wireframe creation, and more.
Features of Miro
Miro has a few features to help you and your team collaborate online.
On Miro, your whiteboard can be customized to fit your needs. Each board is built in the form of a fully customizable infinite canvas. This allows you to collaborate and branch out your mind maps and ideas without limit.
Similar to other visual collaboration tools, Miro also features a drag-and-drop design which makes it easy for you to edit your visualizations. Boards also have tools such as shapes, arrows, and drawing to make it seem as if you're collaborating on an infinite whiteboard.
On Miro, you can collaborate with your team members via chat and video calls to reduce the need to toggle between applications when working. Downloading the Voting Plugin allows your team members to vote on ideas that they resonate with, allowing for better flow on your projects.
Besides brainstorming and planning workflows, you can also manage projects with your team on Miro via a built-in Kanban-style project board.
What Are Some Limitations of Miro?
Although Miro is a good tool when it comes to brainstorming and ideation, its limitations include a steep price plan, lack of features on the free plan, and difficult onboarding.
Startups might find it difficult to cope with Miro's pricing as it is more expensive than other alternatives out there.
You can choose to use Miro for free, but its free plan is very light on features. For example, you will have to upgrade to a paid plan in order to use Miro's video call feature.
If you're a newbie to Miro, you will find it hard to use. If you can master how to use Miro, it can be an effective tool to have in your arsenal. However, you will need plenty of hand-holding to learn how to effectively use Miro, which might just take too much of your time.
Finally, there have been reports of users experiencing slower boards as activity within the board increases. This can be annoying especially when you find yourself in a flow state of ideation.
We also wouldn't recommend using Miro to plan your projects. This is because project management on Miro is only limited to a Kanban view. This makes Taskade a better free alternative to Miro because Taskade has multiple project views to help you plan and execute your projects.
How Much Does Miro Cost?
Miro Free Plan
Miro's Free Plan is ideal if you're trying out the software to see if it's a good fit for yourself or your business. The Free Plan comes with access to templates, a maximum of 3 boards, and integrations excluding Jira and Confluence.
Miro Team Plan ($8/month)
Miro's Team Plan gives you access to unlimited boards and the ability to create and share your own templates with your team. You also get extra features such as video calls, voting, timer, and the ability to organize projects via kanban boards.
Miro Business Plan ($16/month)
The Business Plan gives you the added ability to invite guests to your private boards. You can also organize smart meetings with a specific set of tools and create better diagrams with advanced packs.
XMind
What Is XMind?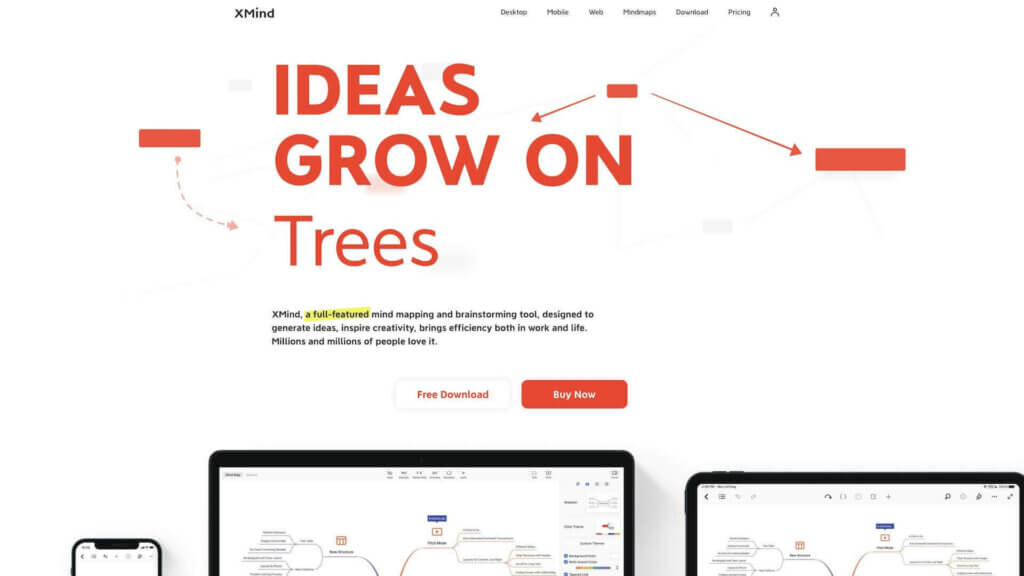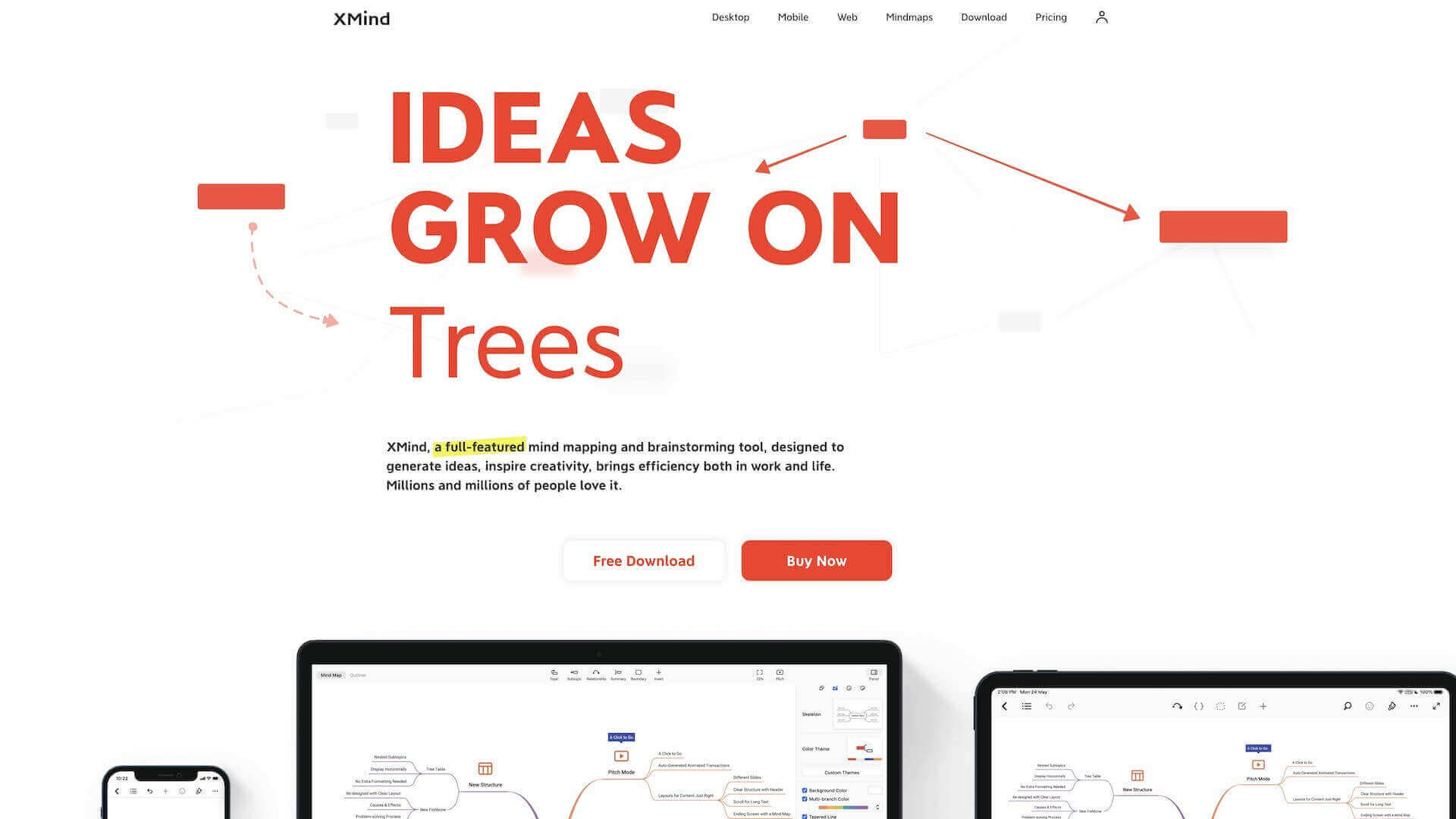 XMind is a mind mapping application founded by Brian Sun in 2008. The popular mind mapping tool was created with the aim of helping people brainstorm more ideas and organize them via mind maps.
If you're thinking of getting started with mind maps, XMind is one of the best mind mapping applications that you can use. Being a dedicated mind mapping tool, XMind has essential mind-mapping features to help you create mind maps individually or collaboratively as a team.
Today, XMind has over 2 million users on its platform. Some alternative software to XMind would include Miro, Obsidian, Roam Research, and Whimsical.
Features of XMind
XMind is a dedicated mind mapping tool that has advanced features to help you create mind maps intuitively. The application lets you create multiple styles of mind maps depending on your mind map use case.
Here are some of the types of mind maps that you can create on XMind:
Fishbone
Tree table
Timeline
Org chart
To help you get a headstart on your mind mapping journey, you can also find mind mapping templates on XMind. Besides that, XMind also allows you to switch to an outliner view so that you can organize your thoughts in hierarchies.
You can also use XMind for simple task management, but we wouldn't recommend it. This is because even though XMind is a solid mind mapping application, it is lacking in advanced task management features that other better project management apps provide.
What Are Some Limitations of XMind?
Although XMind is a good tool to use when it comes to creating mind maps, it has limitations that limit its capabilities in project management.
No chat function
No built-in video calls
Lack of project management features
Free version is light on features
Although you can use XMind to brainstorm new ideas, we wouldn't recommend it for project management.
How Much Does XMind Cost?
XMind offers its software in one main pricing plan. You can choose to pay every 6 months for $39.99, or yearly for $59.99 per user.
Each XMind subscription unlocks all features across all devices, with a limit of 5 desktops/laptops, and 5 mobile devices.
Notion
What Is Notion?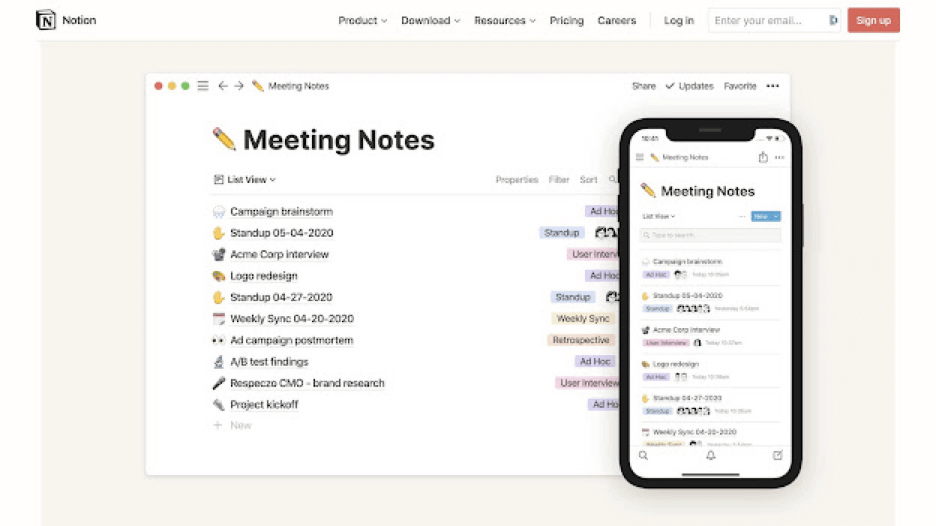 Ivan Zhao founded Notion in 2013. It is an all-in-one app that allows you to take notes and manage projects to improve your productivity. Notion was released to the public in 2015 with the goal of ending the need of having multiple productivity tools by being an all-in-one app.
However, it wasn't all smooth sailing for Notion. After its original release in 2015, Notion was unfortunately faced with failure. This came mainly from the fact that its original build was simply not reliable enough, leading to regular crashes.
Having been at the brink of failure, Notion capitalized on its previous shortcomings and made it into one of its strengths. Be sure to check out our piece on the complete history of Notion if you're interested to learn more about this tool.
Features of Notion
Notion as a software attempts to be a jack of all trades. It combines multiple tools such as project management, to-do lists, note-taking, wiki creation, and more into one unified software.
Notion is heavy on features and also supports integrations with other apps such as Google Drive, Trello, Slack, and more. When using Notion, you create content on pages by filling up blocks with content.
Although Notion does have a steep learning curve due to it having a lot of features, it can be a useful tool to help you and your team get work done. Having multiple features also means that Notion is flexible, meaning that you can use it for just about anything.
What Are Some Limitations of Notion?
Although Notion has plenty of benefits, there are also some drawbacks to consider.
For starters, Notion is not intuitive to use. There is a steep learning curve when using the app due to the fact that Notion tries to be an all-in-one software. Newcomers to Notion will find that the page layout may be confusing. It takes some getting used to before you're able to use the software to your benefit.
One of the common problems that have been reported is that Notion is not good for taking long-form notes. This is because if you use a lot of slashes (/) in your note-taking, Notion tends to start a function with each slash. Constantly deleting these unwanted functions might have an effect on your train of thought.
Even though Notion has features that can allow for good collaboration, proper collaboration tools such as sharing pages and page permissions are only unlocked with a team plan. Notion's free plan limits collaborators to only 5 guests. You'll definitely have to fork out some cash if you want to collaborate with more people.
While Notion does a good job of being an all-in-one app, it lacks a focus on being good at one particular thing. If you're looking for an app to do a little bit of everything, then Notion is probably right for you.
However, if you're looking to do something more focused such as effectively collaborating on a huge project, or even taking detailed long-form notes, then Notion falls short.
Notion Pricing
Notion offers its software at four different tiers which include the free personal plan, personal pro, team, and enterprise plan. Here's a breakdown of the features available in every plan.
Personal/Free
Unlimited blocks & pages
5 guests users/editors
Multi-device sync
Personal Pro ($4 per month)
Unlimited uploads and guest users
Version history
Team ($8/month per user)
Unlimited team members
Collaboration with permissions
Admin tools
Enterprise (custom)
Advanced security with SAM/SSO
Microsoft OneNote
What Is Microsoft OneNote?
Developed by Microsoft, OneNote is a digital note-taking application that's part of the Microsoft Office suite. Released in 2003, OneNote provides a versatile platform for users to jot down ideas, make checklists, draw, store multimedia, and much more.
Much like a physical notebook, OneNote enables users to have different sections within a notebook, thereby providing a structured way to categorize and manage content. It's often compared to traditional notepads but with the added benefits of digital features.
In the context of note-taking applications, while OneNote and Obsidian cater to different user bases, Microsoft's offering is a competent Obsidian alternative.
What Are Some Features of Microsoft OneNote?
Central to OneNote's appeal is the notebook-based organization of notes that allows you to seamlessly craft multiple notebooks and divide them into sections and pages. This layered approach is a familiar sight, especially if you're coming from the world of analog note-taking.
OneNote doesn't just stop at text. Notebook pages can contain images, audio clips, and other types of attachments. This multimedia support is complemented by OneNote's drawing feature, so when the muse comes, you can add some doodles and make your note come to life.
OneNote comes with a dedicated Web Clipper tool that allows you to archive web content, be it articles, visuals, or links, into your notebooks. The app works across all major platforms too so you can get it on Windows, macOS, Android, iOS, or use it in a web browser.
What Are Some Limitations of Microsoft OneNote?
As is the case with other similar apps, OneNote has a few blemishes you should keep in mind. Firstly, there's the matter of the learning curve. The classic ribbon-based interface may be overwhelming at first and you'll need some time to master all the tabs and drop-down menus.
And speaking of the interface, OneNote is starting to show its age. The design aesthetics haven't been significantly overhauled for quite some time. While functionality remains robust, users accustomed to modern, minimalist designs may find OneNote's appearance a tad dated.
Finally, OneNote is primarily centered around Microsoft's ecosystem. The software does a stellar job within its own family of apps, but branching out to non-Microsoft platforms can sometimes be less seamless than desired. Plus, you'll need a Microsoft account to get started.
How Much Does Microsoft OneNote Cost?
Microsoft OneNote offers a free version, which covers a majority of its features and provides ample storage for casual users. Here are the details of each pricing plan.
Free
Access to the majority of OneNote's features
5 GB of free storage on OneDrive (where OneNote saves its content)
Microsoft 365 Personal ($69.99/year or $6.99/month)
1 TB of OneDrive storage
Premium features in all Office apps including OneNote
Advanced security features
Microsoft 365 Family ($99.99/year or $9.99/month)
1 TB of OneDrive storage per person (up to 6 people)
Premium features for up to 6 users
Advanced security for each user