There are plenty of guides out there to help you get started with mind mapping. However, today we will be going through a list of the best mind mapping software out there, be it on windows or apple.
Why Use Mind Mapping Software
Mind mapping is a way of thinking that helps you to organize your information visually. Today, there are plenty of mind mapping software that can help you to create digital mind maps. By using them, you will be able to visualize your ideas and organize your information on a mind map.
Traditionally, mind maps would be drawn by hand using pen and paper. Technological advancements in the 21st century have eventually led us to a point where we can create mind maps digitally.
Arguably, nothing beats the feeling and customizability that a hand-drawn mind map gives you. The best mind mapping software would be tools that closely replicate the feeling of mind mapping with pen and paper.
What exactly should you look out for if you're in the market for mind mapping software?
What Should You Look For in Mind Mapping Software?
There's no shortage of mind-mapping software out there. We think that the perfect mind mapping tool comes down to 3 things which are: ease of use, customizability, and cost.
Ease of use
It's easy to load an app with features. However, how many features is exactly one too many? The optimum mind mapping tool should be relatively simple for you to use and require minimal onboarding.
If the tool feels like it's too complicated for you then you should probably give it a pass. There's no point in spending more time learning to use a tool than actually being productive with it.
Customizability
The perfect mind mapping software should mimic or closely resemble the feeling of mind mapping by hand. You should be able to use it the way that you want to, with the ability to highlight key points and create branches from your focal topic.
It's even better if you can effortlessly switch between views. Taskade allows you to effortlessly do this, giving you the ability to switch between outlining information or taking structured notes with the list view and getting a bigger picture of things via a mind map view.
At the end of the day, the mind mapping tool that you choose should be customizable enough to allow you to be creative.
Cost
Taskade offers you the ability to create beautiful mind maps and more, all for free. Regardless if you're a seasoned mind mapper or a newbie, Taskade has plenty of features available to help you be more productive. Why pay for a mind mapping tool when you can get it for free?
The Best Mind Mapping Apps and Software for Microsoft Windows
Now, let's dive in and take a look at the best mind mapping software for Microsoft Windows users.
Taskade is an online productivity and collaboration tool that was founded by John Xie, Dionis Loire, and Stan Chang in 2017. The Y Combinator-backed startup aims to help remote teams and individuals get work done faster and smarter.
Taskade is where remote teams get work done. With Taskade, you can chat, plan, manage projects, assign tasks, and—wait for it—create beautiful mind maps!
You can use Taskade's mind mapping component to engage in non-linear, out-of-the-box thinking, accentuate connections between ideas, deal with information overload, and organize knowledge in a simple and effective way.
Everything you do in Taskade is stored in a hierarchical tree-structured database. And that means every project, be it a mind map, kanban board, outline, or an ordinary list, can be reshaped and transformed according to your needs.
Two (or more) heads are better than one! Mind maps in Taskade are wired for collaboration. You and your team can work and chat in the same window, without having to patch several apps together. Taskade is a complete creative stack!
Mind mapping with Taskade
Taskade offers a structured approach when it comes to mind mapping. Outline your notes and map information out in a writing tool and switch back and forth between an outliner and a mind map to help you digest information better.
Why Taskade Replaces ALL Other Productivity Apps!
Taskade Select Features 🌟
Project Views. Visualize your projects in several different ways. Cycle between the List, Mind Map, Org Chart, and Board views to work the way you want.

List View. This is the default view on Taskade. Create new lists here.
Board View. This view lets you work horizontally like a Kanban board. Visualize your workflow and tasks in this full-width view.
Mind Map View. This view lets you work in a horizontal tree-structured manner and map out what you have in mind.
Action View. Work in table view and stay organized with your task due dates, and more.
Org Chart View. Break down larger tasks into smaller ones to help you get things done.
Sort Tasks. Sort sub-tasks/children elements by completed/uncompleted stats or the due date. Task sorting can be accessed from a convenient pop-up menu.
Search. Search within projects or globally across workspaces and subspaces. Instantly browse and jump between projects anywhere in the Taskade.
Keyboard Shortcuts. Navigate projects, create content blocks, reorder elements, and complete tasks using a set of handy keyboard shortcuts.
Export and Print. You can export your projects as plain text or markdown files. Attach them to emails, presentations, or for print.
Cloud File Upload. Share files directly from Google Drive, Dropbox, Instagram, and Box in your projects with our integrations.
Breakdown Larger Tasks. Organize your thoughts with Taskade's unlimited hierarchy to break down large projects into tasks.
Quick Search. Use CMD / CTRL + K to jump between any projects within Taskade web and apps.
For an exhaustive list of Taskade's features, click here.
Taskade Pricing 💸
🟢 Free (forever!)

Unlimited mind maps, projects, collaborators, and guest users
500MB of storage for files and projects (up to 25MB per file)
Chat, calls, video conferencing, and screen sharing
Real-time syncing across web, desktop, and mobile
Backgrounds, dark mode, and customization
Push notification, project history, and activity feed
Cross-linking, mind map sharing, and task management
500 + quality templates across 26 categories
Mind maps, org charts, kanban boards, and lists
Export/print mind maps as images

🔵 Unlimited ($5/month per user billed annually)

Everything in the Free plan +
Unlimited storage (up to 250MB per file)
Sorting options, recurring tasks, and bulk assign
Upload custom logos and workspace backgrounds
Priority support and custom onboarding
Email, Dropbox, Google Drive, and One Drive integrations
Advanced reporting, permissions, and revision history
SAML, 2FA, and Single Sign-On (SSO)
ClickUp is a unified project management and productivity platform that combines to-do lists, wikis, spreadsheets, a CRM, and team communication. On ClickUp, you can build mind maps from scratch or visualize existing workflows in a mind map view.
ClickUp Select Features 🌟
To-do list and task management
Mind map search and filtering options
Several project views/workflows
Communication, chat, and direct emails
Calendar, reminders, and scheduling
Goal and progress tracking
Screen recording and sharing
See how ClickUp compares to Taskade (click). 👈
ClickUp Pricing 💸
🟢 Free

100MB for file storage
5 spaces and 100 views
Two-factor authentication
50+ integrations and time tracking
Real-time collaboration
100 automations/month

🔵 Unlimited ($5/month per user billed annually)

Everything in the Free plan +
Unlimited storage, tasks, views, and spaces
Guest accounts and editing permissions
7-day activity view
Time tracking and additional views
1,000 automations/month

🟣 Business ($9/month per user billed annually)

Everything in the Unlimited plan +
Branding & customization
10,000 automations/month
Mind mapping and unlimited activity view
Google Single Sign-On (SSO)

🟡 Enterprise (custom)

Everything in the Business plan +
More Single Sign-On (SSO) options
Custom roles and permissions
Priority support and onboarding
Miro is a collaborative digital whiteboard with mind-mapping capabilities. The platform comes with a complete set of collaboration features like video chat, screen sharing, real-time editing, and more. Miro is a solid match for all kinds of creative projects.
Miro Select Features 🌟
Customizable templates & frameworks
Infinite canvas for unlimited design space
Screen sharing and presentation features
Visual cues like sticky notes, shapes, arrows, and more
Integrations with Google Drive, Zapier, and others
Real-time collaboration features
Video conferencing, chat, and comments
High-resolution mind map export
See how Miro compares to Taskade. 👈
Miro Pricing 💸
🟢 Free

Unlimited team members
3 active editable boards
Access to premade templates
A set of core integrations

🔵 Team ($8/month per user billed annually)

Everything in the Free plan +
Unlimited boards and editors
Video chat, meeting timer, and voting
High-resolution mind map exports
Access to custom templates
Additional integrations

🟣 Business ($16/month per user billed annually)

Everything in the Team plan +
Single Sign-On (SSO)
Adding external editors

🟡 Enterprise (custom pricing)

Everything in the Business plan +
Multi-team management features
Data governance and advanced security
Personalized onboarding and premium support

🟤 Consultant ($12/month per user billed annually)

Everything in the Team plan +
Private workspaces for clients
Control accesses
#4 Ayoa
Ayoa is a visual-first online workspace and mind mapping software for teams and individuals. The app offers a user-friendly UI, collaboration features, and several visual workflows, including mind maps, radial maps, boards, and flowcharts.
Ayoa Select Features 🌟
A range of mind mapping templates
Video chat and instant messaging
Public mind map sharing
Sync via Google, Evernote, and Dropbox
Calendar and progress tracking
Multi-device sync for desktop and mobile
Due dates and filtering options
Ayoa Pricing 💸
🟢 Free/Basic

5 boards/50 elements per board
Real-time collaboration and chat
Personal planner and whiteboards

🔵 Pro ($10/month per user annually)

Everything in the Basic plan +
Unlimited boards and elements
File storage (20MB per file)
Gantt timeline view
Task assignment, tags, and filters
Priority support

🟣 Ultimate ($13/month per user annually)

Everything in the Pro plan +
File storage (60MB per file)
Team pulse/live share
User groups and Zoom integration\
#5 MindMeister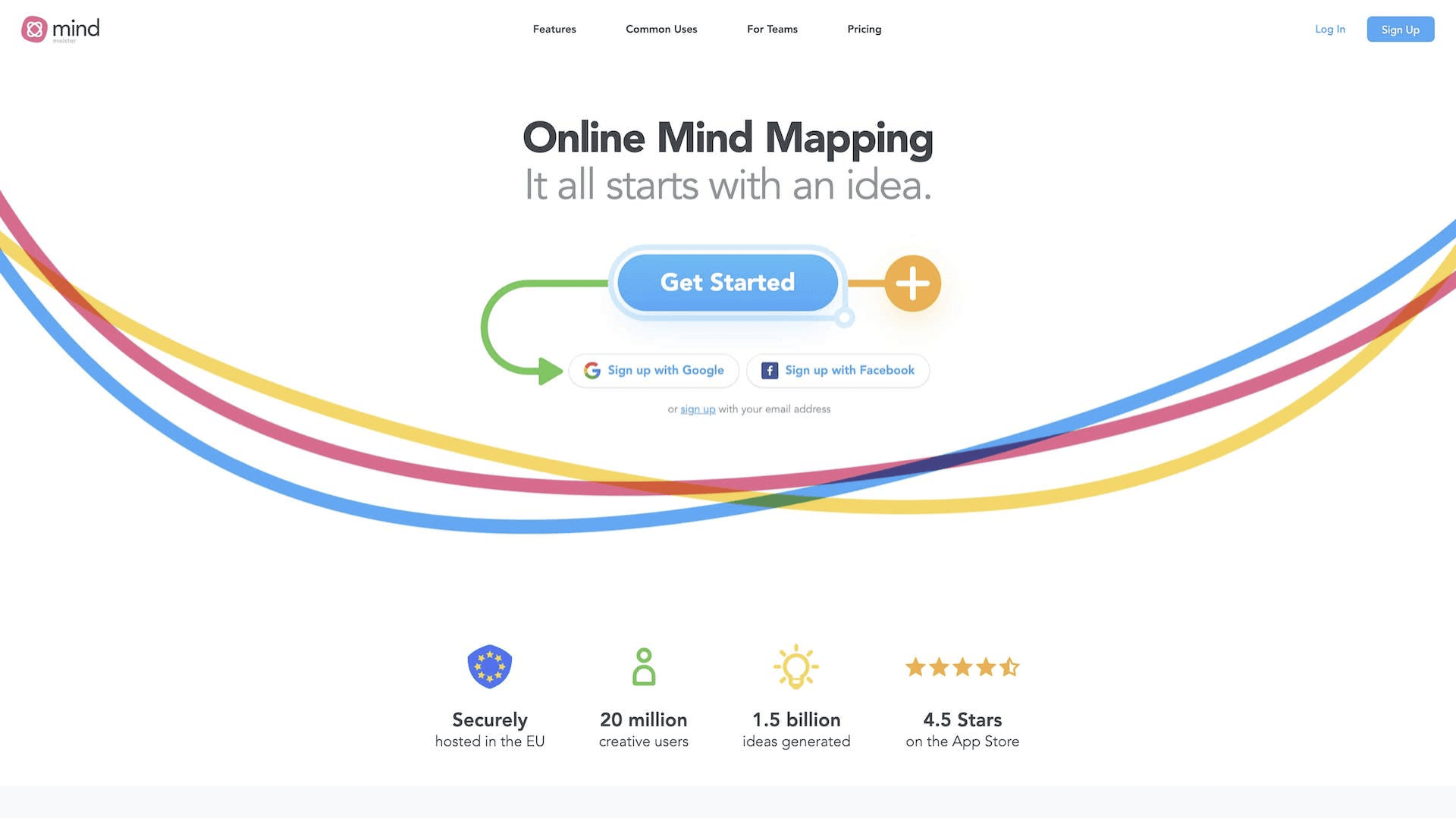 MindMeister is web-based visual ideation and mind mapping software. The app helps with planning projects, managing knowledge, brainstorming ideas, taking notes, and running meetings. What's more, MindMeister also has a built-in collaboration component for teams.
Features of MindMeister 🌟
Chat, commenting, and voting
Change history, sharing, and sync
Presentation mode and embed
A library of mind map templates
Customization and formatting options
File upload (images, videos, documents)
Import & export functionality
MindMeister Pricing 💸
🟢 Free/Basic

Create up to 3 mind maps
Real-time collaboration
Email customer support
🔵 Personal ($4.99/month)

Everything in the Basic plan +
Create unlimited mind maps
File upload and attachments
Mind map export and printing
🟣 Pro ($8.25/month)

Everything in the Personal plan +
Word and PowerPoint export
Admin account and multiple collaborators
GSuite domain and sign-on
Custom styles and themes
🟡 Business ($12.45/month)

Everything in the Pro plan +
Team groups and custom team domain
Compliance export and backups
Multiple administrators
Priority support
#6 Lucidchart
LucidChart is an "intelligent diagramming" tool for teams and individuals. The app lets you tackle work using diagrams, charts, mind maps, and other visual formats, ultimately helping you to better organize your information.
Features of LucidChart🌟
Shapes for visual mapping
Drag-and-drop navigation
Keyboard shortcuts
Integrations GSuite and others
Real-time, collaborative editing
Chat and commenting features
Pre-made templates
LucidChart Pricing 💸
🟢 Free

Up to 3 editable documents
100 pre-made templates
Basic collaboration features
Basic integration services

🔵 Individual (starting at $7.95)

Everything in the Free plan +
Unlimited editable documents
1000 + pre-made templates

🟣 Team (starting at $9.00 per user)

Everything in the Individual plan +
Advanced collaboration features
Chat, comment, and revision history
Password-protected sharing
Advanced integrations

🟡 Enterprise (custom)

Everything in the Team plan +
Advanced data and automation
Single Sign-On (SSO
The Best Mind Mapping Apps and Software for Mac
If you're an Apple user, fret not! Here are some of the best mind mapping tools for you to use on Apple.
#1 Taskade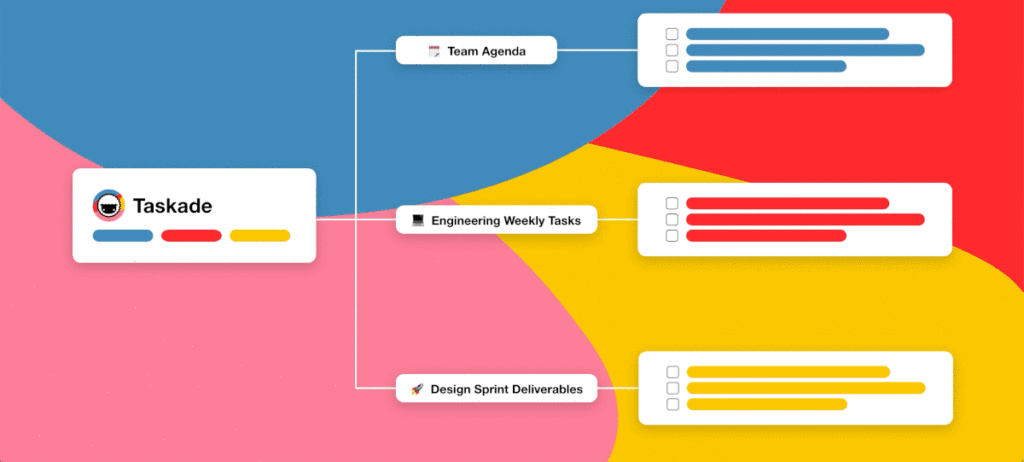 Good news, Taskade is available on Mac as well! Download Taskade for your Mac today and increase your productivity. Seamlessly toggle between list and mind map project views to outline and digest information.
#2 Mindnode
MindNode lets you create mind maps, brainstorm ideas, and solve problems visually. A user-friendly UI, customization options, and distraction-free mode make for a compelling mind mapping software candidate. Mind map alone or in a team.
MindNode Select Features 🌟
Task management features
Side-by-side outlining
Stickers, themes, and visual tags
Distraction-free and dark mode
Multiformat mind map export
Quick Entry widgets
Customizable themes
Synchronization via iCloud
MindNode Pricing 💸
🟢 Free Editor

Create and edit nodes
Fold and reorganize
Import and export
Apple Watch support

🔵 MindNode Plus ($2.49/month or $19.99/year)

Everything in the Free plan +
Outlining, visual tags, and Focus Mode
Quick entry and multiple layout options
Images, stickers, themes, and styling
#3 Mindomo
Mindomo is a dedicated mind mapping software for work, education, and personal use. The app helps with brainstorming ideas, organizing information, and managing projects and is a solid choice for businesses, teachers, and academics.
Mindomo Select Features 🌟
Support for hyperlinks and attachments
Upload videos, icons, documents, and images
Printing and presentation mode
Undo/redo and keyboard shortcuts
Import and export features
A catalog of templates and layouts
Mindomo Pricing 💸
🟢 Free

Up to 3 mind maps
Sharing and publishing
Collaboration features

🔵 Premium ($5.5/month, one user)

Cloud, mobile, and desktop access
Unlimited mind maps, outlines, and charts
Business mind map templates
Mind map printing and export
File uploads and attachments
Password protection

🟣 Professional ($13.5/month, one user + guests)

Everything in the Premium plan +
Invite up to 5 guests with editing privileges
Mind map sharing with all features
Google, Dropbox, and OneDrive backup
12 mind map export formats

🟡 Team ($16.6/month per user)

Everything in the Professional plan +
3+ team members
Admin interface
Shared team folder
#4 Scapple
Scapple is an artsy take on mind mapping from the creators of Scrivener. The idea behind scapple is simple: to recreate the feel of pen & paper note-taking and organize thoughts in a visual way. It's a good choice for planning, ideation, and note-taking.
Scapple Select Features 🌟
Freeform drag-and-drop mind mapping
Stacking and grouping notes
Customizable visuals
Export and print features
Synchronization with Scrivener
Drag-and-drop file import
Scapple Pricing 💸
🟢 Standard license ($18 one-time purchase)

Free 30-day trial (all features)
Educational license for $14
Works on Mac and Windows
XMind is a dedicated mind mapping tool. It packs essential mind-mapping features like folding/unfolding branches, free-positioning, color coding, hyperlinking, stickers, icons, and more. XMind lets you mind map solo or collaborate with others.
XMind Select Features 🌟
Color themes and custom graphics
Outlining, distraction-free mode, and dark UI
Projects views including a timeline and an org chart
Import/export functionality
Sync across desktop and mobile devices
See how XMind compares to Taskade (click). 👈
XMind Pricing 💸
🟢 Free Trial

For personal use
Limited to 2 devices (Mac, PC)
Most features included in the Full version
Export images and PDFs are watermarked

🔵 Full Version ($39.99/6 months or $59.99/year)

All Trial features +
5 desktop (Mac, PC) + 5 mobile devices (iOS, Android)
Filter and show branch only
Password-protected mind maps
Insert links, attachments, audio, and images
Access to customizable themes
More export options
For commercial use
#6 MindManager
MindManager is mind mapping software cut out for the corporate world. The platform offers a professional set of brainstorming, data visualization, and problem-solving tools. The MindManager app comes in several flavors depending on your needs.
MindManager Select Features 🌟
Project cost tracking
Mobile mind map preview
iCloud synchronization
Flowchart and Gantt workflows
Task management and tracking
25+ pre-made templates
Sharing and online publishing
MindManager Pricing 💸
🟢 $169 annual plan
🔵 $349 one-time purchase
Frequently Asked Questions About Mind Mapping Software for Windows and Mac