The beauty of using to-do lists is the freedom to make them as simple or as complex as you need. You can stick to the three most important tasks of the day or create the ultimate list, complete with notes and sub-tasks for the entire week. But why waste time starting over when you can use (and reuse) beautiful, free to-do list templates instead? 🥳
Here's a curated list of our top to-do list templates for every occasion!
🤔 What Are the Benefits of Using a To-Do List Template?
Love it or hate it, the humble to-do list is still one of the most universal productivity tools around. And for all the good reasons. Here are a few benefits of using a to-do list template:
⏰ Saves time. Using a template means that you can get started immediately with pre-populated fields. Spend less time figuring out what's needed in your to-do list and get a head start by using a template.
✅ Improves organization. A to-do list template helps you organize your tasks and priorities in a clear and concise manner. It allows you to see all your tasks in one place and helps you stay on track with your goals.
🧘‍♂️ Reduces stress. A template can help reduce stress by giving you a clear idea of what needs to be done and when. This can help you feel more in control and less overwhelmed.
⚡️ Enhances productivity. By organizing your tasks and setting priorities, you can focus on the most important tasks and complete them efficiently. This can help you get more done in less time and increase your overall productivity.
📍 Helps with planning. A to-do list template can help you manage your workflow more effectively and plan ahead. By breaking your tasks down into smaller, more manageable chunks, you can better plan your day and make the most of your time.
✅ 9 Free To-Do List Templates
💡 Note: Our templates are suitable for individuals and teams. You can easily tailor each template to be more compatible with your workflow.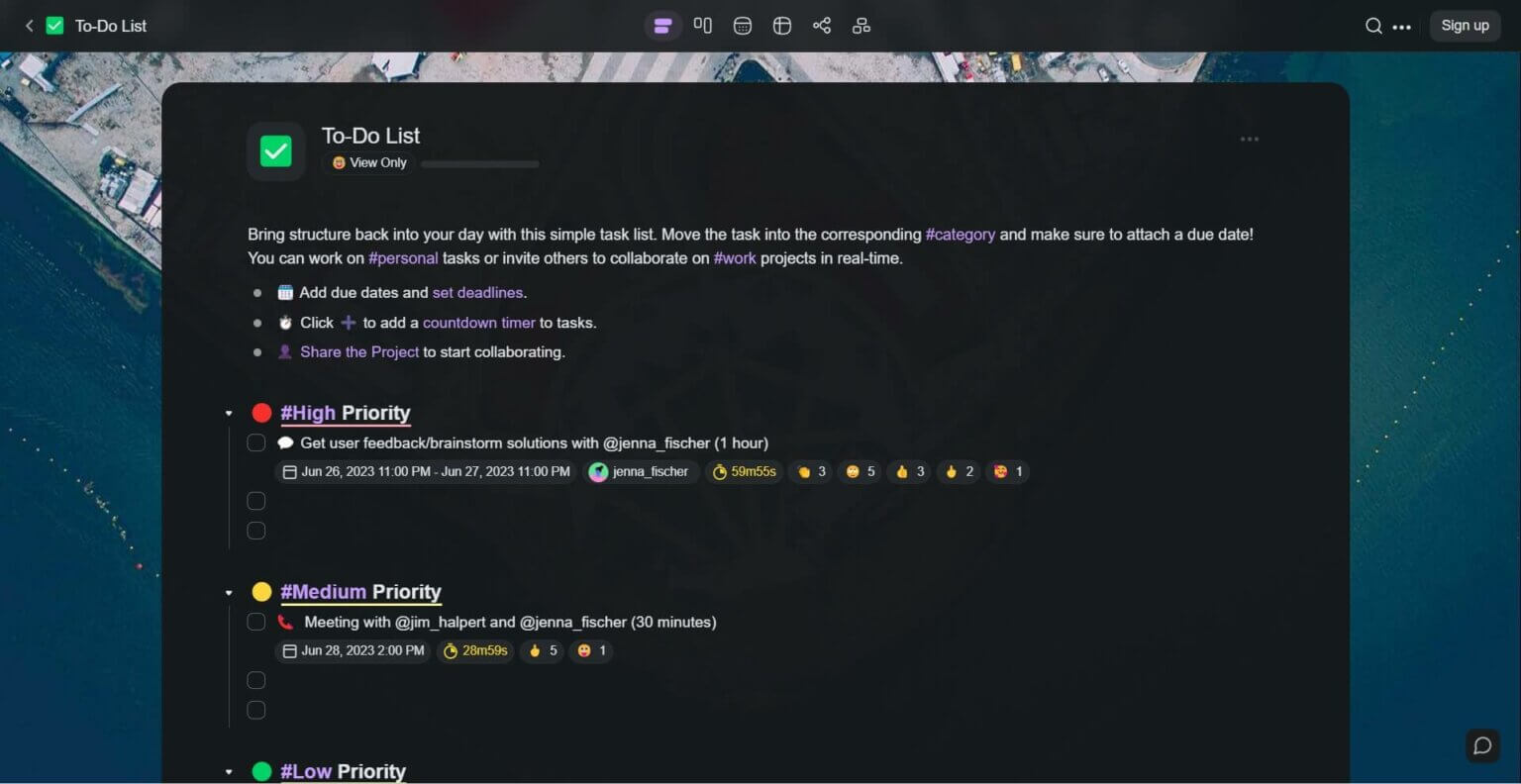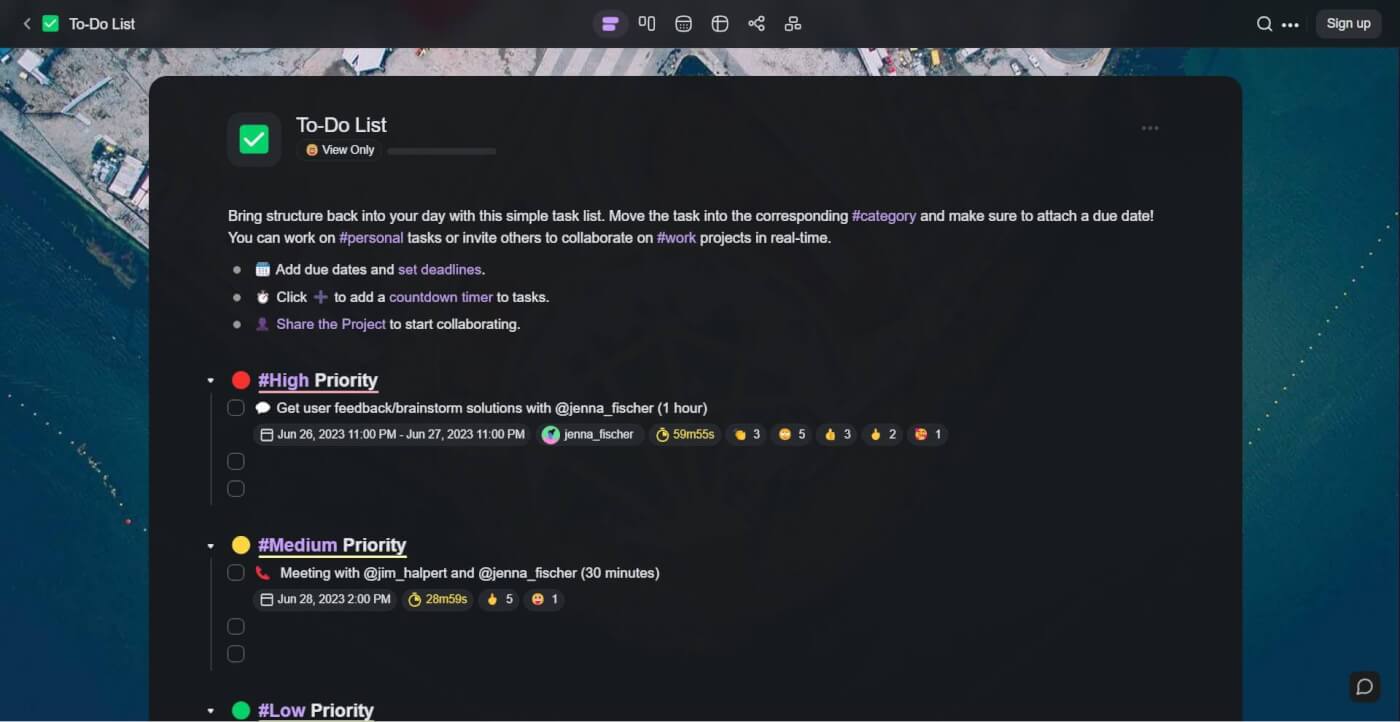 This one's a true classic. Whether you're a beginner or a seasoned productivity guru, use this template to improve your productivity one check at a time.
Start by organizing the list by priority. List all your tasks for the day and assign them to one of the categories. Finally, add due dates and share the project to start collaborating.
Check this article if you're interested in some tips on organizing tasks based on priority.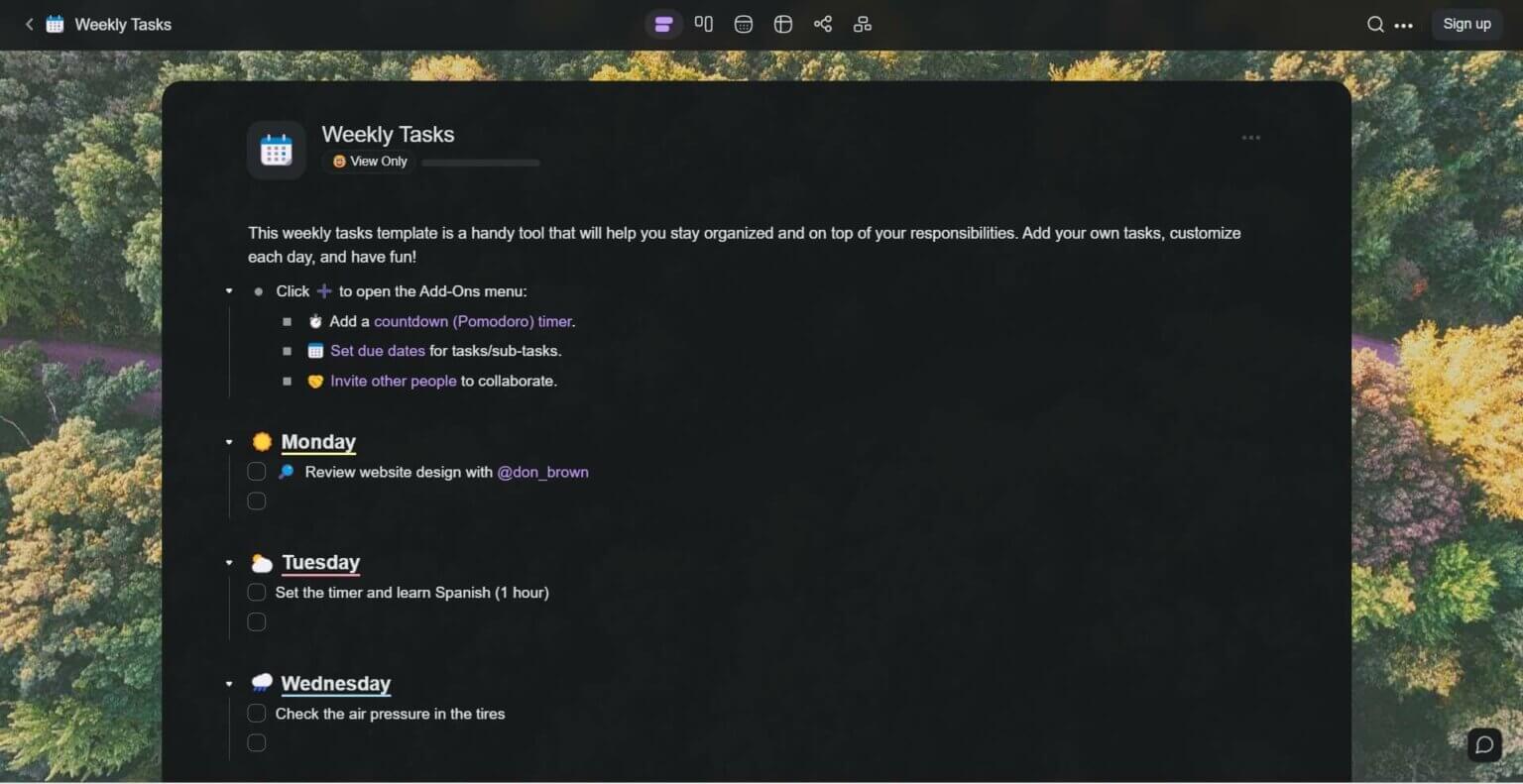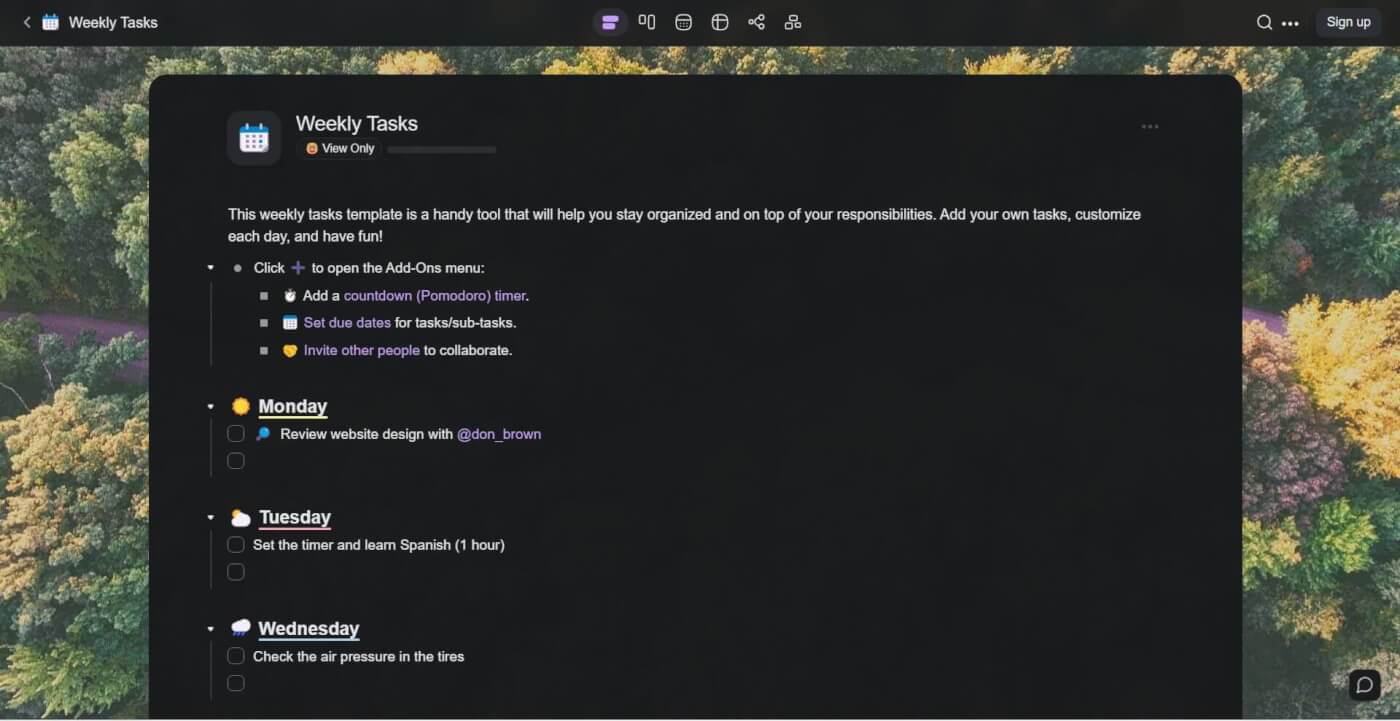 Now that you've mastered prioritizing daily tasks, let's make some plans for an entire week.
This free weekly tasks template is fully customizable so you can jump right in or tweak a few things before adding your tasks. We've already added a few things to make it easier for you!
Start by listing your responsibilities under each day of the week. Next, set due dates for your tasks and invite others to your weekly task list to collaborate and get things done together! When done, simply check the complete tasks, rinse, and repeat! 🔂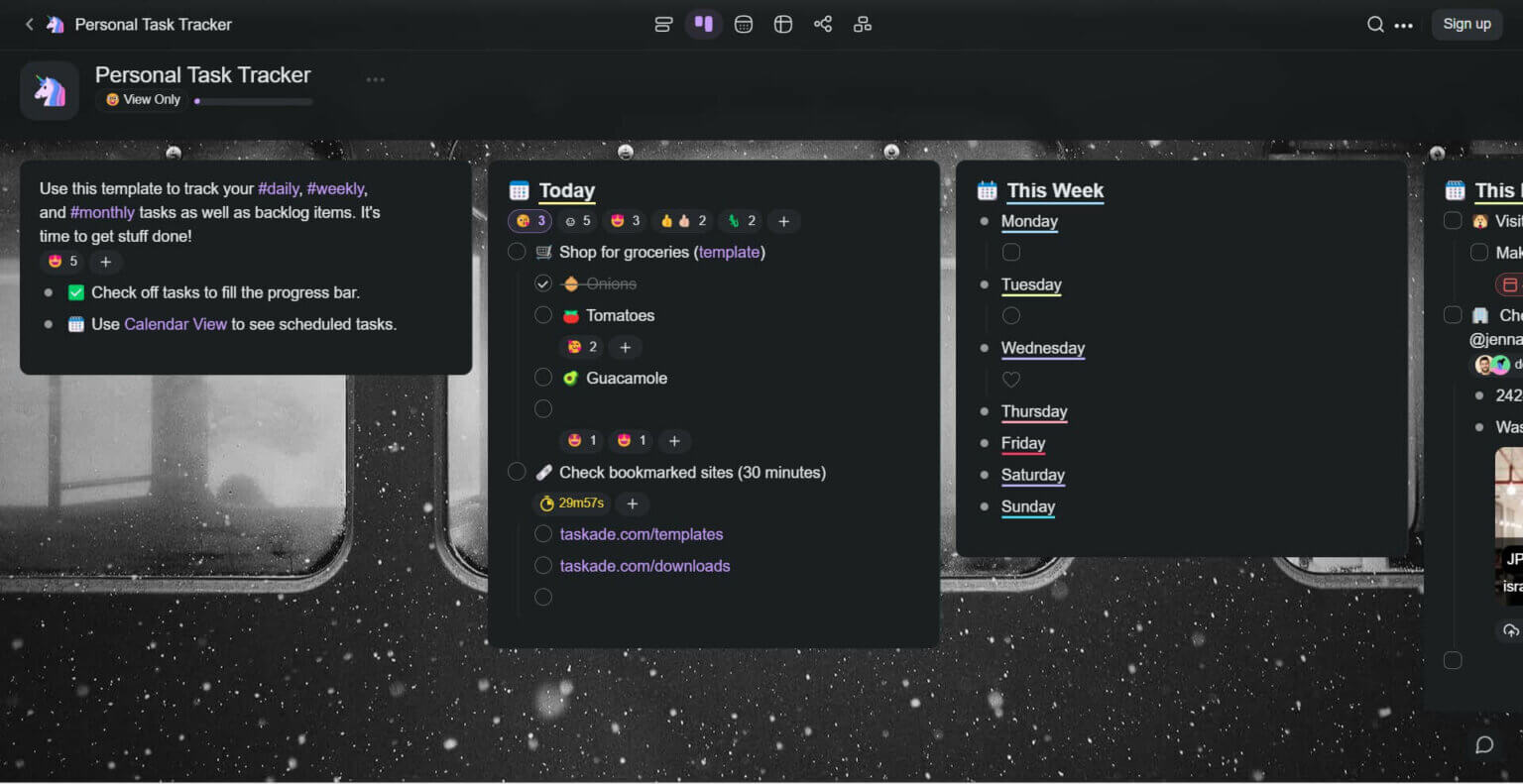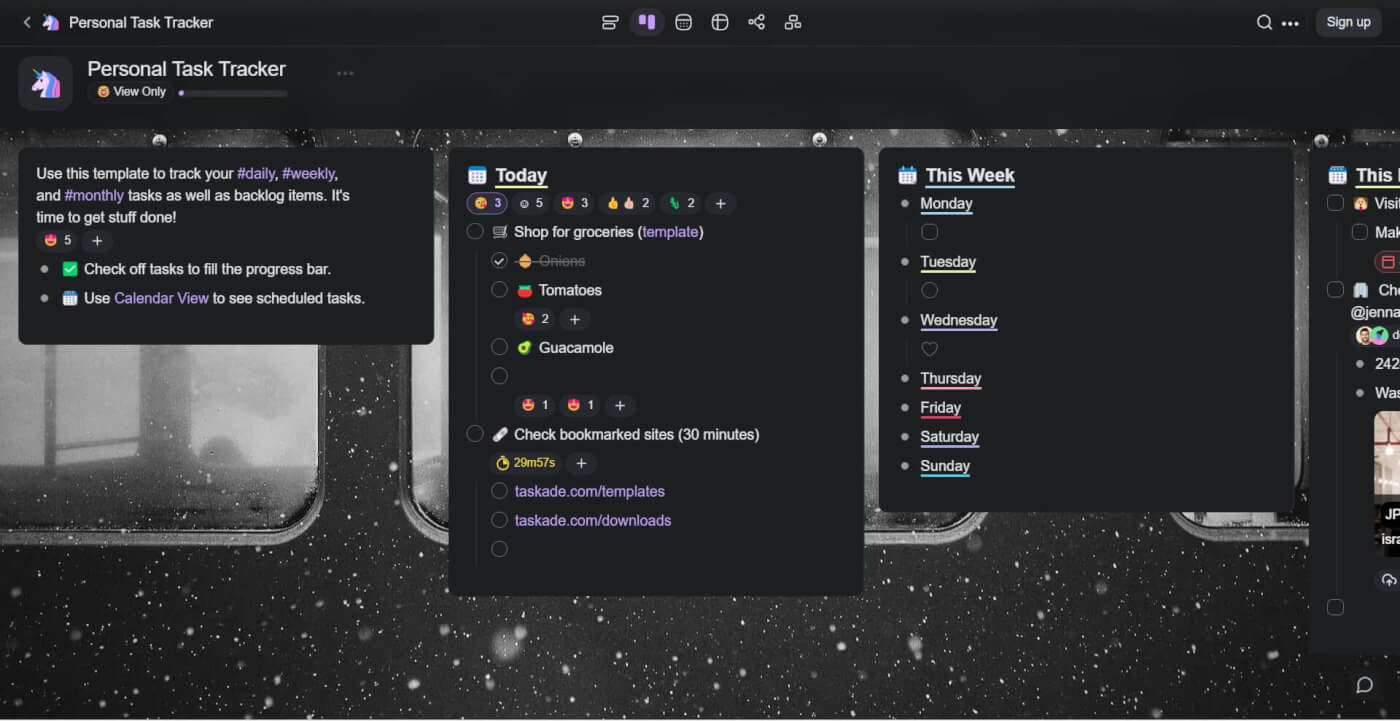 If you're looking for a customizable task tracker template, look no further. We designed this task tracker template to help you manage your tasks and projects in a convenient board format.
The board includes three main cards for daily, weekly, and monthly tasks. This template is a great choice if you prefer to have a high-level overview of all your tasks in a single view.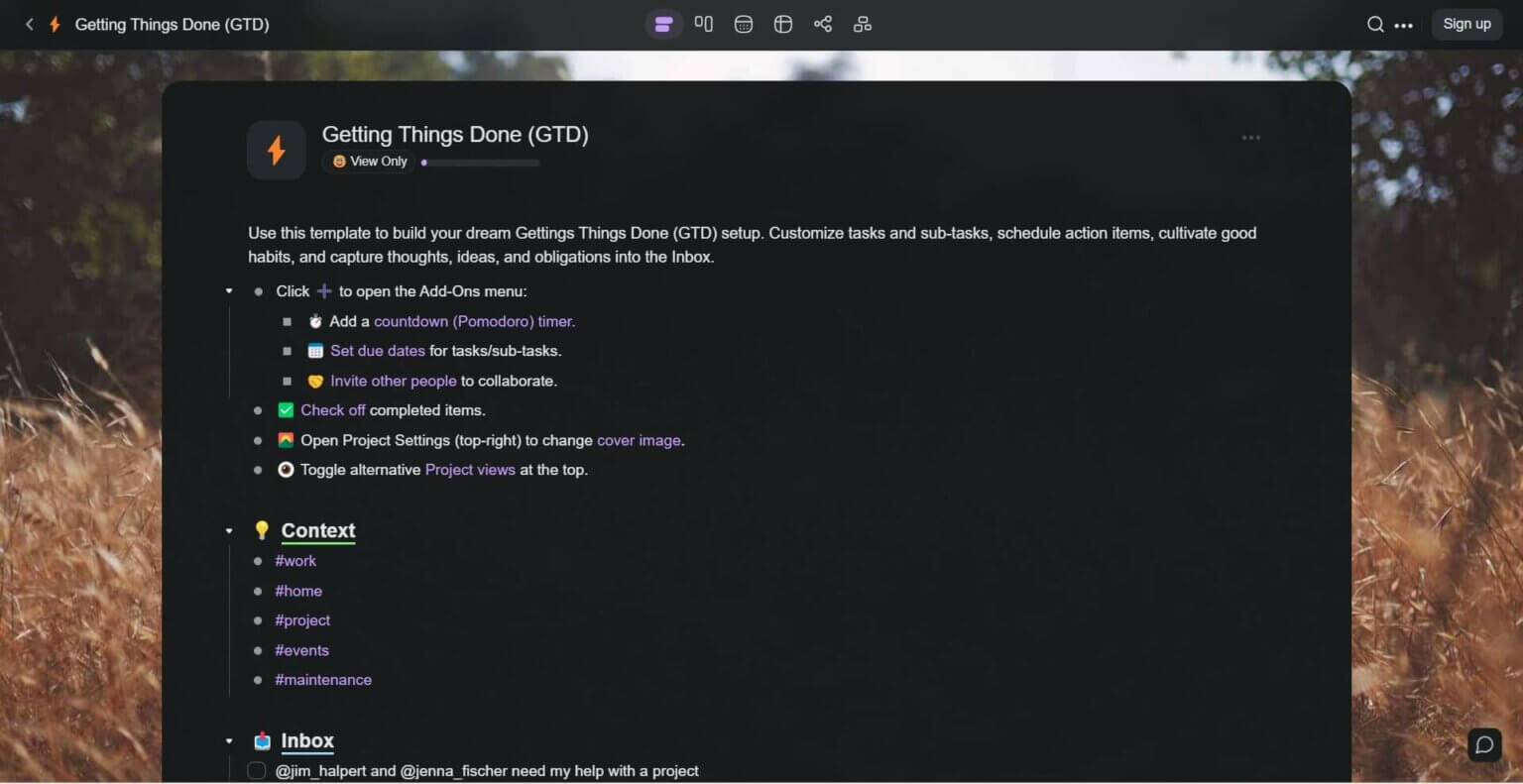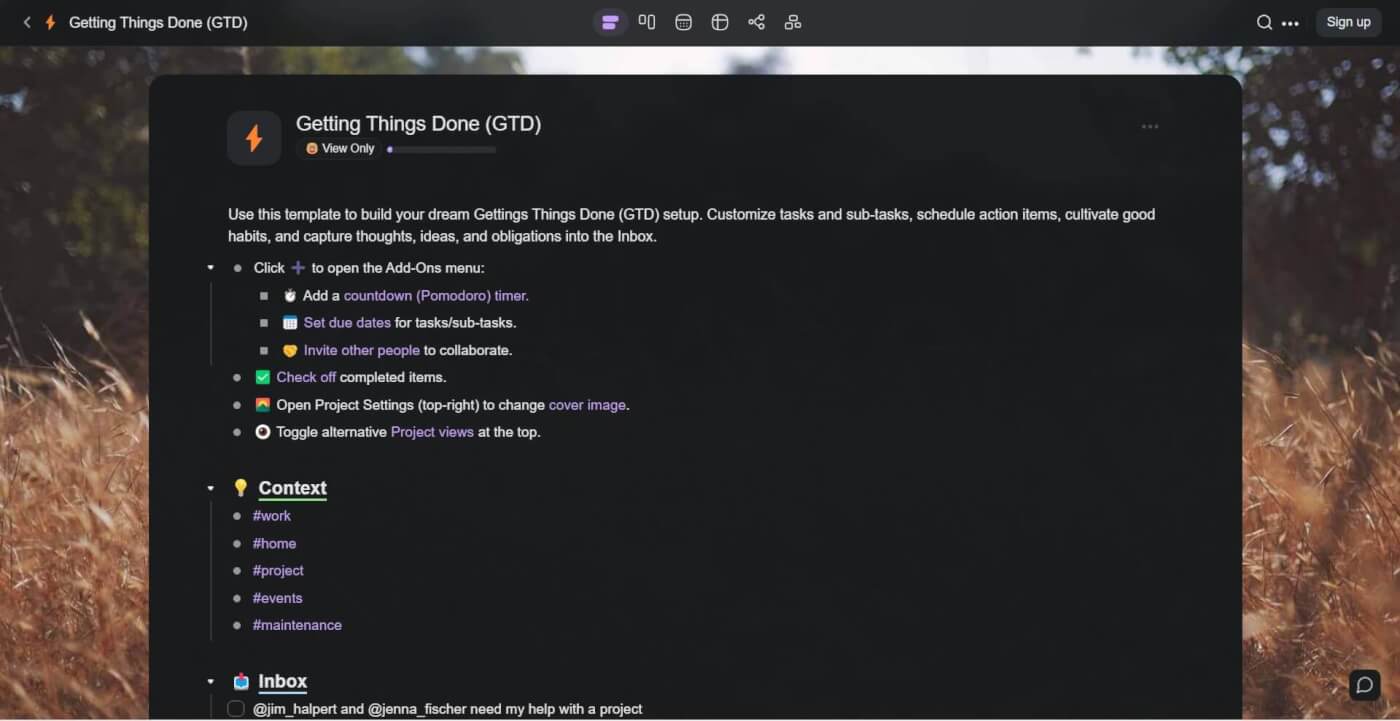 If you're familiar with Getting Things Done, you know that this is not just another to-do list template. GTD is the Swiss Army knife of productivity tools that will help you manage anything.
To overarching goal of GTD methodology is to create a complete system for managing personal and professional workflows so that you can free up your mental energy and get stuff done.
This free Getting Things Done template does just that. We've populated it with just enough ideas to help you get started. Customize the template and create your own GTD setup today.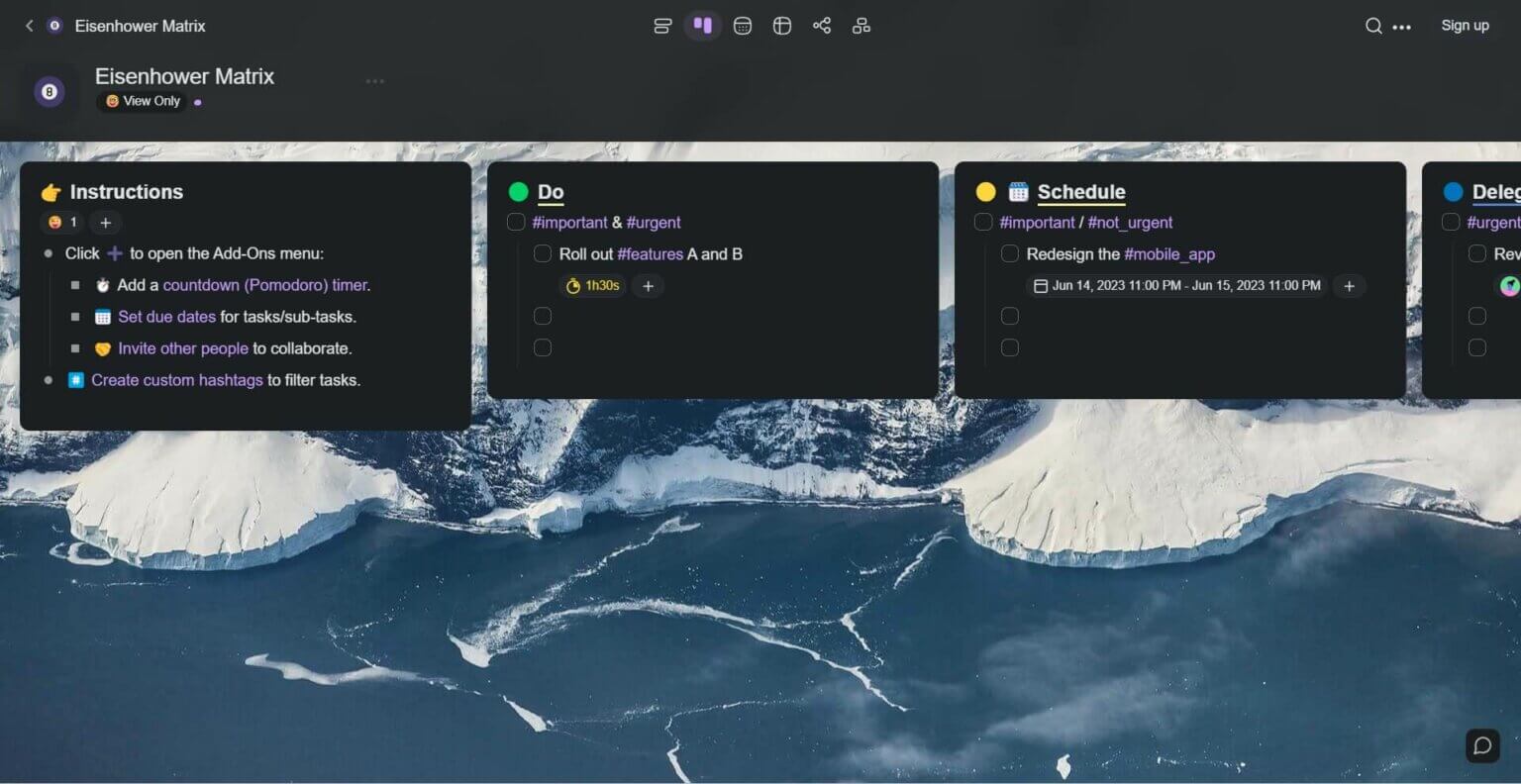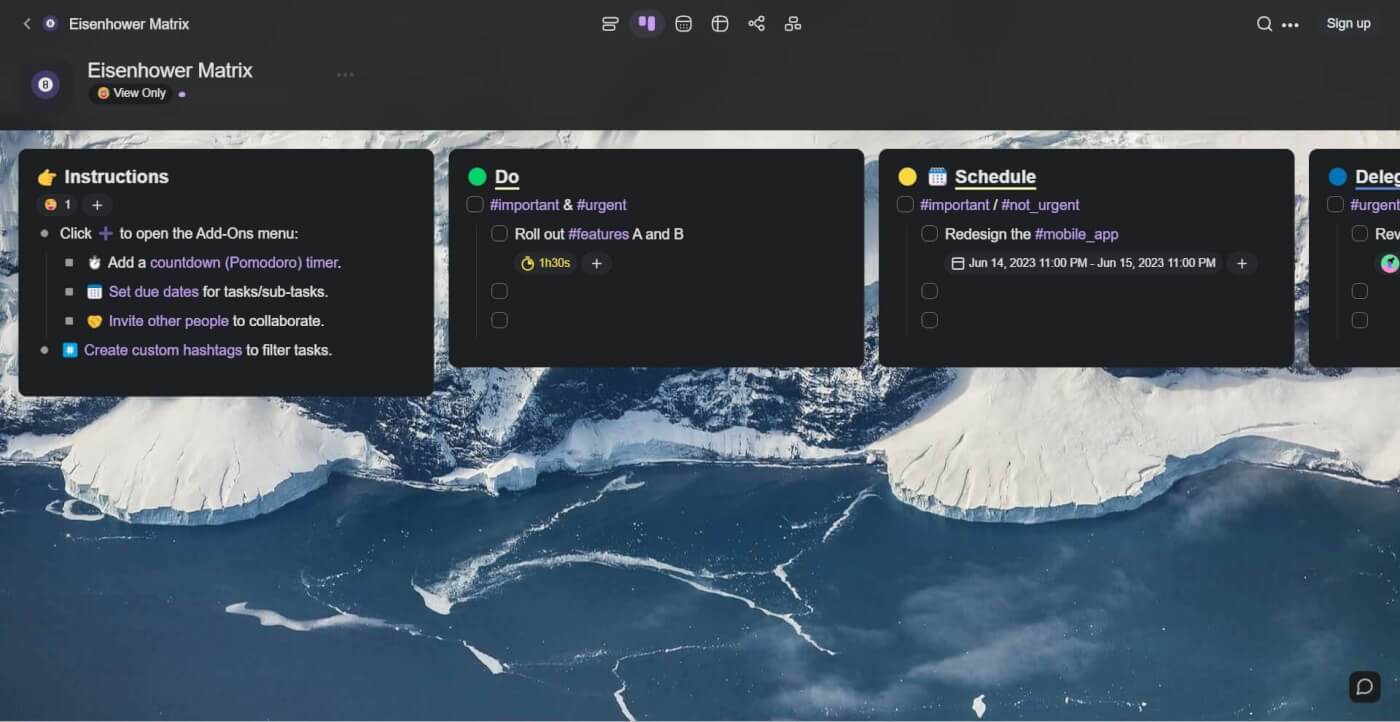 Do, Schedule, Delegate, Delete. If you can master these four quadrants of the Eisenhower Matrix, you're well on your way to achieving a presidential level of productivity.
Named after its creator, the Eisenhower Matrix was a productivity technique developed by Dwight D. Eisenhower, the 34th president of the United States to help him prioritize his tasks.
This free Eisenhower Matrix template includes everything you need to get started with this popular task management technique. Arrange your tasks based on priority, organize priorities using an intuitive drag-and-drop interface, and get work done alone or with your team!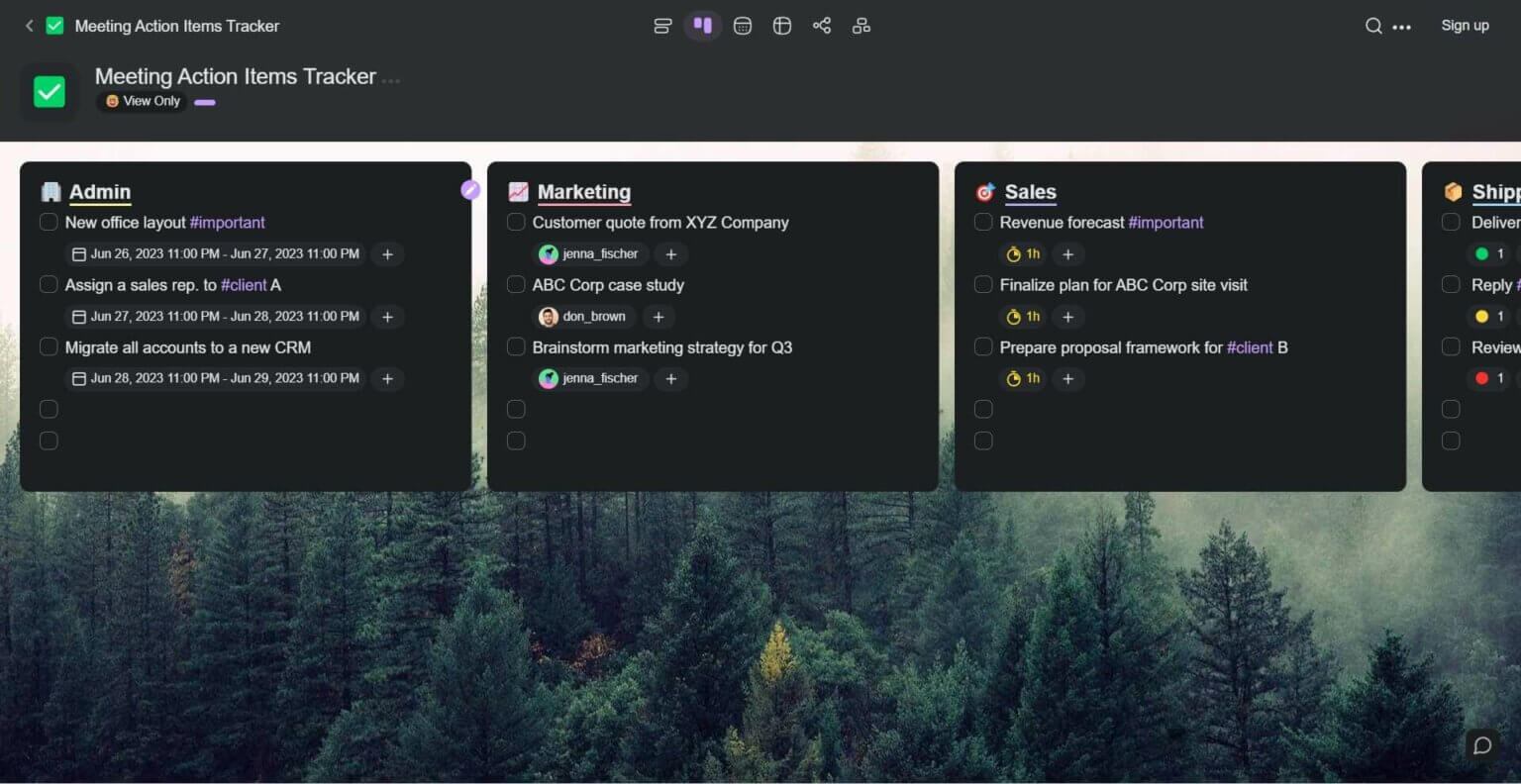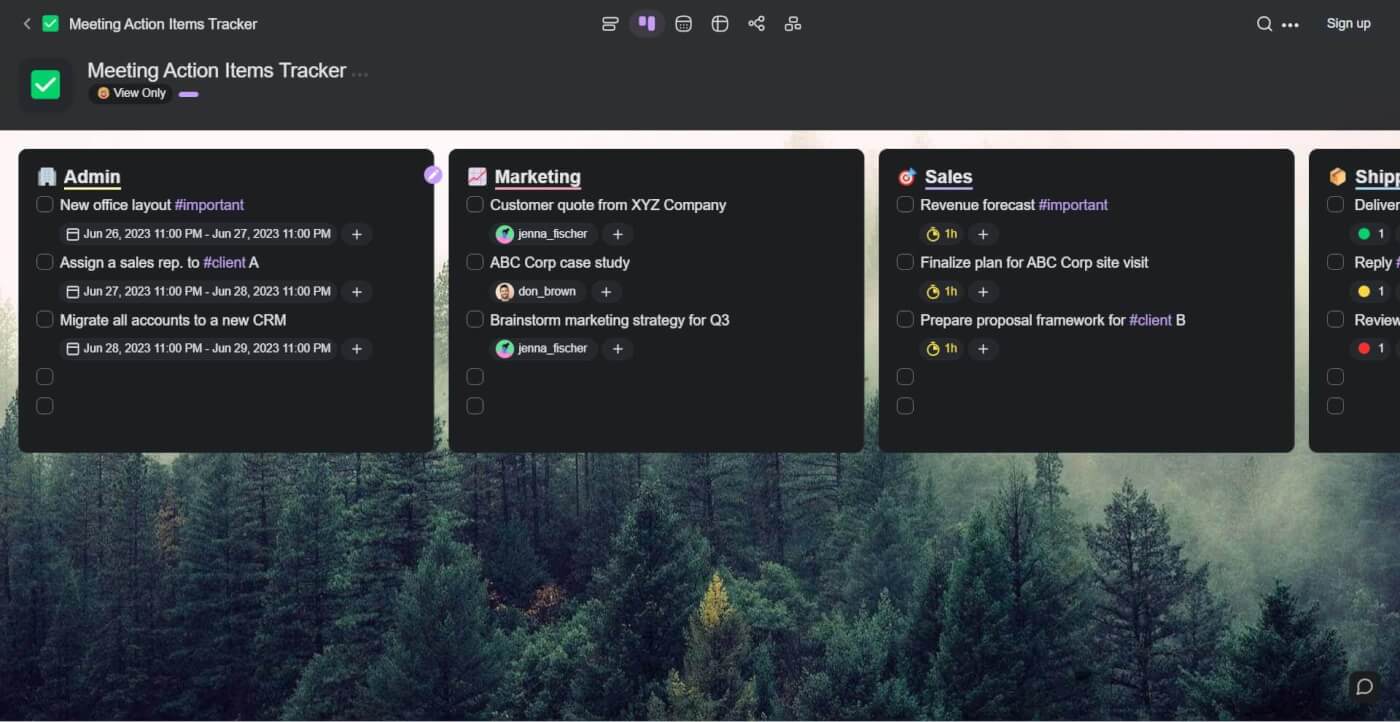 There's nothing more frustrating than an unproductive meeting. That's why we created this free meeting action items tracker template—to help you keep track of all action items in one place.
Why waste effort in trying to remember all of your assigned tasks when you can list them down here and free up some brain real estate?
Start by creating a list of action items and use the 🫂 Assign feature to distribute the workload among your team members. Just to make sure that everybody knows what to do next!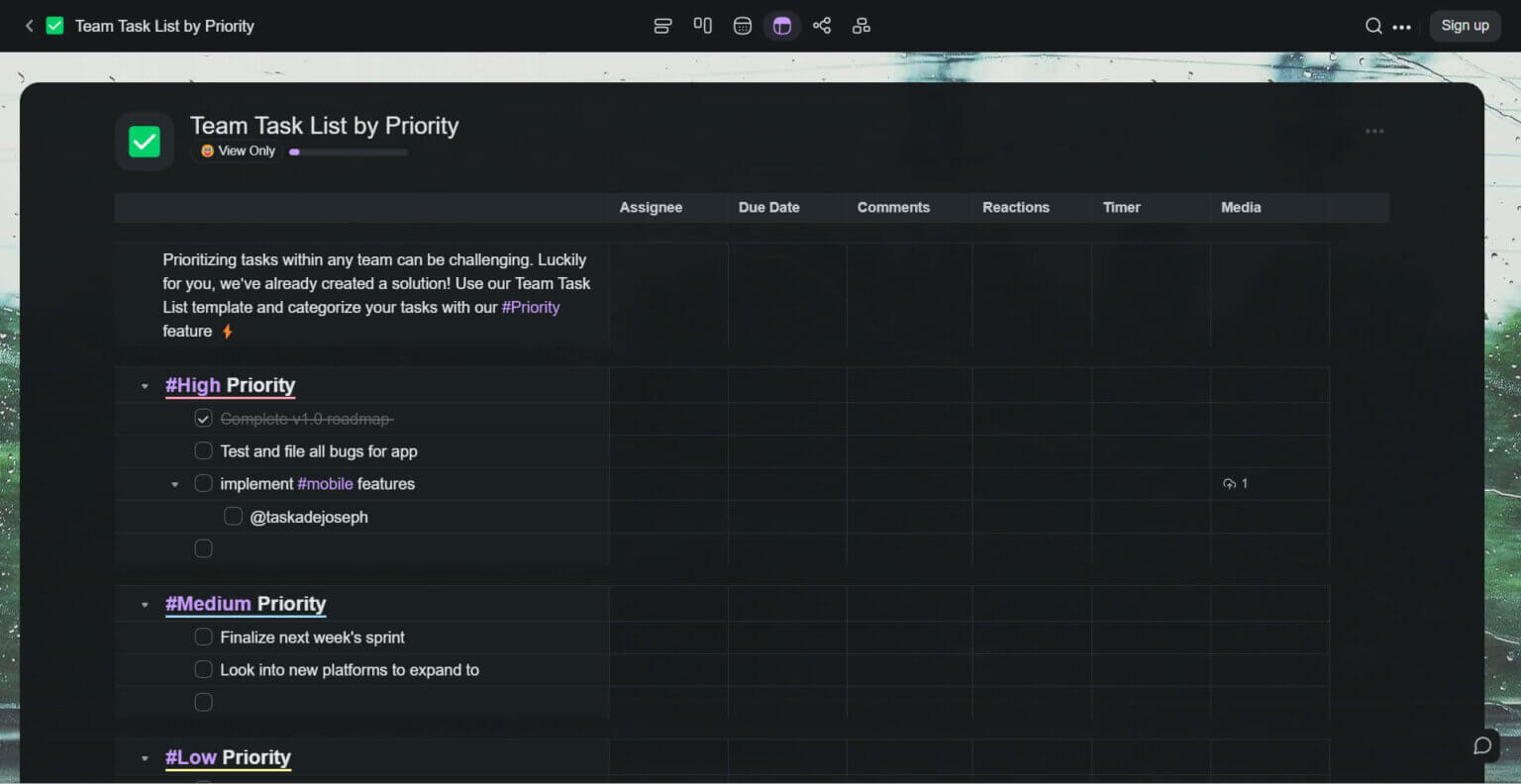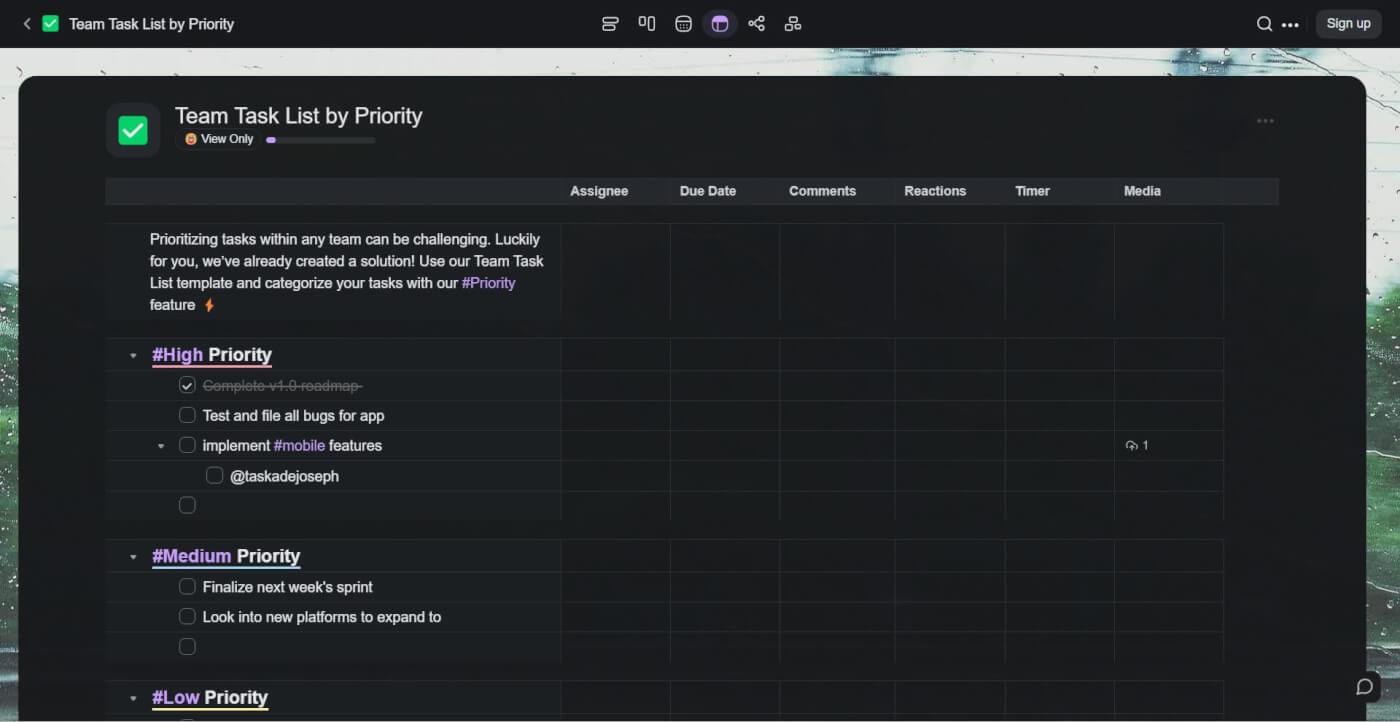 Looking for something to get your team back on track?
This free team task list template will help you manage your team's to-do list in the new, more powerful ⚡️ Action View. Action items now include additional information like assignees, due dates, comments, and attachments, all organized into customizable columns.
We divided the template into priorities—#high, #medium, #low—so you can quickly organize tasks based on their importance. Customize the columns, invite your team, and get work done!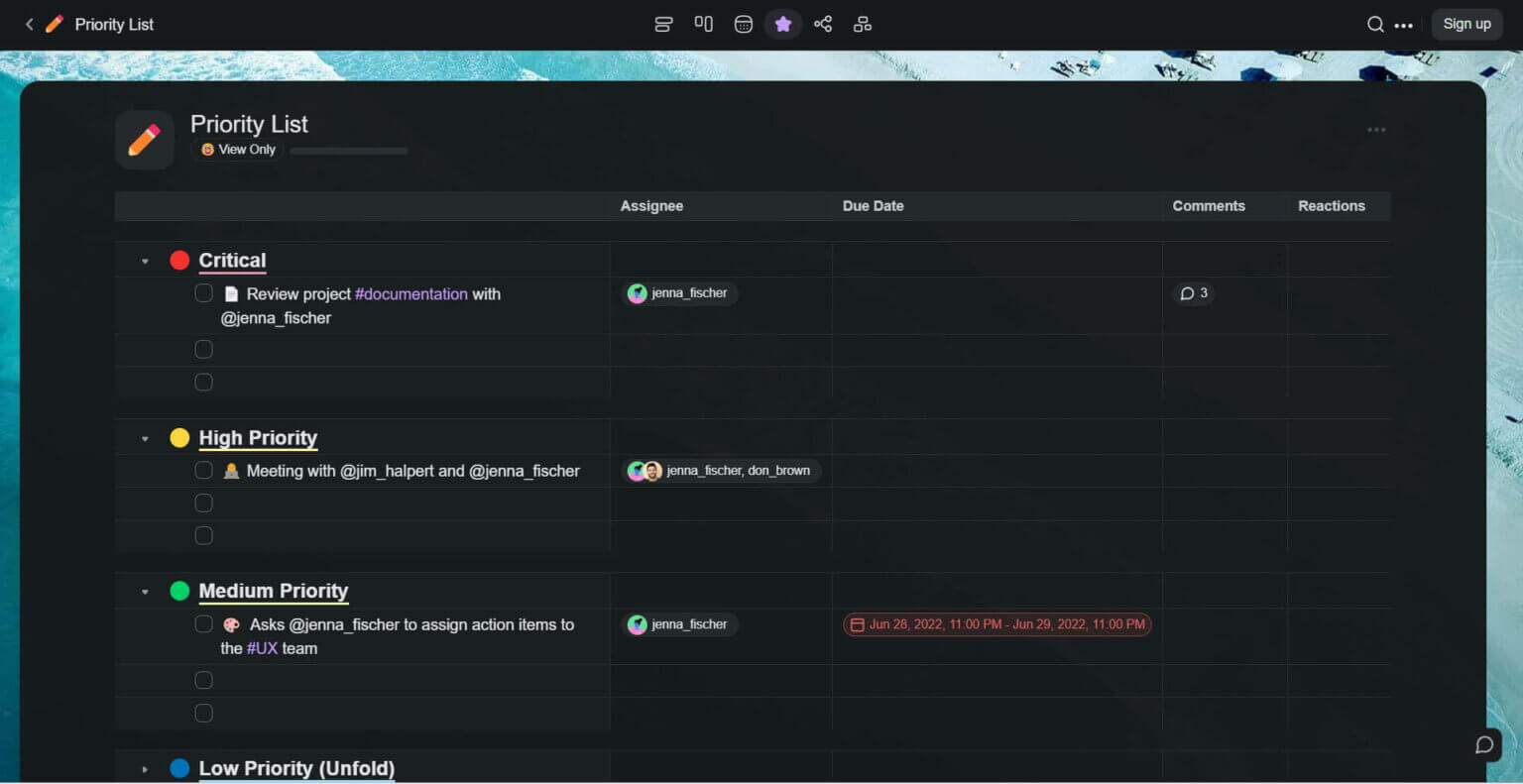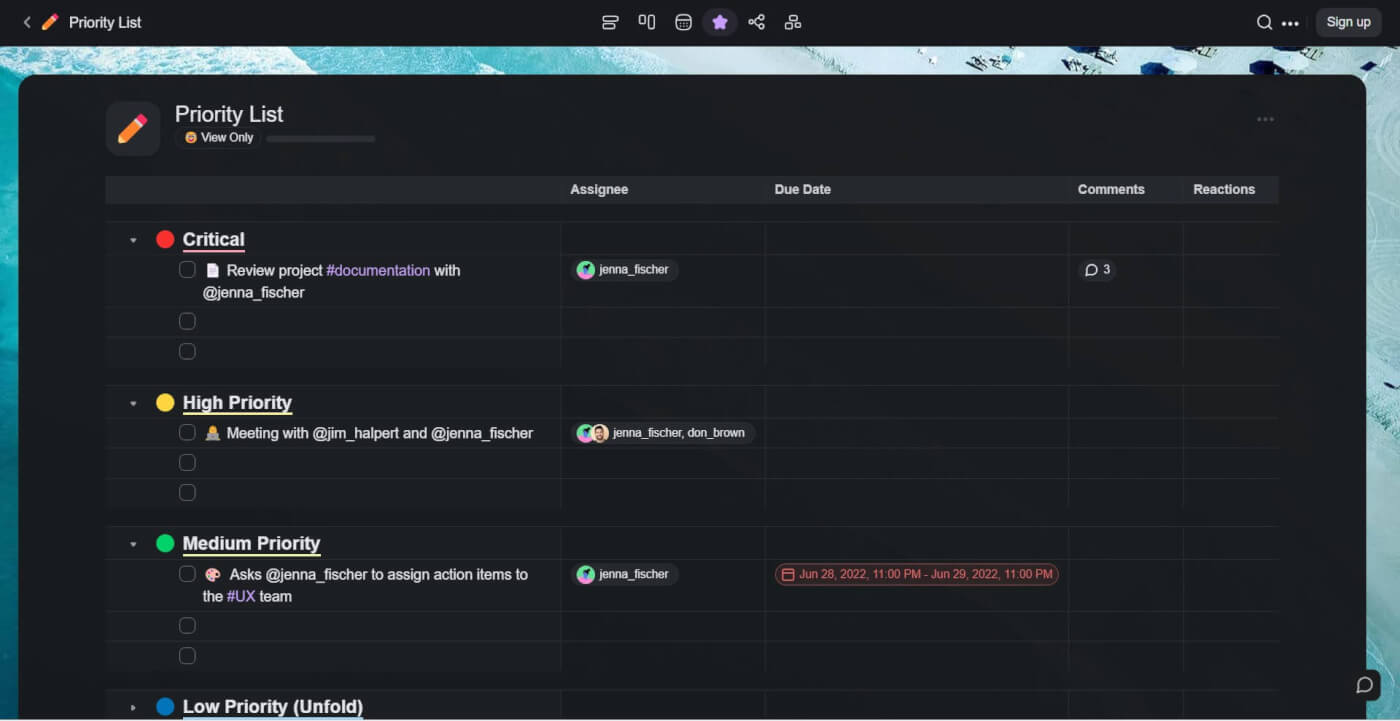 If your to-do list is filling up faster than you can clear it, it's time to go back to the drawing board. This free priority list template will help you prioritize and focus on the tasks that really matter.
Instead of mixing all your to-dos, try to organize them based on their priority level. This will help you manage your time more effectively and make your workflow much leaner.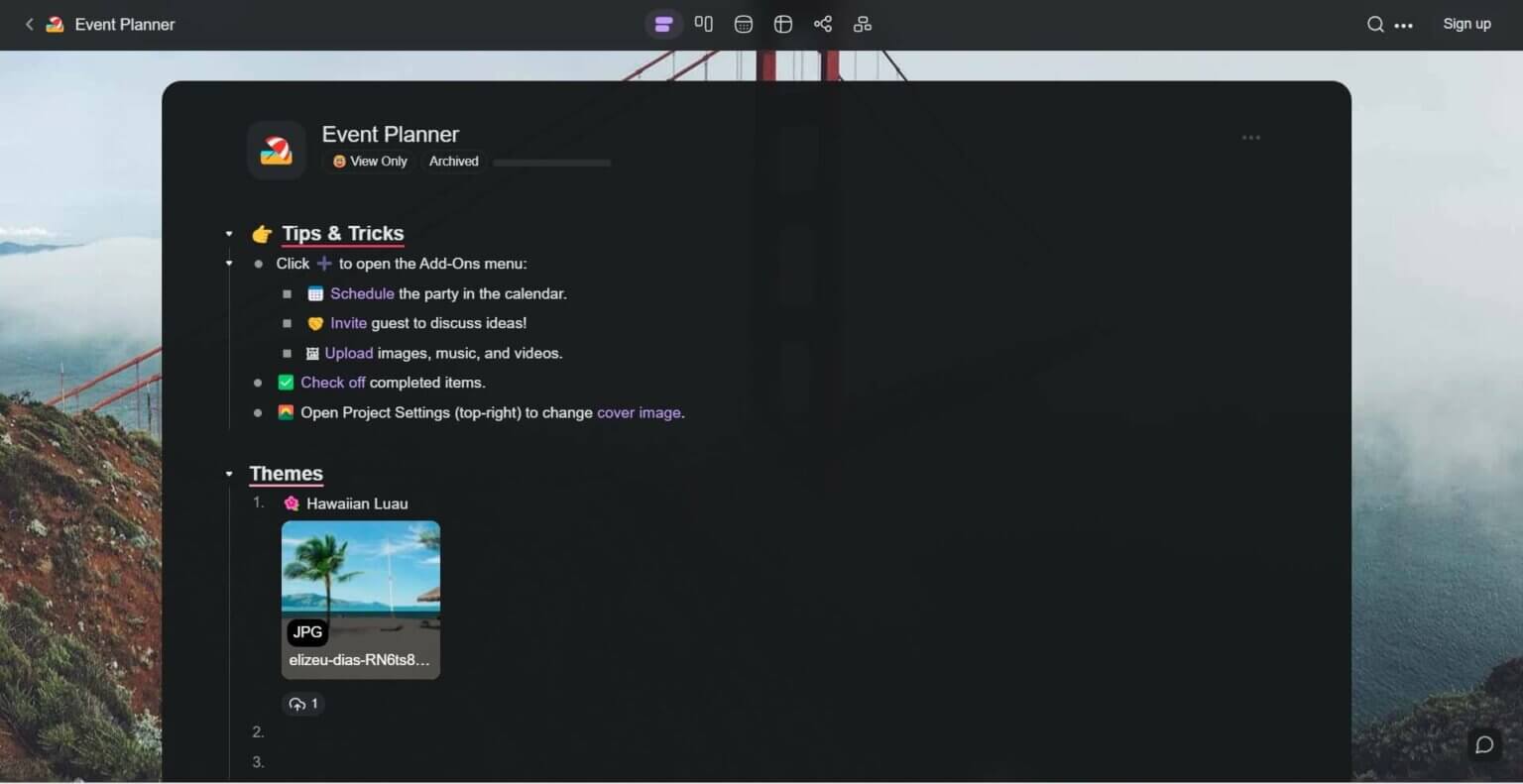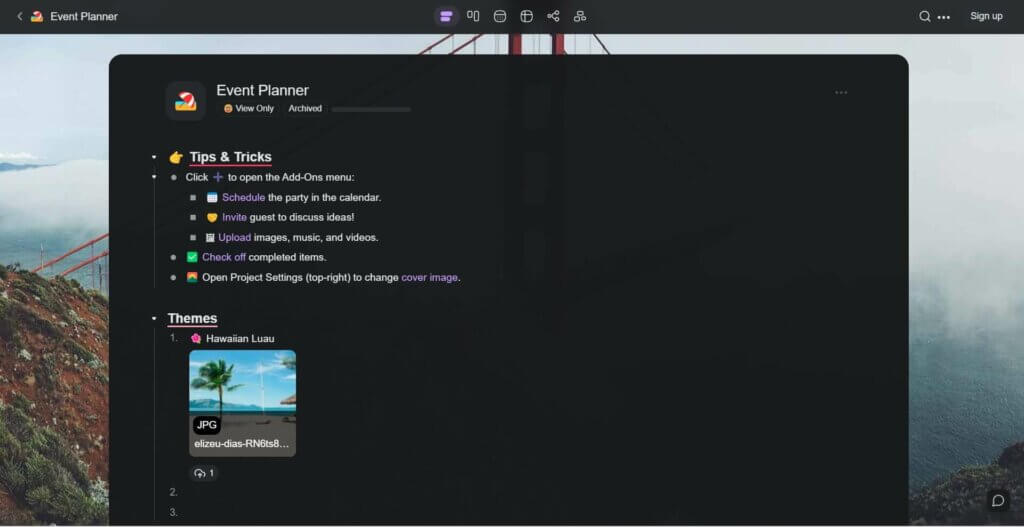 Planning an event? Don't worry. Although there are multiple facets to consider when planning an event, it really isn't as complicated as it seems to be.
Much like any other project, planning an event is easier if you break it down into smaller and more actionable steps, and that's exactly what we've done in this free template.
Our event planner includes everything you need to organize an event, starting from potential locations and the guest list to decorations and activities.
👋 Parting Words
Our to-do list templates can help you improve productivity and time management. Choose your favorite from this curated list and follow these simple steps to get started:
Click "Use Template" to create a project instantly in your workspace.
Click "Save Template" to create a reusable template for you and your team.
Customize your project, make it your own, and get work done!
Have fun! 🥳