Task management is a skill that can help you to improve your daily productivity. The demands of the modern-day workplace require you to have some sort of system to manage your tasks.
Task management software can help you take task management to the next level. In this article, we'll go through some of the best task management tools out there in the market today.
What is Task Management?
The process of task management involves managing your task from start to completion. Typically, this process involves listing down your tasks, setting due dates, assigning them, and then checking them off when done.
Learning to manage tasks is one of the most important tenets of personal productivity. By listing down tasks, you're better able to prioritize your daily activities to ensure that you don't miss out on any important tasks.
In essence, Task management is a very simple concept to master; list down tasks in order of importance and work on them. But, the most important and arguably toughest part to nail is actually making it into a daily habit.
After all, in the pursuit of better overall productivity, consistency is key.
Today, there are task management tools out there that can help you take your task management skill to the next level. What exactly are the benefits of using task management software?
Benefits of Using Task Management Software
Using Task management software helps you to organize, track, and check tasks so that you can improve your personal productivity. Sure, pen and paper work too, but the benefits of using a task management tool far outweigh the traditional method.
Additionally, modern Task management software also makes it possible for teams to track team tasks and collaborate better with each other.
Here are some of the benefits of using Task management software:
Improves your productivity
Task management software without a doubt improves your productivity if you use it correctly. It helps you get organized and ensures that you stay on top of your daily tasks.
By listing down your tasks on task management software, you're freeing up brain power to focus on other tasks. The lesser things you have to remember, the more opportunity you have to think about the next big idea.
With software, you'll be able to move tasks around in order of priority and assign due dates and reminders to make sure that you're always on schedule.
What's more, if you're religiously using task management software to manage your daily tasks, Taskade's calendar view can help you amp up your productivity levels.
A calendar view helps you to get a bird's eye view of all the tasks you have for the month. This lets you anticipate upcoming busy periods so that you can better prepare yourself.
Digitizes your routine
There's a certain charm with using pen and paper, but the traditional method of note-taking takes up more space over time.
Going digital helps you save space. Regardless of how many notes and tasks you write down, you will never be short of physical storage space.
Additionally, modern task management tools such as Taskade allow you to find tasks and specific notes with the search function. Flipping through notebooks to look for a specific task you completed in the past? Never again.
In fact, it is simpler for you to track tasks and get work done on a single device instead of constantly going back and forth between paper and laptop/desktop.
Supports remote team collaboration
Today, the majority of workplaces have gone fully or partly remote. This means that modern teams have had to quickly adapt and learn to collaborate online.
Furthermore, remote work has opened up the notion of working with people from various time zones. To make this work efficiently, you'll need to make sure that communication with your team is on point.
A task management tool allows you to assign tasks and due dates, and add notes to tasks. This reduces the need for constant back-and-forth communication with your distributed team.
Not only does this help you communicate better, but it also helps align everyone on your project deliverables so that everything is delivered on schedule.
Before we dive into the best task management software, check out our article on the best project management tools if you're looking for software that can handle the demands of project management.
The 14 Best Task Management Software and Tools
Imagine an application that allows you to take detailed notes with infinite hierarchies, organize and manage projects and tasks, and even collaborate via built-in video chat with your team, and more, via an all-in-one unified workspace. Well, look no further because Taskade is the perfect solution for you.
Taskade is a Y Combinator-backed supercharged online productivity app that both individuals and teams can use to collaborate on projects in real-time. With Taskade, remote teams and individuals can get work done faster and smarter.
Automate repetitive workflows, Get a headstart on your projects and find a suitable structure for your notes via Taskade's versatile collection of templates. Simply choose from a wide variety of templates and add them to your projects to get started instantly!
Looking for the best obsidian alternative? Taskade is the best bet for modern knowledge workers. Get started instantly for free today.
Key Features of Taskade
Project Views. Visualize your projects in several different ways. Cycle between the List, Mind Map, Org Chart, and Board views to work the way you want.


List View. This is the default view on Taskade. Create new lists here.
Board View. This view lets you work horizontally like a Kanban board. Visualize your workflow and tasks in this full-width view.
Mind Map View. This view lets you work in a horizontal tree-structured manner and map out what you have in mind.
Action View. Work in table view and stay organized with your task due dates, and more.
Org Chart View. Break down larger tasks into smaller ones to help you get things done.
Cloud File Upload. Share files directly from Google Drive, Dropbox, Instagram, and Box in your projects with our integrations.
Breakdown Larger Tasks. Organize your thoughts with Taskade's unlimited hierarchy to break down large projects into tasks.
Quick Search. Use CMD / CTRL + K to jump between any projects within Taskade web and apps.
For an exhaustive list of Taskade's features, click here.
What Are Some Pros Of Taskade?
Free-forever plan is loaded with features
Real-time collaboration within the same project
Free built-in video call and chat function in each project
Customizable templates to give you a headstart
Work and chat in the same window, in the same app
Frequent updates based on user feedback and suggestions
Tabbed workflow for working with multiple Projects
What Are Some Cons Of Taskade?
How Much Does Taskade Cost?
Taskade Free Plan
Unlimited Tasks & Projects
Unlimited Members & Guests
Unlimited Folders & Teams
Templates, Calendar, Repeat Tasks
Real-time Collaboration
Built-in Free Chat and Video Call
Taskade Unlimited Plan – Starts from $5/month
Everything in Free, plus:
Version History
Advanced Permission
Cloud Upload Integration
2-Way Calendar Integration
Todoist is a task management software that was founded by Amir Salihefendic in 2007. Todoist aims to help people stay on top of their tasks by organizing them via a simple task management system.
Task and Project Management in Todoist
Lightweight and simple to use
Breaking down tasks into subtasks
Breaking down projects into sub-projects
Assigning tasks and due dates
Color-coding tasks
Recurring tasks
Kanban board view
How Much Does Todoist Cost? (Click for more)
🟢 Todoist Free Plan
The Free Plan is for you if you're a beginner when it comes to task management. It comes with a limit of 5 projects, a 5MB file upload limit, and up to 5 collaborators on your project. The Free Plan will also keep your activity history up to a week.
There are a few features missing from the Free Plan, but it should suffice if you're using Todoist for simple tasks such as a personal to-do list.
🔵 Todoist Pro Plan
If you're looking to use Todoist to organize heavier projects, the Pro Plan will unlock more features to help with your productivity. You will get access to templates, reports on your productivity, and an activity log to view the activities on your account.
The Todoist Pro Plan starts at $3 per month for each user.
🟣 Todoist Business Plan
If you intend to use Todoist for your Business, the Business Plan allows each user to have up to 500 projects with 300 active tasks per project. It also opens up collaboration of up to 50 people per project.
Todoist's Business Plan starts at $5 per month for each user.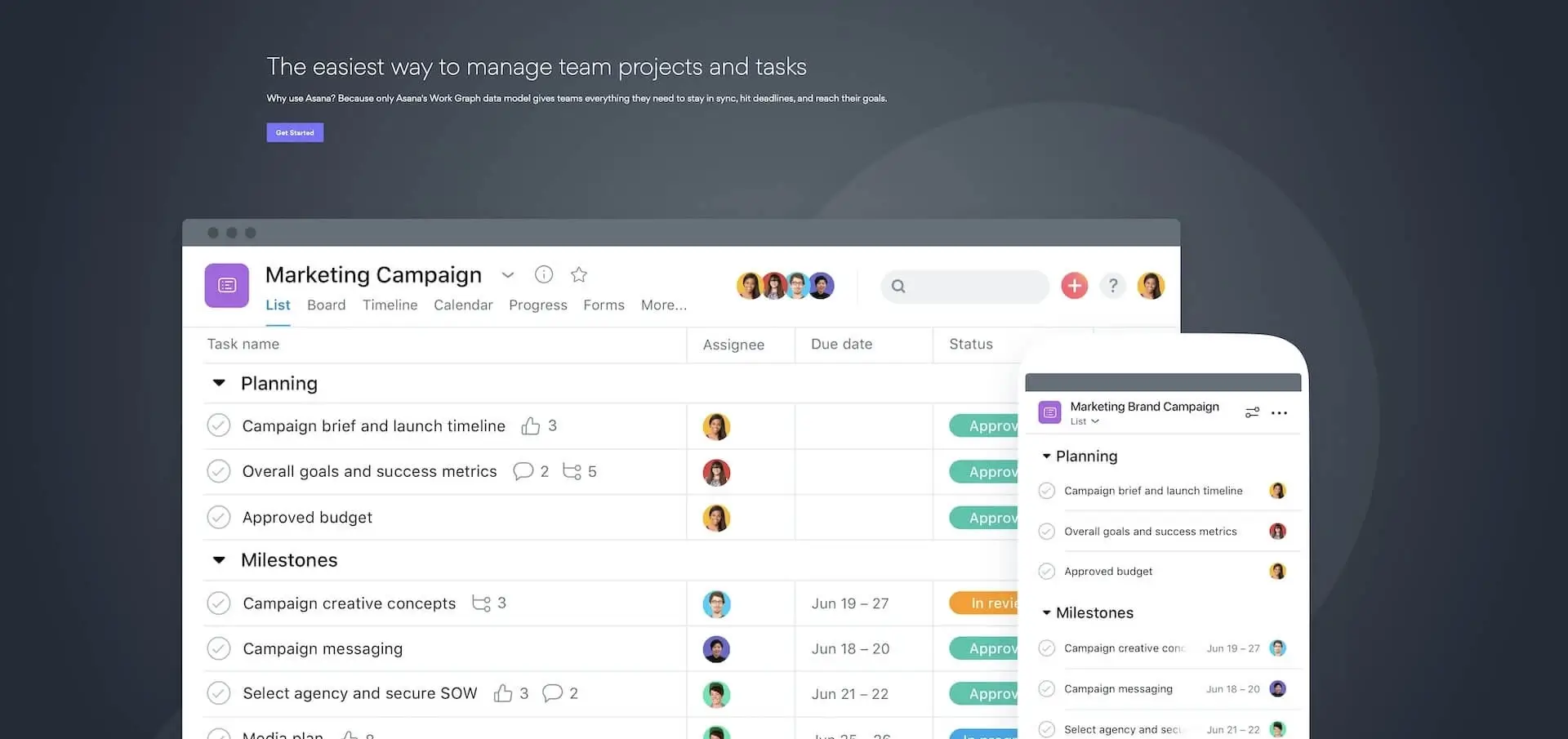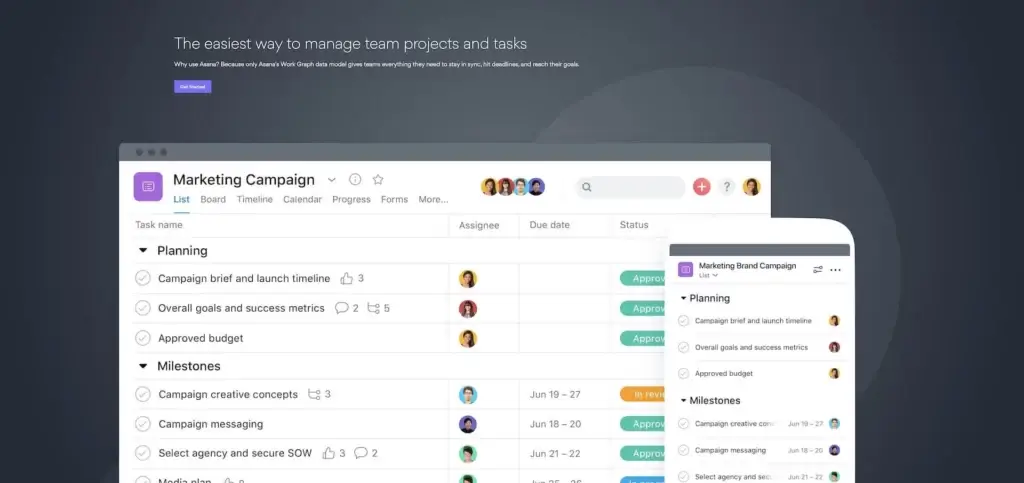 Launched in 2008, Asana offers advanced features that support collaborative task and project management. Its features include everything from flexible workflows through work automation to real-time reporting, making it quite a reliable project management tool.
Task and Project Management in Asana
List, Board, Timeline, Calendar, Progress, and Forms views
Projects organized into tasks, subtasks, and milestones
Document sharing, automation, and approvals
Custom templates, project export, and integrations
Workload tracking, team management, and private messages
How Much Does Asana Cost?
🟢 Basic (free)
Unlimited tasks, projects, and storage (up to 100MB per file)
Activity log, up to 15 collaborators, 100+ integrations
List, Board, and Calendar views
🔵 Premium ($10.99/user per month billed annually)
Everything in the Basic plan +
Unlimited dashboards and guests
Custom fields, private projects, and admin console
🟣 Business ($24.99/user per month billed annually)
Everything in the Premium plan +
Custom rules, customization, advanced integrations
And more…
🟡 Enterprise (custom)
Everything in the Business plan +
Advanced security and priority support
Custom branding options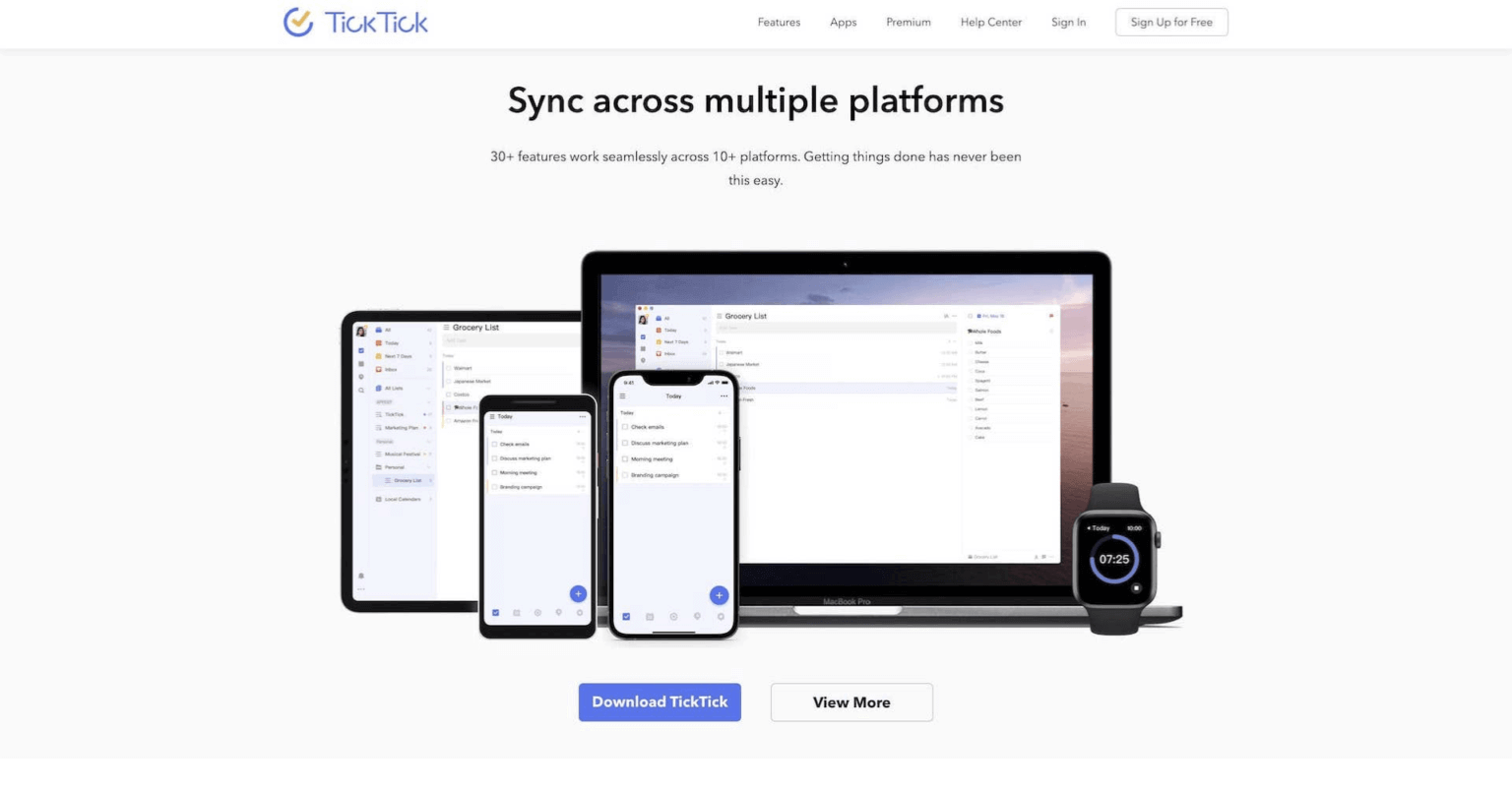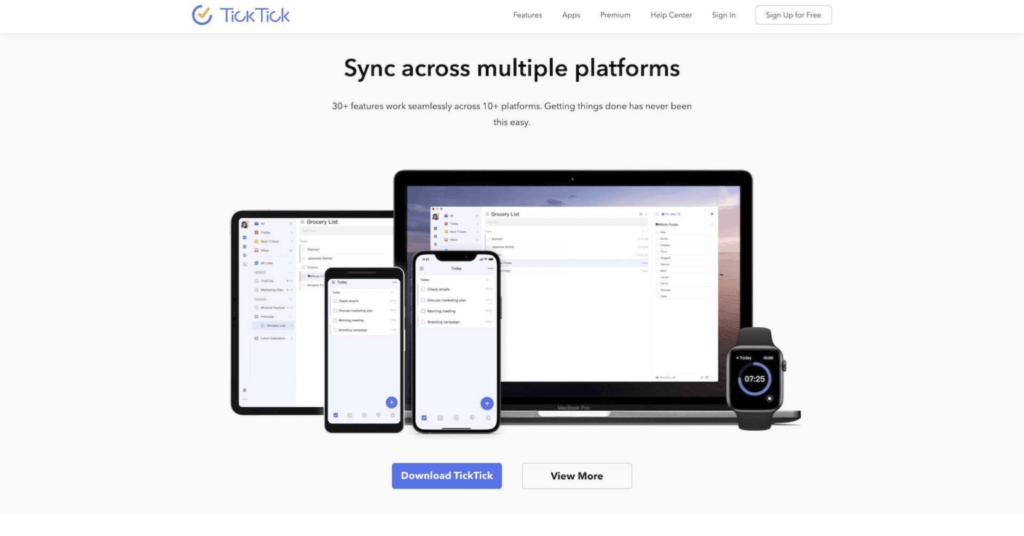 TickTick is a task management tool that was founded by Appest Inc in 2013. It was then created based on GTasks with added features to help with productivity such as cross-platform synchronization.
Task and Project Management in TickTick
Sharing lists and assigning tasks
Task duration and recurring events
Task and location reminders
Task prioritization settings
Calendar view and integrations
How Much Does TickTick Cost?
🟢 Free
Limited to 9 lists
99 tasks/19 sub-tasks per list
2 reminders per task
1 attachment/day
2 list members
List/task activities
Advanced search
🔵 Premium ($27.99/2.79 billed annually/monthly)
Up to 299 lists
999 tasks/199 sub-tasks per list
5 reminders per task
99 attachment/day
30 members per list
Calendar, Timeline, and Grid views
Task duration, custom smart lists
Premium themes and integrations
OmniPlan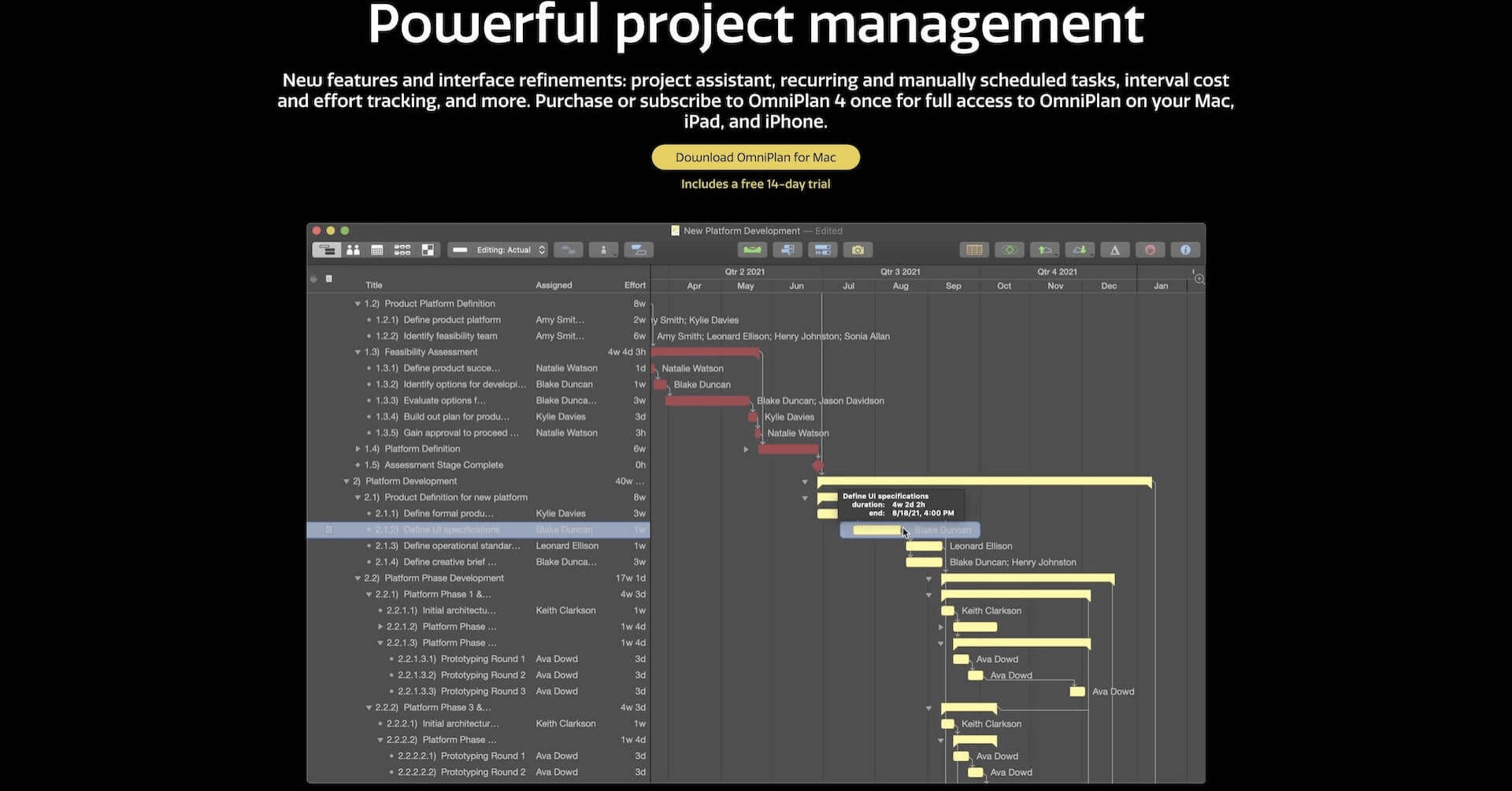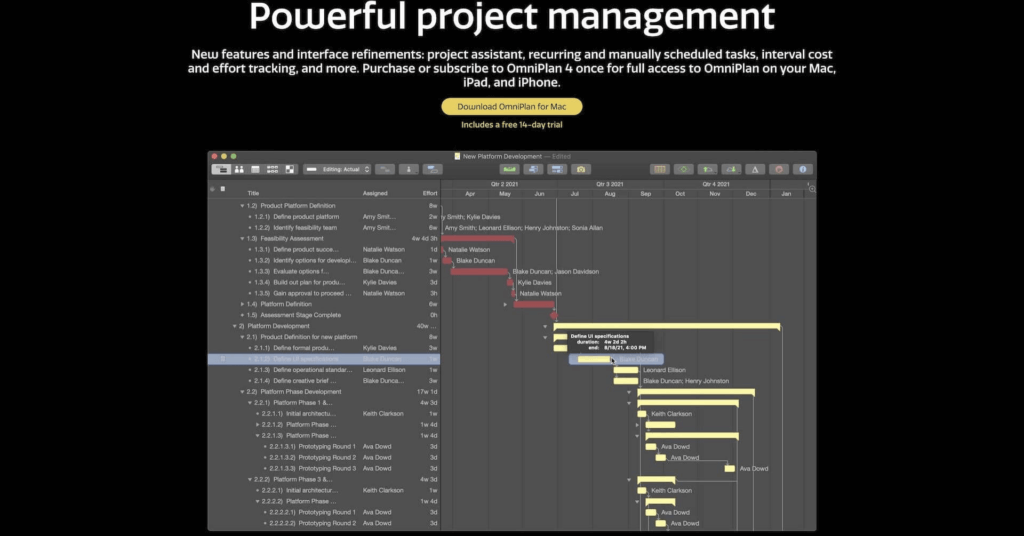 OmniPlan is a dedicated project management and collaborative tool from the creators of OmniOutliner and OmniFocus.
It has advanced features that can help you manage complex projects. But this also means that it might be overkill if you're looking for a simple task management app to track daily tasks.
Task and Project Management in OmniPlan
Task dependencies
Change tracking and reporting
Multi-project dashboard
Customizable work calendar
Recurring tasks and due dates
Import/export and project assistant
Project Outline, Resource View, and Gantt charts
How Much Does OmniPlan Cost?
🟢 OmniPlan Subscription ($19.99 monthly or $199.00 yearly)
Collaboration features
Gantt/Timeline/Outline views
Progress/project tracking
Resource management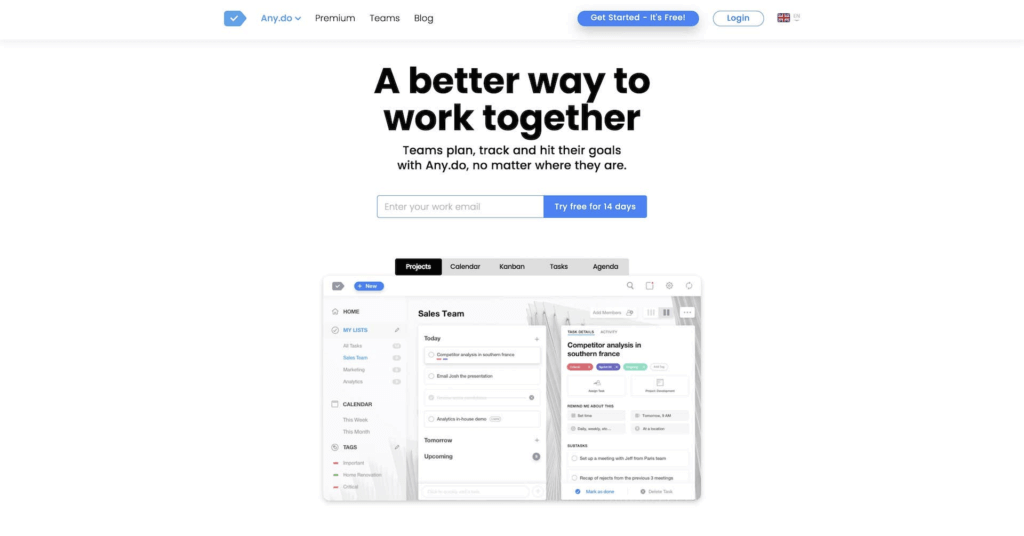 Any.do is a task management tool that was founded in 2011 by Omer Perchik, Yoni Lindenfeld, and Itay Kahana.
On Any.do, users can manage their tasks by creating to-do lists and breaking down larger tasks into smaller subtasks.
Task and Project Management in Any.do
Recurring reminders
Any.do Moment view
Calendar, Kanban, and Agenda
Chat and notifications
List and file sharing
Color-coded tags
Integrations with Zapier and WhatsApp
Reminders and event notifications
How Much Does Any.do Cost?
🟢 Teams Plan ($4.99 per user per month)
Access to Any.do Premium features
Advanced list sharing
Activity Tab and integrations
User roles for shared items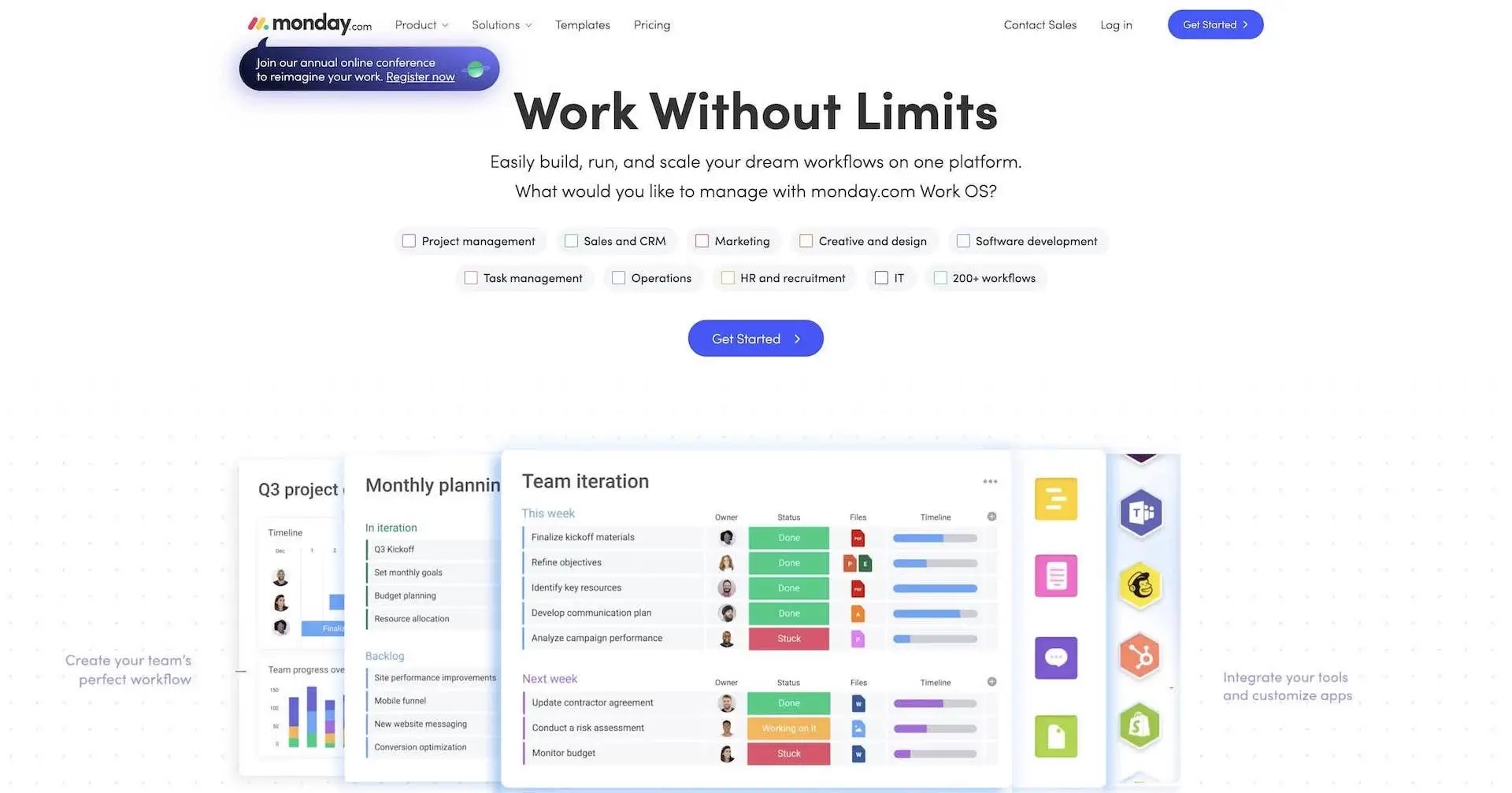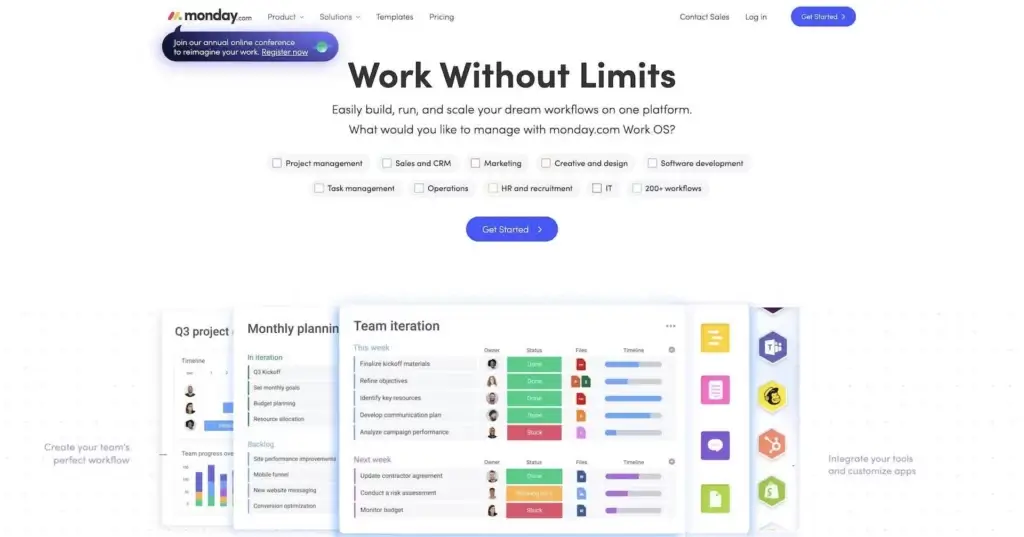 Monday.com is a complete package for advanced task and project management. Apart from its core task list functionality, Monday offers advanced automation and integrations as well as communication, planning, and collaboration tools for all types of projects.
Monday can be used both as a project management software and a to-do list app to help you with your ongoing tasks.
Task and Project Management on Monday
Flexible workflows
Assign tasks
200+ templates
30+ customizable column types
Drag-and-drop navigation
Data visualization tools
Desktop and mobile apps
Automation features
40+ integrations
How Much Does Monday Cost?
🟢 Free/Individual
Up to 2 team members
Unlimited boards
200+ templates
Over 20 column styles
🔵 Basic ($8 per user/month billed annually)
Everything in the Individual plan +
Unlimited viewers
5 GB for file storage
Priority support
Dashboard based on 1 board
🟣 Standard ($10 per user/month billed annually)
Everything in the Basic plan +
Timeline, Calendar, and Gantt views
250 automations/actions per month
250 integrations/actions per month
Dashboard based on 5 boards
🟡 Pro ($16 per user/month billed annually)
Everything in the Standard plan +
Private boards, Chart view, and time tracking
Formula/dependency columns
25,000 automations/integrations per month
Dashboard based on 10 boards
🟤 Enterprise (custom)
Enterprise automations/integrations
Security and governance
Reporting, analytics, and permissions
Custom onboarding and premium support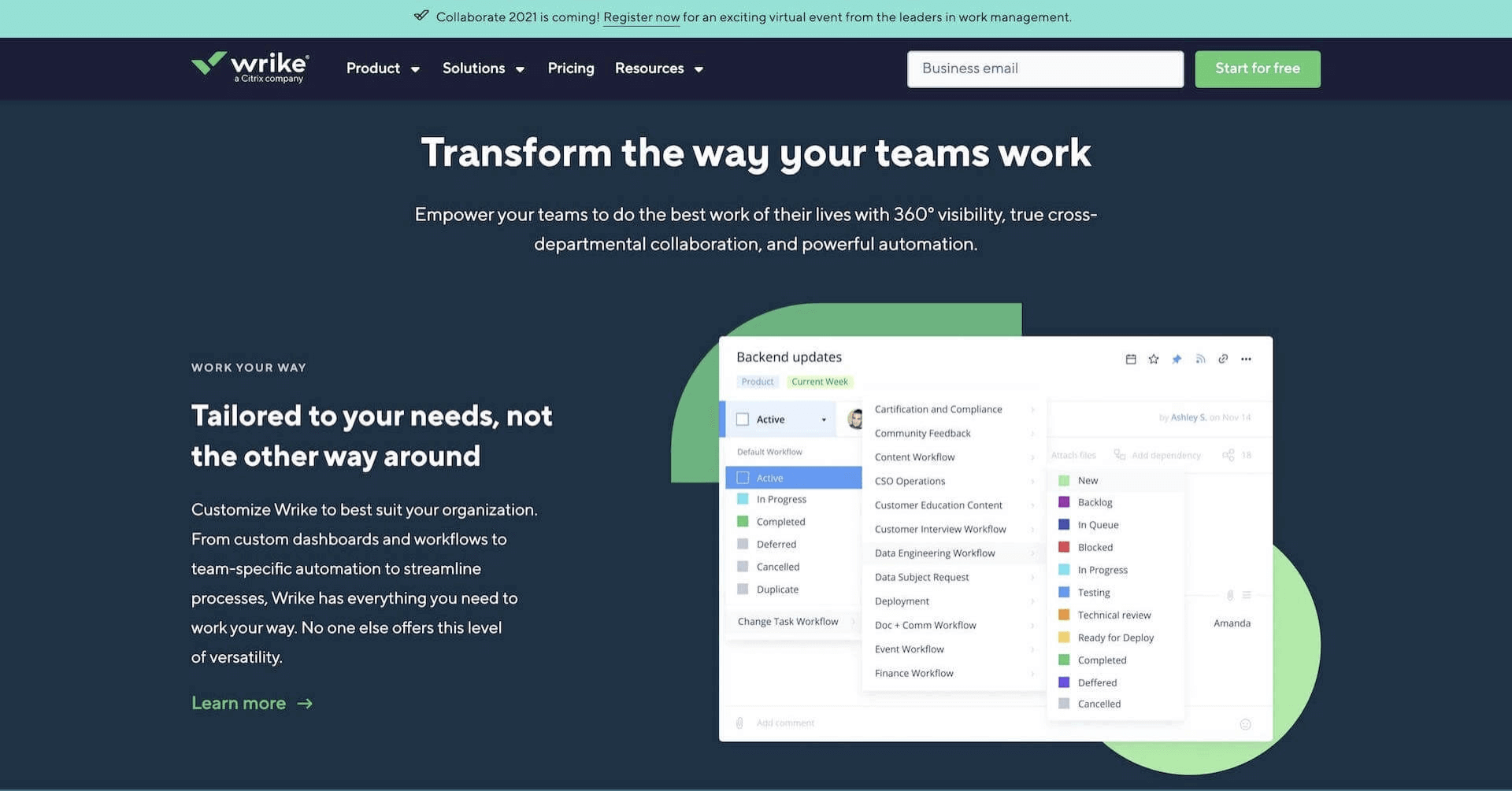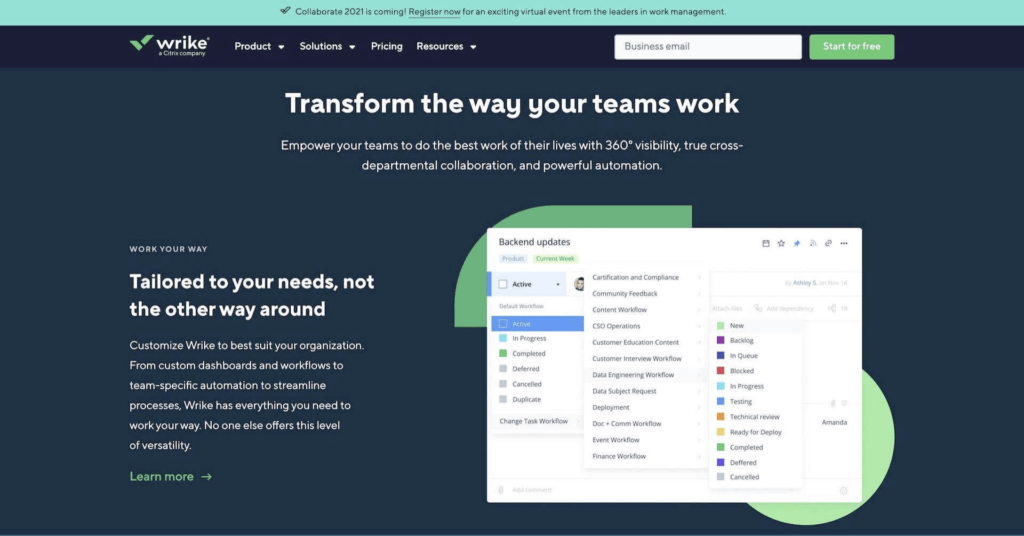 Wrike is an enterprise-grade project management tool and collaborative software. The platform can handle anything from simple lists to automated workflows and AI-backed data insights.
Wrike is a solid choice for large organizations, and may be overkill if you're looking to manage simple daily tasks.
Task and Project Management In Wrike
Due dates and prioritization
Assigning and tracking tasks
Drag-and-drop navigation
Time and progress tracking
Customizable workflows
Templates, forms, and automations
Gantt charts and Kanban boards
Analytics and integrations
How much does Wrike cost?
🟢 Free
Unlimited team members
Task/sub-task organization
Board and spreadsheet views
Cloud storage integrations
Limited active tasks
2GB of storage space per account
🔵 Professional ($9.80/month per user)
Everything in the Free plan +
5-200 team members
Dashboard sharing
Gantt charts
1-2GB of storage per user
Additional integrations
🟣 Business ($24.80/month per user)
Everything in the Professional plan +
Custom fields and workflows
Workspace branding
200 automations/actions per month
Project approvals and real-time reporting
Request forms and calendars
Time tracking and spreadsheets
🟡 Enterprise (custom)
Single Sign-On (SSO) + 2FA
Password policies
Custom roles and permissions
1000 automations/actions per month
10GB storage per user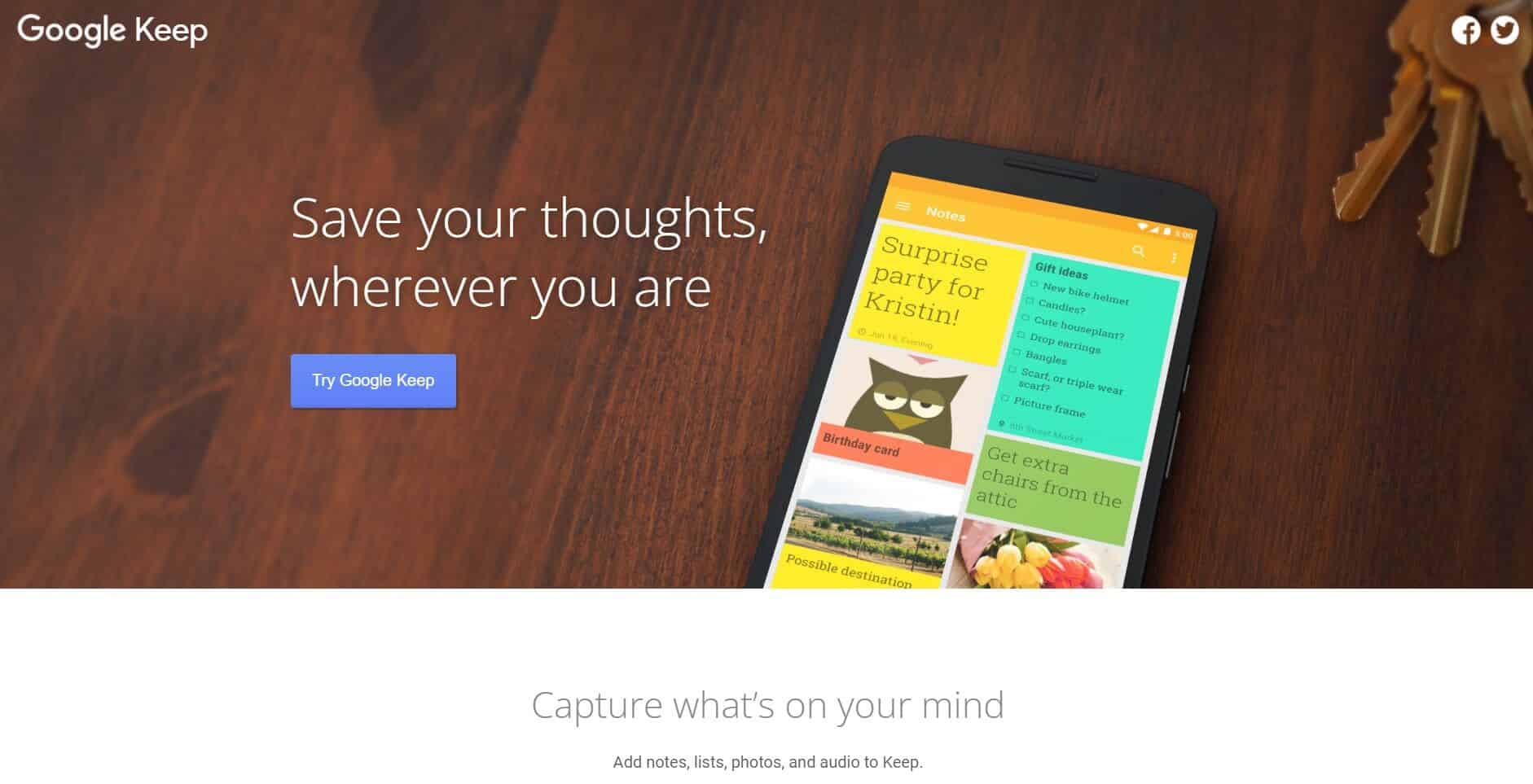 Google Keep is a digital note-taking tool that was launched as part of Google Suite in 2013. When it was first released, Google Keep was given good reviews due to its lean design and simplicity. This meant that it was a simple note-taking tool that was also quick.
You can use Google Keep to collaborate with other users on simple notes and even share to-do lists. The only prerequisite to this is that other users must also sign in to their Google account to use Google Keep.
Task and Project Management in Google Keep
Customizable, color-coded lists
Labels and search functionality
Integration with Google Workspace
Sharing and task/note reminders
How Much Does Google Keep Cost?
🟢 Free
Basic note-taking capabilities
Collaborative to-do editing
Integration with Google services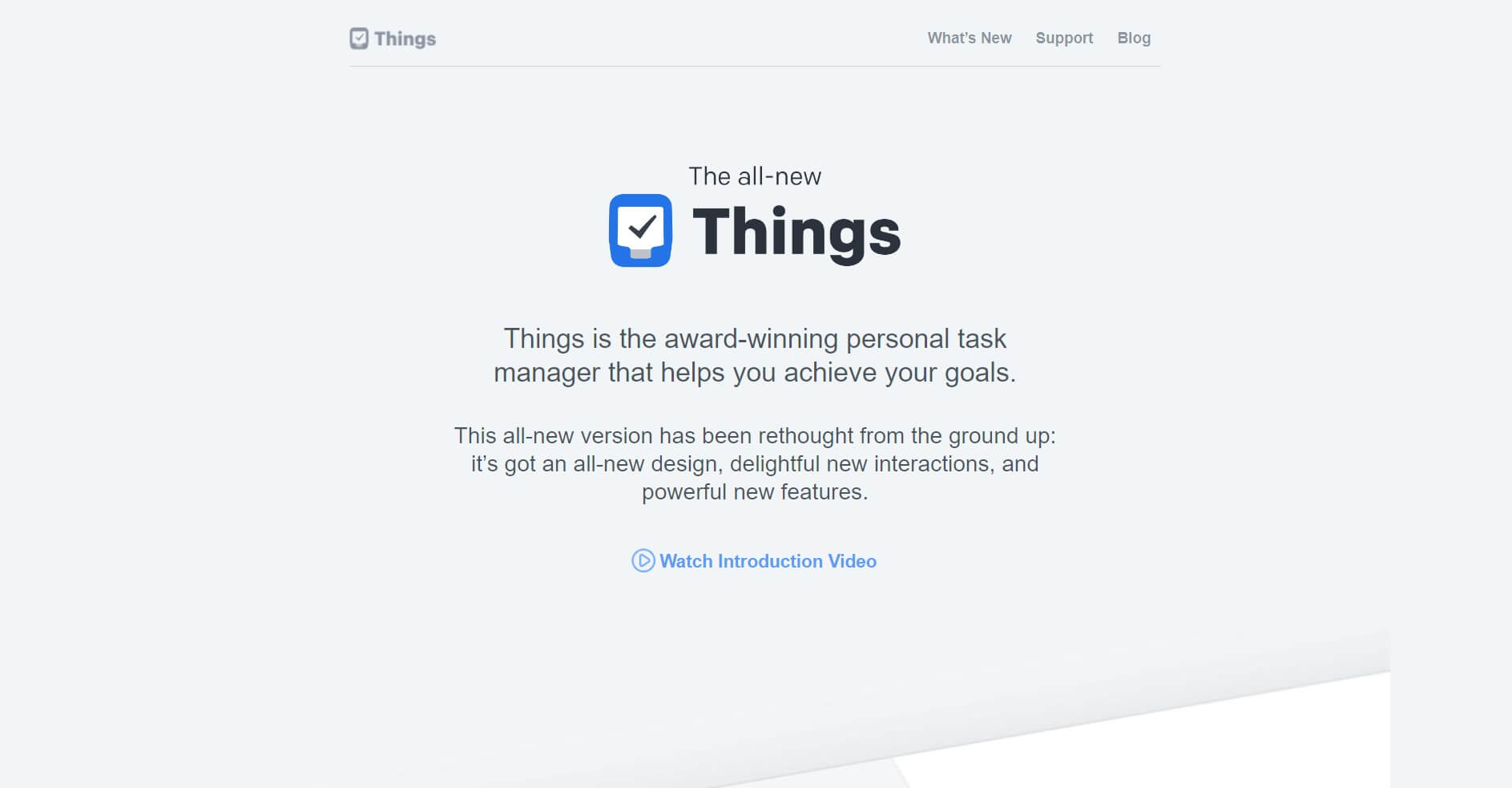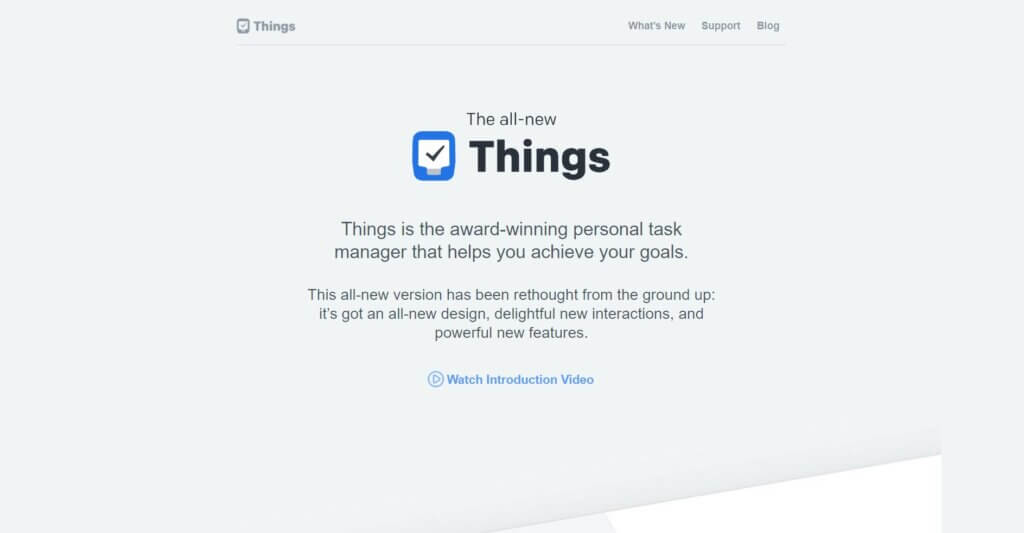 Things 3 is one of the best productivity and task list apps in Apple's ecosystem. While the app doesn't offer true collaboration features, you can share your Things account with one person and work on all your lists together. Available for iPhone, iPad, and Mac.
Task and Project Management in Things 3
Calendar view with events and tasks
Drag-and-drop interface
Headings for breaking down large projects
Search, tags, and widgets
Reminders and recurring tasks
Email to Things to create tasks
Synchronization within Apple's ecosystem
How Much Does Things 3 Cost?
🟢 Mac ($49.99 one-time purchase)
🔵 iPad ($19.99 one-time purchase)
🟣 iPhone ($9.99 one-time purchase)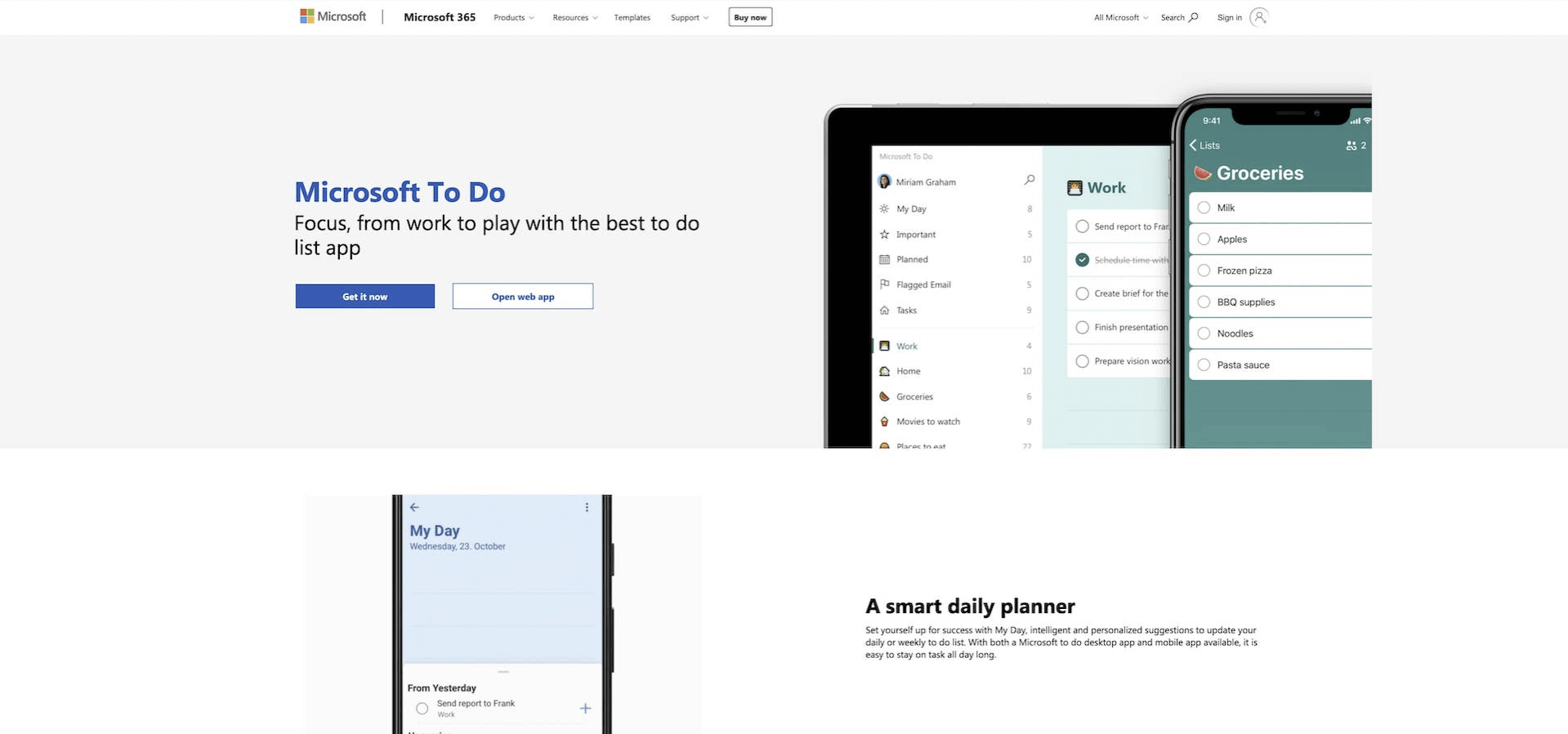 A spiritual successor to the legendary Wunderlist, Microsoft To-Do is a simple app with all the essential task management features. To-Do allows you to share lists with other users or integrate with Outlook and collaborate within the Microsoft 365 platform.
Task and Project Management in Wunderlist/Microsoft To-Do
Customizable, color-coded lists
Smart suggestions in My Day view
Breaking tasks into individual steps
Reminders and recurring tasks
Sync acrossiOS, Android, Mac, and Windows
Wunderlist/Microsoft To-Do Pricing 💸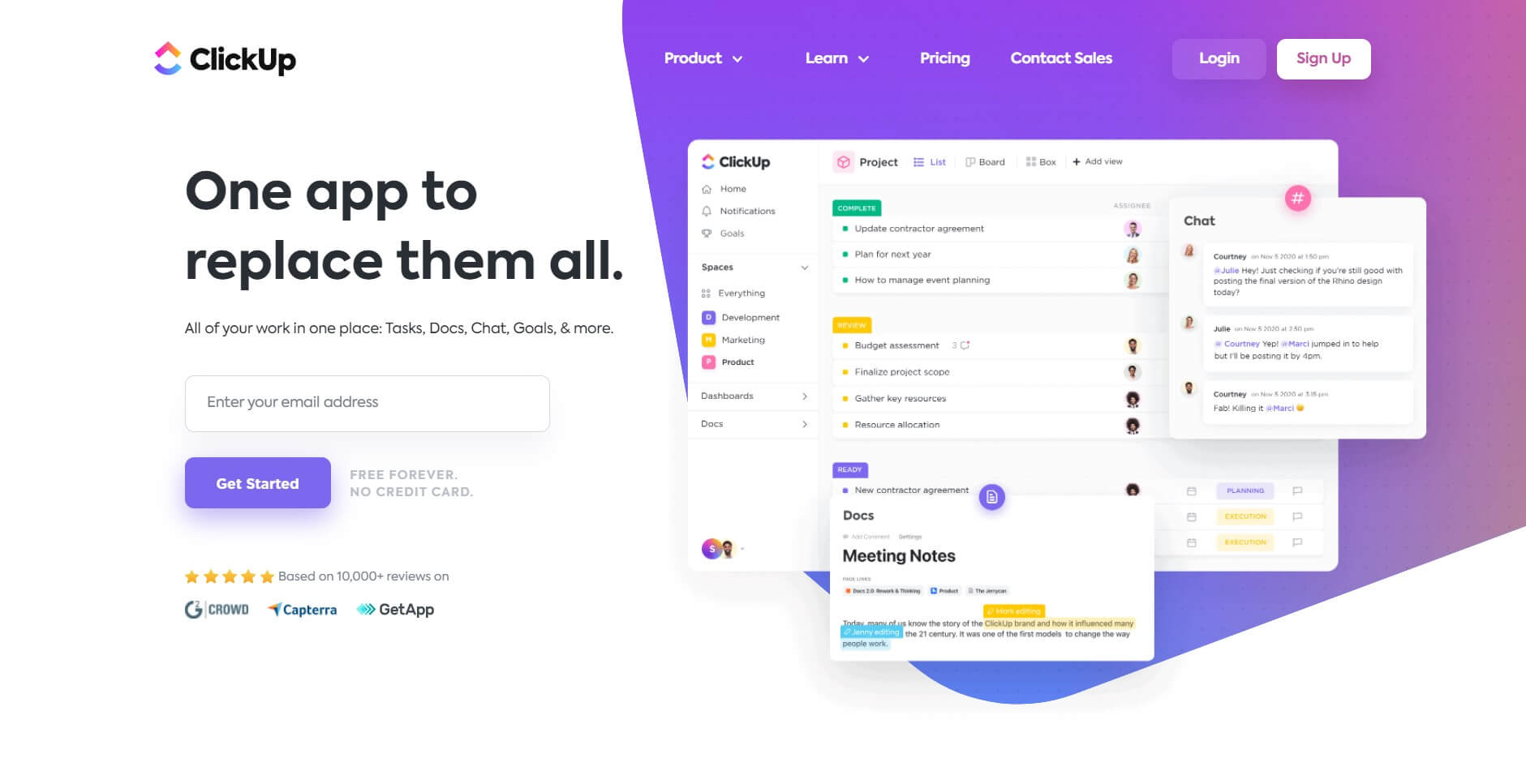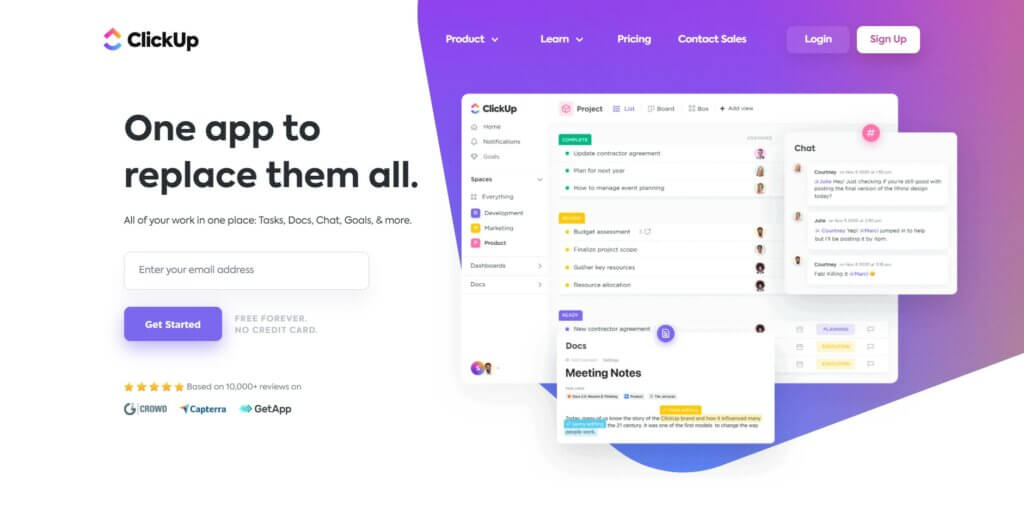 ClickUp is a project management software that was founded by Alex Yurkowski and Zeb Evans in 2017. The project management platform is usually used by individuals and teams to organize projects and tasks.
On ClickUp, your Workspace represents your business and is further divided into Spaces that break down your business into its functions. Within these spaces, Folders containing Tasks and Lists are housed within them.
Task and Project Management in ClickUp
C
Multiple project views
Drag and drop feature
Subtasks and assign watchers
Task status
Comments section for simple chat
Turning comments Into tasks
How Much Does ClickUp Cost?
ClickUp Free Forever Plan
Similar to Taskade's Free Plan, ClickUp's Free plan comes with unlimited tasks and members.
It also comes with email notifications and multiple board views to help you visualize your projects and tasks.
ClickUp Unlimited Plan ($5/month)
If you're part of a small team, ClickUp's Unlimited plan has features to help you get more work done. It includes unlimited storage and gives you access to integrations.
You will also be able to create unlimited dashboards and control permissions for guests to your projects.
ClickUp Business Plan ($12/month for each member)
The Business plan is a must for project managers looking to manage complex projects. This plan gives you access to ClickUp using Google Single Sign-On service, saving you some time. You'll also get access to custom reporting and be able to create unlimited teams.
ClickUp Business Plus Plan ($19/month for each member)
The Business Plan is meant for users who manage multiple teams. It adds more customization when it comes to role creations and permissions, and gives your team the ability to have more automated processes as well.
However, if you wanted to pay one simple price to unlock all of the features that you'll need to manage everything you need to, Taskade offers more attractive features at a competitive price.
Notion aspires to be many things. But it also turns out to be a solid collaboration and communication project management tool for cross-functional teams.
Even though Notion may seem overwhelming, it can turn out to be a solid task and project management tool for you.
Task and Project Management in Notion
Good for knowledge bases and team wikis
Includes List, Board, Calendar, Table, and Gallery views
100+ project templates and a databased-oriented workflow
Real-time collaboration with team permissions
Task/project management, chat, and comments
How Much Does Notion Cost?
🟢 Personal (free)
Unlimited pages & blocks, 5 guests editors
Multi-platform synchronization
🔵 Personal Pro ($4 per month)
Everything in the Personal plan +
Unlimited file uploads and guests
Access to version history
🟡 Team ($8/month per user)
Everything in the Personal plan +
Unlimited team members, advanced permissions
Collaboration tools and admin toolkit
Zenkit is a project management platform developed by a German company, Axonic Information Systems. Launched in 2016, this collaborative software was created to provide a simple, flexible solution to task and project management that teams can use every day.
Zenkit is an option for teams looking for a solution that will allow them to keep track of multiple projects at once. It also allows users to collaborate with their team remotely and to make updates in real-time.
Task and Project Management in Zenkit
Web and mobile access
Kanban board view
Real-time collaboration with file sharing, commenting, and offline mode features
Customization such as different views, custom backgrounds, and rich text editing
Activity tracking with a Gantt chart, calendar, checklists, and notifications
How Much Does Zenkit Cost?
🟢 Zenkit Free Plan
🔵 Zenkit Plus Plan ($9.00/month or $96.00/year)
🟣 Zenkit Business Plan ($25.00/month or $252.00/year)
Parting Words
Choosing the right task management software is a crucial step for individuals and teams looking to take their task management to the next level. The tools covered in this article, such as Taskade, Asana, and Todoist, are just a few examples of the many options available on the market today.
Each tool has its own unique set of features and capabilities, and it's important to evaluate your specific needs and budget before making a decision on which tool to use.
With the right task management tool, you can streamline your workflow, increase productivity, and achieve your goals more efficiently. It's important to give some of these tools a try and see which one works best for you and your team.
Till next time!