The history of HipChat is full of twists and turns. After dominating the business communication space, the app that blazed a trail for real-time collaboration ended on a heap of dead software. So, what exactly went wrong with HipChat? Why did it lose in the HipChat vs. Slack grapple?
Let's wind back the clock and find out!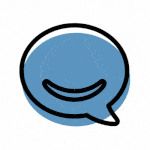 💡 Before you start… Would you like to learn how remote collaboration tools evolved over the years? Be sure to check these articles when you're done reading.
🤔 What Is HipChat?
HipChat is, or rather was, a chat and instant messaging service created by Chris Rivers, Garret Heaton, and Pete Curley in 2009. HipChat's freemium model, a strong lineup of features, and clever marketing made it one of the fastest-growing real-time communication platforms back in the day. The company was eventually acquired by Atlassian and later sold to Slack.
💬 What Happened to HipChat?
🚀 The Early Days: Official Launch (2008-2010)
In the early 2000s, the majority of business communication happened via email. The technological landscape offered some alternatives like AIM or IRC, but they were designed for individual users rather than business applications. The niche was up for grabs.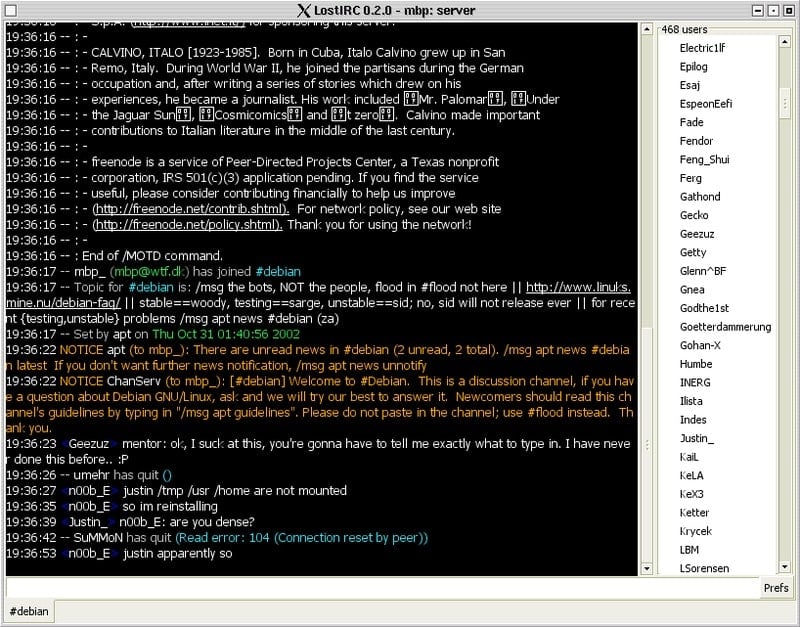 The daring idea to limit email use and go real-time came from three students at Rensselaer Polytechnic Institute (RPI). Chris Rivers, Garret Heaton, and Pete Curley were fraternity brothers and already had a track record of successful collaboration under their belts.(3)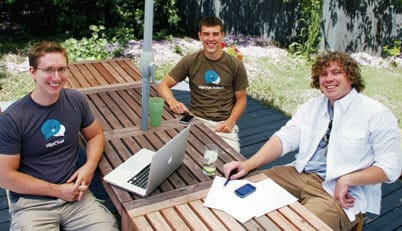 Before HipChat, Rivers, Heaton, and Curley created two other apps, a business calendar tool HipCal and a social network aggregator Pulse. Both products were acquired by Plaxo/Comcast where the trio would later spend some time as engineers before moving to Silicon Valley.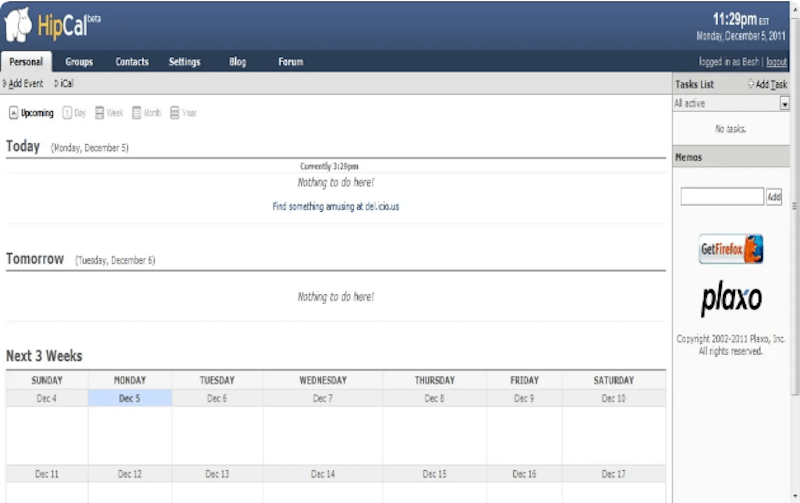 The goal was simple: To create a modern communication tool that would win the hearts (and wallets) of enterprise users. HipChat wasn't completely alone in that space. The team faced some indirect competition from Campfire by 37signals (now Basecamp) and Yammer.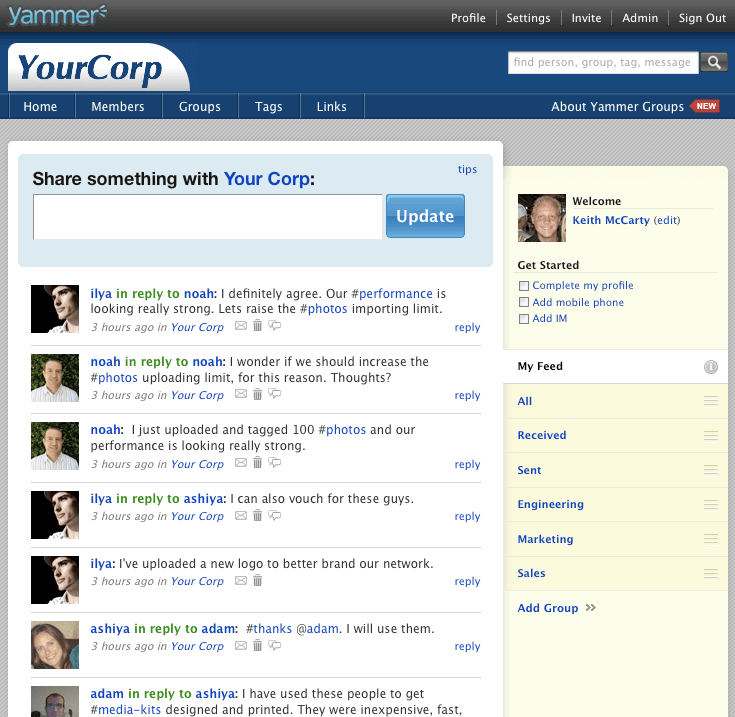 Rivers, Heaton, and Curley left Comcast in 2008 and launched HipChat private beta on December 14, 2009. The early version of the service allowed users to chat in groups/rooms, start 1-on-1 conversations, share content, receive notifications, and browse chat history.(6)
The private beta quickly gained traction and managed to bring 500 companies on board before the official launch in late January 2010. The first version of HipChat run on PHP/Python and was available for Windows, Mac, and Linux through the Adobe AIR runtime environment.

On March 22, 2010, HipChat launched a beta web client. The team also introduced breakthrough video and chat support later the same year. By May 2010, the app had launched an official API, serviced 1,000 businesses, and clocked "millions of messages" in just four months.(8)

The next chapter in the history of HipChat was about to begin.
🔵 New Horizons: Atlassian Acquisition (2011-2014)
The influx of new business allowed the HipChat team to move to a new office in Sunnyvale, California on July 19, 2010. Shortly after that, the company scored another major win–$100,000 in funding from the Founders Fund TechFellow's inaugural award program.(9)
The money helped HipChat double down on marketing content and build up its mobile presence. On March 4, 2011, HipChat released an iOS app for the iPhone and iPad and followed with an Android version later the same year.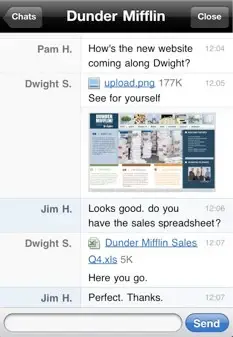 HipChat mobile added a handful of new features like syncing between clients, push notifications, room invites, and @mention. By that point, the company had been noting a steady 40-percent monthly growth, with hundreds of companies using the service.(10)
In October 2011, HipChat made business communication fun with meme-like emoticons granted to users as part of HipChat's referral program. The company also joined what TechCrunch dubbed the "101 Battle of the Billboards," one of the many PR stunts in the history of HipChat(11)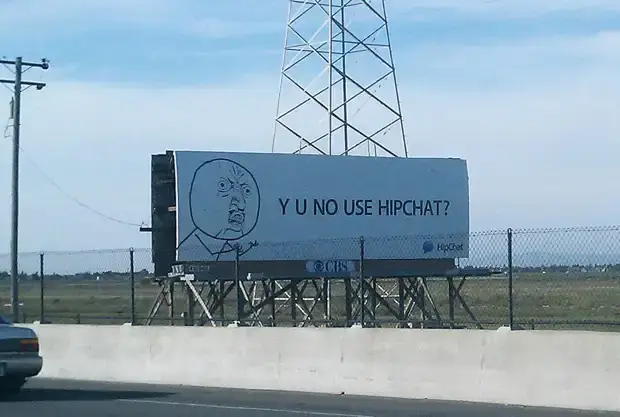 By mid-February, HipChat had 3,500 paying users and boasted 2 million daily messages. It didn't take long for the success to draw attention. On March 7, 2012, Atlassian (the current owner of Jira and Trello) who had been using the app internally acquired HipChat's IP.(12)
🍎 Fun Fact: In 2012, HipChat's CEO Pete Curley went on a blog rant following the release of Apple's OS X Mountain Lion. The new OS featured a Messages app (refreshed iChat) with a logo resembling HipChat's own chat bubbles.(13)
The new management set out to overhaul the existing HipChat infrastructure that still run on the underpowered Adobe AIR. The housekeeping led to a new (beta) Mac app in February, a native Linux client in April (also in beta), and version 2.0 of Mac and iOS apps soon after.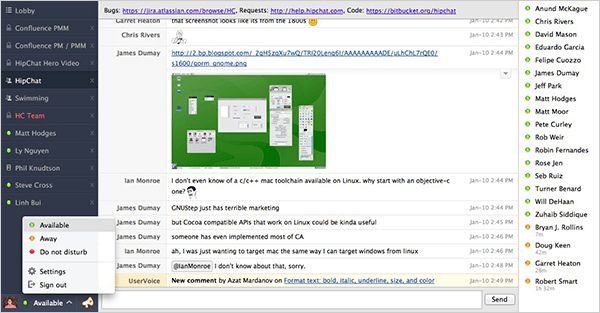 In September 2013, HipChat crossed the magical barrier of 1 billion messages sent, which was nothing to sneeze at back in the day. By May 2014, the HipChat team doubled in size and shattered another unthinkable record of 2 billion messages.(15)
⚡ Growth and Cakes: Hipchat vs. Slack (2015-2016)
On January 27, 2015, HipChat continued its business expansion with HipChat Server, a self-hosted offshoot of the service for enterprise clients. Atlassian also announced their plans to grow the HipChat team and bring over 500 new hires within a year.(16)
🎂 Sweet Competition: While HipChat was one of the first business collaboration tools on the market, it had some ambitious competition. The quick growth of Slack didn't escape HipChat's attention. At some point, the two companies even exchanged business courtesies by sending each other… birthday cakes. Nobody could've suspected the role Slack would eventually play in the history of HipChat.(17)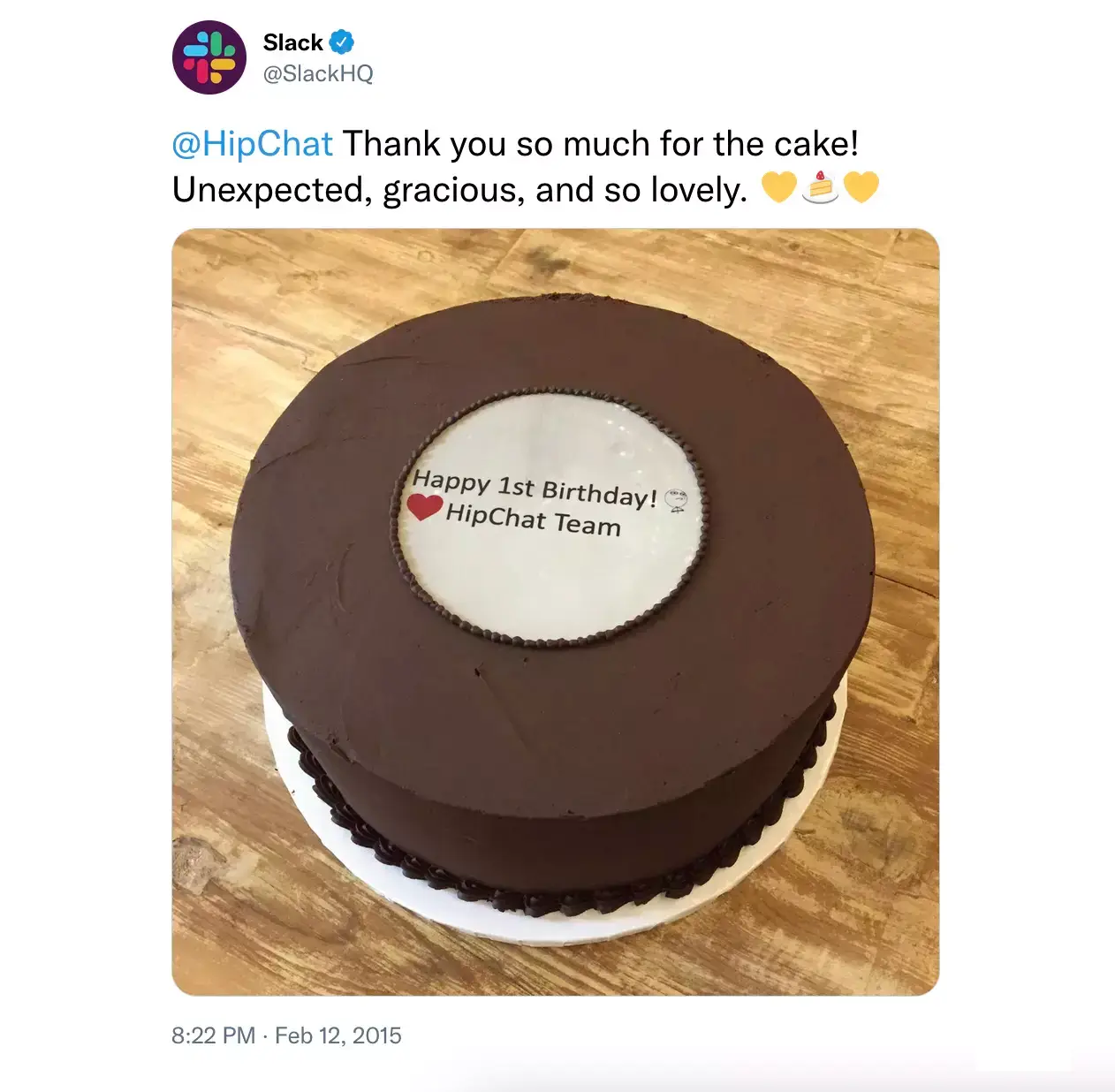 In early November, HipChat launched Connect API and API tokens which opened the door for third-party developers and integrations with services like Facebook or Twitter. By that time, HipChat had clocked 8 billion messages and ramped up its unorthodox marketing efforts.
👨‍💼 Office Space: Throughout 2015, HipChat continued building its image of a "cool" enterprise tool. The company even brought Gary Cole on board to revive the insufferable Bill Lumbergh from the 1999 classic Office Space, all in the 90s vibes.(18)
In 2016, things slowed down for HipChat. The company stagnated and started falling behind competitors like Hangouts and Teams. While the team tried to innovate by implementing group calls for 10 people and a VoiceMyBot integration for Alexa, it was too little, too late.(19)
💰 No More Cakes: Slack Acquires HipChat (2017-2019)
In 2017, big competitors were gearing up and Slack was no longer the new kid on block. In a final attempt to regain its position, Atlassian countered launching Stride (aka HipChat 2.0). The new service was meant to bring chat, video, and calls under one roof, with no add-ons required.

On April 24, 2017, HipChat data center suffered a hacking incident that compromised user data. A few months after announcing a self-hosted Data Center, Atlassian killed HipChat cloud and replaced it with Stride. And that's where things got interesting.
In 2018, the all-grown-up Slack came up with a nifty plan to get rid of the older rival. On July 26—in what was probably one of the greatest plot twists in tech—Slack acquired HipChat. Ironically enough, Atlassian's part of the bargain was an equity investment in Slack.
💬 "Not only is Slack buying the assets and Atlassian is effectively shutting down these products, Atlassian is also investing in Slack, a move that shows it's throwing its financial weight behind the company, as well, and forming an alliance with them."

—Ron Miller at TechCrunch(21)
Atlassian's Joff Redfern wrote on the company blog that both HipChat and Stride—along with HipChat Cloud, Data Center, and Server—would be discontinued. Users could either migrate to Slack or export their data from HipChat by July 15th, 2019.
🌟 The History of HipChat is Over, but It Was a Good Run
The history of HipChat is an important chapter in the evolution of remote collaboration.

In a way, HipChat did for real-time team communication what Evernote accomplished in the note-taking space. It carved out a niche and challenged the status quo of legacy tools. It was also one of the first holistic solutions that combined essential collaboration features in one platform.

While HipChat started as a tool for developers, it quickly won the hearts of non-tech-savvy users. The platform offered a competent set of features, worked pretty much out of the box, and didn't take enterprise too seriously (because: emojis).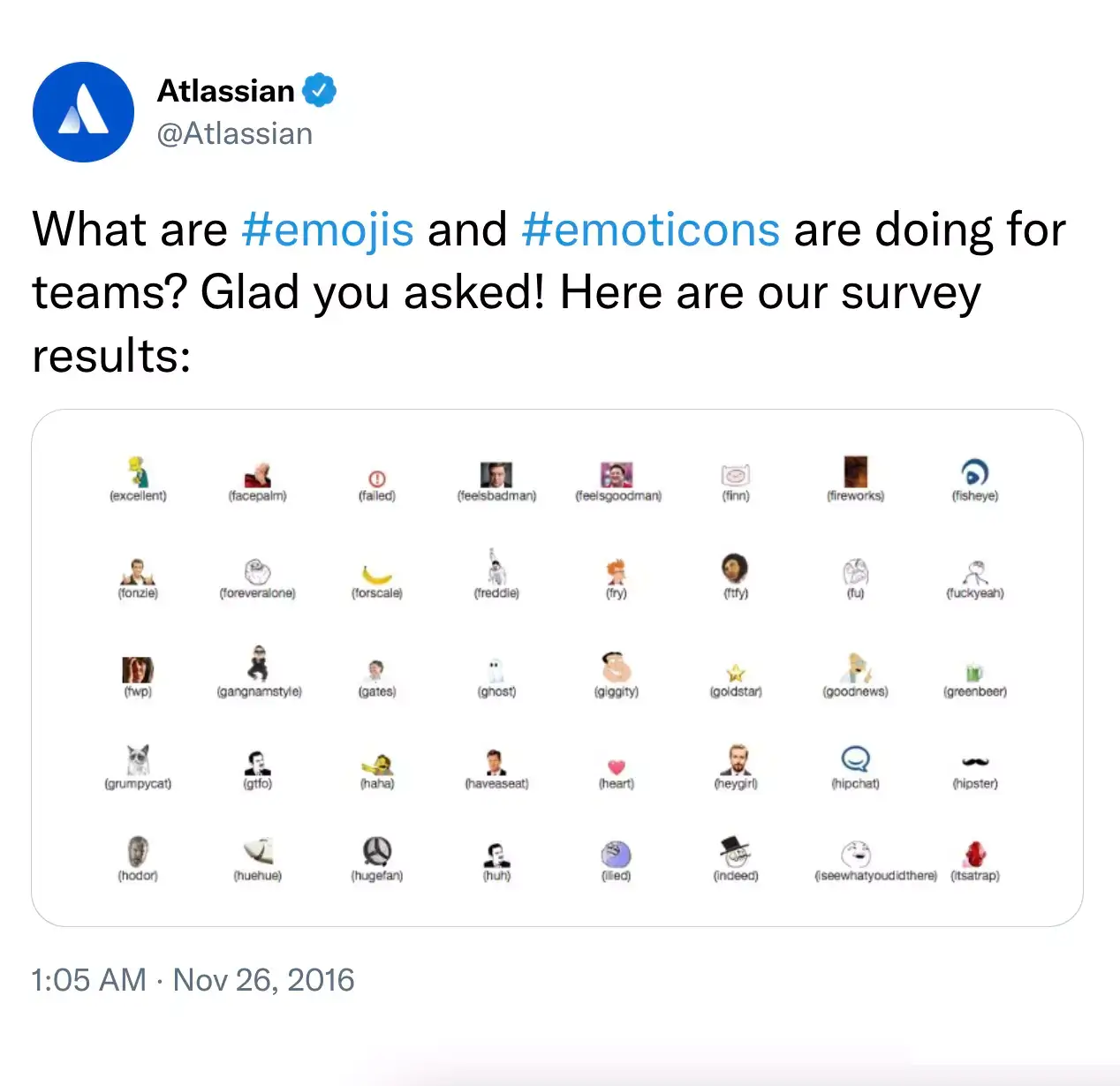 HipChat did a great job of putting conversations into focus and making work chit-chat fun. Finally, it offered a wide selection of integrations and let business users create a place where work and communication happened right next to each other.
The history of HipChat ends here. But are there any worthy alternatives in 2022?
🐑 Taskade Is Your HipChat Alternative
If you miss HipChat, we have some good news. 🥳

Taskade is a real-time collaboration platform that packs the best HipChat features, but smarter. It's a place where teams work, chat, and get things done in the same window, in the same app.

🔐Private Team Chat. Invite your team members to chat and video conference inside private projects. Choose between four distinct roles – Owner, Admin, Editor, Checker, and Viewer – and define editing permissions/privileges.
🔎 Searchable Chat History. Taskade lets you search inside projects and chats so no conversation is lost in the hustle. You can also browse project history and track all changes made by you or other team members.
📤 Easy File Sharing. Upload different types of files to make conversations more productive. To share a file, simply drag-and-drop it in the chat window or anywhere in a project. You can also upload directly from the cloud.
👩‍💻 Desktop, Web, and Mobile. Taskade makes it really easy to sync up with your team, regardless of the circumstances. Jump on a call, host a video conference, and chat with others on desktop, mobile, or in a web browser.
⚡ Keyboard Shortcuts. Keyboard shortcuts are a hidden productivity superpower. Taskade lets you navigate conversations, interact with the team, and edit projects using convenient key combinations.
🔡 Chat Markdown. Markdown is a great tool for improving the clarity of conversations. Apply **bold**, _italic_, or format messages as ​​"`inline code"` to make your words stand out. Markdown works in the comments too!
🏞️ Virtual Backgrounds. Starting a video conference in Taskade is fast and intuitive. You can even share your desktop or add some swag with a selection of virtual backgrounds. Choose from built-in images or upload your own.
Want to take Taskade for a ride? Sign up for a free account and check all the cool features today. You can also visit our live demo page and test things out first!
🔗 Resources