What makes your business tick? How do you know you're heading in the right direction? A SWOT analysis (acronym for strengths, weaknesses, opportunities, and threats) is one of the most effective ways to evaluate your organization's efficiency, spot roadblocks, and plan ahead. In today's article, you'll learn what a SWOT analysis is and how you can apply it to your business.
🤔 What Is a SWOT Analysis?
The SWOT analysis is a popular tool for identifying strengths, weaknesses, opportunities, and threats in a business environment. The framework is often credited to management and business consultant Albert Humphrey, but the attribution is murky at best.
SWOT is a high-level framework that is used to help your company create an action plan for success by using a strategic lens. It's usually conducted to explore growth opportunities, identify roadblocks and bottlenecks, and respond to a changing business landscape.
A SWOT analysis takes into account both internal and external factors that affect your organization. It can help you evaluate the aspects of your organization you can control as well as the surrounding business environment like politics or social changes.
What's important is that you understand what can be done at this current juncture and plan the best course of action for your business to take. External factors can be demoralizing, but it's useful to keep tabs on them so that you're aware of how to navigate your organization.
When done correctly, a SWOT analysis can lead to a butterfly effect in helping your business to be more competitive.
🔎 When Should You Perform a SWOT Analysis?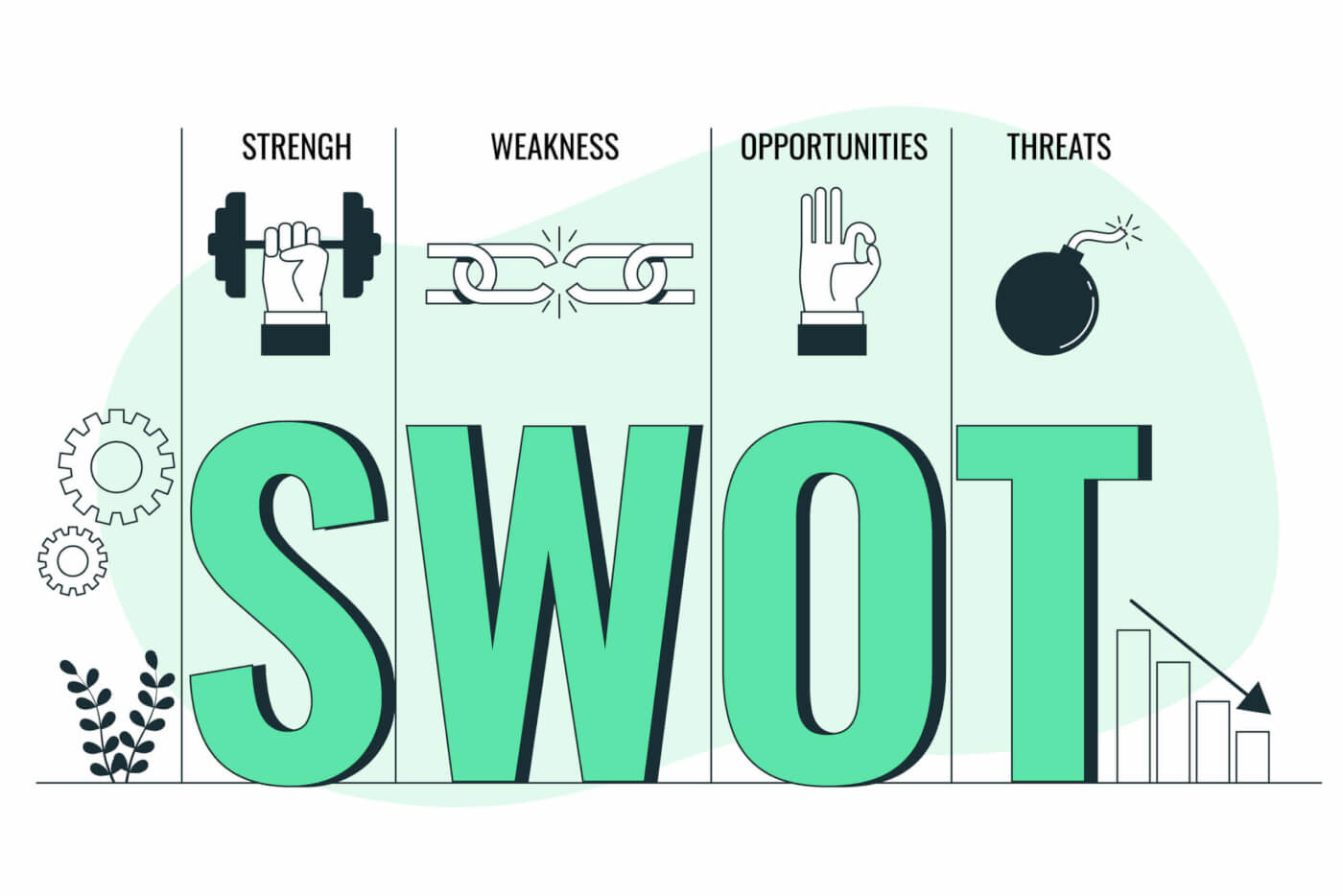 Carrying out a SWOT analysis is good practice to help you evaluate your existing company strategy. It helps you measure where your business stands in the market and adjust its current trajectory.
That said, you should always try to conduct a SWOT analysis before you try to make any organization-level decisions. This can mean anything from considering new expansion initiatives, adding to your current products and services, or when coming up with new marketing initiatives.
SWOT should be carried out whenever you're dealing with organizational strategy as it forces you to take into account both internal and external factors. This allows you to make better-informed decisions before committing valuable resources.
When done correctly, SWOT can be a catalyst for implementing a successful strategy.
What's more, a SWOT analysis helps you make decisions that are based on facts instead of emotion. By uncovering potential loopholes in your business processes, SWOT could just be the turning point for increased effectiveness for your company.
🚦 What Are the Key Components of a SWOT Analysis?
A SWOT analysis consists of four key components which include:
🟢 Strengths
🟡 Weaknesses
🔵 Opportunities
🔴 Threats
These four aspects of a SWOT analysis—they're usually presented in a table format—will help you come up with a better strategy for your business. From these four components, A SWOT analysis can be further categorized into internal and external factors.
Internal Factors In a SWOT Analysis
Strengths and Weaknesses are both considered internal factors as these are things that are within your and your organization's control. Upon deliberation, points that are raised when discussing internal factors can usually be followed up with action items.
The goal is to take advantage of your company's strengths but also to remedy weaknesses.
Strengths
In this category, you will list down the unique selling point of your business. What is it that sets you apart from the competition? This can be anything from having a strong and committed workforce, to even having strong distribution channels.
Even though this might sound simple, you should take extra care to truly list down your unique selling points. For example, when it comes to the sneaker market, Nike could arguably list down their branding as a strength as compared to Adidas and New Balance.
You should also use this opportunity to think about what other businesses might see as your strength. It might be useful to have a look within and think about what is it that makes you different from your competition.
Perhaps you could make the decision to double down on your strengths to improve efficiency based on your findings in this section.
Weaknesses
Let's face it, no one likes to talk about weaknesses. The last thing you need in a hyper-competitive business environment is a chink in your armor other people can exploit. Right?
But identifying your weaknesses is a surprisingly effective exercise.
💬 "Why is the business not performing as expected?"
💬 "What can we do to get back on the right track?"
💬 "Why aren't our customers satisfied with our products/services?"
Regardless of the line of business you're in, you should be aware that your competitors are also on the lookout for your weaknesses. Asking yourself those questions early on will help you find the areas for improvement and iron out inadequacies before they can use them against you.
External Factors In a SWOT Analysis
Let's face it. Most external factors are beyond your control. But you can still identify threats and opportunities and act proactively to steer your business in the right direction.
Opportunities
Spotting and making use of external opportunities requires business acumen, and this is probably what sets apart seasoned businessmen from budding entrepreneurs.
In a SWOT analysis, opportunities originate from two directions—external factors like a growing demand or changing regulations and internal factors, meaning your strengths and weaknesses.
What's important about opportunities is that you identify them quickly, and then cease them. Even small wins can collectively add up to help improve business performance in the long run.
Threats
The final quadrant of the SWOT matrix includes Threats. These are any negative factors that can originate both from internal circumstances and the external business landscape.
Threats can include anything from adverse market conditions to changing government laws and regulations. They also affect every organization differently.
It's important that you try to anticipate threats to your business and act on them proactively. You won't have control over most external factors. But catching them early gives you a chance to adjust your business strategy and put measures in place to minimize fallout.
You know what SWOT is. Let's learn how to conduct a SWOT analysis in your business.
⚙️ How to Do a SWOT Analysis
Here's how to conduct a SWOT analysis in your business in six simple steps:
Ask yourself what you're trying to evaluate during your SWOT analysis. It can be anything from the quality of your customer service to the performance of your revenue streams.
Create a table consisting of two rows and two columns and write Strengths, Weaknesses, Opportunities, and Threats in each of the cells (starting from the top-left cell).
Identify Strengths: in the first cell of the SWOT matrix. These are the unique value propositions that differentiate your business from the competition.
Identify Weaknesses: What are the obstacles your business is facing? What are your competitors doing better than you? What expertise/resources do you lack?
Identify Opportunities: How can you turn weaknesses into opportunities? How can you turn strength into opportunities? How is the business landscape changing?
Identify Threats: Can our weaknesses affect the business in the future? How? Are there any laws and regulations that may hinder growth?
Once you've compiled and analyzed your findings, it's time to take action. Create a roadmap for your business and set very specific action items you'll pursue to make necessary adjustments.
💡 Grab a Free SWOT Analysis Template
We get it. Conducting a SWOT analysis every time you want to check the health of your business can be tedious. The good news is that you don't have to start from scratch.
Here's a free SWOT analysis template that will help you get started quickly! 👇
👋 Parting Words
A well-executed SWOT analysis will help you make faster and more informed business decisions, overcome obstacles, and put your business on a path to success.
Enjoyed the article? Read these articles next: