What Are The Benefits of an Online Note-Taking App?
There are several benefits of using an online note-taking app to help you take notes digitally. With many features available across different apps, it's hard to choose the one true app to satisfy your needs.
But at the end of the day, the best note-taking app is the one that helps you to take quality notes thus improving your overall productivity.
Here are some benefits of using an online note-taking app.
Collaborative note-taking
In the age of remote work, online collaboration is key. Most modern note-taking apps have adapted to this shift in working style by offering a real-time collaboration feature.
Collaborative note-taking allows you and your teammates to take notes together on the same document in real-time. An example of this would be for members of your team to note down and edit meeting notes together while a meeting is taking place.
Or, you could also use this feature to manage projects collaboratively. The possibilities are endless with collaborative note-taking. It's up to you to decide how you want to use this powerful feature.
Take notes from anywhere
Perhaps one of the biggest benefits of an online note-taking app is the ability to take notes from literally anywhere without having to lug your notebook around.
Most note-taking apps are available on multiple devices. This means that you'll be able to take notes from your favorite device regardless of where you are. On the move? Whip up your mobile phone and start typing away as soon as inspiration hits.
Oh, and you also will never run out of pages, ever.
Reducing your carbon footprint
Isn't it neat to know that you can improve your productivity while also leading a paper-free lifestyle? No matter how small the effect, collectively it adds up.
Going digital for your note-taking not only lets you be more organized when it comes to your notes, but you also get to use less paper while you're at it.
Most note-taking apps also have a free plan for beginners. This means that trying out a digital note-taking app could potentially come at no cost.
Organize your notes more efficiently
Going digital also means that you're able to keep your notes better organized. Let's face it, there's only so much you can do with pen and paper.
But by going digital, you can utilize functions such as tags and search to help you organize your notes in a way that outshines the traditional method. Looking for a specific term in your library of notes? Simply use the search function and locate it in no time at all.
What's more, you theoretically won't run out of physical space regardless of how many notes you're taking.
Now that we've covered some of the benefits of note-taking apps, here's our list of the best note-taking apps out there for 2022.
The 11 Best Note-Taking Apps
Taskade
What is Taskade
Imagine an application that allows you to take detailed notes with infinite hierarchies, organize and manage projects, create to-do lists, and even collaborate via built-in video chat with your team, and more, via an all-in-one unified workspace. Well, look no further because Taskade is the perfect solution for you.
Not only is Taskade a great note-taking app that lets you create unlimited notes even on the free version, but it also has advanced features to help you plan and execute projects as well. With Taskade, remote teams and individuals can get work done faster and smarter.
Taskade already has a collection of note-taking related templates to help you get started, such as our Cornell Note-Taking Method template and our meeting notes template. These templates pair great with our student assignment tracker template.
Get started instantly for free today.
Key Features of Taskade
Fold/Unfold. Fold (collapse) a parent task/bullet element to hide its subtasks. Indent outline elements with ⌨️ Tab and unfold lists with ⌨️ Shift+Tab.
Project Views. Visualize your projects in several different ways. Cycle between the List, Mind Map, Org Chart, and Board views to work the way you want.
How Much Does Taskade Cost?
🟢 Free (forever!)
Unlimited outlines, projects, collaborators, and guest users
1 GB of storage for files and projects (up to 25 MB per file)
Chat, calls, video conferencing, and screen sharing
Real-time syncing across web, desktop, and mobile
Backgrounds, dark mode, and customization
Push notification, project history, and activity feed
Cross-linking, outline sharing, and task management
500+ quality templates across 26 categories
Mind maps, org charts, kanban boards, and lists
Export/print outlines as markdown files
🔵 Unlimited ($5/month per user billed annually)
Everything in the Free plan+
Unlimited storage (up to 250 MB per file)
Sorting options, recurring tasks, and bulk assign
Upload custom logos and workspace backgrounds
Priority support and custom onboarding
Email, Dropbox, Google Drive, and One Drive integrations
Advanced reporting, permissions, and revision history (coming soon!)
SAML, 2FA, and Single Sign-On (SSO) (coming soon!)
Evernote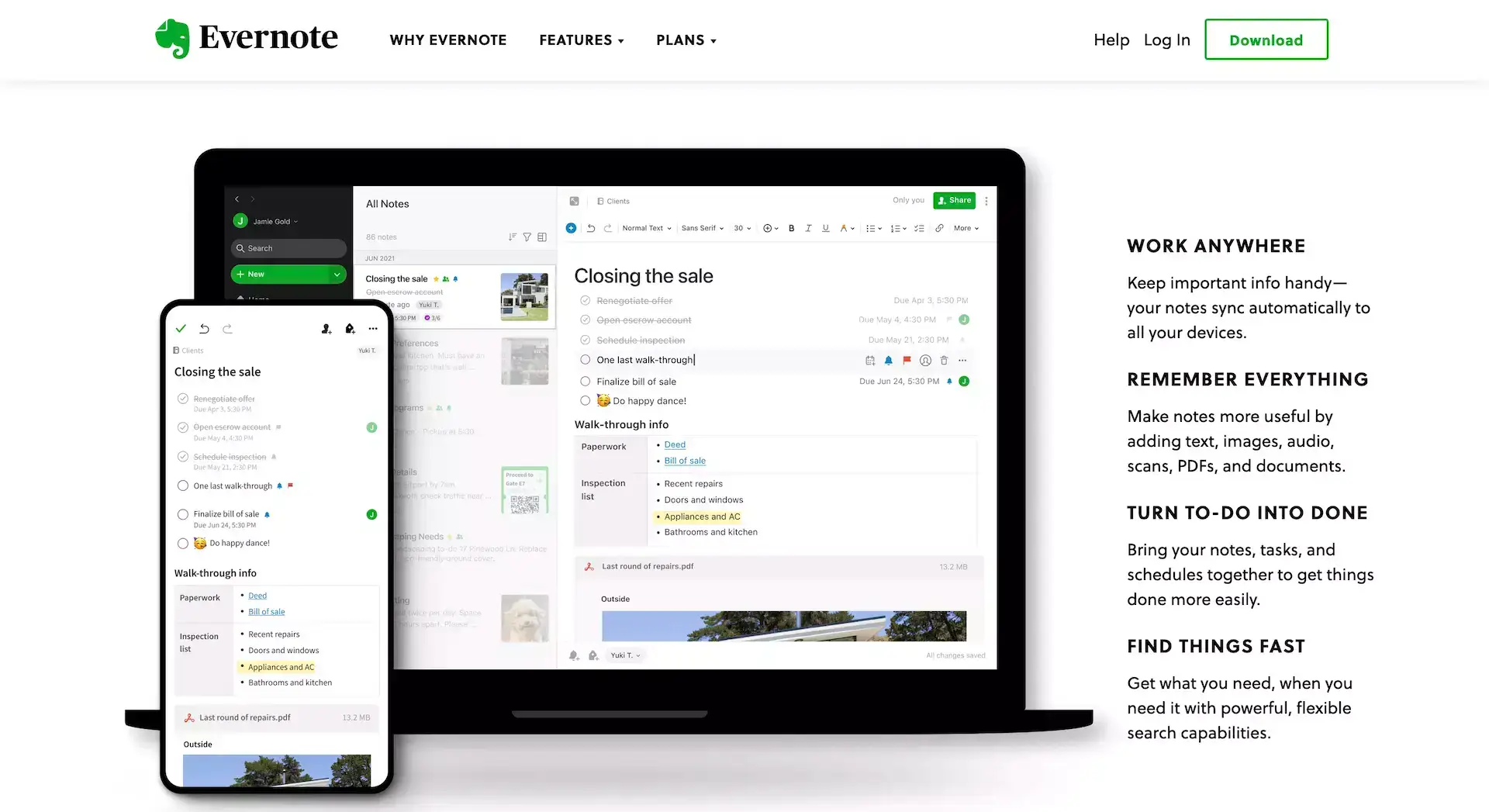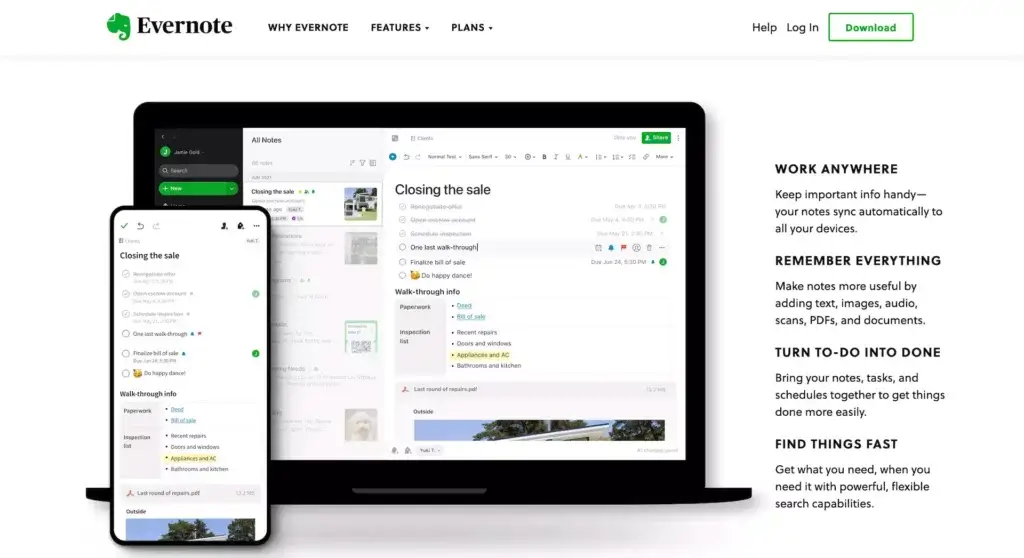 What is Evernote?
Evernote is a digital note-taking app that Russian engineer Stepan Pachikov created to help people organize their thoughts and store information.
Evernote pioneered digital note-taking and remains one of the most popular note-taking apps today. If you're interested in a more in-depth discussion on Evernote's history from day 1 to what it is today, check out our review of Evernote's history!
Features of Evernote
Evernote's concept is simple, you create notes which are then stored inside notebooks. You can add tags to your notes in order to keep them organized.
However, this can get pretty clunky especially if you're a heavy note-taker. This is where Evernote's built-in search function comes into play; allowing you to search for notes using keywords and phrases.
Evernote is also known for its Web Clipper feature. You can download an extension that allows you to clip parts or even entire web pages and paste them into Evernote. Clipped web pages remain stored in the app until you delete them.
You can use Evernote's templates to get you started on tasks that require more structure such as creating a story dashboard or even a monthly calendar to get yourself organized. This can be a helpful feature to help you kickstart your projects.
An interesting thing that Pachikov did with Evernote is that he implemented a feature to recognize handwritten notes. This was a page he took from a tool he created called 'Calligrapher' in his earlier days which recognized handwritten input on devices. In Evernote, handwritten notes can be captured via an in-app camera.
How Much Does Evernote Cost?
Free
Cross-device sync (2 devices)
60 MB of storage for notes/month
Task management
Search and tagging
Uploading attachments
Personal ($7.99/month)
Unlimited synchronization
10 GB of storage for notes/month
Google Calendar integration
Due dates and reminders
Offline access
PDF and image search with OCR
Customizable templates
PDF annotation
Professional ($9.99/month)
20 GB of storage for notes/month
Personalized Home screen
Assigning and tracking tasks
Location-based search
Export notes to PDF
Integration with 3rd part services
Teams ($14.99/month per user)
Integration with business apps
Admin dashboard
Custom onboarding
20 GB of storage +2 GB per user
Google Keep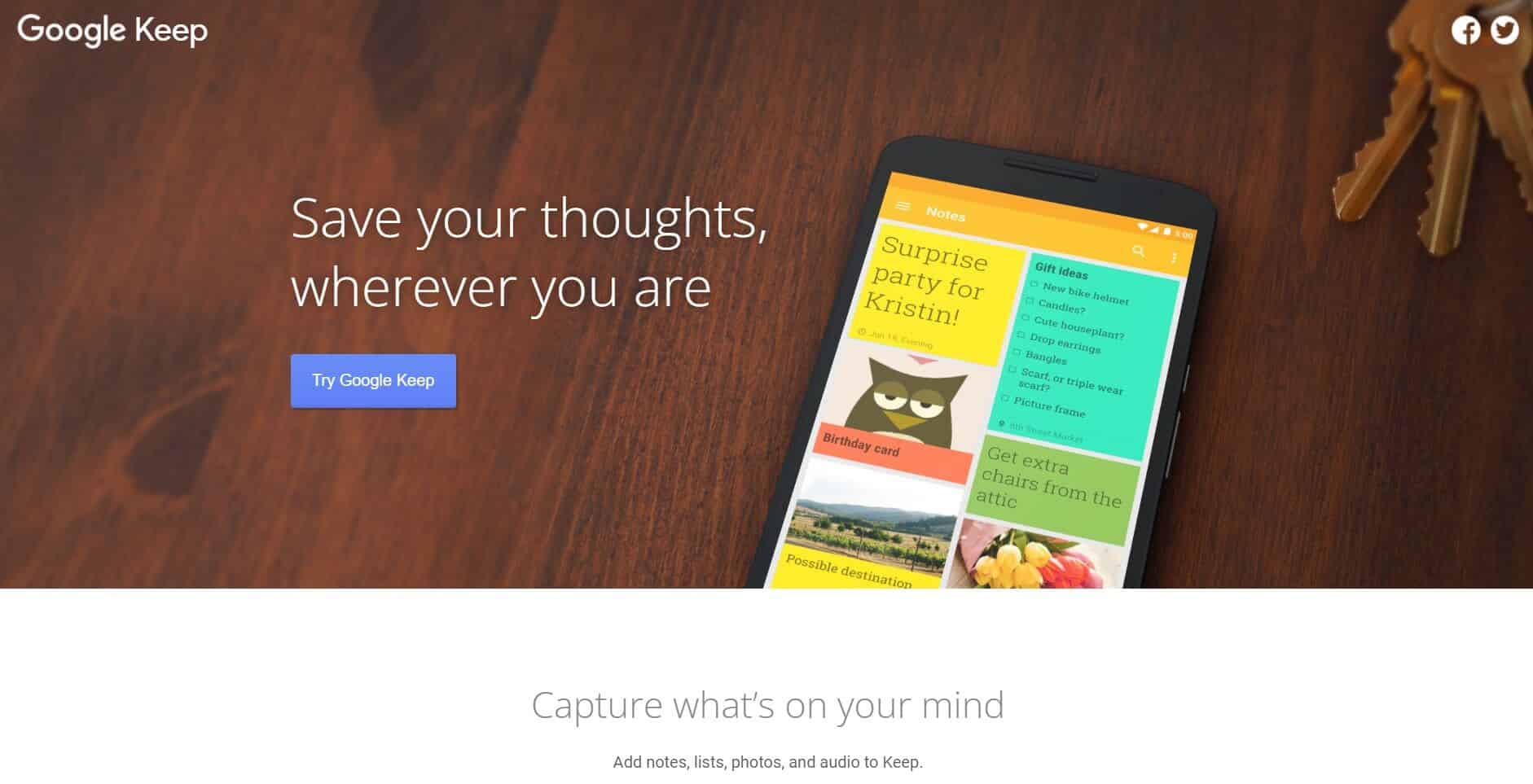 What is Google Keep?
Google Keep is a digital note-taking tool that was launched as part of Google Suite in 2013. When it was first released, Google Keep was given good reviews due to its lean design and simplicity. This meant that it was a simple note-taking tool that was also quick.
You can use Google Keep to collaborate with other users on simple notes and even share to-do lists. The only prerequisite to this is that other users must also sign in to their Google account to use Google Keep.
Despite the Chrome app being discontinued, the free popular note-taking app can still be accessed via web browsers.
Features of Google Keep
Simplicity. Google Keep's simplicity makes it beginner-friendly due to its intuitive design. The option to color-code your notes makes it easy to categorize them based on colors.
Speed. Due to Google Keep's lightweight design and minimal features, the app runs quickly and is perfect for you if you're in the market for a tool to take simple notes.
Google Docs Integration. With Google Keep, you can easily transfer longer notes into Google Docs with a single click. This feature is handy especially if you're drafting detailed outlines.
Transcribe Voice Recordings. Another handy feature of Google Keep is its ability to transcribe your voice into notes. Simply record your voice via the app and it will transcribe what you're saying in real-time.
Record Audio Notes. Alternatively, you can also use the Google Keep app on your mobile device to record audio notes on the go. Record voice notes and store them on Google Keep for future reference.
Adding Doodles Into Notes. You're able to draw and save your doodles as notes on Google Keep. This could come in handy if you prefer to express some of your thoughts via drawings.
Labels to Organize Notes. It's easy to keep your notes organized on google keep by using labels and also the built-in search function.
Collaboration. Google Keep allows you to easily collaborate with other Gmail users by simply adding them as collaborators into your notes.
How Much Does Google Keep Cost?
Google Keep is completely free to use.
Workflowy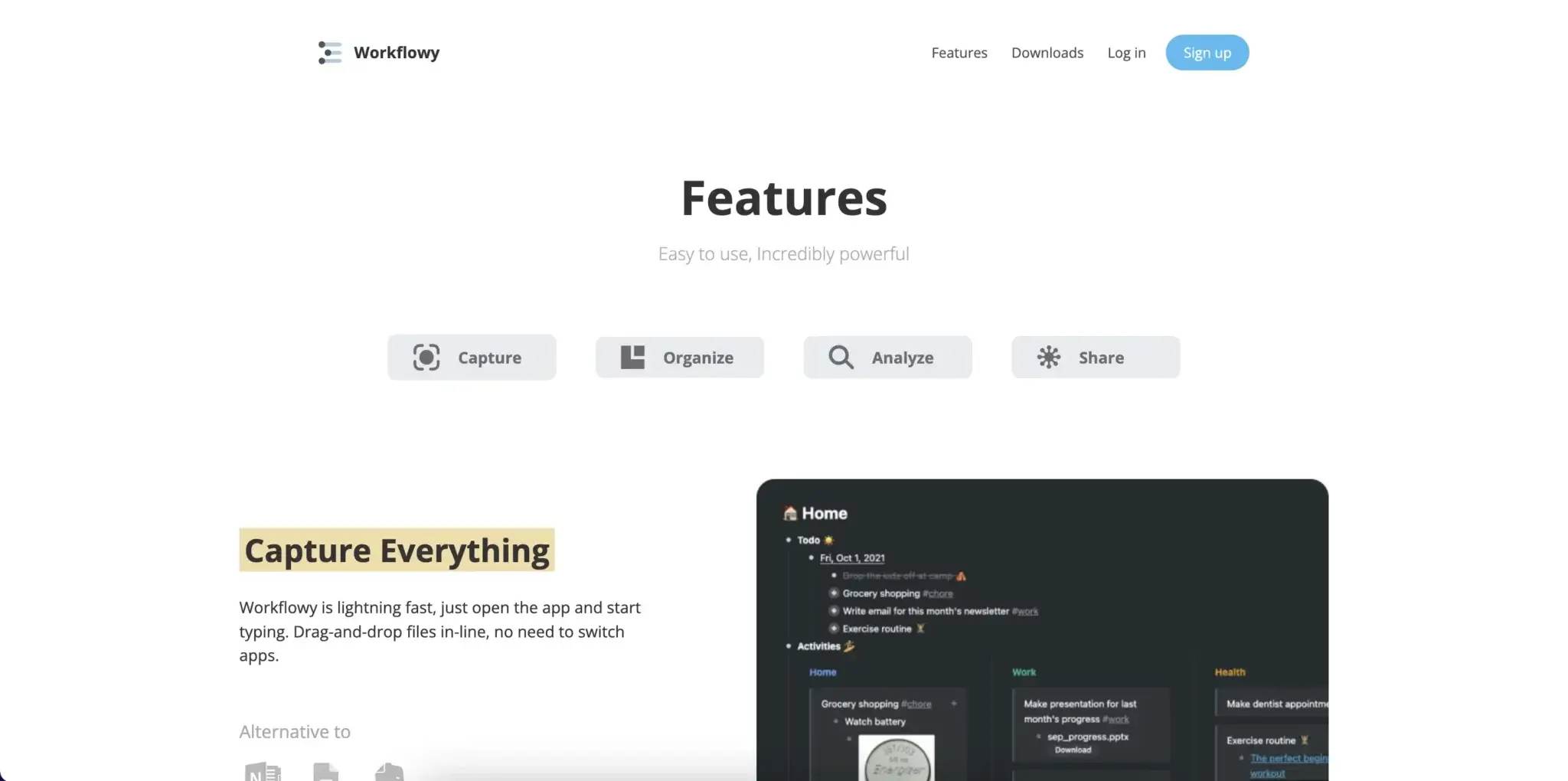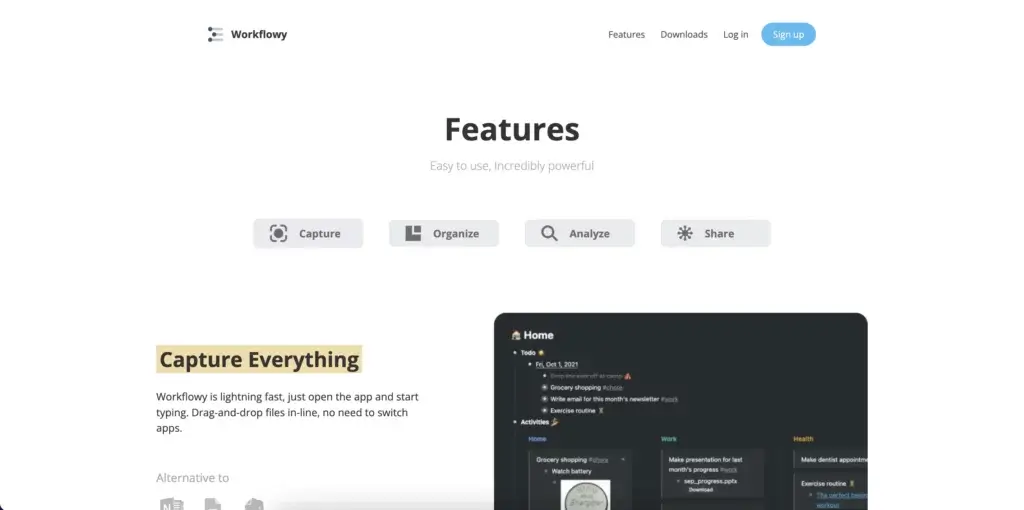 What is Workflowy?
Workflowy is streamlined outlining software that lets you map out all kinds of projects. The outliner app offers a minimalist, distraction-free outliner environment. You can use Workflowy in a web browser or get it for Windows, Mac, Linux, and mobile devices.
Like Taskade, Workflowy was nurtured under Y Combinator's wings and was designed to address everyday project management problems. Workflowy uses a hierarchical tree structure that accentuates the flexibility of ordinary lists.
Workflowy's ease of use gives it a spot in our list of the best note-taking apps of 2022.
Features of Workflowy
Infinite nested lists (in Workflowy Pro)
Filtering features
Color-coded tags and highlighting (beta)
Multi-factor authentication
Outline backup to Dropbox
A selection of themes and fonts
Outline sharing and collaboration
How Much Does Workflowy Cost?
Basic/Free

All features included
Limited to 250 bullets/month
File upload limited to 100 MB
Only basic sharing

Workflowy Pro ($4.08 billed annually)

Unlimited bullets
Unlimited file uploads
Advanced sharing features
Backup to Dropbox
Premium support
Roam Research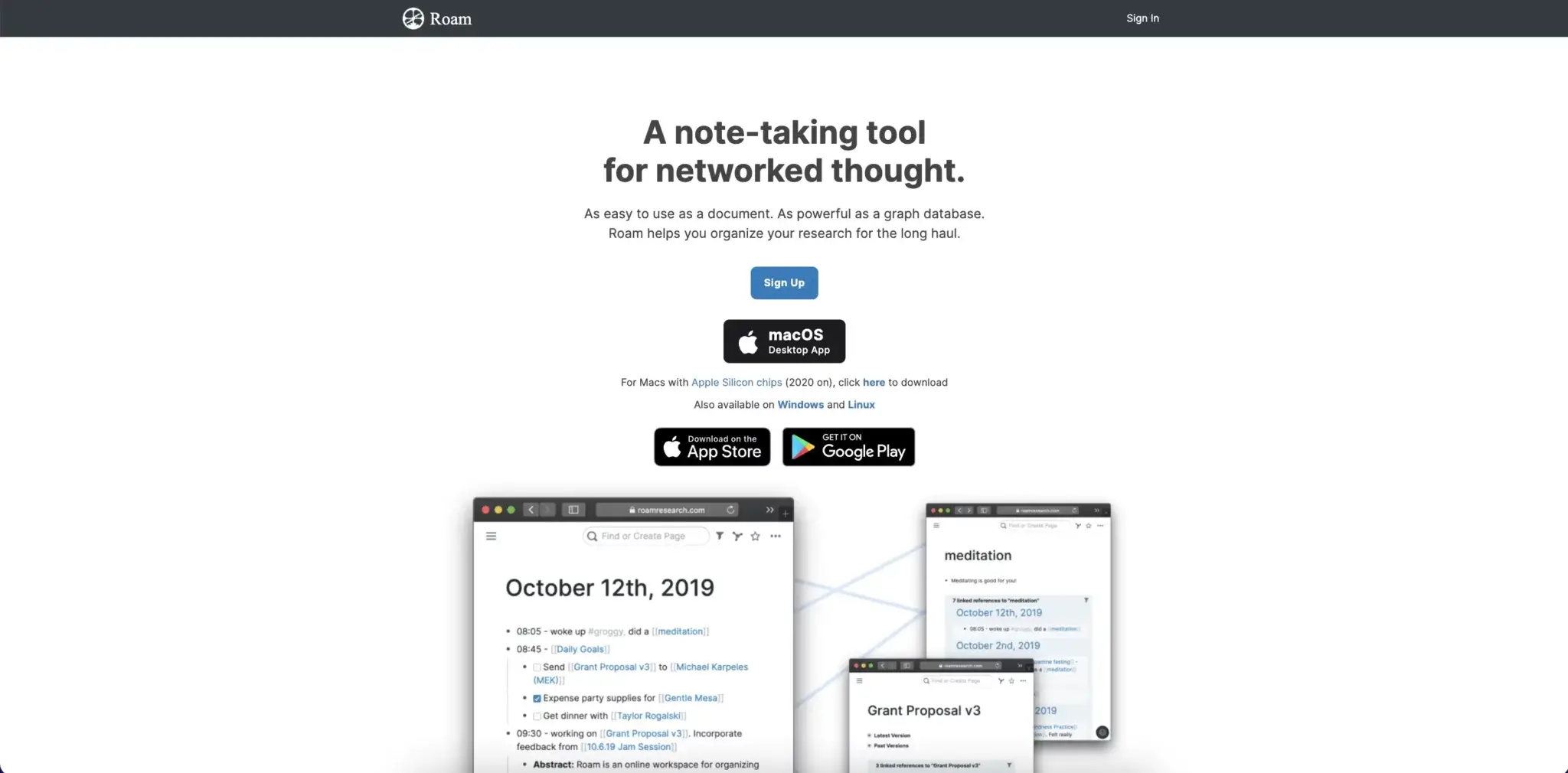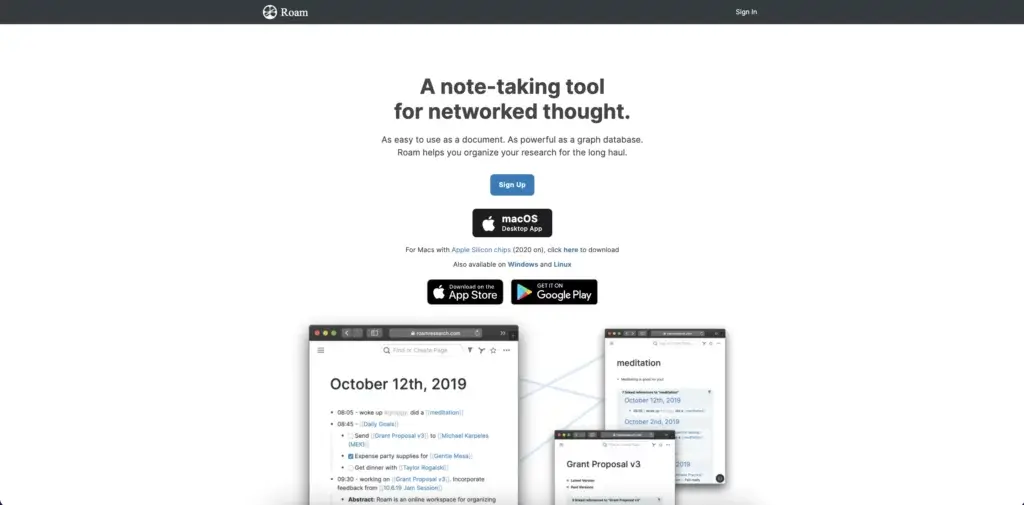 What is Roam Research?
Roam Research is a note-taking software that excels when it comes to creating a web of linked information.
Although Roam excels as a personal knowledge management tool, it offers only basic collaborative features and also has a steep learning curve.
Roam lets you create a web of interlinked notes. This unique feature makes it one of the best note-taking apps of 2022.
Features of Roam Research
Roam Research is a note-taking app that can also be used as a knowledge base for personal and professional use.
Roam focuses on a bottom-up thinking process. This approach involves creating bits of information and linking them together to eventually form a bigger picture. Every note that you take on Roam is fluid with no central idea, unlike a traditional mind map. This lets you freely create and link notes as you go by.
You take notes in a bullet list format in Roam Research. These bullet lists can be organized and collapsed to keep things neat. This is a useful feature especially if you find yourself drafting long-form notes most of the time.
However, what makes this tool powerful is the ability to create bi-directional links between your notes using bracket functions, which link them together both ways. If the page that you're linking to does not exist, Roam will create the page for you. This creates an in-depth personal wiki page with a web of interlinked information for you to access.
Collaboration on Roam can be done either by sharing pages, adding individuals to your database, or making your database publicly accessible.
How Much Does Roam Research Cost?
Pro ($15/month billed annually)
3 private or public roam graphs
Unlimited editors/viewers
API access
Believer ($500/5 years as a one-time payment)
Priority access to new features
Priority support
Dynalist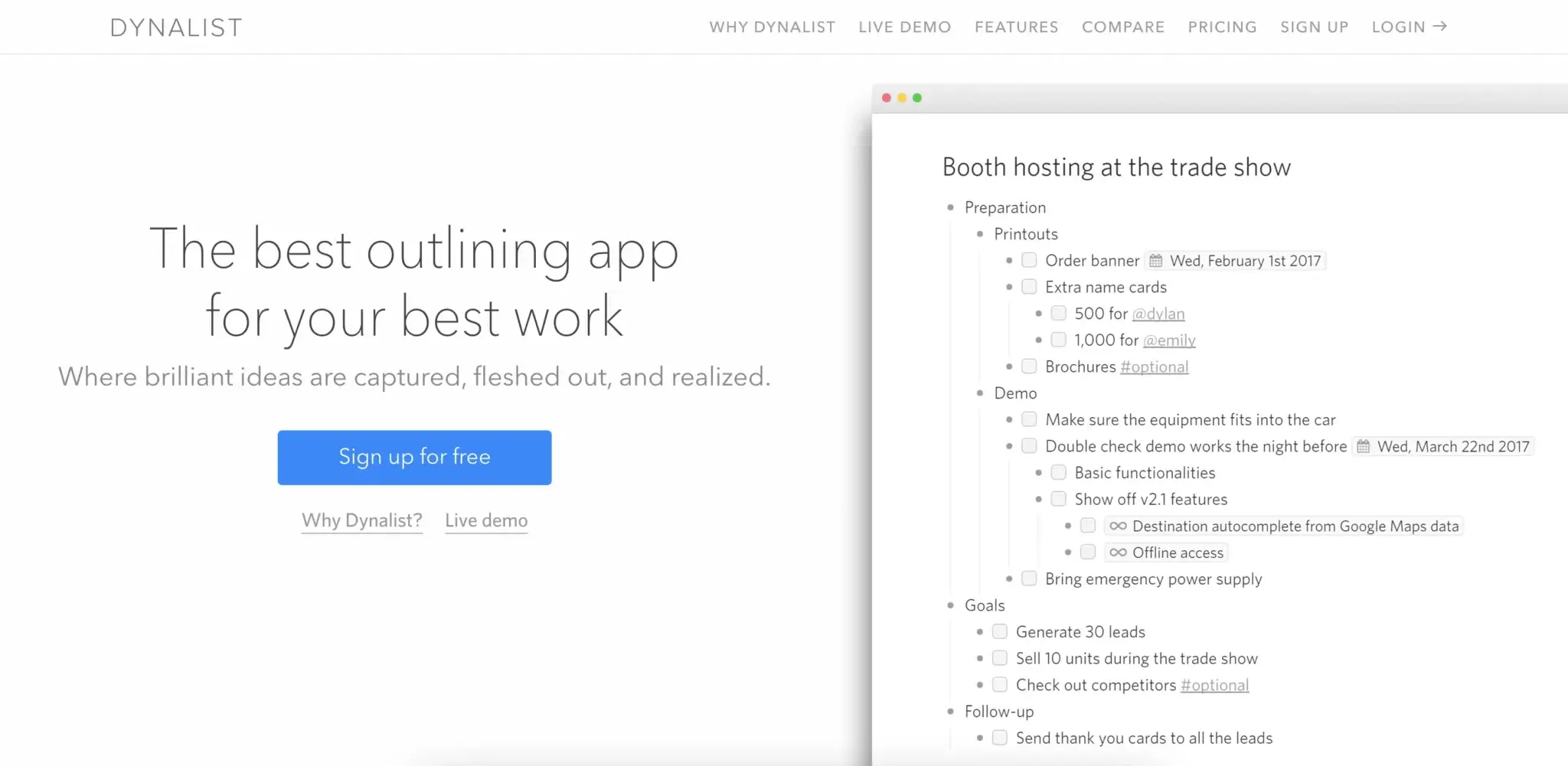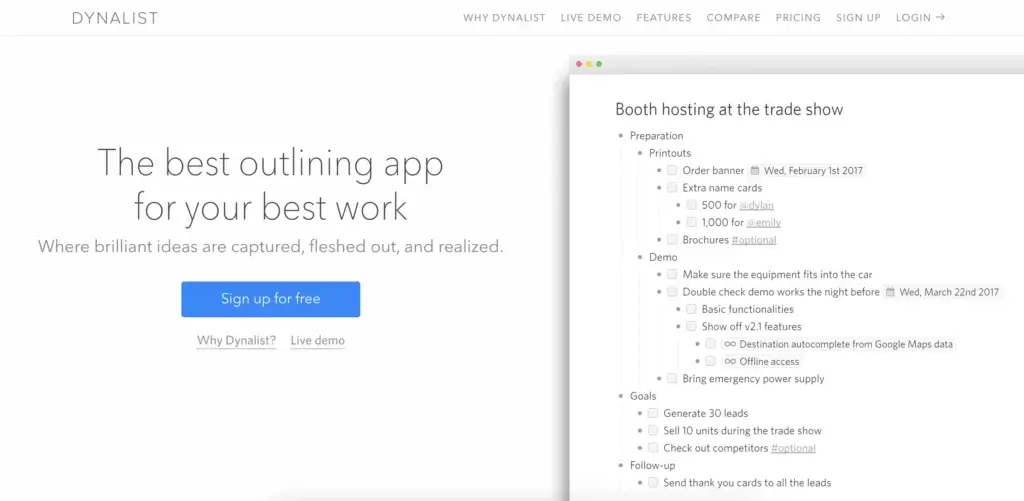 What is Dynalist?
Dynalist is an outliner that was created by Shida Li and Erica Xu after the two founders found that Workflowy, the tool that they were using, was lacking in certain features to help them get work done.
Being an outliner software, Dynalist is a collaborative note-taking tool that can also help you take notes hierarchically. The software organizes information in a way that helps you with recall, much like a second brain.
However, after creating Obsidian, the two founders have announced that Dynalist will not be getting any major upgrades in the near future.
Even though Dynalist won't be getting any major improvements, it still is one of the best note-taking apps out there in the market today.
Features of Dynalist
Dynalist has features to help you with note-taking and also project and task management. On Dynalist, you can list down your ideas hierarchically and keep breaking them down to gain a firm understanding and understand things better.
What's more, Dynalist is also available on all devices, meaning that you can take notes and manage your to-do lists from anywhere.
To help you manage your notes, Dynalist lets you group similar concepts together using tags to help you filter through your notes. Besides that, Dynalist has pretty standard features that you would expect to see in an outliner app. Some of these features include:
Markdown formatting
Tags
Colored labels
Headings (H1, H2, H3)
Internal linking
In terms of task and project management, Dynalist has standard features to help you manage your to-do lists. Task management is done by creating a checklist on Dynalist. After populating your checklist with tasks, you can set due dates and also set a task to repeat if it's a recurring one.
However, Dynalist lacks the ability to assign tasks to your teammates, which means that the only way to assign tasks is to communicate the task to them via another application.
Dynalist also supports integration with Google Calendar so that you can sync your to-do list and view them on your Google Calendar.
How Much Does Dynalist Cost?
Free
Unlimited items and documents
Internal linking
Markdown formatting
Tags
5 bookmarks
Sharing and collaboration
Pro ($7.99/user per month)
Google Calendar integration
Tag pane
Recurring tasks
Unlimited bookmarks
Custom CSS
Dropbox & Google Drive backup
Priority support
Obsidian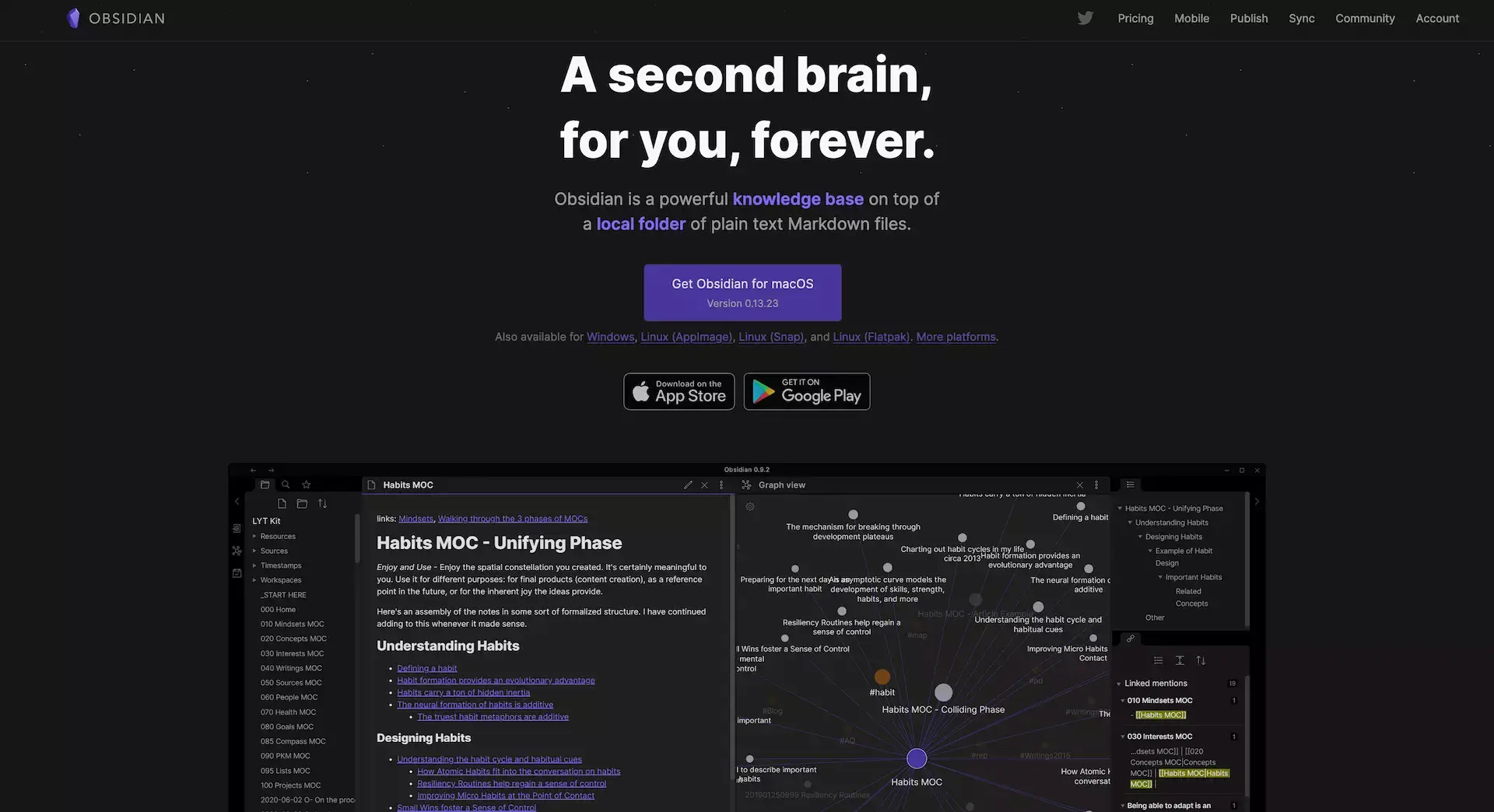 What is Obsidian?
Obsidian is a note-taking software that works as a second brain application for knowledge management. It's ability to create a web of interconnected notes makes it one of the best note-taking apps out there today.
Created by Erica Xu and Shida Li during the quarantine period of Covid-19 in 2020, the outliner tool has gained traction with over 50,000 members in their Discord community, all while still remaining as a two-man team.
Features of Obsidian
Markdown support
Cross-linking and graph view
Multiple resizable UI panes
Official and community plugins
Pre-made UI themes
Proprietary and external sync
Bi-directional linking
How Much Does Obsidian Cost?
Free for personal use
Doesn't require an account
Plugins and API
Catalyst ($25/50/100 one-time purchase)
Support the development process
Access to insider builds
Commercial ($50/year per user)
Ready for commercial use
Priority support
Sync Add-On ($8/month billed annually)
End-to-end encryption
Built-in version history
Priority email support
Publish Add-On ($16/month billed annually)
Selective notes publishing
Graph view and outline
Priority email support
Apple Notes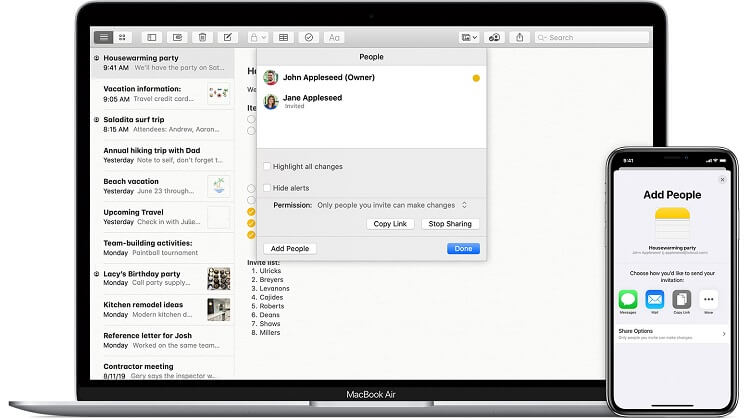 What is Apple Notes?
Apple Notes deserves a honorable mention because it is a free note-taking app that is available on most Apple devices. This app is used primarily for taking notes and creating simple lists.
Apple Notes is arguably one of the best note-taking apps on iOS as it can be used to create a quick note on your iPhone, iPad or Macbook whenever you need to.
Features of Apple Notes
Note-taking
Create audio notes with Siri
Share notes
Creating simple tables
Creating simple lists
Sketch ideas
Paste images
How Much Does Apple Notes Cost?
Apple notes is a free note-taking app that can be used across Apple devices.
Notion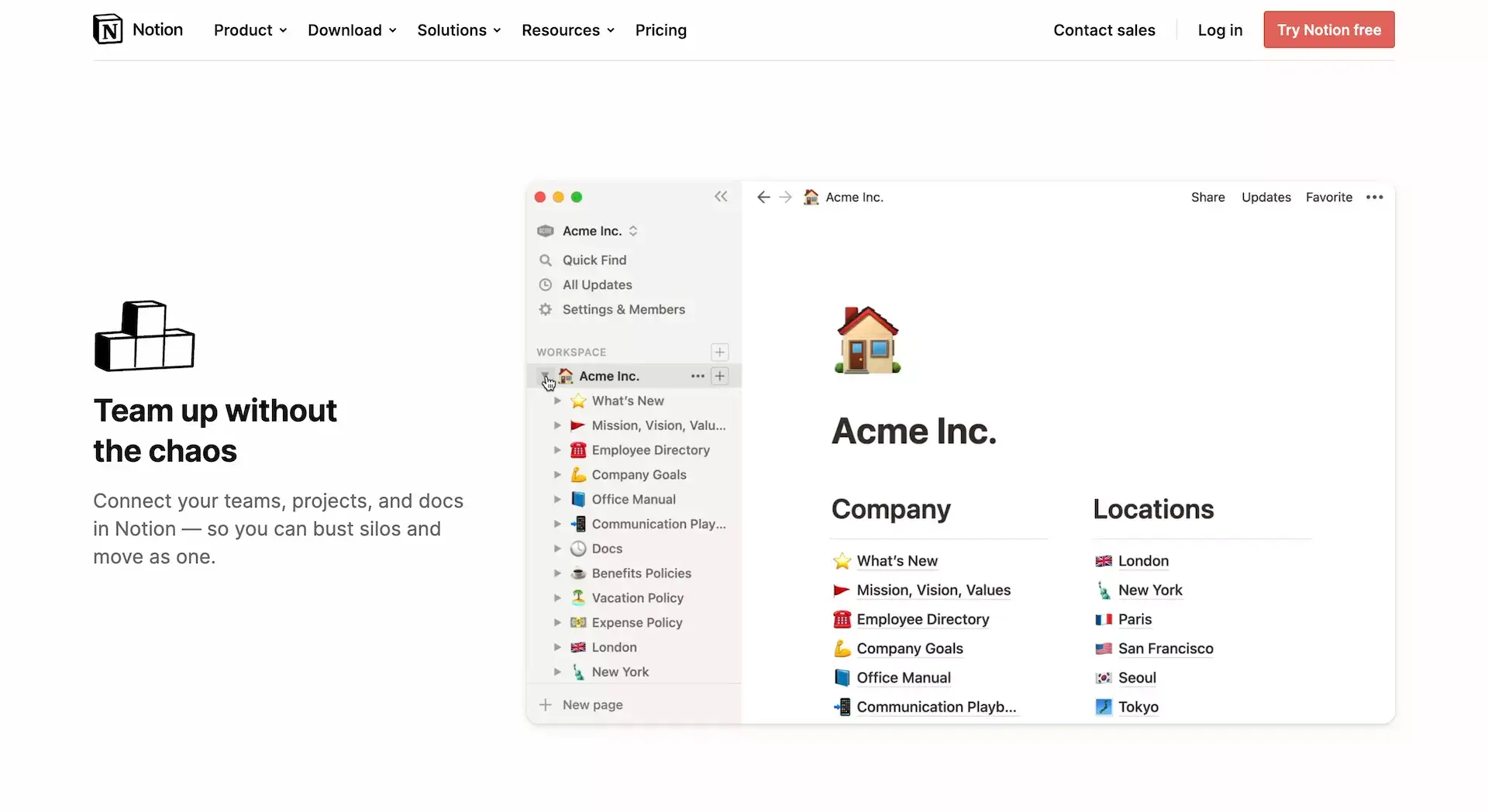 What Is Notion?
Notion is an all-in-one app that allows you to take notes and manage projects to improve your productivity.
It was released to the public in 2015 with the goal of ending the need of having multiple productivity tools by being an all-in-one app.
If you can overcome Notion's learning curve, you'll realize why we've added this app into our list of the best note-taking apps.
D
Features of Notion
Notion as a software attempts to be a jack of all trades. It combines multiple tools such as project management, to-do lists, note-taking, wiki creation, and more into one unified software.
Notion is heavy on features and also supports integrations with other apps such as Google Drive, Trello, Slack, and more. When using Notion, you create content on pages by filling up blocks with content.
Although Notion does have a steep learning curve due to it having a lot of features, it can be a useful tool to help you and your team get work done. Having multiple features also means that Notion is flexible, meaning that you can use it for just about anything.
How Much Does Notion Cost?
Notion offers its software at four different tiers which include the free personal plan, personal pro, team, and enterprise plan.
Personal/Free
Unlimited blocks & pages
5 guests users/editors
Multi-device sync
Personal Pro ($4 per month)
Unlimited uploads and guest users
Version history
Team ($8/month per user)
Unlimited team members
Collaboration with permissions
Admin tools
Enterprise (custom)
Advanced security with SAM/SSO
XMind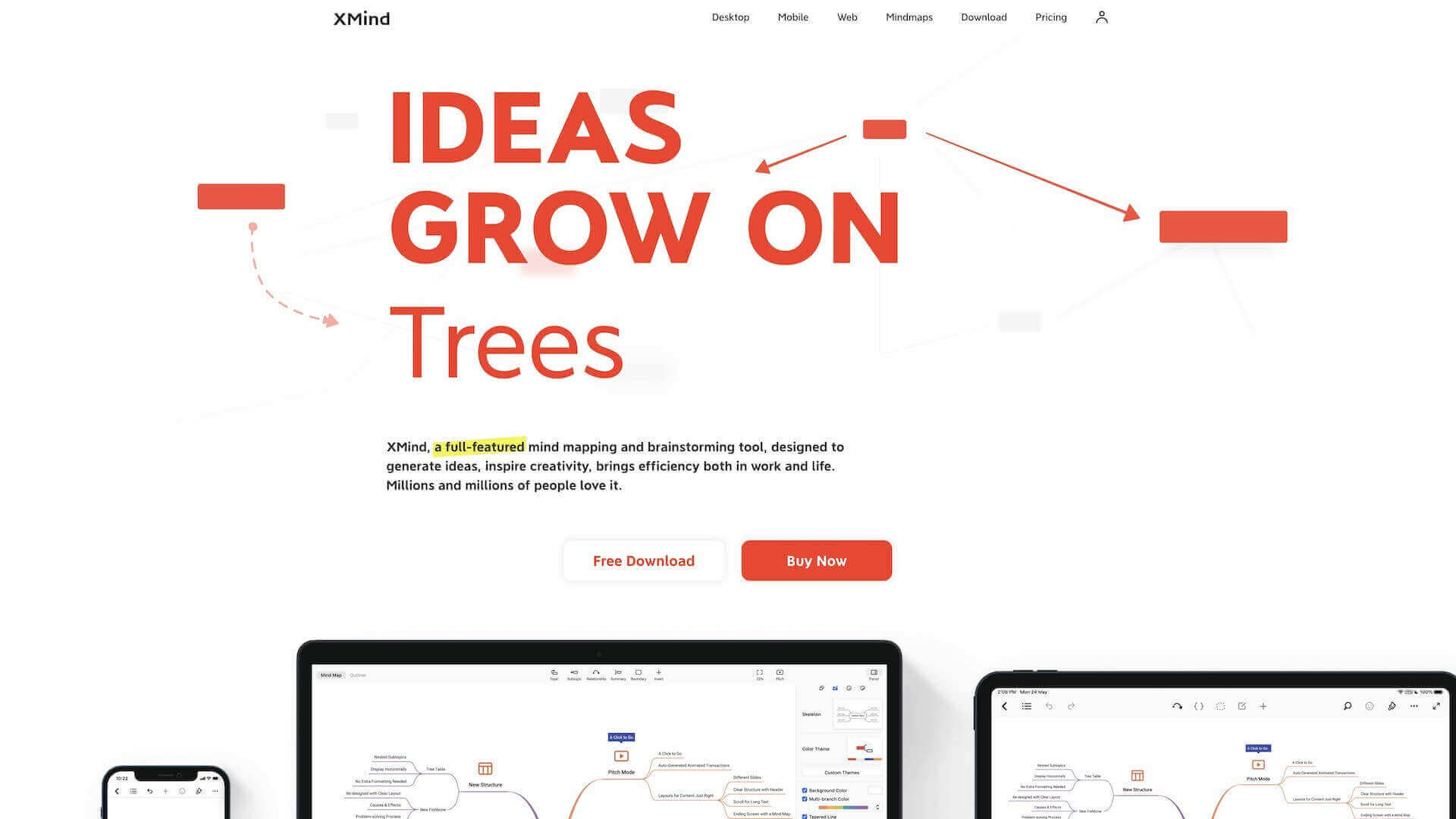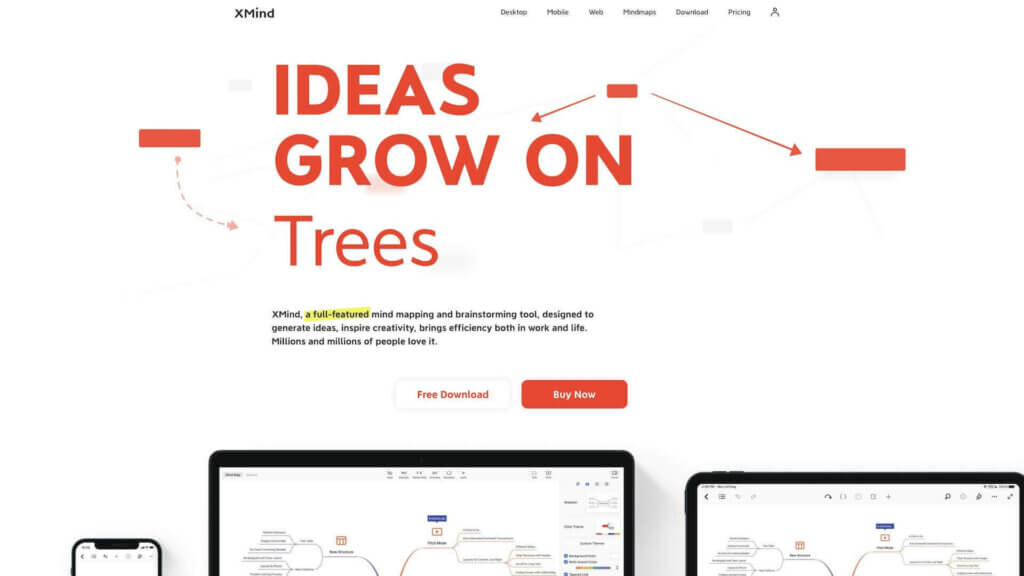 What Is XMind?
XMind is a mind mapping application founded by Brian Sun in 2008. The popular mind mapping tool was created with the aim of helping people brainstorm more ideas and organize them via mind maps.
You can use XMind to take notes in the form of a mind map to help you visualize your information better. This unique feature makes it one of the best note-taking apps out there today.
Features of XMind
XMind is a dedicated mind mapping tool that has advanced features to help you create mind maps intuitively. Here are some of the types of mind maps that you can create on XMind:
Fishbone
Tree table
Timeline
Org chart
XMind also allows you to switch to an outliner view so that you can organize your thoughts in hierarchies. You can use this application to take notes if you're into visualizing your information in the form of mind maps.
How Much Does XMind Cost?
XMind offers its software in one main pricing plan. You can choose to pay every 6 months for $39.99, or yearly for $59.99 per user.
Each XMind subscription unlocks all features across all devices, with a limit of 5 desktops/laptops, and 5 mobile devices.
Miro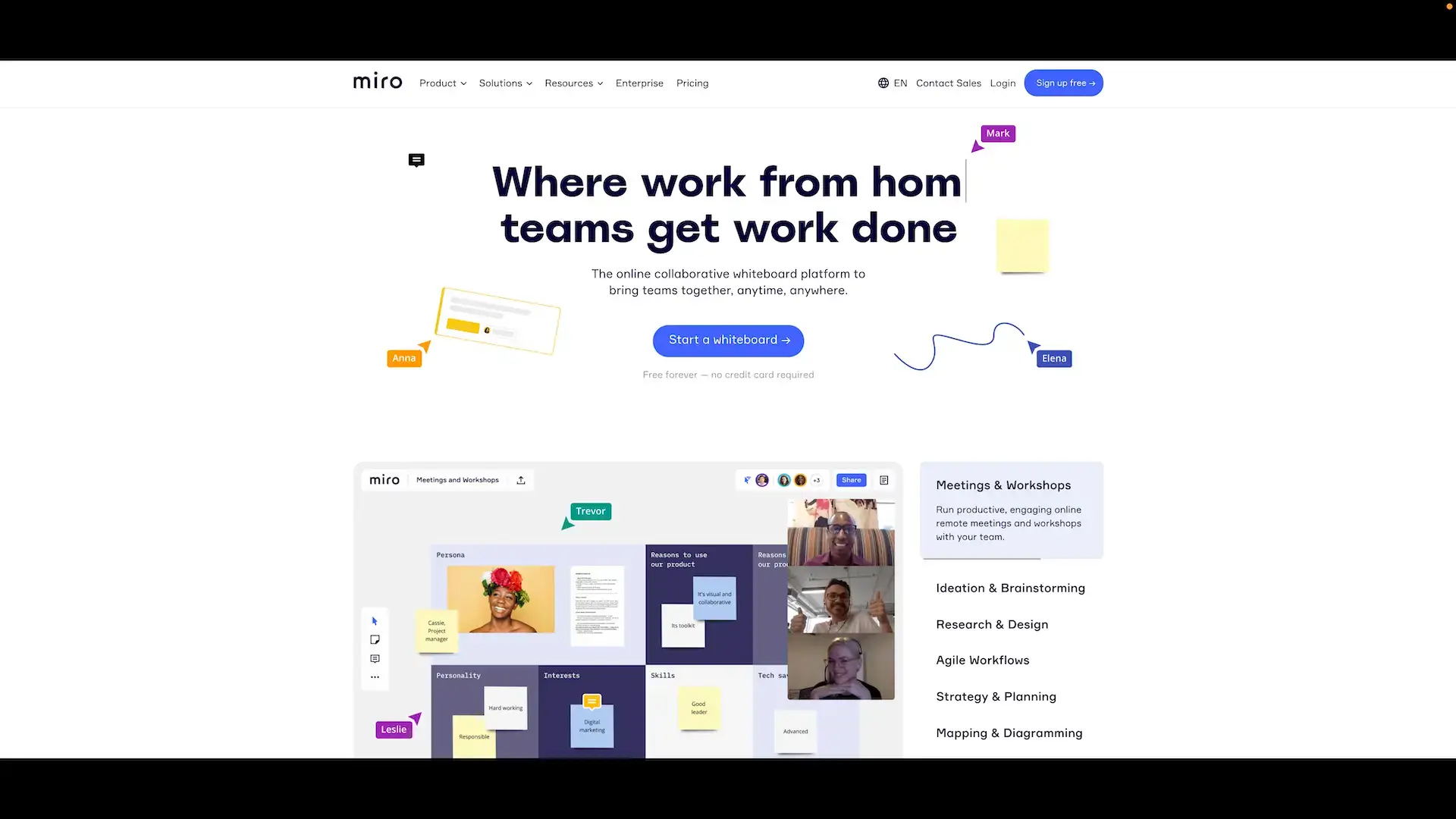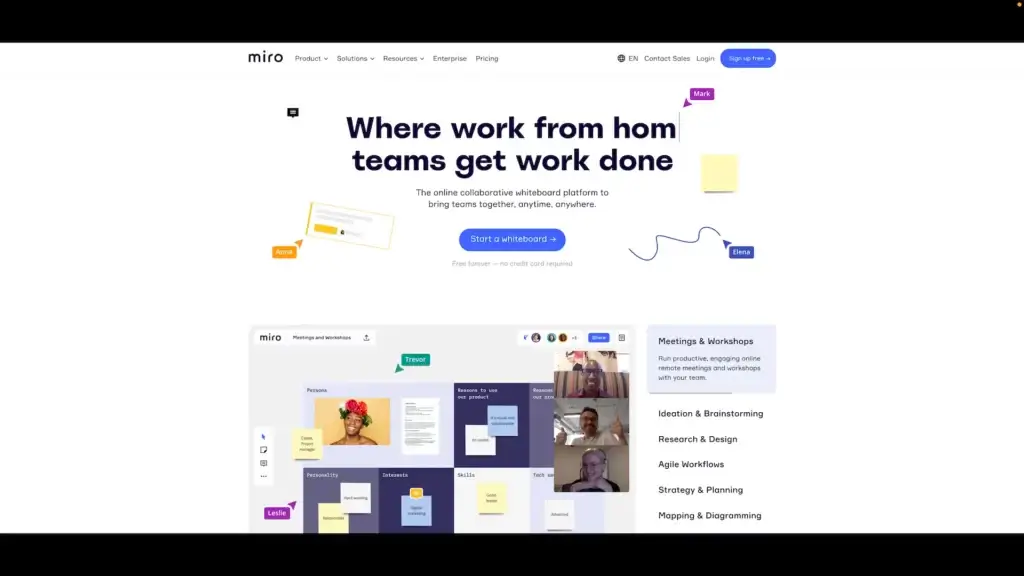 What Is Miro?
Miro is a visual collaboration platform that was founded in 2011 by Andrey Khusid.
Miro utilizes a more visual approach to brainstorming and collaboration. Its wide range of features makes it feel like an online collaborative whiteboard to help you come up with creative ideas and take notes.
On Miro, users can choose to start work on a customizable empty board or get started with ready-made templates. Boards can be used for a variety of things ranging from note-taking, project management, brainstorming, wireframe creation, and more.
Miro is one of the best note-taking apps when it comes to visual and collaborative note-taking.
Features of Miro
Miro has a few features to help you take notes collaboratively.
On Miro, your whiteboard can be customized to fit your needs. Each board is built in the form of a fully customizable infinite canvas. This allows you to collaborate and branch out your notes without limit.
Similar to other visual collaboration tools, Miro also features a drag-and-drop design which makes it easy for you to edit your visualizations. Boards also have tools such as shapes, arrows, and drawing to make it seem as if you're collaborating on an infinite whiteboard.
On Miro, you can collaborate with your team members via chat and video calls to reduce the need to toggle between applications when working.
How Much Does Miro Cost?
Miro Free Plan
Miro's Free Plan is ideal if you're trying out the software to see if it's a good fit for yourself or your business. The Free Plan comes with access to templates, a maximum of 3 boards, and integrations excluding Jira and Confluence.
Miro Team Plan ($8/month)
Miro's Team Plan gives you access to unlimited boards and the ability to create and share your own templates with your team. You also get extra features such as video calls, voting, timer, and the ability to organize projects via kanban boards.
Miro Business Plan ($16/month)
The Business Plan gives you the added ability to invite guests to your private boards. You can also organize smart meetings with a specific set of tools and create better diagrams with advanced packs.
👋 Parting Words
If having the best note-taking app isn't enough to satisfy your pursuit of productivity, why not check out some of our other similar articles to help you take better notes?
Till next time!