If you're a student, you probably are always on the lookout for ways to improve your productivity. Outliner apps are tools that help you to outline your thoughts via software. Read on to find out more about how outliners can help you increase your productivity including our list of the best outliners out there!
What is an Outliner App?
Outliner apps(1) are powerful tools that allow you to create outlines for different ideas and projects. Starting a new project or complex task may seem daunting at first, and this is where an outliner software comes in handy.
An outliner is a type of software that helps you condense your thoughts by organizing text hierarchically in a tree-like structure. Using hierarchies helps you to break down larger tasks into smaller, less-scary steps. When using an outliner, you can open and close sections in your outline in order to keep things neat and organized.
Think of the outlining process as creating the blueprint first before laying down the bricks for your building. Contrary to mind mapping, outlining is much harder to do on paper as compared to an app because you're limited by space on paper. However, outlining using software gives you plenty of real estate to work with.
If you're looking for a different method of taking notes, do consider trying out mind mapping to organize your thoughts and ideas. If you're a productivity nut, take it a step further and use the best mind mapping apps to boost your productivity!
How Can Students Use Outliner Software?
Outlining is a skill that is essential for students to master. This makes outliner software almost a must-have for modern students. Check out some of the ways that students can use outliner software below.
Project work
As a student, it's inevitable that you'll be faced with school projects that require planning and collaboration. Projects can be made simpler when they're broken down into smaller tasks. As such, if you're a student, you can use an outliner software to outline the skeleton of your project to make sure that you have your bases covered.
Essays
As a student, you definitely will be required to write a lot of essays. Before you even start writing those lengthy assignments, you most definitely need to organize your thoughts with an outline. There's nothing worse than realizing that you don't have enough content to meet your target word count.
Fortunately for you, outliner apps are powerful tools to help you with your writing process. Outline your thoughts in a hierarchical manner when planning your essay so that you can have a smoother writing process.
Revision
School is synonymous with overloading your brain with information from all the modules that you're taking. However, this can be made simpler if you make use of an outlining tool to write down notes to structure your thoughts.
Throughout the semester, students will be exposed to a wide range of subjects, each with their own set of dense concepts to learn (memorize). Therefore, using an advanced productivity tool such as Taskade can help you absorb information better.
Additionally, if you accidentally deleted your notes, Taskade supports revision history through our project history and version restore function. This allows you to restore backups effortlessly!
This is because Taskade allows you to switch between views so that you can infer your data in multiple ways. Try Taskade for free today and revise the smarter way!
Best Outliner Apps for Students
Taskade is an online productivity and collaboration tool that was founded by John Xie, Dionis Loire, and Stan Chang in 2017. The Y Combinator-backed startup aims to help remote teams and individuals get work done faster and smarter.
Ultimately, Taskade is a collaborative outlining software that combines project and task management with powerful outlining features, which are a good fit for students.
Taskade turns the chaos of everyday commitments into a hierarchy of cascading tasks. By breaking complex problems into smaller chunks, you and your team can focus on the work that matters, one step at a time.
And the best part?
Taskade is the only outliner that syncs everything in real-time!
Once you get the hang of it, outlining using Taskade is highly efficient and productive. Adding, deleting, and reorganizing things are super easy with keyboard shortcuts and more.
Outlining in Taskade is simple. All you need to do is add a few lines of text inside any of your projects and indent sub-tasks or lower-level elements with the ⌨️ Tab key.
Every outline you create in Taskade can be formatted and customized to give it a unique flavor. Choose from several different bullet styles, checklists, and headings and add finishing touches with beautiful highlight colors.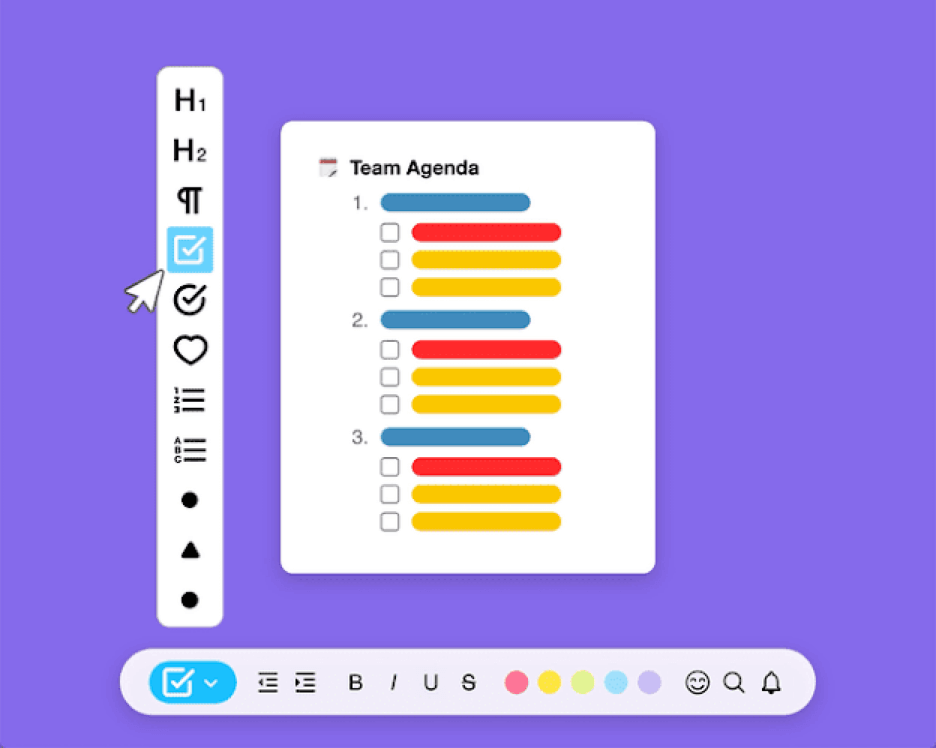 Finally, Taskade outlines are stored in a tree-structured database, which means they're designed to be organized hierarchically. You can use Taskade's flexible workflow to transform your outlines into mind maps or org charts.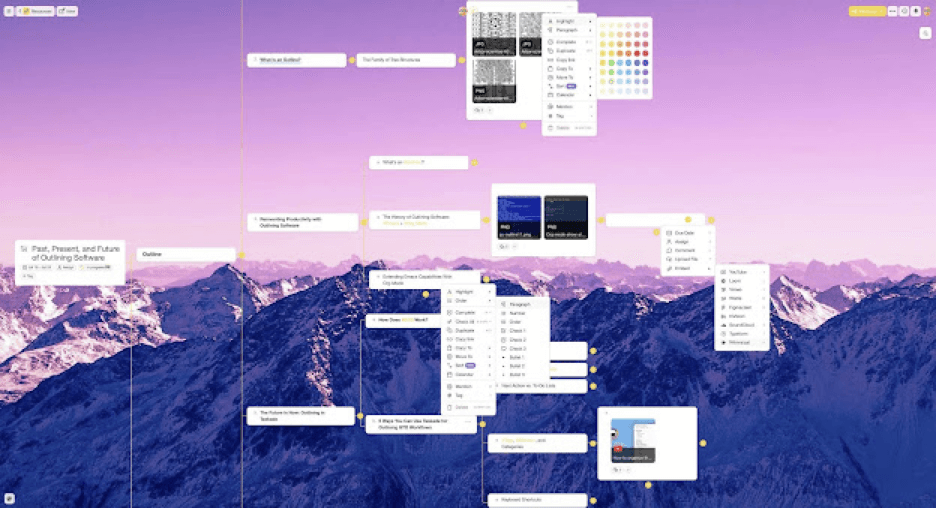 🌟 Key Features of Taskade
Fold/Unfold. Fold (collapse) a parent task/bullet element to hide its subtasks. Indent outline elements with ⌨️ Tab and unfold lists with ⌨️ Shift+Tab.
Project Views. Visualize your projects in several different ways. Cycle between the List, Mind Map, Org Chart, and Board views to work the way you want.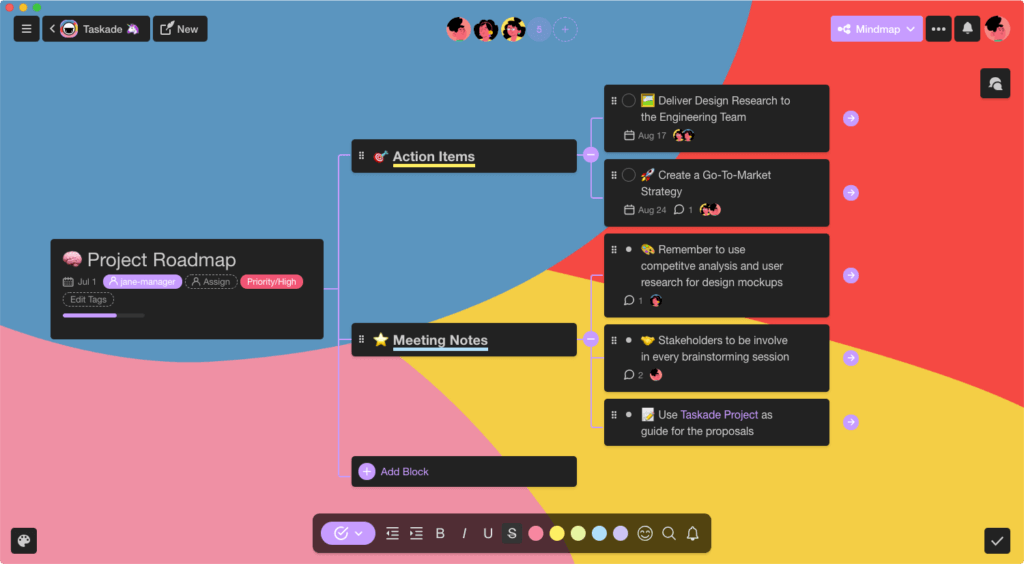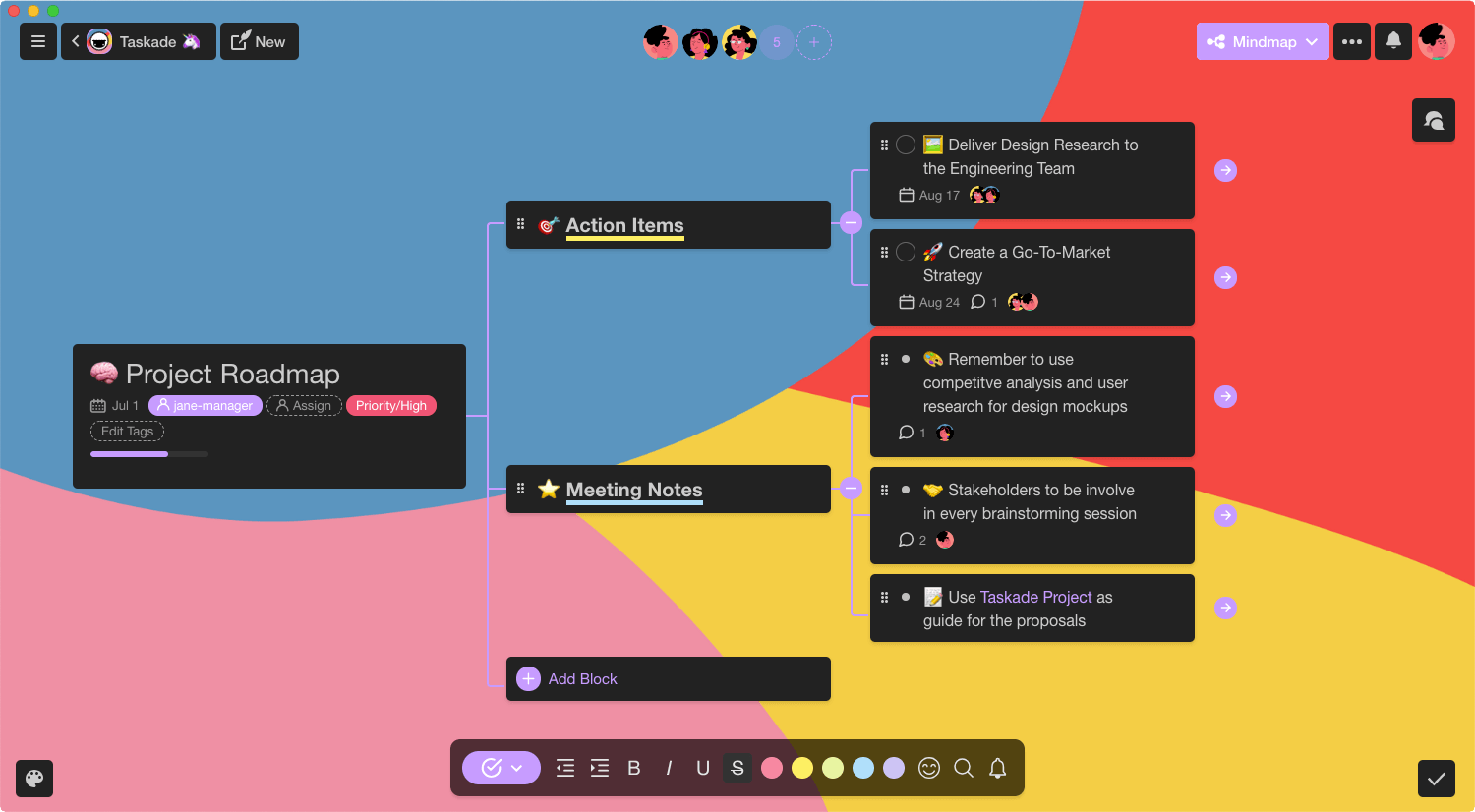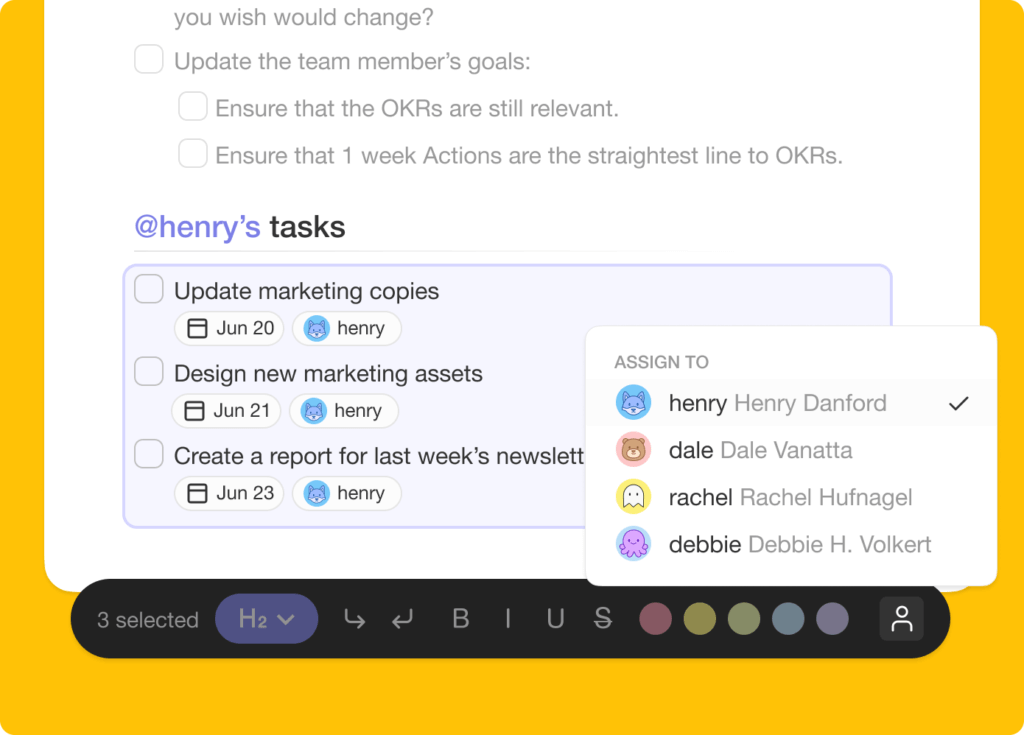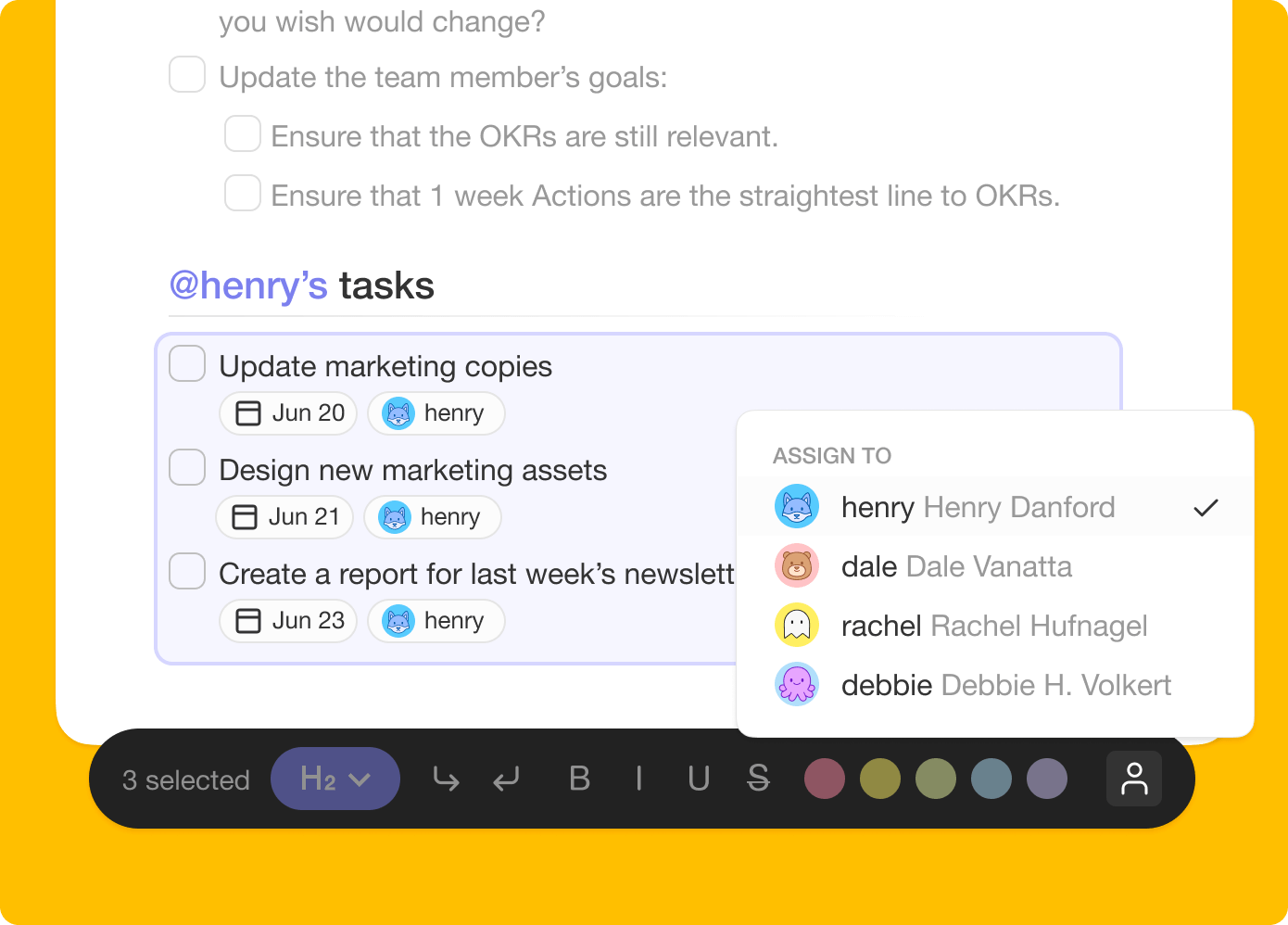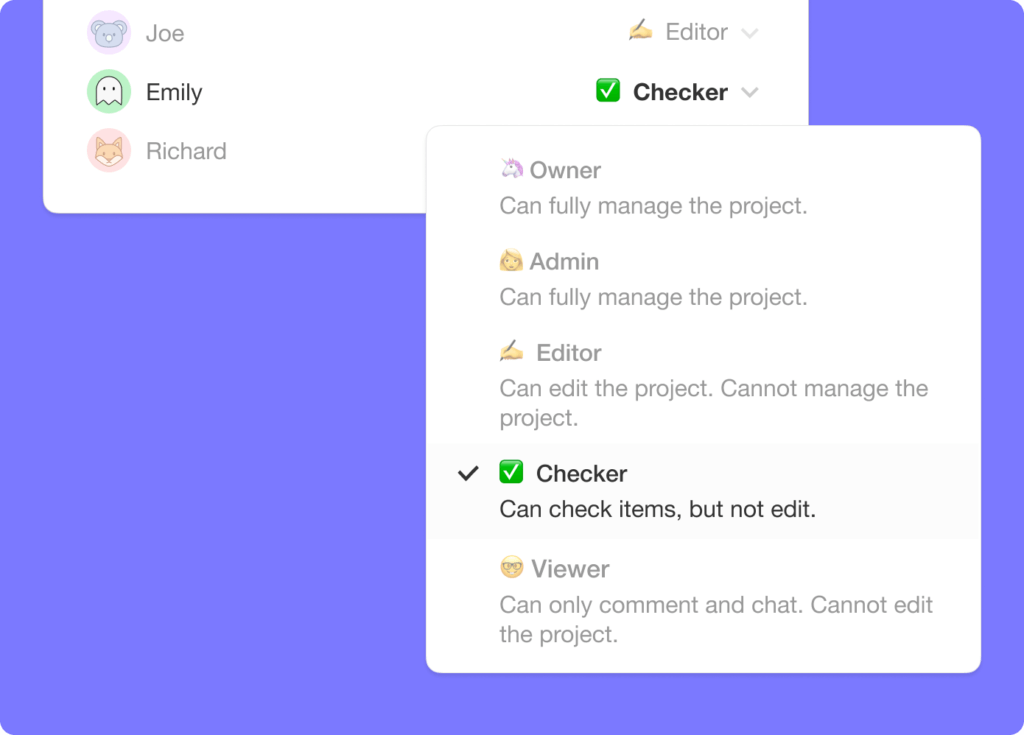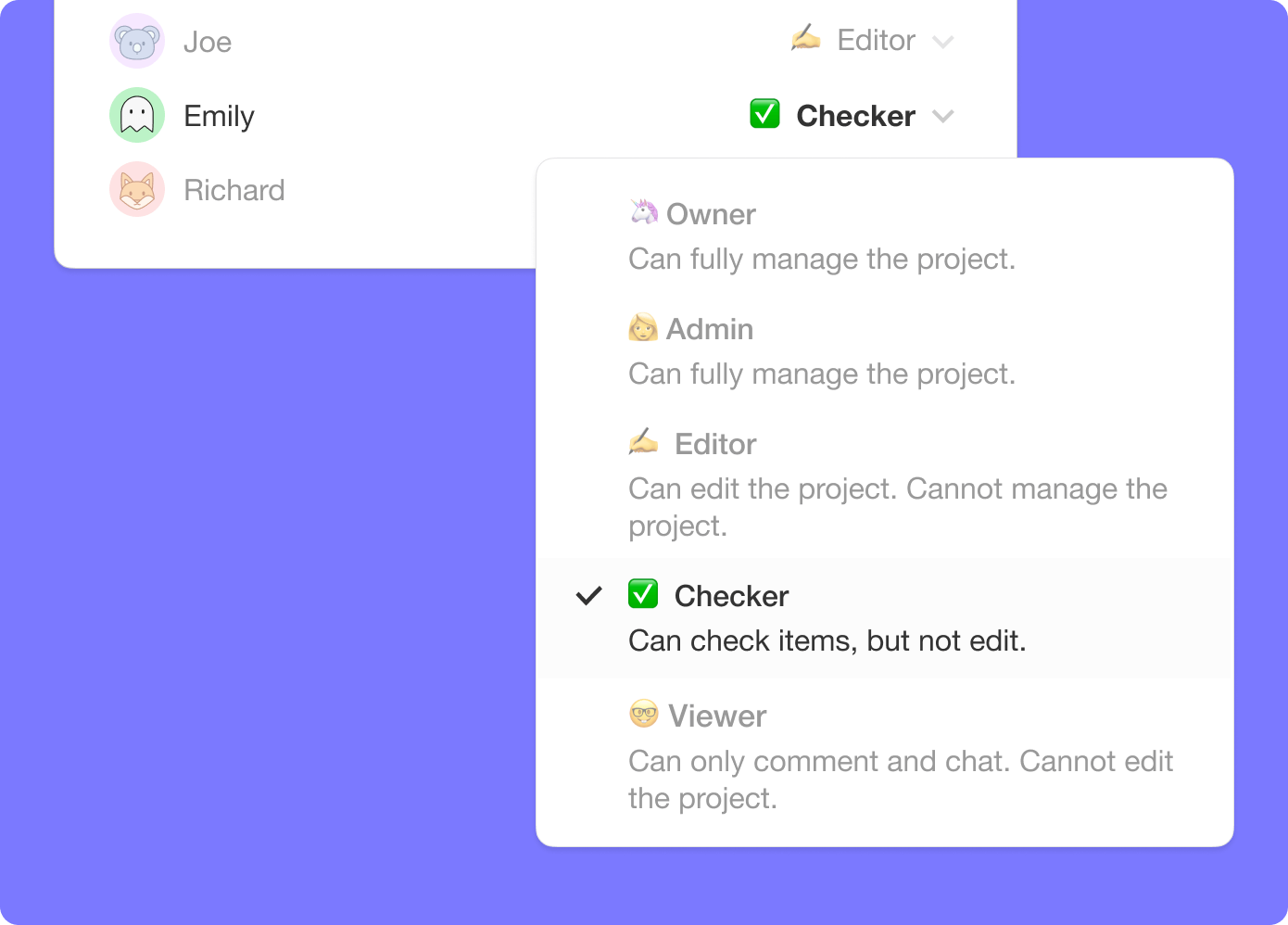 Sort Tasks. Sort sub-tasks/children elements by completed/uncompleted stats or the due date. Task sorting can be accessed from a convenient pop-up menu.
Search. Search within projects or globally across workspaces and subspaces. Instantly browse and jump between projects anywhere in the Taskade.
Keyboard Shortcuts. Navigate projects, create content blocks, reorder elements, and complete tasks using a set of handy keyboard shortcuts.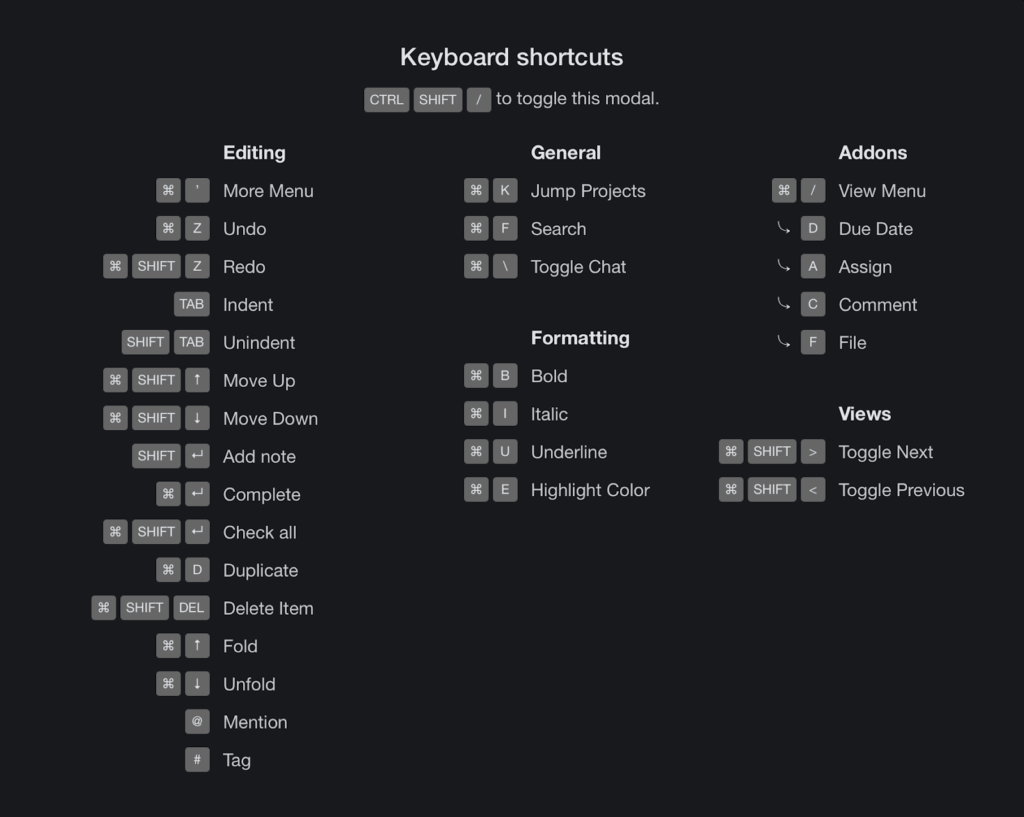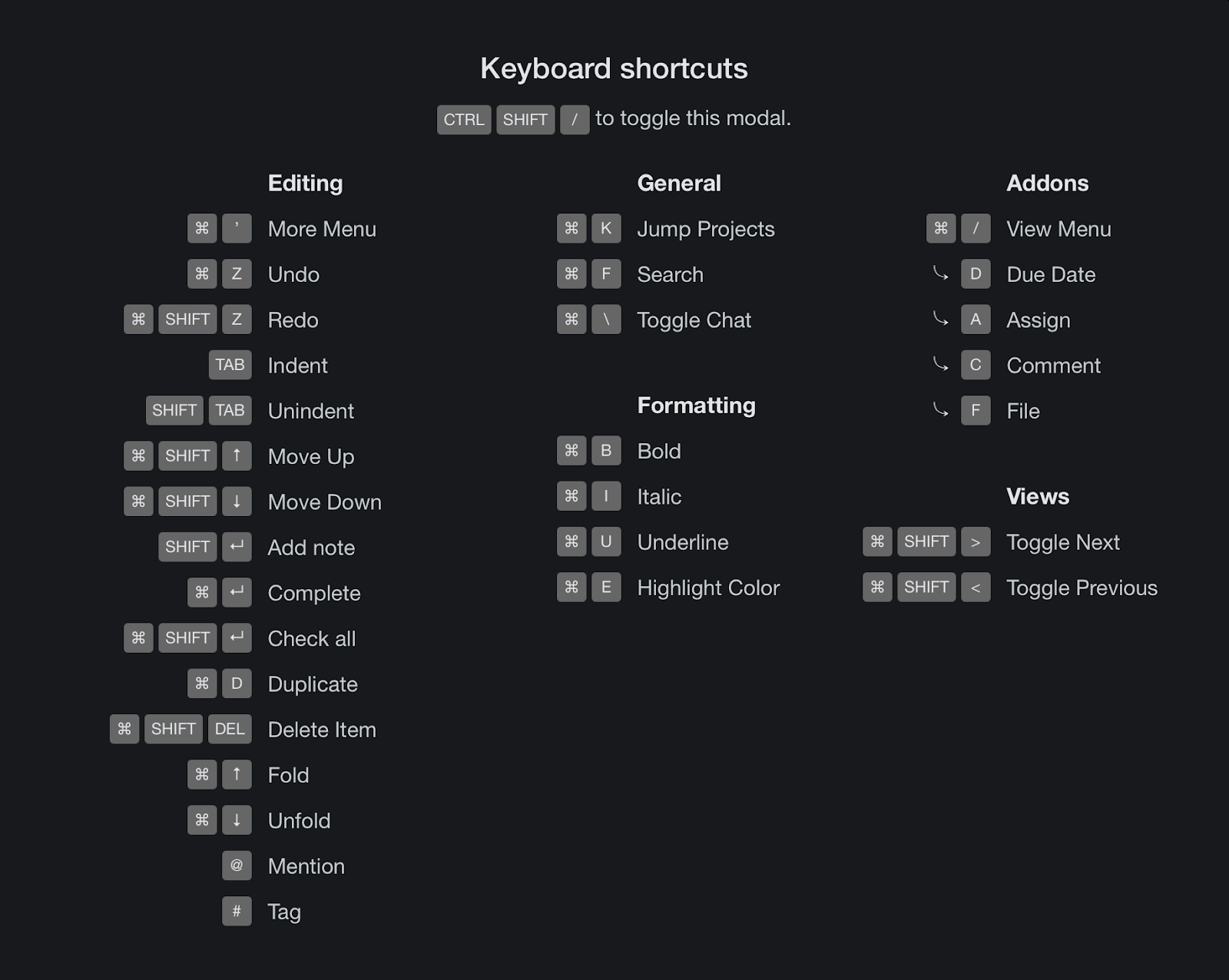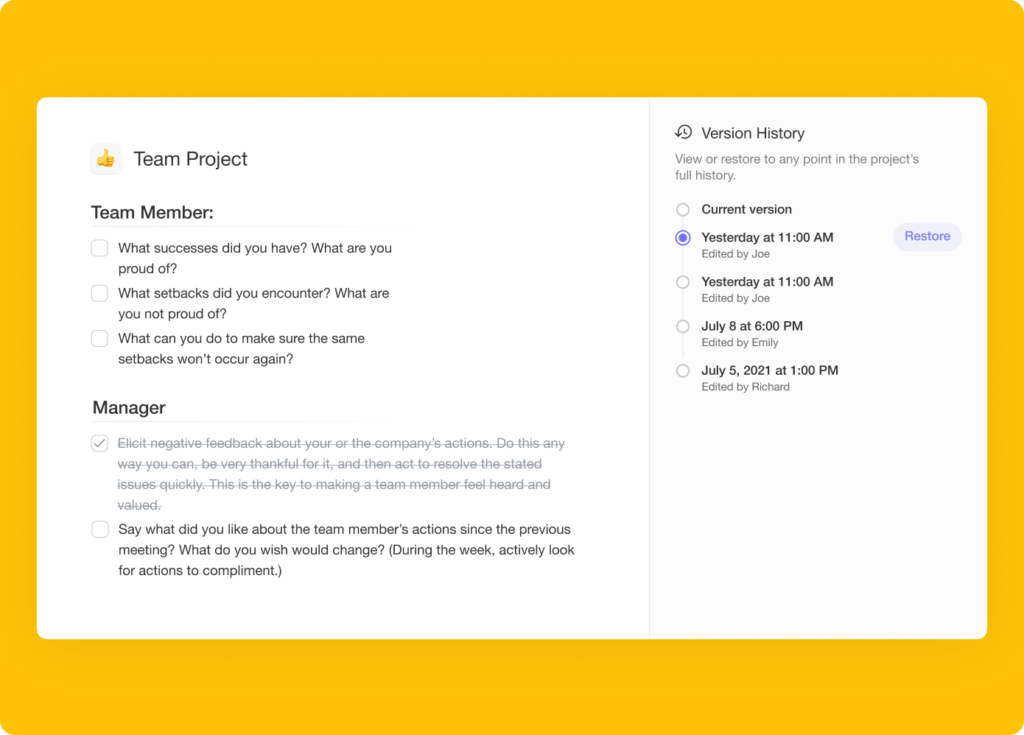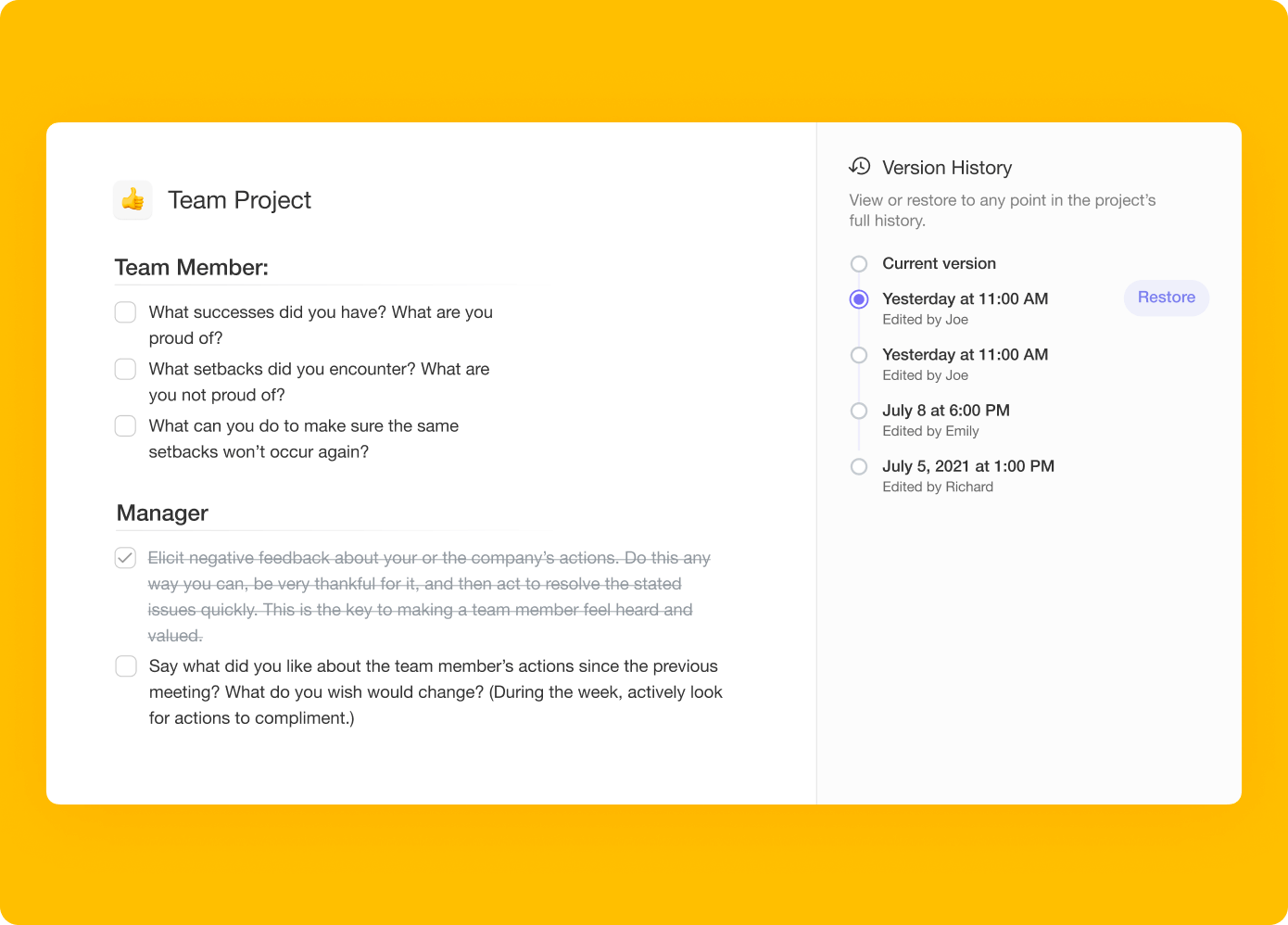 Export and Print. You can export your projects as plain text or markdown files. Attach them to emails, presentations, or for print.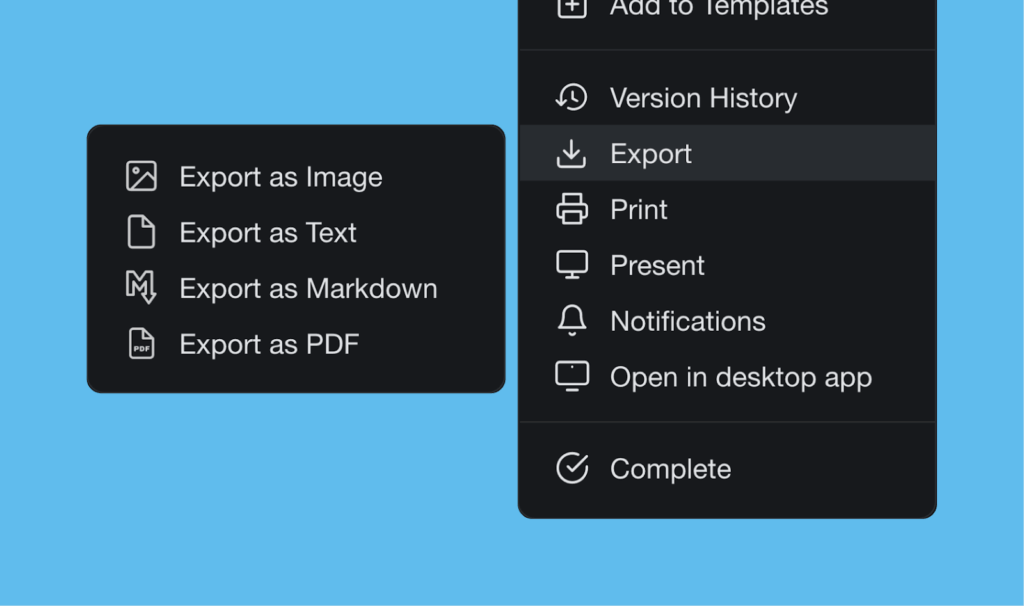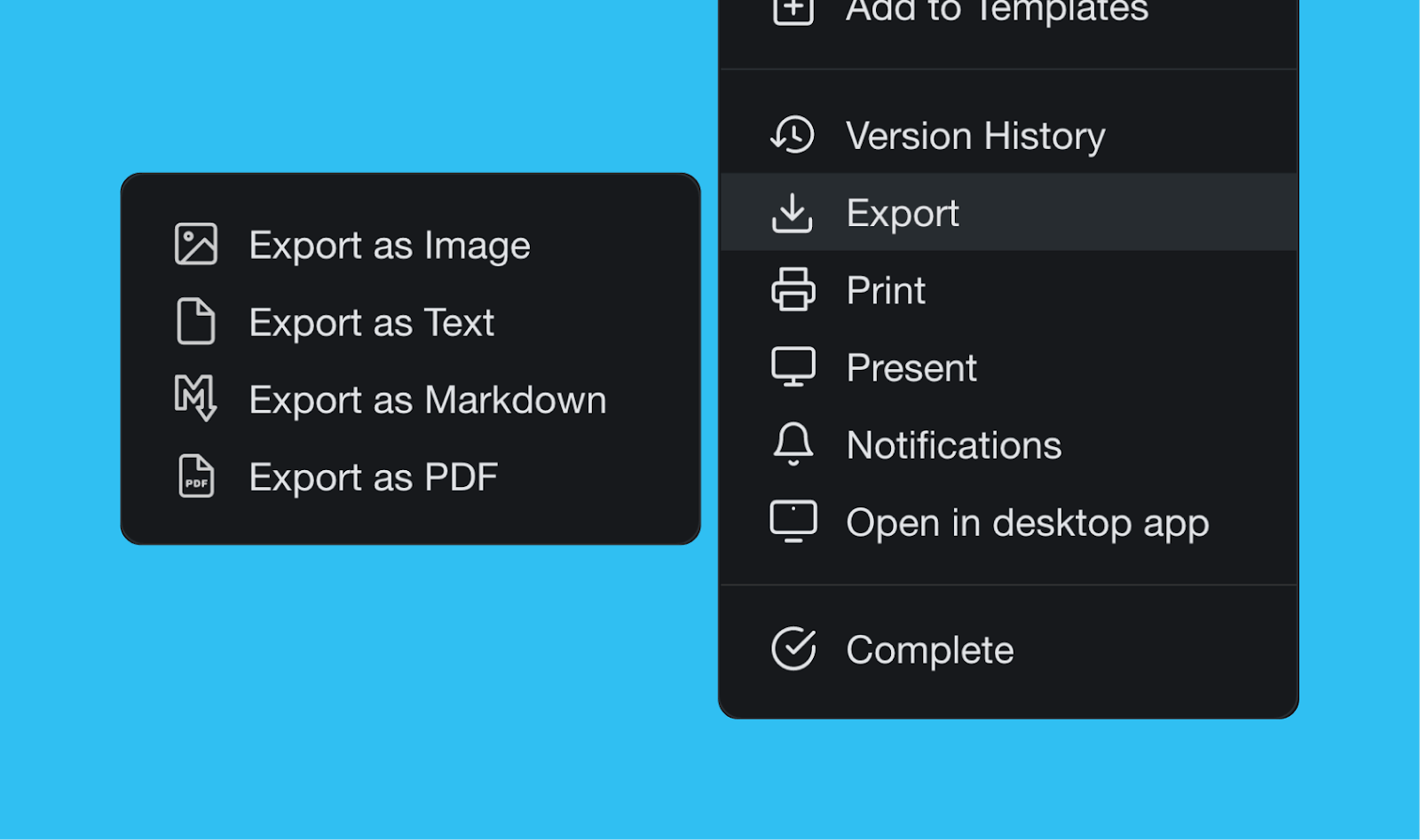 Cloud File Upload. Share files directly from Google Drive, Dropbox, Instagram, and Box in your projects with our integrations.
Breakdown Larger Tasks. Organize your thoughts with Taskade's unlimited hierarchy to break down large projects into tasks.
Quick Search. Use CMD / CTRL + K to jump between any projects within Taskade web and apps.
For an exhaustive list of Taskade's features, click here.
Taskade Pros
Free-forever plan is loaded with features
Real-time collaboration within the same project
Multiple board views including a Mind Map view
Free built-in video call and chat function in each project
Customizable templates to give you a headstart
Work and chat in the same window, in the same app
Frequent updates based on user/your feedback and suggestions
Tabbed workflow for working with multiple Projects
How Much Does Taskade Cost?
Taskade Free Plan
Taskade Unlimited Plan – Starts from $5 per month
Click here for more information.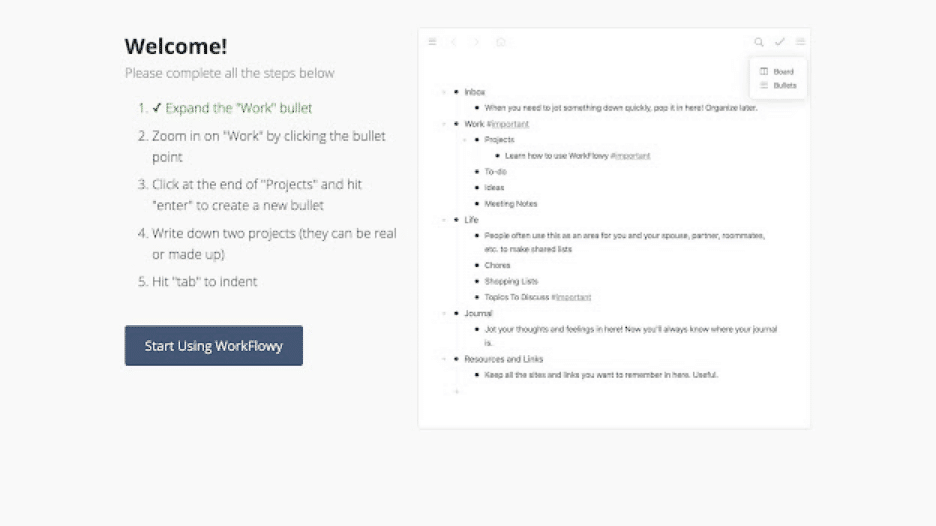 Workflowy is streamlined outlining software that lets you map out all kinds of projects. The app offers a minimalist, distraction-free outliner environment. You can use Workflow in a web browser or get it for Windows, Mac, Linux, and mobile devices.
Like Taskade, Workflowy was nurtured under Y Combinator's wings and was designed to address the everyday project management problems. Workflowy uses a hierarchical data structure that accentuates the flexibility of ordinary lists.
Features of Workflowy
Infinite nested lists (in Workflowy Pro)
Filtering features
Color-coded tags and highlighting (beta)
Multi-factor authentication
Outline backup to Dropbox
A selection of themes and fonts
Outline sharing and collaboration
How Much Does Workflowy Cost?
🔵 Workflowy Pro ($4.08 billed annually)
See why Taskade is the best free Workflowy alternative.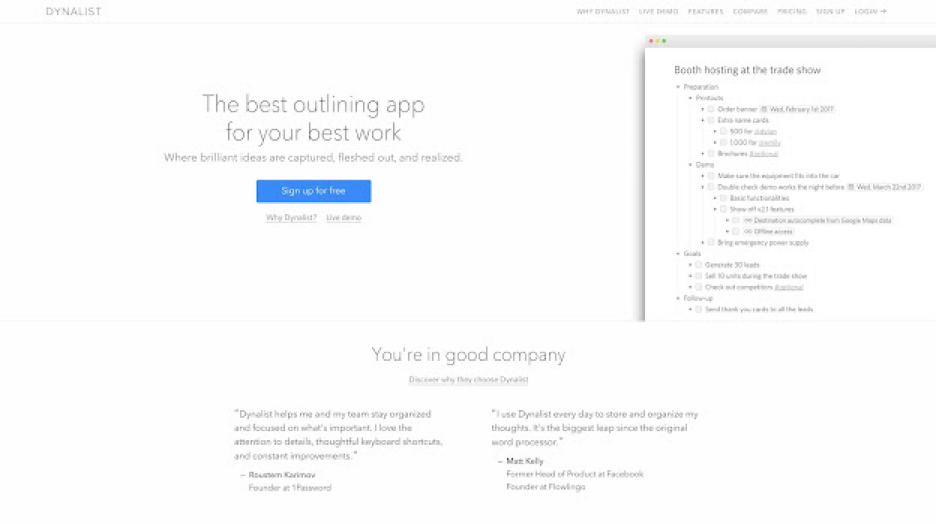 Another piece of distraction-free outlining software for personal and business use. Previously called Omniflow, Dynalist evolved into a lightweight outliner and a note-taking app for "logical thinkers." It's a solid choice for focused work sessions.
Dynalist Select Features
Markdown formatting
Color-coded labels and tags
List sorting options
Google Calendar sync
File and item finder
Internal cross-linking
A selection of themes and fonts
How Much Does Dynalist Cost?
🔵 Pro ($7.99/$9.99 annually/monthly)
See why Taskade is the best free Dynalist alternative.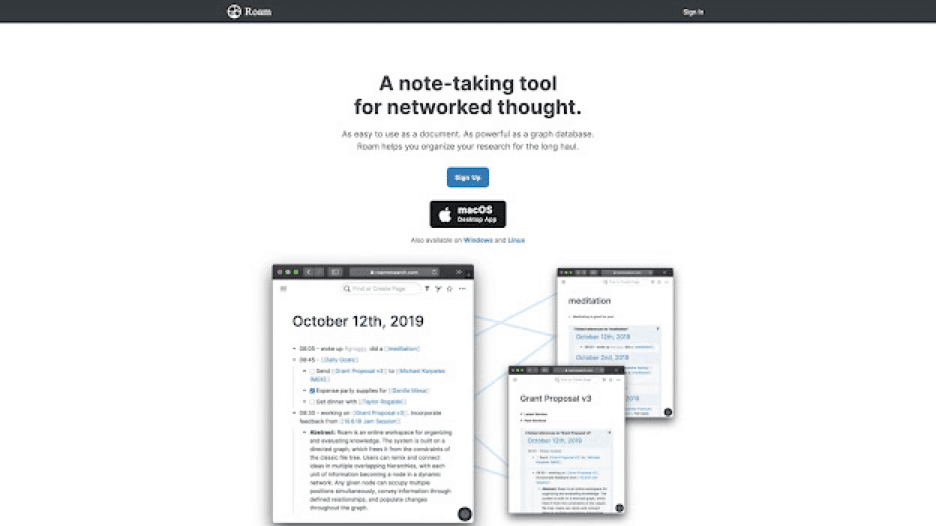 Roam Research is a note-taking tool designed for heavy-duty research, brainstorming, and knowledge management. Like other outliners on our list, Roam packs a simple, distraction-free UI that's perfect for metacognition or "thinking about thinking."
🌟 Rome Research Select Features
Bi-directional linking
Markdown support
The Daily Note and The Graph
Task management features
Theme customization via CSS
Search, tags, and filtering options
💸 Roam Research Pricing
🟢 Pro ($15/month or $165/year)
🔵 Believer ($500/5 years)
See why Taskade is the best free Roam Research alternative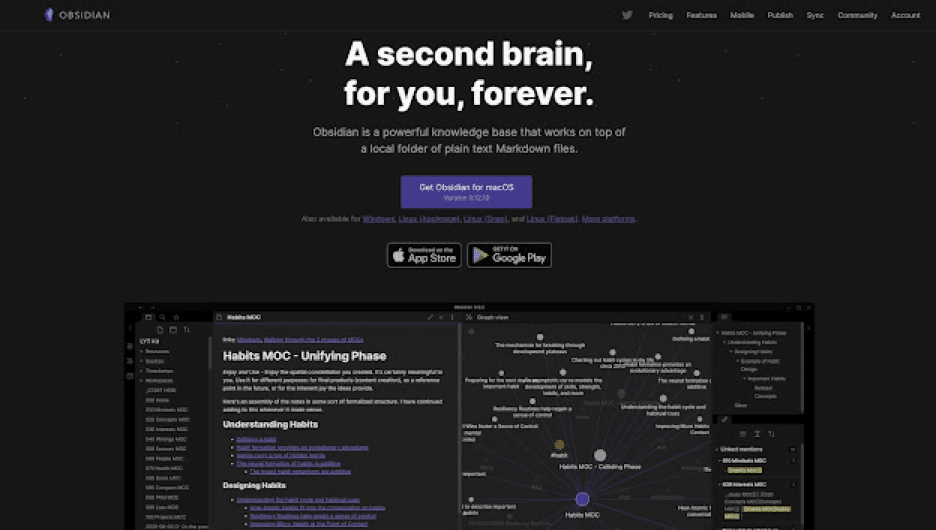 A note-taking, brainstorming, and outlining platform designed to act as a knowledge base or a digital "second brain." Obsidian can be used with local folders or external/proprietary sync. The app is based on plain text Markdown files.
🌟 Obsidian Select Features
Markdown support
Cross-linking and graph view
Multiple resizable UI panes
Official and community plugins
Pre-made UI themes
Proprietary and external sync
Bi-directional linking
How Much Does Obsidian Cost?
🔵 Catalyst ($25/50/100 one-time purchase)
🟣 Commercial ($50/year per user)

Ready for commercial use
Priority support
See why Taskade is one of the best Obsidian alternatives.
Frequently Asked Questions About Outliner Apps for Students
🔗 Resources
https://en.wikipedia.org/wiki/Outliner#Desktop_outliners