Having the right project management tool is often the difference between a successful project and a total disaster. But even if your team is already rocking a solid toolbox of productivity and project management software, there's always room for improvement. In today's article, we take a look at some of the best Asana alternatives you should give a try in 2023.
🤔 What Is Asana?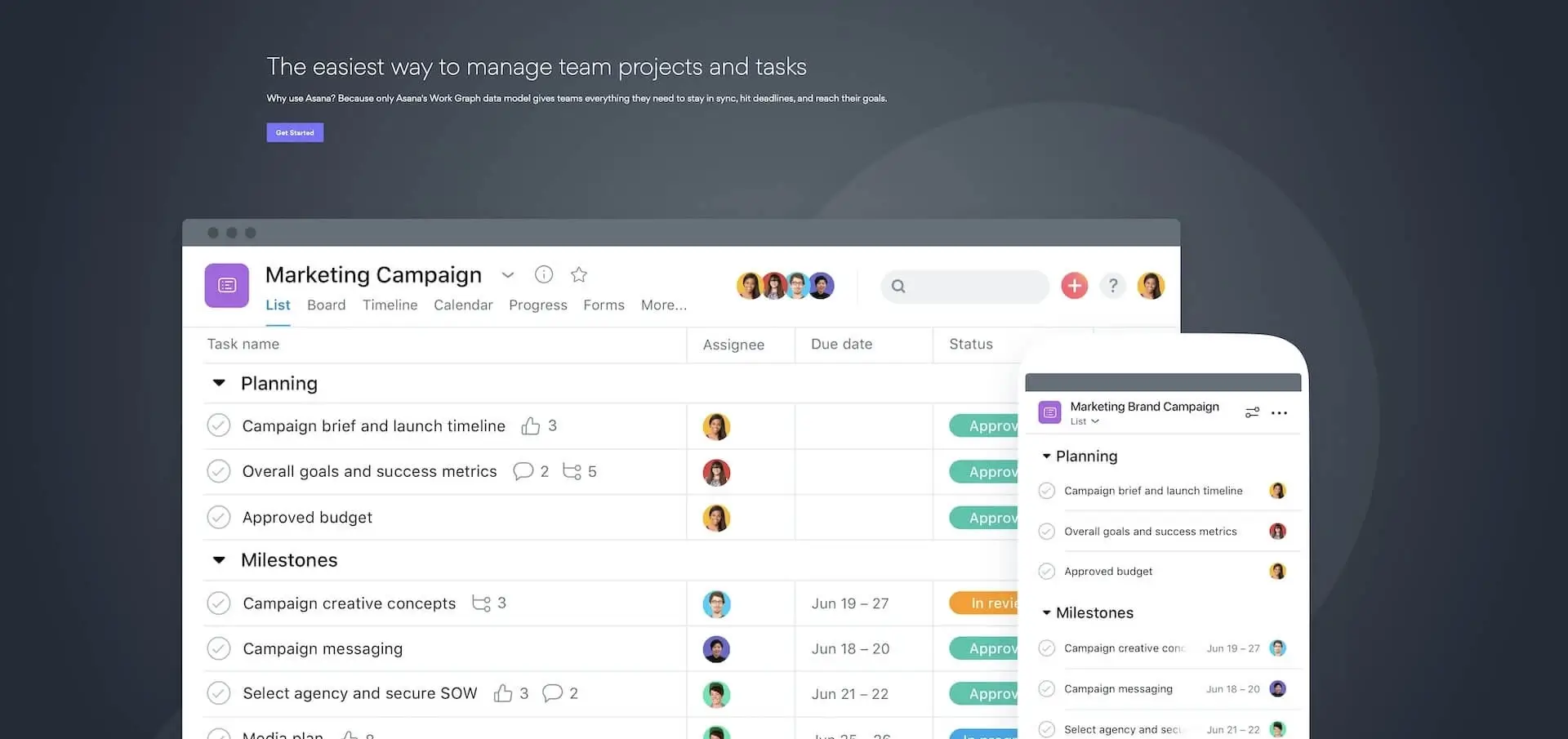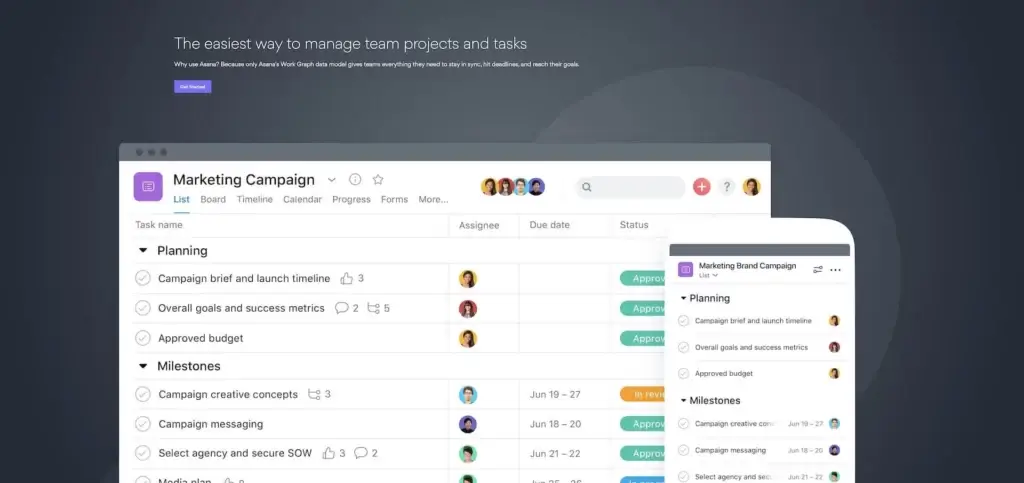 Asana is a collaboration and project management software that was created by Dustin Moskovitz and Justin Rosenstein, two former Facebook employees. They founded the company in 2008 with the goal of reducing the reliance on emails and meetings for organizing projects.
Asana offers a variety of features that allow teams to manage their projects, tasks, and collaborations in one central location. The core feature is Task Management, which allows users to create, assign, and track tasks, set due dates, and monitor progress.
Asana also offers Project Management, allowing users to organize tasks and projects into boards, timelines, and calendars, so teams can see an overview of their work.
Let's look at some of the features that Asana currently offers.
What Features Does Asana Have?
Asana lets you create projects and break them down into detailed tasks visualized on a roadmap. Each project workspace comes with a detailed list view of sequential project steps, team conversations, a calendar with a high-level overview of all tasks, a project progress view for status updates, and a file-sharing feature that keeps all project documents in one place.
Within each task, you can assign it to individual members and set deadlines. Add more information into the task description to hopefully prevent the need to have more meetings to align the deliverables.
If the task is dependent on another task being done first, you can set task dependencies on Asana so that your project flows seamlessly. If you want to save some time, Asana also has Gantt templates available so that you can track your tasks and all of their dependencies easily.
Additionally, Asana has an approval feature for tasks so that you can approve, request changes, or reject tasks.
Communication in Asana is done mostly within its conversations feature. You can send messages to team conversations to update users working on the same project. Team members can choose to follow conversation threads to stay updated, and also create tasks to move things forward from the chat.
Asana also supports integration with many apps including cloud storage solutions such as Dropbox and Google Drive. This enables you to share files and documents from your preferred storage app.
What Is Asana Good For?
Asana is good for users and teams who are looking for a project management tool to plan and execute their projects and tasks. On Asana, you can create, track, and manage projects in their entirety to help streamline your processes.
If you're looking for solutions to managing tasks and projects with your team, Asana gets the job done pretty well. Asana also supports a large number of app integrations, which can help you improve your workflow.
However, some limitations come with Asana that you should consider before deciding on using it.
What Are Some Limitations of Asana?
Asana has a lot of features, and common complaints include newcomers finding the software hard to use. If you're new to Asana, you will have to spend some time onboarding yourself with the software before you can use it for project management.
Without a proper introduction, you will probably feel overwhelmed when using Asana.
It's good to load a project management tool with features to help users be more productive. But having too many features available might potentially affect your productivity than boost it if you're spending too much time choosing which features to use on each project.
Asana allows you to assign tasks only to one person. Problems will arise when people leave your projects for various reasons as you will now have to reassign tasks to keep the project moving.
What happens if several people are responsible for that project?
With Taskade, you can assign tasks to multiple members, including yourself, to clarify who's working on each task.
How Much Does Asana Cost?
Asana comes in 4 different pricing tiers which include Asana Basic, Premium, Business, and Enterprise.
Asana Basic Plan
Asana's Basic Plan is free for anyone new to Asana and project management software. The free version includes unlimited projects and tasks with an upload limit of 100MB per file. With the free version, you will be able to collaborate with 14 other members on projects with access to multiple project views.
Asana Premium Plan – $10.99/month per user
Asana's Premium Plan adds a project timeline feature to your project management alongside other features. You will gain access to an admin console which gives allows you to manage members across your team or organization.
The Premium Plan is best used for teams of more than 15 people that require project management software to map out entire projects.
Asana Business Plan – $24.99/month per user
Asana's Business Plan brings you one step further by giving you access to even more business-level features.
A neat feature, in particular, is the ability to assess your team's workload for individual members. With this feature, you can distribute work more equally amongst employees.
Asana Enterprise Plan
Asana also has an Enterprise Plan which unlocks all of its features to help boost productivity with added security.
Pricing for this plan varies per organization.
🥊 The Best Free Asana Alternatives in 2022
There are many alternatives to Asana in the market so it might take you a while to find the perfect project management tool. Get a headstart with our list of the top Asana alternatives.
Taskade is one of the best asana alternatives for project management. With Taskade, you can take detailed notes, manage projects and tasks, and even collaborate via built-in video chat with your team via an all-in-one unified workspace.
Taskade is a Y Combinator-backed supercharged online productivity app that both individuals and teams can use to collaborate on projects in real-time. With Taskade, remote teams and individuals can get work done faster and smarter.
Automate repetitive workflows, Get a headstart on your projects and find a suitable structure for your notes via Taskade's versatile collection of templates. Simply choose from a wide variety of templates and add them to your projects to get started instantly!
Taskade is one of the top Asana alternatives in the market. Get started instantly for free today.
Key Features of Taskade
Taskade hits the sweet spot when it comes to having features that help you take notes and manage your to-do lists and projects. Designed for remote teams, Taskade lets you get work done from anywhere.
Here's a table containing some of Taskade's key features.
| | |
| --- | --- |
| 🗂️ Content Organization | Workspaces, folders and tags |
| 🤖 Markdown Support | ✅ |
| ⌨️ Keyboard Shortcuts | ✅ |
| 👩‍💻 Collaboration | Comments, chat, and unlimited video calls |
| 🔗 Internal Linking Feature | ✅ |
| ✅ Task Management | ✅ |
| 📑 Outlining Templates | 300+ customizable templates |
| 🔄 Version History | Free 7-day version history |
| 🌓 Dark Mode | ✅ |
What Are Some Pros Of Taskade?
Free version is loaded with features
Real-time collaboration within the same project
Free built-in video call and chat function in each project
Customizable templates to give you a headstart
Work and chat in the same window, in the same app
Frequent updates based on user feedback and suggestions
Tabbed workflow for working with multiple Projects
What Are Some Cons Of Taskade?
No Gantt chart view (yet)
How Much Does Taskade Cost?
Taskade Free Plan
Unlimited Tasks & Projects
Unlimited Members & Guests
Unlimited Folders & Teams
Templates, Calendar, Repeat Tasks
Real-time Collaboration
Built-in Free Chat and Video Call
Taskade Unlimited Plan – Starts from $5/month
Everything in Free, plus:
Version History
Advanced Permission
Cloud Upload Integration
2-Way Calendar Integration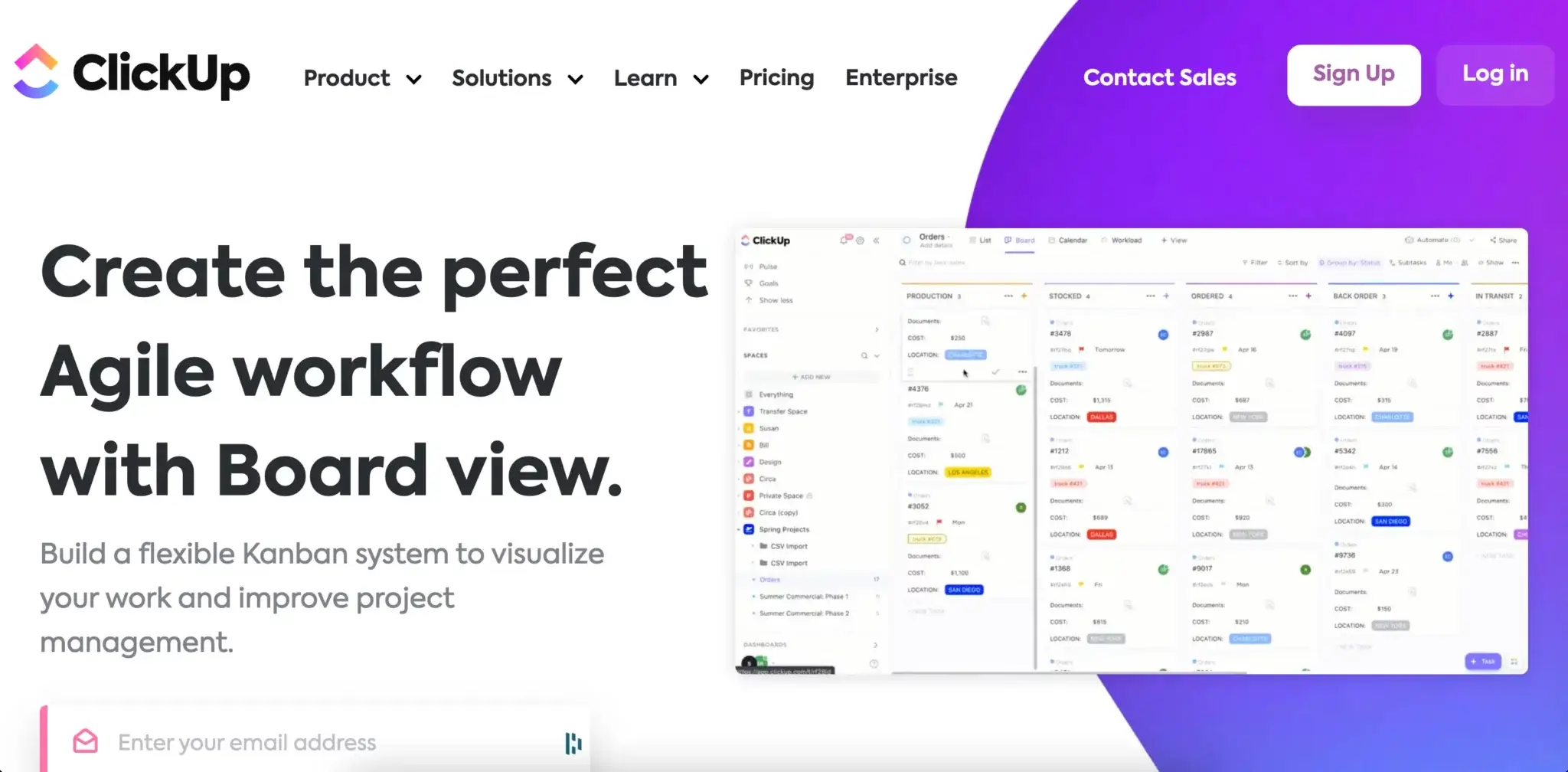 ClickUp is a project management platform that was created to organize projects and tasks. It gained popularity right away when it was released to the market back in 2017, and has since grown to be a $4 billion company.
The company's goal is to be the only productivity tool users will ever require. All in all, ClickUp is a solid project management tool for individuals and project managers, making it a strong Asana competitor.
Project Management in ClickUp 🌟
Multiple board views
Breaking down tasks into subtasks
Assign tasks
Task status
Basic communication
Turning comments into tasks
Integrates with other apps
How Much Does ClickUp Cost? 💰
🟢 Free Forever Plan

ClickUp's Free Forever plan comes loaded with features and should suffice if you're an individual trying to organize your tasks. Similar to Taskade's Free Plan, ClickUp's Free plan comes with unlimited tasks and members.
It also comes with email notifications and multiple board views to help you visualize your projects and tasks.
However, you're limited to 100 MB of storage and also won't have access to integrations.
🔵 Unlimited Plan – $5/month per user

If you're part of a small team, ClickUp's Unlimited plan has features to help you get more work done. It includes unlimited storage and gives you access to integrations.
You will also be able to create unlimited dashboards and control permissions for guests to your projects.
🟣 Business Plan – $12/month per user

If you have a slightly bigger team, ClickUp has a Business plan which offers even more features.
The Business plan is a must for project managers looking to manage complex projects. This plan gives you access to ClickUp using Google Single Sign-On service, saving you some time. You'll also get access to custom reporting and be able to create unlimited teams.
🟡 Clickup Business Plus Plan – $19/month per user

The Business Plan is meant for users who manage multiple teams. It adds more customization when it comes to role creations and permissions, and gives your team the ability to have more automated processes as well.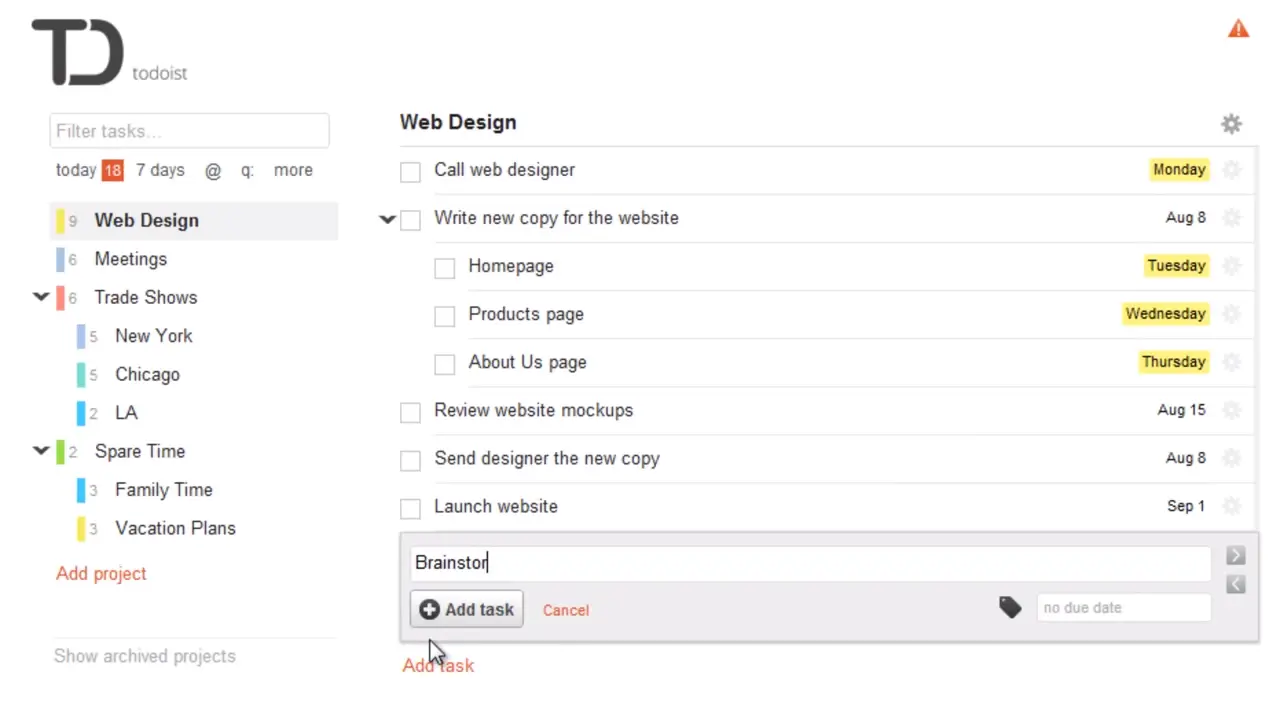 Todoist is a task management software that was created by Amir Salihefendic in 2007. Its goal is to help users get more work done by helping them with task management.
Being light on features means that Todoist is intuitive and fast. This makes it a popular project management tool for users who are looking for Asana alternatives.
Project Management in Todoist 🌟
Lightweight and simple to use
Breaking down tasks into subtasks
Breaking down projects into sub-projects
Assigning tasks and due dates
Color-coding tasks
Recurring tasks
Kanban board view
How Much Does Todoist Cost? 💰
🟢 Todoist Free Plan
The Free Plan is for you if you're a beginner when it comes to task management. It comes with a limit of 5 projects, a 5MB file upload limit, and up to 5 collaborators on your project. The Free Plan will also keep your activity history up to a week.
There are a few features missing from the Free Plan, but it should suffice if you're using Todoist for simple tasks such as a personal to-do list.
🔵 Todoist Pro Plan – $3/month per user
If you're looking to use Todoist to organize heavier projects, the Pro Plan will unlock more features to help with your productivity. You will get access to templates, reports on your productivity, and an activity log to view the activities on your account.
🟣 Todoist Business Plan – $5/month per user
If you intend to use Todoist for your Business, the Business Plan allows each user to have up to 500 projects with 300 active tasks per project. It also opens up collaboration of up to 50 people per project.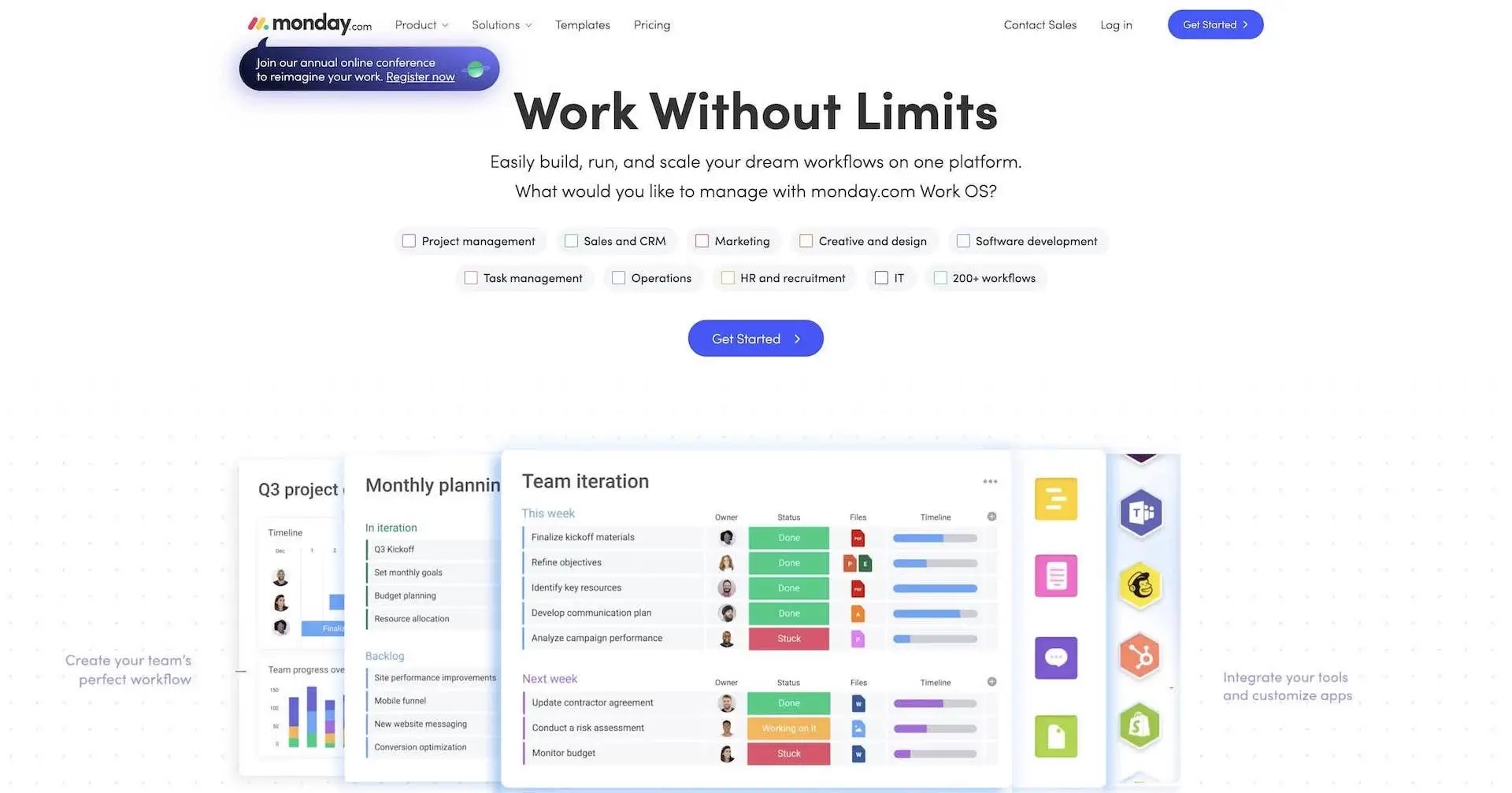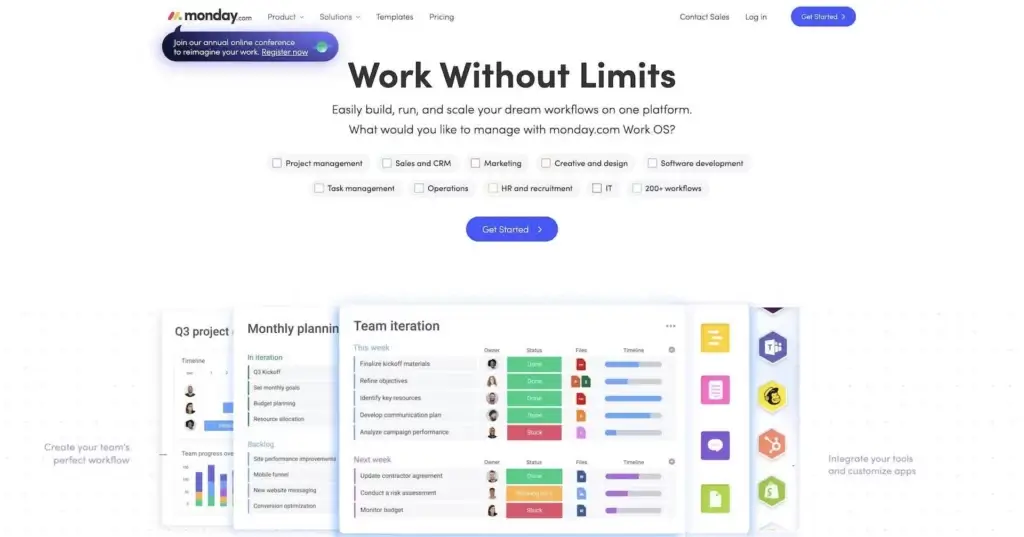 Monday has an aesthetically pleasing user interface that is relatively straightforward yet customizable. This makes it a popular project management software that can be considered a good Asana alternative.
Project Management in Monday. com 🌟
Central dashboard for team management
Visual-first workflow with a simple user interface
Customizable columns and 200+ templates
Communication and collaboration on mobile
Real-time collaboration on files and documents
How Much Does Monday. com Cost? 💰
🟢 Free/Individual

Unlimited boards limited to 2 team members
200+ templates and 20+ column styles

🔵 Basic – $8/user per month

Everything in the Individual plan +
Unlimited viewers and 5 GB for file storage

🟣 Standard – $10/user per month

Everything in the Basic plan +
Timeline, Calendar, and Gantt workflows

250 automations/integrations per month

🟡 Pro – $16/user per month

Everything in the Standard plan +
Private boards and Chart view
Time and progress tracking
Additional automations/integrations

🟤 Enterprise (custom)

Enterprise automations/integrations
Advanced security features
Reporting and analytics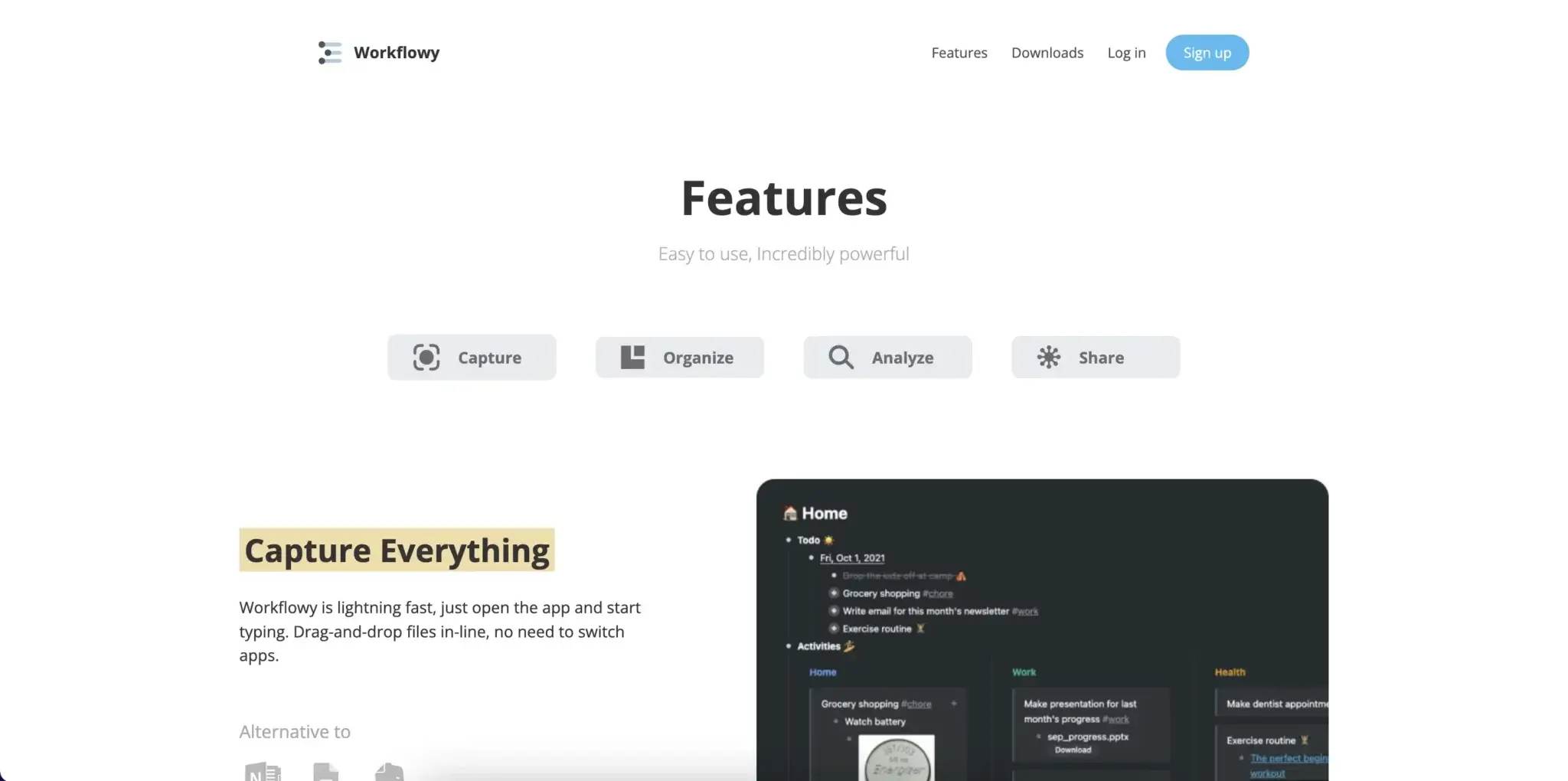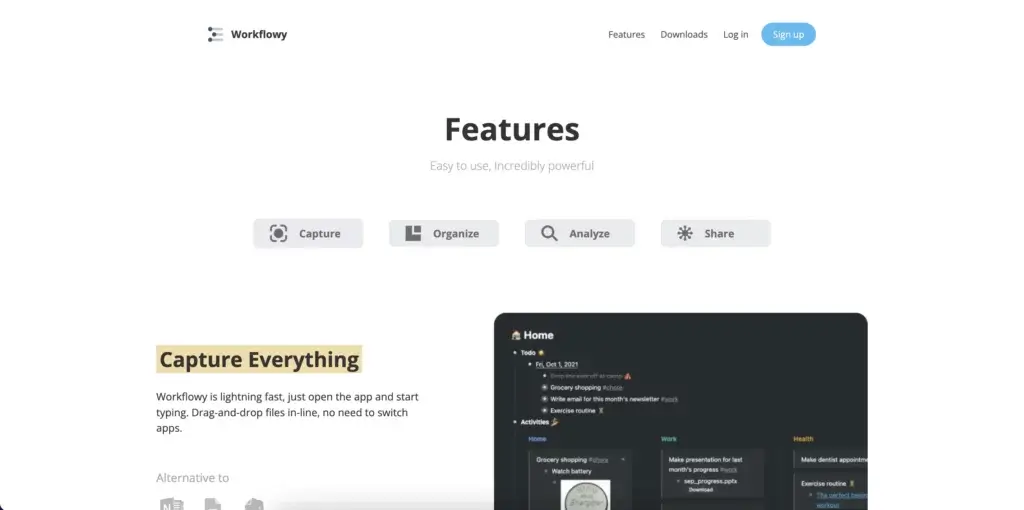 Workflowy is an outliner that helps with project management. It has a lightweight design and offers a minimalist approach to note-taking and project management. You can use Workflowy in a web browser or get it for Windows, Mac, Linux, and mobile devices.
Like Taskade, Workflowy was nurtured under Y Combinator's wings and was designed to address everyday project management problems. Workflowy uses a hierarchical tree structure that accentuates the flexibility of ordinary lists.
Workflowy's ease of use gives it a spot in our list of the best Asana alternatives for project management.
Features of Workflowy
Infinite nested lists (in Workflowy Pro)
Filtering features
Color-coded tags and highlighting (beta)
Multi-factor authentication
Outline backup to Dropbox
A selection of themes and fonts
Outline sharing and collaboration
How Much Does Workflowy Cost?
Basic/Free
All features included
Limited to 250 bullets/month
File upload limited to 100 MB
Only basic sharing
Workflowy Pro – $4.08/user per month
Unlimited bullets
Unlimited file uploads
Advanced sharing features
Backup to Dropbox
Premium support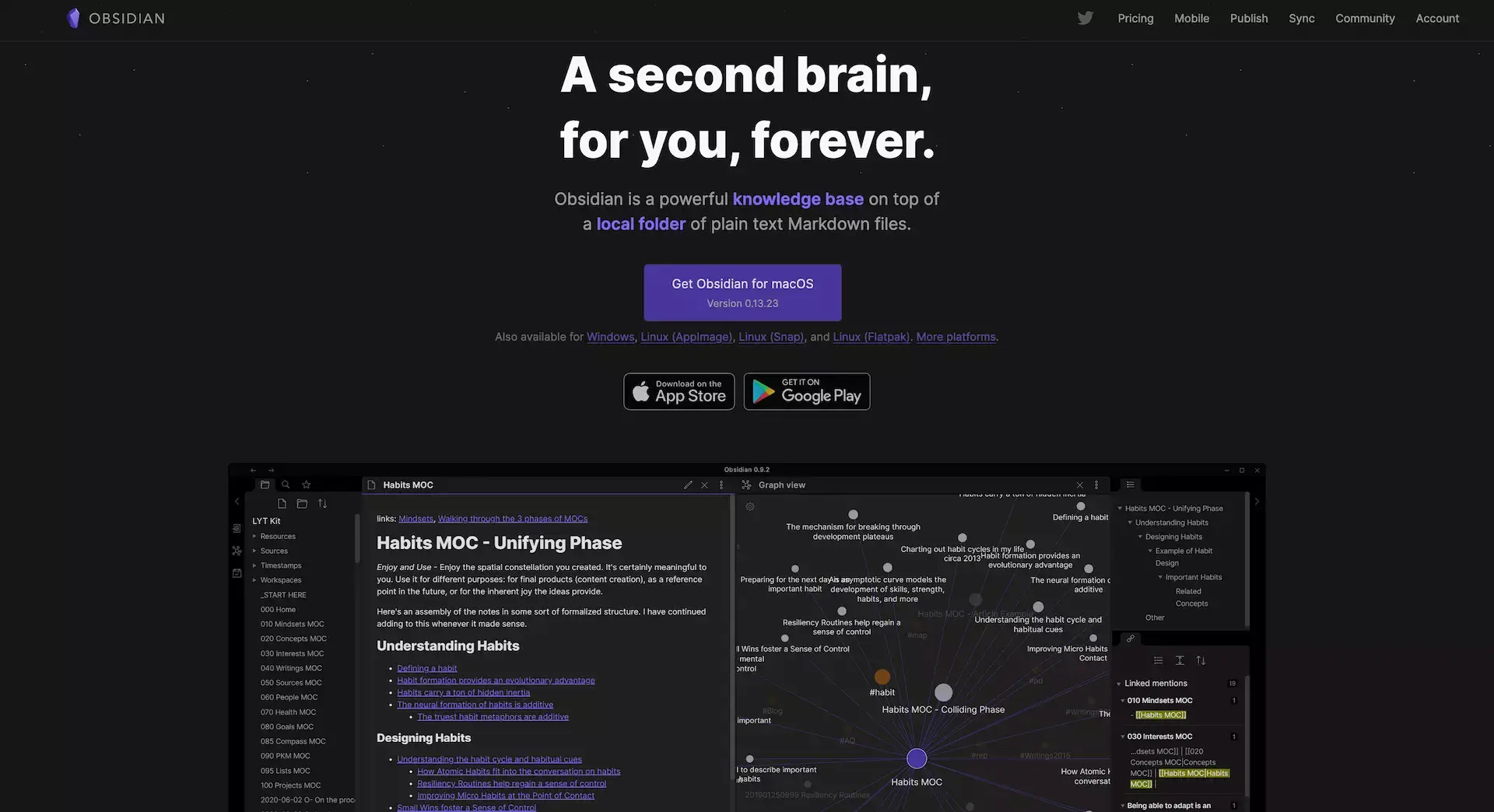 Obsidian is one of the best second-brain applications for knowledge management. Not only that, but it can also double up to be one of the best Asana alternatives when it comes to project management.
Its bidirectional links allow users to create a web of interconnected notes. This lets you plan your personal projects in great detail and integrate it as part of your second brain.
Created by Erica Xu and Shida Li during the quarantine period of Covid-19 in 2020, the outliner tool has gained traction with over 50,000 members in their Discord community, all while remaining a two-man team.
Recently, a new second-brain application called Logseq has entered the market. It functions similarly to Obsidian and is quickly gaining traction. Check out our list of Logseq alternatives if you're looking for more options to build your second brain.
If you want to approach personal project management whilst creating a second brain, Obsidian stands out as a strong Asana alternative.
Project management in Obsidian
Markdown support
Cross-linking and graph view
Multiple resizable UI panes
Official and community plugins
Pre-made UI themes
Proprietary and external sync
Bi-directional linking
How Much Does Obsidian Cost?
Free for personal use
Doesn't require an account
Plugins and API
Catalyst – $25/50/100 one-time purchase
Support the development process
Access to insider builds
Commercial – $50/year per user
Ready for commercial use
Priority support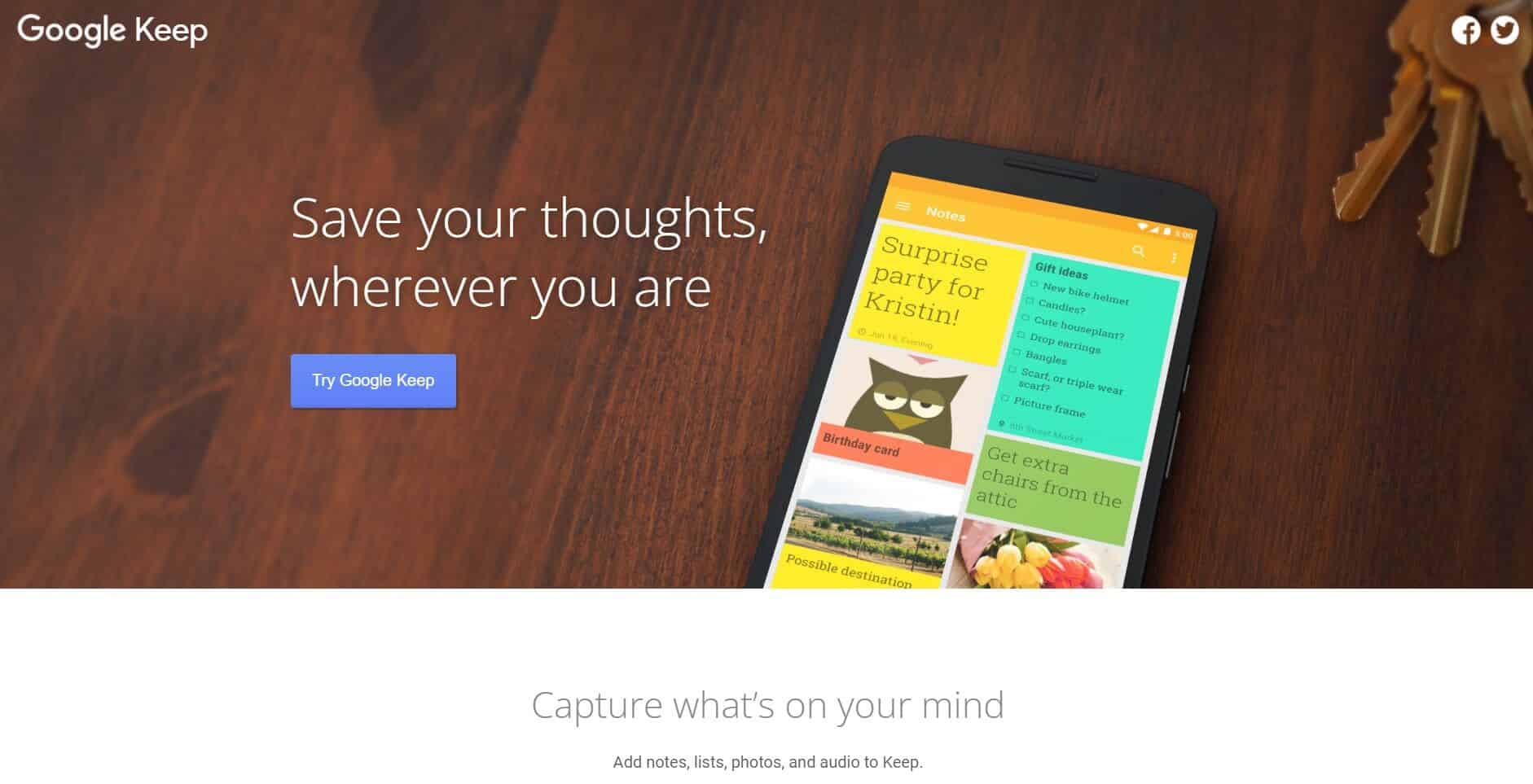 Google Keep is a digital note-taking tool that was launched as part of Google Suite in 2013. This task management tool has a simple user interface and is simple to use. While other alternatives are stacked with features, Google Keep is light on it.
This makes it a user-friendly Asana alternative for task management.
You can use Google Keep to collaborate with other users on simple notes and even share to-do lists. The only prerequisite to this is that other users must also sign in to their Google account to use Google Keep.
Even though Google Keep should suffice only for simple project management, it deserves a spot in this list of Asana alternatives due to its simplicity.
Project Management in Google Keep 🌟
Customizable, color-coded lists
Labels and search functionality
Integration with Google calendar
Sharing and task/note reminders
How Much Does Google Keep Cost? 💰
Google Keep is free to use.
👋 Parting Words
Although Asana is a good project management tool, it's always good to keep an open mind when it comes to productivity tools. At the end of the day, you have to use a tool that fits your specific use case.
There's no point in having a clunky project management suite if you're only looking to manage simple tasks.
Taskade is a versatile project management tool that has just the right amount of features to help you get work done.
Try Taskade for free today.