Being a student is synonymous with having to soak up a lot of information in a short period of time. Students are constantly learning new concepts from different subjects, and it's common for most to cram information before a test or exam.
When it comes to learning new information, building a second brain is perhaps the best method to help you organize terabytes of information.
With the rise of AI note-taking apps, the process of jotting down and organizing information has been revolutionized. Let's delve into some of the best note-taking apps, enhanced with AI capabilities, that are perfect for students.
What are Note-Taking Apps?
Note-Taking apps help you to write down and store information with greater ease via the use of software. Ideally, the perfect note-taking app will be a text editor that helps you take notes easily.
When it comes to note-taking apps, it's common for students to use an outliner to take notes. Outlining is after all a methodology of note-taking. If you're already familiar with outliners, check out our list of the best outliner apps to make sure that you're not missing out on the best features.
As a modern student, classes should allow you to use your preferred device to take notes. However, there are still classes that require you to take notes traditionally via pen and paper. In those cases, we recommend that you learn how to take quick notes hierarchically and summarize them after class.
Note-taking with an app is infinitely more powerful than using pen and paper. But, it's also important to ensure that you have the right note-taking app to help you do the job.
Sure, you can Google Docs your way through it, but it's 2023. It's time for you to get work done the smarter way.
Common Features of Note-Taking Apps
There are so many prerequisites to being an efficient note-taker, and one of them is having the right tools for the job. A pen and paper approach is like riding a horse, while the app approach is like driving a car. Sure, both get you to your destination, but a car will get you there in comfort and quicker.
As students, the note-taking app that you choose must help you to ultimately take the best notes possible while keeping them organized as well. Here are some features that we kept in consideration when preparing this list of the best note-taking apps out there!
Simplicity of use
Features available
Accessibility (Devices/cloud storage)
Collaboration features
Organizing notes
Task management
As a student, you will need a hybrid note-taker that lets you take quick notes in class, and also in-depth notes during revision. A versatile note-taking app with the right features will definitely help you to take quality notes and become a more productive student.
Keep in mind that the best note-taking apps should support cross-platform editing so that you can write notes on multiple devices.
The Essence of AI in Note-Taking
AI note-taking apps leverage artificial intelligence to enhance the traditional note-taking process, making it more efficient and smart. These apps utilize AI to perform a variety of tasks, such as:
Automated Summaries: Extracting key points from lengthy texts, providing quick insights without having to sift through pages of information.
Smart Organization: Automatically categorizing and organizing notes based on their content, ensuring that information is easily retrievable when needed.
Predictive Text and Suggestions: Offering predictive text options and suggestions to streamline the writing process and enhance productivity.
That said, here's our list of the best AI note-taking apps for students.
What are the Best AI Note-Taking Apps for Students?
Taskade: The Ultimate AI Note-Taking App for Students
What Is Taskade?
Imagine an application that allows you to take detailed notes with infinite hierarchies, organize and manage projects, create to-do lists, and even collaborate via built-in video chat with your team, and more, via an all-in-one unified workspace. Well, look no further because Taskade is the perfect solution for you.
Taskade stands out as an AI-powered note-taking app designed for students and professionals alike. With its intuitive interface, Taskade offers features like infinite nested hierarchies, real-time collaboration, and built-in video chat. What sets it apart is its AI capabilities, which make AI note-taking for students a breeze. Whether you're managing academic projects, creating to-do lists, or collaborating with classmates, Taskade's AI-enhanced features ensure efficiency.
Automate repetitive workflows, get a head start on your projects, and find a suitable structure for your notes via Taskade's versatile templates. Check out our popular Student Assignment Tracker Template or choose from a wide variety of other templates and add them to your projects to get started instantly!
Get started instantly for free today.
Key Features of Taskade
Taskade AI

. Taskade AI is like having a 24/7 writing assistant by your side! Use AI to create high-quality content so you have more time to focus on growing your business.
Fold/Unfold. Fold (collapse) a parent task/bullet element to hide its subtasks. Indent outline elements with ⌨️ Tab and unfold lists with ⌨️ Shift+Tab.
Project Views. Visualize your projects in several different ways. Cycle between the List, Mind Map, Org Chart, and Board views to work the way you want.
Psst… Did you know that Taskade is an AI-powered note-taking tool and a smart writing assistant? Learn why utilizing AI in note-taking is no longer a song of the future. 👈
How Much Does Taskade Cost?
Visit our pricing page for more information.
Evernote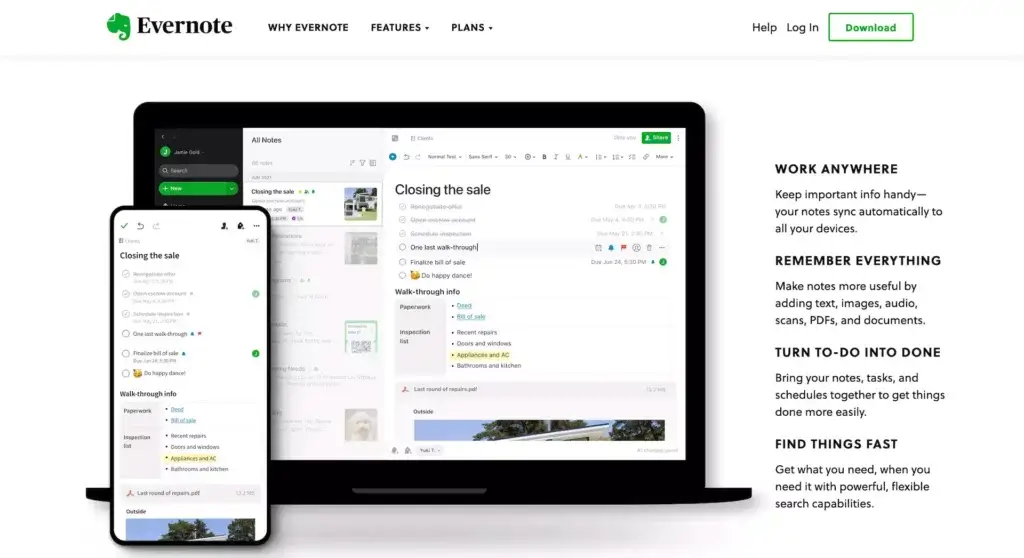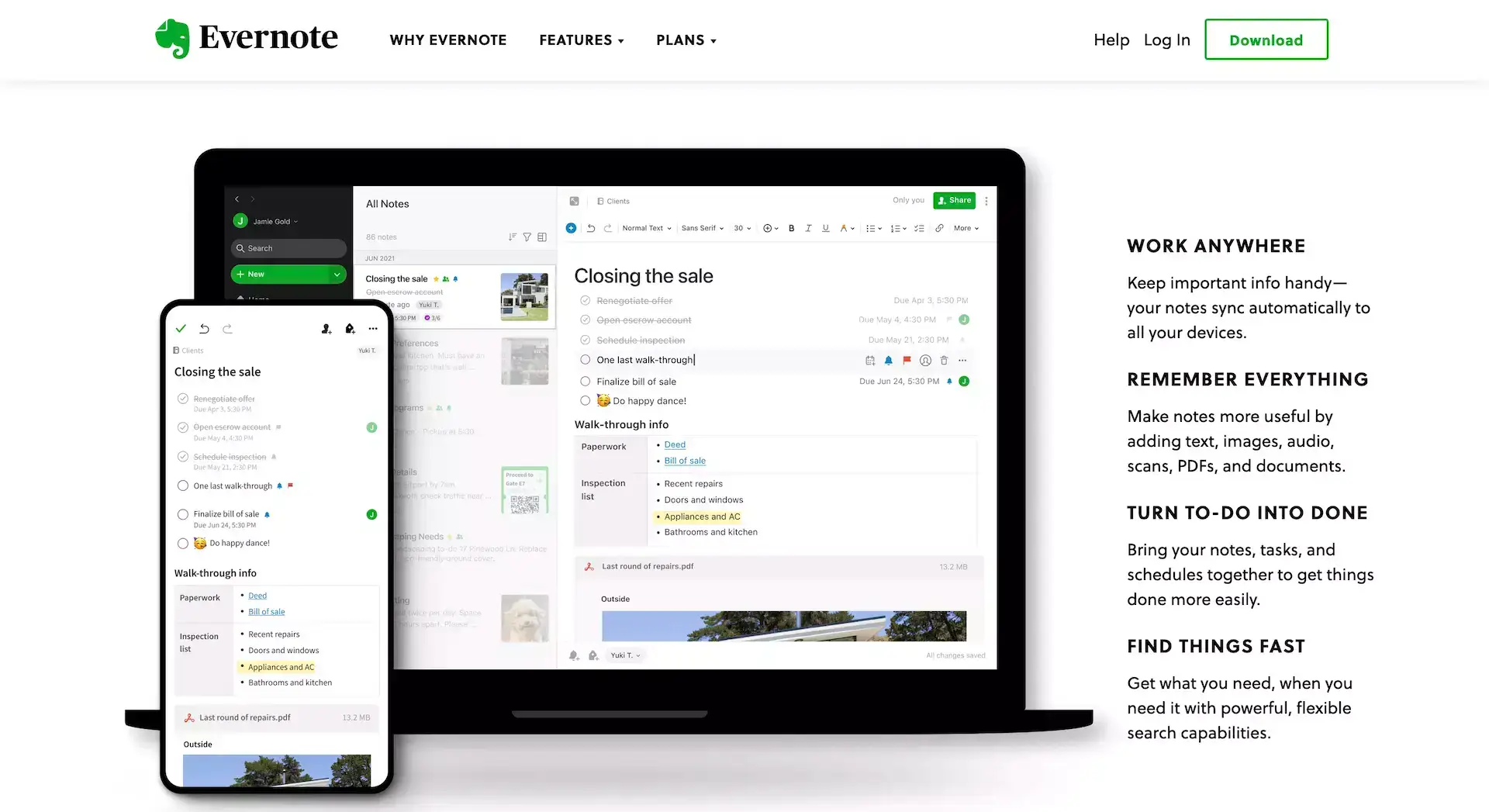 What Is Evernote?
Evernote is a digital note-taking app that Russian engineer Stepan Pachikov created. Pachikov created Evernote to help people organize their thoughts and store information. This stemmed from his fascination with the way that humans stored information.
Pachikov worked on a prototype for 6 years before feeling confident enough to beta launch the product to a limited audience. After its launch, Evernote grew exponentially and had more than 10 million users by the end of 2011.
Evernote pioneered digital note-taking and remains one of the most popular note-taking apps today. If you're interested in a more in-depth discussion on Evernote's history from day 1 to what it is today, check out our review of Evernote's history!
Features of Evernote
Evernote's concept is simple, you create notes which are then stored inside notebooks. You can add tags to your notes in order to keep them organized.
However, this can get pretty clunky especially if you're a heavy note-taker. This is where Evernote's built-in search function comes into play; allowing you to search for notes using keywords and phrases.
Evernote is also known for its Web Clipper feature. You can download an extension that allows you to clip parts or even entire web pages and paste them into Evernote. Clipped web pages remain stored in the app until you delete them.
You can use Evernote's templates to get you started on tasks that require more structure such as creating a story dashboard or even a monthly calendar to get yourself organized. This can be a helpful feature to help you kickstart your projects.
An interesting thing that Pachikov did with Evernote is that he implemented a feature to recognize handwritten notes. This was a page he took from a tool he created called 'Calligrapher' in his earlier days which recognized handwritten input on devices. In Evernote, handwritten notes can be captured via an in-app camera.
How Much Does Evernote Cost?
Free
Cross-device sync (2 devices)
60 MB of storage for notes/month
Task management
Search and tagging
Uploading attachments
Personal ($7.99/month)
Unlimited synchronization
10 GB of storage for notes/month
Google Calendar integration
Due dates and reminders
Offline access
PDF and image search with OCR
Customizable templates
PDF annotation
Professional ($9.99/month)
20 GB of storage for notes/month
Personalized Home screen
Assigning and tracking tasks
Location-based search
Export notes to PDF
Integration with 3rd part services
Teams ($14.99/month per user)
Integration with business apps
Admin dashboard
Custom onboarding
20 GB of storage +2 GB per user
Google Keep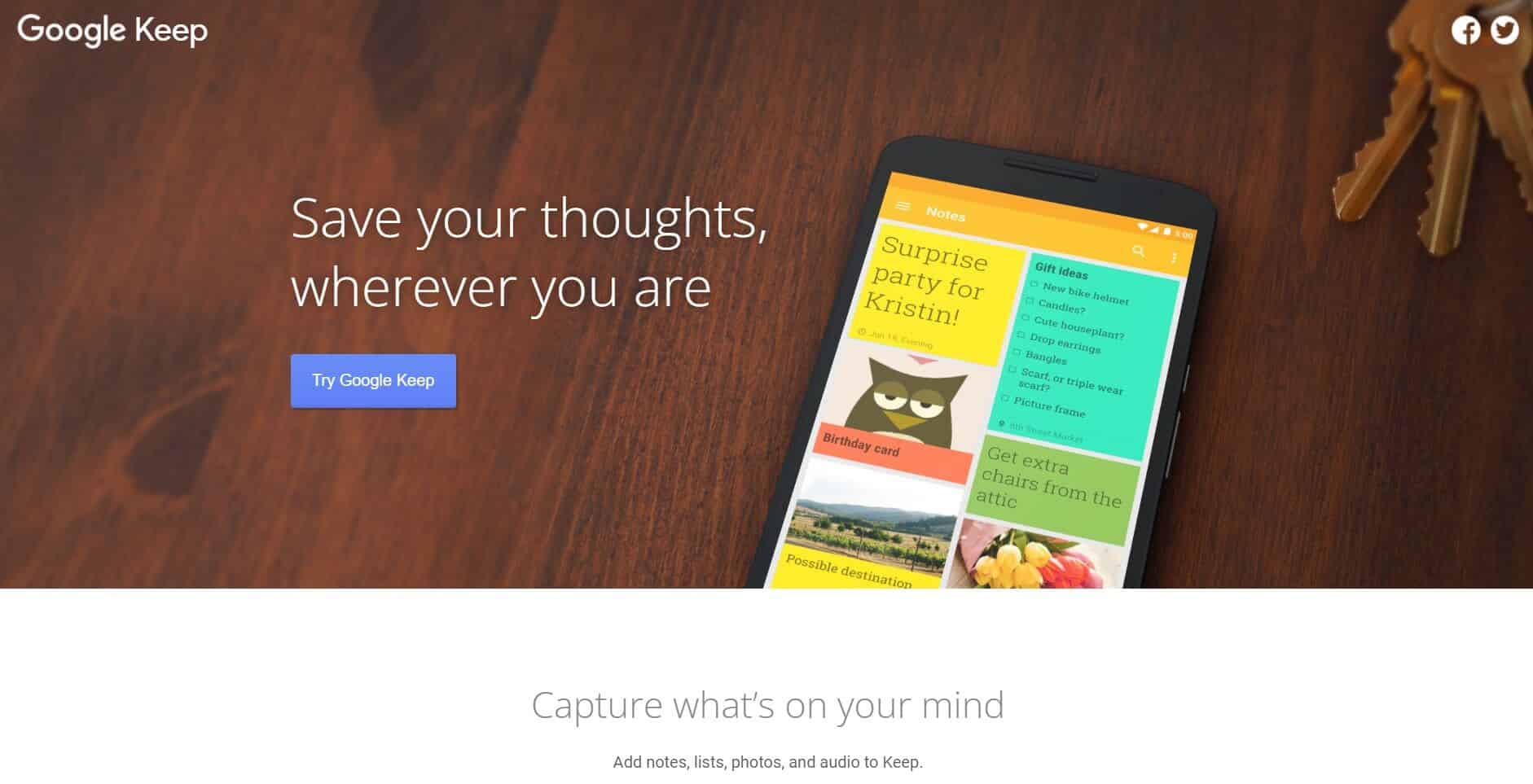 What is Google Keep?
Google Keep is a digital note-taking tool that was launched as part of Google Suite in 2013. When it was first released, Google Keep was given good reviews due to its lean design and simplicity. This meant that it was a simple note-taking tool that was also quick.
You can use Google Keep to collaborate with other users on simple notes and even share to-do lists. The only prerequisite to this is that other users must also sign in to their Google account to use Google Keep.
In 2021, Google discontinued Google Keep's Chrome app. However, the free popular note-taking tool can still be accessed via web browsers and other apps.
Features of Google Keep
Simplicity. Google Keep's simplicity makes it beginner-friendly due to its intuitive design. The option to color-code your notes makes it easy to categorize them based on colors.
Speed. Due to Google Keep's lightweight design and minimal features, the app runs quickly and is perfect for you if you're in the market for a tool to take simple notes.
Google Docs Integration. With Google Keep, you can easily transfer longer notes into Google Docs with a single click. This feature is handy especially if you're drafting detailed outlines.
Transcribe Voice Recordings. Another handy feature of Google Keep is its ability to transcribe your voice into notes. Simply record your voice via the app and it will transcribe what you're saying in real-time.
Record Audio Notes. Alternatively, you can also use the Google Keep app on your mobile device to record audio notes on the go. Record voice notes and store them on Google Keep for future reference.
Adding Doodles Into Notes. You're able to draw and save your doodles as notes on Google Keep. This could come in handy if you prefer to express some of your thoughts via drawings.
Labels to Organize Notes. It's easy to keep your notes organized on google keep by using labels and also the built-in search function.
Collaboration. Google Keep allows you to easily collaborate with other Gmail users by simply adding them as collaborators into your notes.
How Much Does Google Keep Cost?
Google Keep is completely free to use.
Roam Research
What is Roam Research?
Roam Research is a note-taking software that was founded by Conor White-Sullivan in 2017. His aim for Roam was to create software to let users link their notes together, ultimately creating a web of interconnected notes and information.
In other words, Roam is like the Zettelkasten method of knowledge management, but on steroids.
The knowledge management tool excels when it comes to linking information nodes within the software together. To take this a step further, you can also visualize connected pieces of information in a mind map-like view, which is similar to what Obsidian does.
Although Roam excels as a personal knowledge management tool, it offers only basic collaborative features and also has a steep learning curve.
Features of Roam Research
Roam Research is a note-taking app that can also be used as a knowledge base for personal and professional use.
Roam focuses on a bottom-up thinking process. This approach involves creating bits of information and linking them together to eventually form a bigger picture. Every note that you take on Roam is fluid with no central idea, unlike a traditional mind map. This lets you freely create and link notes as you go by.
Similarly to Workflowy, Obsidian, and Dynalist, you take notes in a bullet list format in Roam Research. These bullet lists can be organized and collapsed to keep things neat. This is a useful feature especially if you find yourself drafting long-form notes most of the time.
However, what makes this tool powerful is the ability to create bi-directional links between your notes using bracket functions, which link them together both ways. If the page that you're linking to does not exist, Roam will create the page for you. This creates an in-depth personal wiki page with a web of interlinked information for you to access.
Collaboration on Roam can be done either by sharing pages, adding individuals to your database, or making your database publicly accessible.
How Much Does Roam Research Cost?
Pro ($15/month billed annually)
3 private or public roam graphs
Unlimited editors/viewers
API access
Believer ($500/5 years as a one-time payment)
Priority access to new features
Priority support
Dynalist
What is Dynalist?
Shida Li and Erica Xu created the outliner tool, Dynalist. Dynalist was created after the two founders found that Workflowy was lacking in certain features to help them get work done. Inspired by the idea of creating a more powerful tool, the pair created Omniflow in 2015, which was later renamed Dynalist.
Being an outliner software, Dynalist is a collaborative note-taking tool that can also help you take notes hierarchically. Much like Workflowy, the main idea behind Dynalist is for you to be able to organize information in a way that helps you with recall, much like a second brain.
In recent times, Li and Xu recently released Obsidian as their flagship product. Following this, they also made an announcement via a Dynalist blog post that they won't be updating Dynalist as frequently from now on.
Features of Dynalist
Dynalist has features to help you with note-taking and also with project and task management. On Dynalist, you can list down your ideas hierarchically and keep breaking them down to gain a firm understanding and understand things better.
What's more, Dynalist is also available on all devices, meaning that you can take notes and manage your to-do lists from anywhere.
To help you manage your notes, Dynalist lets you group similar concepts together using tags to help you filter through your notes. Besides that, Dynalist has pretty standard features that you would expect to see in an outliner app. Some of these features include:
Markdown formatting
Tags
Colored labels
Headings (H1, H2, H3)
Internal linking
In terms of task and project management, Dynalist has standard features to help you manage your to-do lists. Task management is done by creating a checklist on Dynalist. After populating your checklist with tasks, you can set due dates and also set a task to repeat if it's a recurring one.
However, Dynalist lacks the ability to assign tasks to your teammates, which means that the only way to assign tasks is to communicate the task to them via another application.
Dynalist also supports integration with Google Calendar so that you can sync your to-do list and view them on your Google Calendar.
How Much Does Dynalist Cost?
Free
Unlimited items and documents
Internal linking
Markdown formatting
Tags
5 bookmarks
Sharing and collaboration
Pro ($7.99/user per month)
Google Calendar integration
Tag pane
Recurring tasks
Unlimited bookmarks
Custom CSS
Dropbox & Google Drive backup
Priority support
Obsidian
What is Obsidian?
Obsidian is a note-taking software that works as a second brain application for knowledge management. Created by Erica Xu and Shida Li during the quarantine period of Covid-19 in 2020, the outliner tool has gained traction with over 50,000 members in their Discord community, all while still remaining as a two-man team.
What's interesting about Obsidian is that both Xu and Li were originally maintaining Dynalist, their first outliner project, before they started to develop Obsidian.
Obsidian can be used with local folders or external/proprietary sync and is based on plain text Markdown files.
Features of Obsidian
Markdown support
Cross-linking and graph view
Multiple resizable UI panes
Official and community plugins
Pre-made UI themes
Proprietary and external sync
Bi-directional linking
How Much Does Obsidian Cost?
🟢 Free for personal use

Doesn't require an account
Plugins and API

🔵 Catalyst ($25/50/100 one-time purchase)

Support the development process
Access to insider builds

🟣 Commercial ($50/year per user)

Ready for commercial use
Priority support

🟡 Sync Add-On ($8/month billed annually)

End-to-end encryption
Built-in version history
Priority email support

🟤 Publish Add-On ($16/month billed annually)

Selective notes publishing
Graph view and outline
Priority email support
Workflowy
What is Workflowy?
Workflowy is streamlined outlining software that lets you map out all kinds of projects. The outliner app offers a minimalist, distraction-free outliner environment. You can use Workflowy in a web browser or get it for Windows, Mac, Linux, and mobile devices.
Like Taskade, Workflowy was nurtured under Y Combinator's wings and was designed to address the everyday project management problems. Workflowy uses a hierarchical tree structure that accentuates the flexibility of ordinary lists.
Features of Workflowy
Infinite nested lists (in Workflowy Pro)
Filtering features
Color-coded tags and highlighting (beta)
Multi-factor authentication
Outline backup to Dropbox
A selection of themes and fonts
Outline sharing and collaboration
How Much Does Workflowy Cost?
Basic/Free

All features included
Limited to 250 bullets/month
File upload limited to 100 MB
Only basic sharing

Workflowy Pro ($4.08 billed annually)

Unlimited bullets
Unlimited file uploads
Advanced sharing features
Backup to Dropbox
Premium support
Apple Notes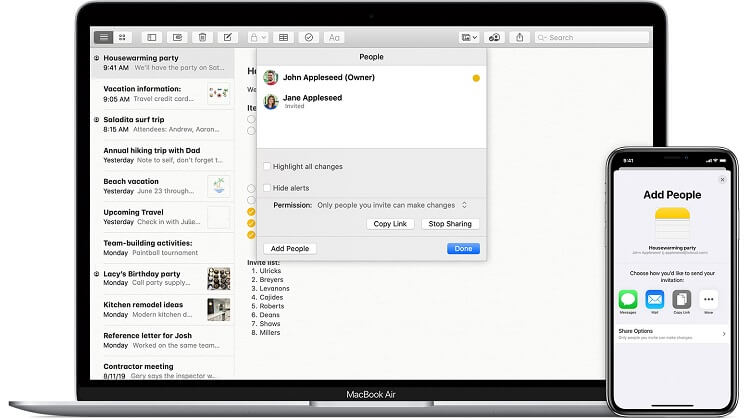 What is Apple Notes?
One of the best note-taking apps for Mac and iPad is Apple Notes. Apple Notes is a free note-taking app that is available on all Apple devices. It is used primarily for taking notes and creating simple lists. Apple Notes is arguably one of the best note-taking applications on iOS as it can be used to create a quick note on your mobile phone whenever you need to.
Features of Apple Notes
Note-taking
Create audio notes with Siri
Share notes
Creating simple tables
Creating simple lists
Sketch ideas
Paste images
How Much Does Apple Notes Cost?
Apple notes is a free note-taking app that can be used across Apple devices.
🚀 The Bottom Line
Equipping yourself with the best note-taking app will help to boost your productivity in school. If you're looking for an all-rounder app to take notes, create to-do lists, and manage projects with, Taskade is your best bet.
Check the Live Demo page to tinker with a demo project or visit Taskade's YouTube channel for introductory videos.
Till next time!