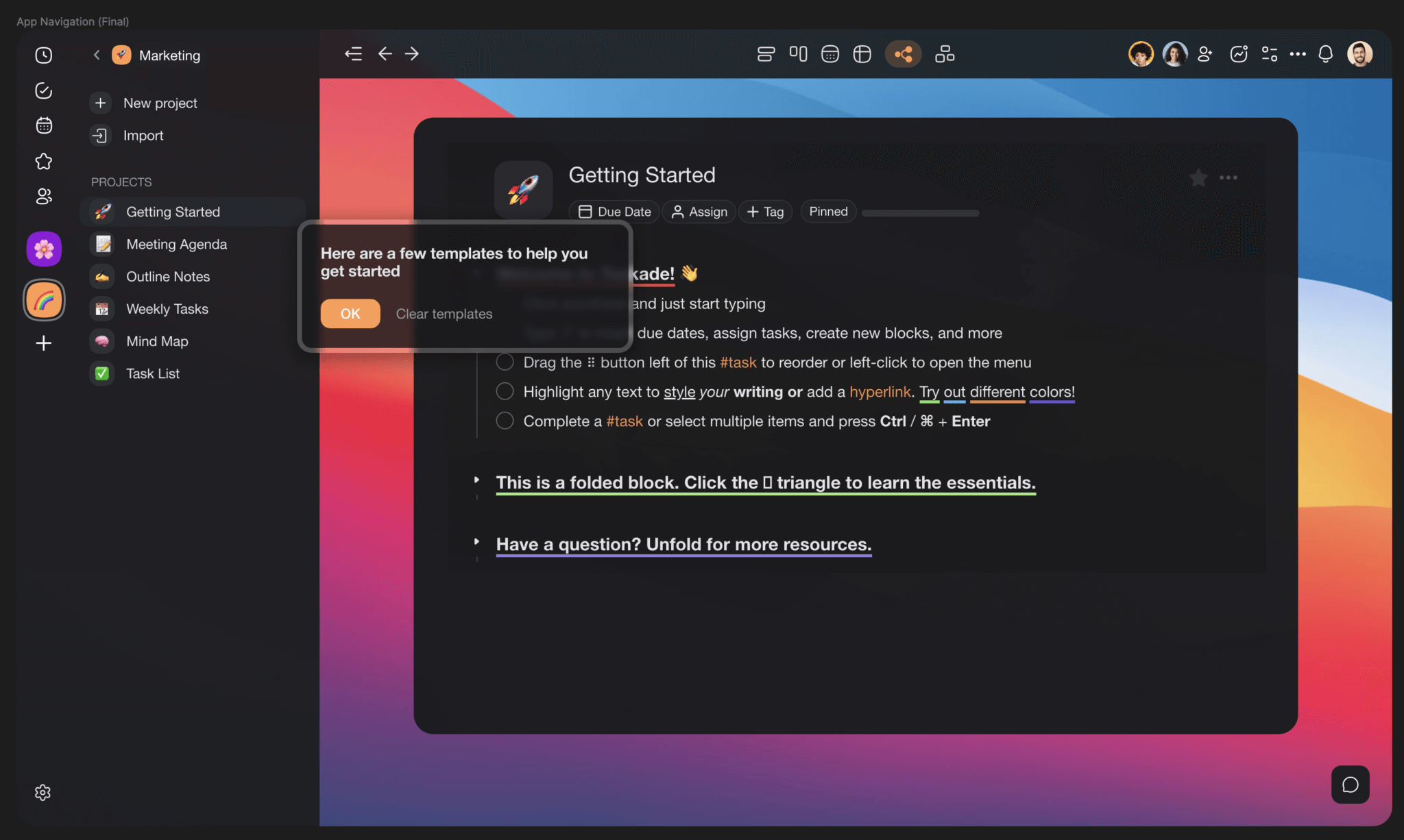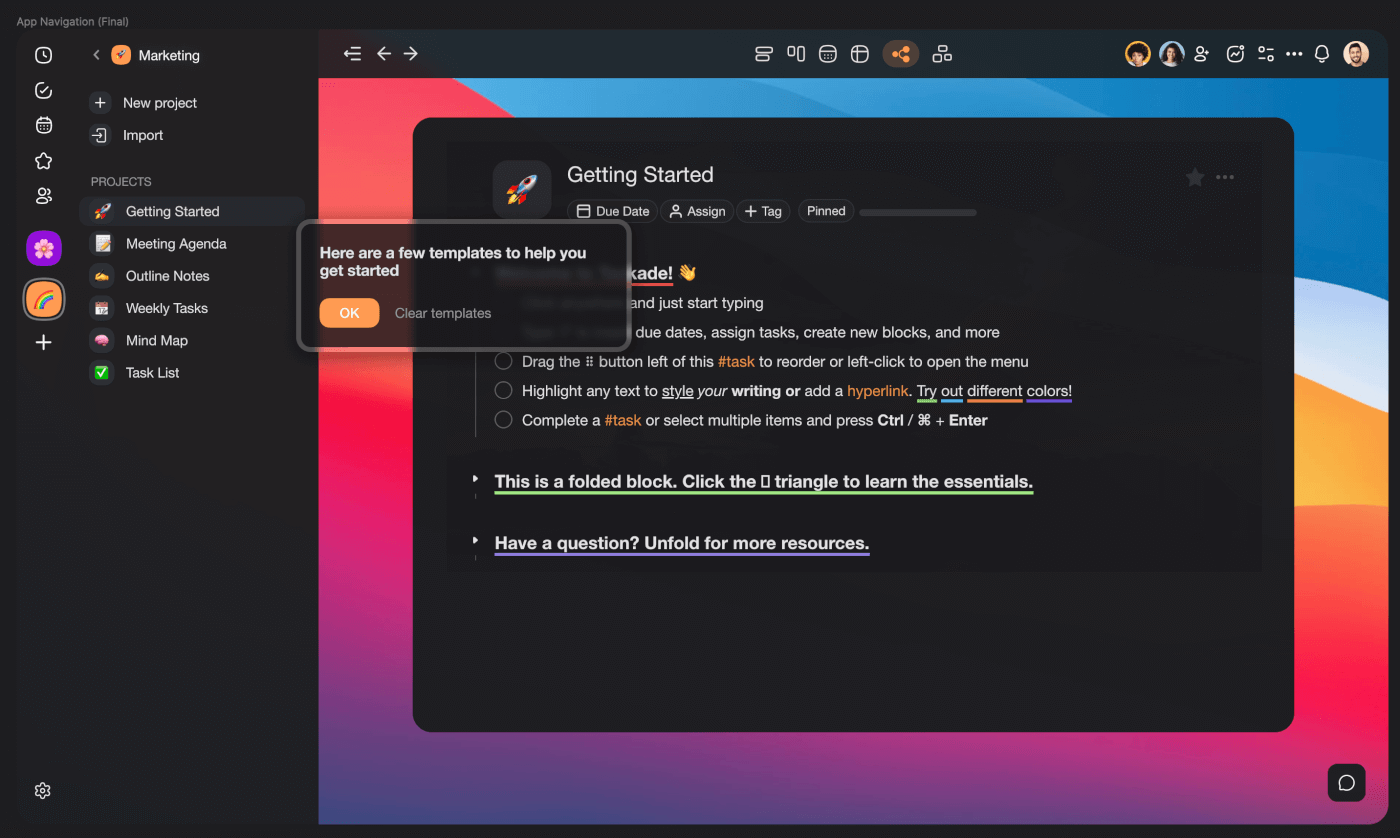 Hi Taskaders! 👋
It's been quite a year, huh?
The world has seen a fair share of challenges and worries in the last 12 months. But now it's time to move on, so we might as well do that on a positive note. We'd like to say a huge thank you for your trust and support. Your feedback (and a healthy dose of constructive criticism) has helped us make Taskade even better. Thank you for being a part of this journey!
If you still have 5 minutes left before a well-deserved break, grab a cup of coffee, relax, and check this quick recap of everything we've accomplished together this year.
🌟 4 Taskade Highlights of 2022
If we were to vote for our own "word of the year" that bounced around Taskade's offices from Singapore to New York, "busy" would win by a landslide. Looking at the highlights below, we can safely say that all the late nights and gallons of coffee were well worth it.
✅ 50+ Features and improvements: We've managed to match our previous high score with 12 rounds of exciting updates, tweaks, and bug fixes. We rolled out over 50 new features and tweaks, many of which were based on your incredible feedback!
✅ Growing community: You sent us over 800 feature and integration requests, voted almost 9000 times (!), and asked for five new Taskade translations. The number of ideas and comments was positively overwhelming; keep the momentum going!
✅ New robes: Our design team decided to embrace the dark side and completely redesigned Taskade's home page for your viewing pleasure. We also gave the Template Catalog a complete makeover making it snappier and easier to navigate.
✅ Better Help Center: Looking for help articles, video tutorials, and tips on using Taskade? The Help Center finally got some love and is now more complete than ever (we didn't mean to get all flowery and poetic, it just kind of happened).

That's the big picture. Now let's take a closer look at the nitty-gritty, shall we?
🔥 Top 10 New Features of 2022
🤖 Taskade AI: One day, robots will take over the world. But for now, they're here to make your work easier. Taskade AI is the only collaborative AI writer that helps teams brainstorm, plan, and write together in real-time. Check our demo page to try it out!
⌨️ /Slash Commands and 🗓️ Natural Language Dates: Tired of using the mouse to get work done? You can access all project formatting and task management features in the new /slash menu now with full support for natural language due dates.
👥 New Project Share & Embed: Sharing projects is now much easier with the new project-sharing screen. The sharing menu lets you select a default project view, define editing permissions, regenerate links, or even turn link sharing off completely.
⚡️ Quick Add: You no longer have to shuffle through projects to add a note or task. The Quick Add shortcut (⌘/Ctrl + K) lets you do that from anywhere within Taskade. Quick Add works on desktop, mobile, and in a web browser with full Markdown support.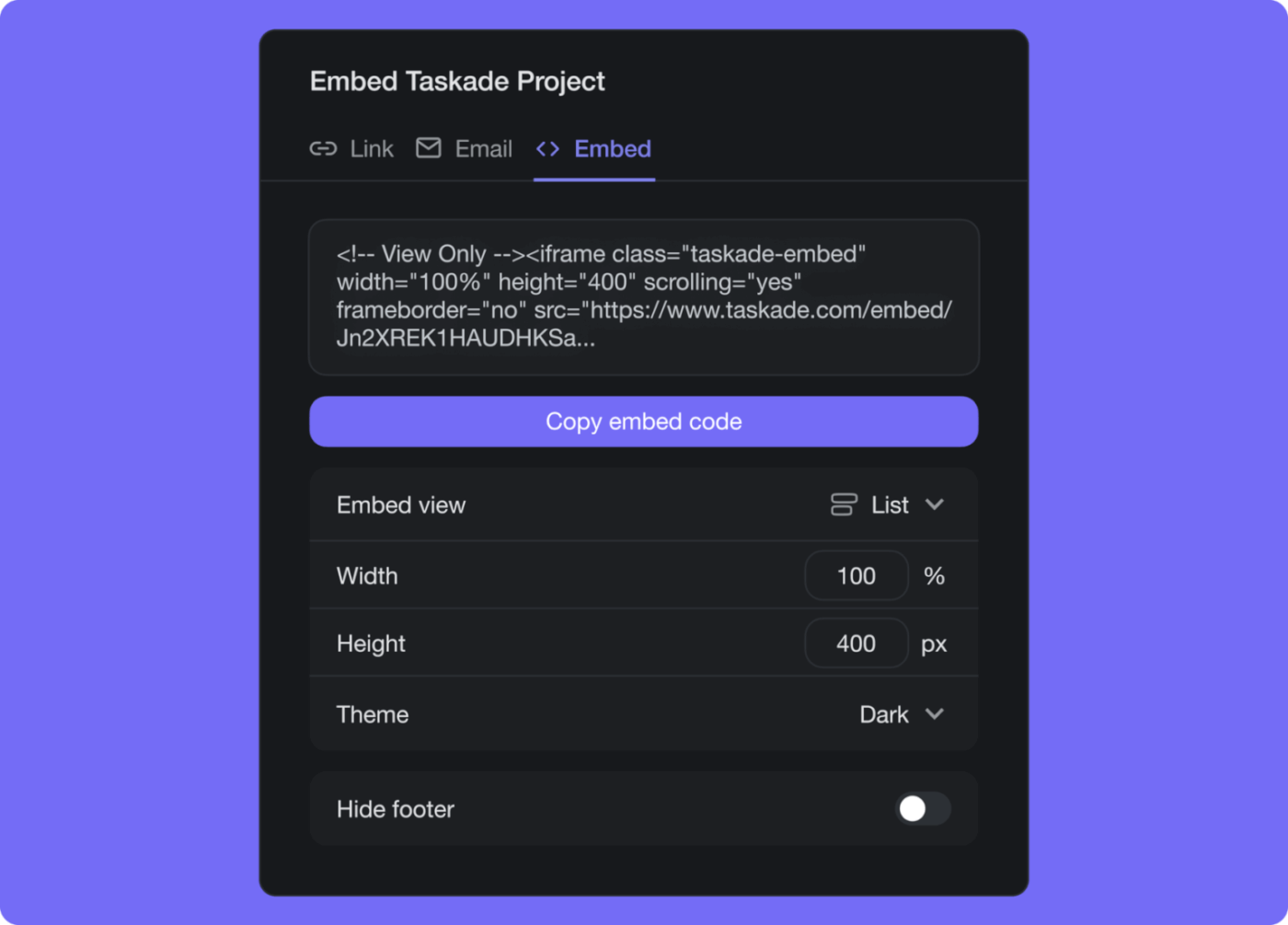 🟠 Zapier Integration: You requested it and we delivered. In August, we rolled out a Zapier integration that lets you automate your tasks. Connect Taskade with thousands of the most popular apps in the Zapier catalog to save time, without coding.
👁️ New Project Views: Taskade now boasts six project views, including a redesigned Action view and a completely new Calendar workflow. The updated Action view features customizable columns giving you more control over workflow
🗓️ Calendar Improvements: In September, we updated the global Calendar with interactive due dates and drag & drop workflow. You can now drag events to reschedule and choose a workspace, folder, and project for new calendar items.
🛠️ Multi-Select Toolbar: After a heated internal debate, we removed the main formatting toolbar and replaced it with a more powerful Multi-Select toolbar. Editing and formatting multiple blocks and tasks has never been easier!
🎨 iPad App Redesign: Our iPad and Android apps were getting a bit dusty, so we gave them a solid makeover. The result? A shiny new user interface on iPad, easier multi-tasking (the good kind), and improved performance on iOS and Android.
⚡️ More Powerful Shortcuts: We've added a new batch of keyboard shortcuts to help you format projects and organize tasks even faster. The all-powerful ⌘/Ctrl + CMD is just an appetizer. Press ⌘/Ctrl + Shift + / to show other top combinations in the app.
📣 Blog and YouTube Channel
Our blog and official YouTube channel were both strong performers this year. We published over 70 knowledge-packed articles 📑 and 80+ YouTube videos. But the numbers don't tell the whole story, so here are some of our favorite bites from the content team in 2022:
We put a lot of effort into researching and fact-checking our videos and articles to give you valuable insights for improving your productivity. But we haven't said our final word.
Are you passionate about a particular topic and think we should cover it on the blog or the YouTube channel? Leave a comment under a video or submit your ideas using our contact page.
🏆 Top Template Picks
We didn't just redesign our template catalog for aesthetics (although it does look pretty darn good, don't you think?). We've also put in a ton of hard work to make these templates as useful and easy to navigate as possible. Here are a few top picks you should give a try in January!
Copy these templates to your workspace, share them with your team, and get work done!
Have a cool template idea? Submit your request here or paste a link to your custom template.
🚀 What's Next for Taskade in 2023?
Phew… that was a crazy ride. But we're not laying down our keyboards and APIs just yet. Well, maybe for a bit, but we'll be back with more exciting updates in the coming months including:
New Mobile App V4 & Improved Desktop App
Project Backlinks
Workspace Dashboard
Password Protected Projects
@ to Create New Projects
Improved Offline Mode
Polish, Integrations, Improvements
and much more, so stay tuned!
Make sure to visit our Public Roadmap project to join the discussion and keep track of all upcoming changes. You can also find us on Reddit, Twitter, and Facebook. We are always open to feedback and welcome any thoughts or ideas on how we can do better next year. 🤝
In the meantime, let's take a well-deserved break and enjoy the festive season.
Happy New Year's Eve, everyone! 🥳🎉
—Team Taskade 🐑