Imagine a world where your AI to-do list app knows you better than you know yourself. That's the reality with the advent of artificial intelligence (AI) in productivity tools. We've come a long way from the era of paper-based systems to today's digital solutions, but AI has propelled us into a new realm altogether. AI-enhanced to-do list apps are leading this wave of change, transforming the way we approach both personal and professional tasks.
These advanced apps offer much more than a place to jot down tasks. They're about intelligently organizing your life, with features like personalized task recommendations, habit-based scheduling, and even voice commands for adding new tasks. The role of AI in boosting productivity is monumental. It provides a smarter, more intuitive method of managing tasks, making our personal and professional lives more organized, efficient, and ultimately more productive.
Understanding the Role of AI in To-Do List Apps
AI has transformed traditional to-do list apps from simple reminders into advanced personal assistants. These AI-powered apps can analyze how you complete tasks, prioritize them based on urgency and your personal preferences, and suggest optimal times for tackling specific tasks. This integration of AI into task management is a game changer.
The advantages of AI in task management are numerous. It enhances task organization, accurately predicts the time needed for each task, and provides customized tips to boost productivity. AI's ability to automate routine tasks also frees up your time for more critical thinking and creative endeavors.
Moreover, AI improves the organizational aspect by categorizing tasks, setting smart reminders, and adapting schedules to accommodate shifting priorities.
Essential Factors to Consider When Choosing an AI To-Do List App 📋
Balanced Dependence on AI 🤖: It's important to strike a healthy balance in using AI within to-do list apps. While AI offers smart assistance in organizing and prioritizing tasks, overreliance can lead to a decline in your own critical thinking and independent decision-making skills. AI should be viewed as a supplementary tool that enhances, rather than replaces, your cognitive abilities in managing tasks.
Robust Security and Privacy Measures 🔒: Security is paramount when selecting an AI-powered to-do list app. Ensure the app provides strong data encryption, secure authentication processes, and a transparent privacy policy. Understanding how the app uses, stores, and shares your data is crucial to protecting your personal and professional information from unauthorized access or breaches.
User-Friendly Interface and Usability 💡: The app should have an intuitive, user-friendly interface. This means easy navigation, clear instructions, and a smooth integration of AI features that complement, rather than complicate, your task management. An app that is difficult to navigate can hinder your productivity instead of enhancing it.
Customization and Flexibility 🌟: The ability to customize the app according to your specific needs is a significant advantage. Look for apps that offer flexible settings, allowing you to adjust AI recommendations, notifications, and task categorizations. This personalization ensures that the app aligns with your unique workflow and preferences.
Integration with Other Tools and Platforms 🌐: In today's interconnected digital environment, the ability of your to-do list app to integrate with other tools and platforms you use is crucial. Seamless integration with calendars, email, project management tools, and other productivity apps can significantly enhance efficiency and streamline your task management.
It's vital to consider these factors when choosing an AI-powered task management app. A well-chosen app should empower you to manage tasks more efficiently without compromising on security, usability, personalization, and integration with other digital tools. With the right app, you can maximize productivity while maintaining control over your data and decision-making processes.
The Top 10 Best AI To-Do List Apps in 2024
Taskade
In a world brimming with AI to-do list apps, Taskade stands out as a premier, AI-enhanced solution, bringing the advanced capabilities of GPT-4 (Turbo) and customizable AI GPT agents directly to your task management workflow.
Taskade isn't just another app when it comes to AI-powered to-do lists; it's a leap forward. It offers a comprehensive suite of features, catering to both individual and team needs. With Taskade, you're not only managing tasks but also transforming them through AI-driven clarity and organization. It's a single platform for managing projects, tasks, notes, documents, reminders, and calendars.
Taskade integrates all aspects of project management — tasks, files, communication, and team collaboration — into one clear and cohesive environment. This integration eliminates the hassle of switching between different apps and platforms, streamlining your workflow and enhancing productivity with AI.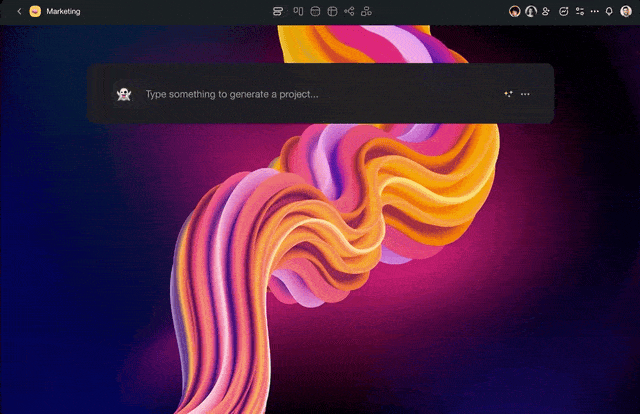 Taskade Best AI-Powered Features
Customizable AI Workflow Generators: Create AI-generated templates tailored to your team's needs, from AI-powered to-do list templates to SOPs and Flow Charts.
AI Writing and Task Assistant: Customize the AI to serve unique roles like marketing experts or life coaches, adapting to your project's tone and persona.
Autonomous AI Agents: Harness the power of GPT-4 for autonomous research, task completion, and workflow orchestration. Create AI Agents with Taskade.
AI-Driven Document Summarization: Transform PDFs, CSVs, and documents into projects with ease.
Effortless Task Conversion: Turn notes into actionable tasks with AI assistance.
Advanced File Management: AI not only stores your files but also intelligently works with them.
Integrated Real-time Collaboration & Video Chat: Collaborate effectively with integrated video chat, all within the same platform.
Cross-Platform Accessibility: Available on Android, iOS, Mac, Windows, and browsers for uninterrupted productivity.
Over 1337+ Customizable Templates: Jumpstart your projects with a vast array of AI-powered templates.
Interested to find out more about Taskade? Check out our full list of AI-powered features.
Embrace the Future of Productivity with Taskade
While Taskade is still evolving, its forward-thinking approach to productivity through AI makes it a standout choice. Get started with Taskade for free and explore the full spectrum of its AI-powered features on our pricing page.
Discover how Taskade can revolutionize your approach to task management, blending AI sophistication with user-friendly design.
How Much Does Taskade Cost?
You can get started with Taskade for free. Check out our pricing page for a detailed breakdown of our paid plans.
Notion, acclaimed for its all-in-one workspace, took a significant leap in 2023 with the launch of Notion AI. This feature is primarily focused on content generation and management, utilizing advanced language models for tasks like note-taking, content creation, and error correction.
Best Features:
Notion AI for enhanced brainstorming and content suggestions.
Capabilities for writing blog posts, press releases, and professional papers.
Tools for efficient article outlining.
Features for multi-language content translation.
Diverse content creation options including poetry and marketing emails.
Notion Limitations:
The AI's focus is more on content creation rather than task management.
Some AI-generated content may require manual adjustments for accuracy.
The interface can be complex for new users due to its customization options.
Limited native integration with certain external tools.
Notion's recent AI advancements significantly bolster its capabilities in content creation and organization, though it may not be as focused on task management aspects as other AI-powered productivity tools.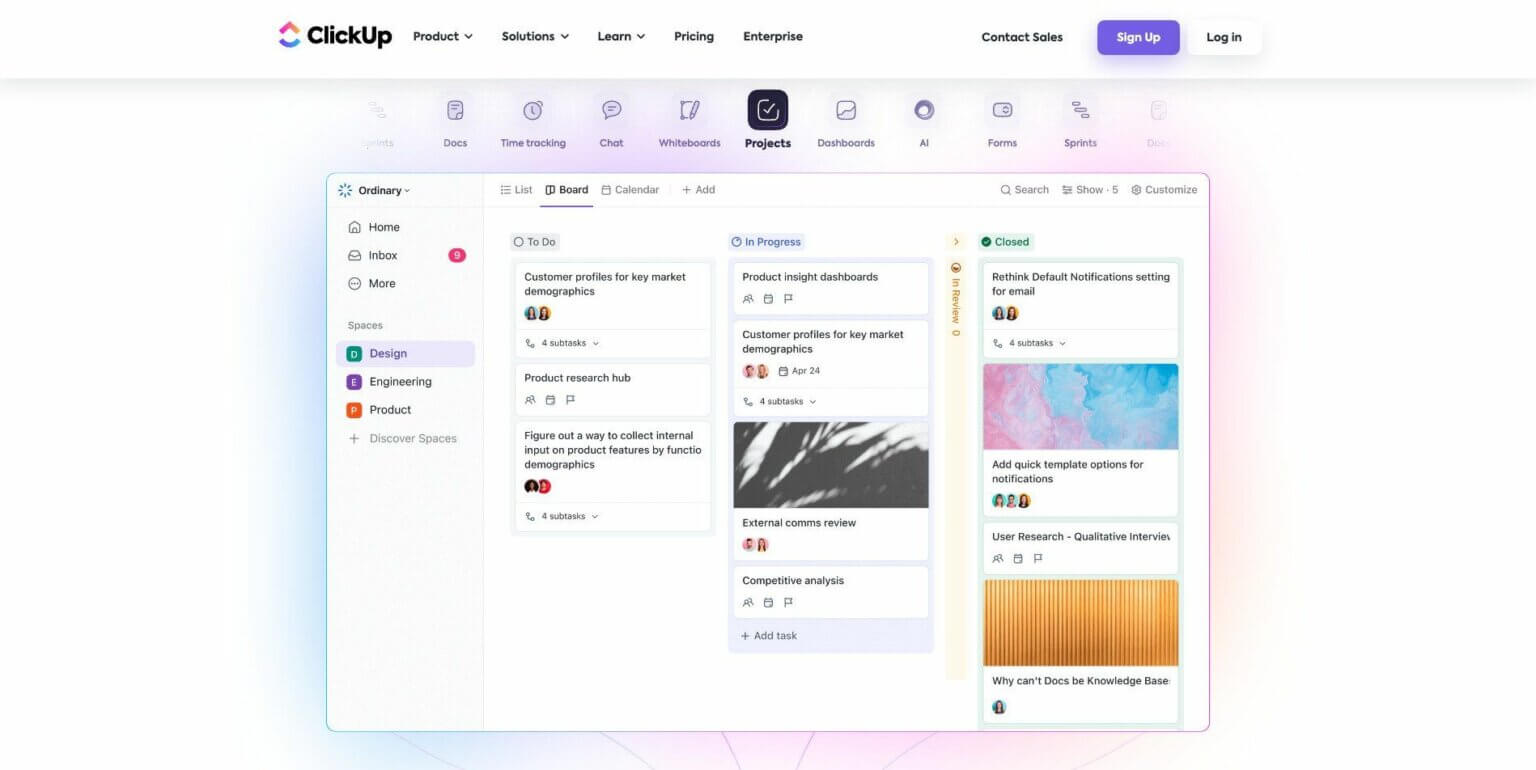 ClickUp is a productivity platform known for its versatility in project management, offering features like task assignments, document sharing, and goal tracking. It integrates some AI elements to streamline workflows and enhance user experience.
Best Features:
Diverse views for tasks, including list, board, and calendar.
Automation features for routine tasks.
Goal tracking and progress reporting capabilities.
Built-in document and wiki creation tools.
Extensive integration options with other apps.
ClickUp Limitations:
AI features are not as advanced as some competitors.
The interface can be complex for beginners.
Mobile app experience may lack some desktop features.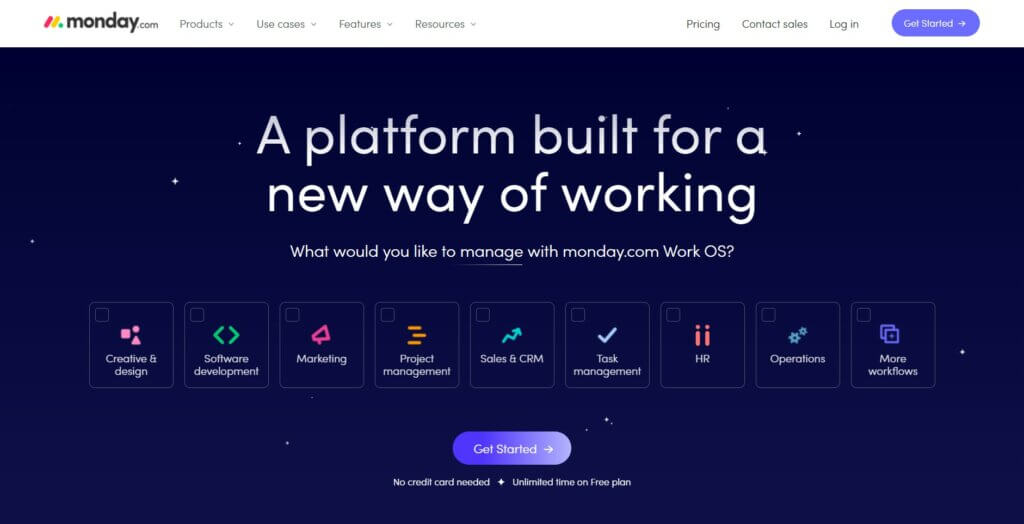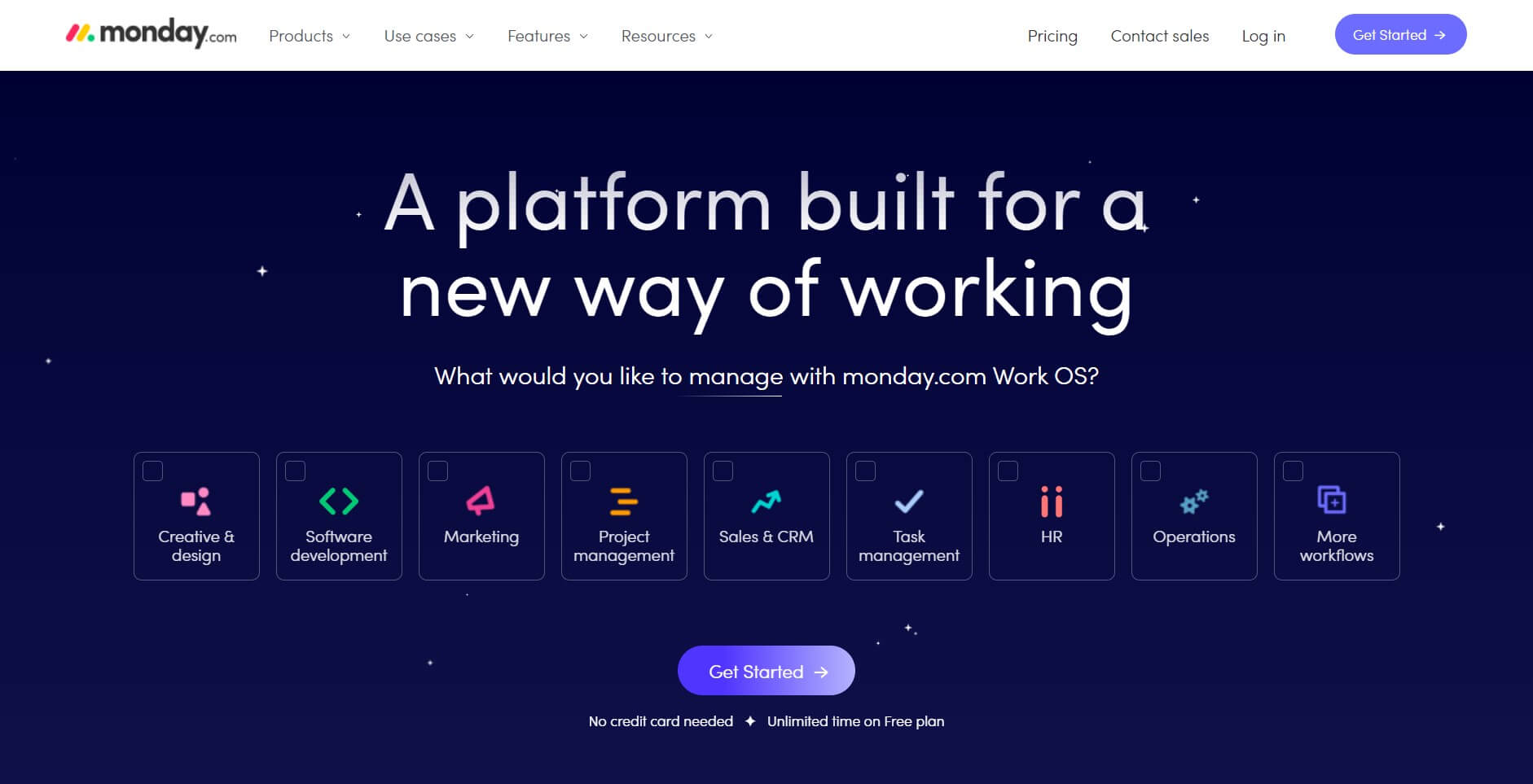 Monday.com is a popular project management tool known for its colorful interface and ease of use. It's designed to cater to various team sizes and industries, but doesn't primarily focus on AI-driven functionalities.
Best Features:
Customizable workflow templates.
Visual project tracking with multiple view options.
Integration capabilities with numerous third-party apps.
Time tracking and automated notifications.
Collaborative features for team discussions and document sharing.
Monday.com Limitations:
Limited AI capabilities in task management.
Pricing can be on the higher side for small teams.
Some users may find the interface too busy or overwhelming.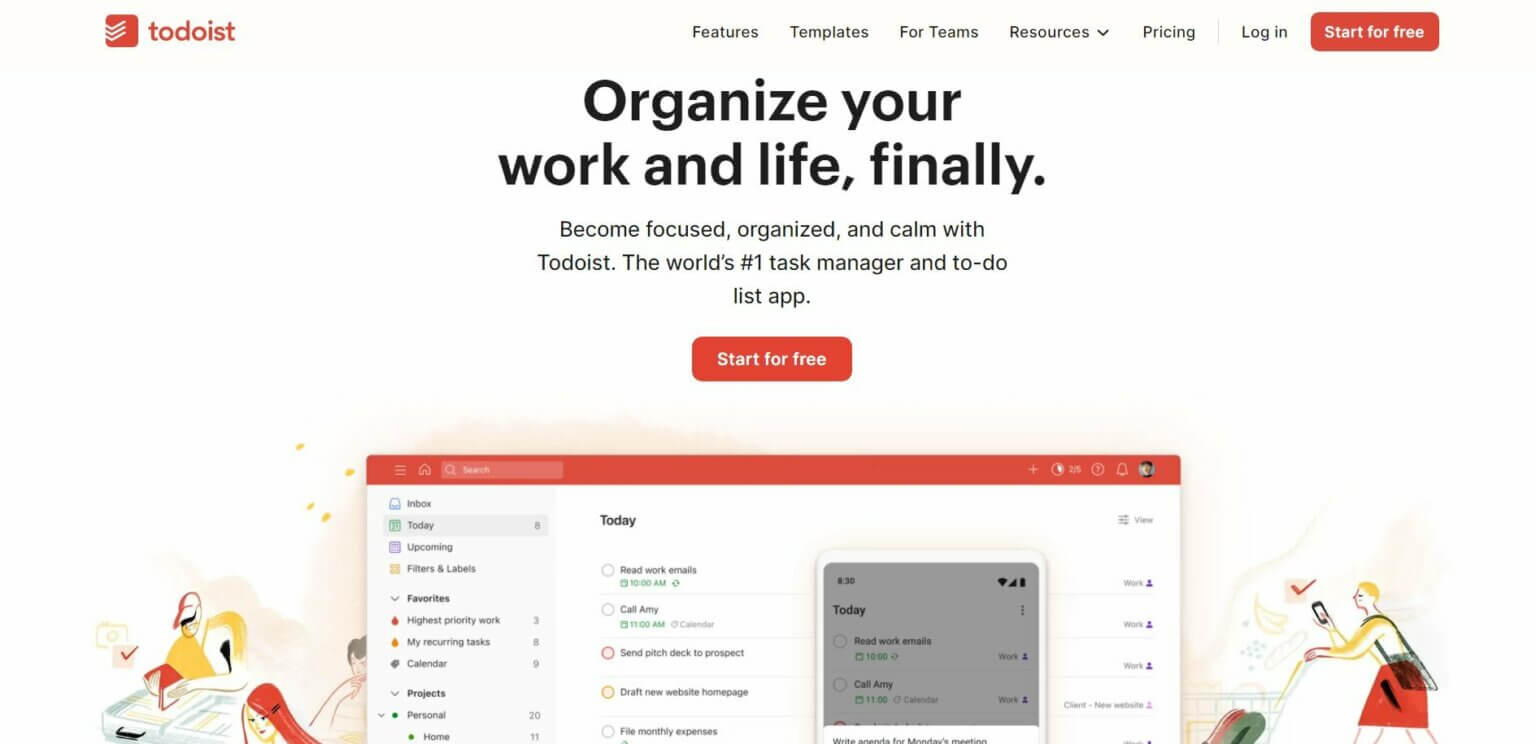 Todoist stands out for its simplicity and effectiveness in task management. It integrates AI features like natural language parsing, smart schedule, and automatic reminders, making it a strong contender in the AI to-do list app market.
Best Features:
AI-powered productivity features for task scheduling and reminders.
Natural language input for easy task addition.
Smart scheduling suggestions based on user habits.
Simple, user-friendly interface.
Cross-platform compatibility.
Todoist Limitations:
Limited functionality for complex project management.
Fewer customization options compared to some competitors.
Limited collaboration features for larger teams.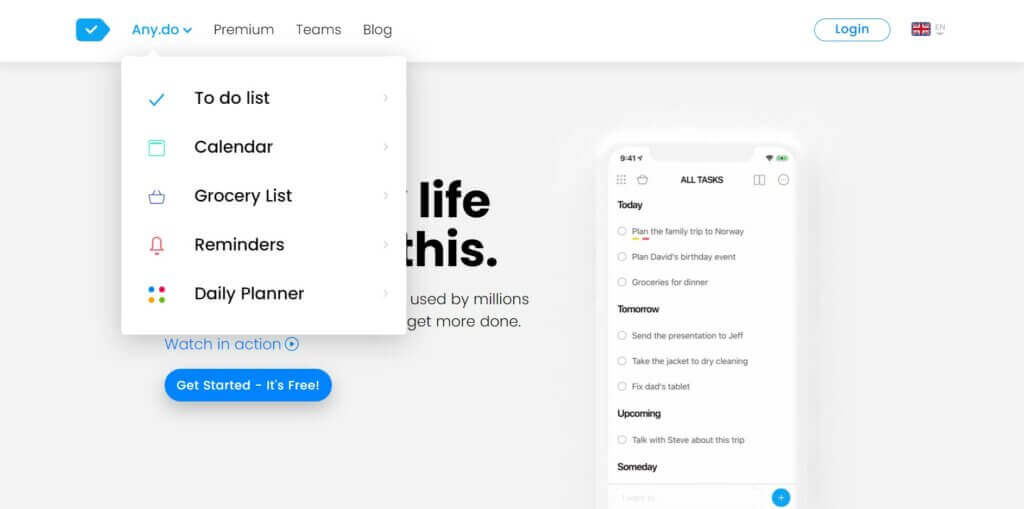 Any.do is known for its clean design and practical task management features. It incorporates AI to suggest tasks based on conversations and user activity, along with an intelligent task assistant and smart list management.
Best Features:
AI suggestions for task creation and management.
Intelligent task assistant for streamlined task handling.
Calendar integration for comprehensive scheduling.
Simple, intuitive interface.
Cross-device synchronization for consistent task tracking.
Any.do Limitations:
Fewer advanced project management features.
Limited customization options.
The free version has noticeable limitations.
Smartsheet is a work management and collaboration tool that excels in its spreadsheet-like interface. It's tailored for businesses that require detailed project tracking and reporting, though it's not heavily focused on AI features.
Best Features:
Spreadsheet-style interface for detailed task management.
Comprehensive reporting and dashboard capabilities.
Automation of workflows and repetitive tasks.
Strong collaboration features for team-based projects.
Integration with a wide range of third-party apps.
Smartsheet Limitations:
No significant AI functionalities.
Steeper learning curve due to its complex features.
Higher cost compared to simpler task management tools.
Hive
Hive is a project management tool that emphasizes team collaboration and workflow customization. While not primarily AI-driven, it offers a range of features for efficient project tracking and team coordination.
Best Features:
Customizable project views, including Gantt and kanban.
Integrated team messaging for seamless communication.
Automated workflow for task assignments and deadlines.
Time tracking and resource management tools.
Native email integration for direct communication within the platform.
Hive Limitations:
Limited AI-driven task management features.
The interface might be overwhelming for new users.
Some users report occasional glitches with the mobile
Asana is a widely-used project management tool that emphasizes task organization and team collaboration. It's known for its intuitive interface and powerful task tracking features, although it does not extensively utilize AI in its functionalities.
Best Features:
User-friendly interface with easy navigation.
Comprehensive task and project tracking.
Customizable workflows and project views.
Robust integration with other tools and platforms.
Detailed reporting and progress tracking for teams.
Asana Limitations:
Limited AI-driven features for task automation and personalization.
Can be pricey for larger teams or advanced features.
Some users may find the variety of features overwhelming.
Microsoft To Do
Microsoft To Do, known for its simplicity and integration with other Microsoft products, is a straightforward task management app. It offers basic AI functionalities, such as smart suggestions based on user habits.
Best Features:
Integration with Microsoft 365 suite, including Outlook.
AI-powered smart suggestions for task planning.
Simple, clean interface for easy task management.
Customizable task lists and reminders.
Cross-platform availability for seamless synchronization.
Microsoft To Do Limitations:
Limited features for complex project management.
Fewer customization options than some competitors.
AI capabilities are basic compared to more advanced AI-powered apps.
Why Taskade Is the Best AI-powered to-do List App for You and Your Team
In the landscape of AI-powered productivity tools, Taskade stands out for its advanced integration of sophisticated AI to directly enhance task management. Leveraging GPT-4, Taskade allows for highly customized and effective task automation, organization, and prioritization tailored to each user's needs.
Beyond robust AI capabilities, Taskade excels as a comprehensive platform for task management, project collaboration, and seamless teamwork. With versatile functionality, cross-platform accessibility, and a user-friendly interface, Taskade provides a unified environment to streamline workflows and maintain productivity. While competitors focus more narrowly on content creation, Taskade takes an all-encompassing approach, making it the premier choice for anyone seeking to maximize productivity with AI-driven task management.
But, don't just take our word for it. Try Taskade for free today and experience it for yourself!