Hi Taskaders 👋
Happy new year! We just wanted to say a huge thank you for your trust and support. And thanks for being a part of the Taskade community.
We spent the last 12 months working hard to make Taskade better for you and your team and here are a few new exciting updates to kick off 2023. 🎉
🧠 Backlinks
The new 🔗 Backlinks Menu lets you build your own second brain in a few clicks! Create a network of interconnected tasks, thoughts, and projects.
Here's how it works:
Type @ + project title to link projects together. You can also "Copy Link" for a task or project in the 📝 Share Menu and paste the hyperlink manually.
Click the "Backlinks" button at the top of the project you're editing. Taskade will show you all @mentions (backlinks) leading to the project.
Finally, select an existing backlink to quickly jump to the connected task and project. And that's it! Learn more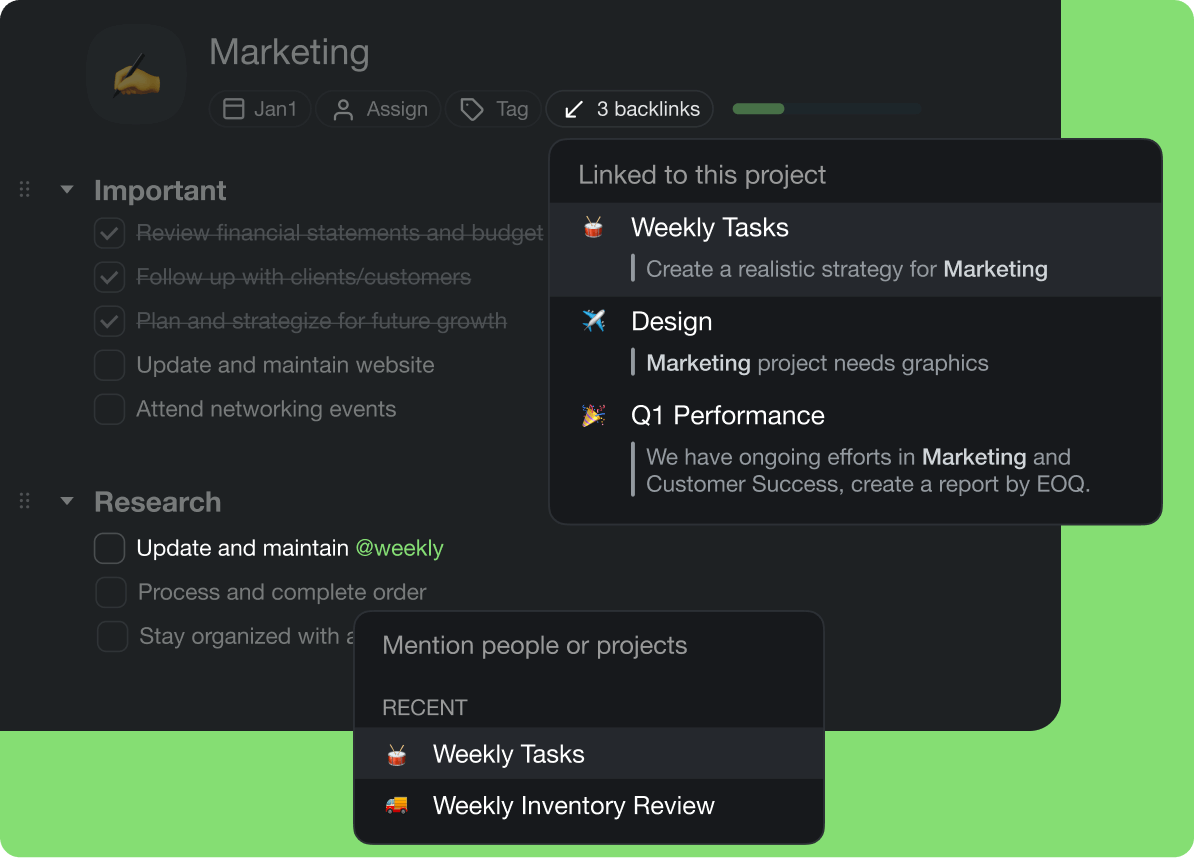 👩‍💻 Team Folders
You can now give workspace members access to team folders instantly. Set a folder to public or private with the new permissions system so they can be editable by all workspace members, viewable, or invite only. Learn more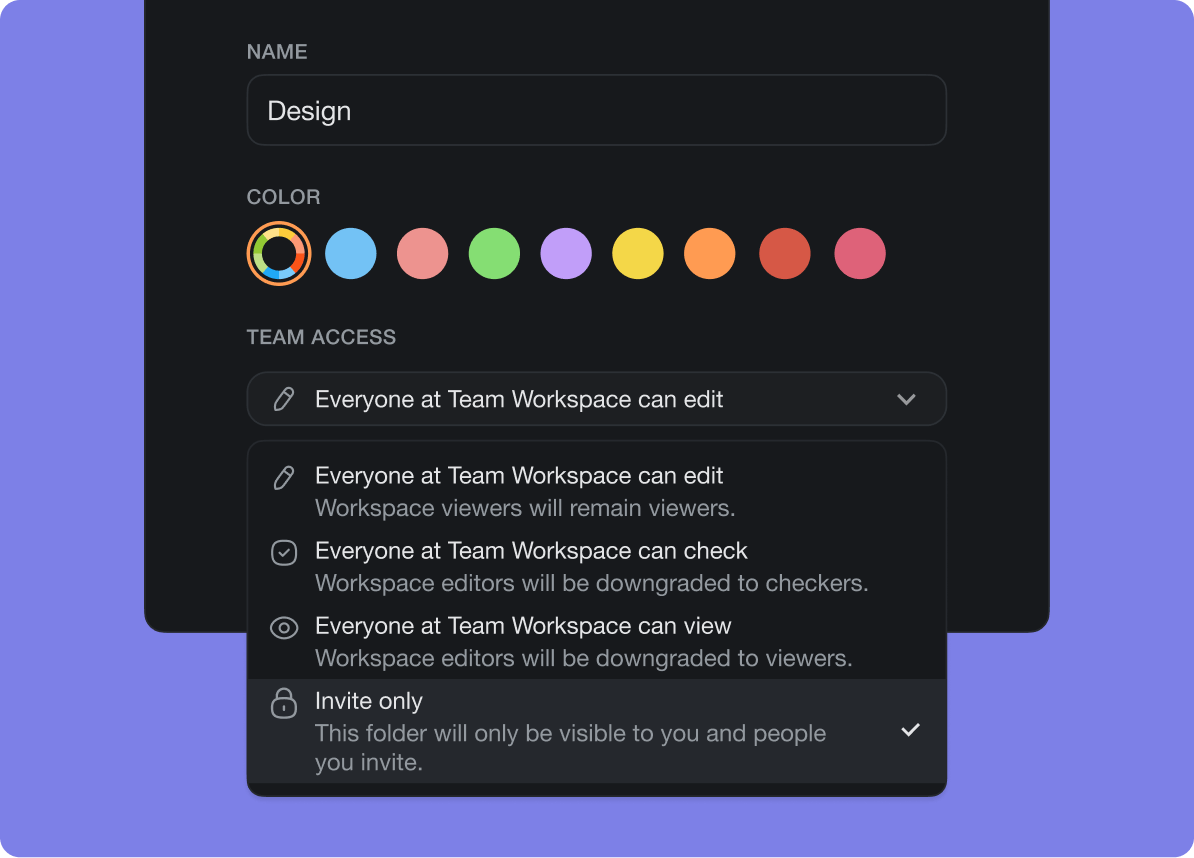 ✅ My Tasks Filter
You can now filter My Tasks by workspace and folder similar to the global Calendar. In addition, My Tasks now displays tasks from external projects shared with you, perfect for working with consultants and external teams. Learn more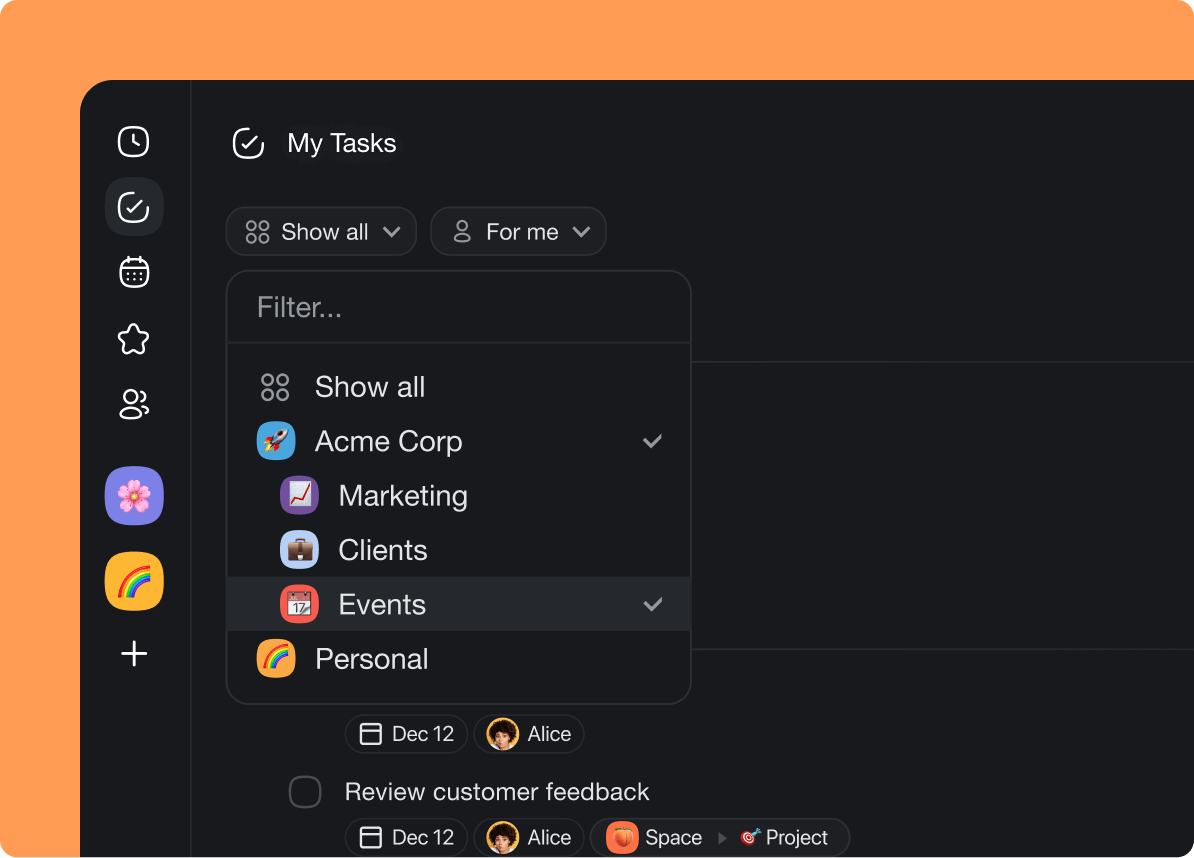 🎉 Other Improvements
New: Taskade AI now displays a loading indicator when fetching results
New: Taskade AI Templates are now available and free for everyone to try
New: Taskade Wall of Love page is now live with thousands of customer reviews
New: My Tasks now displays tasks from external shared with me projects
New: Invite to Workspace and Project now displays pending invites
New: Share and invite UI with option to disable and re-enable links
New: Onboarding, getting started, and personalized templates
New: Google People API support for future invite improvements
New: Added "Check all" support in the ⠟ drag icon menu
Fix: Improved CTRL / CMD + K and addressed UI bugs
Fix: Improved error handling for Private Folders
Fix: Various improvements for SAML and SSO support
Fix: Improve embedding of projects via iframe
Fix: Removed mobile web app install banner
Various performance improvements and bug fixes
And we're just getting warmed up for 2023! 🎉
Have any questions? Visit our Help Center or let us know. 😊
— Team Taskade 🐑
P.S. For a more detailed look at 2022, check out our full 2022 recap here.