Hi Taskaders 👋
We're back with another exciting update to make our platform work smarter and faster for you and your team. Give it a try and let us know what you think.
🪄 AI Assistant
Type any "/ai" command and hit enter to open the new AI Assistant. Instantly copy, regenerate, or insert the results. Taskade AI is now available at your fingertips. Learn more.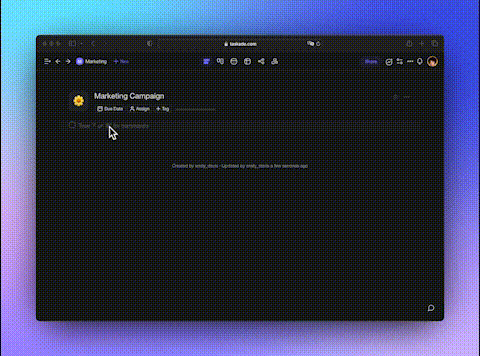 🌏 AI Translate
Want to translate tasks and notes into various languages? Just use "/translate"! Need more languages? Just ping us, and we'll add them! Learn more.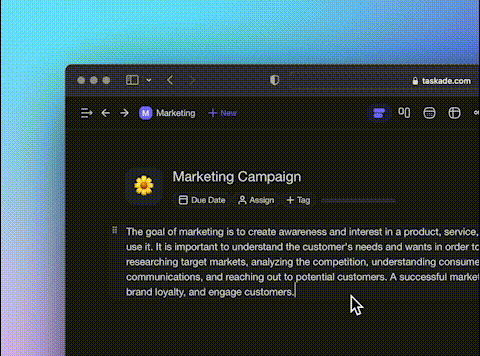 ✅ Progress Bar
The progress bar now counts all tasks and sub-tasks when you tick off checkboxes within a project. This includes calculating sub-sub-tasks, regardless of hierarchy. Bullets and notes are no longer counted toward the progress bar. Learn more.
Only checkboxes are now counted
Sub-task checkboxes are also counted properly
Progress bar now updates in real-time as you change list formatting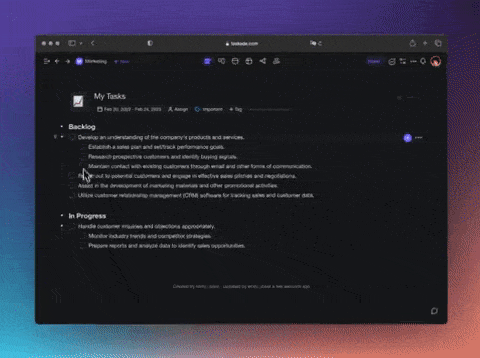 🎉 Other Improvements
New: Search project now highlights the text with your theme color
New: Improved Google Calendar Integration with faster 2-way syncing
New: Comments & Chat Messages now display code block, code snippets, ordered and numbered lists via simple markdown support
New: Added Import from Evernote, more import options coming soon
New: Updated Keyboard Shortcuts in-app menu design (Open CTRL+⇧+/)
New: Ability to disable share links for projects
New: Quick Add now supports assigning task
Fixed: Editor performance improvements
Fixed: SAML improvements and optimizations
Fixed: Project headers no longer displays your own profile avatar
Fixed: Collaborators can now use templates
Fixed: Shared with me now shows recent projects never viewed before
Various bug fixes and performance improvements
Have any questions? Visit our Help Center or let us know. 😊
— Team Taskade 🐑