Hi Taskaders 🎉
We've worked hard to make Taskade work better for you! Here's what's new:
⚡️ Add to Calendar
You can now add tasks with due dates in the global Calendar View. Open your Workspace or Folder, select the calendar icon 🗓 from the navigation menu on the left, and click the day where you want to add your task. Learn more.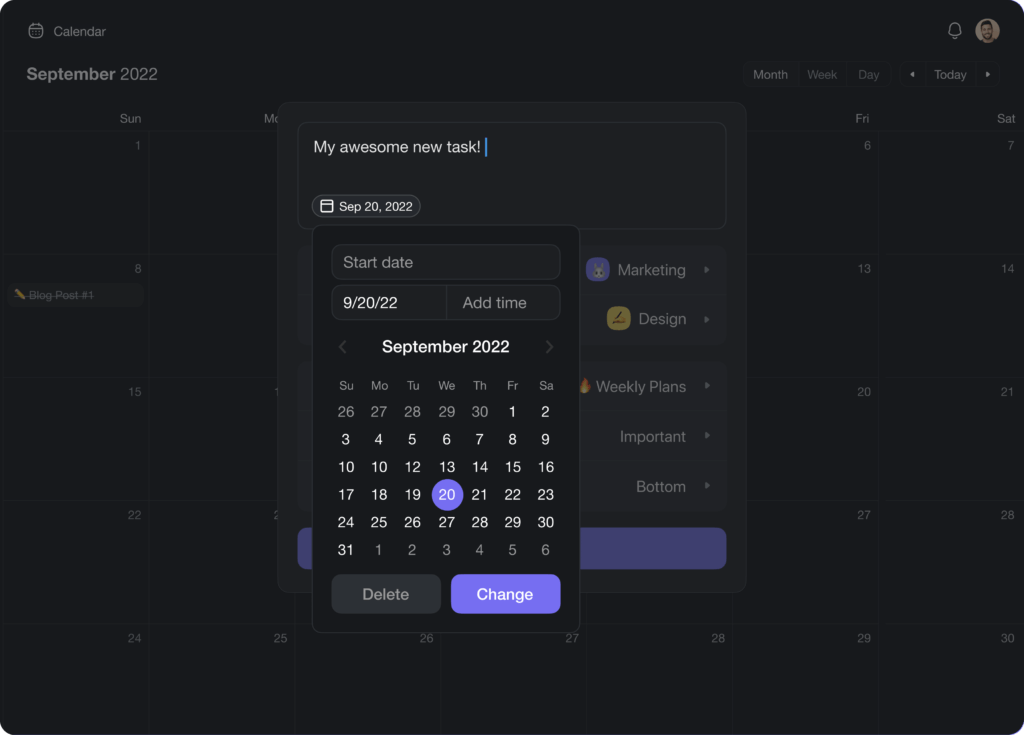 ⚡️ Multi-select Toolbar
Edit Projects faster with the new Multi-Select Toolbar. Format blocks, add due dates, assign items, and check off multiple tasks with a single click. Learn more.
⚡️ /Assign in Slash Command
You can now assign tasks by simply typing /assign and selecting a member. The assignee will be notified instantly that there's a task waiting for them. Learn more.
⚡️ Template Add-ons
Our all-new Project Templates introduce an Add-ons support. Speed up repetitive workflows with attachments, due dates, and more. Projects created from templates will retain all add-ons and attachments.  Learn more.
🎉 Other Improvements
Taskade for Mobile:

New: Multi-select formatting
New: Quick capture offline support
Improved: Offline project view workflows

New: Updated and fully redesigned Integrations page
New: Enabled Add-ons menu in Custom Templates editor
Zapier: Add start and end date in Zapier ("Create Task" action)
New: Assign anyone using the /slash command
Fix: Display Comment icon and tooltip when disabled in Project Settings
Fix: Show Chat icon and tooltip when disabled in Project Settings
Fix: Completed projects show up in the Cmd/Ctrl + K menu
Fix: Lower CPU usage in web and desktop apps
Fix: Project field in Zapier now loads all Projects when searching
Fix: Add Task in the Board view now copies the last node formatting
Fix: Return focus back on the editor after Drag Menu is closed
Fix: Notifications are disabled by default for Template Add-ons
Fix: Template tasks are hidden from My Tasks and Global Calendar
Fix: Notifications distinguish between Workspace and Folder
Fix: Added support for longer Project tags
Fix: Various performance improvements and bug fixes
Thanks again for supporting Taskade, and as always, don't hesitate to reach out or visit our Help Center if you need help. We're here for you! 😊
— Team Taskade 🐑
P.S. Want to help us improve Taskade? You can also suggest a feature. Follow us and join the discussion on Twitter and Reddit.