Have you ever felt lost in the clutter of tasks and ideas?
Are you tired of wasting hours when starting new projects?
Do you want to look at your tasks from new angles?
The way you visualize tasks directly impacts your efficiency. And perspective is everything. But most project management tools out there serve the cookie-cutter approach. 🍪
When everybody else expects you to put in tons of manual work just to start a project, we want you to leave the heavy lifting to us. Our smart AI assistant and dynamic project workflows will help you transform your tasks and work like you never worked before.
So you can focus on what you do best.
🦩 It All Starts with The Origami Method
Origami is the ancient art of folding a sheet of paper into a sculpture without cutting, gluing, or marking the paper. Every fold signifies a transformation, subtle, nuanced, and deliberate.
The Origami Method lies at the heart of Taskade's power to transform your tasks and projects in multiple ways. From a simple to-do list, the starting point of all great projects, to high-level workflows, Taskade allows you to sculpt and refine your vision before you bring it to life.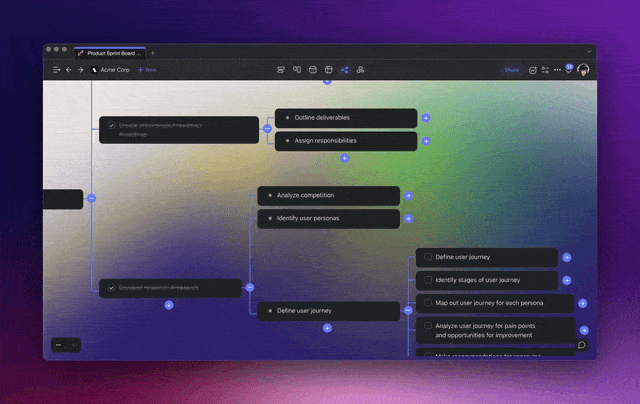 Each project is a living document with six unique views that give you infinite creative possibilities and a place to think. Your project data is structured and persistent across all views, so you can transform your tasks and workflows one "fold" at a time, without losing context.
Let's see how that works. 👇
📃 List View — Organize, Outline, Manage
Every great project starts with a plan.

Ok, let us take that back.
Every great project starts with a list.
It can be as simple as a few business ideas scribbled on a napkin or thoughts jotted down in the middle of the night. Lists are the spark that drives growth.
The linear nature of the List view promotes focus, with each item, no matter how small, acting as a stepping stone toward the bigger picture. A document outline, a simple to-do, a multi-level checklist, lists set the groundwork for action.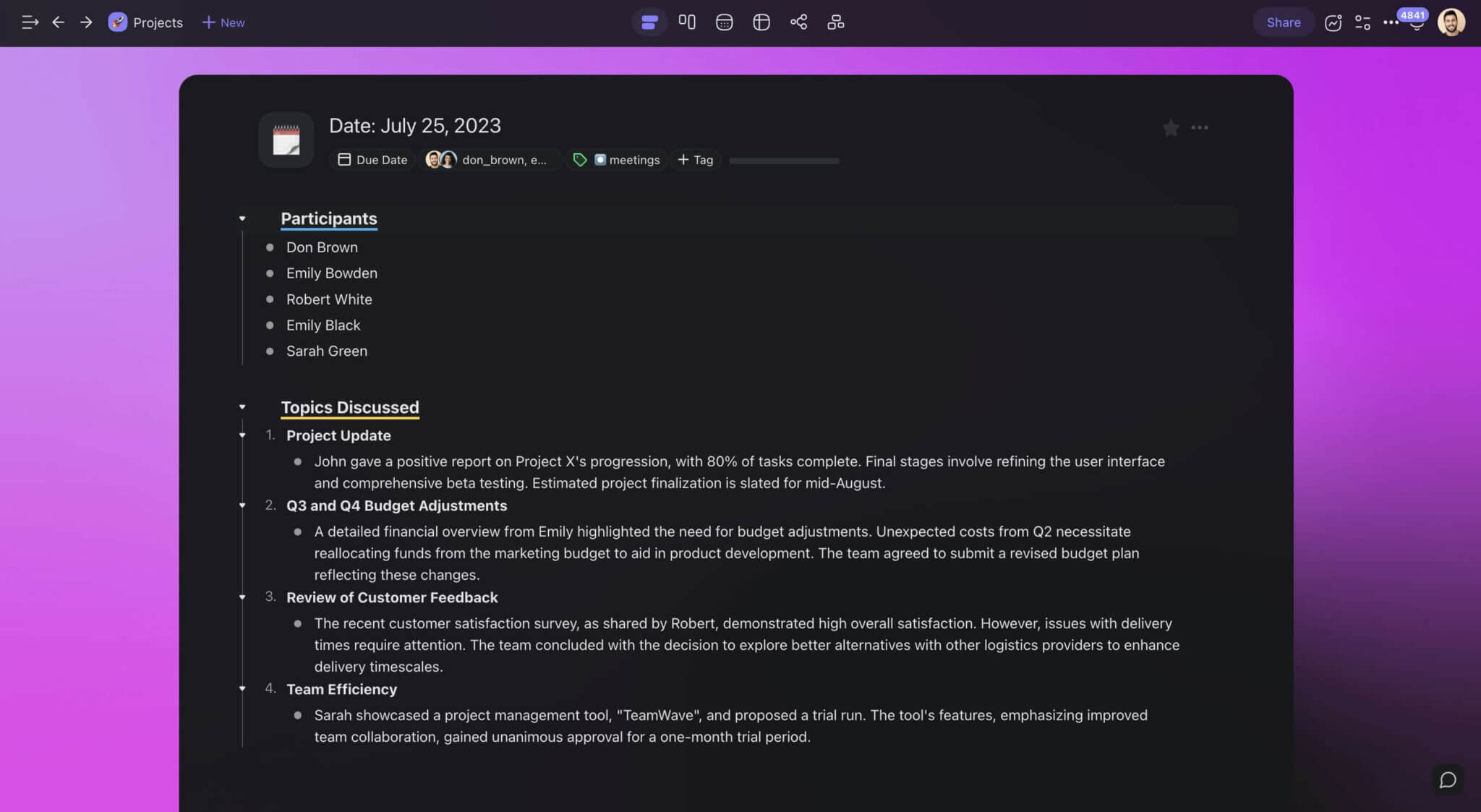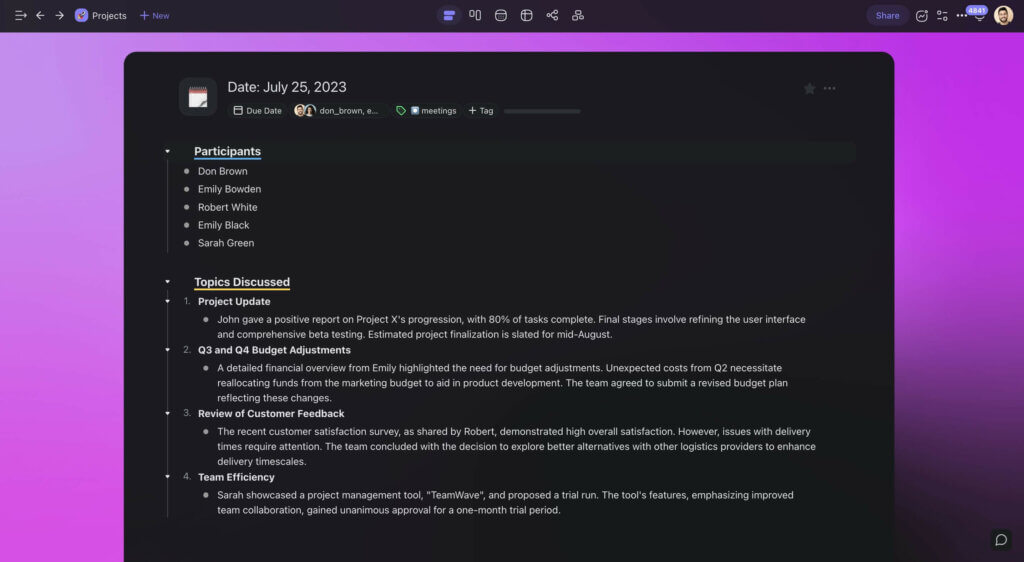 ⚙️ Who Is This View For?
Whether you're a startup founder, a novelist, or just like to keep your life and work organized, the List view will keep you on track. Here are some of the most popular use cases you can try:
| | |
| --- | --- |
| Daily Task Management | Outlining |
| Prioritization of Tasks | Setting Task Dependencies |
| Breaking Tasks into Steps | Project Milestones |
🌁 Top Templates / Generators
Don't want to start from scratch? Taskade features hundreds of templates and AI generators so you can spend more time on doing. Grab these templates to get started quickly:
⚡ Pro Tip
Taskade AI is a smart assistant that lives inside the project editor. Simply type one of the /AI commands to create outlines, brainstorm ideas, and supercharge your writing. Learn more…
📋 Board View — Visualize, Prioritize, Adapt
Tasks are more than just collections of items. Sometimes, a visual approach is what you need to see the bigger picture. The Board view with its Kanban heritage is the perfect tool for that.
Bring clarity and order to complex projects. Rearrange and customize board cards to mirror a project's evolving nature and your unique work style. Drag items between cards to track progress and keep the work flowing and your team on the same page.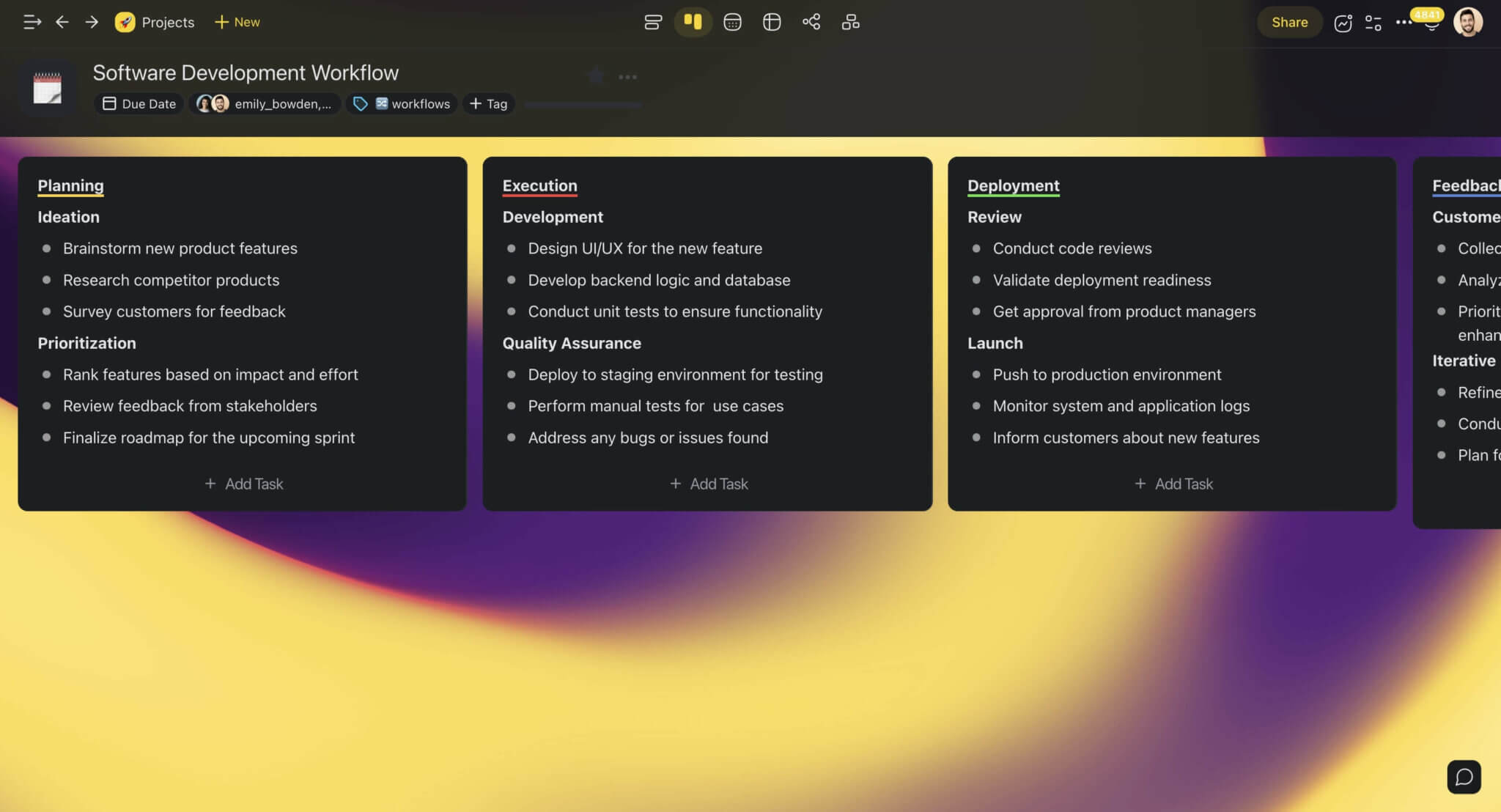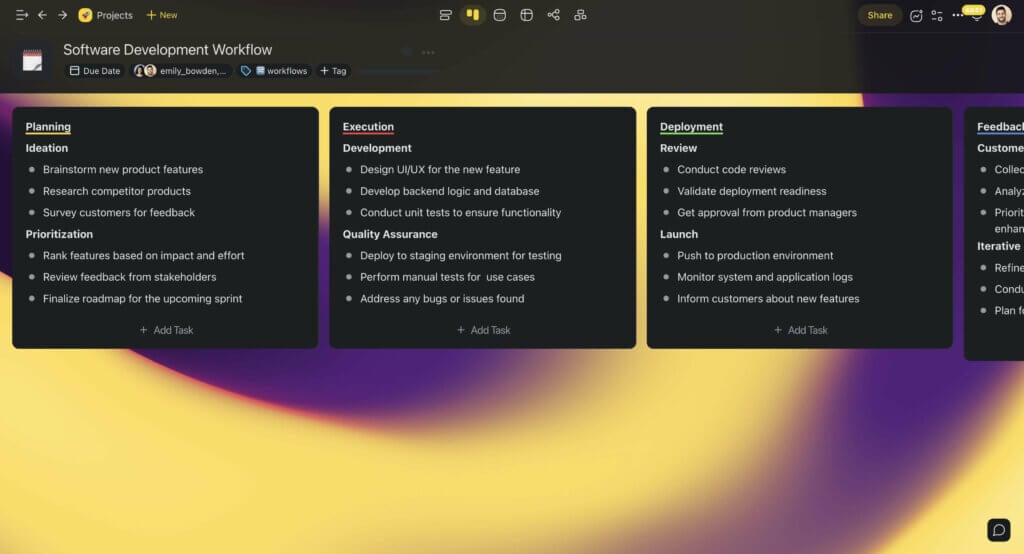 ⚙️ Who Is This View For?
For those who love visual clarity. If you're a project manager, designer, event planner, or team leader, you will find the Board view indispensable. Here's how our community is using it:
| | |
| --- | --- |
| Tracking Task Progressions | Visual Workflow Management |
| Categorizing Tasks by Status | Overview of Project Phases |
| Team Collaboration & Feedback | Milestone Checkpoints |
🌁 Top Templates / Generators
⚡ Pro Tip
Structure projects using the Workflow Generator. Click ➕ New Project to start. Learn More…
🗓️ Calendar View — Schedule, Track, Complete
Picture your entire project timeline, every task, every deadline, all laid out in a visual calendar. That's the essence of the Calendar view. Because timing matters.
The Calendar view gives you a high-level overview of the past, the present, and the future. Set key milestones, pace your projects, and understand your team's rhythm.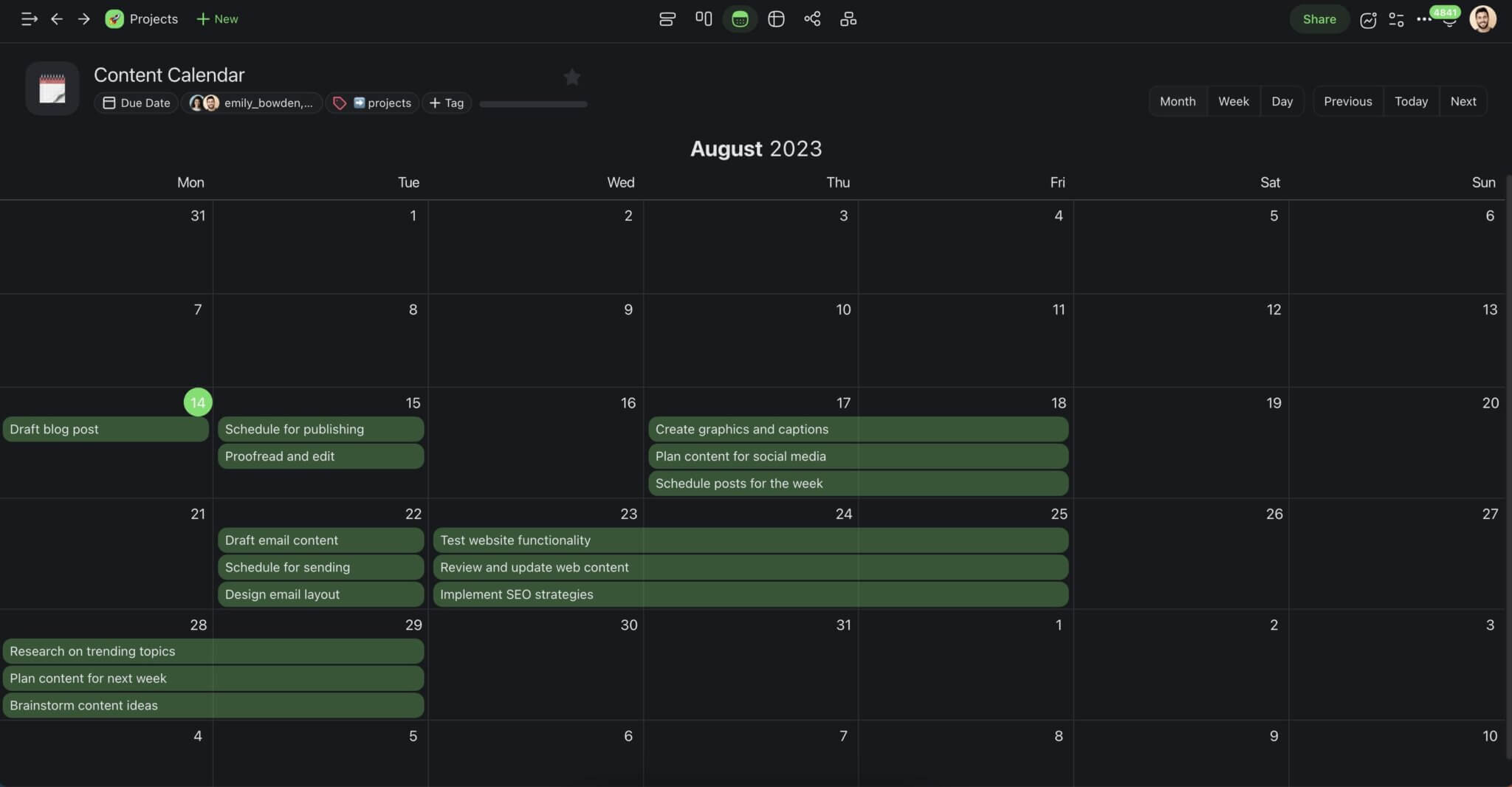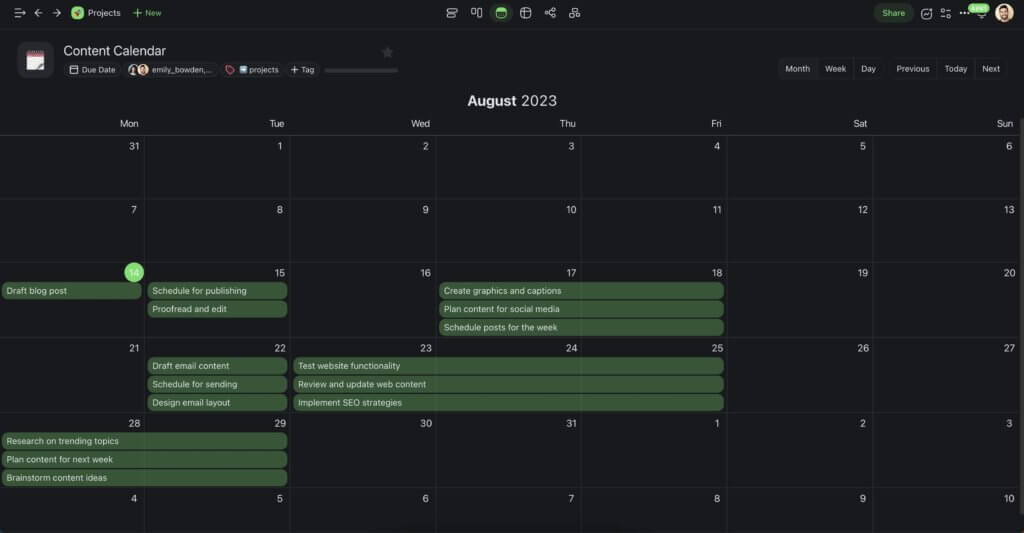 ⚙️ Who Is This View For?
The essence of every project lies in its timeline. Entrepreneurs, marketers, and educators — if schedules, deadlines, and milestones define your goals, the Calendar view is your tool.
| | |
| --- | --- |
| Content Calendar | Project Milestones |
| Financial Cycles | Product Release Cycles |
| Team Availability | Client Touchpoints |
🌁 Top Templates / Generators
⚡ Pro Tip
Trying to set realistic deadlines for tasks? Ask Taskade AI in the project chat! Learn more…
⚡ Action View — Detail, Clarify, Act
A wise man once said, "When tasks meet detail, mastery follows."
A task without context is just an item on your to-do list. It may stay there forever if you don't make it actionable and set it in motion. This is where the Action view comes into play.
The Action view is Taskade's answer to the boring spreadsheet format. Turn tasks into context-rich and comprehensive action items, complete with assignees, due dates, comments, and attachments. Bring clarity, direction, and momentum to your strategy.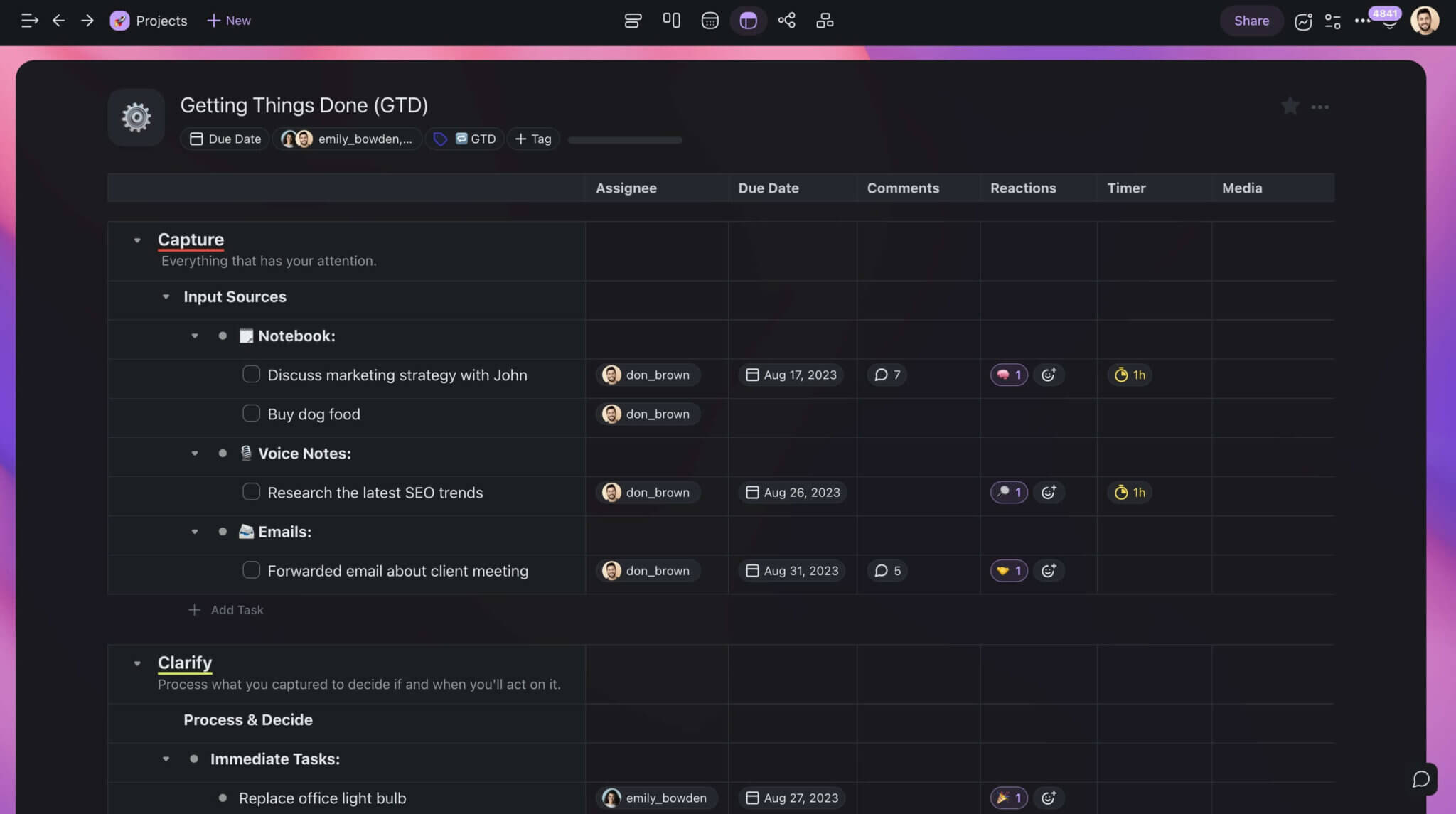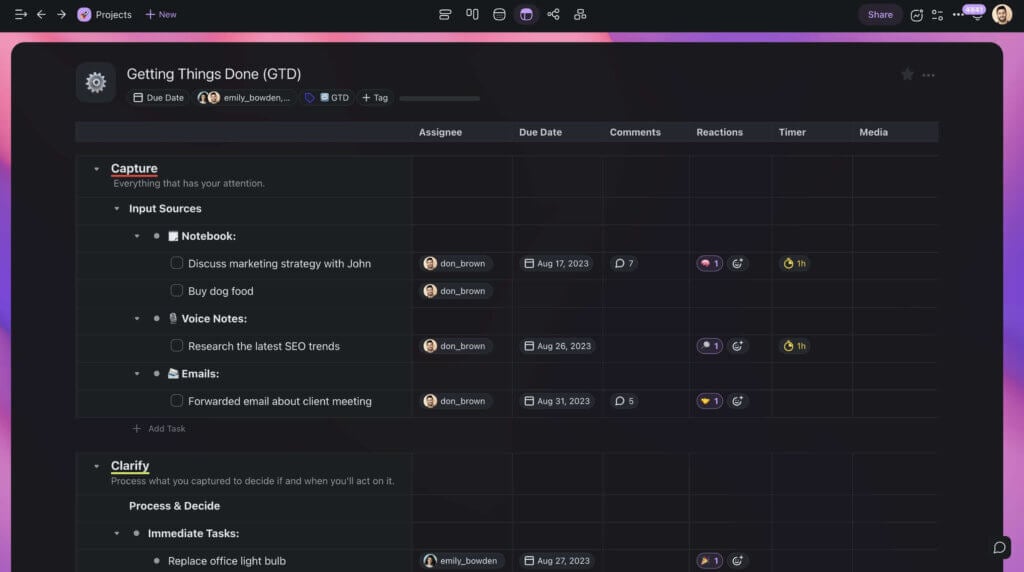 ⚙️ Who Is This View For?
If you're a Getting Things Done (GTD) enthusiast, this workflow is for you. Detail-driven and ready for action, the Action view gives you a high-level overview of every initiative.
Use the Action view for:
| | |
| --- | --- |
| Detailed Task Breakdown | Assigning Task Ownership |
| Tracking Task Progress | Setting Task Dependencies |
| Gathering Task Feedback | Defining Task Milestones |
🌁 Top Templates / Generators
⚡ Pro Tip
Use the AI Spreadsheet Converter to turn spreadsheets into new projects. Learn more…
🧠 Mind Map View — Think, Connect, Expand
Imagine ideas branching out, connecting, forming a structured, visual hierarchy. Now imagine that you have full control of the flow of those ideas. Or you can just use the Mind Map view.
The Mind Map view is an excellent visual thinking tool. It allows you and your team to turn abstract thoughts into actionable insights while collaborating on the same project, in real time.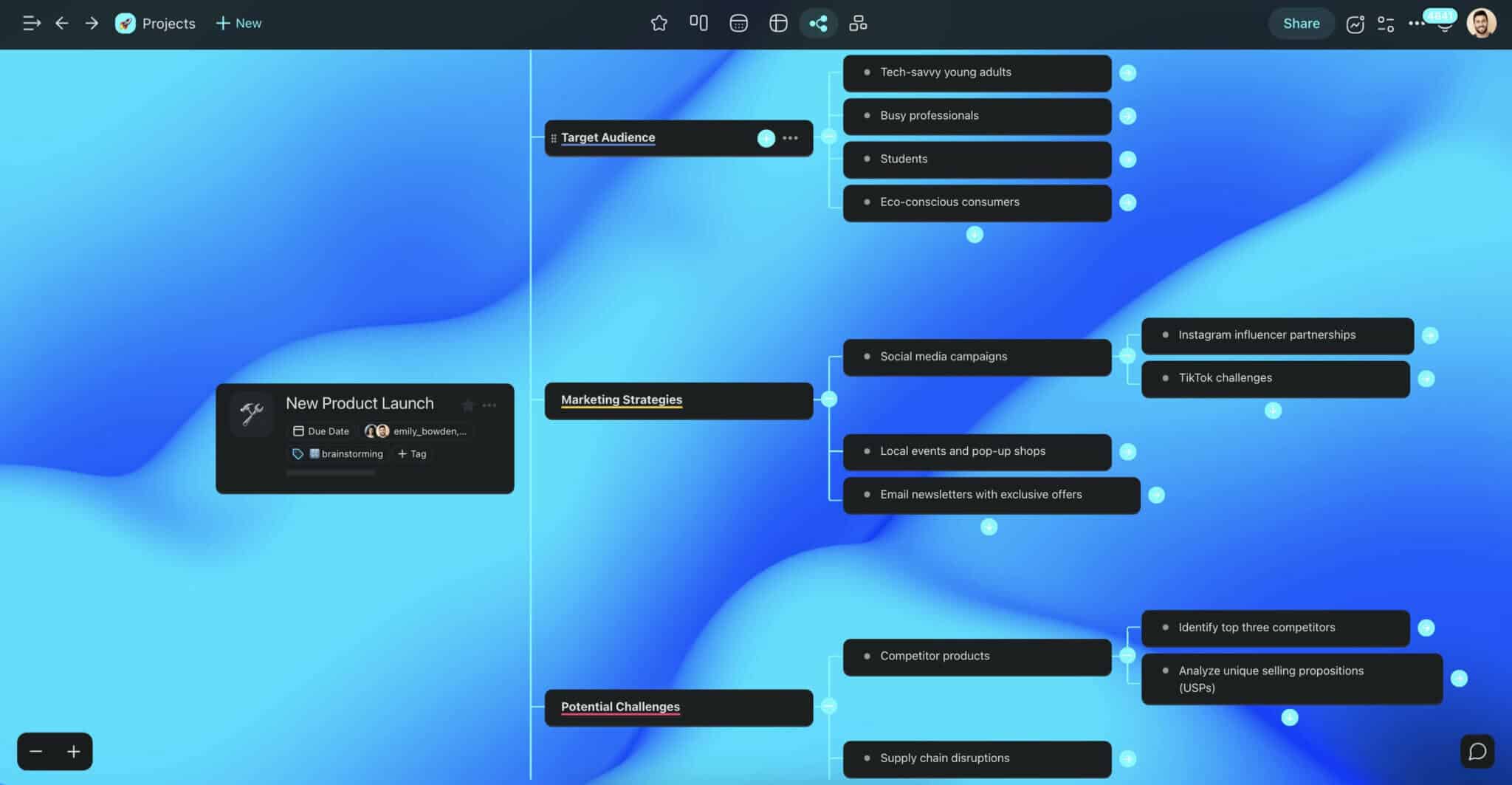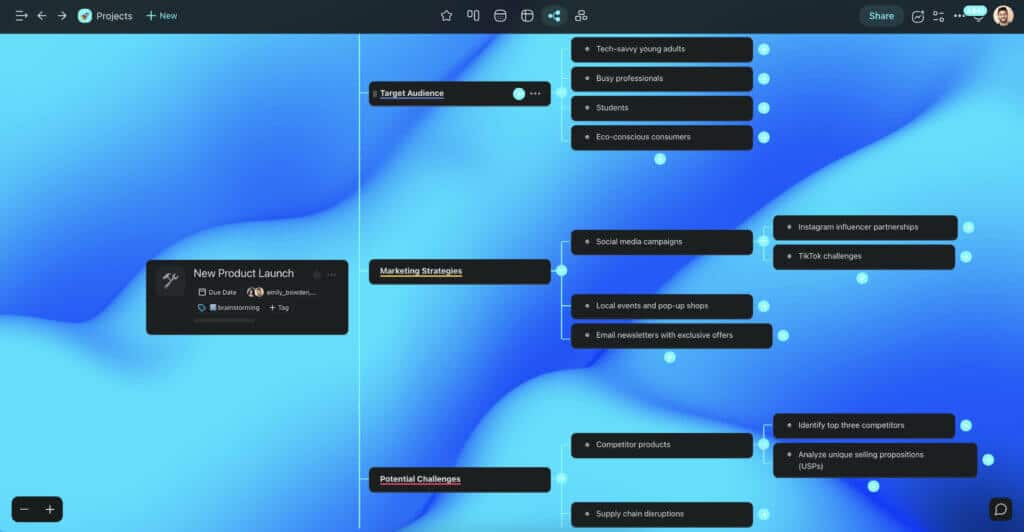 ⚙️ Who Is This View For?
The Mind Map is a must-have tool for agencies, content creators, educators, and marketers who need an infinite, digital canvas for generating, mixing, and testing different ideas.
| | |
| --- | --- |
| Visual Brainstorming | Concept Development |
| Idea Branching | Creative Team Collaboration |
| Strategy Mapping | Visual Idea Representation |
🌁 Top Templates / Generators
⚡ Pro Tip
Taskade AI's Mind Map Generator will help you build mind maps faster. Click the arrow to the right of a mind map node to generate ideas, subtasks, or questions. Learn more…
🧩 Org Chart View — Group, Classify, Structure
Every project has layers. Understanding how each layer interacts and functions is key. The Org Chart view unveils this hierarchy to ensure that each piece fits perfectly within the puzzle.
The top-down workflow will help you visualize dependencies, streamline communication paths, and establish clear roles and responsibilities within the project team.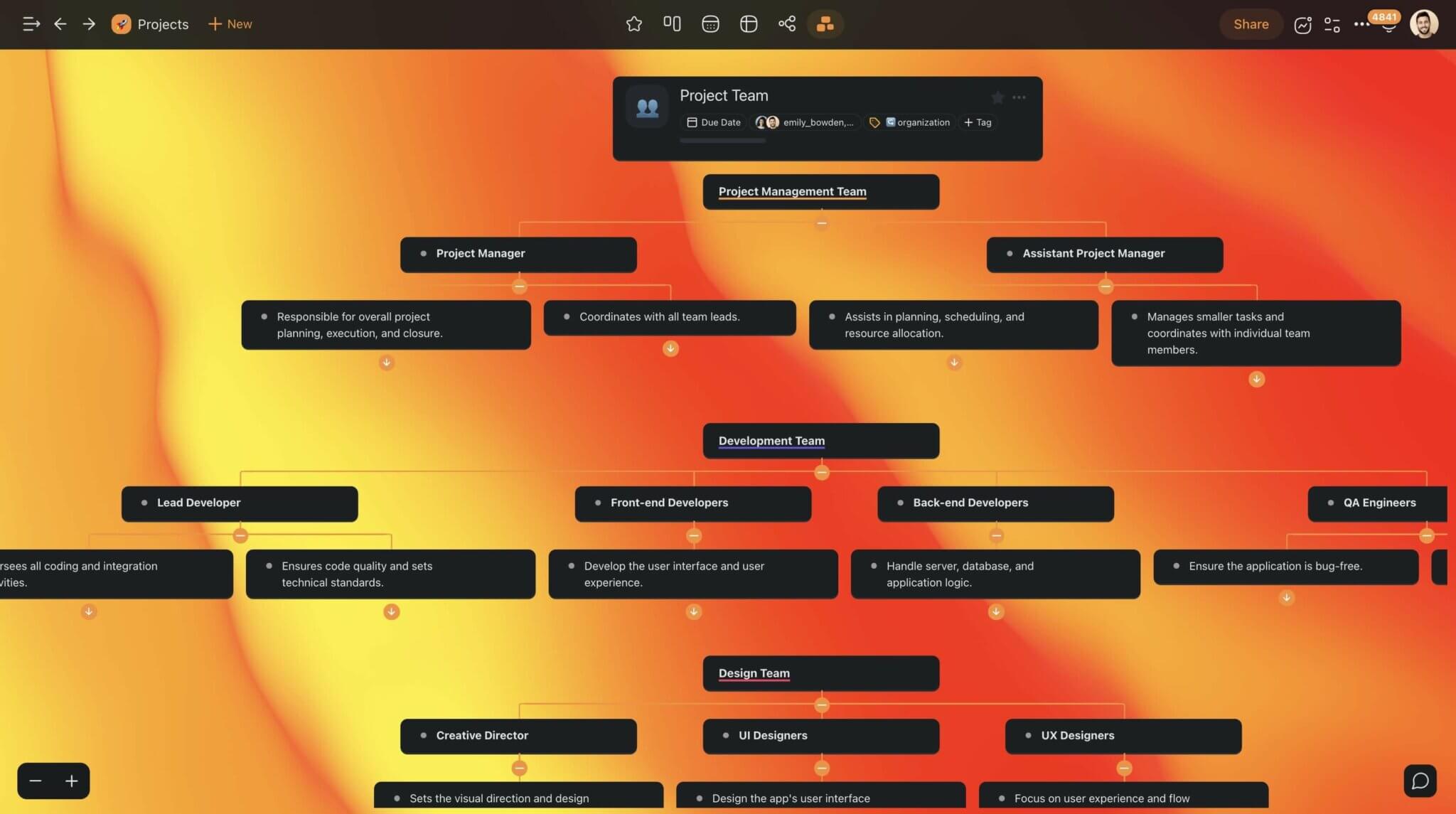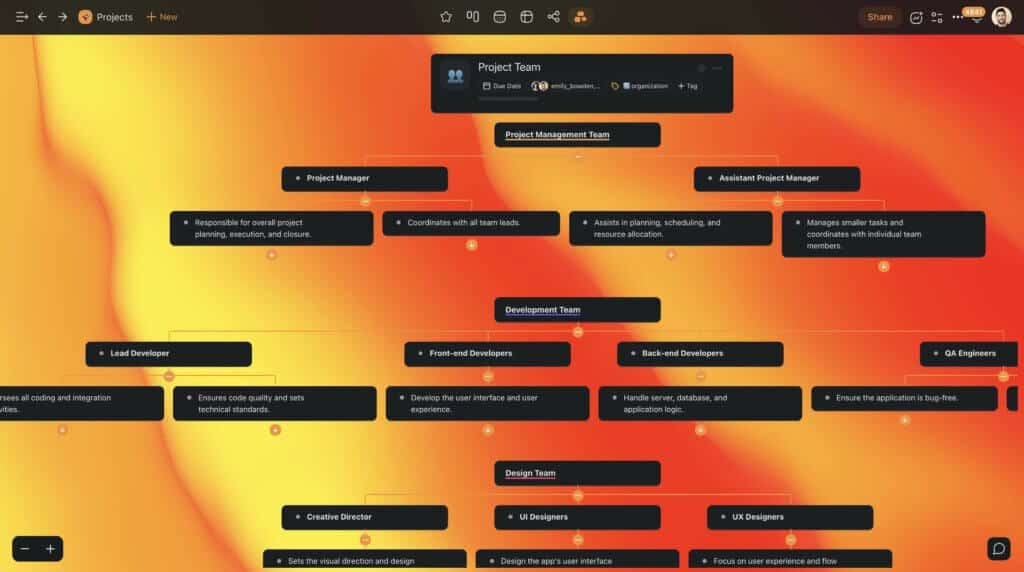 ⚙️ Who Is This View For?
Organizers, leaders, and planners who need a blueprint for success. The Org Chart view is the backbone of organized thinking. Use it to declutter and structure your workflow.
| | |
| --- | --- |
| Organizational Hierarchy | Project Team Structure |
| Vendor-Client Mapping | Cross-Functional Team Structures |
| Product Team Organization | Interdepartmental Flows |
🌁 Top Templates / Generators
⚡ Pro Tip
Taskade AI will help you supercharge all kinds of tasks. If you get stuck, click your profile avatar in the top-right corner and select AI Prompt Templates. Learn more…
🐑 Transform Your Tasks with Taskade
Assembling the right productivity toolbox is no mean feat. With thousands of apps and services out there, you may be wondering where to start. If you not only want to find a solution but also invest in the future of your brand, Taskade 🐑 has you covered.

With Taskade, you will keep all your tasks, projects, and workflows in focus and on track, without having to shuffle multiple apps or switch between windows just to get stuff done.
🤖 Create and manage projects with the power of AI.
💡 Brainstorm ideas and solutions to problems.
🗓️ Plan your work and keep deadlines in check.
🗂️ Manage all your projects and workflows in one place.
💬 Collaborate and chat with your team, clients, and partners in real time.
Sign up to give Taskade a try and transform your tasks today! 🚀