Keeping track of conversations, planning projects, assigning tasks, and managing a team over time zones is tricky. Having to hack multiple tools together doesn't make it any easier. Now's the time to make remote collaboration a breeze with a Remote OS.
In today's article, you'll learn the nuts and bolts of Taskade, our Remote Operating System (OS) for distributed teams and organizations.
To make navigating the article easier, we divided it into three key sections (3Cs): communication, collaboration, and coordination. 👇
🚧 3 Fundamental Problems of Remote Teams
Here's the thing. Remote teams have an unparalleled capacity to move fast.
A well-aligned distributed organization—that also has the right tools and workflows—can get well ahead of its cubicle-bound co-located counterparts.
But there's a problem, or a couple of those.
1. There Are Few Tools Designed for Remote Teams
While there's a ton of great collaboration tools, few were designed by and for remote teams. Do they work? Sure, but they don't address typical remote pain points.
How many times have you shuffled multiple apps to run a meeting for your team? Emails, video-conferencing tools, standalone PM platforms… This is just too much.
To make matters worse, many collaboration tools are walled gardens. They look and work ok, but they lose all the glamour when you want to get your precious intel out.
2. Workflows Are Highly Fragmented
💬 "Hey, can you send me that email with project requirements?"
💬 "Sure, I'll forward you 100+ messages and maybe you'll find the right one."
💬 "Erm… Found it, but I can't open the file."
💬 "Yeah, you need to convert it to a different format."
🤦‍♂️
Sounds familiar?
Data fragmentation—or should we say a total information snafu?—is a common problem in remote teams. Documents, messages, notes, spreadsheets… It's all over the place.
When you top it off with multiple communication channels and a bunch of different tools and workflows, it's nearly impossible to find the assets you're looking for.
3. Team Knowledge Is Short-Lived
Every project is a valuable lesson. That is as long as you go the extra mile and repurpose it into team knowledge. And you'd be surprised how few teams do.
When you work in an office, you have all the post-its, printed manuals, and documentation you need. And if you don't, you just ask somebody to make a copy.
When you go remote, there are no handouts.
The thing is, a remote team is like any other organization. Without a solid knowledge management strategy, it can't make accurate decisions and move forward.
The good news? There's a solution.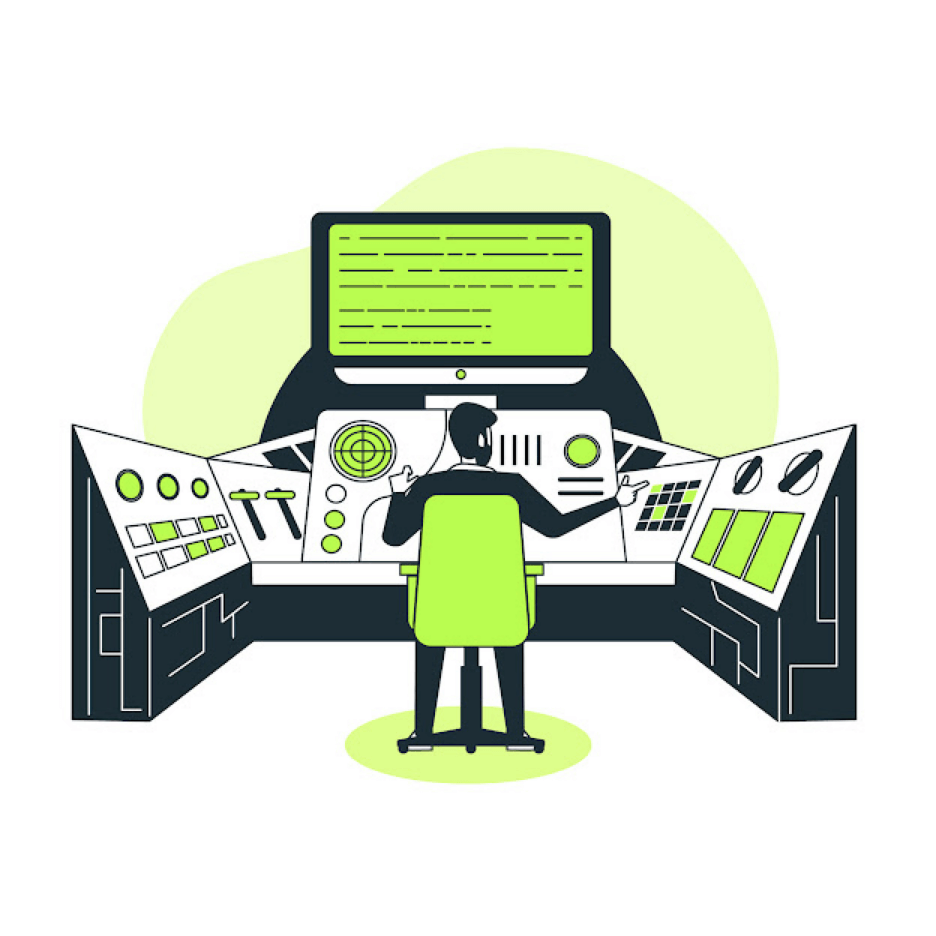 👨‍💻 Remote OS: The Swiss Army Knife of Remote Collaboration
What Is a Remote OS?
You can think of the Remote OS as your team's all-in-one, combat-ready HQ, minus the camo. It's a "place" for collaboration, communication, and planning, the 3Cs of remote work.
The Remote OS is a cloud-based platform that lets you interact and communicate with your team. It also enables your teammates to chat and get work done together.
But that's not all.
A typical set of Remote OS features include:
🗓 Scheduling and planning
💬 Team communication
🔄 Workflow automation
🗄 Knowledge management
🖥 Data visualization
🛠 Building custom workflows
🎯 Tracking work progress
✅ Assigning tasks
Remote OS is a place for big and small projects. It lets you store and organize information, assign tasks, track progress, and run virtual meetings.
But more on all that in a moment.
Who Is the Remote OS For?
The best part about a Remote OS is its flexibility.
A Remote OS is perfect for teams, individuals, and organizations of all shapes and sizes. You can use it for work, personal projects, and pretty much everything else.
"So, how do I know if it's the right thing for my team?"
Take a moment to answer the following questions first:
👉 Does your current workflow involve multiple communication and collaboration tools?
👉 Would you like to integrate the workflow and unify it across teams/departments?
👉 Do the tools your team is using require extensive onboarding and constant user support?
👉 Are you still using "hand-me-down" legacy software back from the office days?
If you answered YES to at least two questions, it means that your team can benefit from implementing a more holistic and integrated solution.
So, what are the upsides?
🥳 The Benefits of Using a Remote OS
It Improves the Flow of Information
A Remote OS is the central communication hub for your team. It's perfect for synchronous and asynchronous communication, including chat, video, and calls.
And the best part?
Every Remote OS interaction leaves a trace, just in case you need to dig out a conversation or a piece of information later on. This means it's way superior to email and DMs that tend to create many loose ends and information silos.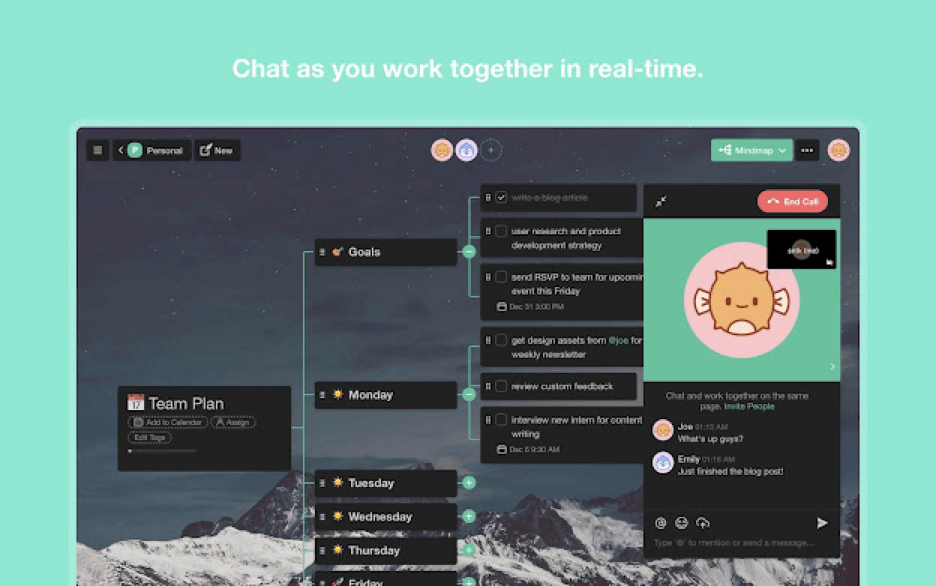 A Remote OS is also perfect for coordinating multiple teams or departments. It improves information sharing and keeps everybody on the same page.
It's Powerful but Easy to Use
The best tools—meaning the ones that people actually want to use—are simple and easy to use. They provide core features and room to grow for more advanced users.
A Remote OS accommodates all team members no matter what their technical level is. It can be implemented quickly and with minimal to no onboarding.
It Provides Context
A Remote OS acts as your team's second brain. It's accessible 24/7 and stores projects, documents, to-dos, templates, schedules, and all the intel your team needs.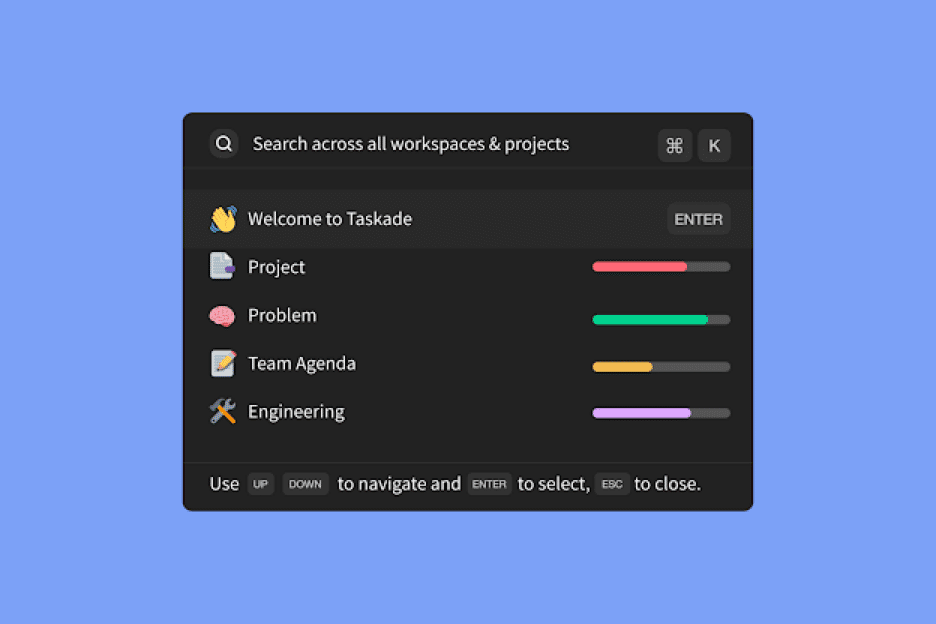 Why spend hours explaining a complex topic in 40+ convoluted emails? Create a collaborative mind map or host a video conference to get everyone up to speed.
Because hitting "Reply All" sucks.
In the spirit of "sharing is caring," a Remote OS lets you quickly repurpose, organize, and share knowledge across the team, department, or your entire organization.
It Boosts Transparency and Visibility
A Remote OS boosts transparency and visibility on two levels.
It helps break big complex projects into manageable chunks but also lets you assign tasks and track the progress down to individual team members.
Managers know what their team's working on, team members know what their colleagues are up to, and everybody sees what's happening across the organization.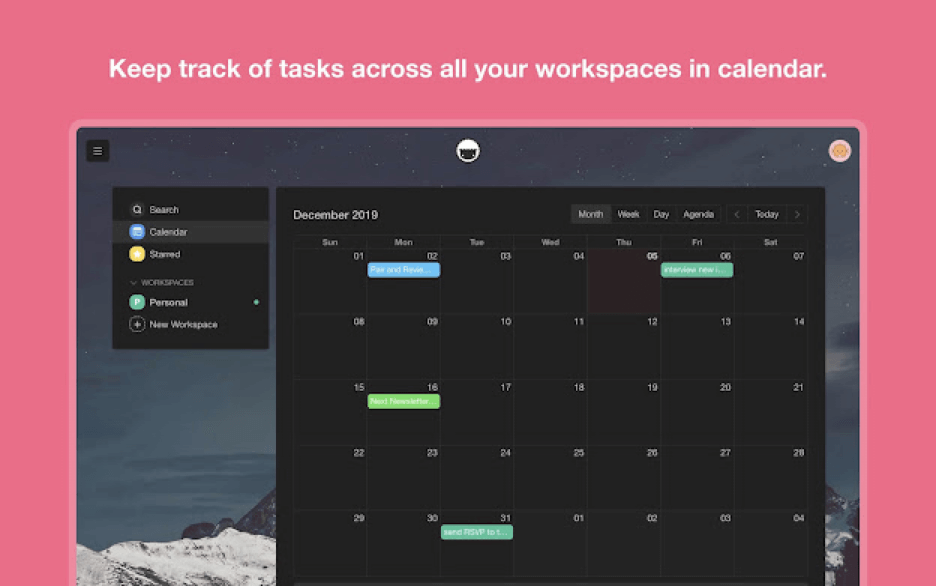 As far as productivity goes, that's a major win-win.
A Remote OS increases visibility both horizontally and vertically. By breaking down walls, it fosters a culture of trust, camaraderie, and accountability.
It Limits the Number of Tools to One
Tired of using multiple apps for communication, project management, and scheduling? You're not alone. If a tool brings complexity up, you should probably take a step back.
A Remote os, on the other hand, is a complete remote stack. It integrates all the workflow components your team needs to excel in a fully remote environment.
Plan, chat, and get work done in one window!
🐑 Taskade Is Your Distributed Team's Remote OS
There are tools you can hack together. Then, there are remote-native tools built by and designed for remote teams. Taskade is a proud member of the latter ilk.
Taskade is one simple tool that allows teams to manage projects, brainstorm ideas, write product specs, and video chat, with everything syncing in real-time.
So, what do you say we give you a quick tour?
💬 Remote Team (C)ommunication
Work and Chat in One Window
The pièce de résistance of Remote OS.
Taskade gives your team a complete remote stack. And that means you don't have to shuffle several apps, juggle multiple windows, and break focus doing all that.
You don't need to install plugins, buy extensions, or take extra steps to get work done. In Taskade, work and communication happen at the same time in the same window.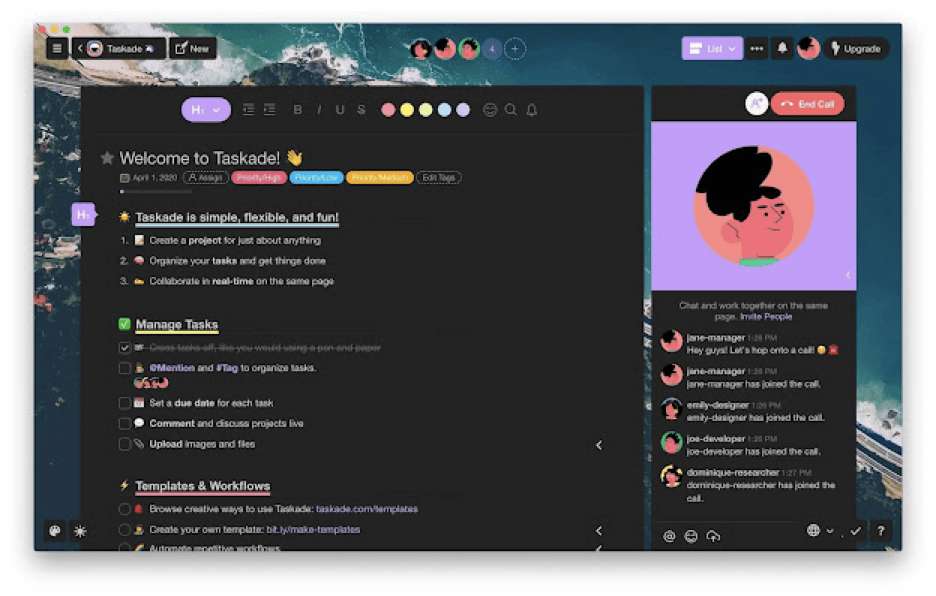 Quick Startup and Onboarding
Taskade is quick to set up and has a minimal learning curve. There are no fancy buttons, confusing menus, or superficial functionality. Our UI is clean and simple.
To get started, simply create a new Workspace—a collection of everything your team is working on—and populate it with Projects (tasks, notes, checklists, and more).
Watch this short video to learn how to do that. 👇
With the basic building blocks in place, it's time to invite some collaborators. You can send invites via email or by copying a direct invitation link.
Finally, Taskade lets you manage team members by assigning four user roles—Owner, Admin, Editor, and Viewer—each with a set of distinct editing privileges.
🗓 Remote Team (C)oordination
Calendar, Sync, and Roadmap
A big part of Taskade's Remote OS is project planning.
You can brainstorm, blueprint, and discuss all aspects of a project before you put troops on the ground. Because "failing to prepare is preparing to fail."
Taskade's shared Calendar—accessible from the main dashboard—aggregates tasks and projects with due dates and/or date ranges across all Workspaces.
Want to keep stakeholders or clients in the loop? You can generate an API token and sync external Apple, Google, and/or Outlook Calendar calendars with Taskade.
But that's not all.
Our Roadmap feature lets you manage tasks and track progress on an aesthetic timeline. This is especially useful when you keep tabs on multiple projects at once.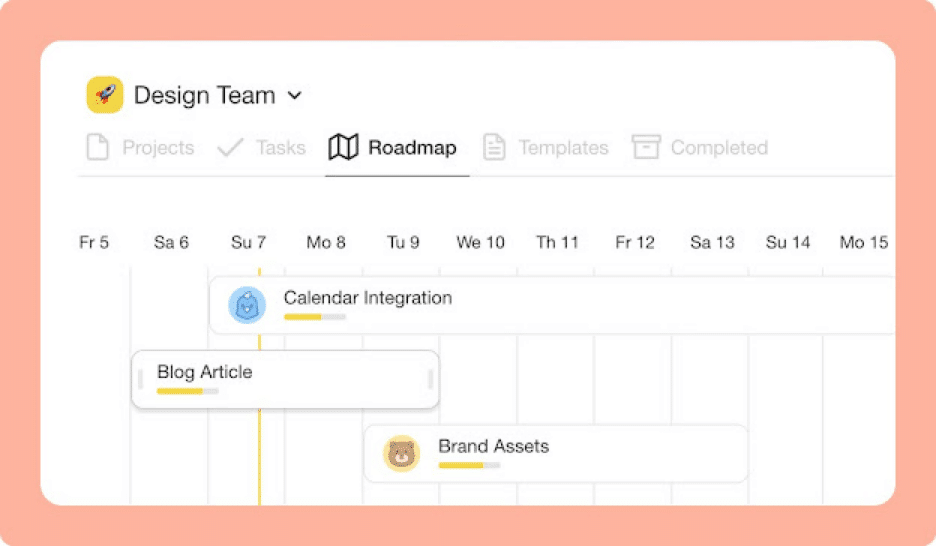 My Agenda, Activity Feed, and Changelog
My Tasks (Master Agenda) compiles tasks across all Projects and Workspaces in a single window. Filter out task owners, see due dates, and check progress in one spot.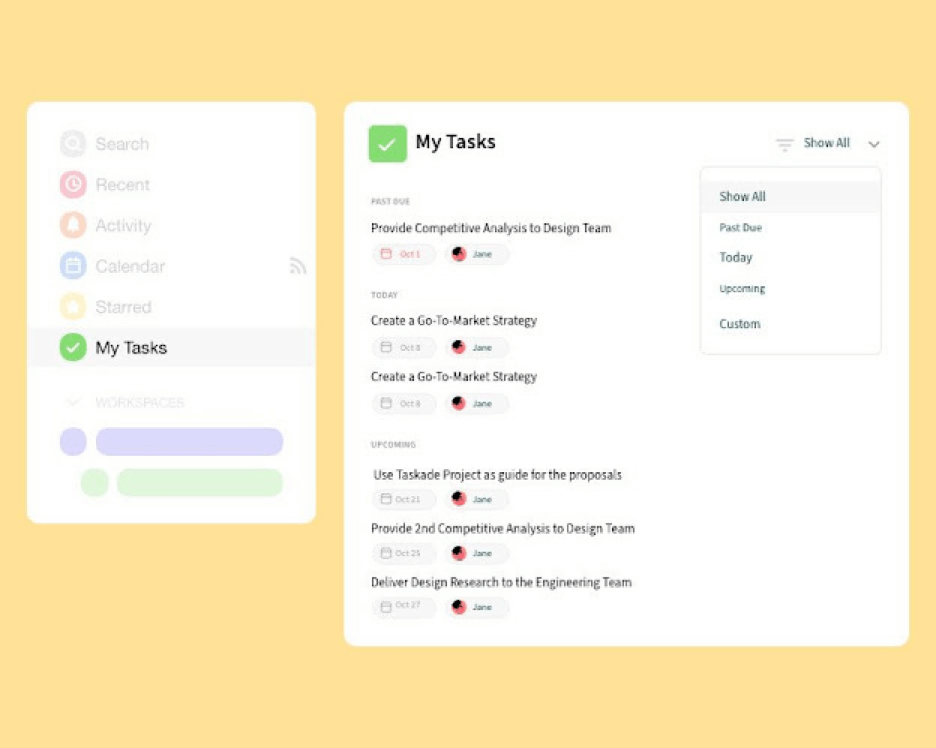 Our Activity Feed keeps you posted on all tasks and Project updates. You'll find your personal and team notifications under the bell icon in the top right corner of the app.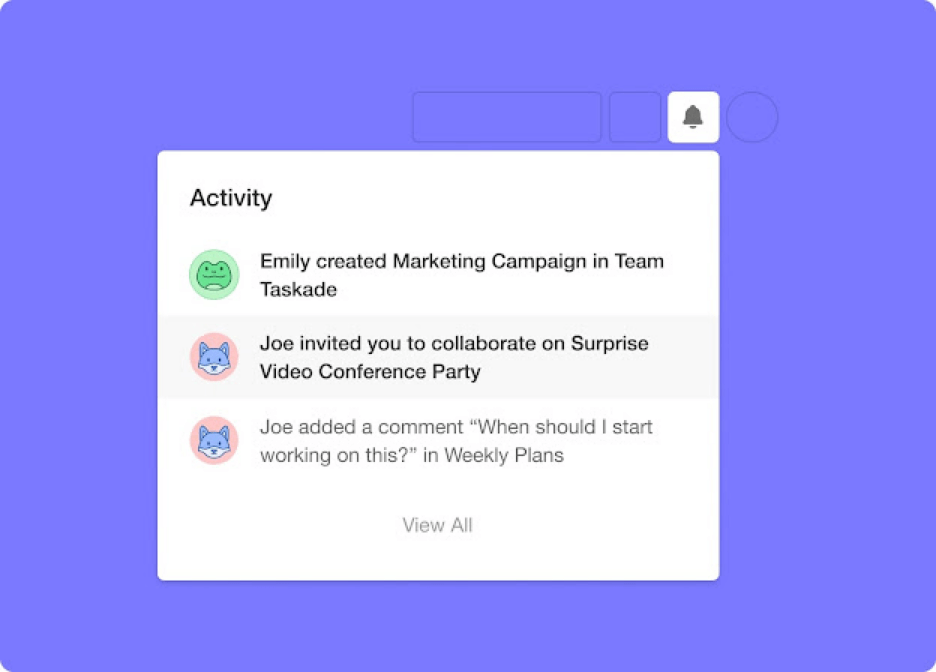 And let's not forget about the Changelog that sends Project updates directly to your inbox. Receive notifications whenever somebody makes changes to a Project.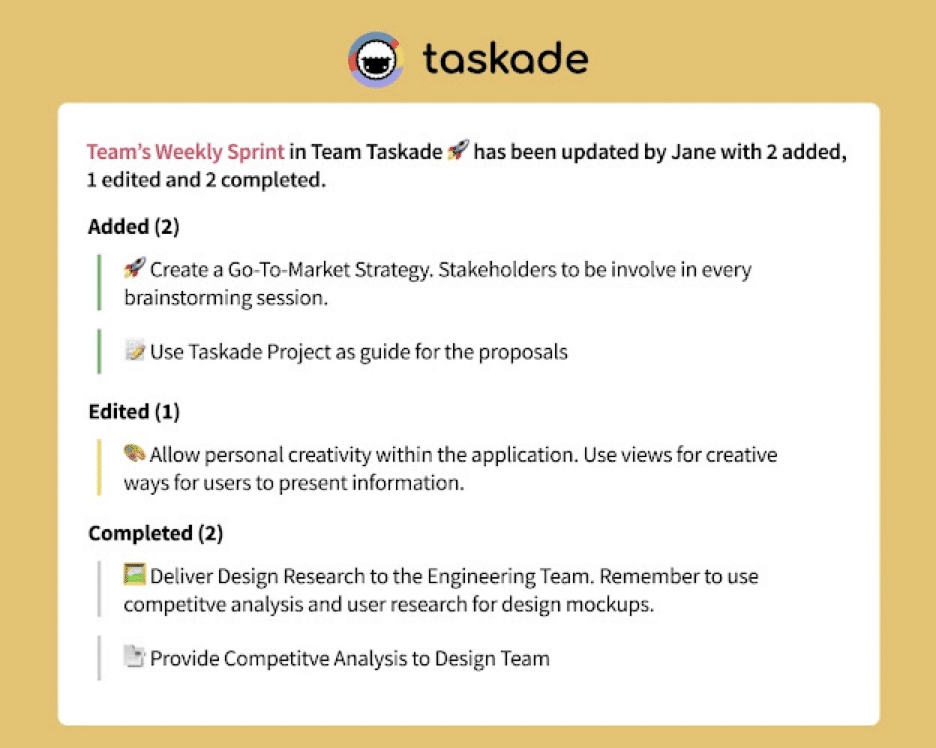 🤝 Remote Team (C)ollaboration
Taskade Project Views
Who doesn't love lists? Well, we do, but productivity doesn't end there.
Taskade stores your tasks and notes in a tree-structured database. And that means you can visualize work in several different ways. We call them Project Views.
The List View
Our default project view, perfect for to-dos, checklists, and outlining.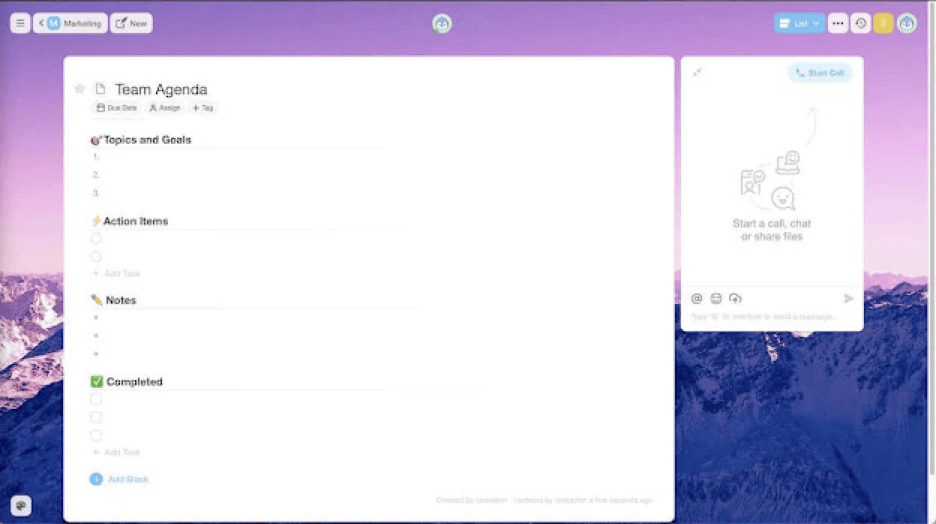 The Action View
A more granular type of the default list. Use it to assign tasks and track progress.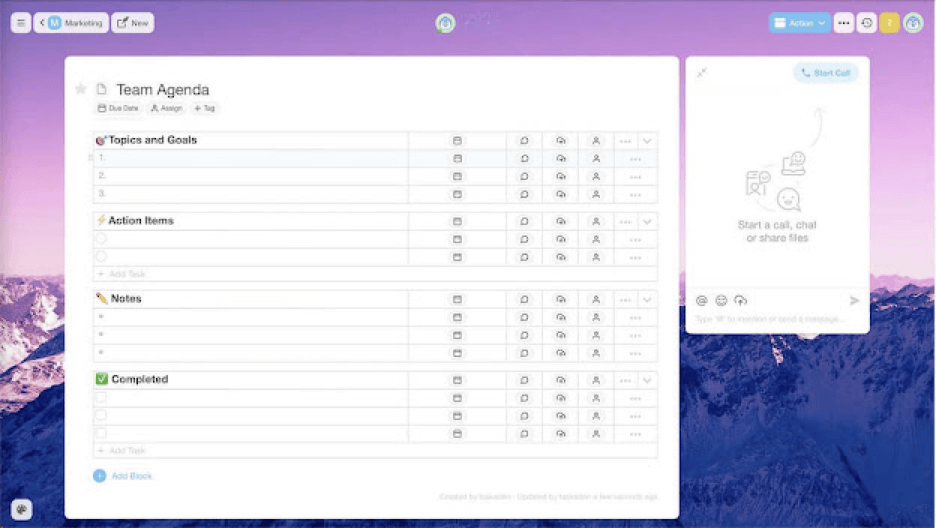 The Mindmap View
The most creative of the bunch, the Mindmap view is your go-to brainstorming tool.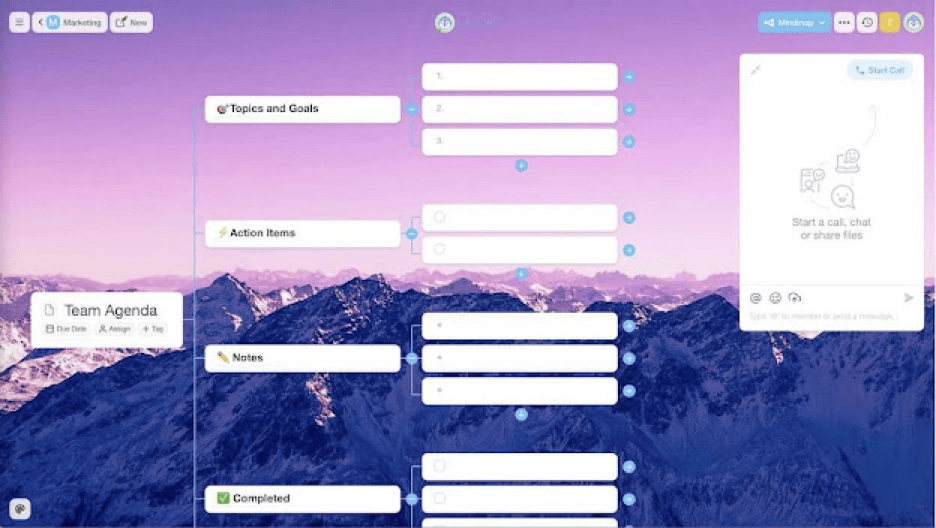 The Org Chart View
Use the Org Chart view to map out an organizational structure.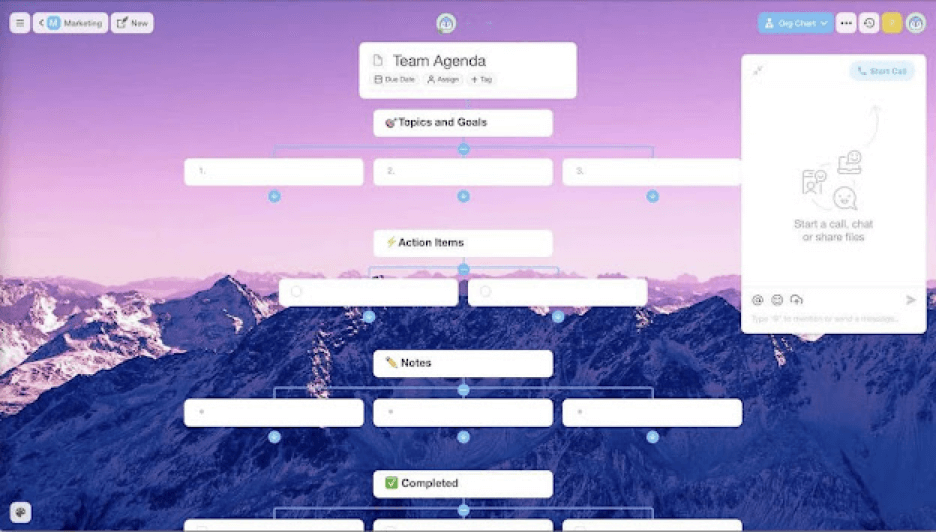 The Board View
A card-based project view for managing Kanban workflows.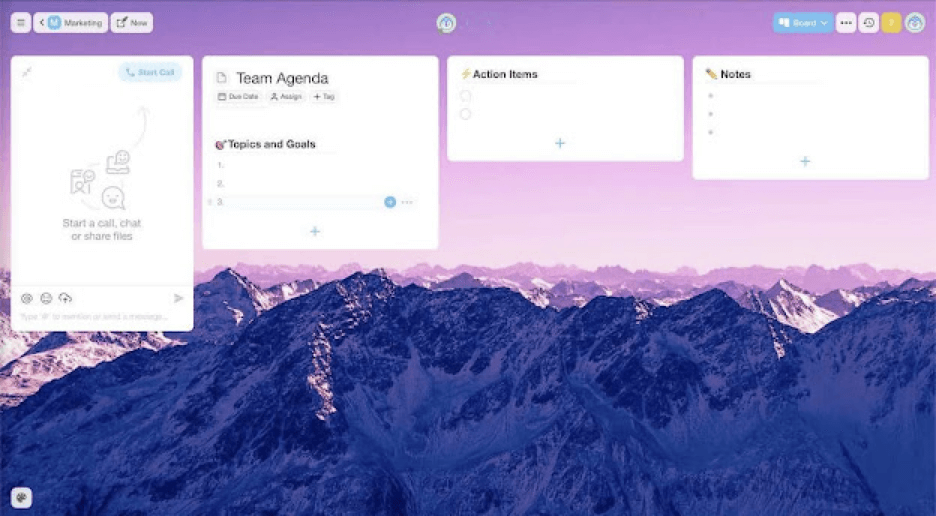 To change the view of your Project, click on the project switcher button in the top right corner. Toggle the star in the drop-down menu to set it as default.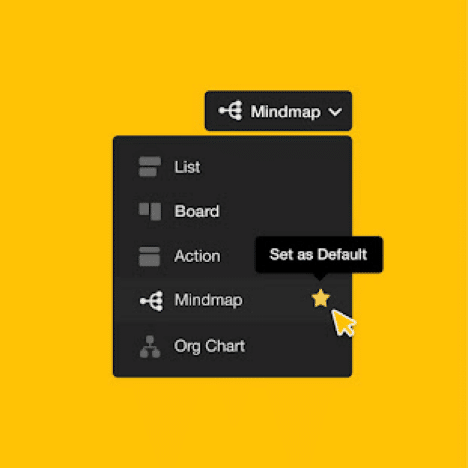 A Cross-Platform Experience
Remember what we said about workflow preferences?
It doesn't matter if your teammates sport Windows, Mac, or some fancy Linux distro. Taskade works everywhere with the exact same functionality.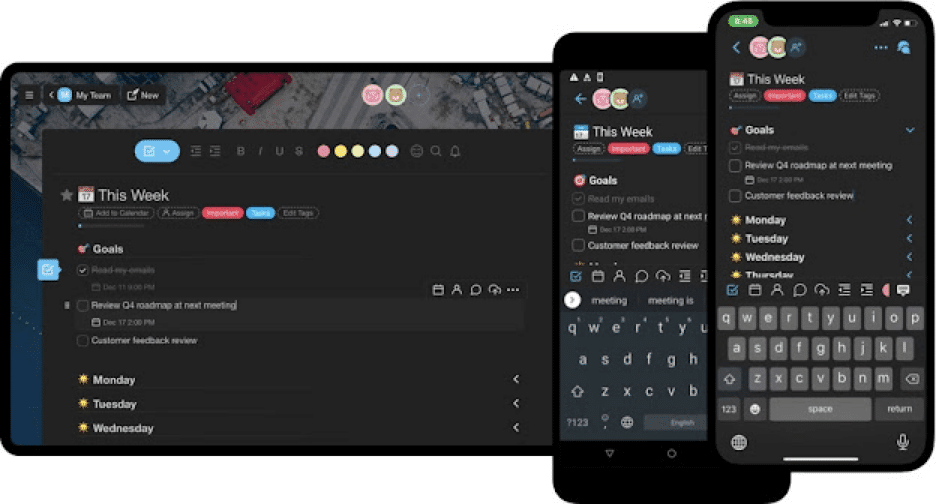 Remote teams are cool because they can work from any part of the world. So why limit that experience to desktop apps alone?
Grab our fully-fledged desktop and mobile apps to get work done on the fly.
Customizable Templates
Starting from scratch sucks.
That's why Taskade comes packed with quality templates that'll help your team get started in a jiffy. Choose from 500+ templates across 25 categories.
But that's not all. If you can't find the right template for your project, you can create a new one or customize the ones in our template catalog to better suit your needs.
Team Knowledge Management
Taskade Project are standalone entities, but you can easily connect everything they contain with internal links. Create a high-level single source of truth (SSOT) for:
🗂 Company/team wikis
📑 Document templates
👉 Training materials
📨 Internal bulleting board
🖥 E-learning resources
And more…
To link projects or blocks of content together, type "@" anywhere inside your Project and select a destination. Like so. 👇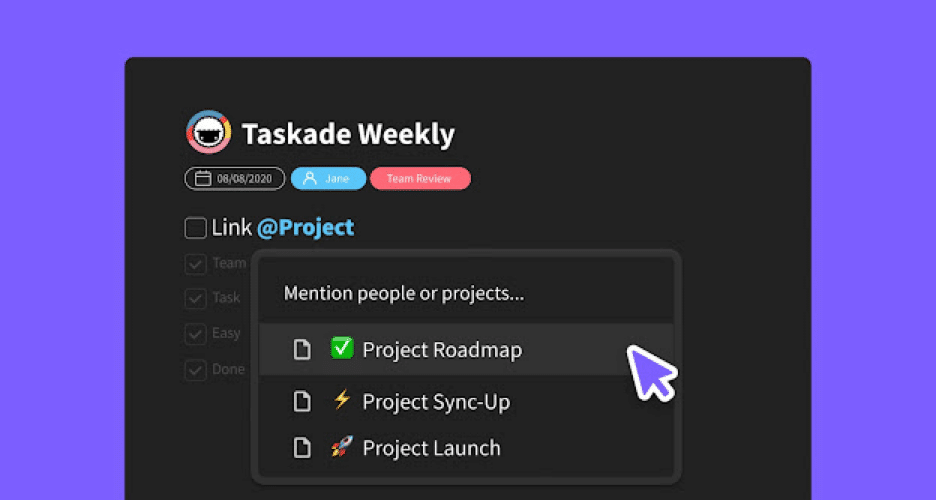 To quickly find the information you're looking for, run local Project searches with ⌨️ CTRL + F / ⌘ + F or a global search across Workspaces using the "🔎 Search" button.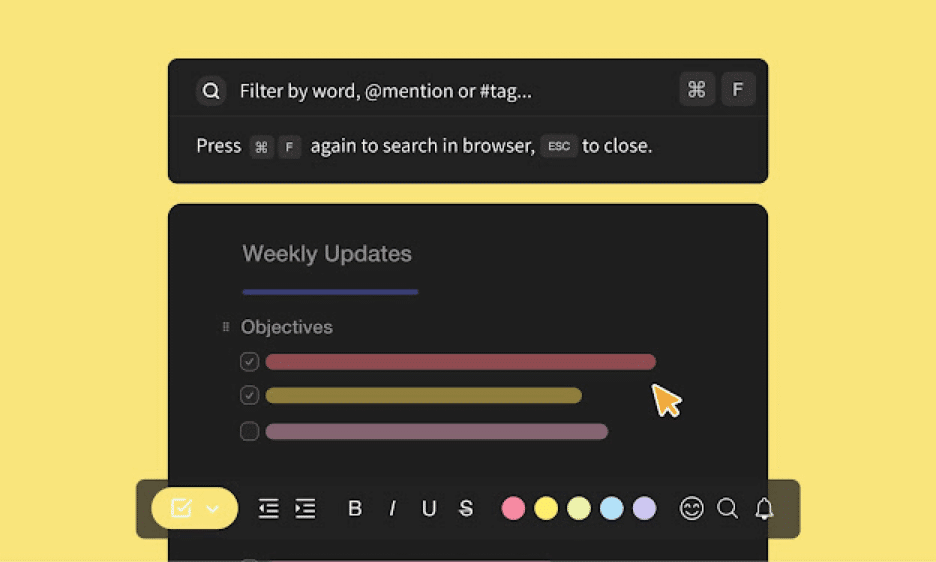 Taskade lets you apply custom color-coded Tags to quickly organize team knowledge. Click on the relevant tag to filter out Projects inside Workspaces.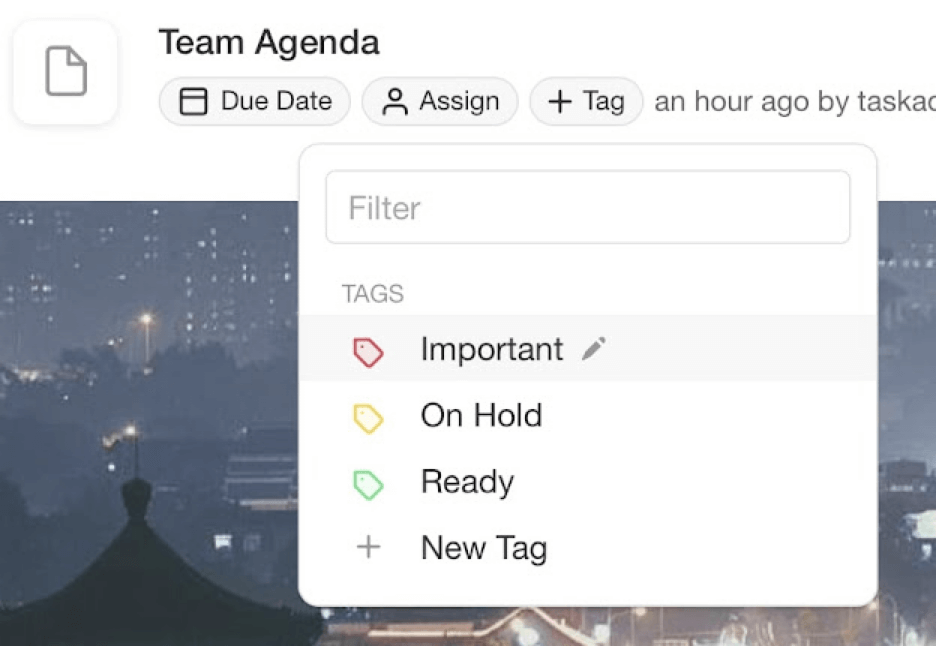 And that's it!
👋 Conclusion
Taskade's Remote OS helps remote teams stay competitive in the modern workplace by cutting down the unnecessary friction in planning, organizing, and decision making.
Your team doesn't have to spend hours reading manuals and learning the ropes of the system. Our Remote OS is an intuitive and user-friendly platform for all types of users.
Getting work done remotely can be fun. So, what are you waiting for? Create a free account and take our Remote OS for a free spin today!