Google Keep and Evernote are two of the most popular note-taking apps out there. Both apps have their fair share of amazing features to boost your productivity, thus making it a difficult choice for you to choose between the two.
Modern note-taking brings a lot of advanced features which make it simpler to organize your thoughts. With studies proving the positive influence that note-taking has on improving memory recall(1), it's no wonder that note-taking has gained popularity throughout the years.
Let's get cracking and find out the real winner to Evernote vs Google Keep.
📝 Essential Features of Good Note-Taking Apps
Before we go into detail with our comparison of Evernote and Google Keep, we first need to establish key essential features of digital note-taking apps. Besides basic note-taking features, apps nowadays are loaded with additional features to help you take better notes.
Templates
Templates help you take better notes as it provides you with a clear structure to follow when taking notes. These can range from quick checklists to detailed outlines to plan your essays. Having a template ready can positively affect your note-taking process.
Cloud Storage
Gone are the days when you had to carry your notebook around to take quality notes. Cloud storage is almost a necessity when it comes to modern-day note-taking as it allows you to store your notes in the cloud. Cloud storage gives you the convenience of accessing your notes via the internet. Examples of cloud storage applications include Dropbox and Google Drive.
Portability
Portability can be a useful feature as it allows you to access your notes from any of your devices. This way, you can write down notes via an app on your phone if you have a sudden burst of inspiration when you're out and about. Your favorite note-taking app should allow you to take notes on your preferred device and make it easier for you to organize your thoughts.
Collaboration
An interesting feature of modern-day note-taking is collaboration. With this feature, you can work together with your peers to create notes together, or even have a family grocery checklist to shop for groceries together.
Ease of Use
The interface of your note-taking app has to be user-friendly. Even though an app might have advanced features, it's important that it has a friendly user interface to help keep things simple and intuitive.
Organization
It's important to keep your notes organized so that you know when to find them when you need them. If you're a frequent note-taker, the last thing you'd want is to lose your notes in a sea of others. Features such as organizing your notes by tags can help you keep organized.
Essentially, the best note-taking apps would make you feel like you're writing hand-written notes online.
📜 What Is Google Keep?
Google Keep is a note-taking software that was created in 2013 by Google as part of its productivity office suite. Google Keep is widely known as being a simple note-taking app that is both easy to use and accessible.
Though Google Keep has had mixed reviews from users, it still remains a popular alternative to Evernote. Google Keep feels like writing digital sticky notes. It can be used to take simple notes, and can also double up to help you create to-do lists.
Read on to find out more.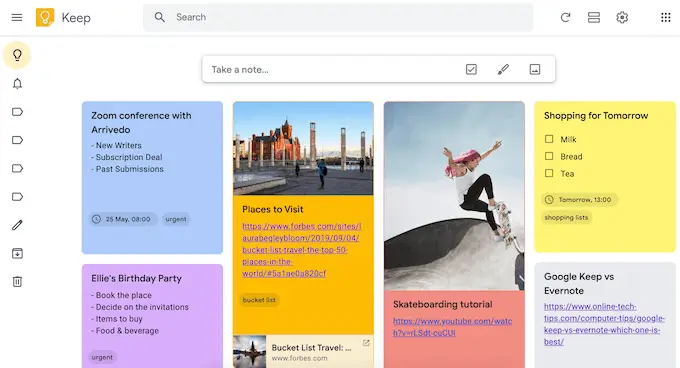 Key Features of Google Keep
Simplicity. Google Keep's simplicity makes it beginner-friendly due to its intuitive design. The option to color-code your notes makes it easy to categorize them based on colors.
Speed. Due to Google Keep's lightweight design and minimal features, the app runs quickly and is perfect for you if you're in the market for a tool to take simple notes.
Google Docs Integration. With Google Keep, you can easily transfer longer notes into Google Docs with a single click. This feature is handy especially if you're drafting detailed outlines.
Transcribe Voice Recordings. Another handy feature of Google Keep is its ability to transcribe your voice into notes. Simply record your voice via the app and it will transcribe what you're saying in real-time.
Record Audio Notes. Alternatively, you can also use the Google Keep app on your mobile device to record audio notes on the go. Record voice notes and store them on Google Keep for future reference.
Adding Doodles Into Notes. You're able to draw and save your doodles as notes on Google Keep. This could come in handy if you prefer to express some of your thoughts via drawings.
Labels to Organize Notes. It's easy to keep your notes organized on google keep by using labels and also the built-in search function.
Collaboration. Google Keep allows you to easily collaborate with other Gmail users by simply adding them as collaborators into your notes.
What Are the Disadvantages of Google Keep?
No Chrome App. Google has phased out the Chrome app for Google Keep as part of its long-term plan of discontinuing all apps on Chrome. If you're using Google Keep on a desktop or laptop, you can only access it via a browser.
No Text Formatting. Google Keep does not support text formatting. As a result, you won't be able to bold words for emphasis or even change the font on your notes.
No Notifications. You don't get notifications when new tasks are added on Google Keep. This makes it inconvenient for you and your collaborators as you won't know when new tasks are added.
The Interface Can Get Messy. If you're a frequent note-taker, your Google Keep view might get messy. This is because Google Keep does not allow you to create multiple projects.
No Templates. The absence of templates on Google Keep means that it only supports basic note-taking. It might be hard for you to create a detailed outline on Google Keep due to the lack of templates and basic formatting features.
How Much Does Google Keep Cost?
One of the best advantages of Google Keep is that it is completely free to use. By logging in with your Google account, you get all of Google Keep's features without having to face a paywall.
Now that we've discussed Google Keep, let's take a look at Evernote and the features that it offers.
🌲 What Is Evernote?
Evernote is a digital note-taking application that was founded by Russian IT entrepreneur, Stepan Pachkov. Pachikov was fascinated by the human brain and created Evernote as a tool to help people organize and store more information.
After beta launching in 2008, Evernote quickly gained popularity, reaching 11 million users in just three years(3). A pioneer in the digital note-taking movement, Evernote remains one of the most popular note-taking apps out there today.
If you're interested in a more in-depth discussion on Evernote's history from day 1 to what it is today, check out our article on it!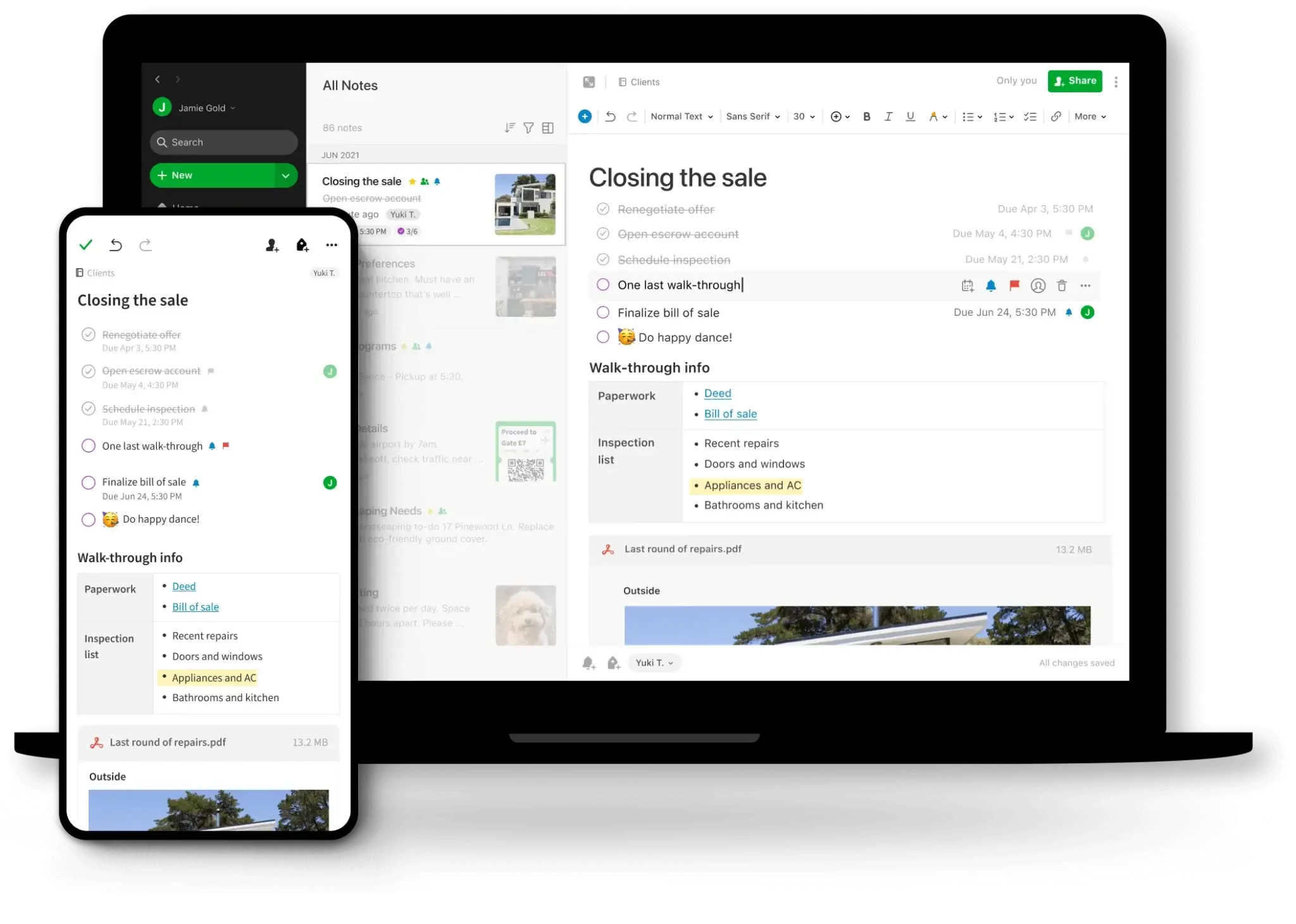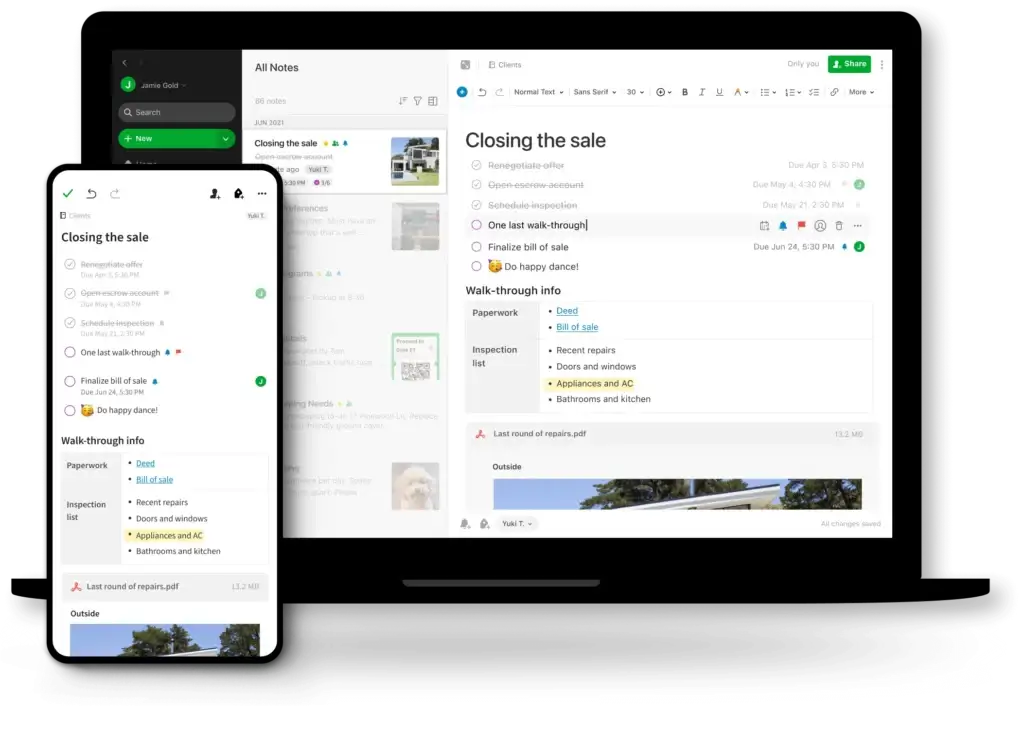 Check out some key features on Evernote below.
Key Features of Evernote
Templates. You can use Evernote's customizable templates to take better and more structured notes. Evernote's flexible templates make it easy for you to choose one specifically to meet your needs.
Integrations. Evernote has integrations with other software such as Slack and Google Drive. As a result, you can use Evernote alongside your other daily apps to boost productivity.
Offline Mode. Evernote has an offline mode that allows you to edit your notes offline on any device. Your notes will be synced to the cloud the next time you're connected to the internet.
Handwriting Recognition. Evernote can recognize handwritten notes that are captured via its in-app camera. This scanner feature is useful as it is also able to search for specific words within your handwritten notes.
Web Clipper. Evernote's Web Clipper browser extension allows you to clip parts of a webpage, or even the entire page onto Evernote. You can also highlight specific parts of a clipped page and also store them indefinitely within the app.
Customizable Homepage. You can reduce clutter on your Evernote homepage by utilizing widgets to customize your view.
What Are Some Disadvantages of Evernote?
Basic Features Limited. Evernote's basic freemium version is fairly limited. It can work if you're using it for very basic note-taking, but you'll find yourself needing an upgrade if you're a heavier note-taker.
Evernote Basic Has No Offline Mode. One of the biggest drawbacks of Evernote's basic plan is its lack of an offline mode. This means that you will only be able to take notes when you're connected to the internet.
Monthly Upload Limit. Evernote's monthly upload limits are capped at 60MB for the basic plan. This should suffice for basic notes, but if you're saving PDFs and Images, you might run out of space quickly.
Limited Customizability. The homepage in Evernote is limited to only resizing and rearranging widgets. Taskade offers a more robust customization option as you're able to change to multiple board views with a single click.
No Real-Time Collaboration. Another limitation to Evernote is its lack of support for real-time collaboration. Users are unable to simultaneously work on the same note. Doing so will create a duplicate copy of that document.
Productivity Features Have to Be Unlocked. Although Evernote markets itself as a productivity tool, it is essentially a note-taking tool that tries to incorporate productivity tools. The problem behind this is that to get access to Evernote's productivity functions, you will have to upgrade your plan.
How Much Does Evernote Cost?
Evernote works on a freemium model, which means that you can use it for free. You do have to pay to unlock more features though.
The free plan starts you off with basic features such as
Basic note-taking
Sync up to 2 devices
25MB maximum note size
60MB total upload/month
To get access to more features such as unlimited devices, up to 10GB monthly upload limit, customizable home dashboard, and offline access, you would have to pay for additional features starting at $7.99 per month.
To gain access to more professional features such as integrations, assigning tasks, and more storage space for your notes, Evernote's professional plan will set you back by $10.99 per month.
🤔 Google Keep vs Evernote, Which Is Better?
If we're comparing it strictly on note-taking features, then Google Keep wins. Google Keep is easier to use, runs faster due to its simple design, and is also very beginner-friendly. Google Keep has all the essential features to get you started on note-taking and simple to-do lists. Not to mention that it is also completely free to use.
📝 Google Keep (5)
🌲 Evernote (6)
Simple Design
More Complicated Design
No Text Formatting
Text Formatting
G Suite Integration
No Integrations
15GB storage limit
(shared with Google apps)
60MB monthly upload limit
Unlimited note size
24MB note size limit
Web Clipping Extension
Built-in Web Clipping Tool
Reminders for Notes
No Reminders for notes
Comparison of Google Keep vs Evernote (Basic features)
However, this only stands true if you are a casual note-taker that usually takes quick notes.
In a more professional setting, Evernote would be the better option for you. Even though its free version is limited to basic features, upgrading your Evernote plan could help with your productivity.
By using Evernote's templates, you will be able to find a suitable structure for most of your note-taking tasks. Utilizing Evernote's integrations with other apps means that you can use it alongside your favorite day-to-day productivity apps.
But, if you're someone who prefers to create personal task lists using sticky notes, then Google Keep would be the perfect application for you.
However, when it comes to collaboration and task management features, Taskade offers a more robust solution to help you be more productive.
😉 Why Taskade Is the Best Alternative to Google Keep and Evernote
Choosing between two apps can be tough, but why not get the best of both worlds and more with Taskade?
Taskade is a project management and collaboration tool designed with a remote-first approach to help you increase your productivity while working remotely. Regardless if you're taking quick notes on your mobile device or detailed notes via our desktop app, Taskade is a better note-taking app for you.
Our collaboration features let you collaborate in real-time with your team and get more work done.
🎨 Get a head start with 500+ templates. Choose from a variety of templates to kick-start all kinds of projects. Save and customize templates to automate your workflows.
😊 Parting Words
Google Keep and Evernote both have their share of pros and cons. Evernote has evolved from being the pioneer of digital note-taking to now being a hybrid app that also offers productivity features.
On the other hand, Google Keep has stayed true to its course, choosing to remain a simple note-taking app. Though Google Keep lacks features that Evernote has, Google Keep is easier to use compared to Evernote as the former is more straightforward.
This is where Taskade comes in. Think of Taskade as a shoe that fits all. Easily take notes with a customizable project board and get inspired by our wide range of templates to help you take quality notes.
Check out how Taskade compares to Google Keep and try Taskade for free today.
---
Resources
https://psycnet.apa.org/doiLanding?doi=10.1037%2Fa0030367
https://www.online-tech-tips.com/google-softwaretips/how-the-google-keep-extension-on-chrome-makes-web-surfing-fun/
https://en.wikipedia.org/wiki/Evernote
https://evernote.com/
https://www.google.com/keep/
https://evernote.com/compare-plans