ChatGPT is undeniably one of the most remarkable yet controversial developments in recent years. Created and launched by OpenAI in November 2022, this AI chatbot became an overnight sensation and has now gained over 100 million users within 3 months. In this article, we compare some of the best ChatGPT alternatives, complete with pricing, features, and use cases.
💡 Before you start… Want to learn more about ChatGPT and OpenAI? Be sure to check What is OpenAI, our pocket-sized guide and introduction to OpenAI and its lineup of tools.
What Is ChatGPT?
ChatGPT is an AI chatbot that uses advanced natural language processing and deep learning to generate human-like responses. It is able to understand the context of a conversation and generate appropriate responses with eerie speed and accuracy.
Although ChatGPT was designed as a sophisticated chatbot, the tool can do much more. It can create article outlines, rewrite text, provide SEO insights, and even spit out full-blown articles. All that makes it a trailblazing tech that's already transforming knowledge work.
Of course, as with all emerging technologies, there are a few caveats.
While ChatGPT was trained on a vast collection of text data, its responses are limited to data available until 2021. It also tends to deliver patently false answers with absolute confidence.
What Is ChatGPT Plus?
OpenAI has recently released ChatGPT Plus, a paid version of the model that's faster and more reliable than the basic tier. While the generated output seems to be on par with the free tier, Plus alleviates the biggest ailment of ChatGPT—disappointing availability.
ChatGPT Plus is currently only offered in some regions at around $20 per month. If your country is not on the list, you'll have to wait once OpenAI rolls out access to become a Plus subscriber.
Why Is ChatGPT So Popular?
AI writers had been looming on the horizon long before ChatGPT came on stage. So, what exactly makes ChatGPT so popular? Well, there are a few things that make it special.
Versatility. ChatGPT is not just a simple chatbot, but a highly versatile AI tool that can perform a variety of tasks beyond just chatting. This versatility alone makes ChatGPT an attractive tool for all kinds of industries, including creative and technical domains that were once reserved for ingenuity like marketing and programming.
Ease of Use. ChatGPT is easy to use and does not require any technical knowledge to get started—all you need to do is provide a prompt and the model will generate an answer in an appropriate style and context. In fact, there have been reports of schools declaring a "war" on ChatGPT to prevent students from using it to cheat in assignments and exams(1).
Speed. Time is money, and if a product can help you save time then it's a no-brainer to at least give it a shot. ChatGPT can understand requests and context to help generate responses quickly. It can handle sophisticated prompts and even write simple code, making it a valuable tool to have in your productivity arsenal.
Timing. ChatGPT was launched at the right moment. The demand for AI solutions has been growing rapidly in recent years, and ChatGPT arrived on the market just as businesses and individuals were looking for tools to automate their work and save time. The combination of versatility, ease of use, and human-like responses helped make it an instant hit.
Or, perhaps the lure behind ChatGPT has something to do with the concept of artificial scarcity. The idea that something is only available for a limited time has a strong impact on the demand.
Robert Cialdini best explains this in Influence: The Psychology of Persuasion. In a nutshell, our interest in a thing grows when it is perceived as rare or valuable.(2) ChatGPT locking users out whenever there is a high server load is an excellent example of this principle in action.
ChatGPT has played a significant role in popularizing AI writing technology. But it's not the only tool out there worth your attention. Here are a few ChatGPT alternatives you should consider.
The 5 Best ChatGPT Alternatives
Taskade
Imagine if you could use ChatGPT within a project management software to brainstorm ideas and get work done. Well, that's exactly what we did with Taskade.
Taskade is the ultimate productivity solution that combines writing, task and project management, and collaboration with one, seamless platform. With the addition of Taskade AI, you can now supercharge your productivity within your workspace.
By using Taskade AI, you rewrite, summarize, translate, and expand on your text. Whether you need help with drafting a meeting agenda or outlining your next novel, Taskade AI will do the heavy lifting for you, all seamlessly integrated into the workflow.
And the best part?
Taskade AI is the first collaborative AI writer that lets you edit documents, draft meeting notes, or collaborate on a business plan with your team in real-time. This means that all project members can use AI commands at the same time, without limitations.
If you want to learn more about Taskade AI, check this article on 7 ways to use Taskade AI collaboratively or pick from our selection of free AI templates to get started in seconds.
Taskade AI Pricing
💵 Free
Single workspace with 5 active projects and 250 tasks per month
3 team members included with unlimited project sharing
5,000 AI words per month
Access to 500+ free templates
💵 Pro – From $19/month
2 workspaces with unlimited projects for every team and client
20 team members included for a flat monthly price
50,000 AI words per month
💵 Business – From $49/month
10 workspaces with unlimited projects for every team and client
50 team members included for a flat monthly price
250,000 AI words per month
Zapier integration
💵 Ultimate – From $99/month
Unlimited workspaces for your teams, clients, and organization
100 team members included for a flat monthly price
Unlimited AI words per month
Secure and simplify access with Single Sign On (SSO) through OKTA, Google, Azure, and more
Jasper Chat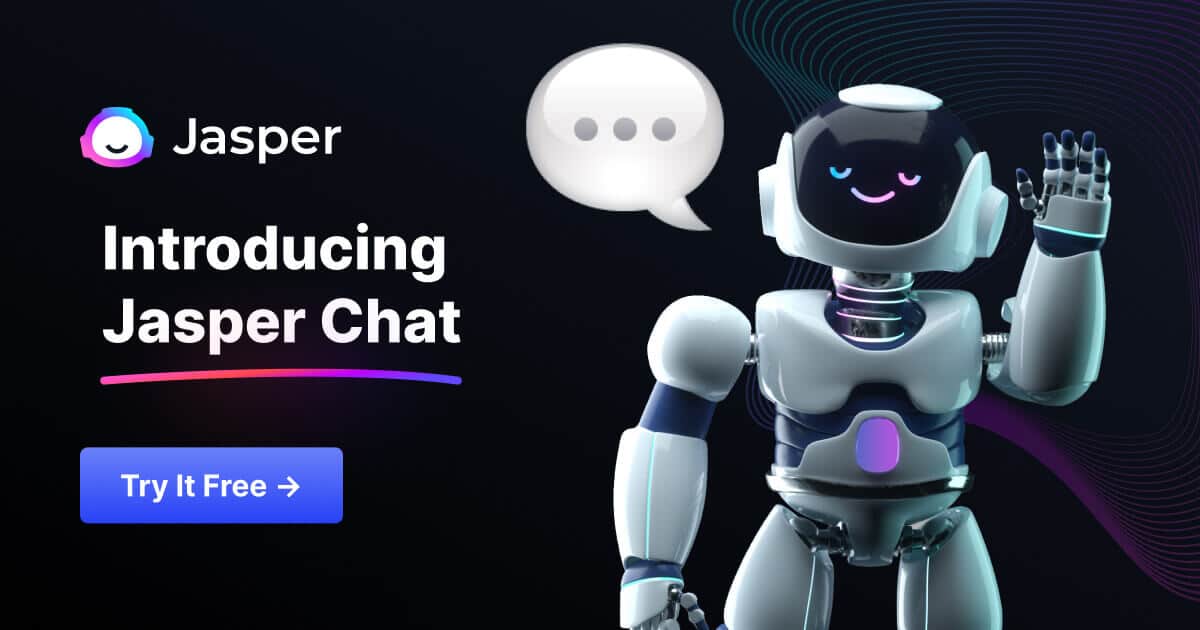 Jasper Chat is the latest AI tool from the creators of Jasper AI and a response to the successful launch of ChatGPT. Jasper AI provides a more traditional AI writer assistant feel, while Jasper Chat attempts to mimic the conversational style that ChatGPT users are used to.
One of the main selling points of Jasper is that, unlike ChatGPT, it can access the internet. This means that it has the capability to provide up-to-date answers, provided that there's enough information on the topic online.
Jasper Pricing
💵 Starter – From $29/month
Access to Jasper Chat
20,000 words per month
Access to templates
💵 Boss Mode – From $59/month
50,000 words per month
SEO keywords
Chatsonic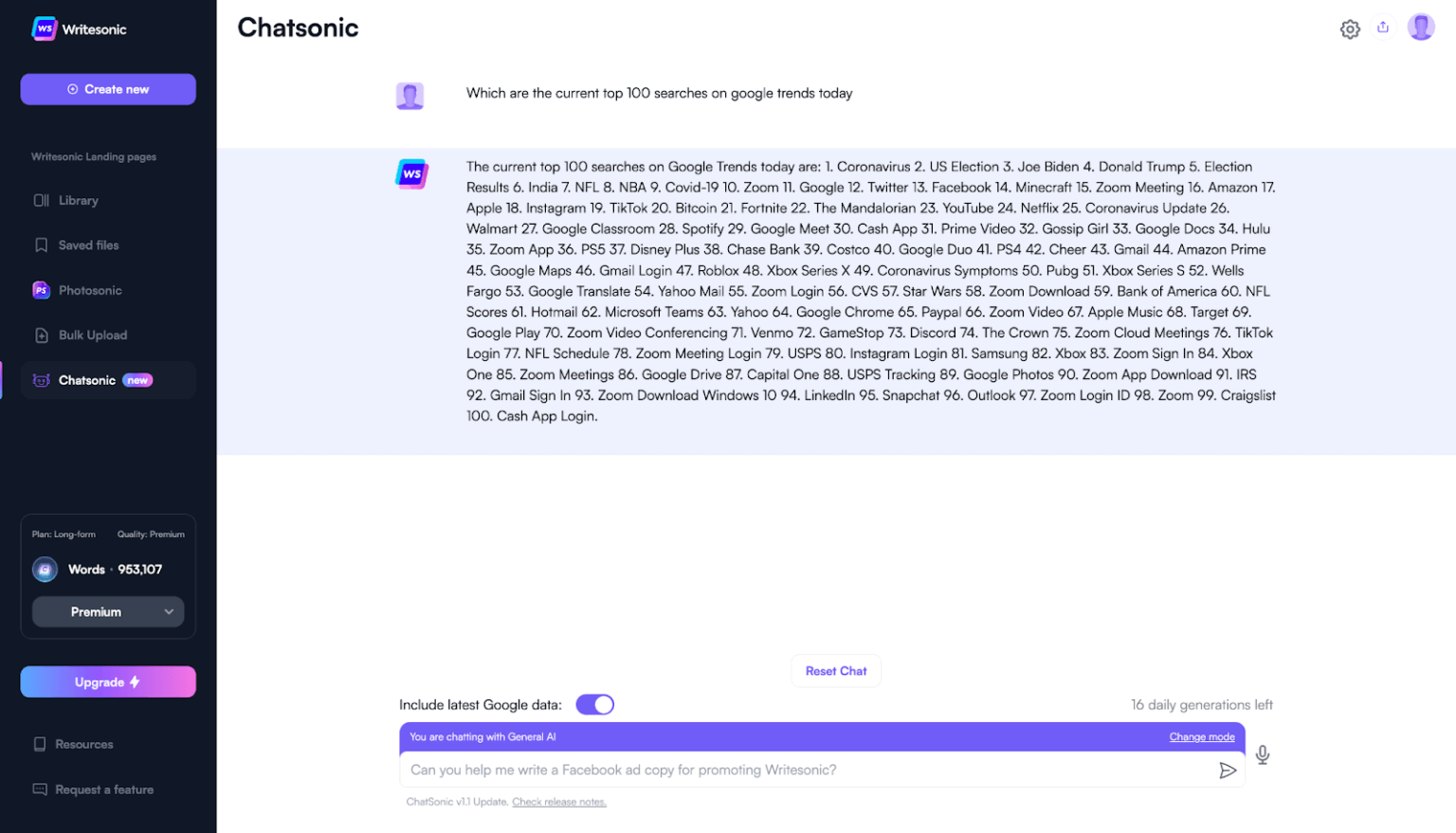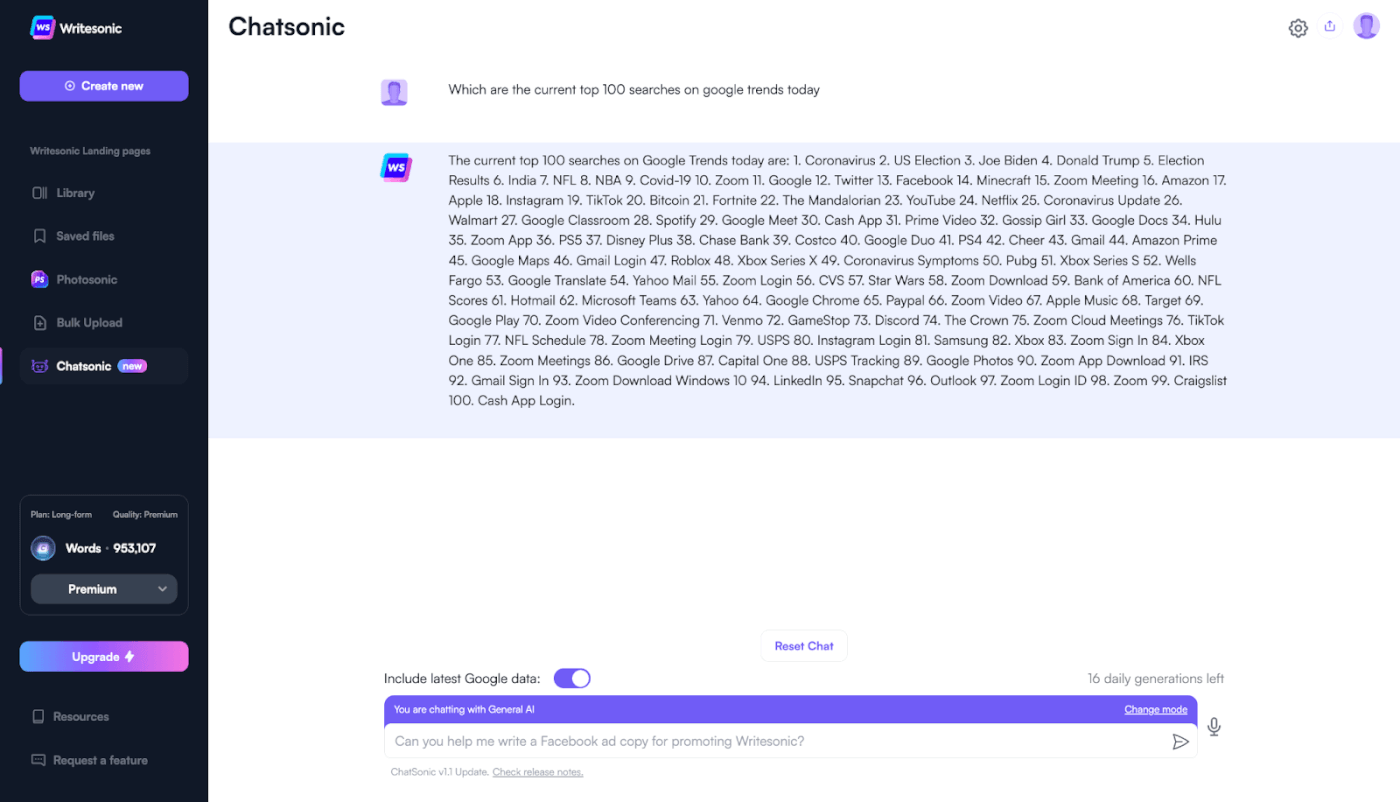 Writesonic is another established developer that decided to follow in Jasper's footsteps and bring its own AI-based chat tool to the market to counter ChatGPT.
The differences? ChatSonic seems to have a more user-friendly interface and adds a few additional use cases as the cherry on top. The tool is able to provide answers related to current events and even supports image generation. It also throws a handful of templates into the mix.
Chatsonic Pricing
💵 Free Trial
Limit of 25,000 words
Chatsonic interface
100+ AI templates
Zapier integration
💵 Long-form – From $12.67/month
Starting with a plan of 190,000 words and 1 user
Includes Complete Article Rewriter
API Access
SEO Surfer integration
GPT-3 playground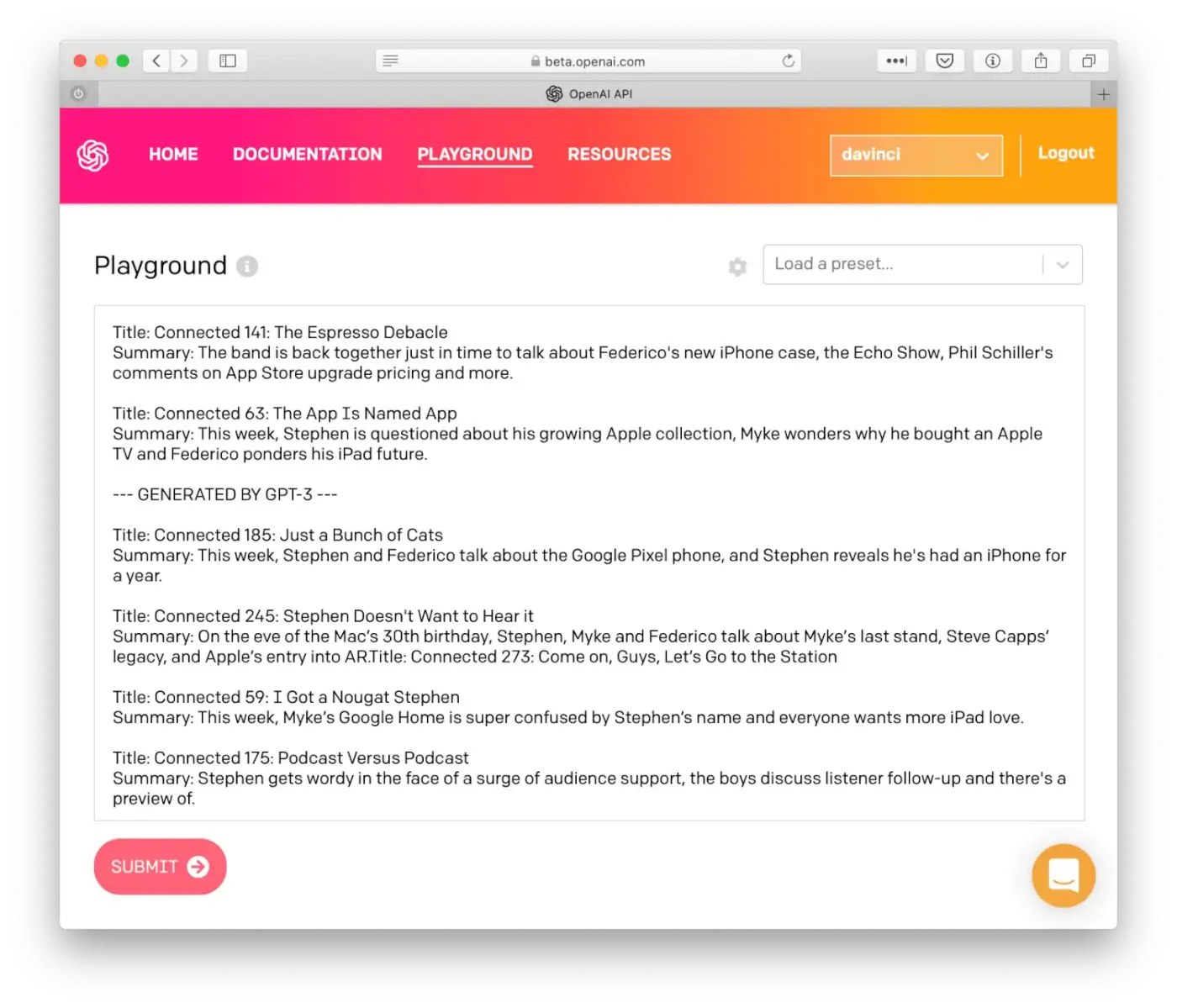 Before ChatGPT, there was GPT-3 Playground. GPT-3 Playground is a platform that allows users to interact with OpenAI's GPT-3 language model in a more flexible way.
Unlike ChatGPT, GPT-3 Playground allows users to control its behavior and adjust output length and complexity. Similar to ChatGPT, GPT-3 Playground cannot access data beyond 2021.
Even though it is open for public use, its main use case is for developers who are exploring how they can use GPT-3 in their applications using OpenAI's paid API.
GPT-3 Playground Pricing
Although GPT-3 Playground is free to use, you first have to gain access to its API to use it. After a 3-month trial period, pricing switches to a pay-as-you-go model.
Perplexity AI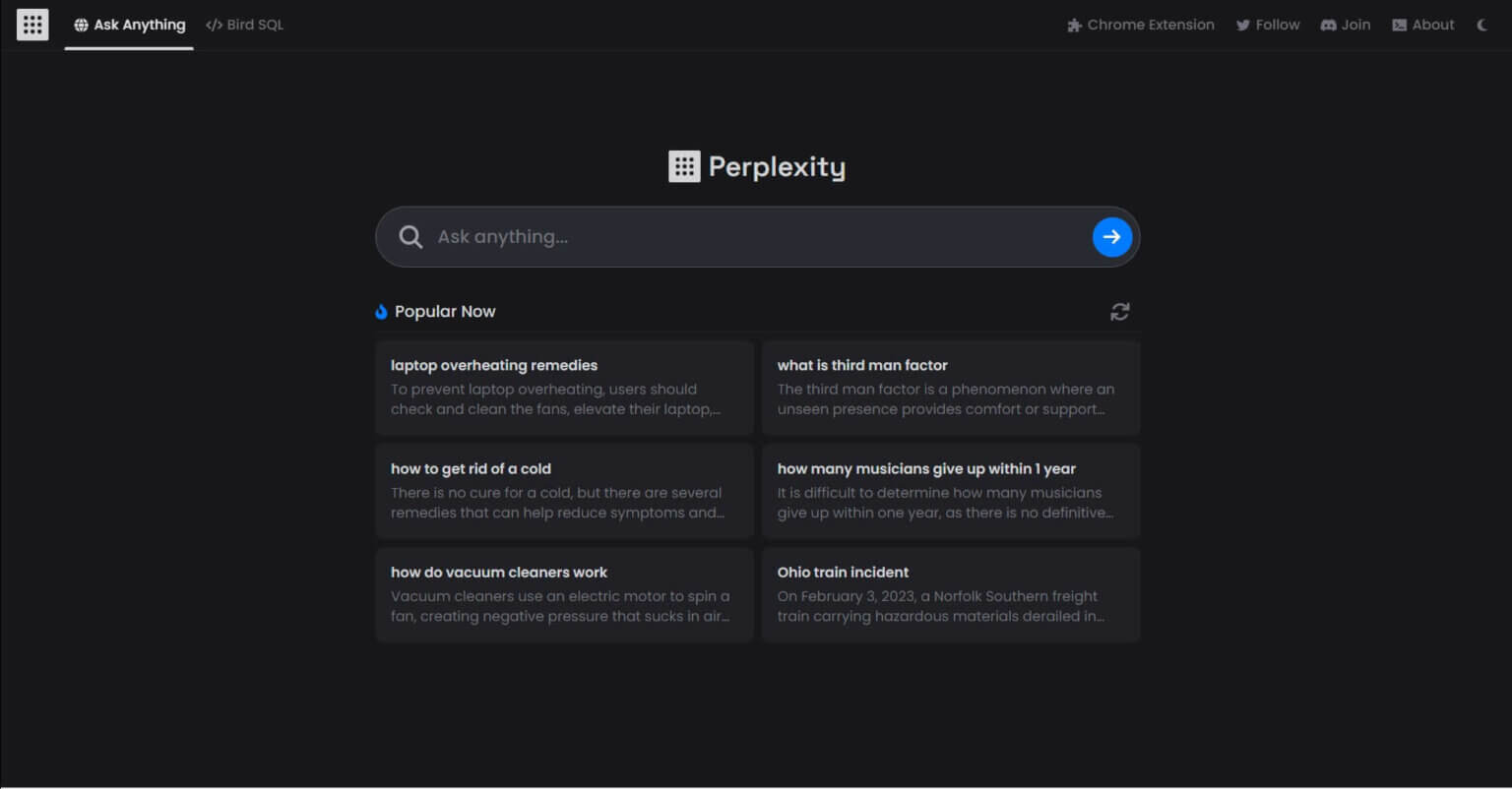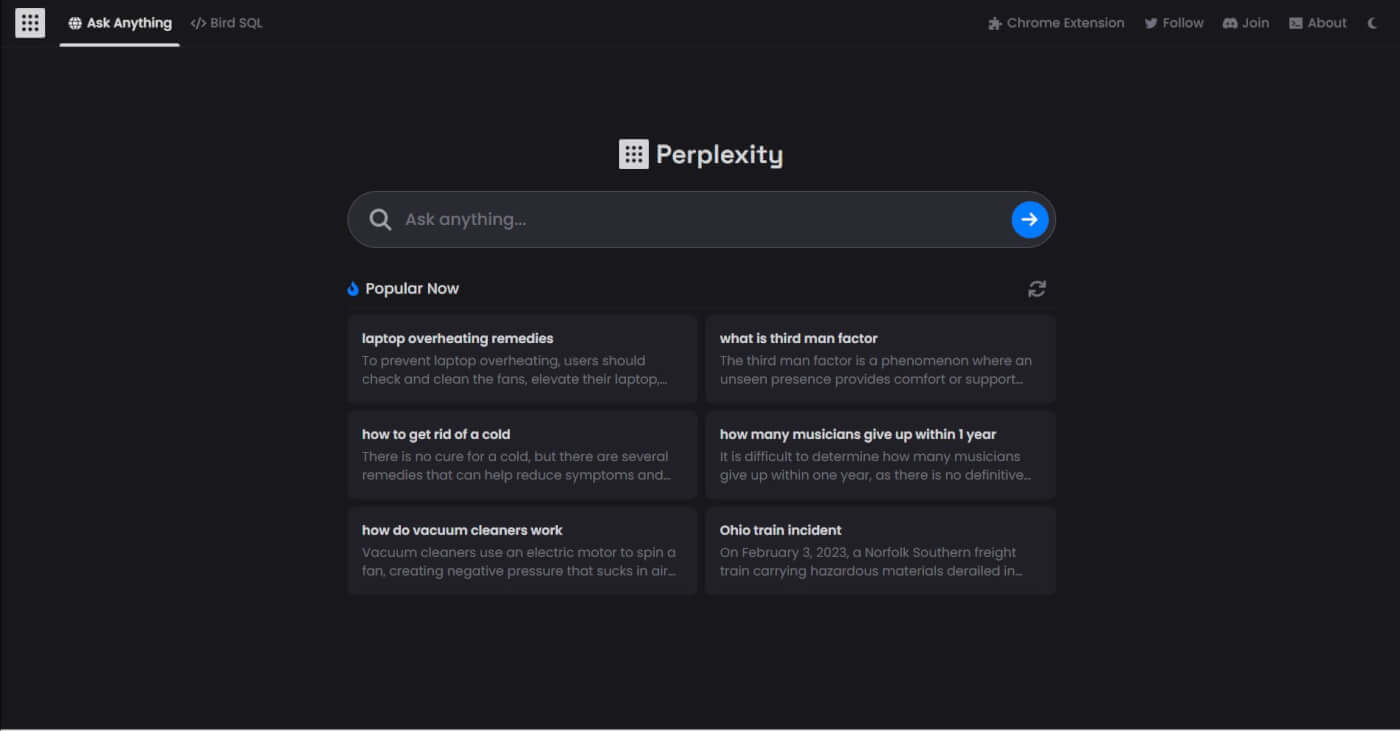 Founded in August 2022, Perplexity AI is another AI-based tool with an appetite for matching OpenAI's success. But unlike other tools on our list, Perplexity follows a different path.
Perplexity AI is a cross-over between an AI chat and a search engine. Instead of answering search queries with a list of matching pages like Google, Perplexity compiles answers from multiple sources and provides citations for every answer.
The tool is best suited for short prompts—typing longer, more complex queries make Perplexity struggle to provide reliable answers. Still, the attempt at challenging Google is still a noble one.
Perplexity AI Pricing
Perplexity AI is free to use.
The Future of AI
Considering the pace of the unfolding AI revolution, we can only try to predict the part artificial intelligence will play in our lives when the dust settles.
ChatGPT has become a sensation in the AI writing world due to its versatility, ease of use, speed, and human-like responses. But it also opened the door to other AI-based tools that can bring ample benefits if developers manage to incorporate them into existing workflows.
The good news is you can bring the power of AI to your personal and professional life with Taskade AI. Are you ready to organize your digital life, manage projects, and unleash your creativity? Try Taskade AI for free today and let us know what you think!
🔗 Resources
https://fortune.com/2023/01/06/schools-chatgpt-ai-student-cheating-ban/
https://www.goodreads.com/book/show/28815.Influence