Trello wasn't the first Kanban app, but it was the first to introduce a modern, user-friendly Kanban workflow. And that's no mean feat. But, as they say, times are changing and there are many innovative Trello alternatives you can use today, most of them completely free. 🥳
In today's article, we dig into six project management apps (easy, you need just one!) that will help you create a robust Kanban workflow in no time. Each item on our list includes screenshots and a comparison table with key features so you know what you're getting into.
But first, let's make proper introductions, shall we?
🤔 What Is Trello?
Trello is a project management app built around the concept of a digital Kanban board. If you're new to the method, Kanban (Japanese: カンバン, meaning signboard) is a Lean workflow that consists of a board with cards organized into columns. Here's an example. 👇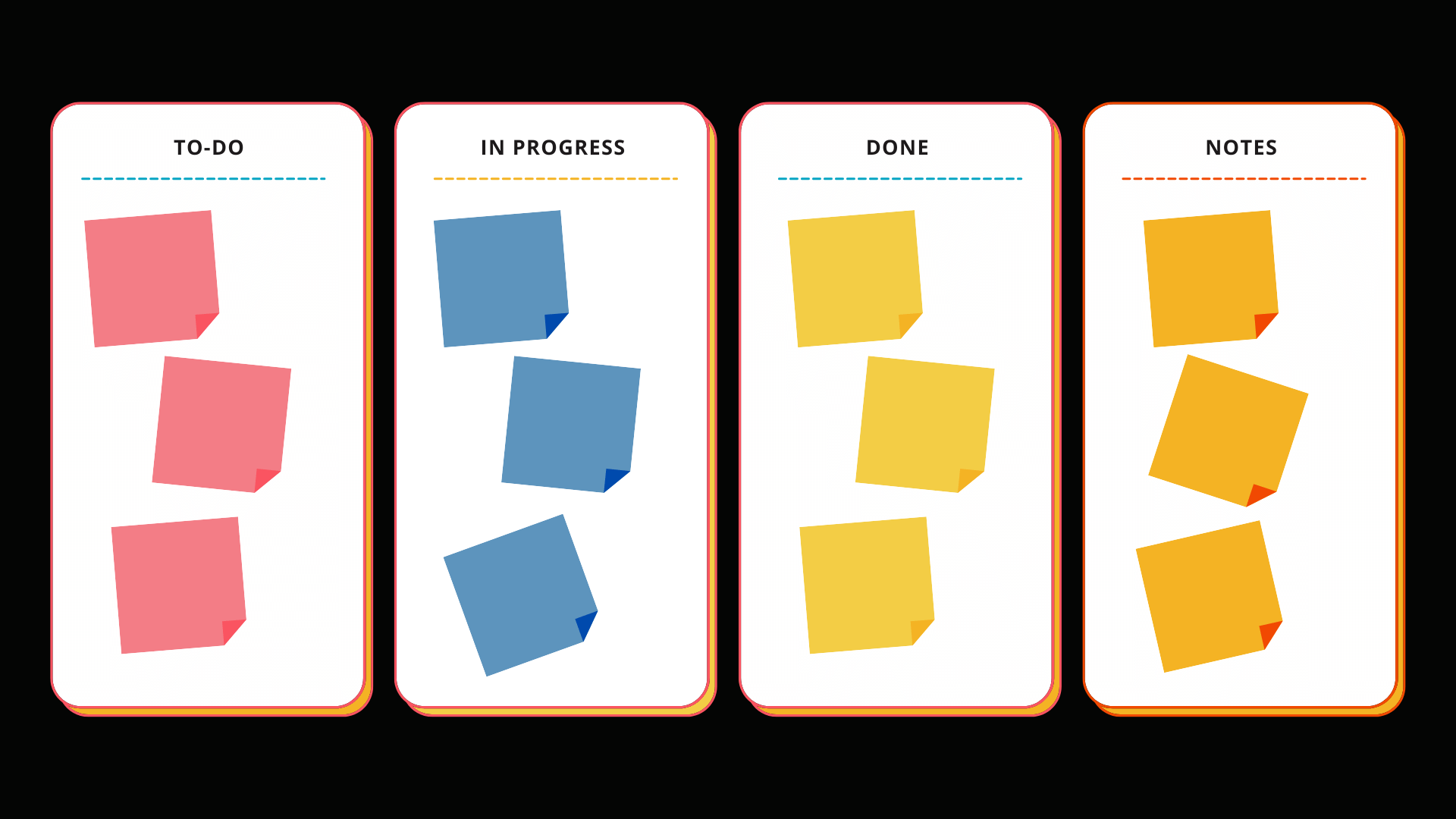 The Kanban workflow is old, think 1940s Japan old. While it has its roots in manufacturing, it evolved over the years and founds its way into other fields, including software development.
And this is where the history of Trello begins.
Trello blends the traditional concept of signboards with the comforts of a modern project management tool. In digital Kanban, a board is the equivalent of a project, with columns representing steps in a workflow, and cards are tasks stacked in columns.
Trello's Kanban workflow lets teams visualize stages of any project and manage work using an intuitive drag-and-drop interface. Of course, the app has a few other tricks up its sleeve.
🟢 What Does Trello Do Well?
Although Trello started as a collaborative, digital Kanban board, it evolved into a fully-fledged project management app. Trello's implementation supports real-time collaboration, file uploads, automation, and a stack of other features you may or may not need.
Trello's Kanban workflow is simple and intuitive. Dragging cards across the board may not be as tactile as a good ol' corkboard, but it feels very natural. Customizable columns, a colorful, user-friendly interface, and extensive integrations make Trello's offering surprisingly complete.
And while we're on the subject of integrations, let's talk about Power-Ups. In a nutshell, Power-Ups are third-party and first-party extensions that add features that are not available in the core app. That can be anything from analytics through automation to developer tools.
To be fair, you don't need Power-Ups to get work done in Trello. In fact, installing too many extensions may slow the app down. But some of the extensions do a really good job bridging the gap between a Kanban tool Trello is and a project management app it aspires to be.
🔴 The Drawbacks of Using Trello
If you love Kanban, Trello may seem like an obvious choice. After all, the company have been perfecting digital Kanban for years, so what could go wrong? Well, a lot of things.
On paper, Power-Ups seem like a great idea (yes, we even admitted they are!). They add new functionality and make up for Trello's somewhat limited features. The problem is that some of the best project management tools offer features like video conferencing out of the box.
The same is true for the custom workflows and views available in Trello. The Free plan lets you create boards (limited to ten), and that's pretty much it. Want to create a list of tasks or use the calendar? Nope, you have to pay for that or piece together a few Power-Ups.
The Free plan has a few other limitations; the inability to export your data stands out as the most counter-productive. Investing time in building boards only to have them stuck behind a paywall is far from "user-friendly." Something you should consider if you're a power user.
Of course, because of Trello's spanning boards, using a native mobile app is far from comfortable. Sure, you can perform basic operations and look things up on the go. But limited features and no alternative list view make it a tedious task.
"Ok, so what are my options?"
🌟 The 6 Best Alternatives to Trello
Taskade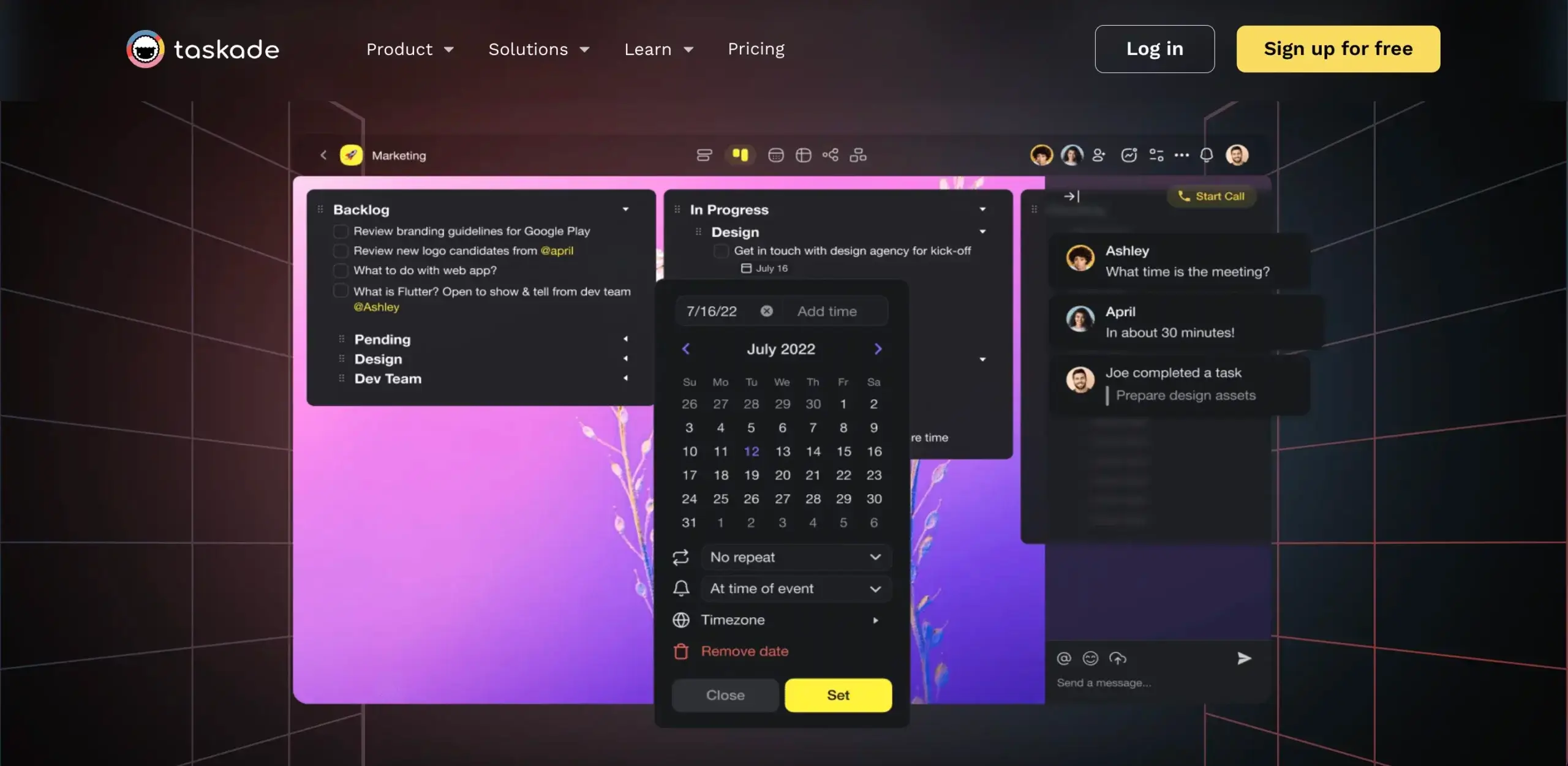 The Kanban workflow in Taskade consists of a board, the equivalent of a project, with cards organized into columns. Every card can hold unlimited tasks and sub-tasks in nested hierarchies. You can move cards, blocks, and tasks by dragging them across the board.
Taskade gives you all the tools you need to manage complex projects but also to stay on top of your tasks. Every card can become a self-contained list of action items, complete with due dates, recurring tasks, assignees, and attachments. That means you get as much context as possible.
Every board you create is a self-contained project with a chat box on the right side of the screen. You can discuss ideas with your team or start a video conference while collaborating on the board. Taskade also features a multiplayer indicator that shows you who's currently editing.
And speaking of context, sometimes, you may want to look at complex projects from a different perspective. And this is where dynamic workflows come into play. Every project in Taskade is stored in a tree database, which means you can visualize the same data set in different ways.
Here's the Report Board visualized as a list you can easily edit, even on mobile devices. 👇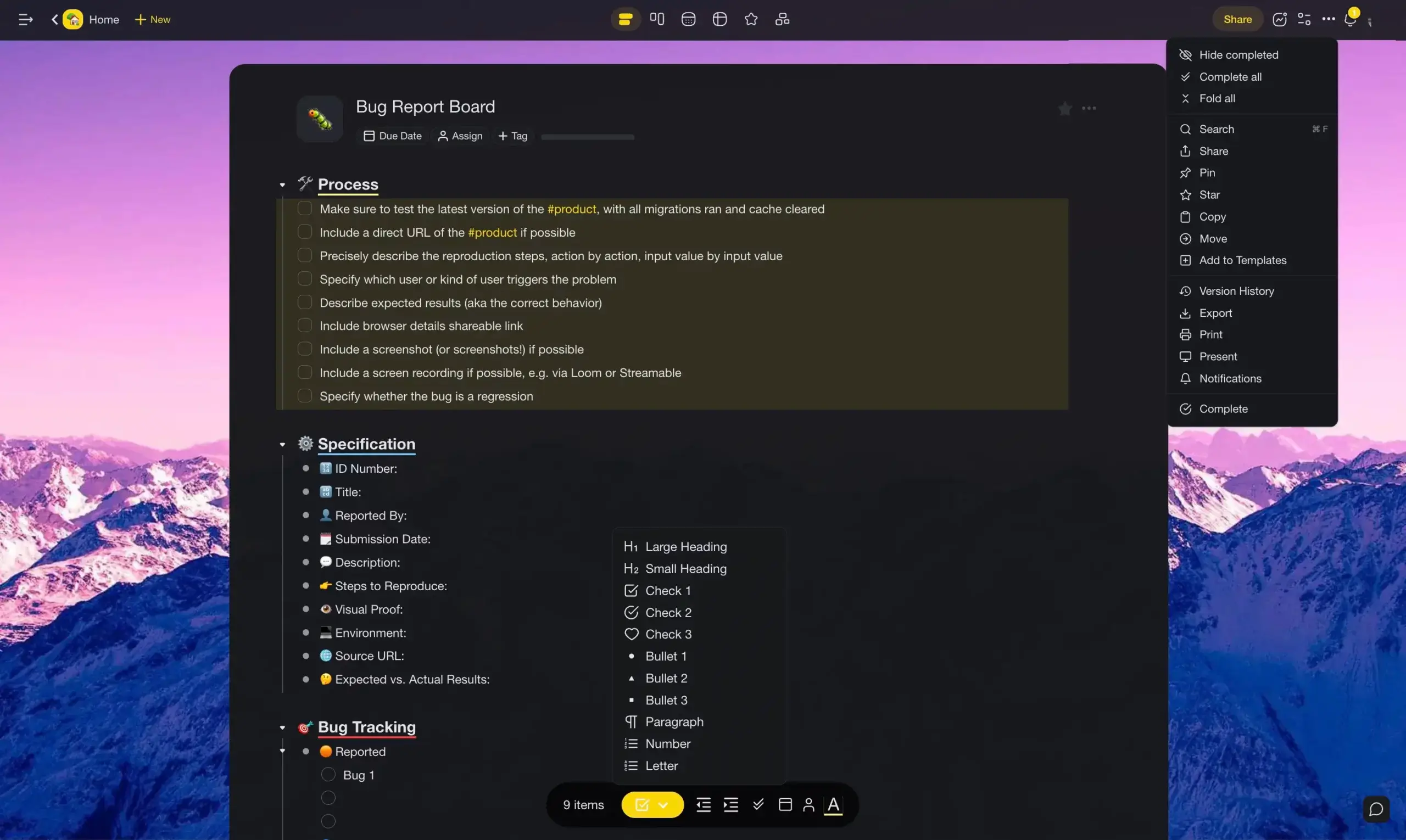 Taskade features six powerful project views—List, Board, Calendar, Mind Map, Action, and Org Chart. All six are available in our free plan so you can switch between workflows without pesky limitations. Each view unlocks a unique way to approach projects.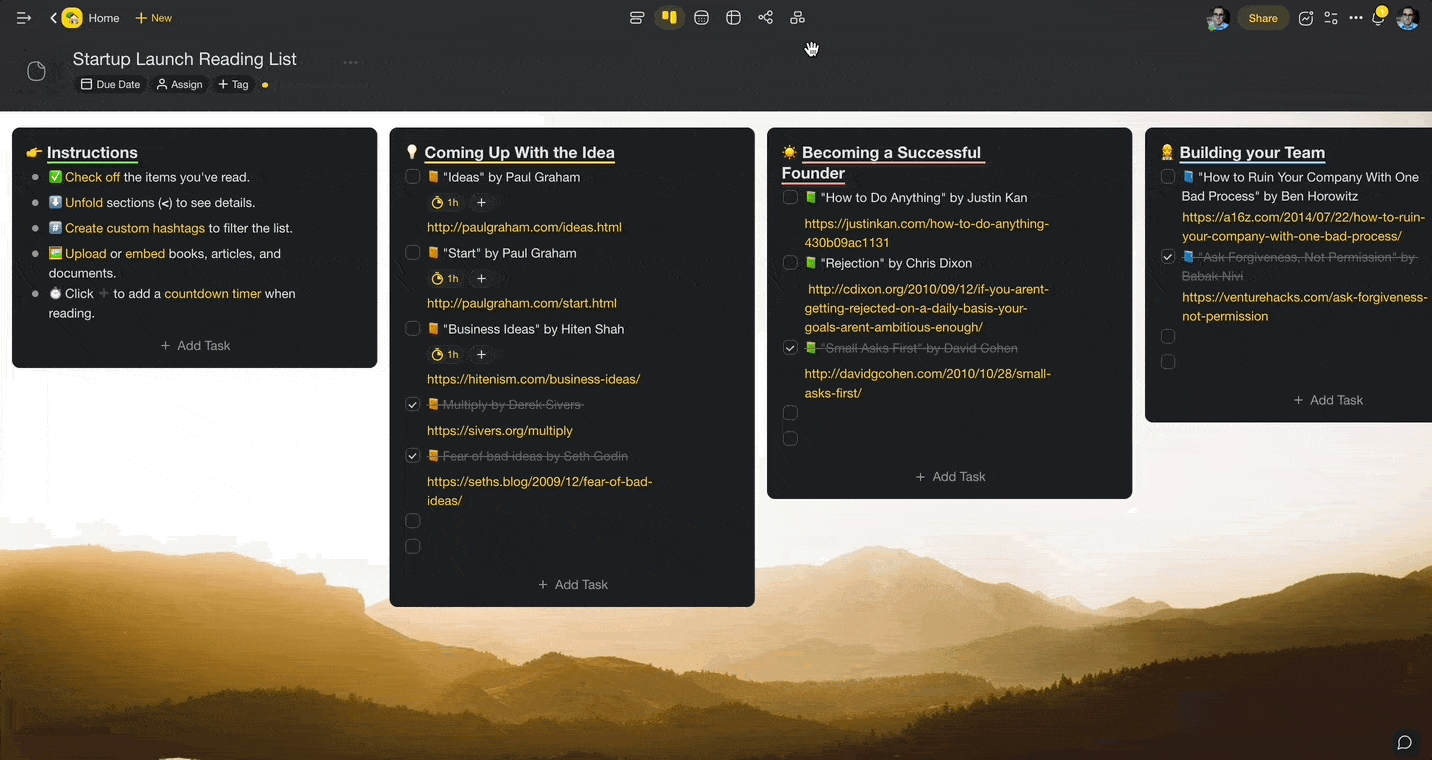 The free plan includes all the features you need to get work done. Real-time collaboration, video conferencing, task management, due dates, infinitely nested hierarchies of tasks and sub-tasks, and card formatting are available out of the box. Here's what else you get when you sign up:
🔗 Internal links that let you connect boards and cards
💬 Free video conferencing, chat, and comments in all projects
🎨 300+ quality templates across 26 categories
↔️ Undo/Redo that works across all projects, even when collaborating in real time
⌨️ Keyboard shortcuts for organizing columns, cards, and tasks
🔄 7-day Version History so you can revert any changes made to projects
👇 Multi-select and bulk formatting so you can edit multiple tasks at the same time
☁️ Integration with popular cloud services like Dropbox and Google Drive
​​👀 Fold/unfold that lets you hide sub-tasks and get work done, one card at a time
🤹 Sorting tasks and sub-tasks in a column by due dates, status, and name
📎 Drag-and-drop file uploads for images, videos, and other attachments
🏷️ Clickable #hashtags that make it super easy to organize projects and filter tasks
And much more!
Of course, Taskade lets you customize your boards by changing the accent color and uploading your own project backgrounds. Text formatting options include several bullet styles, headings, and highlights, so you can tailor the workflow to match your unique work style.
If you want to put Taskade to the test, sign up for a free account and create your first board in seconds. Oh, and don't forget to invite your team members and get things done together.

It's free!
Notion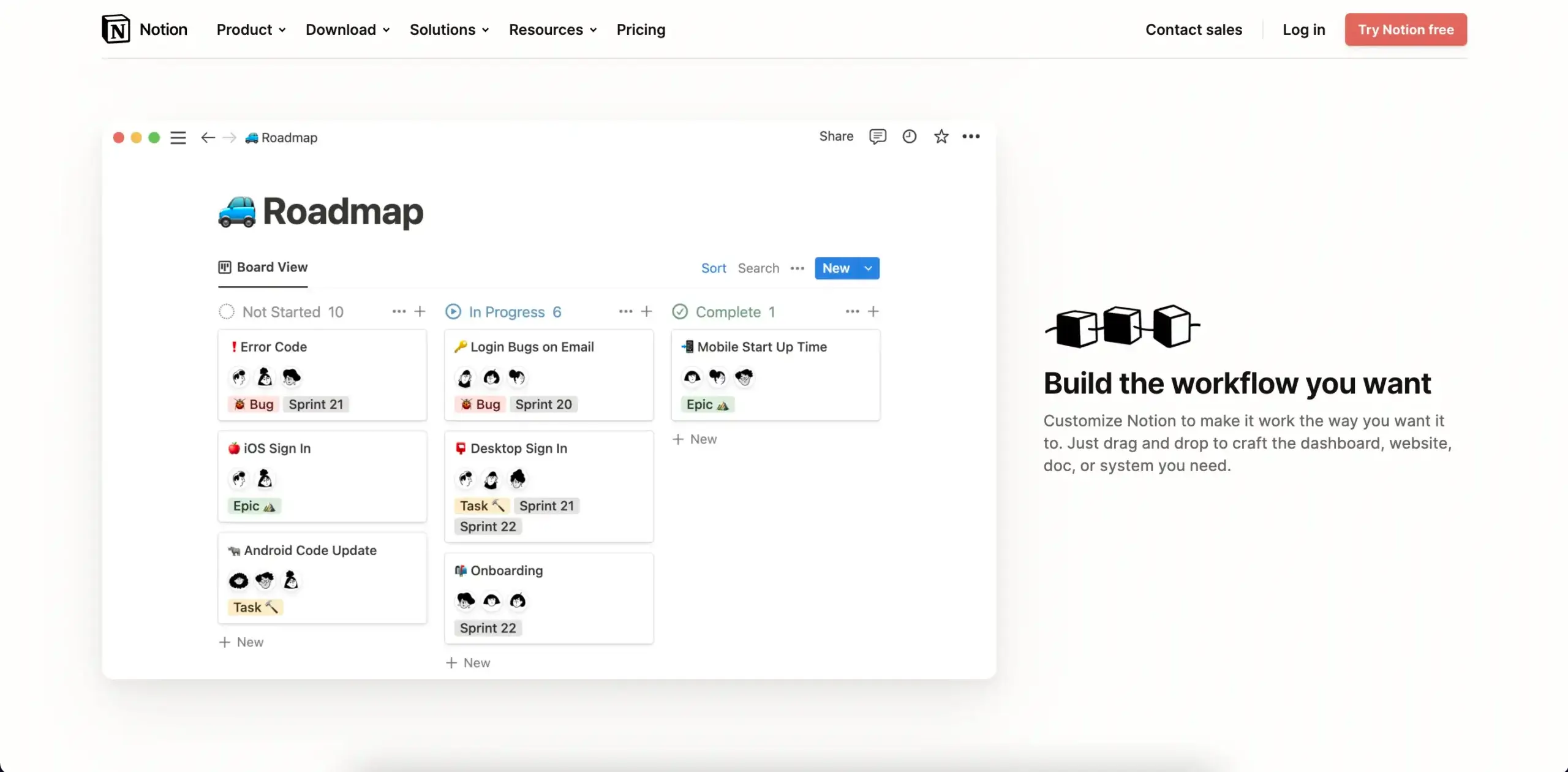 Notion positions itself as an all-in-one workspace for teams. It also happens to include a no-nonsense board view that lets you manage projects in a flexible Kanban workflow.
But let's start from the beginning.
A board in Notion is a fully-fledged database with cards in columns acting as database items. One column can include multiple items, each with its own set of properties. You can drag cards between columns and sort tasks using custom filters at the top. No surprises here.
Notion's minimalist user interface seems to play well with the Kanban workflow, that's as long as you stick to basic functionality and don't dig too deep. Using more advanced features may add to the learning curve so be ready to spend a few hours setting pitch-perfect project dashboards.
Board columns are fully customizable. You can reorder or rename them and even add your own. Other Kanban features are what you'd expect—attachments, assigning task owners, and card grouping by priority. Notion also supports real-time collaboration, but it's limited to editing and comments.
Notion's text editing is simple and intuitive, and it's wrapped in a non-intrusive pop-up menu. You can also use Markdown syntax to format cards without taking your hands off the keyboard.
The Kanban workflow is included in the Free plan. But there are some limitations. You can only invite up to 5 users, which won't be enough, even for small businesses who want to give the tool a try. The team plan starts at $10 per seat (monthly).
Miro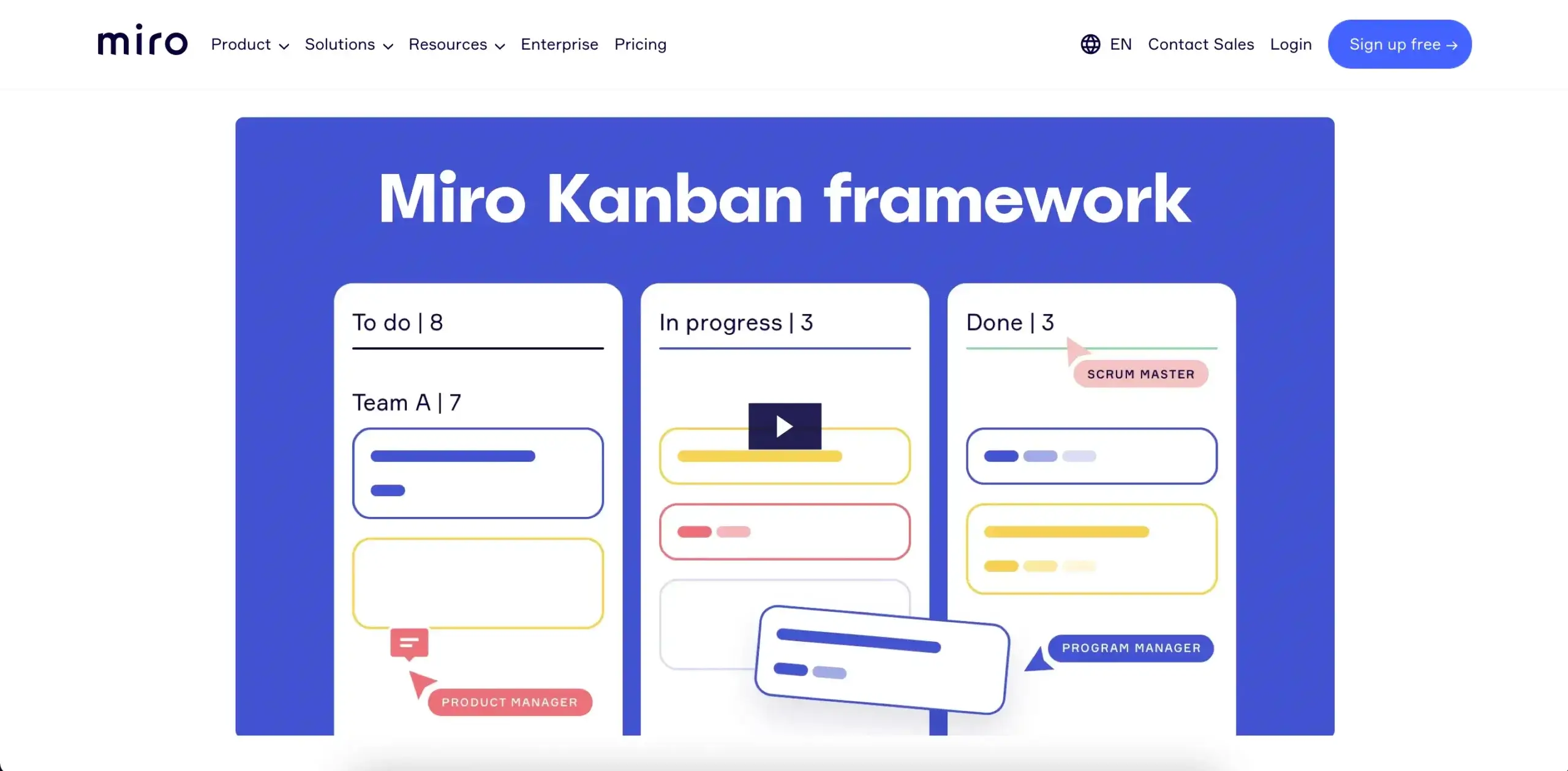 Miro is a collaborative whiteboard that lets teams work together on what Miro calls the "infinite canvas." The app is designed for road mapping, ideation, and wireframing projects, but it also includes a complete Kanban workflow with cards organized into color-coded columns.
A default board in Miro consists of three columns, "To-Do," "In-Progress," and "Done." You can add more columns, drag them across the board to change the order, and customize the color of each element. There's also an option to add swimlanes, which is a nice touch.
Miro lets you create new cards from a floating menu on the left. Each card can include details like tags, assignees, and due dates. You can also upload attachments and share project files inside individual cards. These are color-coded as well, just the thing you'd expect from a tool targeted at creative, cross-functional teams.
Of course, Miro is a digital whiteboard or infinite canvas, so you have more creative freedom, at least in the spatial sense. Want to place a large mind map next to your Kanban board? Why not. The Kanban framework is just a grain of sand on the canvas and you can add other elements all around it. You can access all projects from centralized dashboards.
Miro's free plan is limited to just 3 boards, but you can invite unlimited users, which should work just fine for smaller businesses. You can expect to pay at least $8 per seat (monthly) if you need video chat, advanced integrations, and unlimited boards. Miro integrates with other Atlassian products including Trello—if one was so inclined—Confluence, and Jira.
ClickUp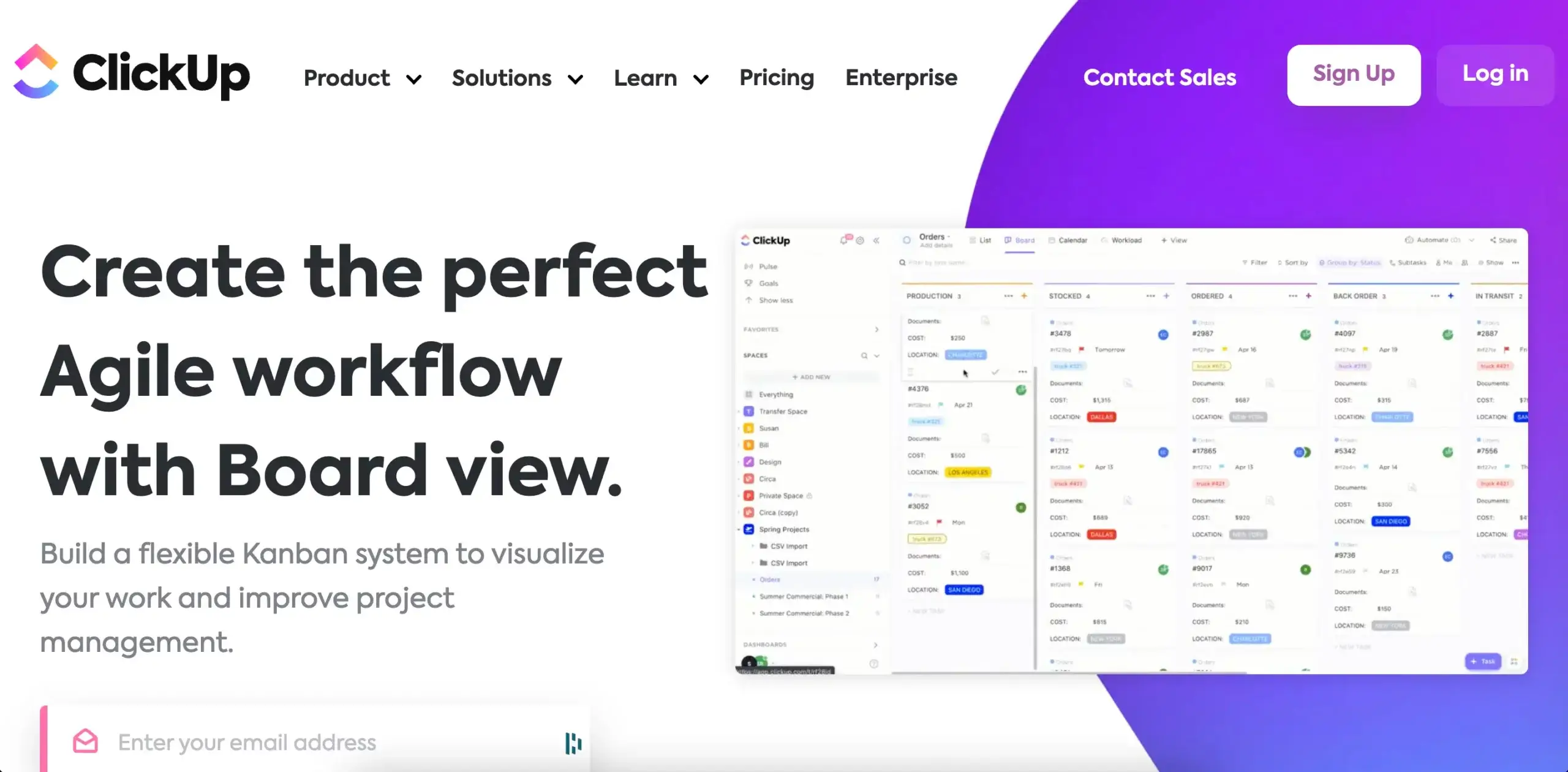 ClickUp is another Trello alternative on our list that includes a Kanban workflow. While ClickUp's user interface is a tad more complicated compared to others, the buttons that let you control custom workflows are conveniently placed at the top of the screen.
The app lets you drag and drop cards to organize them on the board, bulk-select and edit tasks, and create fully customizable columns. Custom filters are available in the top navigation bar. You can create your own filters, which comes in handy with larger, multi-level boards.
Each board in ClickUp allows you to invite team members and collaborate on projects in real time. That includes comments, chat, and what ClickUp calls "collaboration detection." This feature shows real-time edits and comments added by other users.
ClickUp's free plan gives you access to the Board view, complete with real-time communication, file uploads, and unlimited users. You can't, however, share your boards with guests. Access to more advanced features starts at $9/seat (monthly) and includes unlimited storage, integrations, and project dashboards.
Airtable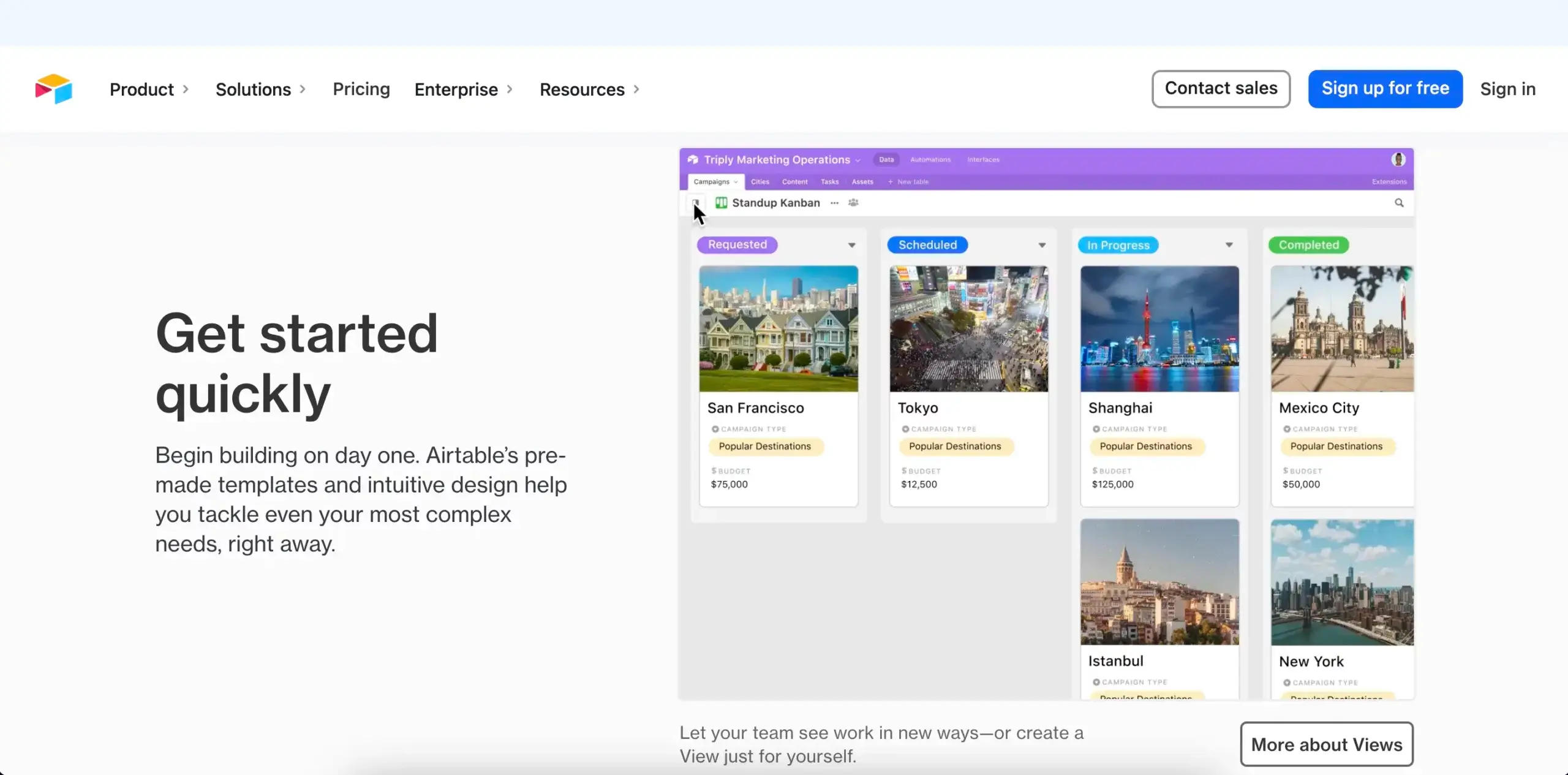 Airtable is a low-code platform that lets you build complete workflows from scratch. Airtable's Kanban view uses relational databases, which means you can connect and visualize connections between items on a board or in any other view available in the app.
Airtable's dashboards are a bit overwhelming. The Kanban view includes traditional columns, but there are also drop-down menus, similar to Microsoft's ribbons (who doesn't love those). Because of the sheer number of features, the app has a steeper learning curve.
The Kanban workflow consists of cards stacked into columns with filtering and sorting options at the top of the board. You can rename existing columns—there are pre-filled templates—or add your own. As expected, cards and columns can be reordered by priority using a drag-and-drop interface.
The board view is part of Airtable's Free plan and you can activate it in a foldable menu on the left side of the project screen. Similar to Notion, cards can contain multiple properties, including dues dates, attachments, checkboxes, assignees, and more. Card customization is only available in paid tiers.
While you can share your board with others, Airtable limits the number of collaborators in the free plan to 5 users. Airtable does offer Gantt Chart and Timeline views, but they are paywalled, just like the access to more advanced user permissions. The Plus plan is quite expensive at $12 per seat (monthly).
Kanban Tool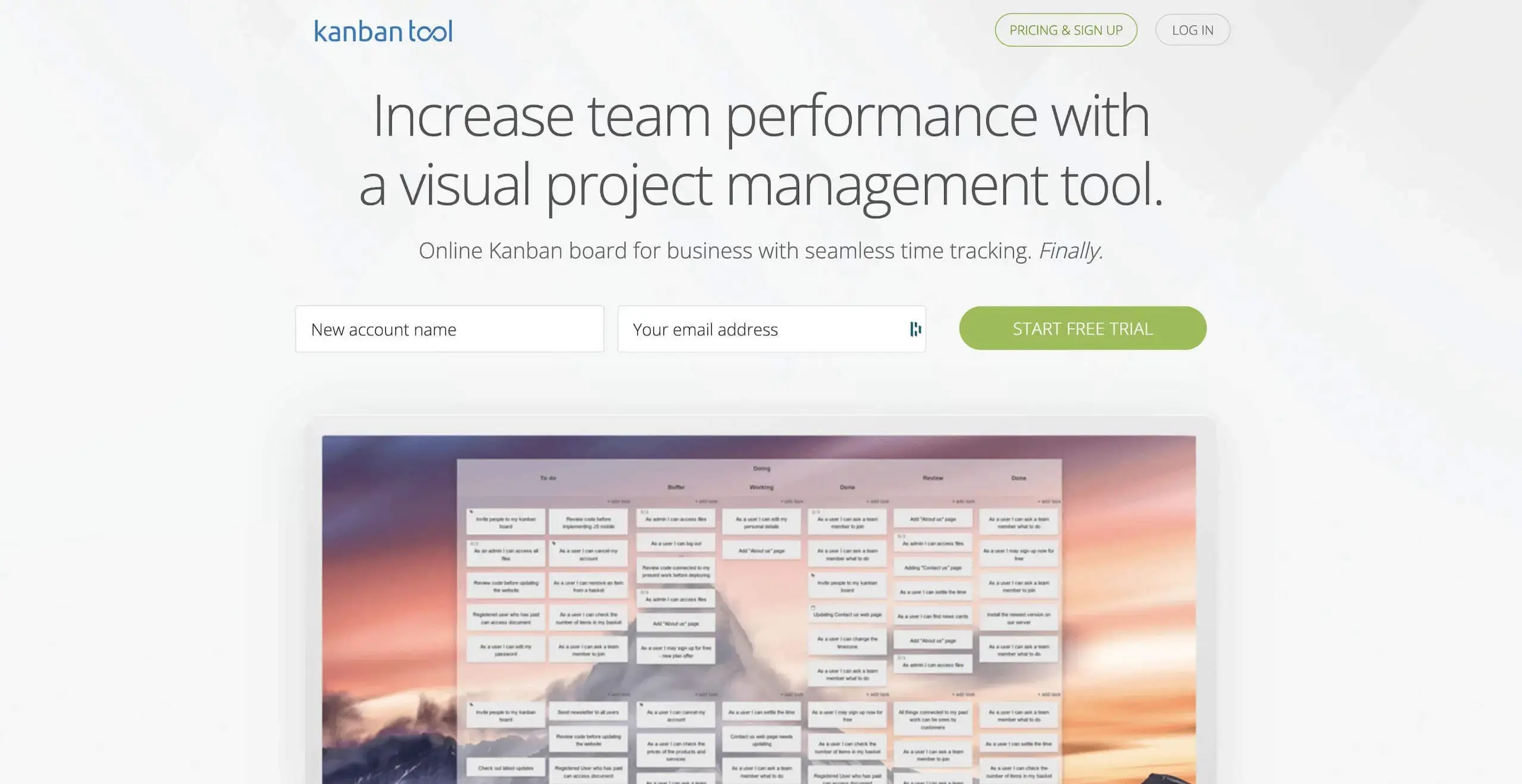 Developed by a Polish company Shore Labs in 2009, Kanban Tool came to the market even earlier than Trello. And while its age shows, especially in the outdated user interface and clunky navigation, it does make up for it with the user experience the company has been perfecting for over 12 years.
A board in Kanban Tool is organized into collapsible columns divided by swimlanes. You can create your board from scratch or use built-in templates with pre-filled fields. Every card on the board can hold up to 15 custom fields including attachments, links, drop-down menus, voting, and more.
The app comes with analytics and metrics which should be a welcome addition to teams who care less about aesthetics and more about raw power. And speaking of teams, Kanban Tool features real-time collaboration and communication features, but they're only available in paid plans.
Like Trello, Kanban Tool allows you to install extensions (yes, they are called Power-ups) that extend its functionality. We're not sure who came up with the idea first, but the implementation works as intended. You can choose from task management upgrades, timers, and calendar widgets that let you keep an eye on project timelines.
Kanban tool does have a mobile app for iOS and Android, but as it's the case with many other tools on our list, the experience is just OK. The Free pricing tier is limited to two users and two boards, so you might want to consider upgrading for the best experience. There's also a self-hosted version for 10+ users.
👋 Parting Words
Kanban is still one of the most popular Agile methodologies. And for all the right reasons. It's flexible, transparent, and visual, which is a perfect combination for modern, dynamic projects. That's as long as you have the right tool to implement it, because corkboards are passé.
We hope that our comparison will help you pick the best Trello alternative for you and your team. But hey, if you reached this point, you're probably still on the fence.
So, why don't you try one of the best project management tools around? 🥳
Taskade is beautiful, collaborative, and comes with all the features you need to get work done. We also have a cute sheep in our logo, but that's a topic for another time…

So visit our live demo page, and when you're ready, sign up completely for free! 🥳