Hi Taskaders 🎉
We've worked hard to make Taskade work better for you! Here's what's new:
⚡️ /Slash Command
Type "/" to view and filter commands. Add due dates, change formats, create new blocks and much more. Speed up your workflow without touching your mouse. Learn more.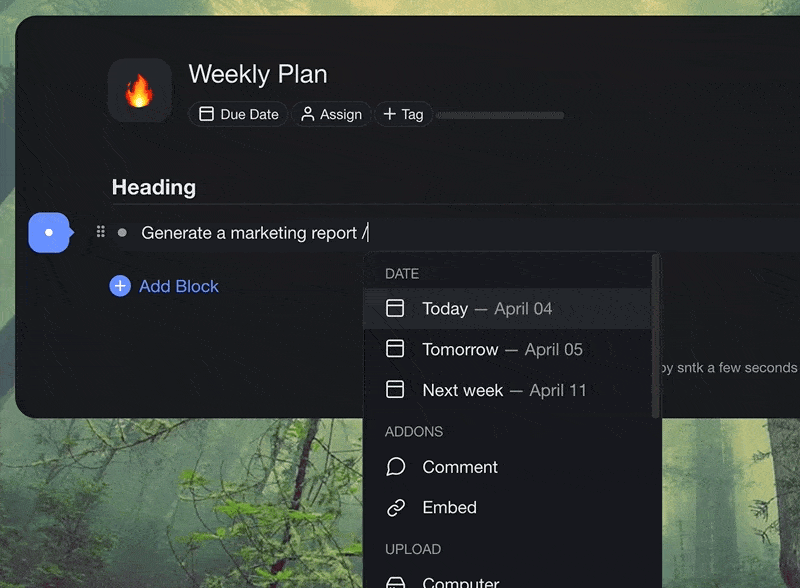 ⚡️ Calendar View
The long-awaited project Calendar is finally here! Create and edit tasks, drag to prioritize, and visualize them using the month, week, or day view. A new way to plan with your team in real-time. Learn more.
⚡️ New Reminders
You can now add reminders to your due dates and get notified minutes or hours in advance. In addition, an option to remove notifications.
⚡️ Quick Add for Desktop
Taskade for Desktop now supports quick add in the menu bar. In addition, you can access the feature directly by heading over to taskade.com/add. Give it a try!
🎉 Other Improvements
Taskade for Desktop v4.2.1 Update:

New: Tabs now display workspace and folder color

Improved tab management and organization

Drag and move tabs across windows

Re-open all tabs on the app restart

Taskade for Mobile v3.3.27 Update:

Improved tablet workspace tabs performance

Improved sharing to Taskade

Fixed highlighted task colors

New: Embed any links — You can now add any links to a task as a bookmark. Supported embed links will continue to load preview in-app.

New: Quick Formatting — Try the new /slash command to format your tasks.

Added support for numbered and lettered lists at the top block level.

Moved project settings to the top right corner of the project menu.

Upload files for free from Google Drive, Dropbox, and more!

Bug fixes and performance improvements.
Thanks again for supporting Taskade, and as always, don't hesitate to reach out or visit our help center if you need help. We're here for you! 😊

— Team Taskade 🐑

P.S. Want to help us improve Taskade? You can also suggest a feature.