Hi Taskaders 👋
Outlining your next project has never been easier. You can now use the power of Taskade AI to generate outlines instantly based on any topic, in any project view.
✍️ AI Outliner
Simply input your topic, type "/outline" and let Taskade do the rest – saving you time organizing your ideas, notes, and streamlining your workflow. Learn more.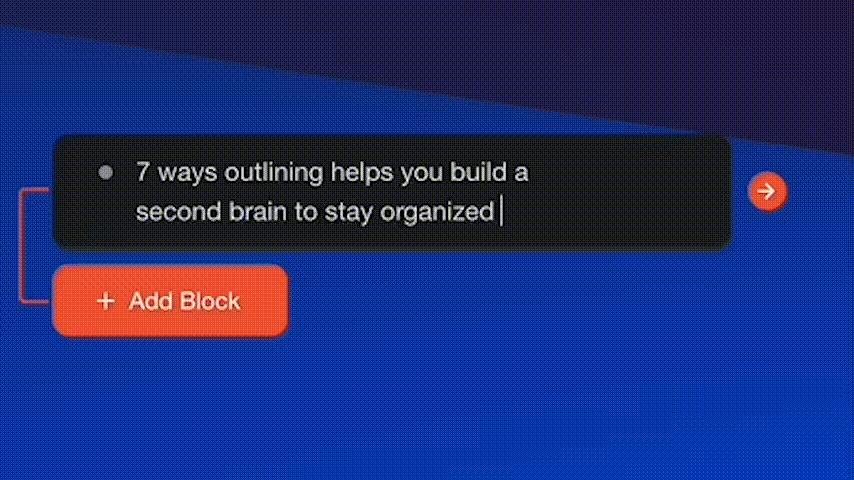 Create an "/outline" automatically from anywhere in your project, in any view!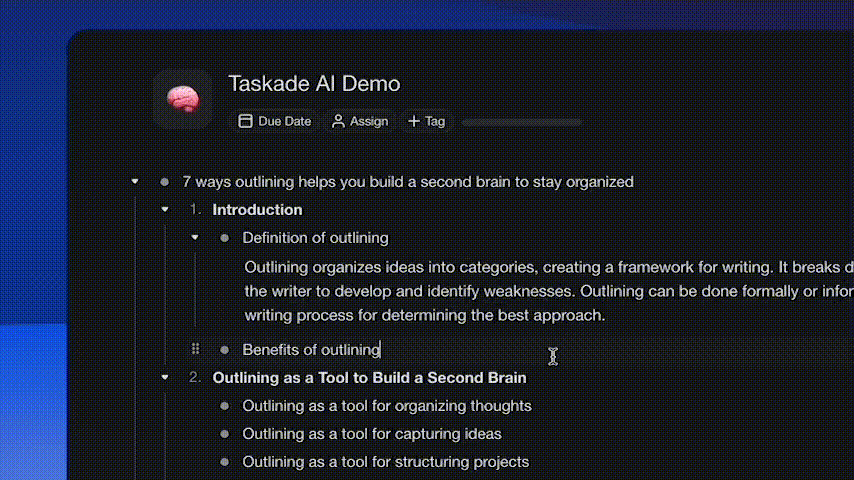 With a basic structure, use "/expand" to fill in the rest of your outline effortlessly.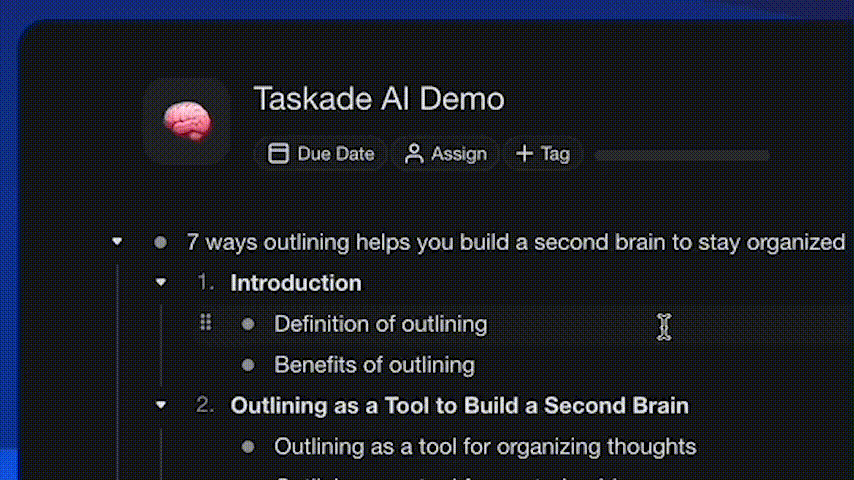 To try all of our AI commands, simply type "/ai". And, if you're looking ways to get started instantly with Taskade AI, be sure to check out our free AI templates.
Writing a meeting agenda, business plan, or bestselling novel? It's never been easier to get your ideas in order and turn them into a solid plan. With Taskade AI and "/outline", you'll have a clear, organized outline ready to go.
Now you can focus on what really matters.
🔕 New Notification Settings
You can now customize your notification preferences for every folder and workspace on a single page at taskade.com/settings/notifications. Learn more.
⚙️ New Workspace Settings: Hide Completed Items
Hide completed tasks and notes for every project in your folder or workspace. This setting will also automatically apply to your team members. Learn more.
🎉 Other Improvements
New: Taskade AI now supports /outline results in markdown format
New: Taskade AI now has improved UI and icons for each command
New: Share project & workspace displays pending member invites
New: Added Account Settings: Global Notifications page
New: Added Project Settings option to Hide Chat by default
New: SAML SSO now supports Taskade Mobile & Desktop apps
Fixed: Chat button is hidden in embedded projects
Fixed: Enabled multi-select self-assign in toolbar
Fixed: Invalid attachments after creating a template
Fixed: Calendar View visual and styling bugs when editing
Fixed: Action View visual and styling bugs for smaller screens
Various bug fixes and performance improvements
Have any questions? Visit our Help Center or let us know. 😊
— Team Taskade 🐑
Frequently Asked Questions About Taskade AI
Is the AI outliner free in Taskade?
Yes, the AI outliner is a free feature available to all Taskade users. However, the free version of the tool is limited to 50,000 AI generations per month. If you want to generate more content, you can upgrade to the Business or Ultimate plans that will give you more creative freedom. Visit our pricing page for details.
Can I use the AI outliner in mind map and board views also?
Yes, the AI outliner works in all project views.
What version of ChatGPT is the AI outliner in Taskade using?
AI outliner uses OpenAI's GPT-3.5 (Generative Pre-trained Transformer 3.5) language model. We're in the process of migrating to GPT-4 so, stay tuned for updates.