ClickUp has steadily made its mark in the productivity space, earning a significant spot among users and businesses alike. But one size doesn't fit all. So while ClickUp's doing its thing, there are a handful of other tools out there giving it a run for its money. Let's go on a little tech tour of 2023 and spotlight some of the top best ClickUp alternatives in the project management space.
🤔 What Is ClickUp?
ClickUp is a cloud-based productivity tool that aims to simplify tasks, docs, goals, and chats all in one place. Founded in 2017 Alex Yurkowski and Zeb Evans, the platforms serves as a centralized spot for project management, time tracking, communication, and collaboration.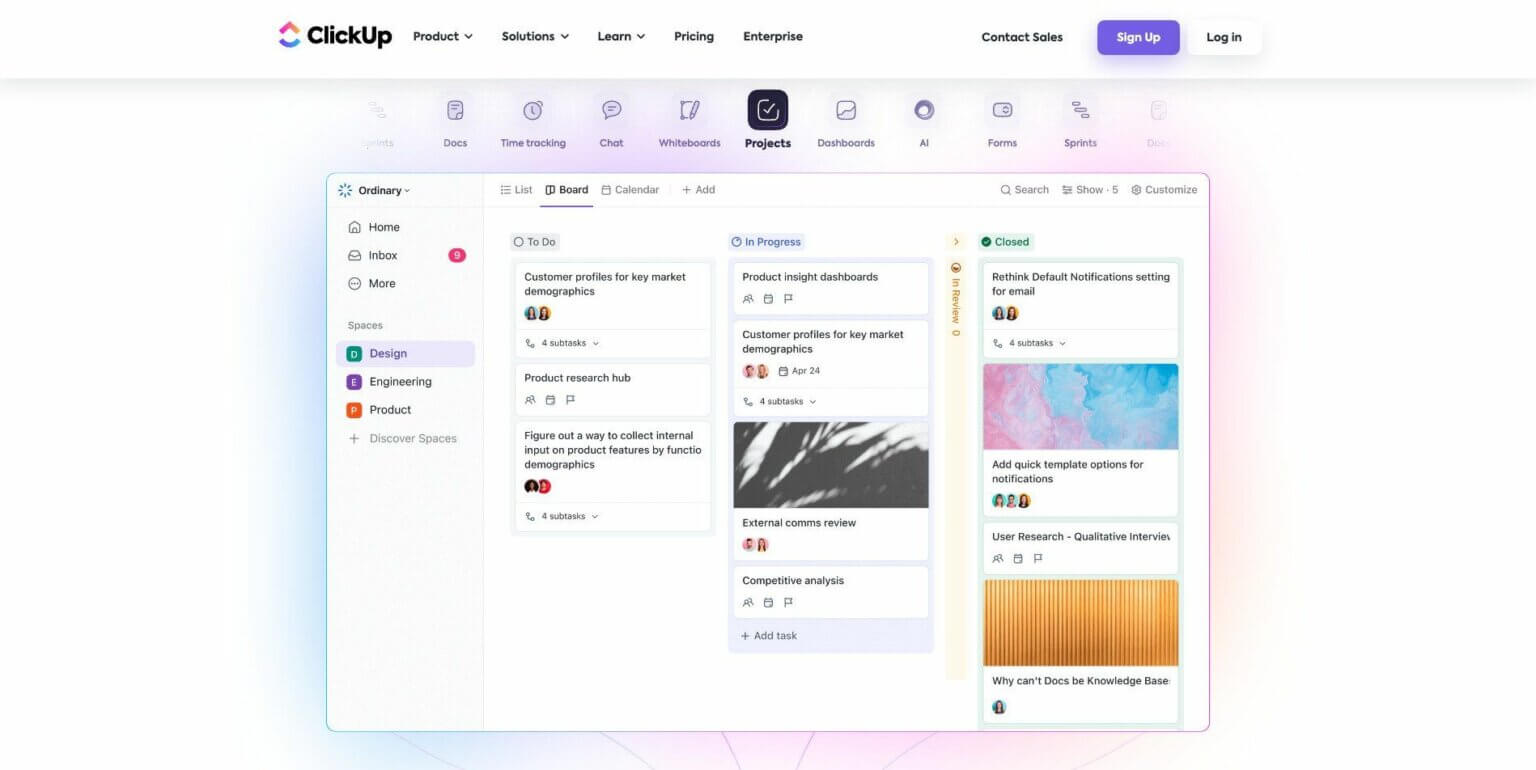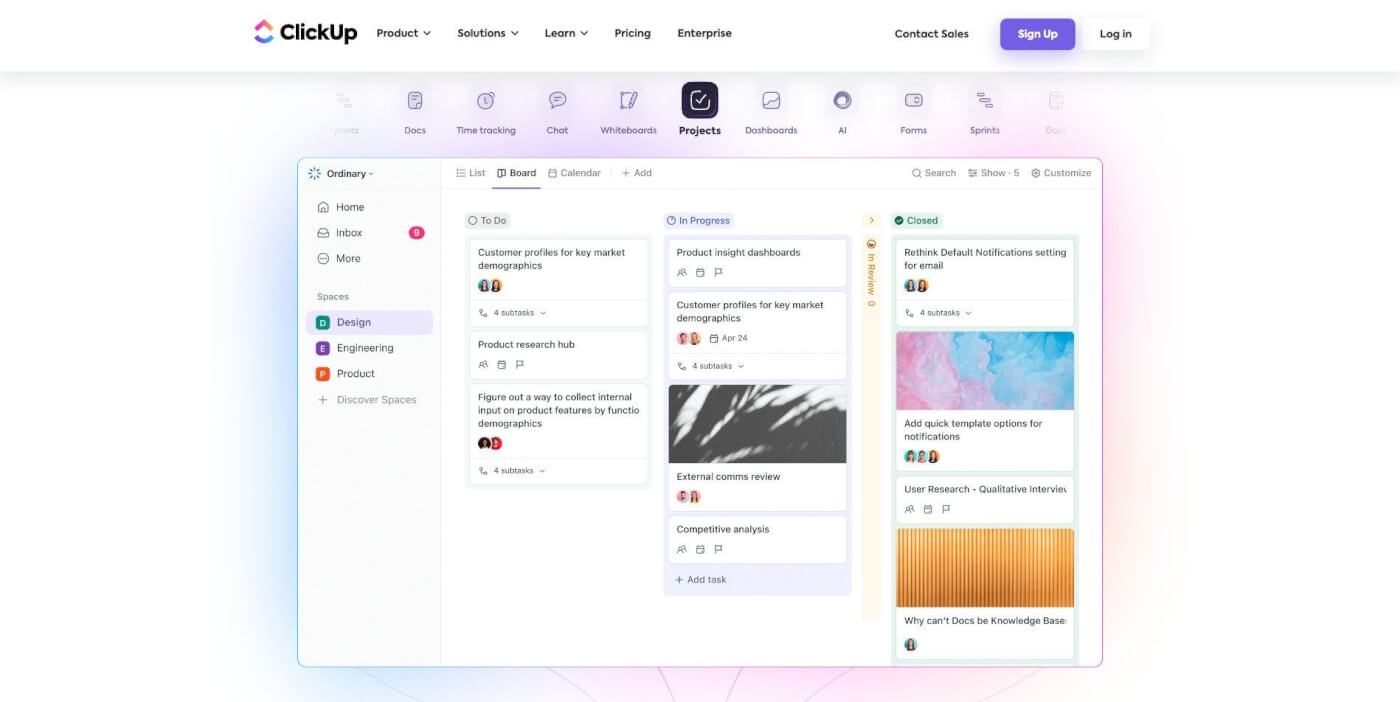 Part of ClickUp's popularity comes from it aspiration to become the only productivity tool that users will ever need. Although there are limitations to ClickUp which will be covered in the coming sections below, ClickUp does offer a customizable approach to task management and project management.
On ClickUp, your Workspace represents your business and is further divided into Spaces that break down your business into its functions such as 'Finance' or 'Marketing'. Within these spaces, Folders containing Tasks and Lists are housed within them.
After creating projects, you can assign tasks to your team members with specific due dates to ensure that your project flows as smoothly as possible. Check out some of ClickUp's key features below.
Features of ClickUp
ClickUp has features that can help you better manage your projects. Similar to Taskade, ClickUp offers multiple views for you to choose from including a List view, Board view, Calendar view, Gantt view, and more.
Multiple Views
Managing multiple tasks on ClickUp can get clunky pretty quickly especially when you're doing it via the List and Board views. To keep track of multiple to-do lists and projects at the same time, the Calendar view will be a better bet for you.
Task Management
After creating a task on ClickUp, you will be able to add notes, drag and drop files related to the task, and break down the task further into actionable subtasks. Tasks can be assigned to multiple people, and you can also assign people to be 'Watchers' on certain tasks. This means that they will receive notifications when there are updates for those tasks.
Task Status
Once you get started on a task, you can set the status of the task to keep everyone on your team aligned on the progress of each task and subtask. For example, you can set the status of a task to 'Doing' whilst having a few subtasks 'Closed' to state that you're midway through said task.
Simple Communication
Communication is essential to the success of team projects. ClickUp offers a comments section on each task to allow you to leave comments and chat with your teammates. You will get an email notification when you're assigned a task or when there's a comment on your project, ensuring that you stay updated every step of the way.
Turning Comments Into Tasks
Comments can also be turned into an actionable task and assigned to your team members. This allows you to quickly assign suggested changes or additional tasks for your project. You will be notified on resolved tasks, which makes it easier to track your team's progress. 
What is ClickUp good for?
As a project management software, there are a few use cases for ClickUp. It's customizable features mean that you can use it for both individual tasks and also on complex team projects.
It's almost a no-brainer that project managers will benefit from using ClickUp to keep track of projects and tasks. ClickUp's free version gives you access to unlimited tasks and collaborations. This means that you can start to manage small Agile teams even on the free plan. 
Task management is an integral part of our daily lives, and this means that you can use ClickUp to manage just about anything that you want to.
ClickUp Pricing
ClickUp offers its software in a few different tiers. There's the Free Forever plan, Unlimited plan, Business plan, Business Plus plan, and Enterprise plan for large organizations.
ClickUp Free Forever Plan
ClickUp's Free Forever plan comes loaded with features and should suffice if you're an individual trying to organize your tasks. Similar to Taskade's Free Plan, ClickUp's Free plan comes with unlimited tasks and members.
It also comes with email notifications and multiple board views to help you visualize your projects and tasks.
ClickUp Unlimited Plan ($5/month)
If you're part of a small team, ClickUp's Unlimited plan has features to help you get more work done. It includes unlimited storage and gives you access to integrations.
You will also be able to create unlimited dashboards and control permissions for guests to your projects.
ClickUp Business Plan ($12/month for each member)
The Business plan is a must for project managers looking to manage complex projects. This plan gives you access to ClickUp using Google Single Sign-On service, saving you some time. You'll also get access to custom reporting and be able to create unlimited teams.
ClickUp Business Plus Plan ($19/month for each member)
The Business Plan is meant for customers who manage multiple teams. It adds more customization when it comes to role creations and permissions, and gives your team the ability to have more automated processes as well.
However, if you wanted to pay one simple price to unlock all of the features that you'll need to manage everything you need to, Taskade offers more attractive features at a competitive price.
Taskade is the best free ClickUp alternative. Try Taskade for free today.
🥊 13 Best ClickUp Alternatives For Project Management
Taskade
Taskade is a flexible productivity and project management tool that was founded by John Xie, Dionis Loire, and Stan Chang in 2017. The Y Combinator-backed startup aims to help remote teams and individuals get work done faster and smarter.
With Taskade, you can organize entire projects and break them down into tasks, change between multiple project views, automate repetitive workflows, collaborate via built-in video chat with your team, and more, via an all-in-one unified workspace.
Get a headstart on your projects and find a suitable structure for your notes via Taskade's versatile collection of templates. Choose from a wide variety of templates and get a headstart on your projects!
Taskade is a supercharged productivity app that both individuals and teams can use to collaborate on projects in real-time.
Taskade is the best free ClickUp alternative because Taskade allows you to collaborate and get work done together virtually via a single app.
With Taskade, you can create tasks and visualize them via multiple project views. You can also add collaborators to your Taskade project to collaborate with people within or even outside of your organization.
Get started instantly for free today.
Key Features of Taskade
Project Views. Visualize your projects in several different ways. Cycle between the List, Mind Map, Org Chart, and Board views to work the way you want.
Sort Tasks. Sort sub-tasks/children elements by completed/uncompleted stats or the due date. Task sorting can be accessed from a convenient pop-up menu.
Search. Search within projects or globally across workspaces and subspaces. Instantly browse and jump between projects anywhere in the Taskade.
Keyboard Shortcuts. Navigate projects, create content blocks, reorder elements, and complete tasks using a set of handy keyboard shortcuts.
Export and Print. You can export your projects as plain text or markdown files. Attach them to emails, presentations, or for print.
Cloud File Upload. Share files directly from Google Drive, Dropbox, Instagram, and Box in your projects with our integrations.
Breakdown Larger Tasks. Organize your thoughts with Taskade's unlimited hierarchy to break down large projects into tasks.
Quick Search. Use CMD / CTRL + K to jump between any projects within Taskade web and apps.
For an exhaustive list of Taskade's features, click here.
Taskade Pros
Free-forever plan is loaded with features
Real-time collaboration within the same project
Multiple board views including a Mind Map view
Free built-in video call and chat function in each project
Customizable templates to give you a headstart
Work and chat in the same window, in the same app
Frequent updates based on user/your feedback and suggestions
Tabbed workflow for working with multiple Projects
Taskade Cons
No gantt chart view (yet)
Taskade Free Plan
Taskade Unlimited Plan – Starts from $5 per month
Asana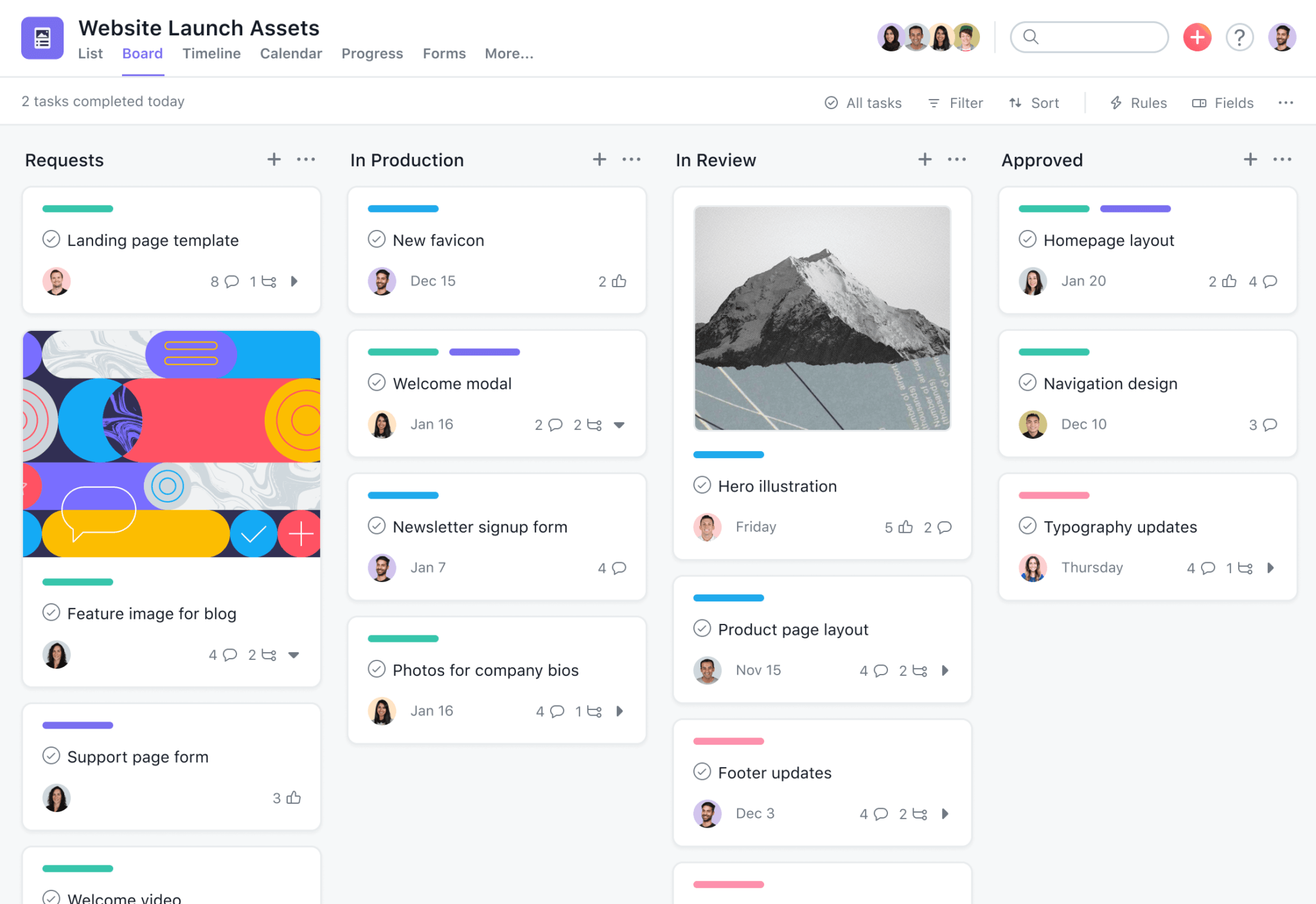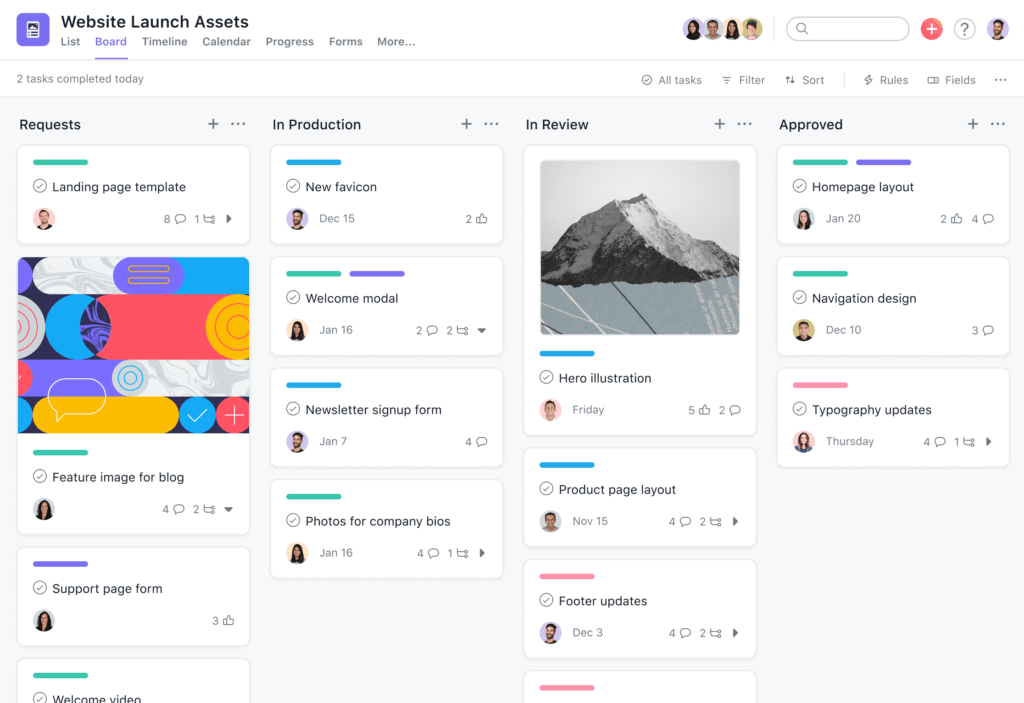 Asana is a collaboration and project management software that helps teams get more work done.
It was first created at Facebook as a tool to help people collaborate on projects more efficiently. Codenamed 'Tasks', the tool was created by Dustin Moskovitz, who was a co-founder at Facebook, and Justin Rosenstein, an ex-engineer at Facebook.
Moskovitz and Rosenstein first created 'Tasks' after realizing that planning and organizing work took more effort than actually doing it. The duo left Facebook to co-found Asana in 2008 when they found out that this was a common problem that affected everyone else and not just Facebook employees.
Mark Zuckerberg was an early investor in Asana, and the company had steadily increased its popularity over time. In 2018, Asana raised $125 million in a Series D and Series E funding round to help the company expand globally.
The goal at Asana is to reduce reliance on traditional emails and sync-ups. Instead, the company wants to provide a common space where users can manage projects and find all the information they need to get work done.
Essentially, Asana wants to reduce the need for emails and meetings so that people can spend more time getting actual work done.
Features of Asana
Being a project management software, Asana is equipped with a multitude of features to help you get more work done.
On Asana, you can create projects and break them down into detailed tasks to help your team visualize the roadmap. Each project workspace comes with a list view to detail the steps needed for the project, conversations to support team communications, a calendar to view the team's tasks, a project progress view for status updates, and also files to share documents within the team.
Within each task, you can assign it to individual members and set deadlines. Add more information into the task description to hopefully prevent the need to have more meetings to align the deliverables.
If the task is dependent on another task being done first, you can set task dependencies on Asana so that your project flows seamlessly. Additionally, Asana has an approval feature for tasks so that you can approve, request changes, or reject tasks.
Communication in Asana is done mostly within its conversations functionality. You can send messages to team conversations to update the whole team working on the same project. Team members can choose to follow conversation threads to stay updated, and also create tasks to move things forward from the chat.
Asana collaborated with Vimeo to launch a video messaging feature. With this feature, you can record video messages and embed them in your workspace to send messages to your team members. Video messages in Asana are also automatically transcribed to help you be more productive.
Asana also integrates with many apps including cloud storage solutions such as Dropbox and Google Drive. This enables you to share information from your preferred storage app.
How Much Does Asana Cost?
Asana comes in 4 different pricing tiers which include Asana Basic, Premium, Business, and Enterprise.
Asana Basic Plan
Asana Premium Plan ($10.99/month per user)
Asana Business Plan ($24.99/month per user)
Asana Enterprise plan (custom pricing)
Not impressed? Click here to find out why Taskade is a better Asana alternative.
Monday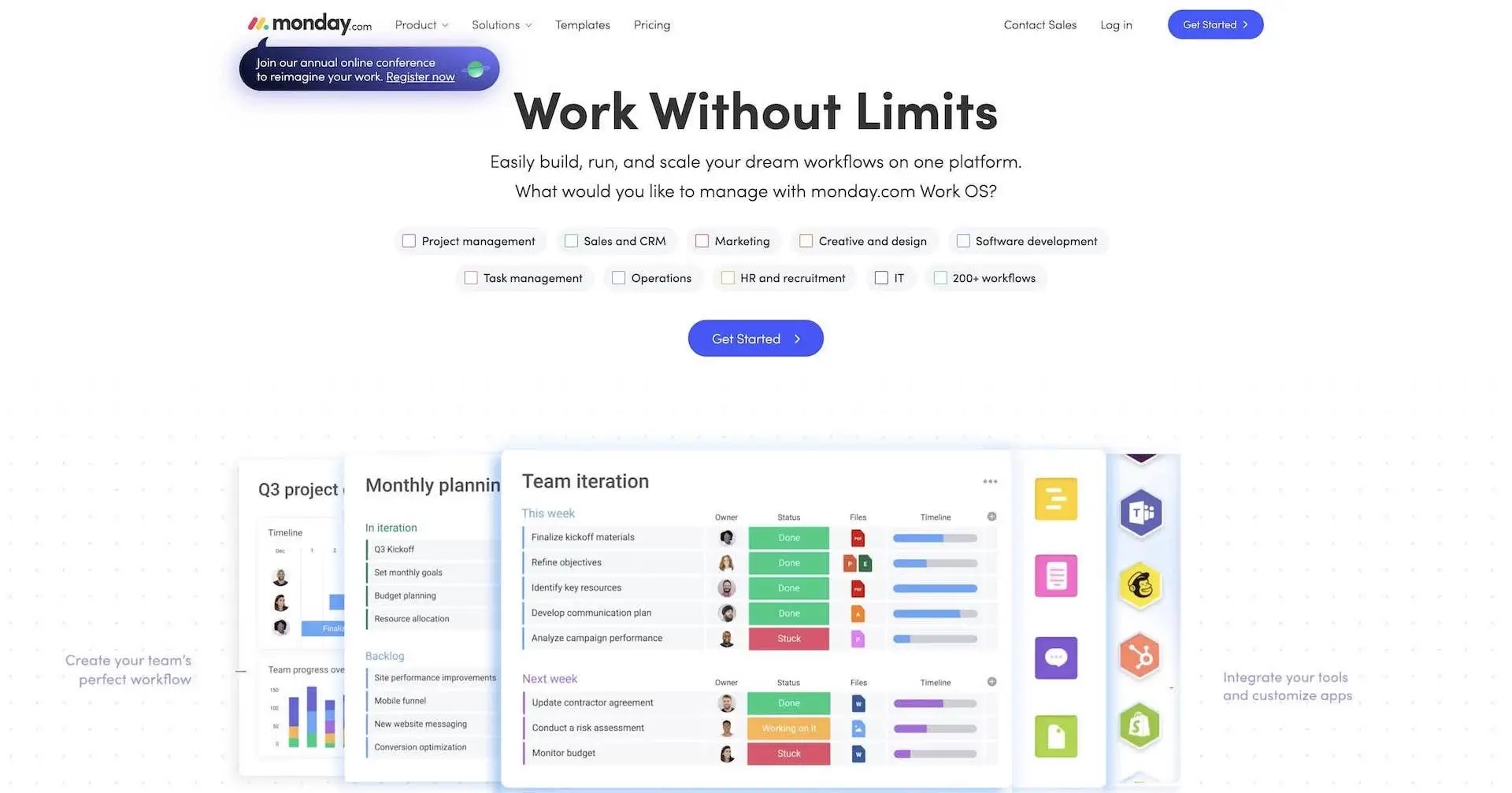 Project management software cross-functional doesn't have to be purely functional (read: ugly). And Monday delivers on the aesthetic aspect. Your team will appreciate a simple and colorful UI, customizable columns, and the ability to handle all kinds of projects. It's a complete PM package for sales, marketing, and Agile IT teams. 
Features of Monday
Central dashboard for team management
Visual-first, customizable workflows with a simple user interface
Customizable columns and 200+ templates
Communication and team collaboration on mobile
Real-time collaboration on files and documents
How Much Does Monday. com Cost? 💰
🟢 Free/Individual

Unlimited boards limited to 2 team members
200+ templates and 20+ column styles

🔵 Basic ($8 per user/month billed annually)

Everything in the Individual plan +
Unlimited viewers and 5 GB for file storage

🟣 Standard ($10 per user/month billed annually)

Everything in the Basic plan +
Timeline, Calendar, and Gantt workflows
250 automations/integrations per month

🟡 Pro ($16 per user/month billed annually)

Everything in the Standard plan +
Private boards and Chart view
Time tracking and more automations/integrations

🟤 Enterprise (custom)

Enterprise automations/integrations
Advanced security features
Reporting and analytics
Find out why Taskade is the best free Monday alternative.
Proofhub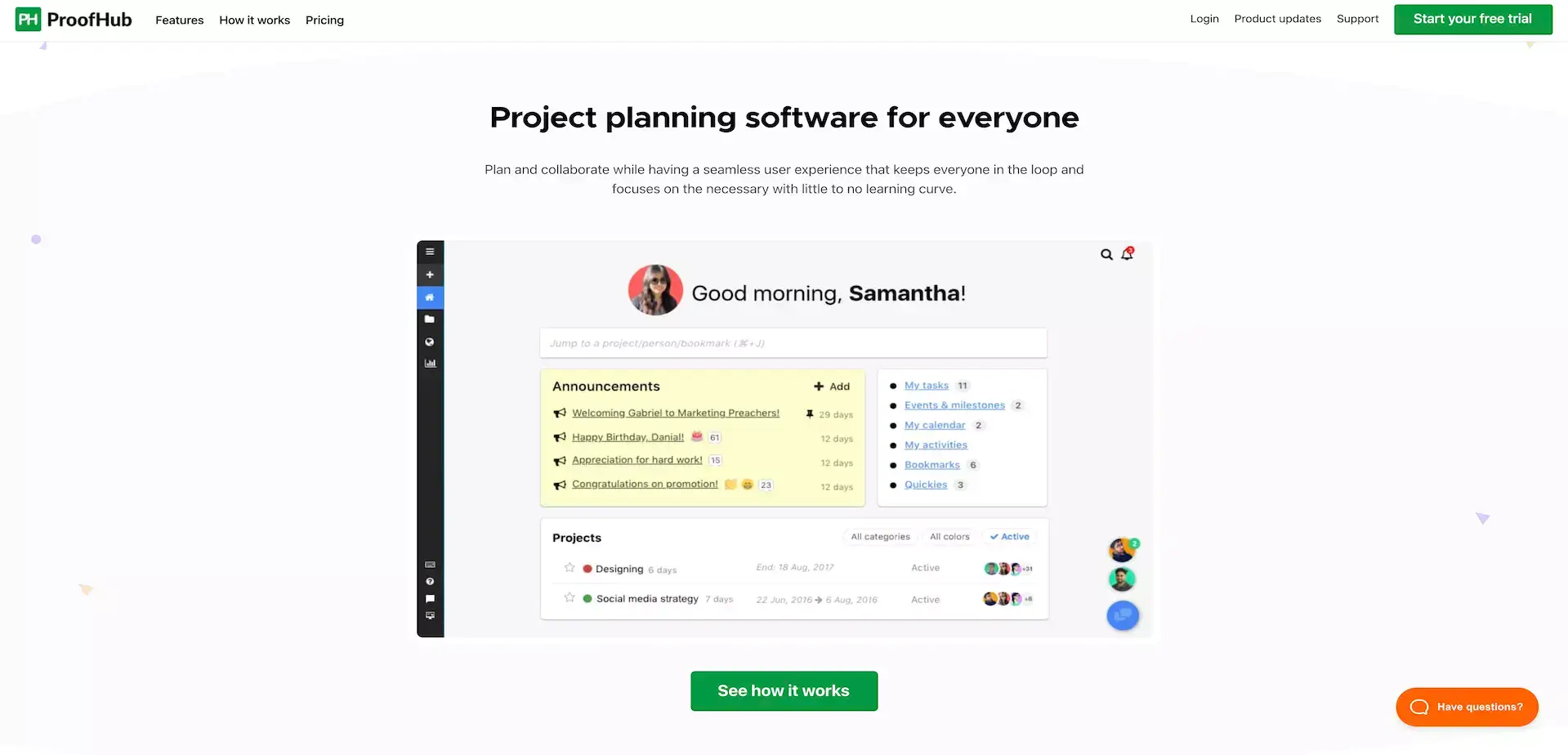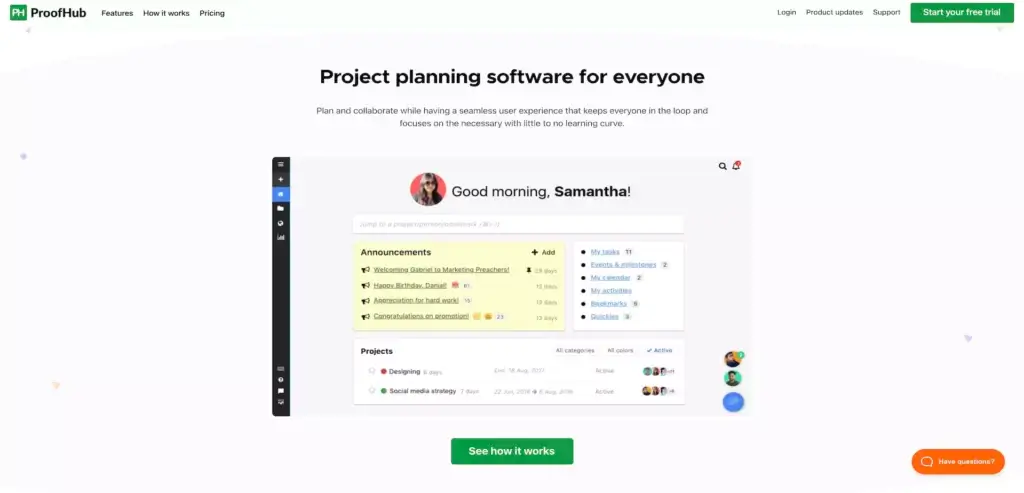 ProofHub is another interesting all-in-one platform that delivers in all key project management areas. That includes a strong communication component with chat, comments, @mention, and announcements on board. ProofHub is also a powerful proofing tool (no surprise there), complete with markup, threaded comments, and file versions.
ProofHub Features
Chat, group discussions, and team announcements
Flexible, customizable workflows (Table, Kanban, Gantt)
Calendar, daily agenda, project progress report
Timesheets, version control, document uploads
Customizable templates, integrations, and more
How Much Does ProofHub Cost?
Essential ($45/month flat fee billed annually)
Ultimate Control ($89/month flat fee billed annually)
Notion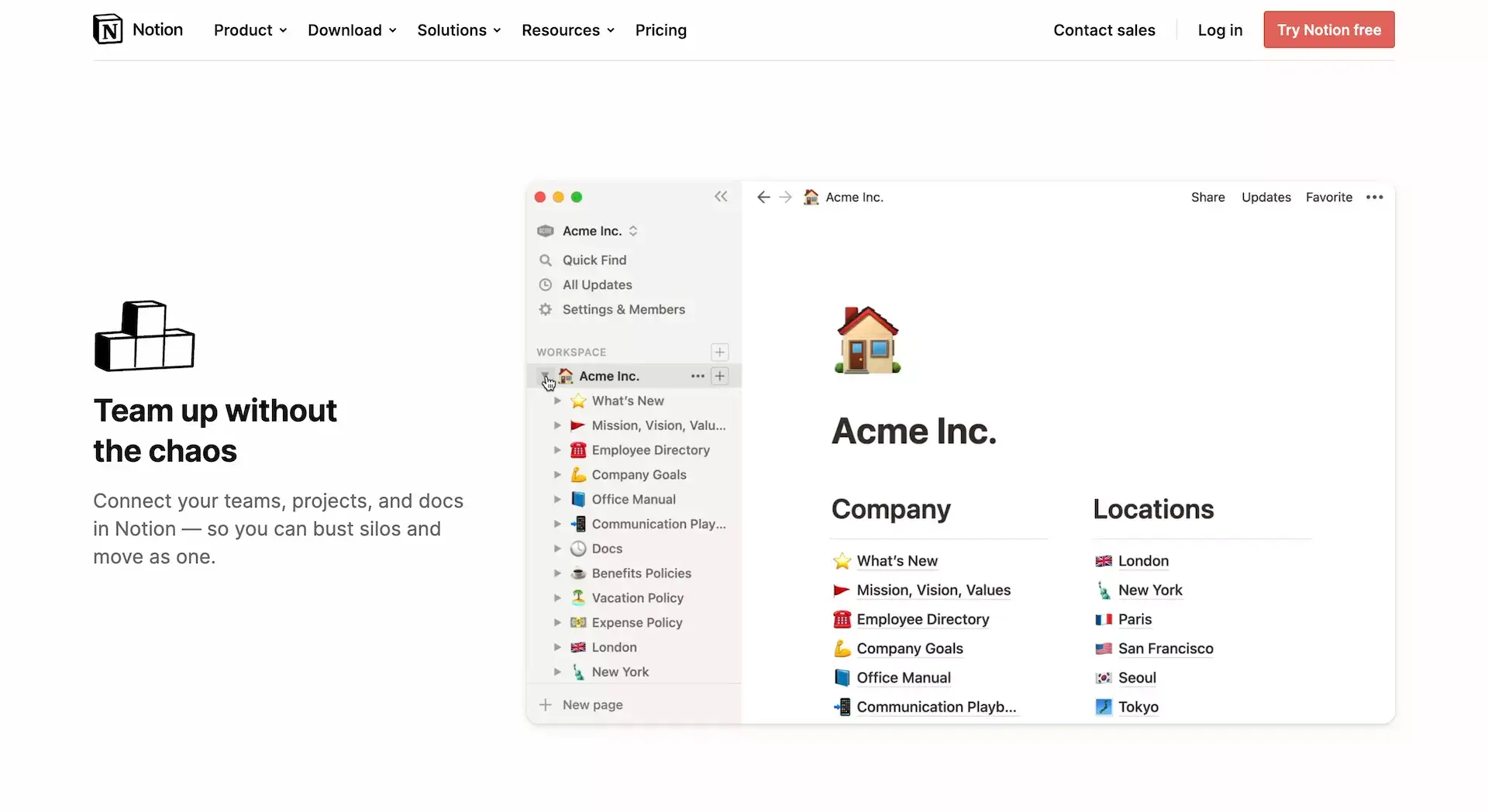 Ivan Zhao founded Notion in 2013. It is an all-in-one app that allows you to take notes and manage projects to improve your productivity. Notion was released to the public in 2015 with the goal of ending the need of having multiple productivity tools by being an all-in-one app.
However, it wasn't all smooth sailing for Notion. The project management solution unfortunately faced failure after its original release in 2015. This came mainly from the fact that its original build was simply not reliable enough, leading to regular crashes.
Faced with this predicament, Zhao and his co-founder Simon Last would relocate to Japan in an attempt to rebuild Notion – a move that turned out to be a blessing for the team. Rebuilding the app proved beneficial to Notion, as the team became more engrossed in making sure that the software didn't fail as it did before.
Having been on the brink of failure, Notion capitalized on its previous shortcomings and made it into one of its strengths. Be sure to check out our piece on the complete history of Notion if you're interested to learn more about this tool.
Features of Notion
Notion as a software attempts to be a jack of all trades. It combines multiple tools such as project management, to-do lists, note-taking, wiki creation, and more into one unified software. This can help you increase productivity as you spend less time toggling between different productivity tools.
The project management solution is heavy on features and also supports integrations with other apps such as Google Drive, Trello, Slack, and more. When using Notion, you create content on pages by filling up blocks with content.
Notion can be a useful tool to help you and your team get work done once you overcome its steep learning curve. Having multiple features also means that Notion is flexible, meaning that you can use it for just about anything.
However, this comes at a cost as customers have voiced out that Notion can be complicated to use at times.
What Are Some Limitations of Notion?
Although Notion has plenty of benefits, there are also some drawbacks to consider.
For starters, Notion is not intuitive to use. There is a steep learning curve when using the app due to the fact that Notion tries to be an all-in-one software. Notion's page layout is rather confusing, so it might take you a while to get used to its interface.
One of the common problems is that you may not be able to take long-form notes in Notion. This is because if you use a lot of slashes (/) in your note-taking, Notion tends to start a function with each slash. Constantly deleting these unwanted functions might have an effect on your train of thought.
Even though Notion has features that can allow for good collaboration, you can only unlock proper collaboration features such as sharing pages and page permissions with a team plan. Notion's free plan limits collaborators to only 5 guests. You'll definitely have to fork out some cash if you want to collaborate with more people.
While Notion does a good job of being an all-in-one app, it lacks a focus on being good at one particular thing. If you're looking for an app to do a little bit of everything, then Notion is probably right for you.
However, if you're looking to do something more focused such as effectively collaborating on a huge project, or even taking detailed long-form notes, then Notion falls short.
How Much Does Notion Cost?
Notion offers its software at four different tiers including the free personal plan, personal pro, team, and enterprise plan.
Notion Free Plan
Notion Personal Pro Plan – $4 per month
Notion Team Plan – $8 per month
Notion Enterprise Plan – Contact Sales
Airtable
Ok, let's dive into the next contender on our list — Airtable. A bit on its background: Airtable was co-founded by Howie Liu, Andrew Ofstad, and Emmett Nicholas with the goal of making old and boring spreadsheets and databases more accessible and visually appealing.
Launched in 2012, Airtable's user interface will feel familiar if you've used any spreadsheet apps, but it packs the power and flexibility of a database. While Airtable organizes tasks and projects into rows and columns, it does so with an intuitive flair that gives Excel a run for its money.
Features of Airtable
So what makes Airtable different from good ol' spreadsheets? Unlike Microsoft's Excel that has only recently broken up with the tradition of text or numbers, Airtable fields can be checkboxes, drop-down lists, attachments, links to records in other tables, and more. The platform also boasts multiple views like Kanban or calendar; you aren't just stuck with the grid view.
All Airtable bases (similar to a workbook) are linkable so you can establish relationships between records, even across multiple different tables. This means, for instance, if you were planning meetings with clients, you could have one table for attendees and another for sessions. Records in the sessions table could then link to attendees, showing who's attending which session.
Finally, with its "Apps" (previously known as "Blocks"), you can extend the Airtable's capabilities by adding features like chart visualizations, SMS notifications, or integrating with external services. Airtable also offers automation for repetitive tasks like sending out emails.
What Are Some Limitations of Airtable?
As is the case with other spreadsheet-base tools, you're up for a love or hate relationship. While Airtable aims to bridge the gap between spreadsheets and databases, this unique blend can sometimes lead to a steep learning curve, especially on first contact with the user itnerface.
It takes time to master the art of creating relational databases, understanding field types, and setting up automations effectively. So if you're looking for simple task and project management features, the vast customization options and over-the-top flexibility may be an overkill.
\
How Much Does Airtable Cost?
Free Plan
Team ($20 per seat/month billed annually)
Business ($45 per seat/month billed annually)
Enterprise (custom pricing)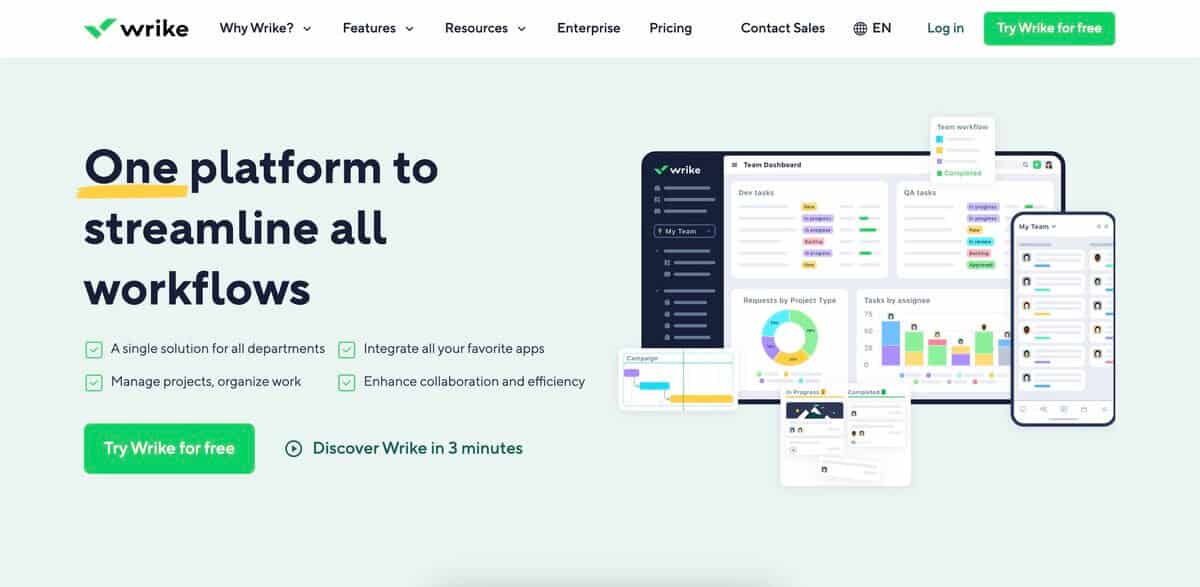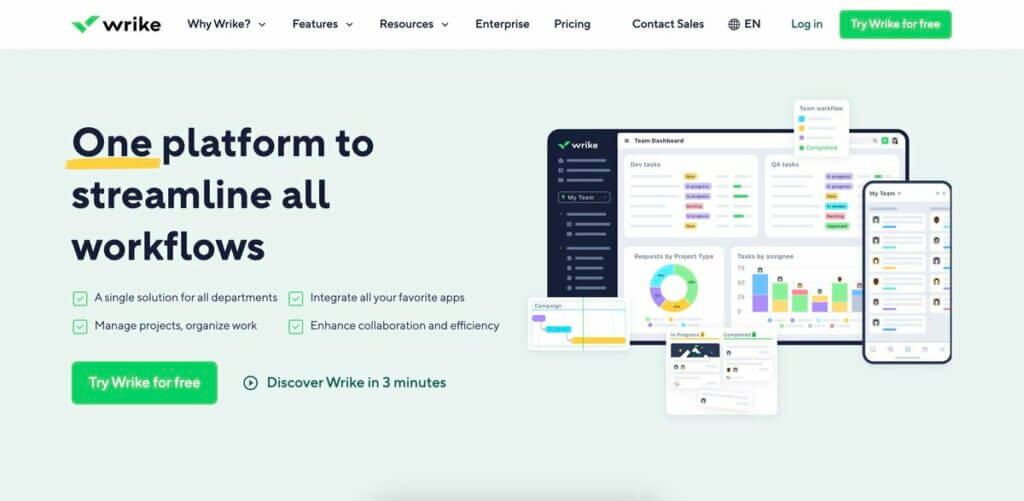 Wrike is a collaborative project management platform designed with teams in mind. Founded by Andrew Filev in 2006, Wrike's addresses the challenges of collaborating across geographies and departments with just one tool for tracking, managing, and completing projects.
As expected, Wrike offers a range of core project management features supporting task management, time tracking, real-time collaboration, and even document sharing. Users can easily break projects into tasks and subtasks, assign roles, set deadlines, and monitor progress.
Features of Wrike
Wrike's offers a wealth of project management features including a dynamic interactive timeline for setting dependencies, adjusting project goals, and visualizing the overall project progression through a Gantt chart. This provides a comprehensive overview of tasks, milestones, and the broader project trajectory, promoting team alignment and facilitating better planning.
There is a collaboration element too, complete with real-time editing, dedicated comment sections for tasks, and the ability to attach relevant files directly to specific tasks or milestones. Workflows are organized into folders and spaces which makes it easy to navigate projects.
Wrike's core functionality can be extended with a number of integrations with third-party apps and tools, from CRM systems to cloud storage options. Users can also create custom dashboards to make the experience more personal or aligned it with company requirements.
What Are Some Limitations of Wrike?
Wrike has a lot going for it, but like any other tool, it has its quirks. For those new to using a project management platform, there's a bit of a learning curve. The platform is packed with features, which is fantastic, but it can feel a tad overwhelming until you get the hang of it.
While there's a free version of Wrike, it may be too basic for larger teams or more advanced users. So, if you're looking to unlock all that Wrike has to offer — analytics, calendar view, and dashboards some of the premium features — you might need to consider one of the paid plans.
How Much Does Wrike Cost?
Free Plan
Team ($9.80 per user)
Business ($24.80 per user)
Enterprise (custom pricing)
Pinnacle (custom pricing)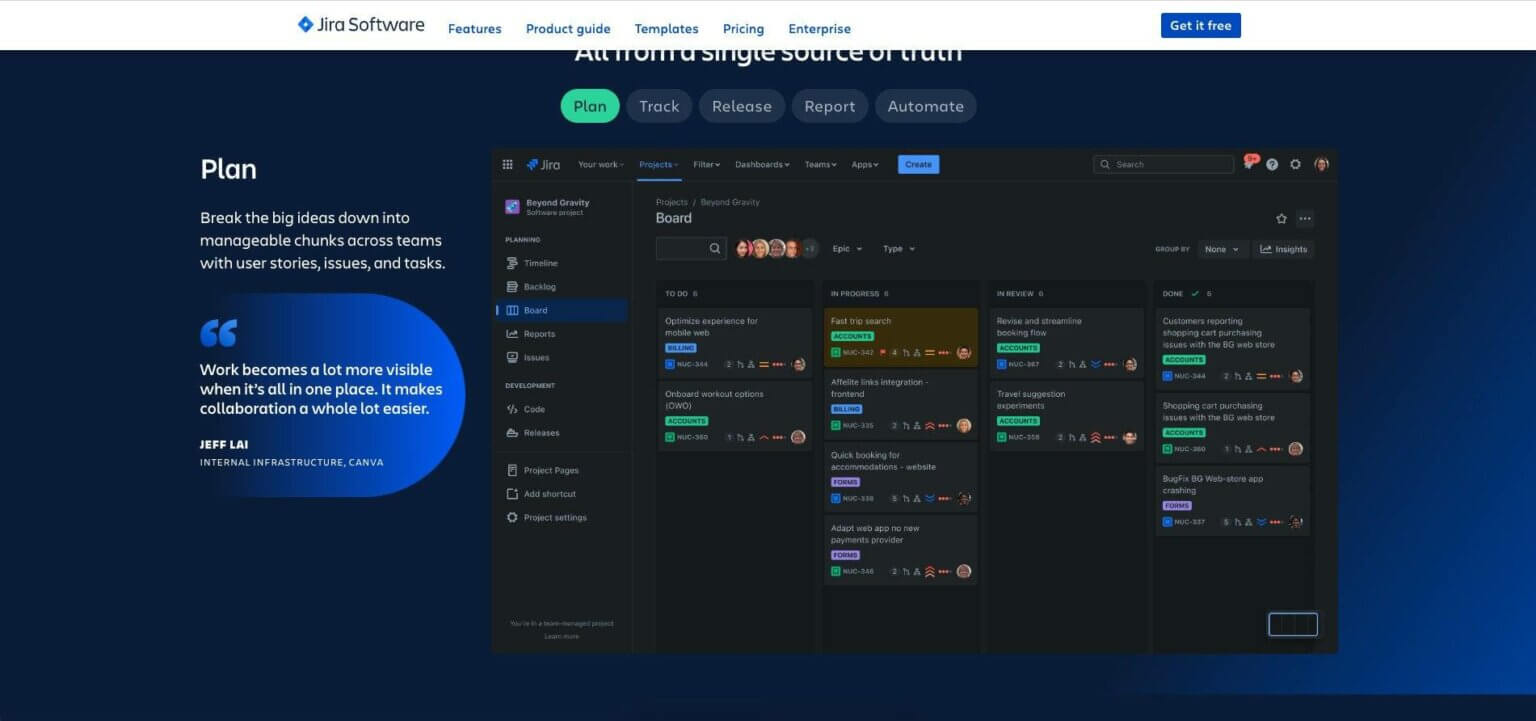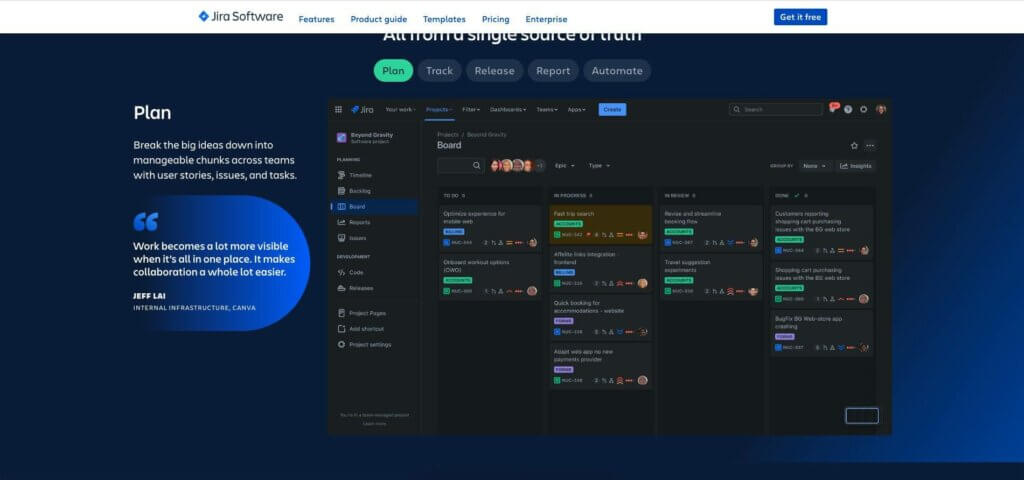 Jira is a software product developed by Atlassian, an Australian company founded by Scott Farquhar and Mike Cannon-Brookes in 2002. Originally designed as a bug and issue tracker, Jira has since evolved into a comprehensive project management tool that caters to various sectors, including software development and IT teams.
The tool provides functionalities for task tracking, sprint planning, and agile project management. With features like custom workflows, boards, and reporting, Jira aims to improve collaboration and streamline task and project tracking. Its interface allows co-located and remote teams to create, assign, and monitor tasks in real-time.
Features of Jira
At its core, Jira is designed to power agile project management. From customizable workflows and project tracking capabilities to reporting and dashboard tools, the platform offers a whole range of features that provide insights into team performance and project progress.
Teams can create user stories, bugs, or tasks and categorize them with custom fields, labels, and priorities. You can generate various reports, such as burndown charts, velocity charts, and sprint reports, to monitor agile performance. It's a competent all-in-one package for all Agile efforts.
Of course, Atlassian's software comes with robust collaboration features including comments, tagging, and integrations with communication tools like Atlassian's own Slack. There are also advanced team permissions that ensure a proper control of collaborators, guests, and clients.
What Are Some Limitations of Jira?
Jira is not your typical project management app. It's a complex, advanced solution with vast customization features, configuration options, and integrations that make the learning curve much steeper, which means setting things up will not be a straightforward as with other tools.
Jira is primarily designed for co-located and remote teams involved in software development and IT projects. While it's tailored for larger organizations with specific, advanced project needs, it might be an overwhelming choice for smaller teams or those looking for plug-and-play solutions.
How Much Does Jira Cost?
Free Plan
Standard ($7.75 per user)
Premium ($15.25 per user)
Enterprise (custom pricing)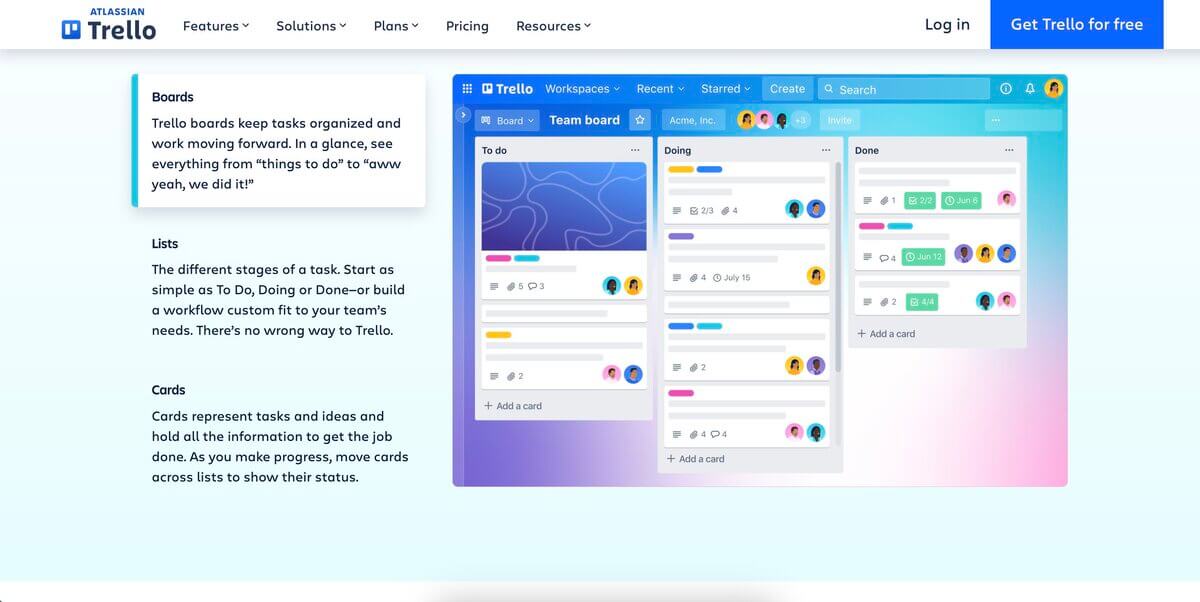 Trello was developed by Joel Spolsky and Michael Pryor, co-founders of the software company Fog Creek Software. Officially launched in September 2011, the app started as an internal project of the company but soon evolved into a standalone product, A pivotal moment in its journey came in January 2017 when the company and its IP was acquired by Atlassian.
At its core, Trello is a visual project management tool based on the Kanban methodology. Trello boards represent projects, while individual cards on these boards denote tasks. Users can move these cards between customizable columns to depict the flow and status of tasks. Each card can hold a wealth of detailed information, including checklists, attachments, and due dates.
Features of Trello
Since Trello is structured around boards, lists, and cards, the visual-heavy workflow is the first thing that catches the eye. A board represents the overall project or a specific workflow, while lists function as columns, which can represent stages, categories, or priorities. This Kanban-style visualization provides an overview of project status and progress at a glance.
Similar to other tools on our list, Trello enables multiple team members to work together on projects. Comments and mentions within cards allow for in-context discussions, reducing the need for long email chains with clients. Video-calling is possible via integrations or "Power-Ups."
And speaking of Power-Ups — this is what Trello calls its ecosystem extensions — the integrations enhance Trello's functionality and tailor it to specific use cases. There are Power-Ups for popular tools like Slack, GitHub or cloud storage extensions for Google Drive and others.
What Are Some Limitations of Trello?
Even with the Power-Ups on board, Trello may prove problematic to scale for more complex projects. Managing extensive boards with a multitude of cards visually is excellent when there are fewer tasks and the team size is small. But as the number of tasks increases and the team grows, tracking progress and maintaining workflow consistency can become cumbersome.
How Much Does Trello Cost?
Free
Standard ($5 per month)
Premium ($10 per month)
Enterprise ($17.50/month per user)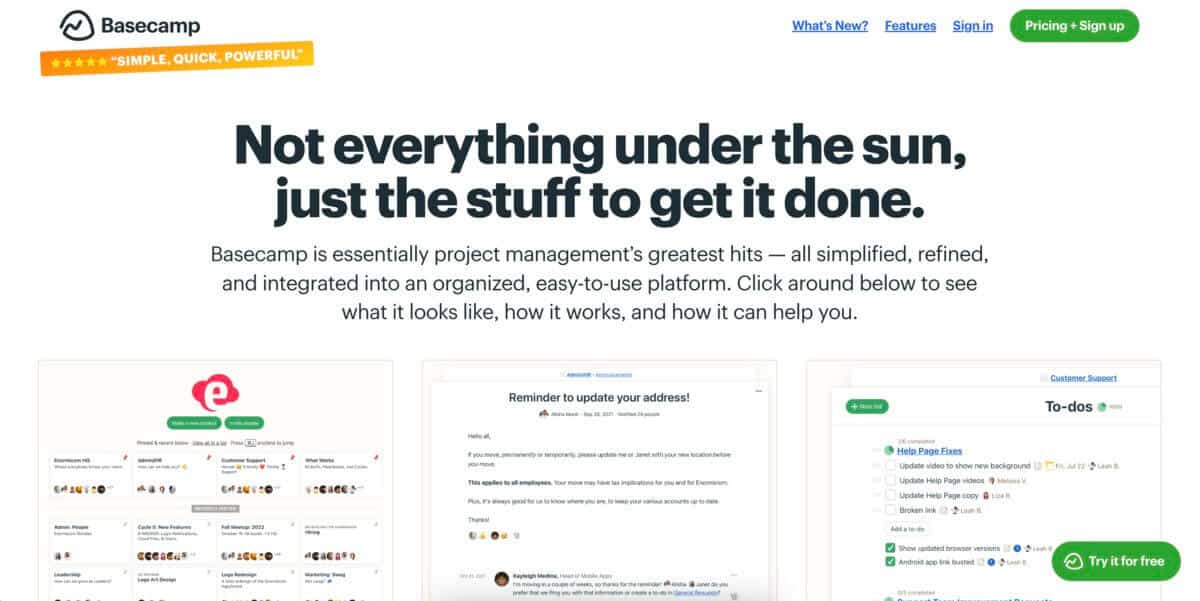 Basecamp is one of the oldest project management tools on our list. Formerly known as 37signals, the company was founded in 1999 by Jason Fried, Carlos Segura, and Ernest Kim. As web design firm, 37signals soon identified a gap in the market for web-based collaboration tools.
Today, Basecamp is still the same centralized platform where teams can manage projects, communicate, share files, and set milestones. But the app has gone through a number of updates and visual overhauls that have pushed it into the modern era of project management.
Features of Basecamp
Basecamp's primary structure revolves around "Projects." Each project allows users to create and manage multiple to-do lists. The lists can be assigned to specific team members, have due dates, and can be categorized for better organization. Each to-do item can include comments, which also happen to be of the two methods of communication, the other being a chat.
Document and file management are integral to Basecamp's feature set. Users can upload, store, and share files directly within projects, ensuring all relevant materials are easily accessible. There's also a "Docs & Files" section where documents can be collaboratively edited, and a "Schedule" feature that provides teams with a calendar to set milestones, deadlines, and events.
What Are Some Limitations of Basecamp?
While Basecamp is a solid all-rounder among project management tools, it lacks in the task-management department. Unlike other tools that offer more advanced features like sub-tasks, time tracking, or dependencies, Basecamp takes a more straightforward approach.
Basecamp has a preset interface and feature set. While this makes it easy for beginners to get started, it may frustrate teams that want to customize user roles or interface elements to better fit their specific needs. The mobile app is also limited compared to its desktop counterpart.
How Much Does Basecamp Cost?
Basecamp ($15/user per month)
Basecamp Pro ($299/month or $349 annually with unlimited users)
Hive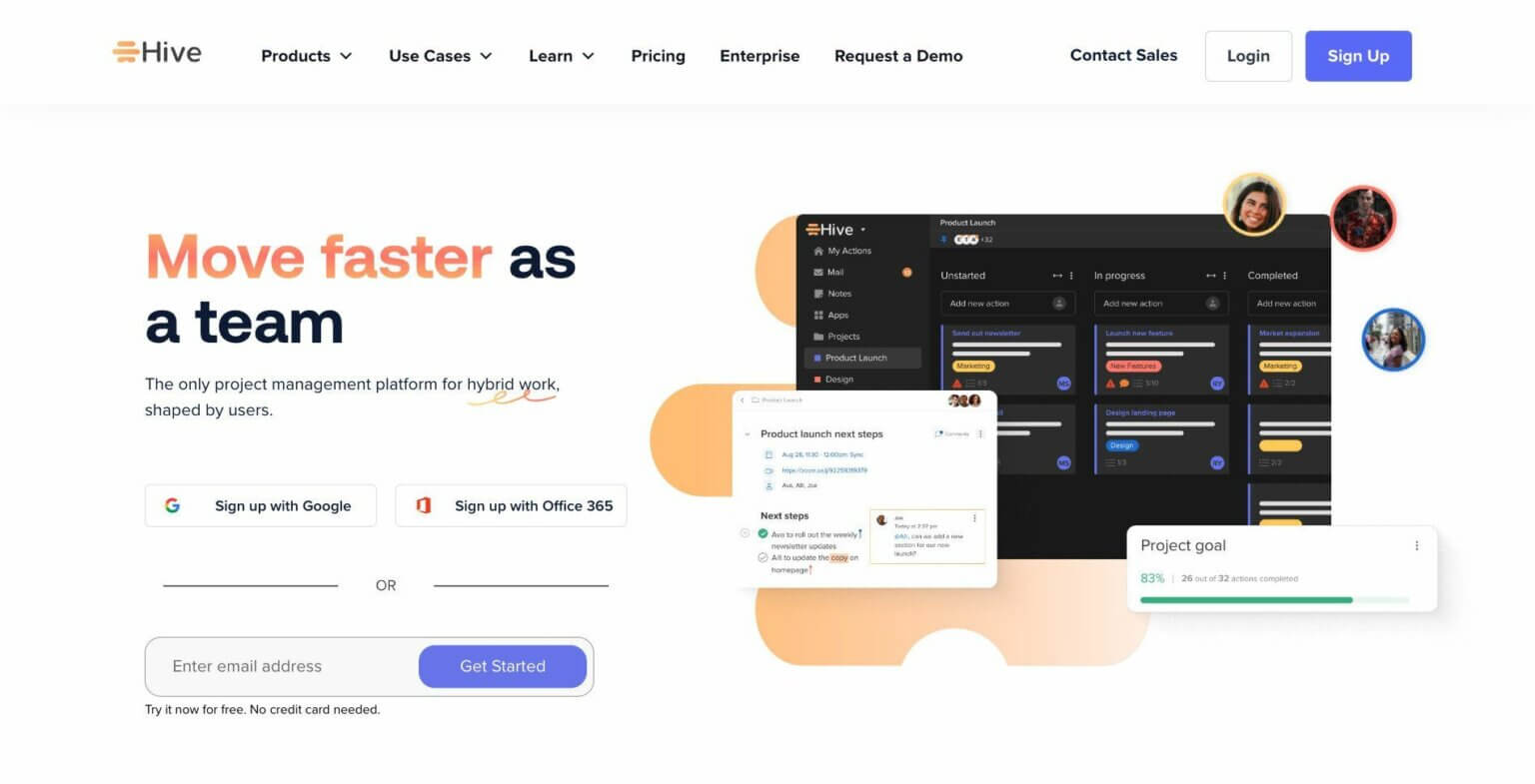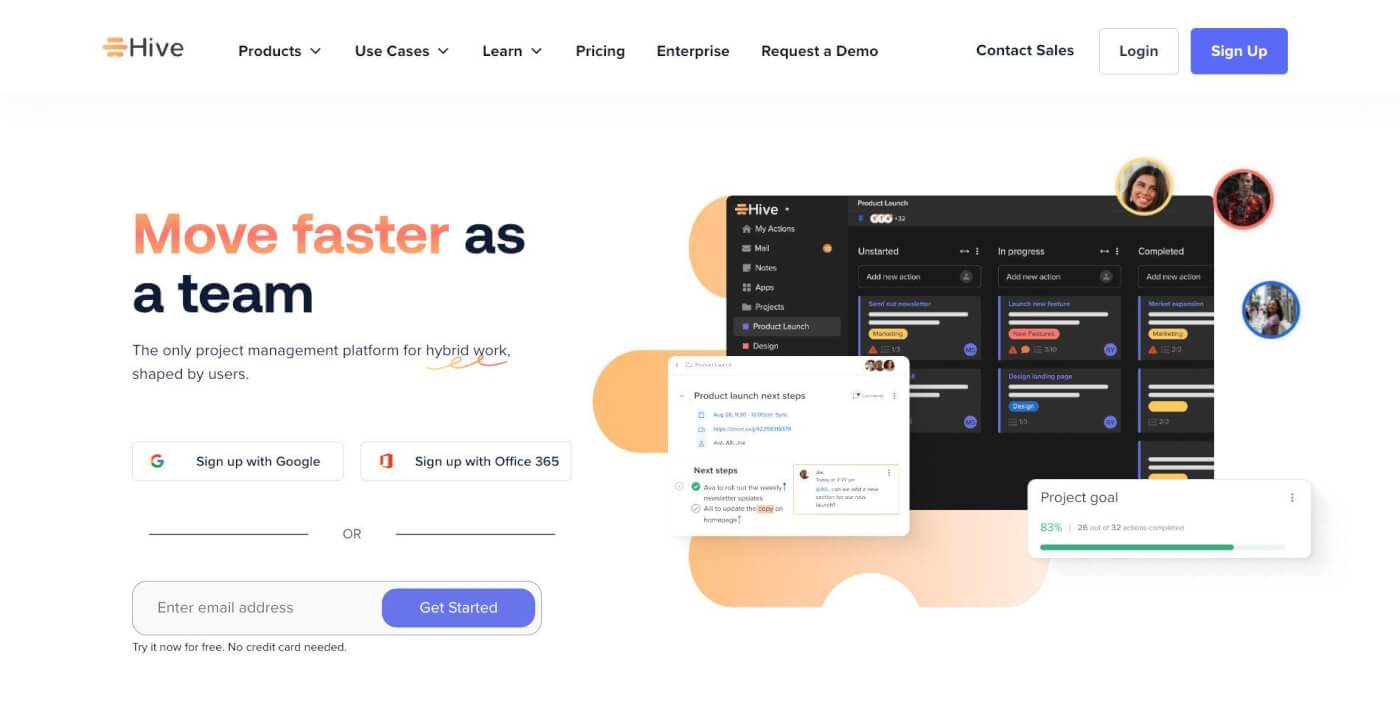 Hive was founded in 2015 by John Furneaux and Eric Typaldos. They aimed to offer a centralized platform for task management, projects, and team communications. The platform emerged in response to the market's demand for integrated workspace tools.
Adaptable to a range of industries and project sizes, Hive integrates with various tools to streamline workflow. It targets teams that prioritize efficient coordination, offering them a suite of features tailored to enhance collaboration and productivity.
Features of Hive
Hive is a classic example of a project management and team collaboration platform. It comes with flexible project layouts, time management features, customization options, reporting & analytics, and a handful of integrations that open the app to third-party tools.
From Kanban boards and Gantt charts to a calendar view and traditional tables, Hive offers a variety of ways to visualize and organize their projects. Each layout is designed to cater to different team needs and workflow preferences and switching between them is seamless.
There's also an AI component — aptly named HiveMind — that serves smart workflow suggestions, generates content, and creates lists of ideas, all seamlessly integrated with Hive's user interface. HiveMind is included with both free and paid Hive accounts.
What Are Some Limitations of Hive?
While the ability to customize Hive is a nice touch for power users, the sheer number of options can sometimes feel overwhelming. Team onboarding may take longer and it may be more difficult to integrate Hive with existing workflows compared to other tools on this list.
Hive's pricing structure is clear and straightforward — there are just three tiers, including a free plan— but many advanced functionalities such as timesheets, analytics, automations of repetitive tasks, and advanced security options come as paid add-ons.
How Much Does Hive Cost?
Solo (free, limited to two users)
Teams ($12/month per user)
Enterprise (custom pricing)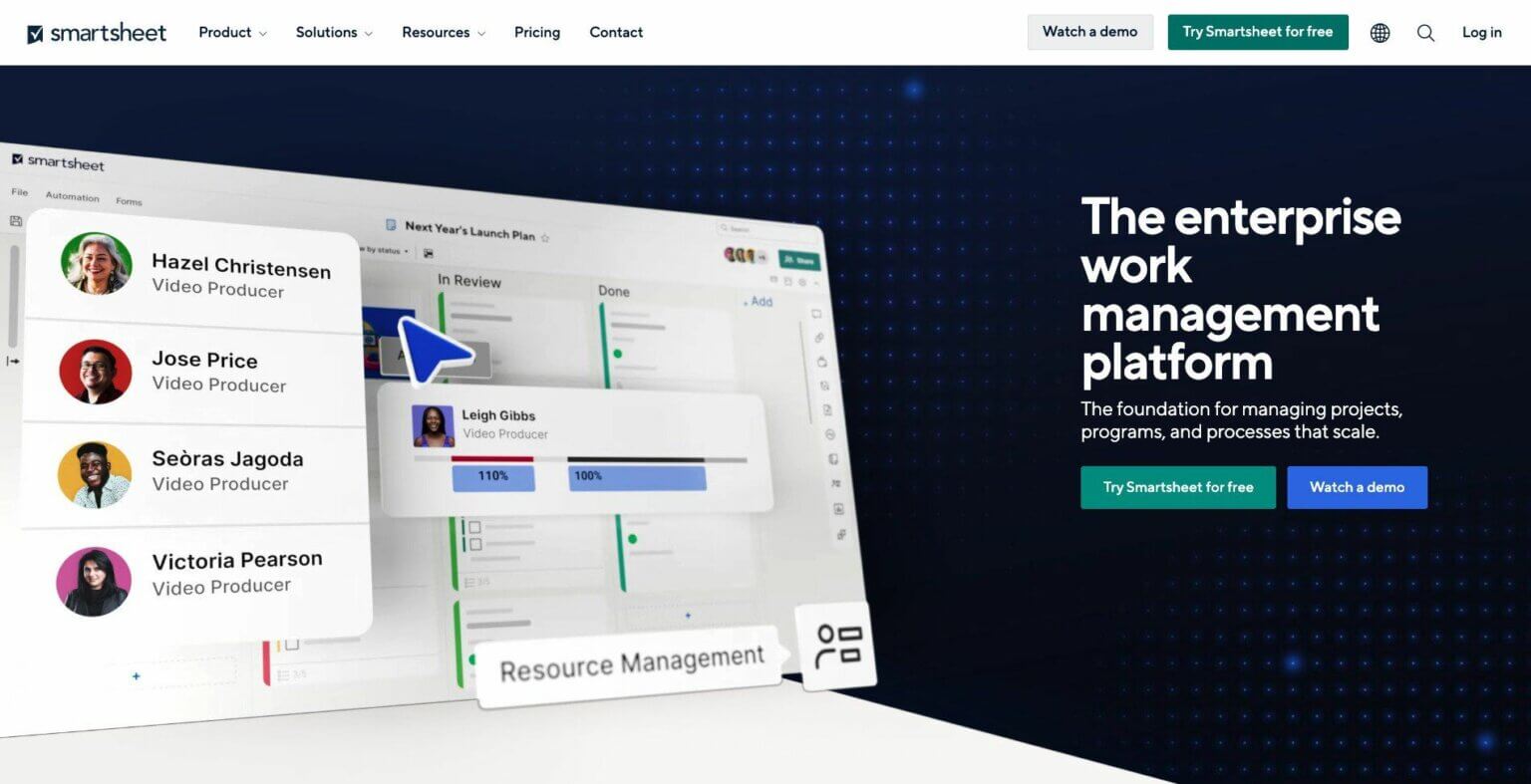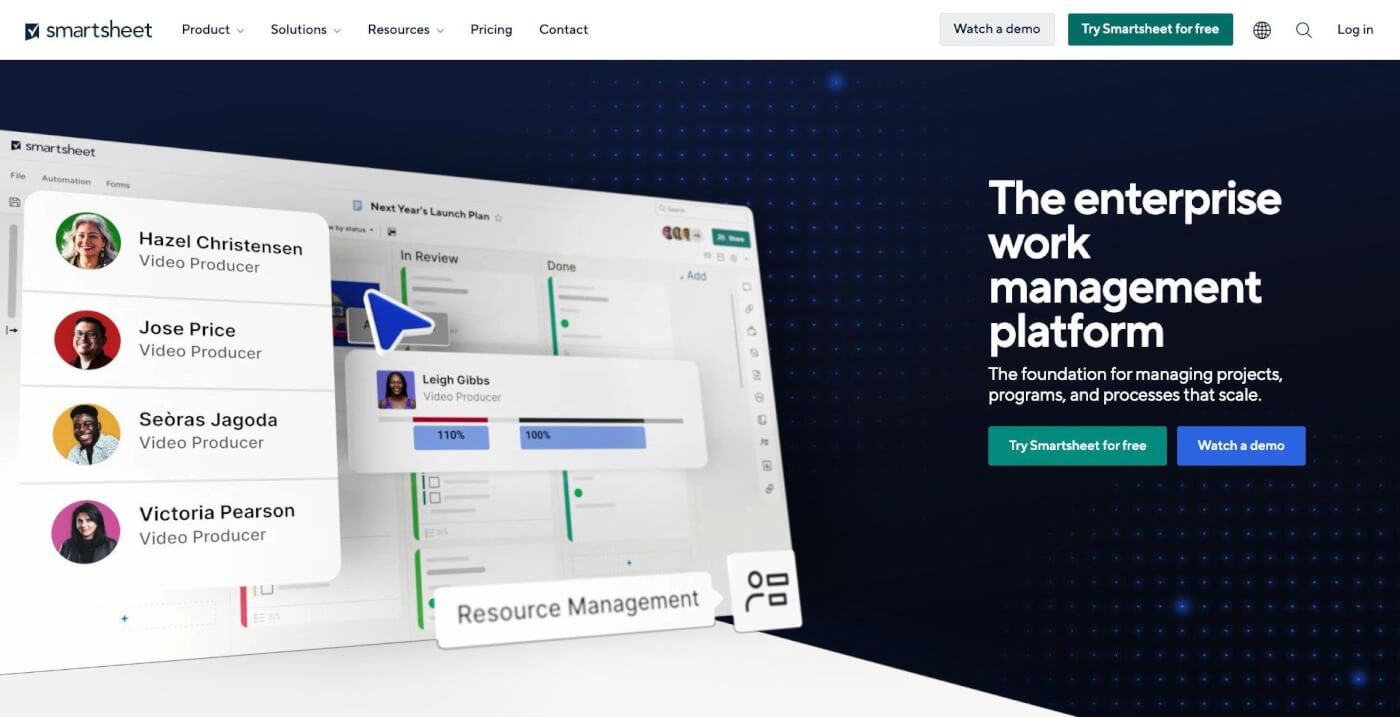 Smartsheet is another modern take on regular spreadsheets, but with some project management tools thrown in. It's a cloud-based platform where both solo users and teams can keep tabs on projects, collaborate, and get things in order. You can flip between views, whether that's grids, cards, or even Gantt charts, depending on how you like to see your tasks.
Features of Smartsheet
At its core, Smartsheet mimics the classic spreadsheet format, making it intuitive for users familiar with traditional spreadsheet tools. But uinlike standard spreadsheets, each row in Smartsheet can have its own set of comments, attachments, and sub-tasks.
Team members can attach files and even set up notifications for changes or due dates. There's a built-in chat and you can @mention coworkers to grab their attention. There is also workflow automation for setting up conditional rules, approval processes, and reminders.
For those who are more visually inclined, Smartsheet offers several dynamic views. For example, the Card view turns tasks into drag-and-drop cards, great for agile methodologies or prioritizing on the fly. The Gantt Chart View, on the other hand, lets you map out timelines and milestones.
What Are Some Limitations of Smartsheet?
Smartsheet, with its spreadsheet vibes, can take a minute to get used to. If you're new to the project management scene, onboarding might take a while. As for the cost, bigger teams might feel the pinch since the cheapest paid Pro plan is limited to 10 users.
On the tech side, while Smartsheet plays nice with a bunch of third-party apps, it doesn't always dive deep with those integrations. Reporting? It's got the basics down, but if you're looking for some highly customized reports, it might leave you wanting more.
How Much Does Smartsheet Cost?
Free Plan
Pro ($7 per user/month, billed yearly)
Business ($25 per user/month, billed yearly)
Enterprise (custom pricing)
Zoho Projects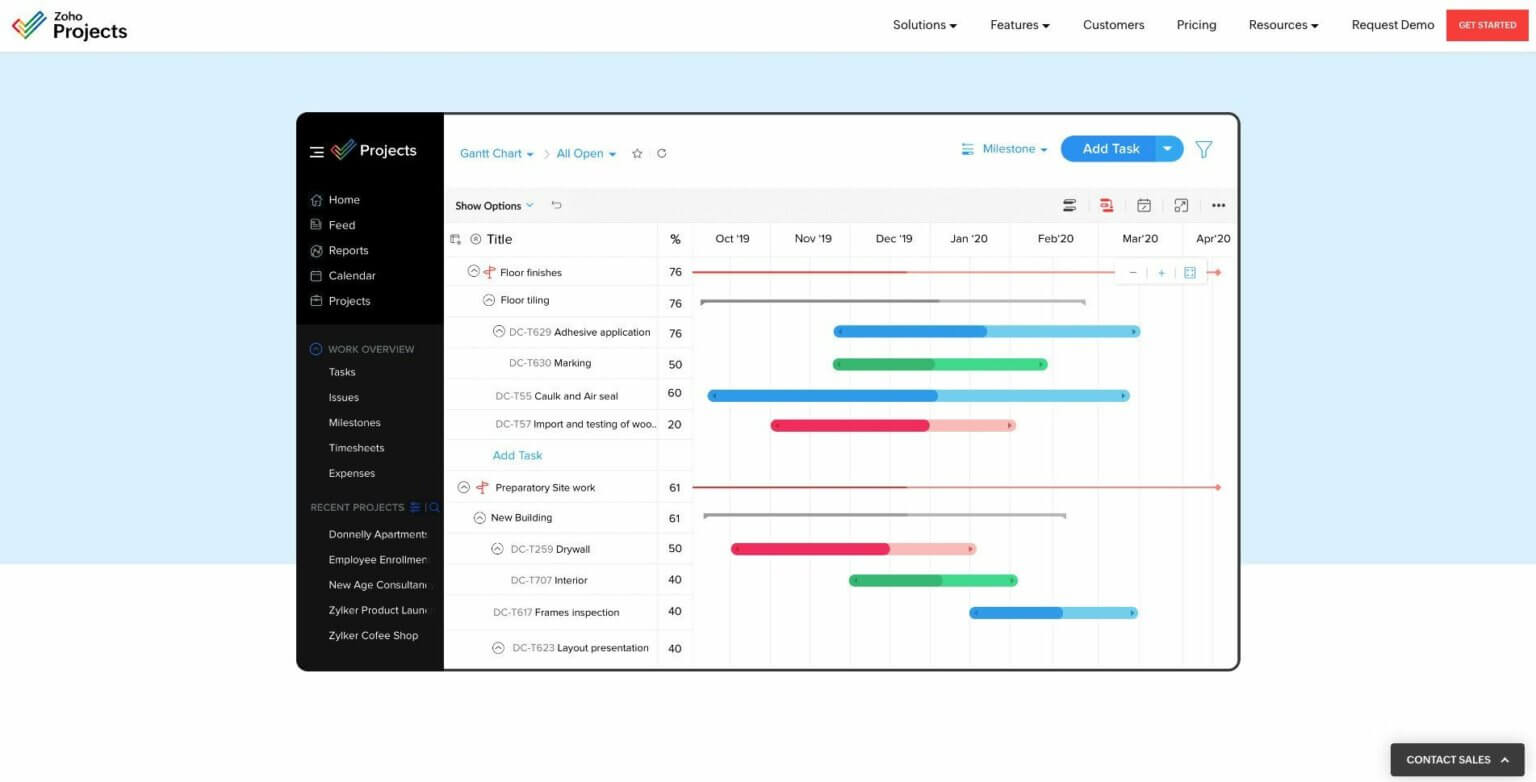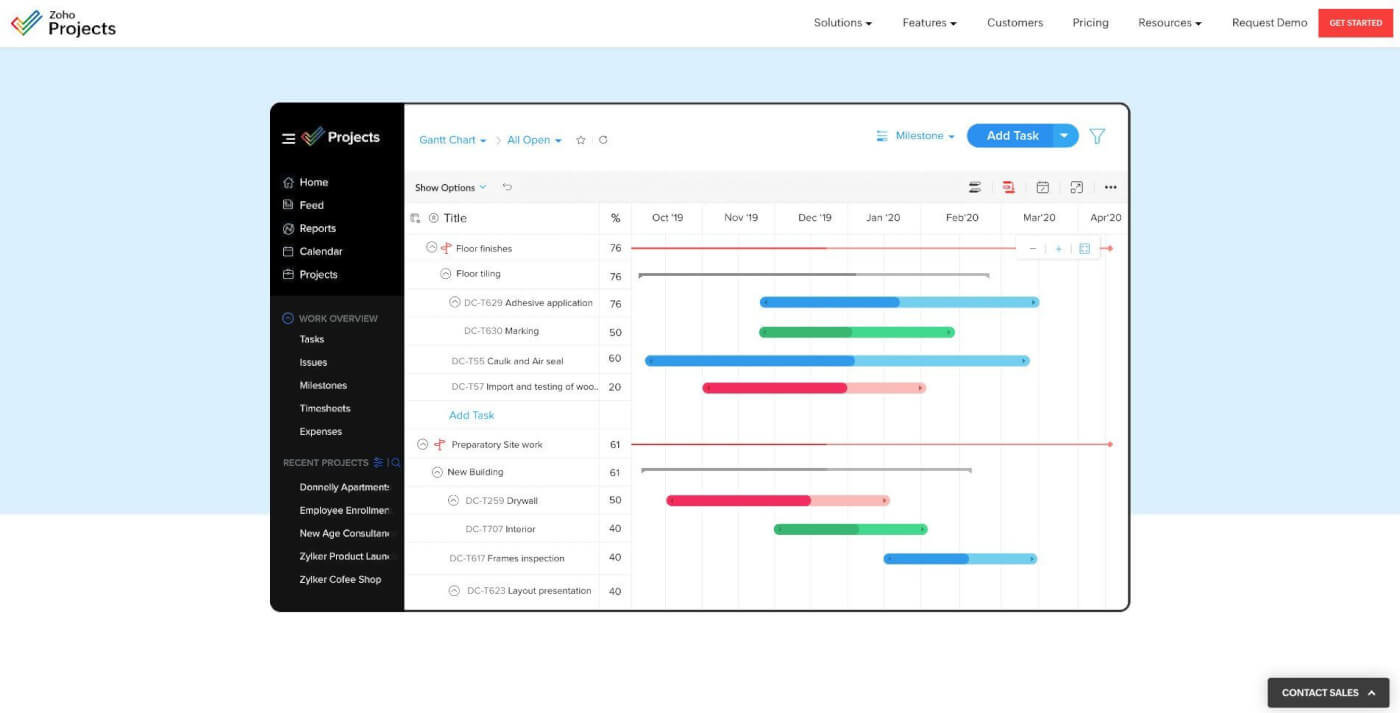 Born from the Zoho family of products, Zoho Projects is a cloud-based tool designed to help teams manage individual tasks, organzie work, and keep projects on track. The platform offers a compelling blend of features, from classic to-do lists to more advanced tools like bug tracking.
Features of Zoho Projects

At a glance, Zoho Projects is yet another platform for organizing individual tasks and managing projects. Users can create tasks, assign them to team members, set project goals, and establish deadlines. On the organization front, projects can be divided into smaller tasks and sub-tasks.
The platform integrates communication and collaboration tools for discussions, file sharing, and commenting directly related to specific tasks or projects. There's also a built-in forum feature for broader team discussions, and a document management system to centralize important files.
Like many other tools on this list, Zoho Projects includes a time tracking feature where users can log hours spent on particular tasks. The software also offers a set of reporting tools, providing insights into project status, team productivity, and other key metrics.
What Are Some Limitations of Zoho Projects?
Zoho Projects brings a lot to the table, but it's not without a few limitations. Searching for tasks can be less intuitive than expected and video conferencing isn't part of the package; for that, you'll need to lean on an integration with Zoho Meeting. The free plan is also quite restrictive, with just three users and up to two active projects allowed.
How Much Does Zoho Projects Cost?
Free (up to 3 users)
Premium ($4/user/ per month billed annually)
Enterprise ($9/user/ per month billed annually)