ClickUp is one of the most popular productivity tools in the market. However, today we will be diving into some of the best ClickUp alternatives in 2022.
What is ClickUp?
ClickUp is a project management software that was founded by Alex Yurkowski and Zeb Evans in 2017. The project management platform is usually used by individuals and teams to organize projects and tasks.
ClickUp quickly gained popularity when it was released to the market and today, it is a company that is valued at around $4 billion. In 2021, ClickUp raised $400 million in a Series C funding round. It is also reported that ClickUp has around 4 million users using its platform. So what makes this company so popular amongst other similar task management tools in the market?
Part of ClickUp's popularity comes from it wanting to be the only productivity tool that users will ever need. Although there are limitations to ClickUp which will be covered in the coming sections below, ClickUp does offer a customizable approach to task management and project management.
On ClickUp, your Workspace represents your business and is further divided into Spaces that break down your business into its functions such as 'Finance' or 'Marketing'. Within these spaces, Folders containing Tasks and Lists are housed within them.
After creating projects, you can assign tasks to your team members with specific due dates to ensure that your project flows as smoothly as possible. Check out some of ClickUp's key features below.
Features of ClickUp
ClickUp has features that can help you better manage your projects. Similar to Taskade, ClickUp offers multiple views for you to choose from including a List view, Board view, Calendar view, Gantt view, and more.
Multiple Views
Managing multiple tasks on ClickUp can get clunky pretty quickly especially when you're doing it via the List and Board views. To keep track of multiple to-do lists and projects at the same time, the Calendar view will be a better bet for you.
Task Management
After creating a task on ClickUp, you will be able to add notes, drag and drop files related to the task, and break down the task further into actionable subtasks. Tasks can be assigned to multiple people, and you can also assign people to be 'Watchers' on certain tasks. This means that they will receive notifications when there are updates for those tasks.
Task Status
Once you get started on a task, you can set the status of the task to keep everyone on your team aligned on the progress of each task and subtask. For example, you can set the status of a task to 'Doing' whilst having a few subtasks 'Closed' to state that you're midway through said task.
Simple Communication
Communication is essential to the success of team projects. ClickUp offers a comments section on each task to allow you to leave comments and chat with your teammates. You will get an email notification when you're assigned a task or when there's a comment on your project, ensuring that you stay updated every step of the way.
Turning Comments Into Tasks
Comments can also be turned into an actionable task and assigned to your team members. This allows you to quickly assign suggested changes or additional tasks for your project. You will be notified on resolved tasks, which makes it easier to track your teams progress.
What is ClickUp good for?
As a project management software, there are a few use cases for ClickUp. It's customizable features mean that you can use it for both individual tasks and also on complex team projects.
It's almost a no-brainer that project managers will benefit from using ClickUp to keep track of projects and tasks. ClickUp's free version gives you access to unlimited tasks and collaborations. This means that you can start to manage small teams even on the free plan.
Task management is an integral part of our daily lives, and this means that you can use ClickUp to manage just about anything that you want to.
ClickUp Pricing
ClickUp offers its software in a few different tiers. There's the Free Forever plan, Unlimited plan, Business plan, Business Plus plan, and Enterprise plan for large organizations.
ClickUp Free Forever Plan
ClickUp's Free Forever plan comes loaded with features and should suffice if you're an individual trying to organize your tasks. Similar to Taskade's Free Plan, ClickUp's Free plan comes with unlimited tasks and members.
It also comes with email notifications and multiple board views to help you visualize your projects and tasks.
ClickUp Unlimited Plan ($5/month)
If you're part of a small team, ClickUp's Unlimited plan has features to help you get more work done. It includes unlimited storage and gives you access to integrations.
You will also be able to create unlimited dashboards and control permissions for guests to your projects.
ClickUp Business Plan ($12/month for each member)
The Business plan is a must for project managers looking to manage complex projects. This plan gives you access to ClickUp using Google Single Sign-On service, saving you some time. You'll also get access to custom reporting and be able to create unlimited teams.
ClickUp Business Plus Plan ($19/month for each member)
The Business Plan is meant for customers who manage multiple teams. It adds more customization when it comes to role creations and permissions, and gives your team the ability to have more automated processes as well.
However, if you wanted to pay one simple price to unlock all of the features that you'll need to manage everything you need to, Taskade offers more attractive features at a competitive price.
Taskade is the best free ClickUp alternative. Try Taskade for free today.
8 Best ClickUp Alternatives For Project Management
#1 Taskade
Taskade is a flexible productivity and project management tool that was founded by John Xie, Dionis Loire, and Stan Chang in 2017. The Y Combinator-backed startup aims to help remote teams and individuals get work done faster and smarter.
With Taskade, you can organize entire projects and break them down into tasks, change between multiple project views, automate repetitive workflows, collaborate via built-in video chat with your team, and more, via an all-in-one unified workspace.
Get a headstart on your projects and find a suitable structure for your notes via Taskade's versatile collection of templates. Choose from a wide variety of templates and get a headstart on your projects!
Taskade is a supercharged productivity app that both individuals and teams can use to collaborate on projects in real-time.
Taskade is the best free ClickUp alternative because Taskade allows you to collaborate and get work done together virtually via a single app.
With Taskade, you can create tasks and visualize them via multiple project views. You can also add collaborators to your Taskade project to collaborate with people within or even outside of your organization.
Get started instantly for free today.
Key Features of Taskade
Project Views. Visualize your projects in several different ways. Cycle between the List, Mind Map, Org Chart, and Board views to work the way you want.
Sort Tasks. Sort sub-tasks/children elements by completed/uncompleted stats or the due date. Task sorting can be accessed from a convenient pop-up menu.
Search. Search within projects or globally across workspaces and subspaces. Instantly browse and jump between projects anywhere in the Taskade.
Keyboard Shortcuts. Navigate projects, create content blocks, reorder elements, and complete tasks using a set of handy keyboard shortcuts.
Export and Print. You can export your projects as plain text or markdown files. Attach them to emails, presentations, or for print.
Cloud File Upload. Share files directly from Google Drive, Dropbox, Instagram, and Box in your projects with our integrations.
Breakdown Larger Tasks. Organize your thoughts with Taskade's unlimited hierarchy to break down large projects into tasks.
Quick Search. Use CMD / CTRL + K to jump between any projects within Taskade web and apps.
For an exhaustive list of Taskade's features, click here.
Taskade Pros
Free-forever plan is loaded with features
Real-time collaboration within the same project
Multiple board views including a Mind Map view
Free built-in video call and chat function in each project
Customizable templates to give you a headstart
Work and chat in the same window, in the same app
Frequent updates based on user/your feedback and suggestions
Tabbed workflow for working with multiple Projects
Taskade Cons
No gantt chart view (yet)
Taskade Free Plan
Taskade Unlimited Plan – Starts from $5 per month
#2 Asana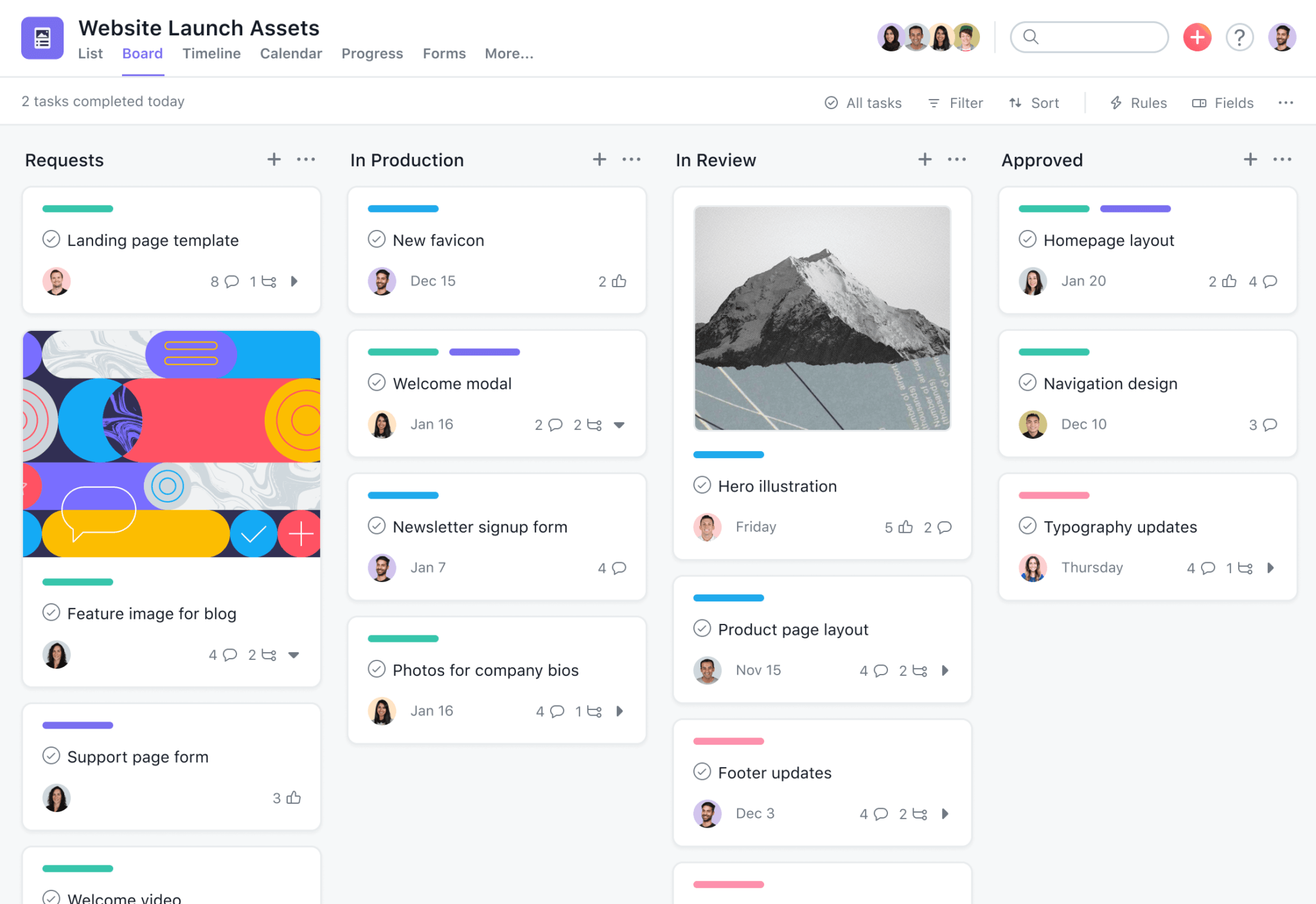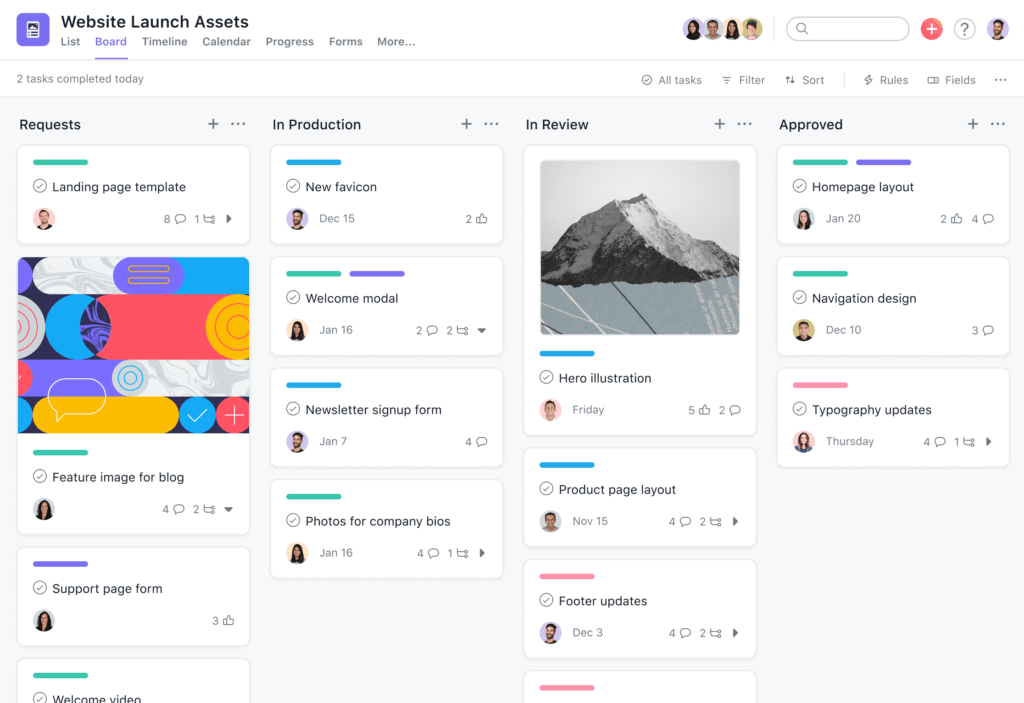 Asana is a collaboration and project management software that helps teams get more work done.
It was first created at Facebook as a tool to help people collaborate on projects more efficiently. Codenamed 'Tasks', the tool was created by Dustin Moskovitz, who was a co-founder at Facebook, and Justin Rosenstein, an ex-engineer at Facebook.
Moskovitz and Rosenstein first created 'Tasks' after realizing that planning and organizing work took more effort than actually doing it. The duo left Facebook to co-found Asana in 2008 when they found out that this was a common problem that affected everyone else and not just Facebook employees.
Mark Zuckerberg was an early investor in Asana, and the company had steadily increased its popularity over time. In 2018, Asana raised $125 million in a Series D and Series E funding round to help the company expand globally.
The goal at Asana is to reduce reliance on traditional emails and sync-ups. Instead, the company wants to provide a common space where users can manage projects and find all the information they need to get work done.
Essentially, Asana wants to reduce the need for emails and meetings so that people can spend more time getting actual work done.
Features of Asana
Being a project management software, Asana is equipped with a multitude of features to help you get more work done.
On Asana, you can create projects and break them down into detailed tasks to help your team visualize the roadmap. Each project workspace comes with a list view to detail the steps needed for the project, conversations to support team communications, a calendar to view the team's tasks, a project progress view for status updates, and also files to share documents within the team.
Within each task, you can assign it to individual members and set deadlines. Add more information into the task description to hopefully prevent the need to have more meetings to align the deliverables.
If the task is dependent on another task being done first, you can set task dependencies on Asana so that your project flows seamlessly. Additionally, Asana has an approval feature for tasks so that you can approve, request changes, or reject tasks.
Communication in Asana is done mostly within its conversations functionality. You can send messages to team conversations to update the whole team working on the same project. Team members can choose to follow conversation threads to stay updated, and also create tasks to move things forward from the chat.
Asana collaborated with Vimeo to launch a video messaging feature. With this feature, you can record video messages and embed them in your workspace to send messages to your team members. Video messages in Asana are also automatically transcribed to help you be more productive.
Asana also integrates with many apps including cloud storage solutions such as Dropbox and Google Drive. This enables you to share information from your preferred storage app.
How Much Does Asana Cost?
Asana comes in 4 different pricing tiers which include Asana Basic, Premium, Business, and Enterprise.
Asana Basic Plan
Asana Premium Plan – $10.99 per user per month
Asana Business Plan – $24.99 per user per month
Asana Enterprise plan – Contact sales
Not impressed? Click here to find out why Taskade is a better Asana alternative.
#3 TickTick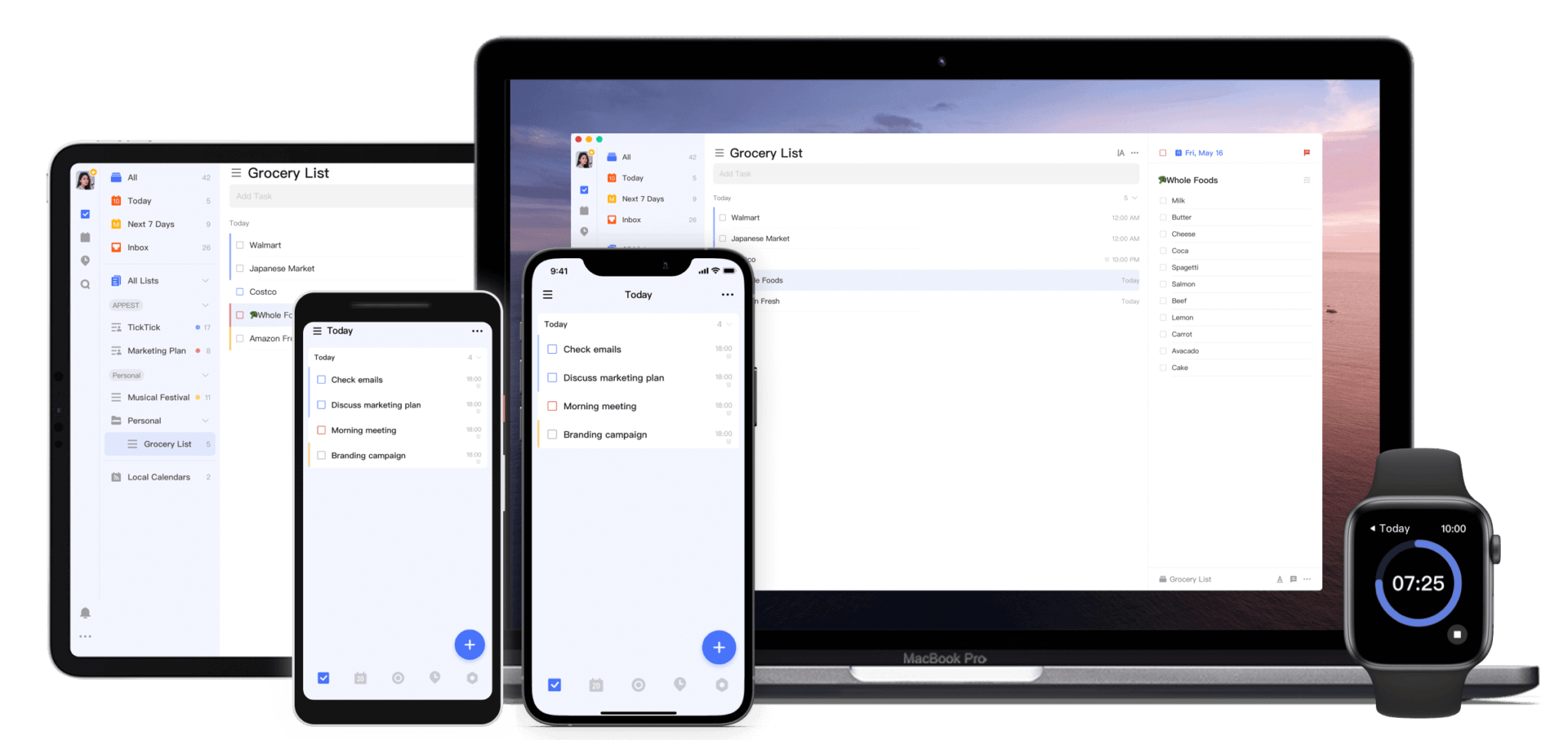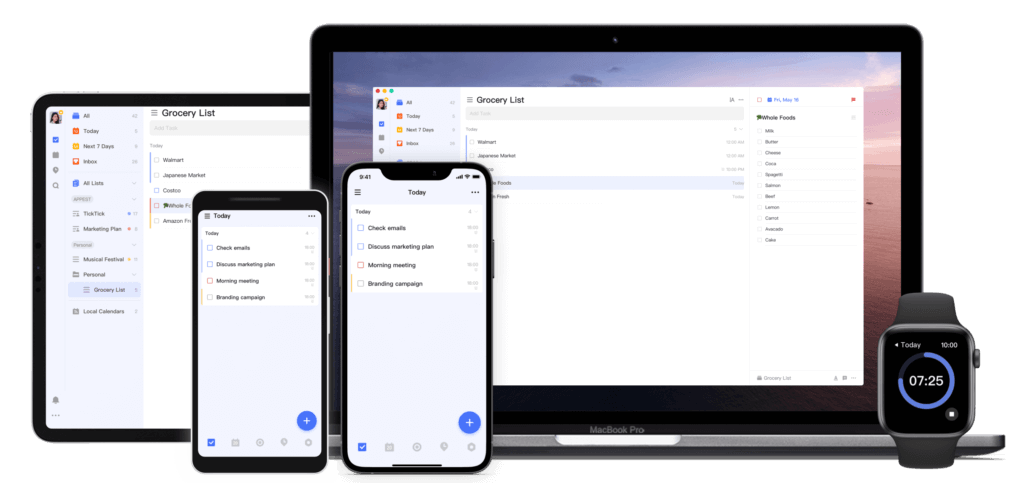 TickTick is a task management tool that Appest Inc founded in 2013. Appest Inc originally created an app on Android called GTasks. TickTick was then created based on GTasks with added features to help with productivity such as cross-platform synchronization. TickTick was co-founded by Zhimin Chen, and the company's main goal is to help people get more work done.
In 2013, TickTick was launched on web browsers, Android, and iOS. The app then made its way to Windows and Mac three years later.
TickTick is frequently compared to Todoist because both tools serve a similar purpose for task management and as a to-do list. However, TickTick is different from Todoist due to its calendar view that has gotten good reviews from customers.
Features of TickTick
TickTick has a light build which makes it user-friendly. It is not loaded on features which means that beginners can get started on using the tool quickly.
On TickTick, you can create to-do lists and set reminders to make sure that you get your work done. You can organize tasks by storing them within folders and organize them further by using tags. Recurring tasks can also be set to repeat so that you won't have to keep on recreating them.
The gamification of tasks on TickTick gives you an added incentive to get your tasks done on time. Completing tasks on time gives you a higher achievement score. If a task is delayed, the reverse will occur.
Desktop and web versions of TickTick allow you to toggle between the default list view to a kanban view. In the kanban view, you can drag and drop tasks between columns in a similar way to the calendar view. The kanban view in TickTick has simple features such as due dates, prioritizing tasks, and viewing task activity.
TickTicks best feature is probably its calendar view. In this view, you are able to drag tasks around the calendar and use time blocking to organize your tasks. Unassigned tasks can also be dragged into the calendar to automatically give it a due date. However, the calendar view is only available for premium accounts, which means that you will have to pay to get access.
A minor but neat feature that TickTick has is that you have the ability to visualize how much of a task has been completed via a task progress bar. One of the reasons that make Taskade the best free alternative to TickTick is that you can check off and hide completed tasks in addition to having a progress bar for your whole project.
If you're a fan of the Pomodoro Timer, TickTick has a built-in Pomodoro Timer in its settings, which means that you can easily get started on this useful productivity method.
You can also collaborate on TickTick by inviting other users to your tasks or by creating a shared task list. However, this feature is very limited as the free version only allows you to collaborate with one other user.
How Much Does TickTick Cost?
TickTick has a straightforward pricing strategy as it only has two plans available, the Free Plan, and the Premium Plan.
TickTick Free Plan
TickTick Premium Plan – $27.99 per user per month
#4 Any.do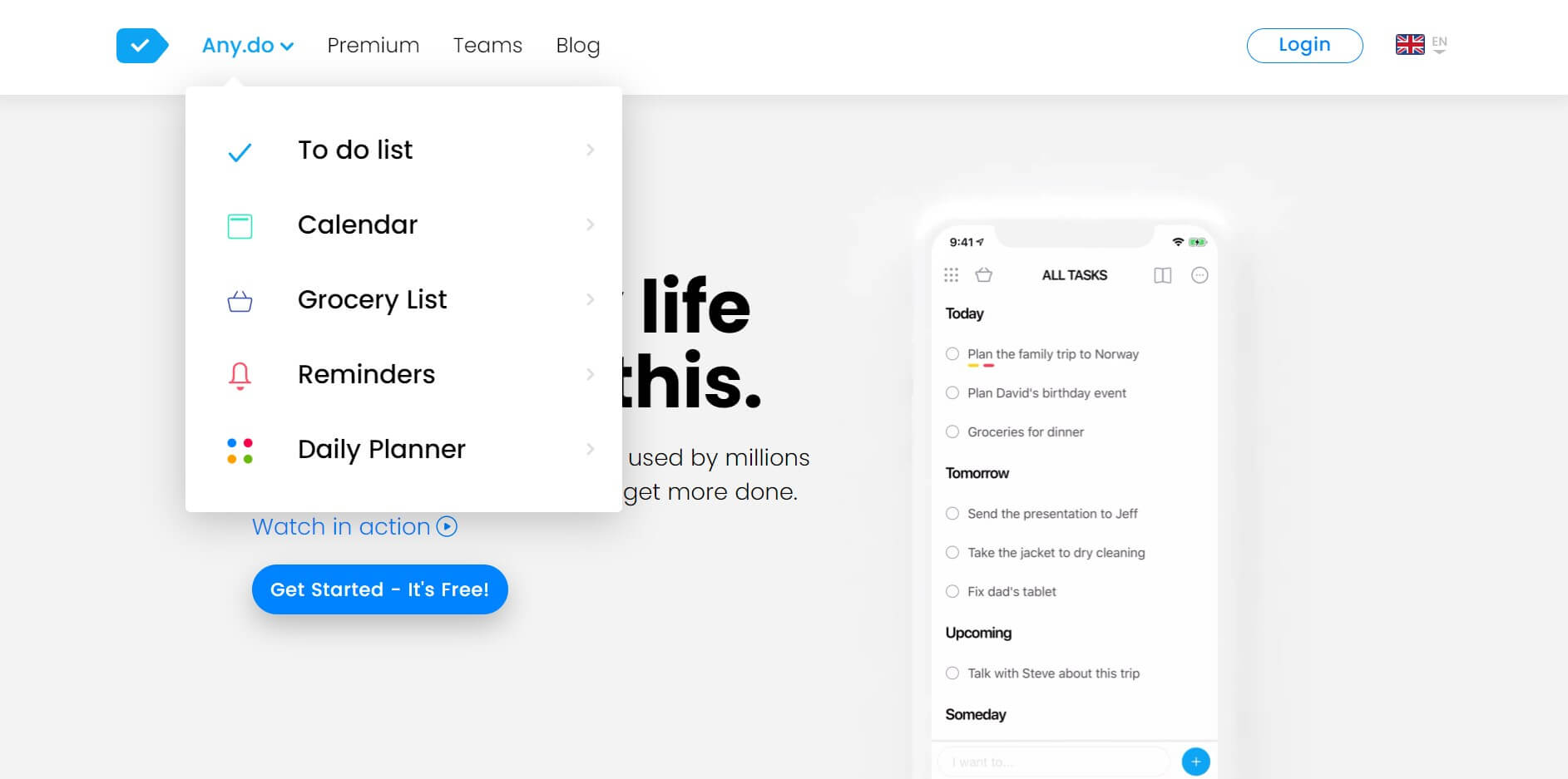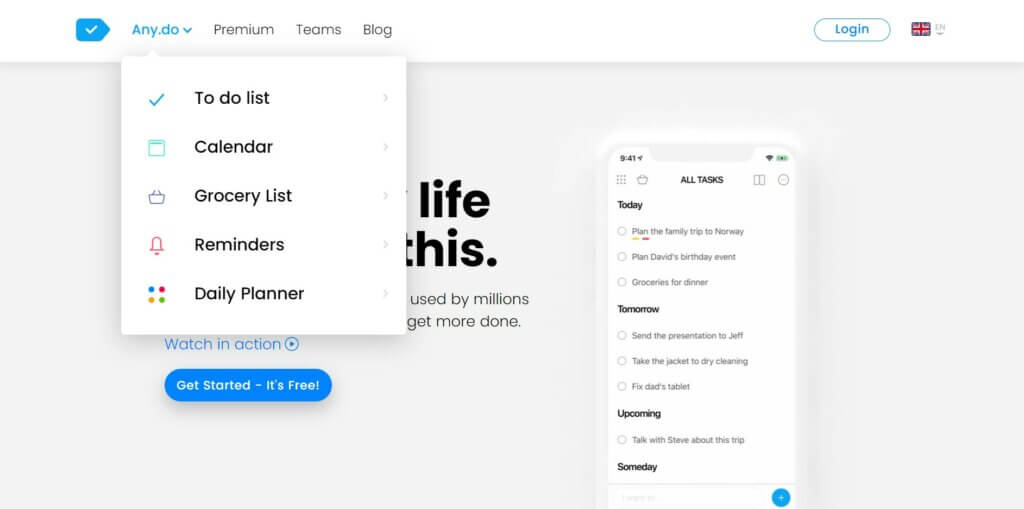 Omer Perchik, Yoni Lindenfeld, and Itay Kahana founded Any.do in 2011. The task and project management software's first iteration was as an Android app called Taskos.
After receiving $1 million in funding from angel investors in 2011, Any.do experienced a surge in growth, with over 500,000 users downloading the app within the first month of launch. Two years later, they had over 7 million users and by the end of 2020, Any.do crossed over 30 million users. This makes Any.do one of the most popular to-do list apps today.
On Any.do, users can manage their tasks by creating to-do lists and breaking down larger tasks into smaller subtasks. Unlike Remember The Milk which requires users to upgrade to access the subtasks functionality, Any.do offers this feature for free.
Being available across most devices, Any.do gives you the ability to add and check tasks on the go. Additionally, you can integrate Any.do with your device calendar. This would then show all of your daily tasks on your device calendar, ensuring that you're always on top of your day.
There is synergy between Any.do's to-do list functionality and its calendar view, which allows users to easily toggle between the two views and keep track of things. Any.do's simple build makes it an attractive app for users who prefer an easy-to-use tool.
As a simple to-do list app, Any.do would suffice if you're looking for software to help organize simple tasks. You can also collaborate with other users on your to-do lists on Any.do. However, although Any.do is good as a simple task management tool, it lacks key features that are required when working on more complex tasks.
Features of Any.do
Any.do is light on features, and that is by design. Being light on features makes it a simple to-do list software to use with minimal onboarding required.
On Any.do, you can create to-do lists and further organize your tasks into subtasks. Doing this helps you to break down complex tasks into smaller actionable subtasks to prevent you from feeling overwhelmed.
Your tasks and calendar are closely knitted together on Any.do. Once you've created a task and integrated your preferred digital calendar app, you will be able to see all of your daily and weekly tasks on your calendar.
If you upgraded your plan to a premium version, you will get access to advanced recurring tasks, which allows you to set a task to repeat at customizable intervals. Taskade would be a better free alternative to Any.do because Taskade allows you to set recurring tasks even on a free plan.
Any.do is available on most devices and this gives you the ability to be in complete control of your schedule. You can choose to be notified of certain key tasks throughout your day. Any.do's seamless integration of its task lists with calendars makes it a unique tool to have in your arsenal.
Once you have created a few tasks, you can change your task list view to show you the tasks you have for the day, a weekly view, and even a monthly view. This lets you estimate the workload that you'll have in store for you.
You can also collaborate with other users on a shared task list. Once a list has been shared, you can then assign tasks and add comments to communicate via the app. This would be ideal if you're working together on something simple such as a shopping list or planning simple events.
How Much Does Any.do Cost?
Any.do has two pricing plans available.
Any.do Free Plan
Any.do Premium Plan – $5.99 per user per month
#5 Monday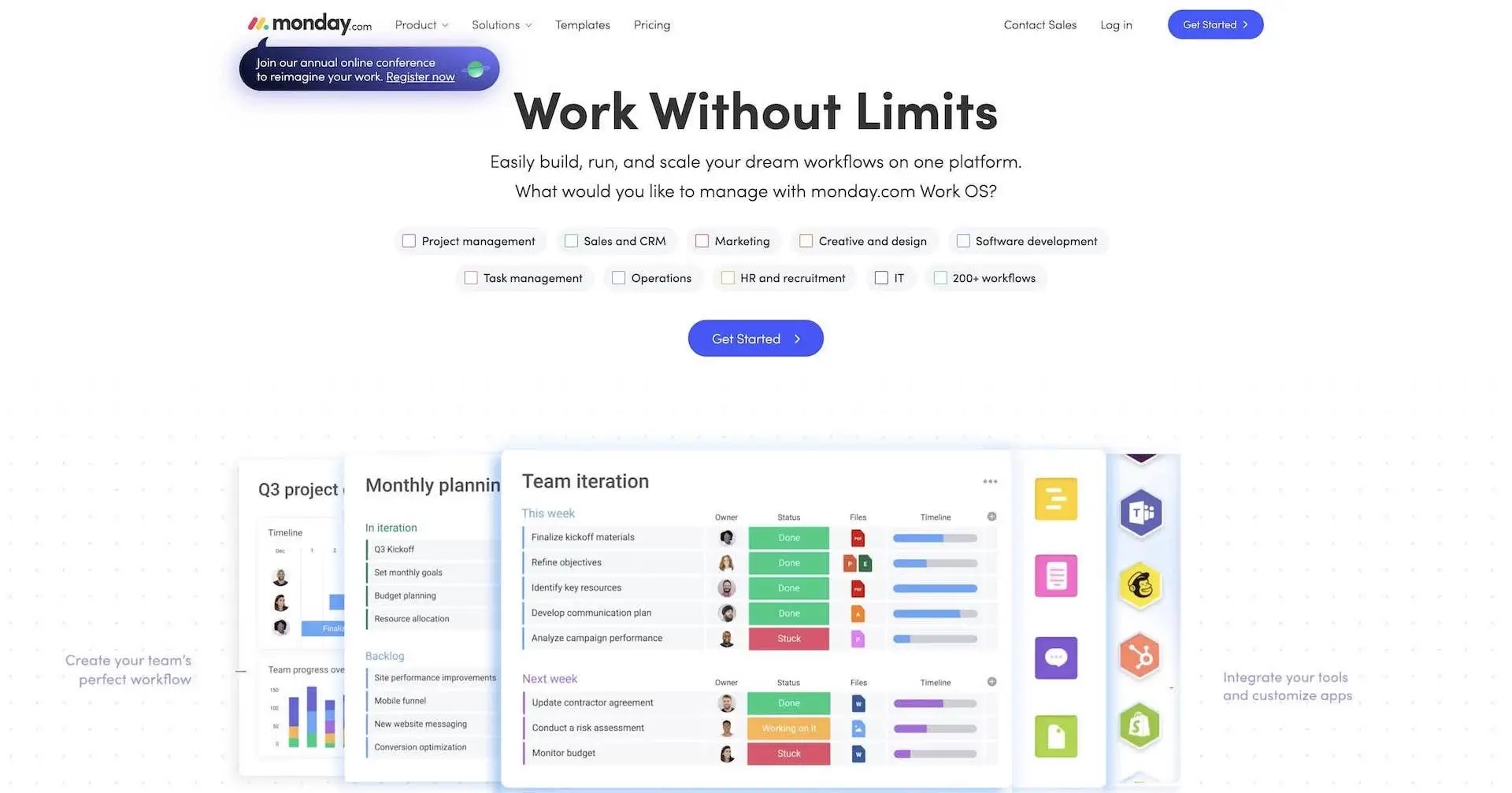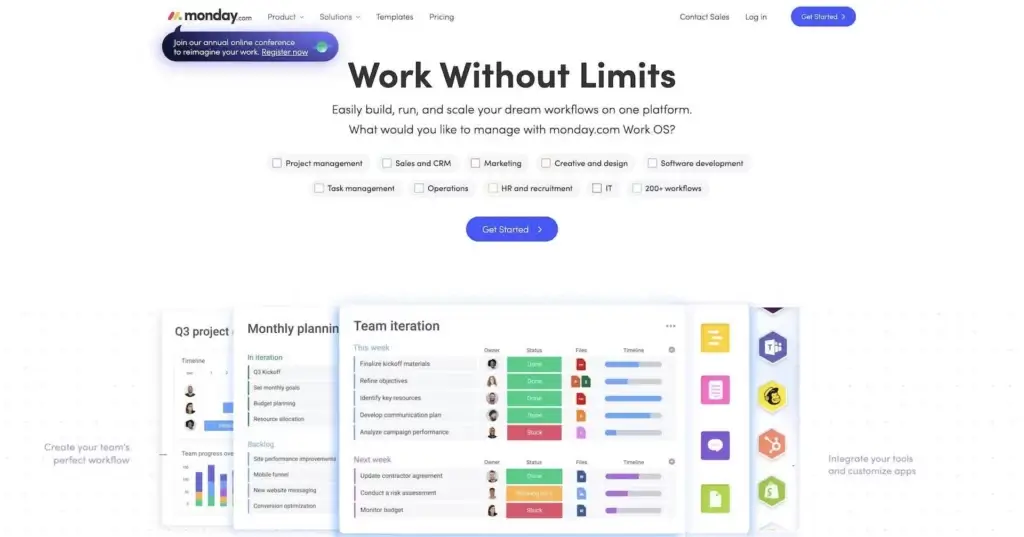 Project management software cross-functional doesn't have to be purely functional (read: ugly). And Monday delivers on the aesthetic aspect. Your team will appreciate a simple and colorful UI, customizable columns, and the ability to handle all kinds of projects. It's a complete PM package for sales, marketing, and IT teams.
Project Management in Monday. com 🌟
Central dashboard for team management
Visual-first workflow with a simple user interface
Customizable columns and 200+ templates
Communication and team collaboration on mobile
Real-time collaboration on files and documents
How Much Does Monday. com Cost? 💰
🟢 Free/Individual

Unlimited boards limited to 2 team members
200+ templates and 20+ column styles

🔵 Basic ($8 per user/month billed annually)

Everything in the Individual plan +
Unlimited viewers and 5 GB for file storage

🟣 Standard ($10 per user/month billed annually)

Everything in the Basic plan +
Timeline, Calendar, and Gantt workflows
250 automations/integrations per month

🟡 Pro ($16 per user/month billed annually)

Everything in the Standard plan +
Private boards and Chart view
Time tracking and more automations/integrations

🟤 Enterprise (custom)

Enterprise automations/integrations
Advanced security features
Reporting and analytics
Find out why Taskade is the best free Monday alternative.
#6 Remember the Milk
Remember The Milk is an online to-do list application. The founders, Emily Boyd and Omar Kilani, created the app in 2004 after being inspired by Gmail. Their main goal? To help other people better organize their daily tasks.
Remember The Milk launched in 2005 after it spent a year in development. The task management tool quickly grew in popularity and today, they have over 6 million users.
With Remember The Milk, users can set to-do lists via a web browser, or via mobile with Android or iOS. Part of Remember The Milk's charm comes from it being a simple task management tool without being overloaded with features.
Being a simple tool to use, Remember The Milk works best for people who are looking for a simple to-do list app to organize their tasks. This mirrors Todoist closely as both tools have similar features.
Features of Remember the Milk
Remember The Milk is light on features and is easy to use. The dashboard feels similar to a Gmail dashboard, giving it a sense of familiarity for regular Gmail users. Clicking on 'Add a task' gets you started on adding your first task, which you can then organize by adding tags or putting it in a list.
You can also set the start and end dates for your task. For recurring tasks, there is an option for you to repeat tasks to help you save time. Remember The Milk also has a priority feature, which lets you organize your tasks in order of priority so that you can get the most important tasks out of the way first.
Although Remember The Milk does not offer multiple board views, you can change your task view to show you the tasks that you have for the current day, the day after, or tasks remaining for the current week.
Generally, Remember The Milk is only a to-do list application. It is a good way for you to get started with creating to-do lists and using an app to help organize the simpler aspects of your life. You can also share your to-do lists with 2 other users. This works best for simple team collaboration on tasks such as a shared grocery list.
However, Taskade is a better free alternative to Remember The Milk because Taskade offers unlimited projects and tasks for free. With Taskade, you can create unlimited to-do lists and collaborate with as many people as you want on the app, making it a better alternative to Remember The Milk.
How Much Does Remember the Milk Cost?
Remember The Milk offers its product in two simple plans which are the Free Plan, and the Pro Plan.
Remember The Milk Free Plan
Remember The Milk Pro Plan – $39.99 per user per year
#7 Proofhub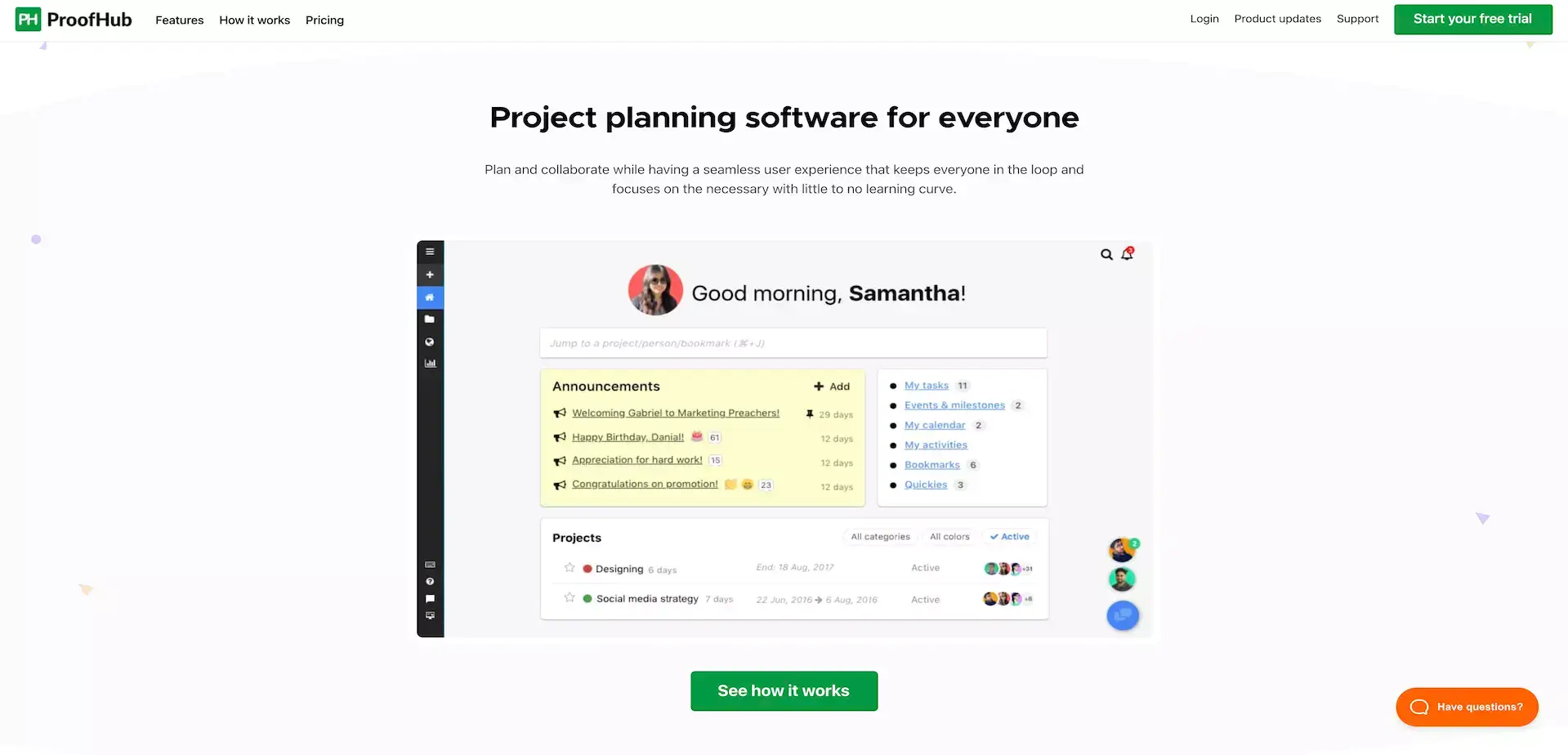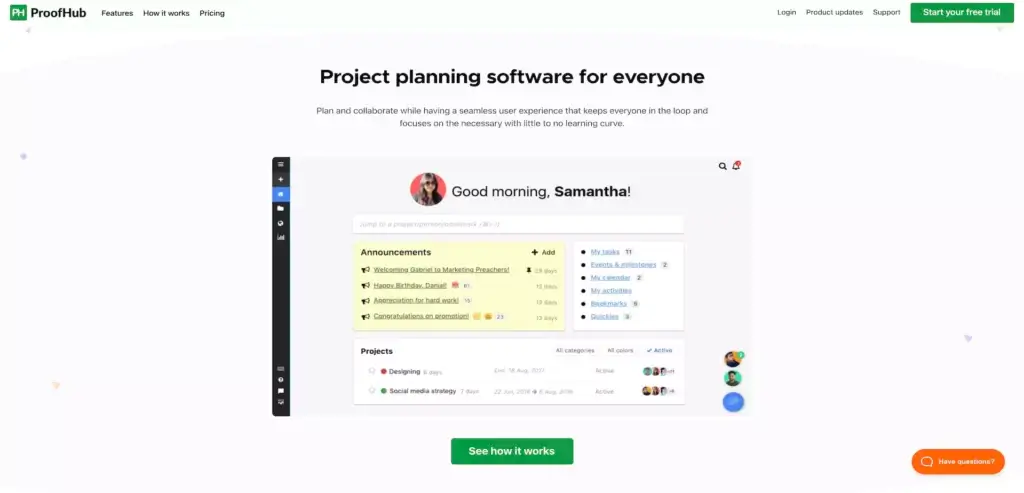 ProofHub is another interesting all-in-one platform that delivers in all key project management areas. That includes a strong communication component with chat, comments, @mention, and announcements on board. ProofHub is also a powerful proofing tool (no surprise there), complete with markup, threaded comments, and file versions.
Project Management in ProofHub
Chat, group discussions, and team announcements
Flexible workflows (Table, Kanban, Gantt)
Calendar, daily agenda, project progress report
Timesheets, version control, document uploads
Customizable templates, integrations, and more
How Much Does ProofHub Cost?
No free plan.
🟢 Essential ($45/month flat fee billed annually)

Time tracking, proofing, and file approval
Task management, Gantt, calendar, and integrations
Group chat, announcements, and discussions
Note-taking, project templates, file sharing

🔵 Ultimate Control ($89/month flat fee billed annually)

Everything in the Essential plan +
Custom roles and workflows
API, project reports, and activity logs
Data export and priority support
#8 Notion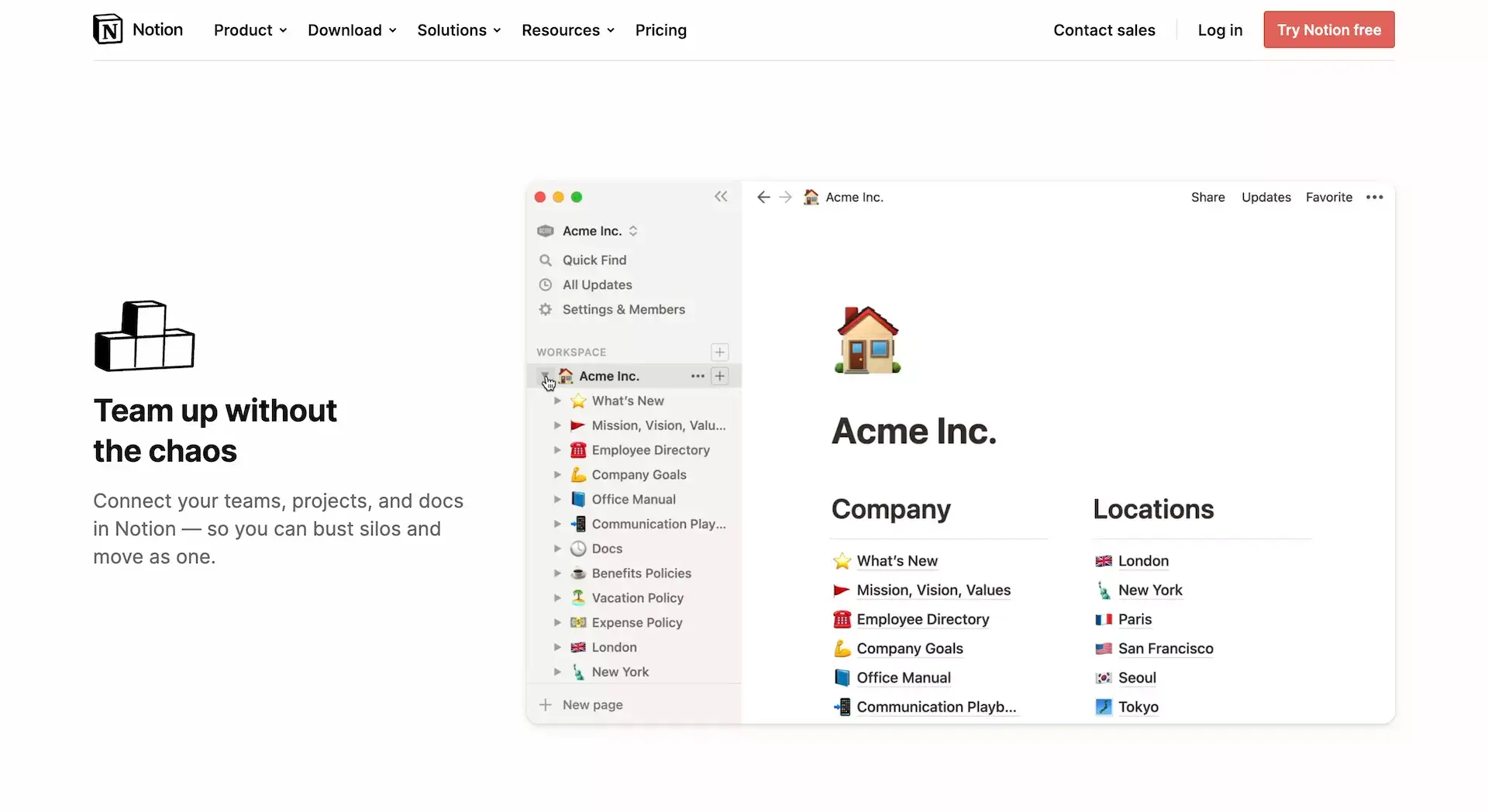 Ivan Zhao founded Notion in 2013. It is an all-in-one app that allows you to take notes and manage projects to improve your productivity. Notion was released to the public in 2015 with the goal of ending the need of having multiple productivity tools by being an all-in-one app.
However, it wasn't all smooth sailing for Notion. The project management solution unfortunately faced failure after its original release in 2015. This came mainly from the fact that its original build was simply not reliable enough, leading to regular crashes.
Faced with this predicament, Zhao and his co-founder Simon Last would relocate to Japan in an attempt to rebuild Notion – a move that turned out to be a blessing for the team. Rebuilding the app proved beneficial to Notion, as the team became more engrossed in making sure that the software didn't fail as it did before.
Having been on the brink of failure, Notion capitalized on its previous shortcomings and made it into one of its strengths. Be sure to check out our piece on the complete history of Notion if you're interested to learn more about this tool.
Features of Notion
Notion as a software attempts to be a jack of all trades. It combines multiple tools such as project management, to-do lists, note-taking, wiki creation, and more into one unified software. This can help you increase productivity as you spend less time toggling between different productivity tools.
The project management solution is heavy on features and also supports integrations with other apps such as Google Drive, Trello, Slack, and more. When using Notion, you create content on pages by filling up blocks with content.
Notion can be a useful tool to help you and your team get work done once you overcome its steep learning curve. Having multiple features also means that Notion is flexible, meaning that you can use it for just about anything.
However, this comes at a cost as customers have voiced out that Notion can be complicated to use at times.
What Are Some Limitations of Notion?
Although Notion has plenty of benefits, there are also some drawbacks to consider.
For starters, Notion is not intuitive to use. There is a steep learning curve when using the app due to the fact that Notion tries to be an all-in-one software. Notion's page layout is rather confusing, so it might take you a while to get used to its interface.
One of the common problems is that you may not be able to take long-form notes in Notion. This is because if you use a lot of slashes (/) in your note-taking, Notion tends to start a function with each slash. Constantly deleting these unwanted functions might have an effect on your train of thought.
Even though Notion has features that can allow for good collaboration, you can only unlock proper collaboration features such as sharing pages and page permissions with a team plan. Notion's free plan limits collaborators to only 5 guests. You'll definitely have to fork out some cash if you want to collaborate with more people.
While Notion does a good job of being an all-in-one app, it lacks a focus on being good at one particular thing. If you're looking for an app to do a little bit of everything, then Notion is probably right for you.
However, if you're looking to do something more focused such as effectively collaborating on a huge project, or even taking detailed long-form notes, then Notion falls short.
How Much Does Notion Cost?
Notion offers its software at four different tiers including the free personal plan, personal pro, team, and enterprise plan.
Notion Free Plan
Notion Personal Pro Plan – $4 per month
Notion Team Plan – $8 per month
Notion Enterprise Plan – Contact Sales