AI-Powered Note-Taking Assistant
Leverage the power of AI and ChatGPT to improve your note-taking. Generate summaries and ordered lists on the fly. Expand on thoughts and ideas. All right inside Taskade.
Your second brain, supercharged by AI.
Five AI-powered tools in one to supercharge your team productivity. With Taskade, all your work is in sync in one unified workspace.
Automate 700+ Tasks with AI Agents
Boost productivity with our suite of AI agents. Experience the future as you accomplish tasks at 10x speed, powered by our AI chatbot, project assistant, workflow generator, and more.
Replaces Generate Dynamic Workflows with AI
Spark creativity with a task or objective. Generate dynamic to-do lists, flow charts, project sprints, SOPs, and more. Visualize your work in multiple dimensions—lists, boards, tables, calendars, mind maps, and more. Streamline with AI and bring your vision to life.
Replaces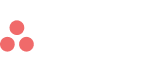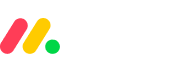 Chat with AI
Bring your projects to life with an AI assistant designed for brainstorming and task coordination. Chat with your tasks and documents, and choose a persona tailored to various roles and expertise. Taskade AI is ready to assist you right inside your projects.
Visualize Notes
Embrace a smart, structured outlining experience, mirroring your brain's natural organization. Create infinite connections and levels of hierarchy, with real-time syncing.
Turn Ideas into Actions with AI
Harness AI to generate new ideas and map out anything. Convert your brainstorming sessions into mind maps and track progress across projects. Taskade is your creative canvas for dynamic workflows, like the art of origami.
The next generation of team collaboration.
Share here, there, and everywhere. Shareable links make it easy to send projects for review, invite others into your workspace, or hop on a real-time chat and video call with stakeholders anywhere.
Unlimited Sharing
Easily share projects with guests, clients, and teams to chat and collaborate seamlessly across all devices. Experience real-time synchronization with Taskade, ensuring your team stays in sync on the Web, Mobile, or Desktop app!
Unlimited Team Collaboration
Effortlessly manage multiple projects and teams with our secure, compartmentalized workspaces. Adapt to any team structure, be it an in-house or client accounts. Customize workspaces to keep everyone in sync with advanced permissions and multi-workspace support.
Unlimited Video Chat & Meetings
Elevate your team and client meetings with integrated video conferencing. Collaborate in real-time, sharing your screen and ideas while keeping everyone on the same page.
🤖 What Is Taskade AI?
Taskade AI is like having a 24/7 writing assistant by your side! Our AI-powered productivity platform helps you create high-quality content in no time, leaving you more time to focus on growing your business.
⚡️ Work Faster
Generate summaries, action items, and insights from any project or document, so you can focus on getting things done. Taskade AI empowers you to achieve more, while making it easy to stay organized and focused.
✍️ Write Smarter
Type anything with AI assistant at your fingertips. Taskade AI streamlines your writing workflow and provides real-time suggestions and rewrites as you type. Write faster and smarter today!
🧠 Think Bigger
Brainstorm new ideas and generate instant outlines in mind maps, structured notes, kanban boards, and more. Taskade AI makes brainstorming and ideation a breeze, designed to help you think bigger and work smarter.
✍️ Collaborate in Real-time
Work together in real-time, get feedback, and communicate more effectively to get everyone on the same page. Chat and video call any time, with Taskade working seamlessly on the web, mobile, and desktop.
✅ Get More Done
Taskade AI streamlines your workflow and makes your day-to-day work life easier. Our productivity-enhancing tools are designed to help you get more done in less time, so you can focus on scaling your startup.
🪄 AI Assistant
Type any "/ai" command and hit enter to open the new AI Assistant. Instantly copy, regenerate, or insert the results. Taskade AI is now available at your fingertips. Learn more.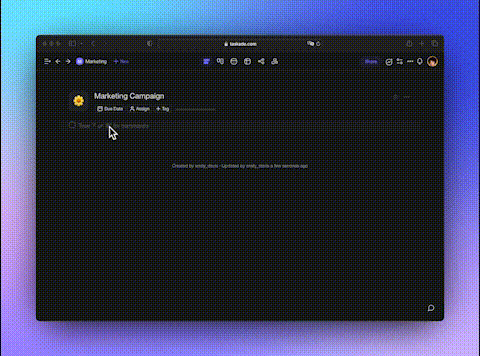 🌏 AI Translate
Want to translate tasks and notes into various languages? Just use "/translate"! Need more languages? Just ping us, and we'll add them! Learn more.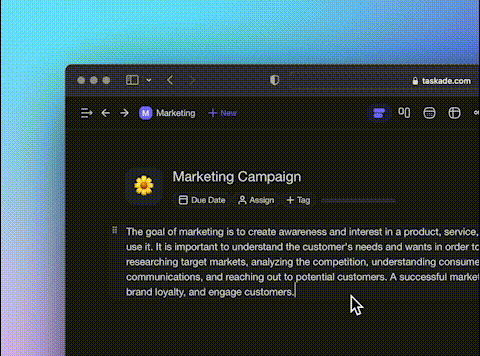 ✍️ AI Outliner

Simply input your topic, type "/outline" and let Taskade do the rest – saving you time organizing your ideas, notes, and streamlining your workflow. Learn more.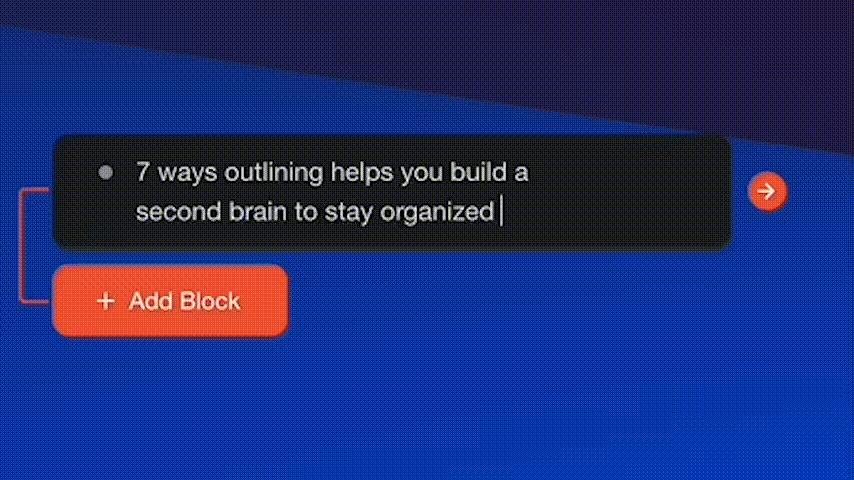 Create an "/outline" automatically from anywhere in your project, in any view!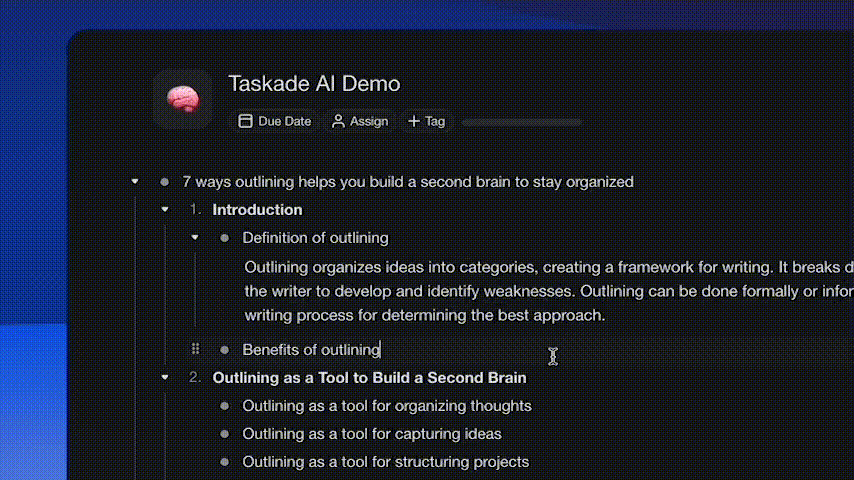 With a basic structure, use "/expand" to fill in the rest of your outline effortlessly.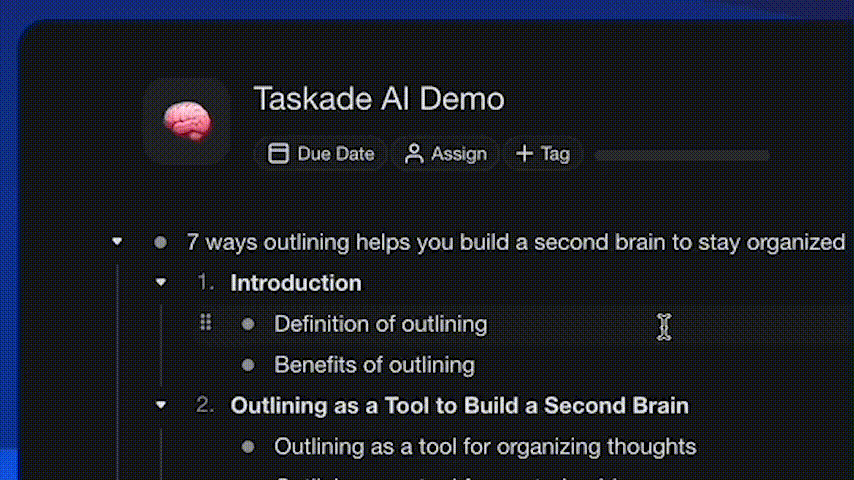 Browse AI Templates
Taskade AI is a powerful writing assistant that will help you type smarter, not harder. Just so you don't have to spend hours hunting for the right words and rewriting your drafts.
🚀 Taskade AI for Personal Use
⚡️ Taskade AI for Team Collaboration

Write, organize, and summarize notes
Outline articles, blog posts, and books
Enhance sentence structure and grammar
Make your writing more concise and effective
Adjust style, tone, and language with smart rewrite
Brainstorm evergreen ideas
Write in an engaging and persuasive way

Make team communication a piece of cake
Draft high-level meeting agendas
Rewrite and summarize meeting notes
Co-author documents using AI in real-time
Generate ideas during brainstorming sessions
Build spanning mind maps from a single prompt
Generate a list of action items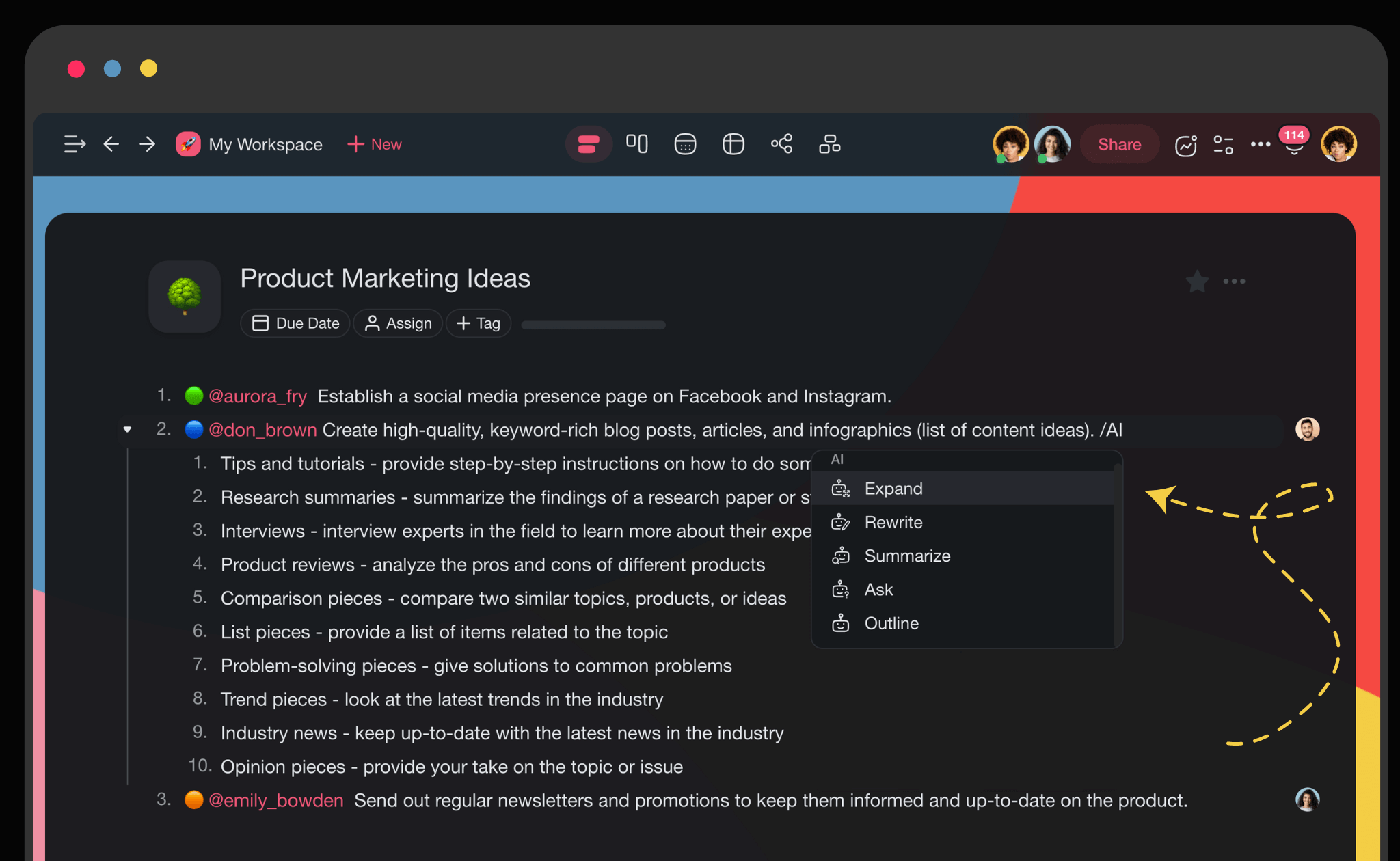 🪄 Keyboard Shortcuts, Infinite Possibilities
Taskade AI lives inside a Taskade project. Whenever you need a writing companion, simply type a question, excerpt, or idea and use one of five /AI commands to make things happen!
/ai: See the full list of Taskade AI commands.
/ask: Answer your questions using AI's existing knowledge.
/outline: Generate high-level outlines for all types of content.
/expand: Expand and enrich your content to be more descriptive.
/rewrite: Improve the legibility and clarity of your writing.
/summarize: Turn long-form content into a crisp and clear summary.
/translate: Translate tasks and notes into various languages instantly.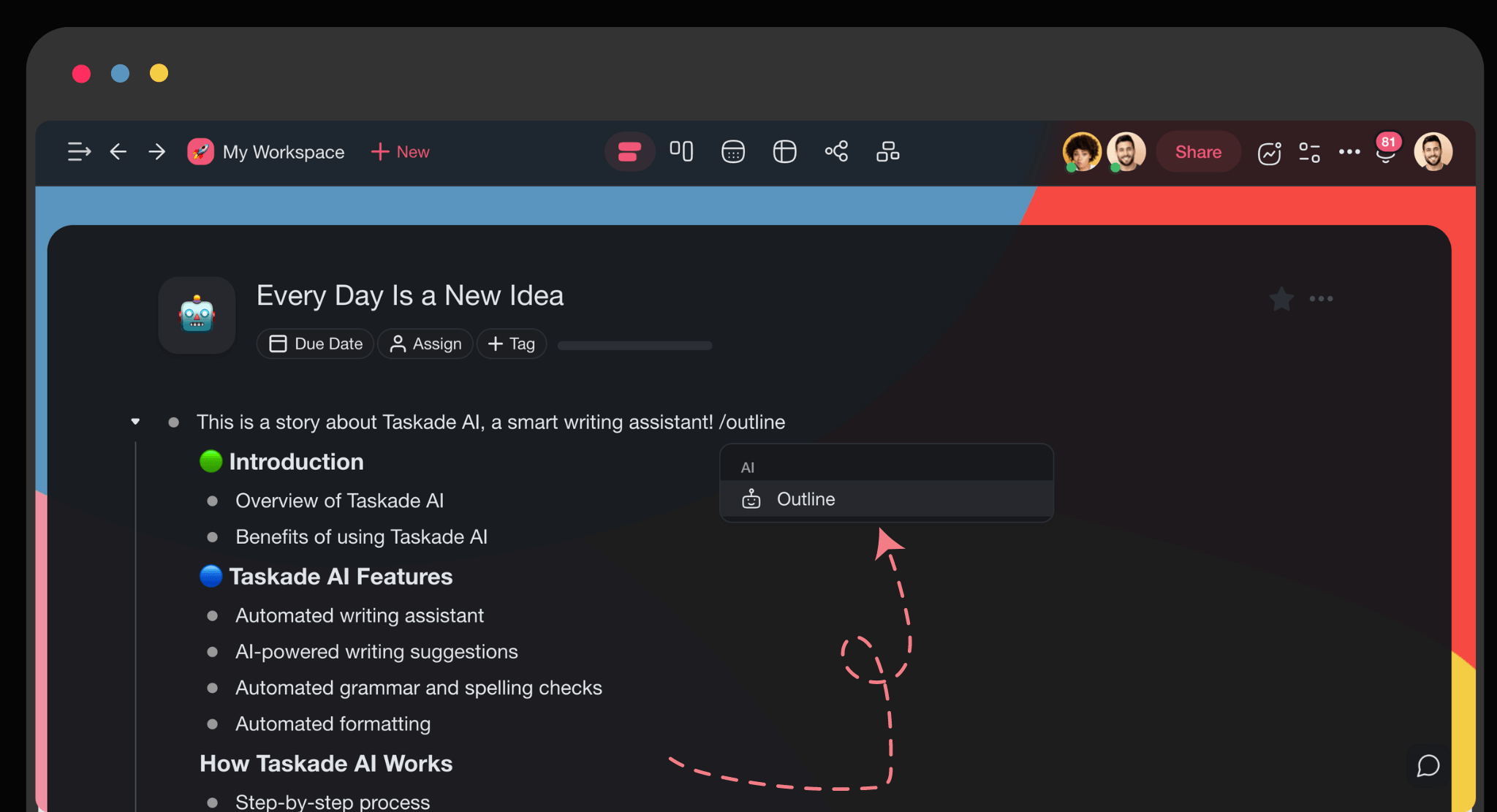 🎨 Start Faster With AI Templates
A template is worth a thousand words, so we have prepared a few for every occasion. Write a resume, email, article, or meeting agenda. You can also generate mind maps using convenient ready-made prompts.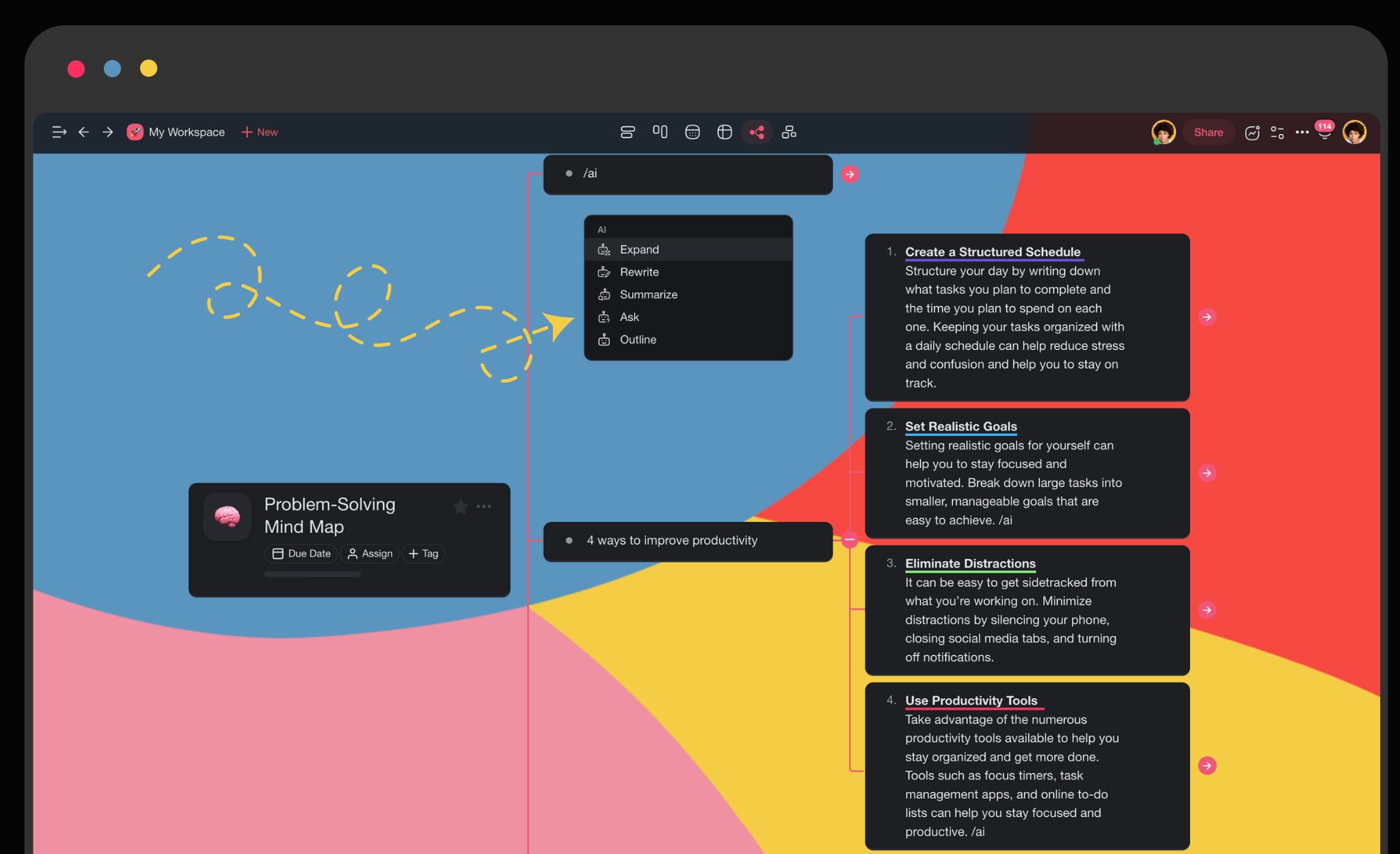 💭 Taskade AI Questions and Answers
How much does Taskade AI cost?

Taskade AI is free for all users on all plans. Learn more on our pricing page.

Can I use Taskade AI with my team?

Yes! Taskade AI is the only collaborative writing tool that uses artificial intelligence (AI) to improve team communication. Your entire team can work on the same project, at the same time, without having to worry about losing track of changes.

How do I get started?

It's easy! Open any of your projects and type a question, sentence, or paragraph followed by one of five AI commands: /ask, /expand /outline, /rewrite, or /summarize. Taskade will process the text and provide an answer in seconds. If you're not satisfied with the result, repeat the step or try using a different command. It's that simple!

What are the benefits of using an AI writer?

Taskade AI will significantly speed up and improve your writing workflow. Whether you want to draft emails, pen a bestselling novel, or write a business plan, our writing assistant will help you research the topic, develop ideas, and find the right words. Taskade AI works out of the box so you don't have to configure anything—sign up, create a project, and jump right in.

Are there any limitations?

Taskade AI is based on the GPT-3 language model, which makes it a powerful and versatile tool. However, the technology is still in development and there are a few limitations. You should always verify the output for incorrect information, biased answers, or inconsistencies in tone and meaning.
Try Taskade AI
Supercharge your workflow with
Taskade AI.
Automate 700+ tasks across marketing, sales, support, HR, startups, and agencies. Generate streamlined workflows, spark creative ideas, automate tasks, and chat with AI in every project. Embrace the future of productivity with Taskade, the AI-powered workspace for modern teams.